It's hard to determine the best creamy soup recipes when there are far more names than you remember. To help you keep delicious dishes on hand all the time, I have compiled a list of the ultimate recipes for a creamy soup.
Many of the recipes in this article can be ready on the stovetop or with a slow cooker, depending on your preference. I'm sure they will meet your expectations and become your favorite too.
No more waiting! If you are looking for a perfect creamy soup for your next meal, your search is over. Let's dive in and make a delectable bowl together.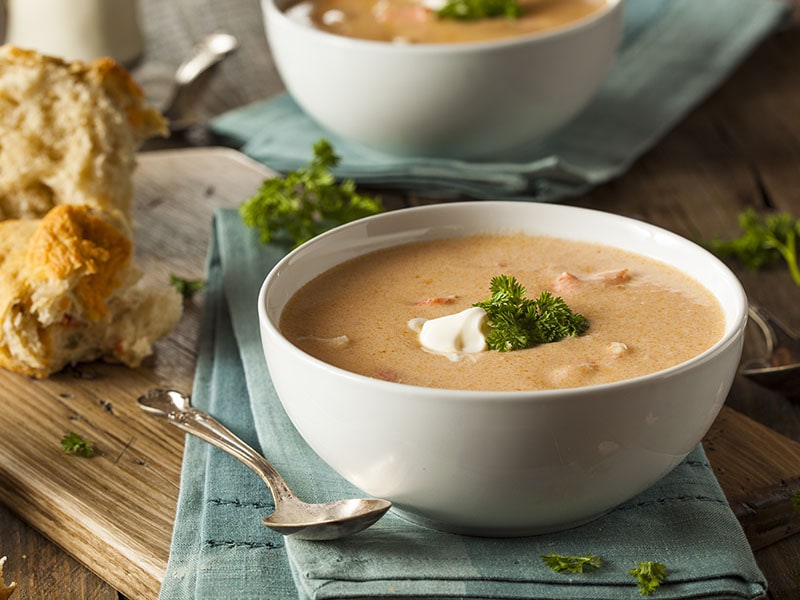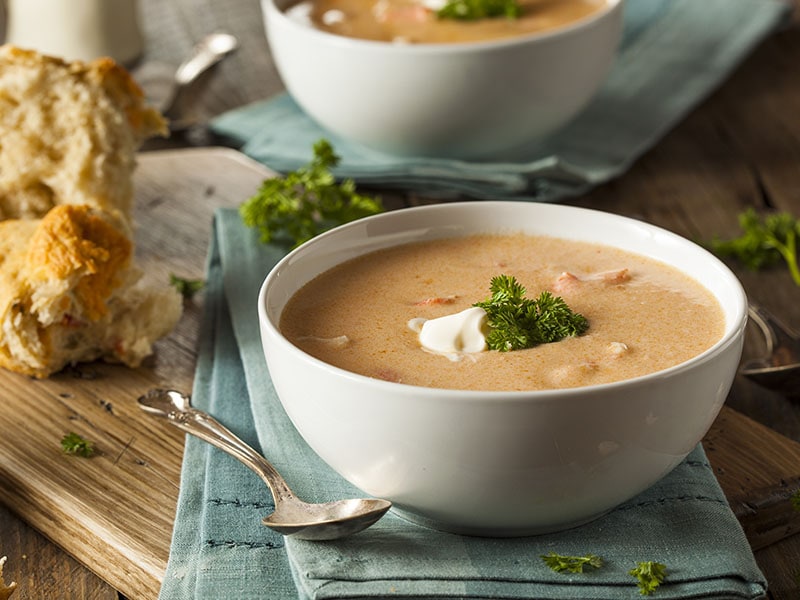 These Creamy Soups Deserve A Place In Your Recipe Book
A creamy soup seems like a proper addition to your chilly day, but you will also find refreshing dishes to enjoy on warmer days.
Total time: 1 hour and 20 minutes
If you love creamy soups, you must not miss out on this mouthwatering appetizer full of broccoli, cheddar cheese, and ham. This comforting dish is rich, keto-friendly, safe for gluten-free eaters, and pleasing to quesophiles.
This soup is a good way to sneak vegetables into their diet for those with small children. Its creaminess comes from a combination of butter, chicken stock, heavy cream, and cheese.
There are a few variations you can work on. For instance, add some liquid smoke to give the dish an extra smokey flavor, or replace the chicken stock with veggie stock to make it vegetarian. You can also use different greens based on your appetite.
Total time: 45 minutes
This baked potato soup is laden with flavors. It features a slight acidic tang of sour cream, the meaty taste of bacon, the richness of half and half, and the deep chicken flavor of the broth. On top of that is the herby scent of chives and green onion.
With this recipe, all-purpose flour is responsible for thickening the soup. Feel free to increase or decrease its amount to get the desired texture. Remember to put aside some bacon to garnish the soup, and only add it right before serving to maintain its crispiness.
My last advice is not to boil the potatoes beforehand. Add them raw to let them absorb all the flavors of the broth, bacon, garlic, and onions. If you want a full meal, buttermilk biscuits or dinner rolls are some of the most common dishes to go with potato soups.
You can try flavoring this loaded baked potato soup with Italian seasoning by following this guide.
Total time: 40 minutes
When you have leftover turkey in the fridge but no ideas for making the best of it, resort to this recipe. You will get a pot of delectable soup in less than an hour. It's also a cozy dish to help you escape a hangover in case you partied too much the night before.
With several veggies and herbs like carrots, celery, onions, thyme, and rosemary, the soup is not overly fattening. It's creamy, relatively healthy, and can satisfy even the pickiest diner. Throw in some mushrooms for an additional chewy texture.
The original version of this soup requires wild rice. However, using wild rice mix is much faster. It contains red and brown rice, taking only 15 minutes to cook.
Total time: 2 hours
While this golden potato-squash soup is completely vegan, it has an extremely thick and creamy texture. This is attributed to some ingredients such as squash, potatoes, silken tofu, and non-dairy milk or coconut milk.
Meanwhile, garlic and onion give the soup a natural heat that makes it suitable for cool weather. It's also good to serve anyone from children to adults and any occasion.
If you don't have fresh squash or have no idea how to process a squash, you can use frozen chopped butternut squash instead. This way, you can save time and effort in the kitchen but still yield a delectable soup.
Total time: 1 hour and 10 minutes
This soup offers one of the most effective ways to deal with all the leftovers you have in the fridge after a big Thanksgiving dinner. It involves leftover turkey and autumn veggies, resulting in a dish bursting with flavor.
Here is a simple guide for those who don't know how to get the meat of the turkey carcass to cook the soup. You need to simmer the turkey in chicken broth for an hour or until the carcass breaks down. Then, you can remove the meat with a spoon.
You can add other leftovers to this soup. For example, replace a part of the chicken stock with mashed potatoes or leftover gravy. Or, add leftover cooked veggies to the soup right before serving so it will heat up properly and not be overcooked.
Total time: 35 minutes
The bright yellow color of cauliflower soup reminds me of autumn, which is also the peak season for this vegetable. Its signature flavor is mild, sweet, and fairly nutty. The veggie is also highly nutritious, containing a lot of vitamin C and folate.
This soup features a super thick texture from simmering cauliflower with parmesan cheese and milk. Top it with roasted chickpeas to add crunchiness and extra flavors before serving the soup to your family.
The ingredients in this recipe are enough for six to eight people, but you can scale up or down depending on the number of servings you want.
Try enriching your creamy cauliflower soup by adding celery, carrots, and potatoes.
Total time: 1 hour and 15 minutes
Roasted tomato soup is a classic starter with tomatoes you can have all year round. It's naturally sweet, simple, healthy, gluten-free, and completely vegan. Its creaminess depends on how ripe your tomatoes are; the riper the tomatoes, the smoother the soup.
Keeping a few tips in mind can make roasted tomato soup easier or tastier. First, you can use dried thyme in place of fresh thyme if you can't find any. Secondly, remember to roast tomatoes thoroughly to ensure their natural sugar comes out.
Lastly, if you are not a vegan, consider adding some cream. Just a little can make a huge difference in the flavor.
Total time: 8 hours and 10 minutes
This nutritious and convenient crockpot soup is an extremely suitable dish for a new mom, a sick family member, or someone recovering from illness. It's not only rich in chicken flavor but also easy to make.
With three simple steps, you will get a batch of soup for the entire family. Step one, cook chicken breasts, mirepoix (chopped carrots, onions, and celery), poultry seasoning, and Italian seasoning in a slow cooker for six to eight hours.
Step two, add evaporated milk, cornstarch mixture, and gnocchi to the pot. Cook for another 1 hour. Step three, cut the bacon and fry it until crispy, then saute garlic and spinach before adding everything to the pot.
Total time: 25 minutes
So far, this is the quickest soup to make. Besides, it has the shortest list of ingredients, so you won't have trouble memorizing the recipe or worrying about forgetting any spice. Apart from crab meat, you need whipping cream, butter, milk, and cooking sherry.
This easy soup is full of crab flavor and creaminess without herbs or additional seasonings. By cooking in a short time, you can maintain the chewy texture of crab meat while obtaining a nice blend of all the ingredients.
If you want to enrich the soup, you should try adding saltine crackers or lemon juice to the mix. Otherwise, to drive down the creaminess, reduce the butter by half and replace the cream with milk.
Do you want to try seasoning your crab soup differently? Refer to this recipe guide.
Total time: 40 minutes
This recipe calls for three mushrooms: crimini mushrooms, enoki mushrooms, and white mushrooms. You can use a combination of mushrooms of your choice, but I think it's best to mix two to three types for maximum flavors and texture.
Some other mushrooms to use are Shiitake mushrooms, mini portobello mushrooms, and oyster mushrooms. They all have a unique earthy taste and chewy texture.
The most important thing to do for this soup is to roast the mushrooms. This step gives them a smoky punch that will burst in your mouth with each spoonful.
Total time: 50 minutes
Clam chowder is a staple in most seafood restaurants' menus. I'm not a fan of seafood, but I cannot have enough of this soup. This recipe is full of signature clam taste and complex flavor from nearly ten spices.
New England Clam Chowder differs from the Manhattan version due to its thickness and creaminess. Especially, Tabasco sauce, consisting of pepper, salt, and vinegar, gives the soup a touch of hotness. Only three drops are necessary to levitate it to another level.
Pay attention to cooking potatoes well when making this soup. The potato cubes should be the same size as the clams. You must cook them until tender but do not overdo them, or they will lose their shape.
Total time: 45 minutes
Even without cream or milk, this turnip soup is thick and creamy with one tablespoon of butter and four cups of reduced chicken broth. Another good thing about it is the broth's sodium, which helps prolong the soup's storage time.
There are only four steps to conduct before you can obtain a pot of lovely, bright-colored turnip soup. First, saute onion until browned, then add sliced turnips, rosemary, salt, and white pepper. Cook for another 10 minutes.
Secondly, add the broth and bring it to a boil, then reduce the heat to let it simmer until the turnips become tender. In the meantime, mix turnip greens with carrot, scallion, oil, and seasonings in a bowl.
In the fourth step, smooth the soup by pureeing it in the pan or using a blender. Serve creamy turnip soup with a small salad.
Total time: 45 minutes
Chowder is usually rich and thick, but this recipe may prove to be a delicious exception. It's signature by chunks of meat and vegetables with natural sweetness thanks to the corn, bell pepper, onion, and broth.
For this recipe, you can use turkey or chicken, depending on what you have on hand or which you prefer. Apart from that, feel free to increase or reduce the amount of meat and veggies corresponding to your appetite.
Total time: 1 hour and 2 minutes
Bratwurst is a type of German sausage most commonly made of pork. Brat means finely ground meat, while wurst refers to sausage. You may also find bratwurst made of beef, veal, or any combination of meat.
This soup makes a great dinner on a winter evening. It's delectable, easy to make, and provides all the nutrients and calories you need at the end of the day. The dish pairs well with bread, rustic sourdough baguettes, or sourdough bread.
Don't miss out on this yummy cabbage and sausage recipe if you want a simple, light meal for a relaxing family night.
Total time: 30 minutes
Whenever I want anything different from Western cuisine, I turn to Asian dishes, especially the diverse Thai cuisine. Its highlight is the signature sour and spicy flavors, and the ingredients are often easier to find than other cuisines.
Red curry paste is one of the most special ingredients that give this dish its unique flavor. This sweet and savory condiment consists of red chili peppers, garlic, lemongrass, and shrimp paste.
To serve this soup, garnish it with green onion, cilantro, pumpkin seeds, or Greek yogurt. If you can't finish it at one time, store it in an airtight container in the fridge for up to four days at most.
If you use fresh pumpkin to make spicy Thai pumpkin soup, watch how this chef processes it from scratch.
Total time: 30 minutes
This creamy cheeseburger soup delivers the signature cheeseburger flavors in liquid form. It features all the original ingredients, like ground beef, diced onion, and diced pickles, but adds potatoes, or milk, to create thickness.
You can cook the dish on a stovetop in half an hour or make this soup ahead in a slow cooker and come home to a well-cooked dinner. If a bowl of soup is not enough to make you full, have it with garlic breadsticks or homemade rolls.
Total time: 20 minutes
I love homemade soup because I know what exactly goes into the dish and make sure that all the ingredients are high quality. It is especially useful for this cheese soup recipe: you can't be sloppy in choosing cheese.
Velveeta is the best type to use here because it is easier to melt: it is softer and smoother than American cheese. As a result, you will get the smoothest, creamiest cheese soup.
Eat Houston's Canadian cheese soup with crusty garlic bread. They will give you a luscious, perfect dinner on a weekend night.
Total time: 1 hour and 5 minutes
You will find many French onion soup recipes on the Internet, but they either take long hours to cook or are too complicated for busy people. By contrast, the recipe I'm introducing takes only one hour, a stockpot, and medium heat.
You must follow this traditional French recipe closely, particularly with the ingredients. First, you can't use any other cheese than Gruyere since it melts beautifully and is perfectly savory. Secondly, cooking sherry is a must, as its flavoring is irreplaceable.
This soup tastes the best when served warm, but you can store it in the fridge for one week or in the freezer for three months.
Do you know you can add alcohol to French onion soup? Follow this cook's guide and try it!
Total time: 45 minutes
When I first used beer in a soup recipe, I had doubts. To my surprise, the dish turned out very well. Once the alcohol evaporates, the only thing left is a delicate flavor that intrigues the diner. Since then, I have experimented with several soup recipes with beer.
The amazing blending of flavors you can experience from this beer cheese soup is not difficult to recreate. It tastes even better when you warm it up the next day, so you may want to cook an extra amount for the next meal.
According to the instructions, the soup calls for spicy turkey sausage. However, you can use any sausage to your liking. There are no restrictions on this ingredient.
Total time: 45 minutes
This creamy green soup topped with crispy bacon is my go-to recipe whenever I want a light dish for lunch. It contains only 22 grams of carbs, and you can further reduce this amount by leaving out the potatoes.
Before shopping to make this soup, you should go through the list of substitutions. It may help you cut the shopping list and save time and money. For example, you can use cooking oil, avocado oil, or canola oil in place of butter.
In addition, white onion can replace yellow onion, lemon extract or lemon juice can replace lemon zest, and you can use vegetable broth instead of chicken. Lastly, whole milk can work fine in place of heavy cream, though the creamy texture won't be the same.
Total time: 25 minutes
If you love mac and cheese, you will surely love to have a bowl of this comforting pasta soup on a chilly day. It's super thick and cheesy with tender pasta pieces. On top of that, the dish has an appealing creamy yellow color, like soft ice cream.
The recipe I'm presenting in this post adds ⅛ teaspoon of cayenne pepper to the dish for a little extra spice. It also makes you feel warmer when eating the soup. However, feel free to omit it if you don't like spicy food at all.
Another thing you should note down is not to overcook the pasta. Otherwise, its texture will get too soft and dissolve into the thick soup. Try not to cook more pasta than you can eat in one meal since reheated pasta will also be too tender.
Instead of shell pasta, you can use actual macaroni to make mac and cheese soup.
Total time: 50 minutes
This warming, comforting soup has a combination of seasonings, including fresh ginger and turmeric. The latter is the key ingredient to give the dish its beautiful yellow tone and unique flavor, while the former offers warmth and nurture.
This roasted carrot-ginger soup also scores high in terms of being healthy. It contains only veggies and obtains creaminess from full-fat coconut milk rather than cream. Besides, you can easily freeze and reheat the soup later, so you can make extra for multiple meals.
You can serve this incredible soup any time, but it shines the best on cold and dry days.
Total time: 1 hour and 15 minutes
There are many great recipes to make good use of cabbage, but this one is my favorite when it comes to soups.
Cabbage is rich in vitamins C and K. It helps you combat inflammation, improve digestion, and avoid certain diseases. Moreover, it's a cheap vegetable available all year though it tastes differently depending on the season.
The next important ingredient of this soup is cumin seeds, which bring a rich, hearty, warm, and earthy taste with a citrus hint. Roasted cumin seeds add an extra smoky punch to the mix.
Total time: 30 minute
Celery is normally used for seasoning, but you can turn it into a great bowl of soup with an exotic flavor and smell. It offers a unique, mild, and earthy taste, while butter and whole milk contribute to the creaminess. Top the soup with celery leaves, and it'll be perfect.
Still, the celery flavor of the resulting soup may not be strong. You can increase the amount of this ingredient if you prefer more of a celery vibe. Personally, I think this amount is delicious enough.
Also, this recipe is keto-friendly, so whoever looks to reduce their carb intake can rely on this creamy celery soup.
People who like a shorter ingredient list for cream of celery soup should refer to this cook's guide.
Total time: 25 minutes
Bisque is a smooth, creamy, seasoned soup originating in France. It's typically made with crustaceans like lobster, shrimp, crab, or crayfish and is easy even for beginners.
Firstly, melt butter over medium heat, then saute lobster meat and shallots until they become soft. Next, stir the flour in the pot until it blends nicely and the mix is lightly golden. Add the other ingredients to the pot and stir until they are well mixed.
Lastly, turn down the heat while stirring until the soup thickens. Sprinkle some chives on top before serving.
Total time: 30 minutes
Several recipes on this list prove that you can have an excellent, creamy soup while strictly following a vegan diet. This spinach and artichoke soup is the next example of this fact.
It relies on garlic, onions, and frozen spinach for an exquisite taste, while its creaminess comes from tofu and non-dairy milk. In terms of artichoke, you can use fresh or marinated artichoke hearts. However, the latter offers a stronger flavor.
This soup reheats well, so you can make it ahead and serve it with toast whenever you like. Also, if soup separation happens, just reheat and stir well to make it good as new.
Total time: 25 minutes
This soup requires fewer ingredients than most recipes I'm introducing here. Yet, it has one of the most sophisticated flavors by combining lemon juice, baby spinach, and parmesan cheese.
When shopping for tortellini, you should go for freshly made one because tortellini frozen for a long time doesn't have a good texture. Also, choose a mild filling to blend well with cheese and broth, such as chicken or spinach.
In case you want to further enrich the soup, I have a few ideas of what you may add to it. Try diced potatoes, kale, or zucchini. You can add diced carrots, celery, onions, or shredded chicken if you have some on hand.
Total time: 6 hours and 20 minutes
A reuben sandwich consists of Swiss cheese, corned beef, sauerkraut (sour cabbage), and Russian dressing. It's popular in North America and is the inspiration for my next recipe. If you want a side dish for it, you can't go wrong with toasted marbled rye bread.
This creamy reuben soup keeps the key ingredients of its sandwich counterpart, plus several others, to make a perfect soup. Notably, this soup is low-carb, containing only 2.1 grams of carbs per serving, and is suitable for keto enthusiasts.
If you want to get a completely full stomach from creamy reuben soup, this guide shows you how to serve it with rye bread.
Total time: 45 minutes
This spicy white chicken chili looks a bit messy, but it's a terrific soup to eat on a cold autumn day. You can either cook it on the stove in less than an hour or opt for the slow cook method and have it ready in four to seven hours.
One of my two favorite things about this soup is the avocado cubes. The fruit is super smooth and tender, pairing amazingly with the soup. The other great thing is beer bread served with this soup, which adds a crunchy texture and fills my stomach very well.
You can also eat the soup with tortilla chips or just have it alone. It depends on your preference.
Total time: 1 hour and 10 minutes
If you are fond of cheesy, creamy soup based on meat and dairy products, try this fruity soup for a change. It's completely vegan, uses apples and parsnips as the base, and adds coconut milk for creaminess.
Granny Smith apples give this dish a refreshing, tangy flavor, but you can alternatively use Braeburn, Pink Lady, or Gala apples. Meanwhile, the veggies offer natural sweetness, creating a perfect balance with cumin, curry powder, and coriander.
The best way to serve this soup is with toasted baguette slices. All you need to do is preheat the broiler, drizzle olive oil over the bread, and bake them until both sides are lightly browned.
Total time: 8 hours and 15 minutes
This creamy and hearty potato soup is a perfect dish using leftover ham bones to cure hangovers. It takes over 8 hours to cook, but the slow cooker does most of the cooking. You only have to prepare the ingredients for 15 minutes.
Specifically, place all of them, except for black pepper and the cream, in the slow cooker and wait. Once the cooking is done, remove the bay leaves, take the bone out, and shred the remaining ham into the soup.
Lastly, add the black pepper and the cream, stir well, then serve. Beef bones can replace ham bones in this recipe.
Total time: 30 minutes
Zucchini is among the cheapest vegetables you can buy anywhere. It contains many nutrients and antioxidants that can improve digestion and your heart condition. Why not make a soup to take advantage of these great health benefits?
This soup is velvety and creamy, thanks to cream and parmesan cheese. Baby spinach is optional, but I'd like to use it for a vivid green hue. Best of all, you can make this soup three days ahead. Just keep it in the fridge and reheat it before serving.
To make this soup lighter, replace the chicken broth with vegetable broth. For those who make zucchini soup for lunch, you may have it with crusty bread, Jalapeno cheese bread, or Focaccia bread to ensure a full stomach.
If you are a vegan, you can still make easy creamy zucchini soup with vegan ingredients. Refer to this guide!
Total time: 45 minutes
Chicken noodle soup can instantly make you feel better, whether when you are under the weather or dealing with a bad hangover. However, the version I'm introducing is creamier than your average soup. It's as delicious as ever, and you can sneak veggies in for your kids.
In terms of noodles, you must use egg noodles. Make it yourself or use a store-bought product, but don't use any other type. They are wonderfully hearty and pair perfectly with the chicken flavor.
To bulk the soup with veggies, add peas, corn, mushrooms, celery, carrots, or onion. Pick your favorite!
Total time: 1 hour 30 minutes
Dill pickle soup comes with several layers, including savory and tangy tastes. It features a perfect balance of acidity and creaminess from the pickle juice and sour cream. If you have made potato salad with pickles, you will find something familiar in this soup.
Here are a few pro tips to produce the best result. For the potatoes, dill pickles, and ham, cut them into pieces of the same size. This step makes them easier to chew with a better texture. Plus, serve the soup with rye bread like the Polish or any type of bread you like.
The instructions offer options for stove top and Crockpot methods. Follow whichever suits you, but remember that the Crockpot takes at least four hours to cook the dish.
Total time: 35 minutes
This article has brought about so many cozy soup recipes that you can constantly change the menu for your family all winter. To end the list, I'm glad to present a soup that's not only creamy but also herby, slightly sweet, garlicky, and healthy.
Sweet potatoes are equally nutritious as potatoes, but they taste different. It's sweet, starchy, and less mild than potatoes. When well cooked, sweet potatoes are also more tender than potatoes. Hence, it contributes to a complex combination of flavors for this soup.
If you want to make it vegetarian, use plant-based sausage in place of Italian sausage.
Creamy Soup For Life!
I can assure you that you will need a creamy soup at some point in your life, whether it's a freezing day, a relaxing evening, or when you have a cold. There are regular, vegan, and keto-friendly recipes for you to choose from.
Normally, it calls for heavy cream or cheese to ensure creaminess. However, vegan eaters only need a lot of veggies and coconut milk to make the soup thick.
After you have tried the recipes above, comment and let me know about your results. Share the article with other soup lovers if you enjoy these creamy dishes. I'm sure they will love them too.