Top 35+ Easy Copycat Panera Bread Recipes To Make at Home 2023
Famous restaurants like Panera Bread often offer very delicious and unique dishes, but making your own copycat Panera Bread recipes at home is not impossible. This post will give you similar recipes that you can easily follow.
Not everyone wants to eat out. Simply because they want to save money or don't like the crowded atmosphere outside of restaurants, if you are too, these copycat recipes might be what you're looking for. Don't wait any longer. Get started now.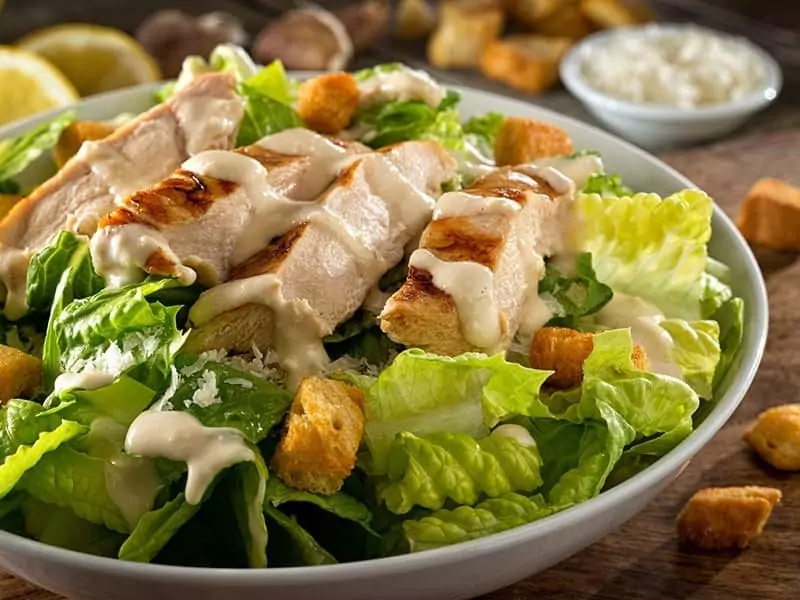 36 Copycat Panera Recipes That Everyone Lust For
Have you tried the famous dishes of Panera Bread restaurant? Want to show off your kitchen skills with these dishes? If yes, check out the copycat recipes below with soups, salads, sandwiches, and baked desserts.
Soups:
Baked Potato Soup
Creamy Tomato Soup
Vegetarian Black Bean Soup
Homestyle Chicken Noodle Soup
Cream Chicken & Wild Rice Soup
Broccoli Cheddar Soup
Bistro French Onion Soup
New England Clam Chowder
Lemon Chicken Orzo Soup
Instant Pot Vegetable Soup
Squash Soup
Salads:
Asian Sesame Chicken Salad
Watermelon Feta Salad
Fuji Apple with Chicken Salad
Napa Cabbage Salad With Blue Cheese
Strawberry Poppyseed Salad
Caesar Salad
Chicken Caesar Salad
Green Goddess Cobb with Chicken Salad
Sandwiches and Souffles:
Cheese Souffle
Ham & Swiss Souffle
Bacon Turkey Bravo
Spinach & Bacon Souffle
Roasted Turkey & Avocado BLT Sandwich
Baked Eggs Souffle
Baked Desserts:
Pecan Sticky Buns
Cinnamon Roll
Caramel Apple Scones
Blueberry Scone
Blueberry Muffin
Cinnamon Coffee Cake
Pumpkin Muffin
Bear Claw
Cobblestone Muffins
Kitchen Sink Cookies
Double Fudge Brownies
Copycat Panera Bread Soups That Make You Drool
The soups at Panera Bread restaurant really captivated me. So I decided to do them myself at home with some copycat recipes. Here are a few soups I've made with success. You can also try it out!
This baked potato soup is a comforting dish to make with leftover baked potatoes. Adding bacon, chives, cheese, and sour cream, you can easily have a rich and delicious soup. This is truly a dish that anyone who has tried it once will love.
You can customize the cream amount in this wonderfully creamy soup to make it lighter or richer. You can also adjust the amount of water for a thick or liquid soup. With this recipe, you can easily make bulk to serve a crowd.
With simple ingredients and quick prep time, you can make this delicious black bean soup in 30 minutes. Whether you're looking for a side dish or main course, this soup is sure to satisfy your cravings.
This is truly a nutritious dish with plant-based protein. A dish that is both delicious and nutritious, why don't you try it?
A very detailed instructions for a healthy and hearty black bean soup. Check out this video to know:
On cold days, nothing can be better than a bowl of warm chicken soup to soothe your stomach. Combine ingredients of carrots, celery, egg noodles with mouthfuls of tender chicken, and you will have a delicious chicken soup.
For the chicken to be tender, it may take a bit of time. But don't worry, the delicious chicken soup is really worth your time.
You can imagine this soup as a chicken noodle soup. But instead of noodles, it will use rice instead. At the same time, the broth is flavored with milk and heavy cream.
To add a little flavor to the soup, you can use the lemon zest for flavor. The texture and flavor of this soup are both contrasting yet harmonious. It all makes for a mouthwatering soup that you just can't stop loving.
This soup is truly a nutritious and healthy dish with broccoli, carrots, garlic, and cheese ingredients. Both adults and children will love this soup as it's a blend of creamy and vegetable elements that both of them love.
With only 30 minutes, a delicious and nutritious dish can be served to your family. Try it now!
Bistro French Onion Soup is really a soup that made Panera Bread restaurant famous. If you want to taste this soup but still want to save money, this copycat recipe is here for you.
Even though it's a copycat, it still has the same flavor as the original. This soup is a wonderful blend of sweet and savory. It is usually served with slices of bread topped with melted cheese.
This clam chowder is made with many ingredients, and each ingredient contributes to the rich flavor of this soup. Despite many ingredients, the recipe for this soup is not as difficult as you think. With a few instructions, you can absolutely make it at home and get the taste you're looking for.
This is still chicken soup. You may be wondering what Orzo is. Orzo is actually a type of pasta but has the shape of rice grains. So its cooking time is still speedy. Confusing rice with Orzo can cause you to overcook the soup. Be careful!
The highlight of this dish is the broth with fresh lemon juice. Lemon makes this soup lighter and brighter. Don't forget this important ingredient!
Check out this video to know:
This is a flavorful soup for vegetarians. Of course, if you're not a person with this lifestyle, you can still make and enjoy it at home.
Using an instant pot will make cooking easier than ever. Just prepare all the necessary vegetables and time your device. Waiting to enjoy. It's too easy for a delicious dish!
If you're looking for an idea for Thanksgiving dishes, you might want to consider this soup. The taste of squash with a thick and creamy consistency adds richness to this soup.
In addition to the main ingredients, apples are also an important ingredient in creating the fall flavor you are looking for in this soup. Combine ingredients just right to create a delicious soup!
Copycat Panera Bread Salads Make You A Kick
Say goodbye to hot soups, and come to healthy salads. Check out what's so special about Panera Bread's salads and how its copycat recipes are made.
Try something new with this Asian-style salad recipe. This salad is mixed with lots of different ingredients, and all are topped with sweet sesame oil.
This salad is truly a perfect blend in every element, from color, texture, and taste, complete and impeccable. You won't regret trying it!
Sweet watermelon is mixed with other savory spices and feta cheese to create a special blend of flavors for this salad. Instead of eating salad simply as a summer fruit, you can try it in this salad recipe to feel a different side of this sweet fruit.
One of the easiest salads ever to make, bringing an extremely refreshing feeling. Why don't you try?
Is there anything simpler than the watermelon feta salad recipe? Let's see this video:
Made with many ingredients with many textures, but this salad is a strange combination. Crispy apple slices, pecans, fresh veggies, and cheese make for a flavorful and fresh salad.
The important thing that creates the flavor of this salad is still the dressing on top. This salad uses balsamic honey dijon dressing. It would be an omission if you forgot this delicious dressing.
The name of the dish also shows most of its important ingredients. In addition, you still need to add spices to create a taste and other auxiliary ingredients to modify the dish if needed.
This salad is actually a vegetarian dish. However, you can still add a little chopped bacon to enhance the dish's flavor if you like. This is a straightforward recipe and easy to customize the taste.
If you're on a hot summer day, you'll really need this salad. It will soothe the feeling of heat and bring fresh energy to you.
The combination of greens, fruits, and sweet sauces creates the perfect freshness in a salad. It can be served as a side dish or served at the end of a meal as a dessert.
This caesar salad recipe is really simple. You can make it with your kids to have happy memories with them.
The ingredients for this salad are straightforward to find, including Romaine lettuce, cheese, Anchovy paste, and Croutons. And, of course, indispensable cream sauce. Don't miss out on such a delicious and simple recipe!
This is really a hearty salad with a variety of ingredients from vegetables to eggs and chicken—all combined to create a diverse salad full of flavor.
Unlike other salads that use mayonnaise for the dressing, you will replace them with Greek yogurt in this salad. This not only makes the salad more delicious but also very good for your health.
The attraction of the salads in Panera Bread is the freshness of the vegetables. Just apply this principle, you will get fresh salads. This Green Goddess Cobb Salad is no exception.
After mixing the vegetables, you'll add some bacon and chicken, of course. Drizzle a layer of green sauce with a natural color. All done, a super delicious salad is waiting for you to enjoy.
Quick And Easy Copycat Panera Sandwich And Souffle Recipes
What variety of recipes can you make for fast foods like sandwiches and soufflés from Panera Bread? Are you curious? Discover now!
If you are a fan of rich cheese, this is truly a recipe you cannot miss. Souffle is actually not as difficult as you think. Just follow the right order. Everything will be right with the result it should have.
These cheese souffles will explode as soon as you put them in your mouth. It's really a very indescribable feeling that you should feel for yourself.
Ham & Swiss souffle is a dish that you can have for breakfast and dinner or whenever you want. An attractive croissant crust wraps the smooth filling.
Use a spoon to scoop a small piece, and you will feel its fluffy texture. It feels like it melts in your mouth. This dish is really worth a try!
The Bacon Turkey Bravo Sandwich is my favorite at Panera Bread. I had to go there so many times for this dish. So I decided to teach myself to make it at home. And the results were surprising. It's hard to believe that I was able to succeed from the first sandwiches.
Tomato, lettuce, smoked turkey, smoked Gouda cheese, bacon, all ingredients wrapped in sandwiches with a delicious gravy. That's enough for one meal. Nothing more is needed.
If you're wondering if a Souffle can be healthy, the answer is this spinach and bacon Souffle recipe. This dish is completely gluten-free and will be an ideal breakfast to give you enough energy.
Souffles are both delicious in taste and beautiful in appearance. Who can refuse it?
Learn how to make the spinach & bacon souffle from A to Z by this video below:
You can use leftover turkey from a previous meal that's perfect for this sandwich. Add a few other ingredients like bacon, avocado, and you will have a delicious sandwich easily. Don't forget to add the juicy sriracha sauce that makes up the soul of this dish.
Combine ingredients to create a complete dish. Your task is effortless. The steps are all available, simply follow and get the results.
With diverse uses, eggs are an ingredient that appears in most dishes. This time too, it will be used to create a delicious baked egg souffle.
To make this the best, it's important to choose the type of dough. If possible, make sure you choose the right croissant dough, which will create the texture you want in your souffle.
Copycat Panera Bread Baked Desserts That You Cannot Say No
To end the meal completely, delicious baked desserts are indispensable. These are the recipes that make up the brand of Panera Bread. How can you imitate these recipes? The answer is right below.
Panera Bread's pecan rolls inspire these pecan sticky buns. With a little variation, you can easily have a delicious dessert.
A layer of pecans and soft caramel covered the fragrant cinnamon rolls. Its right amount of sweetness will be something you shouldn't miss.
These cinnamon rolls are something no one can resist. With the delicious taste of this dessert, you won't stop at the first bite. You'll want to keep eating.
These rolls are covered with a glossy and sweet glaze. Perfection lies here. This is also the highlight of this impressive dessert.
Apple scones with a sweet caramel coating will be an addictive dessert. Soft texture plus sweet flavor, everything you need in a dessert will be in these caramel apple scones.
Serve this cake with a cup of tea. It's always an inseparable combo.
The thin crispy crust and soft filling make for an impressive combination for this dessert. The sweetness of the blueberries will make you unable to stop once you try a piece.
You can enjoy these sweet treats with blueberries right out of the oven. However, if you want it even more delicious, cover it with a layer of vanilla ice cream. You will understand what satisfaction is. Nothing could be better than that.
Step-by-step instructions for you to get the blueberry scone recipe. Let's see this video:
Still with the ingredients of blueberries, but this time it will be a muffin recipe. This recipe is very easy to make, and the taste is almost unchanged from the expensive muffins in Panera Bread.
The cake's fluffy texture and juicy blueberry filling will leave you in love. Trust me!
Coffee is not only a delicious beverage, but it is also an ingredient used in many other desserts. For example, this cinnamon streusel coffee cake coffee is combined with cinnamon and a few other ingredients to create a perfect dessert.
The aroma of cinnamon, the delicious taste of coffee, and the moist texture of the cake are all that you will feel when eating this cake.
In the fall, I was constantly looking for desserts to make with pumpkin, and I came across this pumpkin muffin recipe. The pumpkin spice is evident in these muffins. They have a soft texture and a sweet, autumnal flavor, everything a pumpkin lover is looking for.
These cakes are highlighted by the almond flavor inside. If you've ever tried recipes with almonds, you'll understand why it's so popular in desserts.
Not only impressive with its delicious taste, but this dessert also comes in a fun, unique shape, in the shape of a bear's claw. Kids are sure to love these fun shapes.
This Panera Bread copycat muffin recipe features a long list of spices and flavoring ingredients, especially cinnamon. It is these spices and extra ingredients that make these cakes special.
This would be a perfect idea to give someone a gift on special occasions. Try and feel their joy when receiving your gift!
I have never seen a cookie that includes so many ingredients, chocolate, coconut crackers, nuts, etc. You can put almost anything you like into this kitchen sink cookies recipe.
Are you thinking of a mess? No, that's not the case at all. The ingredients combine surprisingly well and will give you the most delicious cookies.
Everything from scratch to make delicious kitchen sink cookies. Let's see this video:
Chocolate lovers will not be able to ignore this dessert cake recipe. Do you see anything in the name of this dessert? Yes, it's "double" chocolate. Almost all different types of chocolate are used in this recipe.
You can still add some nuts or candies to the recipe to make it different if you like. But in general, chocolate is definitely an indispensable ingredient for this dessert.
Create Luxurious Restaurant-Style Dishes At Home Easily
No matter how delicious the food at a restaurant is, you don't want to spend too much on something you can make yourself, right? The solution is that you can make those dishes yourself at home with the corresponding copycat recipes. There is no reason for you to refuse this solution.
In this post, I have compiled the recipes that I have tried and succeeded in. I believe you can do it too. Try it and let me know the results. Looking forward to hearing from you!
Nutrition Facts
8 servings per container
---
Amount Per ServingCalories382
% Daily Value *
Total Fat 24.5g

37

%
Cholesterol 72mg

24

%
Sodium 629mg

27

%
Potassium 145mg

5

%
Total Carbohydrate 27.9g

9

%

Dietary Fiber 2.6g

8

%
Sugars 3.1g

Protein 16.8g

32

%
---
Calcium

310

%
Iron

2

%
Vitamin D

5

%
* The % Daily Value tells you how much a nutrient in a serving of food contributes to a daily diet. 2,000 calories a day is used for general nutrition advice.