Look for easy cold pasta recipes to cool down your body heat? You're in luck since what you need is right here. You can assemble these cold pasta recipes with almost anything in your fridge and they're great options to utilize leftover pasta. Don't you believe it? I'll show you that this is true in this pot.
You'll be sure to love all the recipes below. They're family-friendly, effortless to whip up, and inexpensive. Most importantly, you don't need to spend hours in the kitchen.
Instead, let's spare a few minutes to make the meal and take a nap while letting the dish chill in the fridge.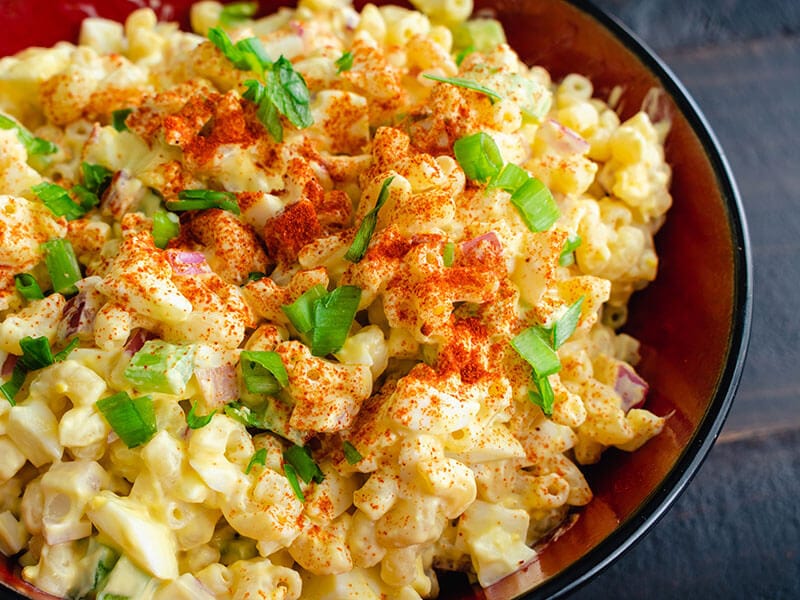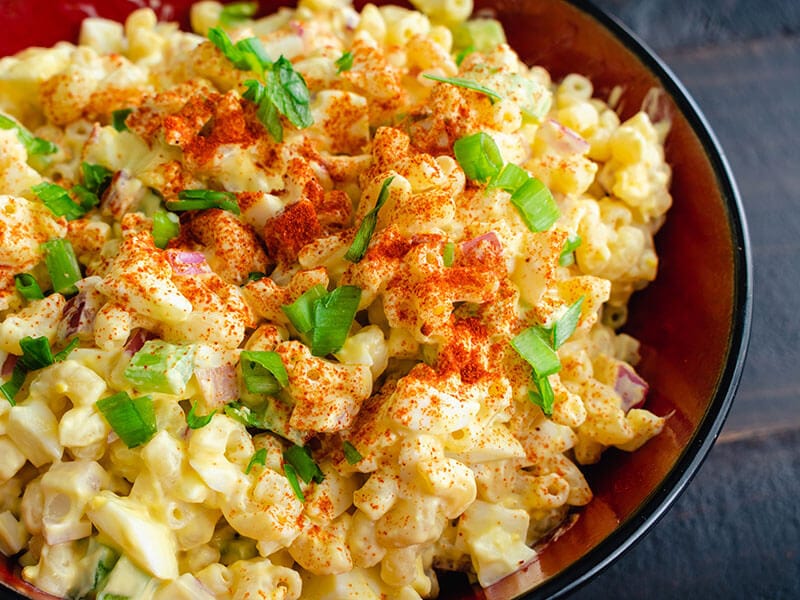 These Cold Pasta Will Make Your Mouth Water
I know warm pasta dishes like ravioli soup, mac and cheese, or spaghetti with meat sauce are all your favorite. Besides serving it warm, pasta is mouth-watering when you mix it with veggies, meat, and fruits and get chilled. Let's jump to the wonderful recipes!
Total time: 19 minutes (not including the chilling time)
Eating cold tuna pasta may surprise you, but it's worth a try. The classic recipe is for crowd-serving, from potlucks to picnics. Everyone will fall for the tender cooked macaroni combined with crispy celery, meaty tuna, and sweet relish.
A bowl of chilled tuna pasta salad also looks creamy because of the mayonnaise. Freely adjust the amount of mayo until the meal reaches your desired consistency. A little Kosher salt and ground black pepper help make the dish tastier.
Tuna macaroni salad will melt your heart with its dreamy lusciousness.
Total time: 1 hour 35 minutes (including 1 hour of chilling time)
Bruschetta pasta salad is an incredible appetizer for every summer party. Orecchiette pasta (small-ear pasta) tossed with olive oil and balsamic vinegar is fresh and hits your mouth with an addictive taste.
Besides orecchiette, penne, shells, or any short pasta also fit the recipe. Mozzarella pearls will make the food appealing and cheesy. If you can't find the pearls, substitute them with diced mozzarella balls.
Total time: 25 minutes (not including the refrigerating time)
Unlike rich and meaty macaroni dishes, this version is lighter, fresher, and contains a few components. They are crisped pancetta (salt-cured pork belly meat), crunchy peas, and tender macaroni pasta.
When you combine them in a bowl, you get a pleasant scent that makes you want to taste it. The special dressing in the recipe is also the star of the show. The tangy flavors of lemon juice and zest balance the sweet agave and rich Dijon mustard.
Here are some tricks for you to assemble this iconic soul food recipe effortlessly. Blending the dressing ingredients in a food processor can bring out the creamiest texture while saving you a lot of energy. Ditalini or small elbow pasta is best for this.
Total time: 2 hours 28 minutes (including 2 hours of refrigerating time)
Let's enjoy your summer to the fullest with this seafood pasta salad. Crab, shrimp, herbs, and pasta; all your favorite foods are in one bowl. You can assemble the hearty dish and feed your guests at the next party. I'm sure everyone will love it.
Choose frozen salad shrimp because it's premade, and you don't have to waste your time peeling and deveining like using fresh shrimp. Also, frozen crab meat and canned peas are wise choices.
You can whip up the food in the morning. Place it in the refrigerator while doing your own work. When it's lunchtime, your cold meal is ready to serve.
Total time: 25 minutes (not including the refrigerating time)
I'm sure you've been hooked by the name of this Green Goddess pasta. Let me explain a bit. Green Goddess is the creamy dressing frequently made with parsley, chives, tarragon, lemon juice, and a few more.
You can prepare the dressing at home or grab a store-bought one. This dressing will give your dish a mildly sweet, tangy, and earthy flavor and a pleasingly aromatic smell. Serve it at picnics, hiking, or anywhere you want.
Total time: 30 minutes (not including the chilling time)
This recipe deserves to be on your summer chicken cooking menu. The food offers the appetizing taste of meaty chicken breast, sweet carrots, and a flavorful mayo-based dressing.
Cooking the pasta is simple, but keep these tips in mind for a perfect result. Don't cook the pasta all the way through because it may get mushy when you toss it in the dressing. Rinse the pasta under cold water after cooking. This will help the pasta still have a bite.
Also, you can add hard-boiled eggs, cranberries, raisins, or bacon to your cold pasta bowl. If there is any leftover, store it in the fridge for 3–4 days.
Cold chicken macaroni salad is family-friendly and feeds your mouth with flavors.
Total time: 25 minutes (not including the refrigerating time)
Coleslaw and pasta are an amazing combination of two famous side dishes. The crispy and fresh veggie coleslaw mixed with tender pasta will surely become one of your favorite pasta recipes for summer parties.
Here is how the side dish goes. Look for small pasta, cook as instructed, and cool it down by rinsing it with cold water. Make the dressing with apple cider, sugar, mayo, and vinegar. Toss the mixture with pasta, coleslaw mix, sliced red onion, and cucumber.
The veggies may lose their texture after a day, so it's not advisable to make them ahead of time. Nevertheless, you can store the side dish for 3-5 days in an airtight container but try to finish it as soon as possible.
Total time: 15 minutes (not including the refrigerating time)
No one can resist this tender but firm summer spaghetti dish. Spaghetti coated with zesty Italian dressing and grated cheese will fill your mouth with overwhelming deliciousness.
Did I mention the goody is an incredible side dish for summer? It can go wonderfully with any main protein, like meaty hamburgers, grilled pork chops, or everything you want.
Moreover, you'll need diced cucumbers, cherry tomatoes, and black olives to make your meal colorful as well as loaded with veggie flavors.
Total time: 22 minutes (not including the refrigerating time)
Amish pasta salad is a traditional dish in Amish country. There are many versions of this Amish food, but it generally consists of pasta, hard-boiled eggs, celery, and bell peppers.
Back to this recipe, the dish is somehow similar to the classic version, making it a top pick to have with chicken wings for an unforgettable experience. The pasta is al dente and combined with the crunchy texture of the veggies and the creamy sour-sweet dressing.
When to serve this? The delightful dish is a crowd-pleaser and suitable for any occasion like get-togethers, potlucks, outdoor BBQ parties, etc.
Total time: 35 minutes (not including the refrigerating time)
Have you ever heard of this interesting dish? If not, it's the right time to feed your whole family with this delectable yet simple meal tonight. As for the ingredient list, you'll need ground beef, bacon, cheese, pasta, and a few more.
Your yummy dinner will be available after minimal prepping work. Start by cooking the pasta, assembling the appropriate sauce for your pasta, then combining everything.
You can add more vegetables if you're a veggie lover, for example, cucumbers, carrot shreds, zucchini, or cauliflower.
Total time: 1 hour 25 minutes (including 1 hour of refrigerating time)
Chilled cavatappi pasta with bell pepper, spicy Pepper Jack cheese, and fresh dill is an impressive dish for your picnics. For new cooks, cavatappi is a pasta type with a helical tube form.
Cavatappi makes the veggie bowl entertaining and even attracts your kids' eyes. Furthermore, the food has a distinctive and tangy taste and a nice crunch from dill pickles.
You can prepare the food one day ahead and store it in the fridge for 3 days. I don't encourage you to freeze the pasta.
Homemade dill pickle pasta salad will become a star on cookout parties.
Total time: 25 minutes (not including the refrigerating time)
This main dish is perfect for a comforting dinner on hectic days. A bowl of hearty and flavorful veggies can please your taste buds and provide your body with nutrients. Due to pulses (dried beans), the dish is low-fat, protein-packed, and high in fiber.
Grilled zucchini, a star in this recipe, makes the food stand out from other recipes. The slightly charred veggies give the main dish a bold and smoky taste.
Some components of the basil vinaigrette are honey, white wine vinegar, garlic, and basil. Use a blender to combine everything effortlessly. And don't forget to season the vinaigrette with salt and pepper.
Total time: 20 minutes (not including the refrigerating time)
This fantastic side dish using pasta is the ultimate food to feed your children. The lovely shape of wagon wheel pasta and the vibrant color of sweet red pepper, black olives, and orange carrots are so charming that your kids won't stop begging for more.
Cut the veggies into tiny pieces since they'll be easier to chew. Also, coat the salad with creamy Parmesan Romano dressing. The sauce will give your food an extra flavor and a perfectly dreamy texture.
Total time: 20 minutes (not including the refrigerating time)
If you're a person who prefers to experience different cuisines, you'll fall for this Tex-Mex goody. Why do they call it a Tex-Mex dish? That's because it has a Texas flavor and includes some Mexican ingredients (taco seasoning and Mexican cheese).
The recipe is customizable, so pick any pasta type you have on hand. You can increase the spiciness by adding a hot salsa or spicy taco seasoning. Adding grilled chicken or ground beef is a good choice to serve as a meaty main dish.
Total time: 33 minutes (not including the refrigerating time)
Filipino sweet macaroni salad is a must-try dessert. You're not wrong. This recipe is a sweet treat made with macaroni. The treat will satisfy your sweet tooth with its fruits, cheese, and syrup.
The dessert requires undercooking the macaroni by one minute. Then mix it with raisins, condensed milk, pineapple chunks, and fruit cocktail in a large bowl and chill in the fridge before spooning each portion out.
Serving this dessert throughout the Christmas season will be a brilliant idea.
Total time: 20 minutes (not including the refrigerating time)
This is another family-friendly cold pasta recipe for serving a crowd. The wholesome meal is the win-win combination of deviled eggs and macaroni. After eating a full spoon of the eggy treat, you can instantly feel the mild creaminess.
To make the mayonnaise-based dressing, crush the egg yolks into a paste, then mix them with the mayonnaise, paprika, cayenne pepper, and mustard. In another bowl, combine cooked pasta with egg whites, red onion, and celery. Lastly, toss everything together.
You will make this melt-in-your-mouth deviled egg pasta salad to eat everyday.
Total time: 30 minutes (not including the refrigerating time)
The nuttiness of avocado matches excellently with the crispy bacon and creamy ranch dressing. You'll be surprised at how fast the meal disappears from the table, as it is incredibly tempting.
Cold BLT pasta salad can go with seasonal fruits, chicken burgers, baked meatballs, etc. The pasta dish can last five days in the refrigerator. Hence, you can put together the wholesome food on Monday and consume it daily until Friday.
Total time: 18 minutes (not including the refrigerating time)
I bet you don't believe this is a cold pasta recipe at first. That's understandable since lemon orzo chickpea may remind you of a warm and cozy soup rather than a cold dish.
The heaty orzo food doesn't take much time or effort to prepare. The starchy pasta, tangy lemon zest, and spicy red pepper flakes are perfectly incorporated into the meal.
When cooking orzo, you can skip the step of rinsing it under cold water. It helps the pasta retain the amount of starch and improves the taste. Cooking orzo in salted water also prevents your pasta from tasting bland.
Total time: 1 hour 37 minutes (including 1 hour of the chilling + marinating time)
Needless to say, these yummy pasta skewers will be a star at your next gathering. These starters with pasta are inexpensive, but they're fancy and elegant enough for every event all year round.
Coating zucchini strips with the marinade of dried dill weed, garlic, and lemon juice and allowing the veggie to rest for at least an hour will make it come out ideally delicious.
Assembling the skewers is also fuss-free. Begin with basil leaves, followed by zucchini, tortellini, and tomato. Repeat several times. Drizzle with vinaigrette or your favorite dressing before serving.
Total time: 21 minutes (not including the refrigerating time)
After the first try, you'll regret not whipping up this Italian antipasto recipe sooner. Making it includes no more than three steps: cooking the pasta, preparing the dressing, and mixing the whole thing.
Antipasto refers to bite-sized food served at the beginning of a formal Italian meal to stimulate the appetite. However, this customized meal is a good fit as a side dish or entree rather than an appetizer.
The ingredients that make the dish hearty are artichoke hearts, hard salami (cured sausage), olives, and mozzarella pearls.
Total time: 1 hour 22 minutes (including 1 hour of the refrigerating time)
Pasta with chicken and fruit? I know it's weird, but its taste will surpass what you expect. All you need are Granny Smith apples, shredded chicken, seedless grapes, and pasta. Trust me, they work great together.
A bowl of fruity, creamy, and irresistible cold pasta is ready after a few stages of preparation. Combine mayo, honey, and vinegar for the dressing. To prepare the fruits, you should cut the apples into small cubes and the grapes into halves.
Total time: 1 hour (including 30 minutes of refrigerating time)
The Mediterranean-inspired meal is light, elegant, and suitable for most events, from weeknight dinners to neighborhood potlucks. It'll become your go-to orzo recipe because all the components can come together in half an hour.
To prepare flavorful roasted shrimp, let's start by seasoning them in a mixture of olive oil, salt, and pepper. Line the shrimp in one layer and roast for 5–6 minutes in the oven. If you use frozen shrimp, thawing first is recommended.
Apart from shrimp, you can use cubed baked chicken for this recipe. Your dinner is still yummy after all.
Shrimp orzo salad is a savory and zesty main dish and perfect for beating the summer heat.
Cold Pasta Dishes Are Best For All Seasons
I've provided you with a collection of cold pasta recipes that are enough for you to whip up from spring to winter on any occasion. Without a doubt, assembling these cold meals is much more effortless than cooking hot pasta dishes.
If you see this post is useful, share it with your friends and family. And don't be shy to express your thoughts in the comments. Before leaving, I'd like to remind you about other interesting articles on my website. Thanks for always supporting me. Goodbye!
Nutrition Facts
6 servings per container
---
Amount Per ServingCalories477
% Daily Value *
Total Fat 21.4g

33

%
Cholesterol 93mg

31

%
Sodium 894mg

38

%
Potassium 309mg

9

%
Total Carbohydrate 53.3g

18

%

Dietary Fiber 2.3g

8

%
Sugars 6.1g

Protein 17.2g

34

%
---
Calcium

42

%
Iron

3

%
Vitamin D

6

%
* The % Daily Value tells you how much a nutrient in a serving of food contributes to a daily diet. 2,000 calories a day is used for general nutrition advice.