This list of the best cinnamon desserts will prove the versatility of this spice. Cinnamon introduces warm, cozy, and spicy flavors to various sweet treats.
Yet, don't get stuck with only cinnamon rolls (though they're amazing), as there are more ways you can infuse the spice's flavors into a dessert. Cinnamon can pair well with many baking ingredients. It can complement fruits and nuts excellently.
Cinnamon is the star spice of the fall, but with this list, you'll want to use this ingredient year-round to bake amazing desserts that the whole family will love!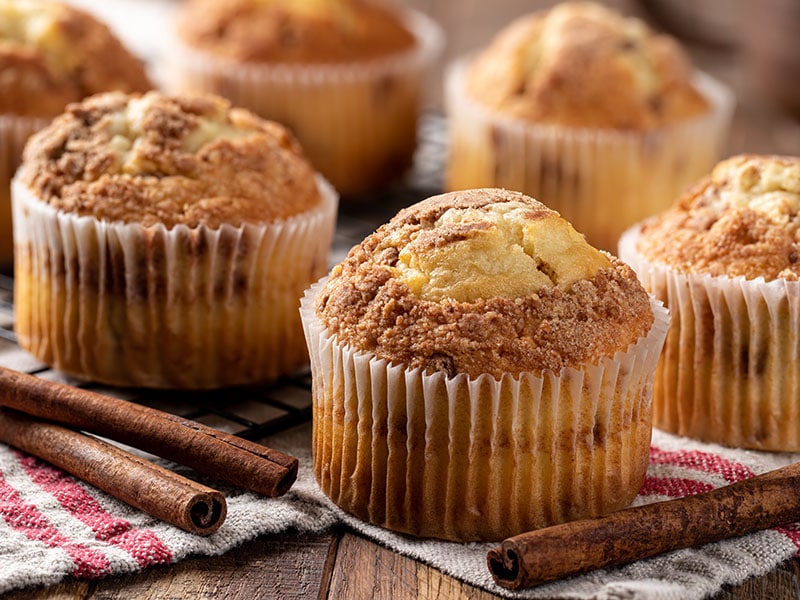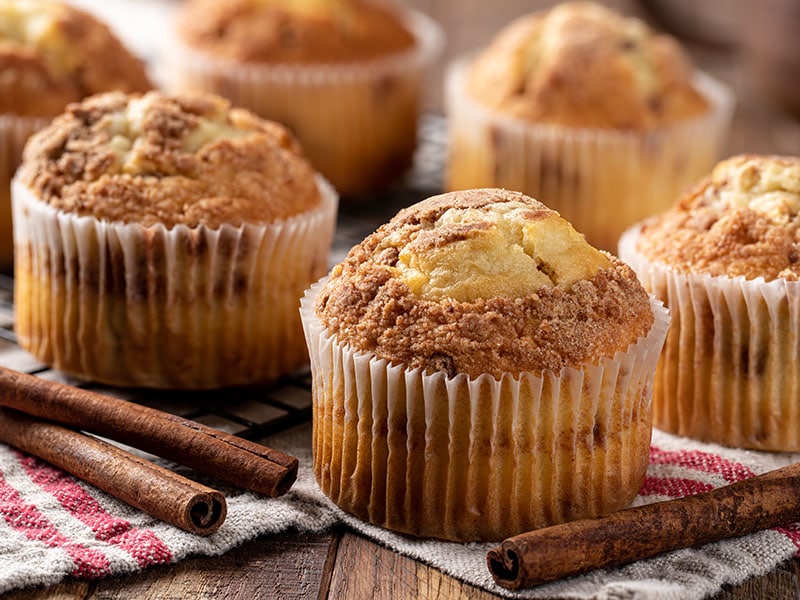 26 Best Cinnamon Desserts To Satisfy Your Sweet Craving
This collection is a great place to start if you've never tried using cinnamon to make sweet treats or baked goodies. Below is the best way to embrace this spectacular spice, from cheesecake, energy bars, and blondies, to churros and everything in between!
Total time: 2 hours and 30 minutes + 8 hours of chilling time
This crisp cheesecake is the perfect choice when you want to have desserts with apple flavor to impress the crowd. There are cinnamony, buttery caramel apples with every bite.
A perfect graham cracker crust is filled with a creamy batter, then topped with apples and crumble topping. Serve your guests this cheesecake with salted caramel sauce, and the compliments will pour in soon.
Mixing a variety of apples is highly recommended so the filling can have more flavors and textures. Yet, you can use just one type if that's what you got. Just ensure it will hold up to such a long baking time.
Say hello to the best-ever fall dessert you've ever made – apple crisp cheesecake.
Total time: 53 minutes
While how the eccentric name of these treats came about is quite disputed, you can't deny their popularity. Snickerdoodles are cookies rolled in cinnamon sugar. They are very similar to sugar cookies but with a tangy twist (thanks to the cream of tartar).
To make these soft and chewy snickerdoodles, there's no need to chill your dough beforehand. It does take a bit of preparing here: Mix the cookie ingredients, roll the dough into balls, and then roll them into a mixture of cinnamon and sugar.
However, the result is well worth the effort. You'll have a classic dessert that your loved ones will cherish. Plus, your house will smell heavenly!
Total time: 10 minutes + 20-30 minutes of refrigerating
By looking at the ingredients in the name, you know this dessert won't disappoint your palate. Apples, Medjool dates, and nuts come together for a delightful snack or dessert that you'll love.
Thanks to naturally sweet dates, this treat doesn't need any sweeteners (therefore, it's healthier!). The best part is these energy bars are super quick to make, and there's no cooking involved.
Your food processor will handle most of the work. First, use it to chop walnuts and cashews. Next, add the remaining ingredients and pulse to form a sticky mixture. Finally, chill these bars in the fridge for half an hour before serving.
Total time: 1 hour and 35 minutes
If you can never get enough cinnamon rolls, why not try this jumbo version? It's not only extra large but also extra fluffy and fun to share with everyone. This treat is all about the pillowy texture, cinnamon-spiced filling, and smooth, rich cream cheese glaze.
The hardest part is waiting for the dough to rise. Yet, here is the secret: Let the oven preheat the oven to 170°F, switch it off and place the dough inside. This way, it only takes 45 minutes to rise.
This giant cinnamon roll is a wonderful brunch, afternoon snack, or dessert. If you serve it at your party, add a scoop of vanilla ice cream on top for an extra decadent touch.
What's better than cinnamon rolls? A delicious giant roll that you don't mind sharing!
Total time: 1 hour and 15 minutes
When fall rolls in, there are few things more satisfying than debuting caramel apples into your sweet course. This apple crumb pie, also known as Dutch apple pie, is a cross between apple pie and apple crumble. So, you can enjoy two desserts in one pie (and with half the effort).
This pie is bursting with apple and cinnamon flavors wrapped around by a flaky pie crust. A crumble of oat toppings gives extra texture, and a drizzle of caramel sauce gives a finishing touch.
Apple is the obvious spotlight here. You may want to use different varieties to have more textures and flavors for the filling.
For example, choose Granny Smith apples for the tart flavor and Honeycrisp for the sweetness. Golden Delicious holds its shape pretty well when baked, so use it if you want to have toothsome pieces.
Total time: 23 minutes + 25 minutes of churning time
Cinnamon is not limited to baking only. The warm and comforting flavors can also go into ice cream as well.
Cinnamon ice cream is a heavenly creamy treat that you can make with simple ingredients. Besides your ice cream maker, you'll need whole milk, heavy cream, egg yolks, and ground cinnamon. Also, add some sugar and salt to taste.
The toasty flavors of cinnamon add a nice contrast to the cool, rich, and creamy ice cream. For more flavor, add 1 teaspoon of vanilla extract after the custard thickens and is removed from the heat.
This cinnamon ice cream is perfect if you're looking for a substitute for vanilla ice cream to put on desserts.
Total time: 1 hour 50 minutes + 6 hours of chilling time
Cheesecake is always a crowd favorite, but cinnamon makes it even more appealing. A graham cracker crust, a baked creamy cheesecake, and layers of cinnamon filling make this cheesecake an absolute show-stopper.
You'll get the best of both worlds. The flavor is like cinnamon rolls, whereas the creamy texture unmistakably belongs to cheesecake.
However, it takes a bit longer to bake this cinnamon filling. Never skip the water bath when baking this cheesecake, which helps it to achieve a smooth and rich texture and prevents the top from cracking.
Total time: 1 hour and 30 minutes
Balaklava is a rich and decadent Mediterranean dessert. It typically consists of layers of flaky phyllo dough filled with chopped walnuts and sweetened with a honey sauce.
This dessert seems like so much work to put together. However, with this recipe, you'll only need familiar pantry ingredients plus 30 minutes of prepping time.
I like mixing the nuts for the filling to get more textures and flavors, and pistachios and walnuts work wonders here. They absorb the syrup sauce nicely but are not overly sweet.
Best of all, this dessert with pistachio can last for more than 2 weeks. You can make a large batch and store it in the fridge for a readily available treat to satisfy your sweet cravings.
Total time: 45 minutes
These are the best pumpkin bars you've ever had! It's a must-try dessert for fall, too. They are soft, moist, and packed with bold pumpkin and cinnamon flavors, which are complemented by the layer of cream cheese frosting on top.
The cream cheese frosting is super easy to make. You only have to mix cream cheese, butter, and vanilla before adding powdered sugar. Sifting the powdered sugar is highly recommended for an ultra-smooth frosting.
These pumpkin bars are full of fall flavors from pumpkin and cinnamon.
Cinnamon has double duty for these delicious cupcakes. It goes into the batter and the frosting. This means every bite is bursting with the spice's flavor.
Cinnamon buttercream frosting gets special attention in these cupcakes! It takes a few minutes of beating to infuse air into the frosting. Patience is key! If you beat it for a short time, the frosting will be heavy instead of light and airy.
Cake mix is a great shortcut for these cupcakes. Mix it with other ingredients, including cinnamon, vanilla, pudding, and sugar, to create the batter.
Another trick is to use milk instead of water for the cake mix. You'll end up with richer cupcakes that can rival your favorite bakeries.
Total time: 40 minutes
Meet your new favorite coffee cake recipe! You can serve this cake as breakfast with a cup of coffee. Yet, it's also a wonderful dessert in its own right.
This coffee cake has an excellent texture: it's moist, dense, and buttery all at the same time. Load it up with chocolate chips and a thick cinnamon swirl for the ultimate indulgence.
The cinnamon swirl is the simplest part to make in this recipe. Simply add cinnamon and brown sugar to a bowl and whisk to combine. To ensure the cinnamon flavor is infused thoroughly in the cake, add two layers of the cinnamon swirl in between half of the batter.
Total time: 28 minutes
Moist, fluffy, and filled with lots of cinnamon flavors, these portable treats will surely be a new hit. They're also versatile, as you can enjoy them as breakfast, afternoon pick-me-up, or dessert.
These muffins call for plenty of cinnamon (2 tablespoons). This ingredient appears both in the muffin base and filling. However, it is not the only secret to these amazing muffins. This recipe also uses Medjool dates to add cameral-like and sweet flavors to the filling.
Bonus: these cuties are also dairy-free and gluten-free. Plus, they can last up to 5 days when refrigerated, so you don't have to stress about storing the leftovers.
Total time: 40 minutes
This apple crisp only takes one bow to make and is packed with cozy autumn flavors. The gooey apple filling and the topping made of cinnamon and oats are irresistible. You won't be able to stop at just one spoon.
It is a lighter and healthier apple crisp version. Healthy oatmeals not only add nutty flavors that please your palate but also provide vital vitamins, minerals, and antioxidants.
Unlike regular apple crisp, there's no butter here and thus no added fat. Refined sugar is also out of the picture and is replaced by maple syrup. Serve this crisp with a generous scoop of vanilla ice cream.
Total time: 40 minutes
Enjoy all the flavors of cinnamon rolls packed in these easy blondies. Soft, chewy, and with a drizzle of cream cheese frosting, they are nothing short of divine.
The best part? These blondies take only 40 minutes to make (baking time included). You don't need to wait for the dough to rise or roll out like you would with cinnamon rolls. This is always a huge plus for a busy baker like me.
While these cookie bars are amazing on their own, the cream cheese frosting makes them so much better. It only calls for basic ingredients like cream cheese, heavy cream, sugar, and vanilla extract. Just stir them over the heat and season them with a pinch of salt.
Serve these soft cinnamon roll blondies with cream cheese icing, and your guests will beg for a second helping.
Total time: 40 minutes
Rice pudding is a lovely sweet to whip up using an instant pot for a cold night. Cinnamon is always a must-have ingredient in this creamy and comforting dessert. The recipe is ½ tablespoon of cinnamon for the pudding and an extra sprinkle of cinnamon for the topping.
Substituting brown rice for white rice makes this rice pudding a healthier version. The rice also gives this dessert a distinctive nutty taste right from the first bite.
In addition, using cashew cream and plant-based milk reduces saturated fats in the pudding and makes it vegan-friendly.
On the note side, cinnamon tends to float on top of the liquid as it cooks in the instant pot. To guarantee your rice pudding is thoroughly infused with the spice's flavor, give it a good stir to combine all the ingredients.
Total time: 25 minutes
These packable oatmeal cream pies are perfect for bringing along to a summer picnic. They are a perfect combination of chewy cookies, creamy filling, and a hint of warm spiciness. Thanks to the quick-cooking oats, you can put together these pies in less than 30 minutes.
These oats give a nice baked texture to the dessert. You can save even more time and effort by using canned buttercream frosting.
However, you can make the filling from scratch with several ingredients. It takes just a few minutes, and you can always whip it up while waiting for the pies to cool.
Total time: 20 minutes + 1 hour of rising time
These pieces of soft pretzel dough are baked until golden brown and then tossed in butter, sugar, and cinnamon for a delightful dessert. They are best served warm with a cream cheese dipping sauce.
You'll definitely love this copycat recipe if you're a fan of soft pretzels like me. The pillowy soft center and amazing cinnamon flavors can rival the Auntie Anne's you get from the mall.
You'll work with the yeast here to form the dough. It's simple to make, so even beginners can nail it. For the filling, maple extract is added, and its flavors pair well with the spice.
Total time: 1 hour and 20 minutes + 45-60 minutes of rising time
This pull-apart dessert is meant for sharing. Alternatively, you can make them the night before and bake them for breakfast or brunch the next morning. Make sure to put aside half an hour to let the dough return to room temperature.
The texture is downright amazing here. You'll get the golden brown, crunchy exterior that reveals a buttery and fluffy center. Meanwhile, the bread is sweetened with cinnamon sugar, and chocolate chips only make a good thing even better!
This pull-apart cinnamon bread is the ideal dessert for fall or winter gatherings!
Total time: 4 hours and 45 min
These chocolate and cinnamon swirl meringues are flavored with cocoa powder, ground cinnamon, sugar, and salt. They get a light, airy texture when baked.
The cinnamon gives just the right hint of warmth to complement the strong chocolate flavors. These meringues call for superfine sugar, but you can substitute it with molasses for a subtle caramel taste.
The meringues get a chewy, marshmallowy texture and crispy exterior because the sugar is heated before it joins the egg whites. Depending on the humidity level, these meringues can take anywhere from 1.5 – 4 hours to bake. But I promise they're worth it!
Total time: 55 minutes
Exceptionally sweet and cinnamony, this honey bun cake can be served as dessert or with a cup of coffee for breakfast.
This dessert is very much similar to cinnamon rolls. Yet, the cinnamon swirl filling and icing help set it apart. Sour cream is also added to the batter to help thicken the bun cake, add moisture, and make it richer.
This honey bun cake will fit the bill if you're looking for a simple dessert to end a busy dinner. It has a shorter list of ingredients than most cinnamon desserts and only takes 15 minutes of hands-on time.
Total time: 22 minutes
Palmiers are French pastries made of 2 key ingredients: puff pastry dough and sugar. Also known as elephant ears, palm trees, or palm leaves, these delightful pastries can be served as breakfast and dessert.
Like other classic desserts made from puff pastry, these delicious bite-sized delights won't take much of your time. You can even use frozen puff pastry to dramatically cut down on prep time. It's also just as good or even better than the homemade variety.
The beauty of palmiers lies in their simplicity, though you can always spruce them up with spices and dried fruits. In this recipe, sugar-and-cinnamon coating and sugar icing take the simple dessert to a new level.
Total time: 10 minutes
These no-bake balls are naturally sweetened by Medjool dates, so there's no refined sugar needed. The fruit also helps these balls be more sticky and chewy.
Roasted cashews, warm cinnamon, and oats are rolled into soft and chewy balls. They are nutritious, with healthy fats from the cashews and soluble beta-glucan fiber (which helps lower cholesterol levels) from the oats.
There are only 135 calories per serving, meaning this dessert is friendlier to your waistline. They double as an energy booster, too. You can munch on some before or after hitting the gym.
Total time: 35 minutes
For the best homemade churros, you'll want to deep fry them instead of baking them. These child's play Spanish treats are perfect for a homemade recipe! Deep-fried churros are brown and slightly crunchy on the outside, with a light, doughy, and super sweet center.
Rolling these doughnut sticks in the cinnamon sugar mixture gives them a delicious cinnamon flavor.
When it comes to serving, nothing can beat a chocolate sauce. Warm chocolate sauce and warm churros are a match made in heaven. The sauce is super quick to make, so it's best to whip it up when the churros are ready.
Homemade cinnamon churros are just as good, if not better, as those you get from vendors.
Total time: 1 hour and 25 minutes + 1 hour and 20 minutes of resting time
This cinnamon roll peach cobbler is one of the best ways to celebrate the juicy stone fruit. Yet, if peaches are not in season, frozen stuff can work just fine, too. Just make sure you thaw them first and then drain all the juice.
These gooey and soft rolls have the sweetness from the peaches and extra crunch from the crumb topping. They are full of cozy cinnamon flavors as the spice appears twice: in the crumb topping and filling.
While this dessert takes a bit to make, it lasts quite a long time. You can refrigerate it for up to a month. Reheat them the next morning for breakfast or take a bite whenever the craving hits.
Total time: 1 hour and 10 minutes + 2 hours of chilling time
Here comes the ultimate treat for pie lovers: butterscotch cinnamon pie. Cinnamon and butterscotch are surprisingly amazing when paired together.
Mix the two ingredients with sugar, heavy cream, egg yolk, vanilla, and more, and you'll end up with a decadently sweet filling for the pie.
The phyllo dough is incredibly flaky and crispy, which provides a nice textural contrast to the smooth filling inside. Finish off with the homemade whipped cream topping for a sea of flavors to entertain your guests.
Total time: 1 hour + 2 hours of chilling time
These handheld treats feature a cinnamon apple filling inside a flaky crust. You're literally having an apple pie but in a more portable version.
Homemade pie crust is always delicious and impressive. You'll use flour, butter, lemon juice, and sour cream for this crust. It's flaky and buttery and virtually shatters when you take a bite.
Does sour cream sound strange to you as a pastry ingredient? Let's try this crust; you'll know it delivers everything this recipe promised.
Meanwhile, apple, cinnamon, sugar, and salt come together for the filling. You should always pre-cook the apples because fresh fruits release plenty of juice and make the crust soggy when baked.
Cinnamon and apple perfectly team up for these tasty apple hand pies.
You Never Go Wrong With Slipping Some Cinnamon Into Desserts!
While cinnamon is not always a key element in a sweet treat, its presence helps elevate the flavors of other ingredients pretty well.
If you stop at cinnamon rolls, you're seriously missing out. There are a lot of ways to use it to jazz up pastries. Whatever you choose in this list, you're guaranteed to create a big hit at your next party.
Tell me about your experience making desserts with this autumn spice in the comment below, and please share this collection with people still looking for new cinnamon desserts like you.
Nutrition Facts
15 servings per container
---
Amount Per ServingCalories120
% Daily Value *
Total Fat 5.4g

8

%
Sodium 79mg

4

%
Potassium 14mg

1

%
Total Carbohydrate 16.3g

6

%

Dietary Fiber 1.8g

4

%
Sugars 10.2g

Protein 2.8g

4

%
---
* The % Daily Value tells you how much a nutrient in a serving of food contributes to a daily diet. 2,000 calories a day is used for general nutrition advice.