22 Best Chicken Cutlet Recipes To Cook For Your Family 2023
Are you looking for the best chicken cutlet recipes to whip up a delicious family dinner? These thin chicken breasts are so much more than meat. The cutlets are faster to cook, thanks to the thinner and flatter profile.
Pan-fried juicy and crispy chicken cutlets are often how people eat them. But you can make use of them in different ways. Pairing them with various veggies, sauces, spices, herbs, or other ingredients will give you different delectable outcomes.
So, be creative and daring to try out these new recipes today. You can even tinker a little with them, add your twist to the dishes, swap out some of the items according to your desires, and you may be surprised with what you have!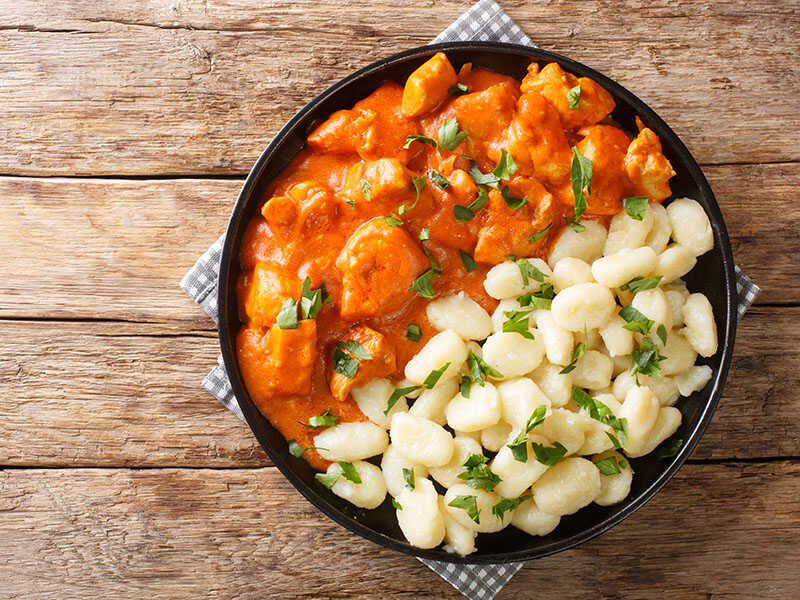 Here Are The Most Mouth-Watering Chicken Cutlet Dishes You Want To Keep Eating
You can easily make chicken cutlets by cutting whole chicken or go to stores and buy pre-made versions. They are one of the most versatile and sure-fire ways to get proteins. These recipes below can be a life-saver on busy days.
Total time: 35 minutes
The chicken Milanese, also known as Milanesa, consists of fried thin cuts coated in breadcrumbs or panko. One good thing about the recipe is that you don't need much oil to fry. Thus, the result is light and won't weigh you down.
The flavorful chicken becomes more prominent when paired with the cool and refreshing fennel salad. Plus, you get to consume both protein and greens in one dish. To me, that's a win-win.
The recipe is also at its best when you serve it with some mixed greens like arugula. A simple squeeze of lemon juice on top of the chicken Milanese does the trick, too.
Total time: 25 minutes
Here's another easy-as-pie chicken cutlet recipe for your cooking arsenal. This time, it comes with a wonderful honey mustard pan sauce, which adds so much depth to the overall flavor. Be ready to enjoy more flavorful chicken cutlets in your life.
To make the sauce, it's mostly about tossing ingredients into one pan, then whisking, cooking, and boiling them. Within 12 minutes, you can get a rich component for your sauteed chicken cutlets. Plus, you don't have to use flour, so the whole thing is gluten-free.
After sauteing the chicken over medium-high heat in olive oil in a large skillet, pour the prepared sauce over the meat. Coat the chicken cutlets evenly, then serve right away. Sprinkle chopped chives and butter for the finishing touch.
Total time: 20 minutes
Breaded chicken cutlets are one of the must-try recipes once you begin cooking with this piece of chicken breast. The cooking time is short as the recipe doesn't include eggs or flour, saving you the hassle of whisking them.
There are only 2 main components: the chicken and the breadcrumbs. You then coat the former into the latter and fry the whole thing. Remember to squeeze some lemon juice and put in some butter, too. The result is a succulent breaded chicken cutlet with lemon butter sauce goodness.
You could whip a large batch of these up and freeze them. That way, you have dinners that can be ready in a jiffy within arms' length. Just reheat them at 400℉ for about 15-20 minutes, and you are good to go.
Make your dinners more exciting by serving these breaded chicken cutlets.
Total time: 35 minutes (Excluding chicken marinating time)
Are you looking for another toothsome Italian-style meal? Check out the grilled balsamic marinated chicken, you won't be disappointed. You turn the chicken breast or thighs into juicy, tender grilled cutlets marinated in a flavorful balsamic vinaigrette.
What's more, cooking will take less than an hour. There's the marinating meat period, which is hand-off, so you don't have to break a sweat. You should let the chicken soak for at least 30 minutes – 2 hours so they can get all the flavors.
This is the recipe to enjoy in the grilling season, you will get an amazing brown and juicy result effortlessly. The cutting for boneless chicken breasts may require a few more steps than the thigh ones, but it's easy, and anyone can do it.
Total time: 20 minutes
The chicken with rosemary sauce fits the bill if you want a fall-theme recipe to enjoy when the winds start blowing. When immersed in the creamy sauce, your chicken cutlets turn all comforting and warm. The best part? The dish gets better with each bite!
The relish – a simple combination of butter, broth, black pepper, etc. – takes the spotlight here. It transforms the meat from a plain meal into perfect comfort food for whenever you feel under the weather. For better enjoyment, consider serving the recipe with pasta, rice, or zoodles.
I have been talking about how awesome the cutlets and the flavorful sauce are, but let's not forget about rosemary, the unsung hero of the dish. The simple herb is present in the sauce and the garnishing. Adding this woody aroma item introduces a nice and unique flavor to the whole.
Total time: 35 minutes
If you want to introduce some greens into the dish but still prefer something crispy, you mustn't miss the spinach and feta stuffed chicken breasts. As the name implies, they are a delicious combination of chicken cutlets with spinach feta and ricotta filling baked to perfection.
You can bake them with an oven or air fryer. The only difference is the baking time, and you need to flip the chicken halfway when opting for the latter method. Either way, you can make the dish fairly quick with no hassle and are still healthier than the deep-frying route.
You can use both fresh and frozen chopped spinach for the recipe. If you go for the frozen option, thaw the plant by leaving it in the refrigerator, in the kitchen at room temperature, or under running warm water. Remember to also remove the juice.
Total time: 35 minutes
Despite its French-sounding name, you can trace back the origin of chicken Francese, or Francaise, to New York City. People believe that Italian immigrants brought or invented this well-known dish when they came to upstate New York. It's now a part of Italian-American culture.
This dish is kid-friendly, thanks to the absence of wine. Most Francese recipes require you to deglaze the pan or make a sauce with wine. Here, you skip this ingredient completely and use lemon juice in its place. Now all of your family can enjoy the wonderful Francese together!
Anyone having a spoon of Francese can't help but loudly exclaim, "So flavorful!". The tender meat of sauteed breaded chicken cutlets combined with lemony, buttery sauce is a wonderful creation. You will love eating the dish every day.
Total time: 30 minutes
This chicken Katsu is one of these must-try foods in any Japanese restaurant. Katsu is a breaded cutlet of chicken or pork seasoned and coated in flour, egg, and panko before frying. The pork version is called Tonkatsu.
The beauty of the recipe is the crunchy exterior and moist and juicy center. There's also the Tonkatsu sauce, a combination of sweet, sour, and tangy flavors. Traditionally, people serve chicken Katsu along with this sauce and white rice. BBQ sauce works great, too.
To store the chicken Katsu cutlets, refrigerate them in an airtight container for up to 5 days. For longer storing time, freeze the dish in either an airtight container or double plastic wrap for up to 3 months. Remember to let the chicken cool down beforehand.
Total time: 50 minutes
There's no food as portable and convenient as grab-and-go sandwiches. So it makes sense that you want to stuff the chicken cutlets between slices of bread for a decadent and hand-free experience to take with you on the go.
The meal is layers of pesto mayonnaise, provolone cheese, roasted peppers, sautéed broccoli rabe, and chicken cutlets, all gathered in a ciabatta roll. The sandwiches are heavenly to chew on while watching football games or attending social gatherings.
Learn how easy it is to whip up the best chicken cutlet sandwiches.
Total time: 20 minutes
When you are in a pinch, a recipe that takes 20 minutes or less can be a life-saver. Within an instant, you can get a dinner dish full of chicken cutlets, artichokes, and a creamy sauce to fill everyone's belly. Make a rice pilaf to serve alongside this decadent offering if you like.
Most of the making steps involve simple cooking and simmering. The pan does most of the work for your convenience. Canned or frozen artichokes are recommended as they save you the hassle of working with fresh ones.
What's more, since the dish uses mostly chicken and veggies, it leans more on the healthy side. Moreover, the whole thing is gluten-free, low-carb, and without eggs or nuts.
Total time: 40 minutes
Here is a homemade pasta on par with one made in a high-class restaurant. The creamy, cheesy pasta combined with the crispy chicken makes for a heavenly duo. Put in prosciutto, grated parmesan, basil, and arugula, and the results are unbelievable.
This basil parmesan pasta requires many ingredients. But that's what makes it so good. There are layers of flavors from every added item. It's how they come together nicely into one dish that will fascinate even the pickiest eaters.
Spaghetti or linguine is a good option for the pasta department. However, any kind of pasta will work with the recipe. For what to serve alongside, you should get some bread to eat with it. I believe this Italian-inspired way of serving chicken cutlets will be a hit with your family.
Total time: About 20 minutes
This Kotletki is a savory recipe using ground chicken in Slavic style. These cutlets become juicier and more delicious with each bite. You could say they are the Russian version of chicken nuggets, a kids' favorite.
The magical ingredient in the Kotletki is Greek yogurt. Adding it helps the cutlets have a bit of a tart flavor. Plus, your finished products will have a moist result. Thus, you can enjoy the yummy Kotletki in a better condition.
Besides the fluffy appearance, what's special about Kotletki is their creamy filling with egg, dill, milk, and browned onions. It's no wonder you can find this dish in every Russian household.
Total time: 10 minutes
The dish is fast to make, you can fix 4 servings within just 10 minutes. You dredge chicken breast cutlets in flour and brown them. Next, you continue sauteing them in a flavorful lemon caper sauce. That pretty much sums up how this dish is done.
The recipe calls for wine to deglaze the pan. But you can opt for apple juice or white grape juice for an alcohol-free route. They are a good substitute that can retain the intended flavors of the dish.
The lemon-caper sauce shines the most here. Capers pair well with the yellow citrus fruit, thanks to their bright, fresh, and tangy taste. They are an indispensable part of any Piccata. You can purchase these green orbs in small, dark jars at grocery stores.
Total time: 55 minutes
Now, let's cook your chicken cutlet dinners the Southwestern way. Plus, the recipe is a one-pan dish, so your life will be easier as there is not much cleaning-up involved. Just throw it into the dishwasher and forget about it. Isn't that ideal?
The dish is a burst of flavors from seasoned chicken cutlets, brown-wild rice blend, broth, and other ingredients. Several layers of different seasonings come together, creating a complex taste for you to explore.
Total time: 15 minutes
Stop ordering pizza or eating ready-made foods when you don't want to cook. Learn how to make this cheesy Bruschetta chicken cutlet instead, and you can set a fancy and flavorful dinner meal whenever you don't feel like cooking.
The dish calls for canned tomatoes. They are as great as fresh ones when you combine them with some olive oil, garlic, and Italian seasoning. The tomatoes and cheese add another layer of flavor to the food.
For a better experience, it's recommended to serve the dish as a topping for fettuccine or zucchini noodles. Alternatively, you should eat it with steamed rice and vegetables. However you do it, you can't go wrong with the decadent cheesy Bruschetta chicken cutlets.
Total time: 35 minutes
And now, it's time for something different. Compared to other chicken cutlets, the Taiwanese counterparts are bigger, so you don't have to worry about being left unsatisfied eating these crunchy snacks. These seasoned and savory chicken cutlets are more similar to fried chicken.
The explanation behind their crunchier than usual lies in the coating. It is made of coarse sweet potato starch with higher granules than your average scratch. For low-carb options, feel free to go for regular tapioca or arrowroot starch.
Besides the tender chicken, the distinctive Taiwanese mix of salt and pepper is another reason these taste so good. It sounds plain, but you won't believe how a simple blend can change the whole chicken cutlets you are familiar with.
Bring this Taiwanese fried chicken cutlets street food back to your home with this cooking guide.
Total time: 30 minutes
Most of the recipes you've explored so far are easy-peasy, and these keto-baked parmesan chicken cutlets are no exception. You can easily coat cutlets in beaten eggs and parmesan mixture and bake them in an oven or a pan.
When you are on a strictly keto diet, consider serving the recipe alongside a chopped or greens salad. If that's not the case, there are more side dish options: roasted potatoes, roasted veggies, garlic fries, etc. A sauce like ranch or ketchup makes for a good dipping.
Total time: 30 minutes
Now you can taste one of the most popular Hungarian preparations at home. The rich, flavorful, and creamy sauce over chicken cutlets and mushrooms can win the hearts of many. You can snap the dish together, especially if you prep the veggies beforehand.
The specialty of the Hungarian classic is certainly the paprikash-infused sauce. Thus, make sure to choose the best quality ground paprika you can get. Trust me, it will make a world of difference. Remember to choose sweet paprikash, not spicy or smoked Spanish variants.
First, cook the chicken until browned, then remove the meat from heat to let it cool. Afterward, cook and stir in the other ingredients in the same skillet. Once you get a thick sauce, add the chicken and cook for a few more minutes. And that's the gist of how to cook chicken paprikash.
Total time: 1 hour
What's better than chicken pizza? The answer is chicken pizza with a cheesy BBQ sauce! Gather a store-bought pizza dough, mozzarella, gouda, and spices, and you can incorporate chicken cutlets into your favorite and most famous Italian-theme dish.
One important thing is marinating the chicken in ½ cup of BBQ sauce for about half an hour. This is to ensure the meat can soak up all the flavors of the decadent condiment.
If you are using an already cooked chicken, skip the marinating, toss it into the sauce, and continue with the remaining steps.
Next, cook and slice the chicken into bite-sized pieces, and you're already halfway there. Lastly, assemble everything into the pizza dough and bake the whole thing. After 15 minutes of baking, you can now taste the mouth-watering cheesy BBQ chicken pizza.
Total time: 26 minutes
If you want some vibrant chicken dishes for summer, opt for chicken cutlets with strawberry-avocado salsa. There's nothing like enjoying tender, moist chicken meat with a light and refreshing salsa under the relentless heat.
With how the dish involves mostly veggies, rest assured that eating it will be healthy for your body. Simply cook the chicken cutlets in a skillet, prepare the salsa, then serve the salsa on top of the chicken cutlets.
Or better yet, how about combining them to make a salad? To do so, toss all the ingredients along with some lettuce, blueberries, and lemon dressing. Consider topping the whole meal with pecans, too.
Total time: 11 minutes
This meal consists of breaded and pan-seared chicken cutlets in a crispy coating. In short, it's a terrific all-around dish you want to eat with almost anything. From biscuits to salad, there is more than one way to enjoy this appetizing offering.
The breadcrumb-seasoning mixture is what gives the cutlets their crispy nature. The recipe instructs you to use crushed red pepper for the cajun seasoning. But you can replace it with cayenne pepper, which will coat the meat more evenly under heat. Choose whichever you fancy.
Despite its crunchiness, you saute, not fry, the coated chicken cutlets in olive oil. That way, you won't end up with a greasy experience. Plus, it will be much better for your health, too.
Total time: 25 minutes
You can eat the chicken Katsu as-is, but a better choice is to serve them with mouth-watering Japanese curry. These two complement each other so well that next time you can't eat one without the other.
The cooking couldn't be simpler than using ready-made curry roux cubes. You can purchase many varieties at local Japanese markets or online stores, ranging from mild to super spicy. Just follow the package instructions, and you are good to go.
Katsu curry is typically gentler spiced than curries from other countries, with chunks of veggies ladled over a bed of white rice. You can change the vegetables to your liking or use none at all. The chicken meat blends well with the warm and mellow curry.
Wow your family and friends effortlessly with the Japanese Katsu curry.
Tender And Juicy Chicken Cutlet Offerings You Don't Want To Miss
What do you think about my collection of the best chicken cutlet recipes? Do any of them turn out good for you when you make them? Leave a comment below to tell me all about it: the good, the bad, and the ugly or your results. And see how you and I could turn them around.
The recipes are a godsend when you are in a hurry. You can prepare chicken cutlet meals for busy weeknights. So, next time you wonder what to make within an hour or less, remember these easy and simple recipes. They won't disappoint.
And you could help someone in a pinch by telling them about these dishes, too. For the same reason above, sometimes people need to fix something quick and easy for dinners, and that's when these ideas could come in handy.
Nutrition Facts
4 servings per container
---
Amount Per ServingCalories692
% Daily Value *
Total Fat 46.8g

71

%
Cholesterol 120mg

40

%
Sodium 354mg

15

%
Potassium 301mg

9

%
Total Carbohydrate 47.4g

16

%

Dietary Fiber 2.6g

8

%
Sugars 2.8g

Protein 20g

40

%
---
Calcium

93

%
Iron

4

%
Vitamin D

9

%
* The % Daily Value tells you how much a nutrient in a serving of food contributes to a daily diet. 2,000 calories a day is used for general nutrition advice.