Are you looking for easy chicken appetizers for the next party? Or you can't stop wondering which are the best chicken finger foods for a game day. There you go! A go-to recipe list of must-try chicken appetizers that are extremely simple to prepare.
From chicken bites to dips and more, everything is included in this post! Some chicken appetizers can blow your mind because they're rich in flavors and are perfect fits for home gatherings, dinners, and even outdoor parties.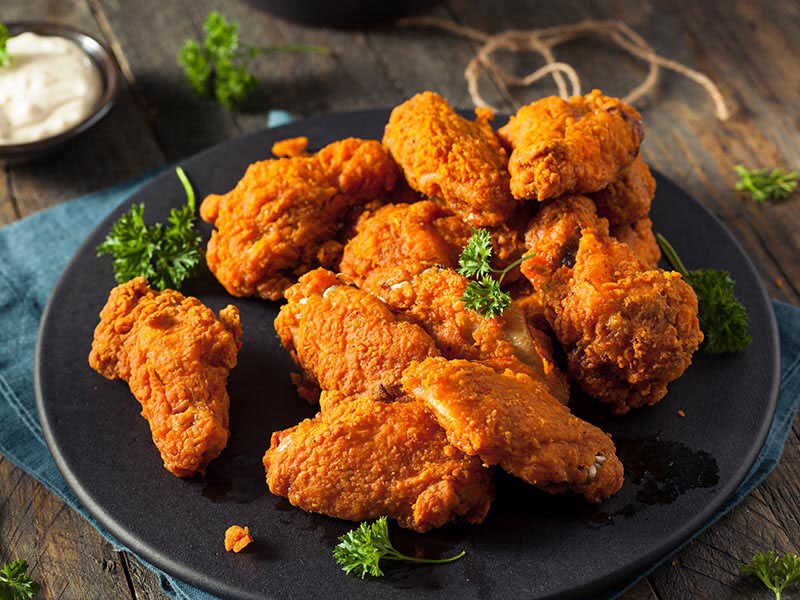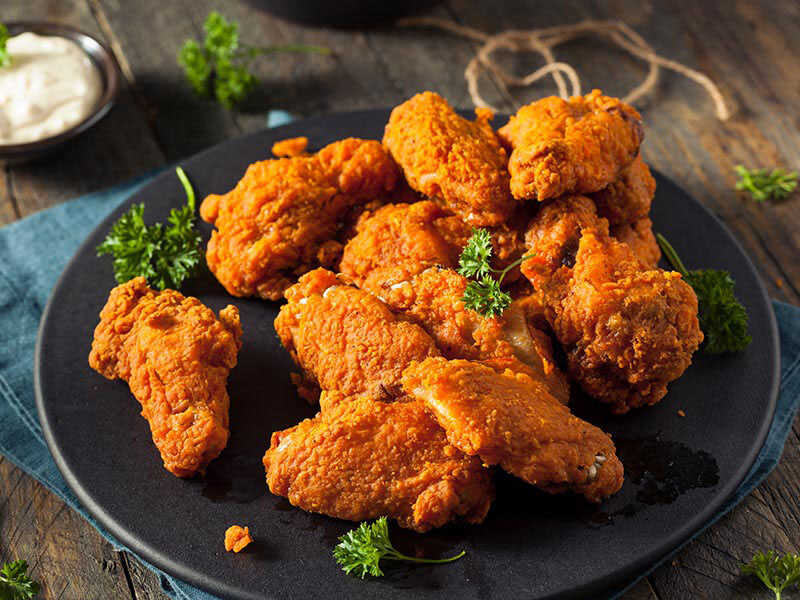 Easy And Tasty Chicken Appetizers Everyone Will Love
There's no need to search any further; everything you need is right here. This appetizer recipe list consists of numerous ideas to turn chicken into toothsome finger foods. Moreover, they also include cooking tips that you may not even know.
Total time: 30 minutes
Let bang bang chicken create more fun at your parties. An elegant and irresistible appetizer made from chicken merely takes a few simple steps to prepare. The super crispy chicken drizzled with sweet chili mayo can satisfy any gourmet.
The highlight of this chicken dish is the sweet hot sauce. To make this sauce, mix and whisk mayonnaise, honey, and sweet chili sauce. Forget about just dipping the chicken in plain chili sauce; this homemade combo will greatly enhance the flavor.
Bang bang chicken is easy to prepare at home.
Total time: 40 minutes
If you're getting bored of deep-fried chicken, why don't you use your oven? Oven-fried Cajun popcorn chicken is a perfect game-day appetizer that no one can resist. What's more, the Cajun seasoning enhances not only the color but also the taste of your chicken.
Note this! In a food processor, crush the corn flakes into smaller crumbs, then coat with the chicken. Remember to brush the chicken with olive oil before baking. With this tip, you'll be able to produce a deliciously crispy chicken in the oven.
Total time: 1 hour 10 minutes
Baked popcorn chicken is a healthier version of pan-fried chicken, but it can be completely crispy and delicious. You will make others curious about how baking popcorn chicken without corn flakes can be this insanely crunchy.
That's because there's a perfect potato chip crust. Once you finish marinating the chicken, let's dredge it with crushed potato chips in a large bowl. Make sure the chips fully coat the chicken outer. Now, bake in a 400°F preheated oven for 20 minutes and serve immediately.
Its pleasant smell and appetizing taste will absolutely charm you. Baked popcorn chicken is deep in bold flavors of chicken and butter, a little spicy pepper, and a minty smell of herbs.
Total time: 1 hour 5 minutes
Crispy chicken finger food frequently appears on every game day. But don't always serve the same food for every party. There are plenty of ways to renew your chicken first course. Add baked buffalo wings to your list today!
That said, the invention of the name buffalo wings started at a restaurant named Anchor Bar in Buffalo, New York. Today, the term "buffalo wings" refers to deep-fried unbreaded chicken wing sections usually served with a dipping sauce.
People had primarily served buffalo wings as a bar food throughout the 1970s and 1980s. Nowadays, it is always a popular appetizer on game days, get-togethers, etc.
Baked buffalo wings are coated in a beautiful golden brown color. They will never disappoint you with a meaty flavor combined with a slightly salty and spicy taste of salt and pepper. The dish will become heavenly delicious when dipped in hot and creamy buffalo sauce.
This is another different recipe showing how to make crispy chicken without deep-frying. Use neither corn flakes nor potato chips. Go for baking powder, which creates a crumbly texture for these baked buffalo wings.
Total time: 30 minutes
Serving honey BBQ boneless chicken wings before an entree is a brilliant idea. Coating the chicken, then baking and tossing it with BBQ sauce is everything you need to do. Your barbecue boneless chicken wings are ready in just a few minutes.
More amazingly, the juicy BBQ-style appetizer can pair well with any main dish you desire or be a main dish itself. I'm sure this is much tastier, healthier, and possibly less expensive than store-bought fried chicken.
To help the breading not fall off the raw chicken, you should coat the raw chicken with flour before dipping it into the egg. In this way, your baked chicken can also become more crispy and delicious.
Total time: 40 minutes
From now on, you can enjoy delicious Korean-style fried chicken right at home with this easy recipe. Soy garlic fried chicken offers a sweet, savory, and garlicky taste of soy garlic sauce.
Another notable difference between this Korean-style chicken compared to others is its golden brown, sticky, and crispy exterior texture. If you're worried about the high content of fat in fried chicken, you can always air-fry it instead.
Soy garlic fried chicken can pair well with coleslaw or any type of salad. Any leftover can last for 1 or 2 days in the refrigerator, and you can reheat it to serve warm.
Total time: 55 minutes (including 30 minutes of marinating time)
Air fryer lemon chicken bites are incredibly easy to prepare, and their flavor is more than addictive. With the 3 main ingredients: boneless chicken breasts, lemons, and olive oil, you can freely enjoy delicious lemon chicken bites every time on weekdays.
How do air fryer lemon chicken bites taste? Besides being juicy and flavorful, lemon chicken bites will arouse your palate with the acidic taste of lemon juice. You can enhance its herbal fragrance with basil and fresh parsley.
For the marinade, you can use both lemons and lemon juice. After cutting chicken breasts into 1-inch cubes, whisk lemon juice, olive oil, and some seasonings together. Let them marinate the chicken and the mixture in a ziplock bag for 30 minutes to 4 hours.
Air fryer lemon chicken bites are a perfect finger food for every occasion.
Total time: 50 minutes
Let's grab the attention of your guests with this heavenly yummy appetizer: bacon chicken bites. I believe no one can resist the alluring caramelized brown coating and the sweet and spicy taste of the chicken dish.
Some recommended ingredients for bacon chicken bites include high-quality thin-cut bacon, skinless and boneless chicken breasts, brown sugar, cayenne pepper, etc. This type of bacon can quickly produce juice and blend together with the chicken extract to enhance the flavor.
Total time: 25 minutes
Why don't you take your chicken bites to the next level with parmesan cheese? With less than 30 minutes to prepare and including merely 3 ingredients, chicken parmesan bites can become a super quick and easy appetizer on the busiest of days.
To make it, start by baking the popcorn chicken for 15 minutes. Top it with marinara sauce and mozzarella cheese before cooking for another 5 minutes. Serve it with the best sides for parmesan chicken you can prepare. Can you feel its buttery flavor touch your taste buds yet?
Total time: 30 minutes
After the first try, you'll fall for the lovely appearance and the yummy taste of buffalo chicken meatballs. This mouthwatering dish with ground chicken is healthier than the traditional buffalo chicken meatballs and is ready to serve after several simple steps.
Instead of deep-frying, baking the meatballs can also be a hit. These meatballs are full of meaty flavor mixed with a wide range of veggies such as carrots, onions, celery, etc. That's the reason why this meatball version can be more wholesome than the old-fashioned one.
The instructions are extremely easy. Mix ground chicken, panko breadcrumbs, and a beaten egg together. Let them soak for 5 minutes, combine with some vegetables, form the shape, and bake. Finally, toss cooked meatballs with buffalo sauce and serve warm.
Total time: 30 minutes
If you prefer intensively meaty chicken meatballs without mixing any veggies, I suggest firecracker chicken meatballs. Moreover, this recipe includes an extremely wholesome sauce called firecracker sauce which is made from hot sauce, vinegar, sugar, salt, and pepper.
Firecracker chicken meatballs and steamed rice are a perfect combo you want to serve as a main dish. The tenderness of chicken combines with a little spice and the sweetness of firecracker sauce. Everything will be so tempting that you're unable to resist.
For the meatballs, you can use chicken breasts or chicken thighs. Next, use your hands to mix ground chicken, 2 eggs, panko, and some spices together. Be careful not to overmix all the ingredients. Now, just shape the meatballs and bake them for 11-13 minutes.
Total time: 45 minutes
When you're a host of a game day party and struggling to find a new idea for a flavorsome appetizer, try these rainbow Thai chicken lettuce wraps. You may know that Thai cuisine is always filled with colors and flavors, with this culinary delight as an example.
Can you imagine how wonderful this toothsome Thai appetizer is? That's the amazing combination of fresh lettuce, flavorful grilled chicken enriched with pineapple goodness, and creamy peanut sauce. Let's make these Thai-style lettuce wraps for your next party!
Chicken lettuce wraps are what you need for a green and fresh appetizer.
Total time: 25 minutes
Buffalo chicken dip is sure to be a family favorite for any game day party. Try this, and you will regret why you didn't make it sooner. Note that serving creamy and cheesy buffalo chicken dip with sturdy crackers ensures they don't easily crumble when dipping.
Buffalo chicken dip can last 3-5 days in the fridge and up to 3 months when stored in an airtight container in the freezer. Whenever you'd like to dig in, let it thaw completely and reheat for 30 seconds, stirring and continuing until thoroughly heated.
Total time: 30 minutes
In winter or whenever it's getting cold, warm and spicy Nashville hot chicken dip can be a better idea for an appetizer rather than any cheesy dip.
Nashville hot chicken dip can impress any spice lover with its intensely spicy flavor of paprika and cayenne peppers. However, spicy food isn't for everyone, so you can always minimize the amount of pepper for safety. Ready for the instructions? Go!
In a large bowl, combine breaded chicken with all the ingredients to make a dip. Transfer the mixture to a baking skillet, top with more shredded mozzarella, and add the rest of the chicken to the center. Now, bake for 25-30 minutes at 375°F until golden.
Total time: 15 minutes
There are countless ways to transform chicken into a hundred delicious first courses in the blink of an eye. After some minutes, chicken nachos are ready to serve and explode with a wholesome flavor. They are the greatest creamy dish for your whole family on weeknights.
You can try cheddar cheese to let every chip be covered in the cheese sauce. Plus, rotisserie chicken and tortilla chips can cooperate better in this appetizer. To upgrade the flavor, let's top it with sour cream, fresh cilantro, taco sauce, or anything you prefer.
Chicken nachos are the last piece of the puzzle for your game day.
Total time: 30 minutes
Prefer more eye-catching chicken appetizers? Try Seekh kebab. This tender and juicy dish is a popular appetizer in India and other South Asian countries. It usually contains kebabs seasoned with fragrant spices such as garlic, onion, ginger, chilies, etc.
You can easily succeed with this Indian Seekh kabab at home, and it will taste just as good as it does in a restaurant. What you need to do includes marinating minced chicken, forming the kebab on skewers, and grilling.
You can use electric griddles to grill Seekh kabab. If you don't prefer griddles, a grill pan can help. You can cook kebab skewers on medium-low heat and turn both sides of the kebab to let it cook evenly. Don't forget to serve it with your favorite dipping.
Total time: 45 minutes
Rainbow Hawaiian chicken kabobs are the most succulent summer appetizer for any outdoor party. The outstanding points of this savory snack are the flavorful teriyaki sauce and the fresh rainbow veggies.
To evenly coat the chicken in teriyaki sauce, you can marinate chicken cubes with the sauce in a large ziplock bag and store them in the fridge for more than 20 minutes. If you use wooden skewers, let them soak in water for 30 minutes before grilling to keep them from burning.
No one can resist trying these kabobs because of their extremely appealing look. To create a perfect rainbow appearance for the kabobs, you can follow the order: red peppers, golden chicken and pineapples, green peppers, and purple onions.
Total time: 25 minutes
Chicken gyozas can act as an impressive and elegant appetizer at group gatherings. For those who are curious about what gyozas are, they are pan-fried dumplings filled with meat. The dish creates a crispy outer while still being tender and flavor-packed inside.
Making chicken gyozas is never challenging, but it's likely to be fun and requires a little dexterity. Moreover, the dipping sauce is also very important. You can simply serve them with common soy sauce or a spicy ginger dipping sauce.
Total time: 1 hour
Shumai is a type of Chinese dumpling and has many famous variations among Southeast Asia countries and Japan. It is usually very tender and juicy because all ingredients still retain their moisture and bold flavors after steaming.
Shrimp and chicken shumai are a must-try combo for those who are in love with Asian cuisine. For the shumai filling, you can use these main ingredients: ground chicken, ground shrimp, shiitake mushrooms, etc.
Regarding the wrappers, you can easily find shumai wrappers in Asian supermarkets. Keep in mind that this tasty shrimp and chicken appetizer requires thin shumai wrappers. To avoid the wrappers sticking to the steamer after steaming, coat the base of the steamer with non-stick spray.
Total time: 30 minutes
I highly recommend buffalo chicken wonton cups as a first course for both formal dinners and game days. It's super easy to prepare, but the savory yet healthy deliciousness will astonish you. For this recipe, there's no need to pan-fry or steam; the only thing to do is bake them.
You can prepare a muffin pan to form a lovely shape for the dish. But first, let's coat it with cooking spray. This is an effortless but effective way to use hand folding. As for the dipping sauce, there is buffalo sauce, joined with cream cheese and sour cream.
Preparing buffalo chicken wonton cups is never a big deal.
Total time: 30 minutes
With this recipe list, you'll never run out of ideas for tasty game-day finger foods. Chicken parmesan sliders are a quick and easy appetizer meal made at home. And absolutely, this is much cheaper than any ready-made meaty sandwich.
You can whip up these Italian-inspired mini chicken sandwiches in some simple steps. Once you finish preparing the sliders, cover them in foil and bake for 20 minutes, then remove the foil and keep baking for the next 5 minutes until the top buns turn brown. Serve warm!
Total time: 15 minutes
Cream cheese and chicken taquitos are a popular Mexican dish that consists of a rolled tortilla filled with cheese and meat inside. This is another simple-to-make recipe for a delicious first course or even a light meal.
Rolled and fried taquitos offer a crispy outer texture but are still soft and flavorsome inside. The filling is the combination of the savory taste of chicken and the mild and nutty flavor of cream cheese.
Here are some cooking tips for your taquitos. Dry corn tortillas are easily broken when you roll them. Prevent that by using wet paper towels to wrap up tortillas and microwave them for 15–30 seconds. Weave toothpicks through the tortillas to let the taquitos stay in a roll shape.
Total time: 25 minutes
Baked chicken tacos are perfect for serving at crowd get-togethers and many special occasions. Can you distinguish between tacos and taquitos? The key difference lies in appearance. Tacos are typically folded, whereas these taquitos are rolled.
What about the taste? Baked chicken tacos will please your cravings with a super nutty taste of cheese combined with the herbal aroma of some spices and the peppery heat of jalapenos.
To prevent the taco shells from getting soggy, bake the shells for 5 minutes first, then layer the bottom with refried beans to create a barrier between the shells and the chicken mixture. You should drain all the ingredients before adding them to the chicken mixture, too.
Both kids and adults will love these baked chicken tacos.
All You Need For Your Chicken Appetizers Is Here
You've completely gone through a detailed list of easy chicken recipes. This list includes a variety of delicious dishes from Europe to Asia. I hope you have picked up some fantastic recipes and know what to do for your next parties.
I am always happy to wait to see your results. Let's leave a comment to express your thoughts and share this article with your beloved ones. Don't forget that there are lots of helpful posts still waiting for you to discover them!
Nutrition Facts
6 servings per container
---
Amount Per ServingCalories469
% Daily Value *
Total Fat 24.6g

37

%
Cholesterol 75mg

25

%
Sodium 440mg

19

%
Potassium 109mg

4

%
Total Carbohydrate 39.1g

13

%

Dietary Fiber 0.9g

0

%
Sugars 7.9g

Protein 22.7g

44

%
---
Calcium

57

%
Iron

2

%
Vitamin D

3

%
* The % Daily Value tells you how much a nutrient in a serving of food contributes to a daily diet. 2,000 calories a day is used for general nutrition advice.