17+ Mind-Blowing And Easy Chicken And Shrimp Recipes 2023
Easy chicken and shrimp recipes are surprisingly good. They are an odd pair but still make for a good surf and turf option with extra flavors and unique texture in different cooking methods. Now is your chance to try them out.
This combination offers a great deal of variety, from sweet-savory to creamy fusion. Each of these ingredients has always been good on its own, now you can elevate these two even further by pairing chicken and shrimp together.
Here in this post, you'll find handy and easy-peasy guides for cooking this duo in the best way possible. Read more to learn how to do it, and you can easily impress your friends and family with just a couple of hours in the kitchen.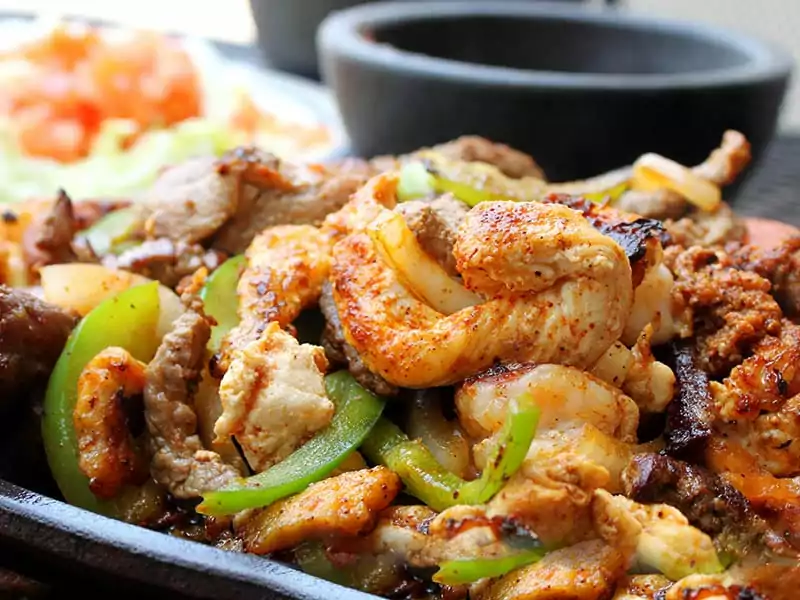 Whipping Up Easy Chicken And Shrimp Recipes Without Breaking A Sweat
There are various delicious meals you can make with chicken and shrimp. And there's no shortage of easier ones, too. Some may take longer to cook than others, but overall they don't require any advanced cooking skills.
Total time: 45 minutes
Paella means "frying pan" in Valencian because it's the kitchen utensil people use to cook the dish. Don't be discouraged by the seemingly long time of whipping up this recipe. You may have to spend some time, but the final product is worth it.
The recipe is not only quick to make but also an ideal gluten-free dinner. This Paella has all the usual ingredients: chicken breasts, shrimp, rice, chicken broth, spices, and herbs. What makes this recipe Spanish and unique is the addition of saffron threads.
Everything comes together nicely when you cook them in one cast-iron skillet. The result is a chock-full of protein dish with chick, shrimp, and rice infused with veggie flavors.
Oley! Let's learn how to make this chicken and shrimp Spanish Paella, a Spanish classic.
Total time: 25 minutes
You can make Pad Thai sauce as well as the noodles from scratch. But if you prefer a hassle-free version, check out this chicken and shrimp Pad Thai made with an instant pot. It is easy and quick to make yet still as delicious as the restaurant-made ones.
The secret to putting together this well-known Thai dish is bottled Pad Thai sauce and packaged noodles. You can find both of those in the closest Asian stores or markets. Make sure not to buy instant rice noodles instead of Pad Thai noodles.
Within less than 30 minutes of cooking, the final product is a plate of heavenly Pad Thai with a balanced taste. Add scallions, crushed pepper, lime wedges, and cayenne pepper for an extra burst of flavors.
Total time: 30 minutes
Pasta has always been a good choice for a comforting dinner. And you can't go wrong with this chicken and shrimp pasta Alfredo. The beauty of this leftover rotisserie chicken treat is that it requires only one pot and hardly any meal prep procedure. Thus, the cleanup is minimal.
To sum it up, Alfredo is a creamier version of pasta with a coating of parmesan cheese. Rotisserie chicken and leftover shrimp can also appear in this dish. However, you can use any leftover chicken or raw shrimp.
Furthermore, this chicken and shrimp Alfredo is also highly customizable. You can come up with as many variants as you want. For instance, add new seasonings like nutmeg or Italian seasoning.
Total time: 50 minutes
The hardest part of this recipe is chopping up the ingredients and being patient enough to observe the grilling process. Other than that, this Kabob virtually requires no cooking skills; you only need to do some chopping and grilling.
Having said that, there's the meat marinating process. But the whole thing is relatively easy to pull off, so don't sweat it. First, prepare the meat by cutting chicken breasts into pieces and removing the shrimp's head and shells.
Then season and let them rest for about 30 minutes. Doing so helps the meat soak all flavors thoroughly. Once done, assemble the chicken, shrimps, and veggies of your choice onto skewers. Next, brush them with oil, salt, and pepper. Lastly, grill it all until thoroughly cooked!
You can recreate grilled shrimp and chicken Kabob to enjoy at your next BBQ gathering.
Total time: 35 minutes
Once again, Rotisserie chicken and frozen shrimp join hands in this Pesto pasta recipe. The delicious frozen shrimp dish is easy to make and won't take longer than 40 minutes. You can eat shrimp and chicken with or as a side dish alongside the pasta.
Besides the aforementioned duo, the combination of fresh basil, spinach, pine nuts, and shredded parmesan cheese will make anyone's taste buds explode with flavors.
Spaghetti noodles or Linguine works great here. Furthermore, you can turn the dish into a fine healthy meal using zucchini noodles or spaghetti squash.
Total time: 25 minutes
Carbonara pasta is an Italian dish with a nice rich and creamy sauce. You know you are in for a good time when the recipe calls for chicken, shrimp, and salty bacon. Look at all the proteins you can get from one meal!
But that's not all, do I mention the heavy cream, egg yolks, and parmesan cheese? They are what give the whole dish a nice touch of creamy goodness. And then there's the cooked garlic and onions, which introduce another layer of fragment and taste.
Having a bite of Olive Garden copycat chicken and shrimp Carbonara will satisfy anyone's craving for pasta. You hardly believe something so good can be made so fast with little effort. Go to your kitchen and whip it up now!
Explore the best way to cook Olive Garden chicken and shrimp Carbonara here.
Total time: 45 minutes
If you want a homemade summer chicken recipe with restaurant quality, don't miss out on this recipe. It's a rice dish with chunks of chicken, shrimp, and veggies. You will feel full and satisfied after eating this dish; it's a complete meal on its own!
African fashion chicken and shrimp fried rice is not a bland recipe, for sure. You'll enjoy the flavor blend of Basmati rice (or you can use parboiled rice) with shrimp and chicken. The cooked and sauteed veggies, onions, and spices also add depth to everything else.
Total time: 30 minutes
I will give you another quick and easy chicken and shrimp recipe that won't take longer than 30 minutes. The recipe you are looking at is a homemade version of the American chain restaurant's pasta dinner. It's best to eat alongside some salad or bread, and your belly will be happy for a long time.
The dish you make here is close to the original. The key ingredients include poultry seasoning, Linguine pasta, cayenne pepper, etc. The final result will be a creamy and tasty dish that makes you want to return for more.
There are many chicken, shrimp, and pasta recipes around, but Outback Steakhouse's one has something special. How about serving the dish in question at your next dinner party and finding out what's so good about this chicken and shrimp pasta?
Total time: 30 minutes
Chow Mein is a Chinese-originated dish with veggies and meat. Here is a simple take on this noodle dish with shrimp and chicken. Anyone can make this tasty stir-fry recipe with little effort and 30 minutes.
The sauce can make or break a Chow Mein meal. Having said that, it's as easy to make as the rest of the recipe. Simply whisk together the soy sauce, oyster sauce, and chili oil.
First, you cook the chicken and shrimp thoroughly. Next, stir-fry the meat with coleslaw mix, bean sprouts, and noodles. The last step involves combining the sauce with the whole thing and sauteing for a while. Then garnish with green onions and serve.
Why go out and buy take-outs when you can cook high-quality shrimp and chicken Chow Mein at home?
Total time: 1 hour
Jambalaya is a Louisiana-originated dish consisting of meat, seafood, rice, and seasonings. For this version, you make it with shrimp, chicken, and sausage, and it's full of Cajun goodness. What's more, making this is a breeze with just one pot.
When you feel like you need a change of pace from traditional pasta or chicken skillets, you should consider making this easy one-pot Jambalaya. You can have a head start by dicing the veggies and preparing the meat beforehand.
To make this classic Casserole, you only need to stir and cook all the ingredients in one pan for about 45 minutes. No professional cooking skills are required; occasionally stir the items one by one until they are all done thoroughly.
Total time: 1 hour 5 minutes
Here I introduce you to another Louisiana-inspired dish, the Gumbo. To summarize, this US-favorite dish is a thick stew-like soup made with chicken stock, shrimp, chicken, a thickener, okra, rice, and veggies.
An authentic Gumbo is hard to define due to all the regional differences. This take on the Southern classic offers a dark Gumbo with zesty Creole flavors. It is roux-based with roasted tomatoes, okra, and Louisiana "holy trinity" of celery, onion, and bell pepper.
The Gumbo lends itself to the nutty and rich roux. To make it right, be sure to go slow and low. Don't rush, or else you'll come to regret it later.
Learn how to make the best sausage, chicken, and shrimp Gumbo effortlessly with this cooking guide.
Total time: 1 hour
The Schezwan noodle is one of the Indo-Chinese dishes you can find in Indian Chinese restaurants. Typically, the dish features thin noodles and veggies cut into thin strips.
You need to prepare three main parts: chicken and shrimp, the Schezwan Sauce, and the noodles. If you don't want the noodles to stick, simply rinse them in normal cold water and apply oil.
You can purchase the premade Schezwan sauce or make it from scratch. Remember to marinate the chicken and shrimp in a mixture of vegetable oil, salt, chili flakes, and chili sauce.
The last thing in the cooking procedure is to stir fry all components until cooked thoroughly. The best way to enjoy the finished product is to serve it hot. You can adjust the heat by reducing the number of red chili flakes or red chili sauce.
Total time: 30 minutes
Here comes a dish that is more particular in appearance, or more precisely, in how it is served. You make full use of the pineapple, from its flesh to the outer rind, in this meal. Thai pineapple fried rice is so appealing that everyone can't help but want to have a spoon of it.
To make the pineapple boat the easy way, cut it lengthwise, cut the flesh in cubes, and scoop them out. Then clean and keep dry. For serving, put the fried rice, ingredients, and seasonings into the hollow part of the pineapple bow.
For a true Thai experience, Thai long grain rice works best here because it is not starchy, and once fried, it won't be as sticky, making the whole dish more enjoyable. You can use fresh or leftover rice.
Explore every step of making pineapple fried rice with chicken and shrimp here.
Total time: 30 minutes
If you are a low-carb enthusiast and want an easy chicken and shrimp recipe, this dish is a good start. You can use Kielbasa, but since it's not as low carb as flavored sausages, the latter is a better choice.
This hearty dish also comprises fresh veggies like okra, peppers, and grape tomatoes. Thus, the whole meal has a more refreshing taste to it. If you are not too keen on low-carb, you can eat this dish with rice.
Total time: 40 minutes
At first glance, this Singapore-inspired dish may seem identical to the stir fry noodles I've covered so far with chicken, shrimp, and julienned veggies. What sets Singapore street noodles apart is the homemade curry sauce and rice vermicelli noodles.
Regular vermicelli or Angel Hair pasta can be a substitute, but the final flavor will be creamier. The extremely thin nature of rice vermicelli noodles brings a unique texture to the whole dish.
Interestingly, some believed this dish originated not from Singapore but from Hong Kong. So the exact origin is still to be debated. Nonetheless, the dish is still a delicious meal with a creamy coconut sauce and curry powder.
Total time: 45 minutes
Thailand is famous for its strong aromatic foods with a spicy kick. Tom Yum is no exception to that. Besides Pad Thai, Tom Yum Goong is another popular meal you can find on almost every menu at Thai restaurants and street food vendors.
Tom Yum Goong offers a nice blend of sweet, spicy, and sour flavors in one package. It's also easy on the belly without much spicy kick like other Thai foods, so this can be a good introductory dish.
Even when you are cold or feeling gloomy on dark winter days, you can freshen up yourself with this Tom Yum Goong in a snap. It features a strong flavor from herbs. You can also add coconut milk, noodles, paste, etc., according to personal preferences.
Total time: 40 minutes
Here is another comfort food for when you are down with a cold. Cambodian chicken and rice soup with shrimp is a Khmer recipe. It doesn't involve many cooking steps or any complex techniques. The only meal prep is chopping the chicken into chunks.
The main ingredients you need are cooked Jasmine rice, fish sauce, chicken stock or low-sodium broth, etc. The fluffy texture of Jasmine rice combined with shrimp and chicken makes for a satisfying result.
Furthermore, the broth has a unique taste from the zest lemon juice, spicy Thai chili, sweet honey, fragrant herbs, and spices. Once you are done cooking and stirring all of the items into one nice bowl of soup, serve them alongside lime wedges.
Total time: 30 minutes
You can whip up this easy weeknight meal in only 30 minutes, so spare some time preparing a few appetizing side dishes for fajitas. The best part is you make all the good stuff in one pan only: peppers, onions, chicken, and shrimp. Fajitas have never been as easy and tasty as this.
As per the tradition of all Fajitas dishes, you bake all the items on a sheet pan and then transfer them to flour Tortilla bowls. For an easier time, this recipe calls for premade Taco bowls and chicken taco seasoning mix. You don't have to make any of them from scratch.
Roll your sleeves and try making this sheet pan shrimp and chicken Fajitas now.
The Most Amazing And Easy Chicken And Shrimp Recipes Are Life-Changing Dishes
Now you have a list of easy chicken and shrimp recipes you can make in a snap. They are quick to make but still so delicious that everyone will be impressed. This duo is not common, but they have the "wow" factor in itself.
If you find these guides great and efficient, press the share button so that more people can make and enjoy the good stuff without spending too much time and effort by themselves. Isn't that the beauty of sharing?
Comment below to tell me and everyone else if you have any chicken and shrimp cooking ideas or other ways to enjoy this combination without sacrificing too much of its flavor. Don't be shy!
Nutrition Facts
6 servings per container
---
Amount Per ServingCalories384
% Daily Value *
Total Fat 3.9g

5

%
Cholesterol 144mg

48

%
Sodium 450mg

19

%
Potassium 360mg

11

%
Total Carbohydrate 52.5g

18

%

Dietary Fiber 0.5g

0

%
Sugars 1.2g

Protein 32.4g

64

%
---
* The % Daily Value tells you how much a nutrient in a serving of food contributes to a daily diet. 2,000 calories a day is used for general nutrition advice.