11+ Best Canned Sweet Potato Recipes You Cannot Skip 2023
All the best canned sweet potato recipes are here! Canned sweet potato is a popular product easily found in grocery stores. Possess one canned sweet potato in your house to create a new dish when you don't have any idea for your breakfast, brunch, lunch, or dinner.
Well, there are a lot of canned sweet potato recipes, and it makes you confused. Don't worry about that because I have the best recipes in this post. All you need to do is to read all recipes thoroughly and pick the best one for you.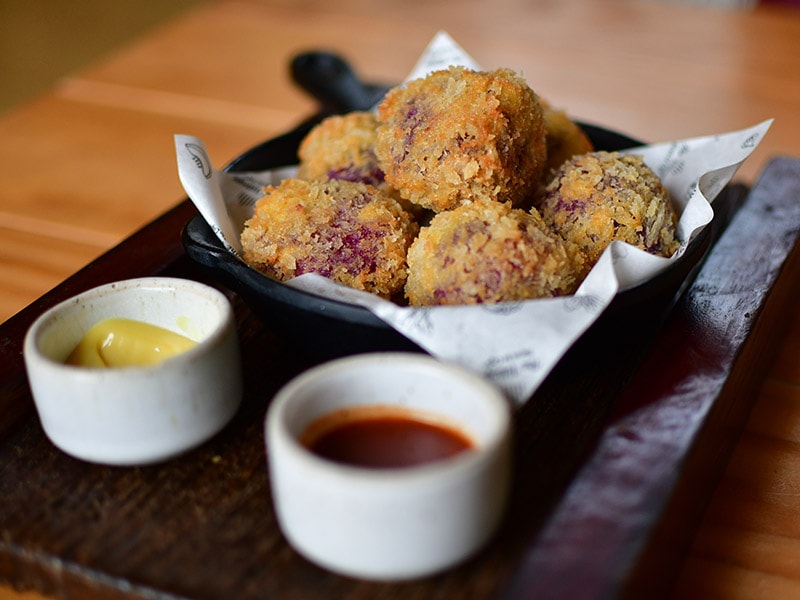 12 Tastiest Dishes To Make With Canned Sweet Potatoes
Without making you wait any longer, I list all the dishes you can cook with canned sweet potatoes. These are simple, easy-to-make dishes that you can make as soon as you read through the recipe once.
Total time: 55 minutes
Sweet potato casserole was an invention by a marshmallow company in 1917. They intended to make a new dish with marshmallows, but southerners changed this recipe by adding the pecan brown sugar topping. Since then, this dish has become more famous than its original.
When it comes to sweet potato dishes, sweet potato casserole is a dish you must try once in your life. I recommend this dish for special days, holidays such as Thanksgiving. You can serve it with yummy toppings as I use pecan in this recipe.
If you don't like pecan topping, you can replace it with whatever you want. If you choose marshmallows, you should put them in the last 10 minutes of cooking to avoid burnt marshmallows on the top of your dish.
Sweet potato casserole is a good recipe for a nice Thanksgiving.
Total time: 33 minutes
Another southern-style dish I'd like to introduce to you is sweet potato biscuit. It is a simple dish for your sweet breakfast, an appetizer, or a side dish to serve with Thanksgiving or Christmas turkey.
Do you know about the interesting history of sweet potato biscuits? The sweet potato biscuit was invented by Thomass Jefferson and officially served at the first Continental Congress in 1774. Today, sweet potato biscuits are still around and are the favorite food of many people.
Because it's easy to make and doesn't require much time, you can store this dish in the fridge for another busy day. The food to eat with sweet potato biscuits is also very ample. You can eat biscuits with honey butter, fruit jams, eggs, or sausages for all meals in a day!
Total time: 50 minutes
Here's a great vegetarian soup idea for Thanksgiving or any day of the year! Your kids will love this soup! The sweet potato's sugary taste with ginger's spiciness and the sourness of lemon create a balance in the soup's flavor.
Aside from the taste, one more reason for the soup's popularity is that these ingredients can be found easily at any grocery store or market and are available every season of the year.
You can cook a large pot and store it in the freezer for the next time. A bonus recipe: You can also make a vegetarian soup by replacing the chicken broth with vegetable or mushroom broth.
Total time: 35 minutes
I'm sure this is one of the children's favorite dishes besides the candied sweet potato. This dish only takes 5 minutes to prepare, and the rest is the task of the oven. I think it is probably the shortest recipe on this list.
To make this dish, you need sweet potatoes, brown sugar, marshmallows, butter, and salt. All you need to do is put the ingredients in a baking tray and bake them in the oven. After 30 minutes, you will have marshmallow-topped sweet potatoes for your family's dessert.
If you're worried about the marshmallow browning too quickly, cover the baking tray with foil for the last 10 minutes of baking. This action helps reduce the browning speed of the marshmallows.
Do not miss this dish if you have kids in your family!
Total time: 60 minutes
Glazed sweet potato is a great dish to eat with ham on holiday, or you can cook it on a normal day if you prefer. Easy-to-find ingredients and simple recipes are the good points of this dish.
You just need to use a skillet or saucepan for boiling brown sugar, butter, cinnamon, and salt. Then pour this mixture into boiled sweet potatoes. After baking them in the oven for 30-40 minutes, you'll end up with a glazed sweet potato that's both sweet and fragrant.
You can cook sweet potatoes in apple juice or orange juice instead of cooking with water like conventional recipes for a unique taste. You can also use margarine or bacon grease as butter alternatives. Just try different ways, and you will find the recipe that works best for you.
Total time: 30 minutes
Do you often feel guilty about eating too many muffins for dinner? Can you feel the calories you absorb after each bite? This healthy muffin is the perfect substitute for the sweet muffin you're already eating.
How to cook healthy sweet potato muffins? That's this recipe! Sweet potato muffins are gluten-free and easier to make than ever. With just oatmeal and chocolate, you have a nutritious breakfast dish.
Regular muffins are pretty dense and heavy. However, the muffins in this recipe are quite fluffy and soft. Why? Oatmeal is the secret to this softness. It's even better to use gluten-free oatmeal and natural sweetener from maple syrup.
Do not miss this recipe if you are a sweet lover but still want to diet.
Total time: 50 minutes
Have you tried banana and sweet potato together? I present an easy and healthy sweet potato banana bread recipe. This dish is the ideal dessert or snack for those who are trying to lose weight.
This bread is as sweet and soft as regular banana bread. Along with the sweetness of the sweet potato, it will make the bread taste more delectable.
If your children don't like to eat vegetables, this bread can be a solution. Make this dish for your little ones to encourage them to eat more vegetables. Yes, sweet potatoes are vegetables. After trying this dish, your child will see that vegetables also taste great.
Total time: 60 minutes
A round cake with a warm orange-yellow crust is a must-have for the festive season. Biting a piece of cake, you will feel the potato's sweetness, the butter's fat, and the fragrant orange flavor from the orange marmalade. An unreal taste!
Finally, you can enjoy this cake with whipped cream or a scoop of vanilla ice cream. The cake can be stored in the refrigerator for up to a week, so don't worry if you think your whole family won't eat all the cake in one day.
Now it's time to show off! Take a look at the recipe and make yourself a perfect cake. I hope your family will love this cake. Good luck!
Total time: 1 hour 10 minutes
A vegetarian sweet potato pie for Thanksgiving is also a nice idea. The classic autumn cake with soft sweet potatoes and the fluffy skin covered with whipped cream make your table look warm and cozy. This is also an outstanding dish to use up your leftover sweet potatoes.
From the outside, the sweet potato pie looks like pumpkin pie with its colorful orange color. In addition, the way to make sweet potato pies is as simple as pumpkin pies. Try this sweet potato recipe if you've made too many pumpkin pies in the past Thanksgiving!
Besides, eating sweet potato pies can improve your health. Sweet potato pies are healthier than pumpkin ones because they contain more vitamins and proteins.
Sweet potato pie for fall is a healthy choice.
Total time: 20 minutes
Another favorite dish on Thanksgiving: Candied sweet potato. This dish is suitable for everyone, whether you are a vegetarian or a meat-eater. After only 20 minutes, you will have a dessert for your family.
Many different ingredients make up the variety of flavors in this dish. Thanks to the combination of several flavorful ingredients such as ginger, butter, and cinnamon, this dish has all the tastes of sweet, salty, and spicy. What a special plate!
When all the kitchen equipment is overwhelmed for a hearty Thanksgiving or Christmas party, you can use the air-fryer instead of the oven to bake your dish. Let's try this new cooking method to find the difference.
Total time: 1 hour 5 minutes
This outstanding sweet potato dessert recipe is another idea for Thanksgiving cake you should try this fall. I assure you that this cake will satisfy your desire to eat something sweet after eating so many savory dishes during the party.
What is the flavor you expect on this cake? Orange juice and brown sugar enhance the sweetness of the cake. The pecan topping layer helps this dish have a crunch to avoid a pasty cake. It's worth being the last factor in your party.
A small tip you can apply to make this cake more sweet is spreading a caramel layer on the surface of the cake. Or you can try whipped cream or vanilla ice cream, which is also a good choice.
Total time: 25 minutes
Another autumn-flavored dessert recipe is sweet potato cookies. To make this dish, you need to mash the sweet potatoes, but having a canned sweet potato puree at home is much more convenient.
These cookies are a wonderful combination of sweet potatoes, butter, sugar, cinnamon, and vanilla. Mix them to get cookie dough. Then, lay round pieces of dough on a tray and put them in the oven.
What an easy recipe for anyone making cookies for the first time! You can use this recipe flexibly for both sweet potatoes and pumpkin, or add the pumpkin pie spices in sweet potato cookies recipes.
Have you prepared anything for Thanksgiving? I have an easy sweet potato biscuit recipe for you.
Sweet Potatoes – Endless Cooking Inspiration
Sweet potatoes are healthy food. One sweet potato can give you 400% of vitamin A a day. It is also beneficial for strengthening the body's resistance to harmful bacteria. It's great that you can easily buy fresh and canned sweet potatoes.
I guarantee the recipes above are some of the best and most unique recipes you can make with a canned sweet potato. I look forward to hearing you share your experiences with these recipes in the comment section! Also, please share the article with your loved ones.