Sweetness lovers are always fond of easy brown sugar desserts. They are both beautiful to look at and irresistible in taste.
Brown sugar is made from sugar crystals and a small amount of molasses, creating a characterized brown color and a dark sweet taste. People use brown sugar in making many dishes, especially sweet ones such as cookies, cakes, or muffins.
Desserts with brown sugar have different savors, but they all have one common feature: the dark sweetness, toffee taste, and one distinct fragrant smell. These excellent dishes will entice up all your taste buds for sure!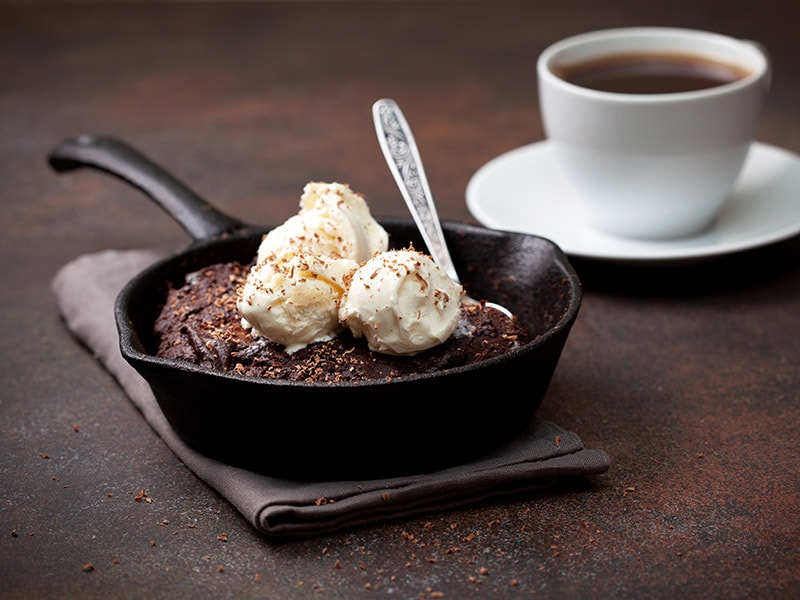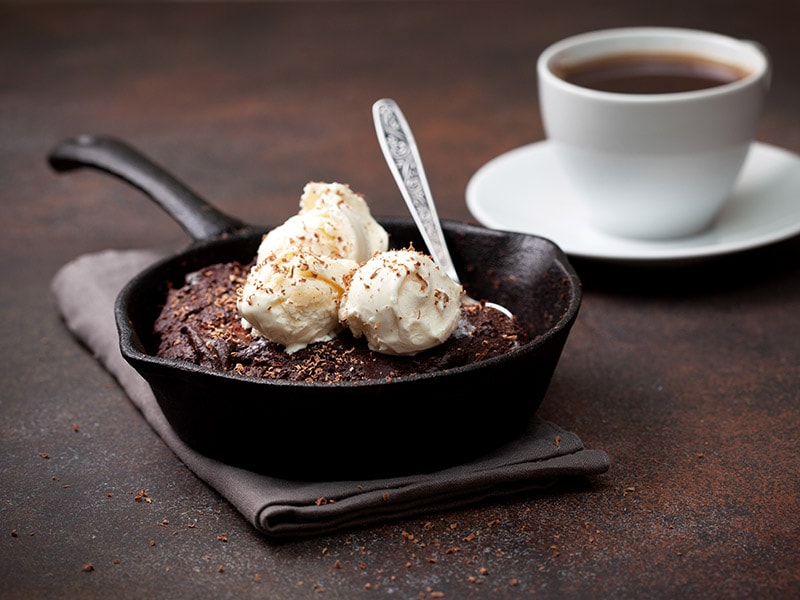 Top 22 Ideas For Desserts With Brown Sugar
The list of 22 desserts below offers you numerous choices whenever you want to enjoy a crunchy, sweet, and aromatic dessert to end your meals or parties with a bang.
Total time: 2 hours
Brown sugar and a sweet, fragrant glaze distinguish this version of pound cake from the others. It has a moist and tasty taste.
This cake is easy to make and convenient for storing. You can make it ahead and store it for later use. It can fit any occasion of your family, from daily diet to a vacation.
Thanks to its simplicity in the making, this cake can go with numerous dishes. It is good to pair it with fresh fruits or a cool whip.
Total time: 1 hour 15 minutes
Pandowdy seems so cute and adorable, and it is a yummy dessert infused with apples for a better overall flavor. These wonderful pounds are coated with a golden brown and glossy and drizzled with white sugar powder. They serve a fresh, sweet taste with a mixed fragrance.
The variations for this dish are up to your creativity. You can make a vegan version by using vegan puff pastry and butter. Alternatively, change the spices to create new flavors for this pandowdy.
Take a brief look at this guide to make the perfect apple pandowdy.
Total time: 25 minutes
Cookies are always easy to make and convenient to serve. You can enjoy them warm right after the oven or take them out everywhere you want.
Brown sugar icebox cookies come in a crunchy sensation and an appealing appearance. They are a combination of gooey dough, sweet and smoky sugar, as well as crisp and buttery pecans. They give you joy and cheer you up with delightful moments.
Before baking, you need to refrigerate the dough rolls for several hours. After having them chilled, slice the rolls and bake them, then your adorable and tasty cookies are ready!
Total time: 28 minutes
In less than 30 minutes and with effortless cooking methods, you will have a soft and moist muffin on your hands. There is no reason to resist these sweet muffins.
Brown sugar is the necessary ingredient for making these muffins. It is a part of the sweet, aromatic taste and the good look of the muffins. Dark brown sugar is best for this recipe as it will make the muffins more flavorful.
One more thing, you can adjust the sweetness level of these muffins to your preferences. Add or reduce brown sugar at the preparation stage to make it perfect for you.
Total time: 17 minutes
This caramelized and warm cinnamon apples dessert is best to enjoy in apple season, which lasts from late July to early November. In this period, you have a wide range of choices for the freshest apples.
This dessert serves a pretty sweet, rich, and woody savor. Cinnamon adds a fragrant aroma to the whole dish that will tempt everyone into having a bite.
There is one minor but meaningful step to making this dessert. It is to squeeze lemon zest and salt on peeled apples to prevent them from turning brown and help conserve the natural color of apples.
Total time: 1 hour
Do you know that pudding-based courses are considered the most ancient dessert? More interestingly, the popularity of this kind of dessert is so great that many countries have celebrations for it. Around the world, there are at least about 10 days to celebrate puddings.
This caramel pear pudding has a sweet taste with tender, nutty, and fragrant filling. Pears, cinnamon, and nutmeg add their characteristic flavor to the whole dessert.
Caramel is another star of this pudding. When finishing baking, pour caramel sauce onto the pudding. It imparts a rich, sweet taste and an appealing appearance to the dessert.
Total time: 45 minutes
The combination of vanilla and brown sugar makes this version of ice cream pure and fantastic. They create a new sweet, perfumed aroma and toffee taste.
For the best effect, use vanilla beans in this recipe. It brings a more obvious vanilla flavor to the ice cream. However, if you fail to get this bean, use vanilla extract instead.
A bite of fresh, cool, sweet, and rich ice cream on a hot summer day will ease all the inconveniences and give you great fun.
Let this funny video help you with making brown sugar vanilla bean ice cream.
Total time: 1 hour
This is an incredibly delicious dessert that you can get with simple cooking. Combined with brown sugar, butter, milk, and cinnamon, this brown sugar pie brings a flavorful dessert with sweetness, butteriness, and a fragrant aroma.
You can buy the readymade crust or prepare it by yourself. After mixing all the ingredients for the crust, you can use either a pastry cutter or a food processor to turn the mixture into coarse crumbs.
The crust with those crunchy crumbs defines the taste and texture of the pie. It creates a golden brown color outside and a teeth-pleasing feel for the dish.
Total time: 30 minutes (plus 4 hours chilling time)
If you love cherishing straightforward recipes with a touch of pecan for extra flavor, these cookies are here for you! They will certainly give you excitement, with so many good flavors melting in your mouth at the first bite.
In addition to brown sugar, butter pecan cookies also need brown butter as an essential ingredient. To make it, melt the butter in the oven as normal, then continue cooking on medium heat until it becomes brown.
For this dish, it is acceptable to adjust the size of the cookies as long as you don't forget to change the baking time accordingly. You can store baked cookies in an airtight container in the fridge for 3 days.
Total time: 1 hour 10 minutes
With a little citrusy and spicy notes, these candied pecans are a superfood for your cold chilling days. It offers a fragrant, good-looking bite with a sweet, nutty, and warm taste for you to devour.
A must-have tip on making perfect candied pecans is stirring them every 15- 20 minutes to prevent them from burning and making a nice coating. The texture will still change after baking, from sticky to crunchy after they are cooled.
These pecans are freezer-friendly. You can keep them in an airtight container and freeze them. They remain edible for 2 months in the freezer.
Total time: 30 minutes (plus 1 hour of chilling time)
Snickerdoodle is a sugar cookie with a special ingredient: cream of tartar. This leavening cream is to make the cookies chewy and light rather classically crispy.
Brown butter snickerdoodle has a creamy, sweet, buttery taste with a pillowy texture. You will be yearning for more after a few bites.
Nice brown butter is important in making this snickerdoodle. To make perfect brown butter, remember to slice it before cooking and whisking as soon as it melts to keep the heat more evenly.
Total time: 1 hour
These cream cheese carrot cake bars are best suitable for Easter or spring parties. It has an attractive sweet, rich and chewy taste.
The reason why these carrot cake bars are perfect for those occasions is that the two carrot seasons are in late spring and late fall. This makes the cream cheese carrot cake bar recipe come to everybody's mind whenever it comes to Easter cuisine.
Cover these bars tightly and store them in the freezer. They can last for up to 3 months. You can also store them in the fridge for 5 days.
Discover useful tips to make cream cheese carrot cake bars like a chef here.
Total time: 45 minutes
These skillet brownies are especially for chocolate fanatics! The main ingredients of this dessert include cocoa powder, chocolate chips, and melted chocolate. Together, they bring you a gooey, sweet, and cakey dessert.
Brownies use baking as the main cooking method. You can add nuts, cream cheese, chocolate chips, or other food to serve together with it. In this recipe, use vanilla ice cream on top of the brownies to enhance the flavors.
Total time: 1 hour 25 minutes
This version of brownies has a salty pecan topping layer on top. For convenience, the recipe is also a great brownie mix treat to save you time from making the dish from scratch. It is full of richness, nuttiness, and sweetness, in combination with a creamy, crispy, and tender texture.
Espresso powder has a dark and rich flavor. Adding it is optional, though this helps enhance the taste of the brownies. If you don't have this ingredient, you can either omit it from the recipe or add instant coffee, unsweetened cocoa powder, or chocolate powder instead.
One tip for you to make the brownies more cake-like is to add a large egg to the mixture. Alternatively, you can bake the brownies for a few more minutes.
Total time: 43 minutes
You can increase your summertime fun by enjoying a fresh, sweet, and gooey cake with fresh peach as well as a top layer of brown sugar caramel icing. This dessert recipe does a great job of satisfying your taste buds with its excellent flavor.
Golden brown with a soft and fluffy texture, this peach cake gives an inviting impression. The peaches and the caramel frosting are two dominant elements creating the delectable taste of the whole dish.
In preparation, you need to pay a lot of attention to making the caramel frosting. Stir the ingredients until boiling, then add powdered sugar and vanilla before pouring it on top of the cake.
Total time: 15 minutes
Pancakes are quick and easy to make. They serve a sweet, buttery, and soft taste, and the special taste varies depending on the ingredients. Brown sugar oatmeal pancakes are tender, fluffy, and rich. They are yellow and covered by your favorite choice of syrup.
When using the griddle to make the pancakes, remember to preheat it. To make sure that it is heated, pour some water on the surface of the griddle. When the water starts to move, your griddle is ready.
Total time: 45 minutes
Apples in apples! Are you curious about this curiously named dessert? It comes from how you use apple filling to stuff in the apples. This creates an interesting appearance for the whole dish. In addition, there is a crumble layer on top, making the dessert more appetizing.
These stuffed apples have not only a wonderful appearance but also a great savor. They are sweet, fresh, and crunchy. It is amazing to serve them with vanilla ice cream or caramel sauce.
Drizzle some buttery liquid on the topping of the stuffed apples halfway through baking to keep them moist and enhance the flavors.
Walk through the easy steps to make apple crisp stuffed apples.
Total time: 25 minutes
If you want to indulge in addicting pumpkin dessert cooking ideas, this pumpkin oatmeal pancake is a must-have on your list. Better yet, you should be able to enjoy the top-notch flavor of the dish between October and November while pumpkins are in season.
Preparation for pancakes calls for only 4 main ingredients. They are oat flour, baking powder, eggs, and pumpkin puree. The other pecan and syrup are the toppings.
Pumpkin oatmeal pancakes will please you with a sweet and mellow taste in every bite. You can enjoy them with coffee or tea.
Total time: 55 minutes
Mixed berry crisp with brown sugar has a diverse taste. It calls for berries, flour, brown sugar, and rolled oats to make this dessert. Each of them adds a special flavor to the crisp, making it sweet, tart, flavorsome and crunchy.
This recipe requires fresh berries to make the filling. However, you can also replace them with frozen mixed berries. Remember to thaw them and remove all the excess water. You can store the leftovers of this crisp in the fridge. It can last for several days.
Total time: 12-28 minutes
In comparison with pancakes, waffles are somewhat alike in taste but a little bit pastry-like and richer. They have a tender, sweet, and light savor.
Brown sugar is the most important factor in these waffles' success. It gives these waffles the characteristic sweetness and richness. You can think of it as a perfect option for dinner desserts.
You can store this dessert in the fridge for up to 4 days as long as you place them in an airtight container. They can also last for 2 months in the freezer.
Total time: 22 minutes
On a relaxing and chilling evening, spoil your inner child with the gentle sweetness of these donuts. It will cheer you up with great joy!
First of all, these baked brown sugar-glazed donuts have an interesting and lovely appearance. Its surface is covered by a glossy and creamy white glaze so beautiful that you can't take your eyes off.
In making this dessert, you can use your favorite toppings on the donuts. As they are already sweet, adding some crunchy toppings such as nuts or granola is a good choice.
Total time: 1 hour 5 minutes
Caramelized pear upside-down cake has a natural fragrant smell with a golden glossy outer layer. These attractive features come mainly from pear.
This cake has a tangy and sweet taste mingled with great richness. It calls for numerous ingredients, so the savor is also abundant accordingly. With only 6 steps of preparation, you will be astonished by the result.
Enjoy this cake when it cools down totally. This sweet and fruity dessert offers the best taste within the same day of cooking.
Look at this video to see how to make honey cardamom pear upside-down cake easily and quickly.
Brighten Your Day With Wonderful Desserts Made From Brown Sugar
Those desserts with brown sugar above are quick, easy to make, and have remarkably delectable tastes. Each of them has a unique appealing flavor and texture. Don't hesitate to get yourself familiar with these tasty options by reading and applying these recipes.
Do you find these dessert recipes informative and helpful? If yes, share this with those who haven't known. Let me know your favorite desserts with brown sugar by simply leaving a comment here.
Nutrition Facts
15 servings per container
---
Amount Per ServingCalories503
% Daily Value *
Total Fat 26.5g

40

%
Cholesterol 112mg

38

%
Sodium 248mg

11

%
Potassium 170mg

5

%
Total Carbohydrate 63.1g

21

%

Dietary Fiber 1.5g

4

%
Sugars 42.7g

Protein 6.2g

12

%
---
Calcium

81

%
Iron

2

%
Vitamin D

19

%
* The % Daily Value tells you how much a nutrient in a serving of food contributes to a daily diet. 2,000 calories a day is used for general nutrition advice.