16+ Easy Broccoli Appetizers To Please The Crowd 2023
These easy broccoli appetizers are not only a great way to kick off your party but also to convert some broccoli haters into avid supporters of this green veggie. There are endless possibilities when you want to incorporate a bunch of broccoli into appetizers.
Think about these ideas: Roasting the florets with a cheesy batter, dropping them and some Cheddar cheese into a comforting bowl of soup, blitzing them into a pesto, coating them in some sort of pastry dough and baking, and more.
If you highly appreciate the nutritional value of this cruciferous vegetable, you will also appreciate its versatility when going into an appetizer!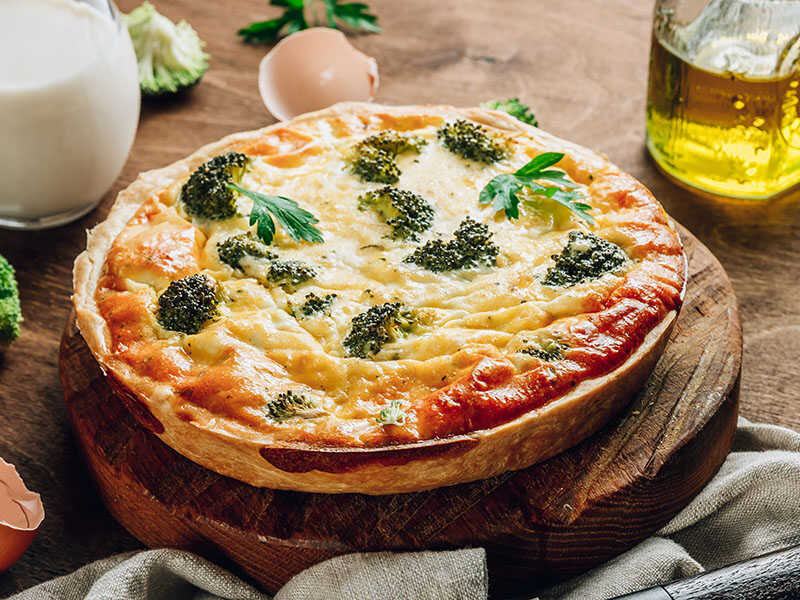 17 Easy Broccoli Appetizers That Everyone Can't Get Enough Of
This list has something for everyone. Serving a crowd that is not fond of broccoli? Choose something with mild broccoli flavors, such as the cheese balls.
Got friends who are spicy eaters? Never go wrong with those buffalo wings. Your guest list is full of broccoli lovers? It should be hard to decide between these amazing appetizers!
Total time: 30 minutes
Packed with tons of broccoli and lightened with milk instead of heavy cream, this soup is a healthy way to kick off your dinner meal! The sharp Cheddar cheese is crucial to the soup's flavor as it adds an extra depth and tang. Thus, make sure you use quality cheese.
The best part is that this comforting soup is quite customizable. You may want to puree your soup if you prefer a delicate creamy broth for a comforting meal. For a chunkier soup, don't cook it long so that the green veggie can be on the crisper side and retain its shape.
Made of only a few ingredients, this velvety soup is downright delicious and comforting.
Total time: 10 minutes
Why waste the tasty stem when you can incorporate it into a great mixing sauce for pasta for your next Italian course? Try this broccoli stem pesto, and you'll agree that the stem is every bit as good as the florets.
This recipe is an interesting take on the Genoa creamy sauce. Besides the traditional ingredients, such as basil, Parmesan cheese, and pine nuts, broccoli leaves and stalks are also added to boost the flavor.
Salt and pepper will make all the flavors pop. But don't go overboard with the salt, as the cheese is already salty. This broccoli stems pesto pairs perfectly with pita chips for an amazing appetizer.
Total time: 25 minutes
These delightful fritters have a crispy exterior and a fluffy center flavored with garlic and onion powder. Two veggies go into an hors d'oeuvre means that you double the flavors and nutrients as well.
Chickpeas give a nutty and earthy taste, and when nicely mashed with the broccoli, they create a surprising harmony of flavors.
These crispy fritters are best served straight out of the pan along with Tzatziki sauce. I'm sure that kids and grown-ups will love to nibble on them. If you're vegan, turn these fritters into a complete vegan meal by adding roasted potatoes or tomato basil salad on the side.
These healthy, low-carb broccoli and chickpea fritters can get ready in no more than 30 minutes.
Total time: 40 minutes
Simple, healthy, and tasty, what not to love about these roasted florets on toast? Roasted broccoli here is deliciously crispy and tender at the same time.
Let them sit on a spread made of ricotta cheese and garlic, with a drizzle of the honey mixture on top, and voila, you'll get a yummy ricotta cheese dish that draws the crowd.
In this recipe, the bread and veggies go into the oven simultaneously. Yet, if you prefer to serve this appetizer warm, you'd better bake the bread later so that it's still warm when the broccoli and cheese mixture are done.
Total time: 1 hour and 15 minutes
This is one of the best ways to get broccoli haters to love the green stuff! These cheeseballs have a golden brown, crispy crust that encapsulates all the gooey, cheesy goodness inside. Each bite is nothing short of divine promise!
Cheese is the obvious co-star here. These recipes use up to three types of cheese for an explosion of flavor. Add the fresh, finely chopped broccoli to help balance out the taste, and you'll end up with a treat you can't get enough of.
The cheese helps somewhat mask the broccoli flavor, so kiddos will enjoy these cheese balls, too.
These broccoli cheese balls will keep everyone entertained while waiting for the meal.
Total time: 30 minutes
Cheesy and crunchy, these pretty pies can keep your guests occupied while you're finishing your dinner.
The filling of these pies is grated broccoli sauteed with garlic and onions and mixed with Cheddar cheese and sour cream. The sour cream and cheese provide a cheesy, rich flavor and help everything stick together inside the pie dough.
Once you're done assembling the pie, toss them in the oven and let it do the work. You'll end up with a golden crunchy crust as you would with frying – minus the hassle of turning and flipping the pies in the oil.
Total time: 35 minutes
This rich and comforting dip will surely be a hit appetizer at your game day parties or other get-togethers. Don't forget to stock up on toastie slices of bread or Frito chips, as they'll disappear soon when served with this dip.
There's no need to pre-cook the broccoli for this dip. Simply finely chop the veggie, toss it into the mix of cheese and sour cream, top off with breadcrumbs, and bake. Get ready, as you're only 25 minutes away from all the cheesy goodness.
This dip has a kick of heat from red pepper flakes and Cajun seasoning. If you're not at all a spicy eater, omit them.
No one will turn down the crackers pairing with this broccoli cheese dip.
Total time: 30 minutes
Bacon always makes everything better, and these tots are not an exception! This recipe takes the shortcut by using frozen broccoli tots, but you can make your own tots from scratch (this list already has the recipe for you).
There's not much work left for you: Wrap the tots in the bacon slices and coat them in the glaze before sending them into the oven. While these broccoli tots are perfect for dipping in maple syrup sauce, ranch dressing is also another nice option.
Total time: 45 minutes
These spicy veggie wings will add a little heat to any gathering! Soft and tender on the inside, crispy on the outside, and perfectly spicy, these buffalo broccoli wings are exactly what spicy eaters want in finger food.
Like many appetizers, these wings are quite straightforward and quick to make. Coat your broccoli florets in the batter and breadcrumbs, and bake. Then, add a generous coat of buffalo sauce to the veggie and bake one more time until crispy.
You can adjust the sauce's spiciness to your liking by adding more or diluting it with water. However, don't skip the tomato sauce, which will help balance the heat a bit.
These buffalo broccoli wings are "hot" in every sense, so you shouldn't miss them!
Total time: 35 minutes
This restaurant recreation of the popular Planta Queen's bang bang is just as amazing as the real deal, ready in just 35 minutes, and best of all, vegan-friendly!
The sweet and spicy peanut sauce turns the humble broccoli into something phenomenal. Get a taste, and you'll know this is not an exaggeration!
This from-scratch sauce has a slightly nutty flavor from tahini and a hint of sweetness in the maple syrup. There's no cooking involved; simply whisk all the ingredients before adding water to thin out the consistency.
Total time: 35 minutes
This oven-roasted broccoli is easy and scrumptious. You can turn your favorite veggie into a healthy pizza pairing by drizzling extra honey. These florets are crisp, golden brown, and tender, which makes you want to enjoy them straight out of the baking sheet.
Parmesan and Cheddar cheeses add tons of flavor to the veggies. Yet, make sure that you use grated cheese. It will coat and hold on to the cheese better when baked. For a spicy kick, feel free to add cayenne pepper while preparing the crumb bread mixture.
Total time: 47 minutes + 1 hour of draining time
These delicious sticks might take a bit of time, but they will pay off in the end. This recipe is also a great way to encourage everyone to eat more veggies. Broccoli and cauliflower both are delicious and nutritious.
The two veggies are baked together with cheese until tender perfection. You'll need to add the cheese twice: first when they come together with the veggies and the second time as a top layer. The cheese stocks will brown nicely when broiled for 2 minutes in the last step.
Total time: 25 minutes
These broccoli-loaded tots are a perfect choice for starting a simple vegetarian-themed course or a fuss-free afternoon snack! These broccoli tots taste amazing when dipped into ranch dressing, ketchup, or any dipping sauce you love.
The green veggie and Parmesan cheese, without fail, create a perfect flavor combination. Garlic, onion powder, and Italian seasonings give a kick of flavor, whereas the eggs will help bind everything together.
Your hands are the best tool to create the classic toy shape. Spoon the mixture onto your hands and roll it between the palms into small balls. Next, shape the balls into the perfect tot shape.
Every broccoli lover needs a broccoli tots recipe in their back pocket.
Total time: 30 minutes
Broccoli and melted cheese stuffed into a fluffy crescent roll will always be a winning appetizer for kids and adults alike. This is also a great way to put your leftover cooked broccoli and chicken to good use.
For these crescent cups, you'll need to press the crescent into the muffin cups before adding the cheese sauce and broccoli florets inside. Rest assured that you will master the art of pressing and shaping the dough in no time.
The veggie and cheese already create a creamy, savory filling for the pie. A dash of pepper, dried oregano, and garlic clove also gives a kick of flavor to the filling. However, chicken is a welcoming protein here, as it will add more flair to the appetizer.
Total time: 40 minutes
These bites contain broccoli, quinoa, cheese, and seasoning bound by the beaten eggs. They are a perfect appetizer, snack, or side dish your family will love! Quinoa also gives a huge boost of protein and vital nutrients. That's why you'll also love to make this appetizer for kiddos.
This recipe only calls for five ingredients (but feel free to add your fav veggies if you want) and comes together in only half an hour. To streamline the cooking, it's best to cook a batch of quinoa ahead of time.
These little bites from broccoli and quinoa are packed with both flavors and nutrients.
Total time: 45 minutes
Broccoli does surprisingly well in many pie-style appetizers, and this one is another good example. These puffs combine delicious broccoli with a cheesy and creamy filling and crispy crust. What not to love?
For these puffs, the sauce is everything! You will want it to be thick and velvety smooth. The key is to keep stirring it consistently for 10 minutes flat. This appetizer might take a bit of effort, but you'll know it's worth it when you take the first bite.
Serve these delectable puffs at your next party, and they should vanish in minutes. The fancy look will draw the crowd, and those delicious, addicting bites will keep them staying.
Don't worry about the leftovers (if there's any), as they will still be scrumptious when rewarmed the next day.
Total time: 10 minutes + 1-2 hours of chilling time
These fun, colorful pinwheels will delight your vegan and non-vegan guests alike! They're not only a delicious appetizer but also a great packable lunch or an afternoon snack.
The filling of these roll-ups are incredibly flavorful. It's a combination of cheddar cheese, broccoli, and carrots, perfectly flavored with cream cheese, herbs, and seasonings.
You'll need to finely chop the two veggies before rolling them into the wrapping. To cut down on time, you'd better toss them into the food processor.
Wrap the creamy filling using flour tortillas, then refrigerate the rolls 1 hour before slicing and serving. Chilling allows the flavors to combine inside these pinwheels.
Try These Broccoli Appetizers At Your Next Party!
Broccoli is not a picky veggie. You can see it teams up excellently with many ingredients, from cheese, chickpea, cauliflower, and chickpea.
The best part you'll appreciate is that those florets are unfussy to prep and cook. Plus, you can use the entire green stuff, from head to toe.
If you've tried these ideas, I'm glad to hear about your results (don't forget to leave a comment behind). If you love my content, please give it a thumbs-up and share it! Thanks for reading!
Nutrition Facts
8 servings per container
---
Amount Per ServingCalories261
% Daily Value *
Total Fat 20.5g

31

%
Cholesterol 64mg

22

%
Sodium 529mg

23

%
Potassium 346mg

10

%
Total Carbohydrate 10.7g

4

%

Dietary Fiber 2g

8

%
Sugars 2.6g

Protein 10.7g

20

%
---
Calcium

299

%
Iron

1

%
Vitamin D

3

%
* The % Daily Value tells you how much a nutrient in a serving of food contributes to a daily diet. 2,000 calories a day is used for general nutrition advice.