Are you looking for easy Bisquick desserts? I'm glad you came to the right place. A homemade sweet treat will make any occasion extra special. Yet, there's no need to devote much time to a dessert, especially when you'll already have to juggle between other mains and sides.
Bisquick offers a wonderful shortcut. It's a pre-made baking mix, which already contains fat, flour, leavening, and salt, which hit the store shelf in 1931. If you feel like a pancake, biscuits, cobbler, or shortcake but don't want to mess with the flour, Bisquick is a lifesaver.
So, choose any of these easy Bisquick recipes to end your dinner in a fascinating way without putting in much effort and time. Let's scroll down.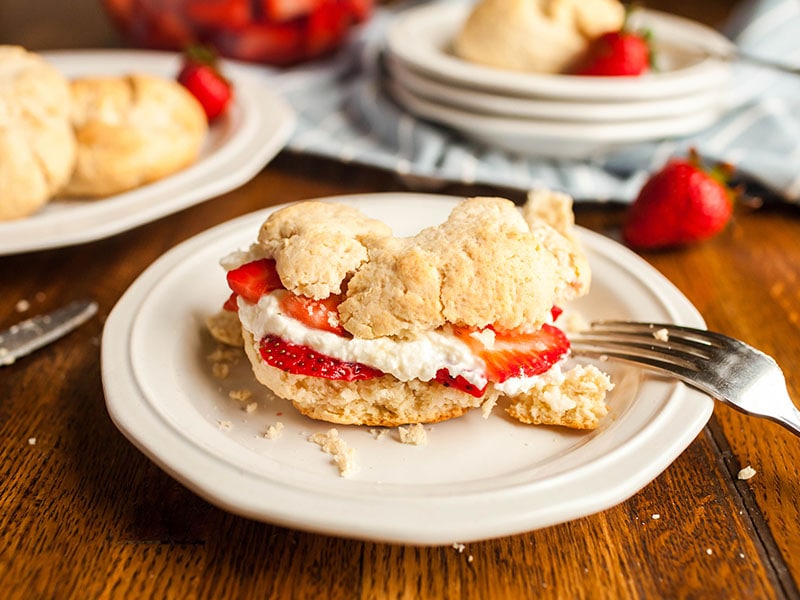 27 Easy Bisquick Desserts For An Easy And Quick Dinner!
Make any occasion, from birthdays and anniversaries to everyday dinners, feel extra special with these simple cake mix recipes. They will save the day when you have little time left for desserts or whenever you want something quick to satisfy your sweet cravings.
Total time: 40 minutes
A yeast-free irresistible treat has never been easier thanks to Bisquick biscuit mix. You can pull together these gooey, extra rich rolls within minutes, minus the kneading or rising that normal flour requires.
You only have to mix the Bisquick with buttermilk and sugar to create the dough. Flatten the dough and load it up with brown sugar and cinnamon before rolling the whole thing in ​​jelly-roll style.
The top tip for these rich and gooey rolls is heavy cream poured over the rolls just before baking. Don't skip this ingredient, as the texture is much better with it.
Warm, gooey cinnamon rolls no longer take forever to make, thanks to Bisquick baking mix.
Total time: 30 minutes
Use the store-bought baking mix as a shortcut to make one of the most popular bakery desserts – coffee cake!
There are so many things to love about this scrumptiously simple cake. The cake is tender, packed with blueberries as all blueberry coffee cakes should be. This updated version even has a crunchy cinnamon streusel topping for a flavor and textural boost.
Here's the ultimate tip: Be gentle when folding the fruits to prevent them from staining the batter. Otherwise, you'll have an unappealing gray hue on the cake.
This recipe uses blueberries, but feel free to swap in your favorite berries, such as raspberries or blackberries.
Total time: 25 minutes
These homemade pancakes should be your family's new go-to breakfast or desserts. Peanut butter syrup and banana are the co-stars in this recipe. They are a winning combination to give these cakes the perfect flavor.
The batter is baked until moist, fluffy, and tender. It pairs perfectly with the syrup on top. These cakes go without eggs and are vegan-friendly, making them a nice option to accommodate your vegan guests.
Total time: 20 minutes
If you have a waffle obsession like me, you won't serve these pumpkin waffles only in the fall but all year round! They're just as good when served as a breakfast or dessert.
This recipe is so foolproof that you won't need to review the recipe after making the first batch. Combine all the ingredients in one mixing bowl, and then cook the batter!
Fresh out of the iron, these waffles should be crisp with a kick of flavor (from the spices) and a light orange hue (thanks to the canned pumpkin puree). Syrup, whipped cream, and butter are all lovely toppings for these waffles.
My all-time favorite is the cinnamon caramel syrup, which is so good when combined with these waffles.
Total time: 25 minutes
These mind-blowing blueberry-packed delights are perfect for when you're serving a crowd or don't want to work in the kitchen all night long for a dessert.
Each batch of 8 servings only takes 10 minutes for the prepping time (thanks again for the trusty Bisquick box). Because they're oven-baked, so there's no flipping required. The cakes are soft, fluffy, airy, and packed with blueberry flavors.
When it comes to the toppings, the options are endless. These pancakes are amazing with syrup or powdered sugar. You can add some blueberries and/or strawberries on top for a decadent touch.
Total time: 19 minutes
Thanks to the Bisquick baking mix, whipping up a fresh batch of chocolate chip cookies is never easier. This helps shorten your ingredient list and ease some burden. Yet, you'll still get cookies with crispy edges, chewy middles, and chocolate chips in every bite.
Start with blending the sugar, butter, and then egg. Follow with all the remaining dry ingredients to form the dough. The next part is rolling and shaping before you can get a batch of cookies ready to bake.
Make scrumptious chocolate chip cookies from scratch with the help of Bisquick baking mix.
Total time: 30 minutes
The beauty of an apple cobbler is its simplicity, as it takes only half of the work of an apple pie. With the help of Bisquick baking mix, this apple cobbler is even simpler to make.
Simply pour the hot apple filling over the dough, and add cinnamon and butter on top before baking the pie to sweet perfection. Even better, you can prep the filling beforehand for up to 1 month.
This juicy and bright apple cobbler has just the right dose of sweetness and a deliciously crunchy crust on top. Serve warm with a generous scoop of vanilla ice cream and whipped cream.
Total time: 1 hour and 15 minutes
Just like brownies, blondies are easy-to-prepare sweet with oatmeal that comes in bars for the best convenience. However, blondies forgo the chocolatey flavors and highlight the flavors of melted butter.
For these blondies, melted butter is added alongside brown sugar and oats on top of the batter. As with many blondies, the oatmeal pecan blondies here also use brown sugar. It helps the cakes to be moist and chewy and also adds flavor.
These oatmeal pecan blondies taste just as good as they look. They are perfect for ending a weeknight dinner or when you want something chewy to snack on. Packed with pecans and oats, these blondies qualify as a breakfast or lunch box staple, too.
Total time: 25 minutes
Bisquick baking mix has a double duty here: to form the batter and go into the topping with cinnamon and brown sugar.
The cake will reveal two layers as it bakes: the moist, tender, and sweet cake underneath and the sweet cinnamon streusel topping. It is best to enjoy this treat with a hot cup of coffee.
Because you will want the apple to hold its shape when baked, you should go with tart varieties such as Granny Smith, Wineaps, or Cripps Pink. However, Gala or Honeycrisp would make nice substitutes if you crave something on the sweeter side.
Total time: 30 minutes
Combine the Bisquick baking mix and 3 familiar pantry ingredients to make these romantic chocolate donuts. You'll have the same fluffy sweet you normally would with canned biscuit dough. Plus, you can cut the dough into your favorite shape with a cookie-cutter.
If you think frying donuts is the hardest part, well, it isn't! All you have to do is test oil and fry each side until golden brown (only turn once), which normally takes 1 minute. It couldn't be simpler!
With donuts, you can do pretty much anything in terms of toppings and glazes. These fluffy donuts are garnished with a sugar glaze and chocolate ganache for an unbeatable treat.
Total time: 24 minutes + 10 minutes of cooling time
The Bisquick baking mix takes on the heavy lifting here. It's already formulated to give enough rise for the muffins. Plus, folding the baking mix into the batter keeps the fresh berries from sinking into the cake.
Better still, the streusel toppings offer a crunchy texture and make these muffins extra addicting! Instead of butter, this recipe uses cooking oil to help the muffins stay moist and tender.
These Bisquick blueberry muffins turn out moist and delicious every time.
Total time: 1 hour
This pumpkin bread should be a new hit in your family. Both kids and adults will love to savor it after a hearty dinner meal!
The prepping is quite easy and simple. You only have to mix and stir all the ingredients, pop the batter into the oven, and let the appliance work its magic. You'll have a delicious pumpkin loaf of bread ready to serve within an hour.
Besides pumpkin puree, nutmeg and cinnamon also go into the batter to give the bread an autumn vibe. Plus, garnish the bread with chopped walnuts before baking to add flavor and texture.
Total time: 18 minutes
Ultra, soft, tender, with just the right amount of sweetness, this strawberry shortcake is a perfect way to end your dinner meal!
It is loaded with summer flavors of strawberries and creaminess from whipped cream. Everything looks and tastes like a from-scratch strawberry shortcake but only comes together in less than 20 minutes.
The Bisquick offers you a shortcut here, which is useful if you're in a hurry. To make the most of this baking mix, you can bulk up its flavors by adding vanilla extract and sugar.
Total time: 1 hour
There is nothing that screams summer like this vibrant blueberry cobbler. When the blueberry season hits, load this cobbler with ripe, juicy berries for a perfect level of sweetness.
Throw vanilla extract into the berry mixture to add a floral note to the flavor. Meanwhile, a bit of lemon juice and zest will help perfectly balance out the sweetness of the fruit.
The preparation of this blueberry cobbler is pretty much the same as the apple cobbler above. Start with making the filling and then drop biscuits.
Next, scoop the biscuits on top of the filling. Finally, bake until the filling bubbles, and the biscuit top is golden. Serve this cobbler with these classic toppings: vanilla ice cream or sweetened whipped cream.
Total time: 55 minutes
The all-time favorite – chocolate pudding cake – is now easier with the convenient baking mix. This simple, creamy, and comforting dessert is perfect for any occasion, from easy family dinner to entertaining guests.
As the pudding cake bakes, it offers two treats at the same time. The batter will surge to the top to form a cake-like layer, whereas a creamy, pudding-like sauce will appear at the bottom.
The key to achieving the rich sauce for this melt-in-your-mouth chocolate dessert is to remember not to stir when pouring the hot water into the batter. As simple as that!
Total time: 18 minutes + 2 hours of chilling time
Only 4 simple ingredients come together for homemade cookies that are soft, chewy, and packed with peanut butter. The flavors are hard to beat! Perfectly sweet and rich in peanut butter flavors, these cookies hit the right spot when you want to satisfy your sweet craving.
One huge plus is this Bisquick dessert is ideal for making ahead. Simply mix the 4 ingredients into a thick dough and refrigerate it for up to 5 days. If left in the freezer, it can stretch up to 4 months.
Simply bake a fresh batch of these cookies right before entertaining your guests. Or keep it readily available for whenever you crave a little something sweet to nibble on.
You can whip up these tasty peanut butter cookies with a few pantry items.
Total time: 1 hour and 15 minutes + 30 minutes of cooling time
This impossibly easy pie is packed with slightly sweet and tart apples and rounded with nutmegs and cinnamon notes. Your guest will find it hard to keep themselves from grabbing the second or third square.
All you need is 20 minutes of preparation time to dump all the ingredients into the blender before baking the pie to perfection. Plus, allow the pie to cool down for around 30 minutes before slicing it into squares.
Regarding toppings, you can never go wrong with ice cream; just choose your favorite flavor, vanilla, caramel, cinnamon, etc.
Total time: 25 minutes + 5 minutes of cooling time
Bring these portable muffins to your next picnic, and you're sure to leave empty-handed. The mashed ripe banana adds just the right amount of sweetness, and the vanilla and cinnamon really play up the fruit's flavor. Every bite is also studded with chocolate chips.
Rest assured that these muffins will come out light, moist, and fluffy every time, as the Bisquick is perfectly formulated to go into the batter.
A small trick here is using two types of sugar (white and light brown). This way, you can achieve muffins that are moist and fluffy at the same time.
Total time: 1 hour and 10 minutes + 1 hour of cooling time + 2 hours of refrigerating time
If you don't want to make a flaky pie crust since it's too much work, this banana walnut caramel pie is for you. It has a flavorful filling of mashed bananas and lemon juice. The creamy sauce and crunchy walnuts on top adds extra flavors and texture to this custard pie.
This recipe might take a while to whip up because it requires resting time to be fully set. So, it's best to prepare this custard pie a few hours in advance and leave it standing long enough in the fridge. You'll get perfectly clean, sharp slices of pie for serving your guest.
Total time: 1 hour + 10 minutes of cooling time
This scrumptious blackberry treat is amazing when served as a breakfast or pull-apart dessert that everyone can share at a family movie night!
Fruity and irresistibly delicious, these dough balls have layers of blackberries, blackberry jam, melted butter, and sugar. So, what not to love?
You can make things easy on your part by using a store-bought Bisquick. Alternatively, making a Bisquick mix from scratch will allow you to control what'll be going into the baking mix.
Total time: 1 hour and 10 minutes
The best thing about cobbler is that it is unfussy to pull together. Plus, you have the freedom to swap in different fruits in every season to get a completely different treat.
For this recipe, peach is the obvious star of the show! The cobbler is packed with peach flavors, plus just the right amount of sweet syrup from the canned peach. Instead of cinnamon, this recipe uses nutmeg, which complements the canned fruits way better.
Since I want to introduce you to a convenient recipe calling for canned peaches, you can make it when the summer fruits are out of season. If you want to use fresh fruit, you'll need to add more sugar to compensate for the lack of sweetness, but avoid going overboard!
Bisquick is the ultimate secret ingredient for a fast and fuss-free peach cobbler.
Total time: 40 minutes
These cakey, nutty brownies are one of the best brownies you can make (but with much less hassle). They are full of chocolatey flavors from semi-sweet chocolate morsels and the crunch from chopped pecans.
Using condensed milk in the base means that these brownies have a more cake-like texture. Therefore, serve these warm brownies right out of the pan and add a generous amount of chocolate frosting on top. This way, you'll get an ooey-gooey layer to please everyone.
To store the condensed milk brownies, carefully place them in an airtight container and leave them on the counter. They're still good reheated a few days later when stored this way.
Total time: 1 hour and 10 minutes
These pumpkin pecan bars offer all the deliciousness that the greatest pumpkin-stuffed desserts can have. One huge plus is that you can easily make them in a large batch and cut them into small bars to serve the crowd.
The filling of these bars tastes like autumn. The pumpkin flavors are accented by pumpkin spice, cinnamon, and salt. The nutty crust is also to die for, made of only three simple ingredients: the baking mix, pecans, and butter.
Top these flavorful bars with a scoop of ice cream or dollop of whipped cream to create the ultimate treat for the fall celebration.
Total time: 50 minutes
These sweets have the same light and airy texture as your favorite pancakes but are baked into cupcakes instead. With the help of the convenient baking mix, you can pull them together in a snap.
Fresh out of the oven, these pancake cupcakes have a soft and fluffy texture, with chocolate chips in every bite. The frosting on top is light and creamy, with a hint of maple giving bonus flavor to this treat (and making it prettier).
When Christmas or Thanksgiving is around the corner, making these festive sweet treats will be a great idea. Their beautiful look will light up your party table as brightly as a Christmas tree!
Total time: 25 minutes
What if donuts with pancakes? Well, an absolutely mind-blowing dessert will come to life. These pancake mix donuts are sugary sweet, baked to golden perfection with a maple glaze on top.
The glaze is also foolproof: simply stir the butter and sugar under the heat, and take them off the stove before whisking them with the remaining glaze ingredients.
You can spoon the batter into the rings as normal. However, to minimize mess and make this job easier, it's best to pipe the batter from a Ziplock bag.
Total time: 22 minutes
Make these sweet and simple chocolate scones, and you'll never return to the store-bought version again. The recipe only calls for a few basic ingredients like sugar, vanilla, and whipped cream to create a decadent dessert that can rival most bakeries.
They are golden and crispy outside with a moist and flaky center. Plus, you can taste the chocolate chips in every bite.
The best chocolate chip scones should always be moist and tender on the inside. The tip is to cut the dough into wedges but not completely separate them. This way, the scones will turn out moister.
Total time: 50 minutes
The tropical custard pie has a filling made of coconut flakes, Bisquick, eggs, milk, etc.! It is topped with even more coconut flakes before going to the oven; after 40 minutes of baking, the coconut-y filling fully sets into a delicious, creamy custard.
The pie, in the end, has a refreshing coconut flavor that anyone is bound to fall in love with. However, for an extra depth of flavor, you should toast the coconut flakes instead of using them straight from the package.
To serve, let the pie return to room temperature and then top it off with fresh strawberry slices. Ice cream and whipped cream are also lovely, classic pairings. Or, if you feel generous, simply combine them all!
By simply dumping everything together, you can bring to life this tasty coconut custard pie.
Amazing Sweets Start With A Bisquick Box!
There is an abundance of sweet treats you can whip up with a box of Bisquick. The recipes couldn't be simpler, and if you've done it the right way, no one will know those fabulous desserts come together in a matter of minutes with a store-bought baking mix.
If you're already sold by these recipes, let's try them yourself to see how they can live up to your imagination. You can leave your comment to give me your feedback right below. As always, if you find my content useful, like and share it so more people can read it. Happy baking!
Nutrition Facts
8 servings per container
---
Amount Per ServingCalories380
% Daily Value *
Total Fat 17.8g

27

%
Cholesterol 31mg

11

%
Sodium 612mg

26

%
Potassium 79mg

3

%
Total Carbohydrate 55g

19

%

Dietary Fiber 0.3g

0

%
Sugars 24.8g

Protein 4g

8

%
---
Calcium

79

%
Iron

1

%
Vitamin D

8

%
* The % Daily Value tells you how much a nutrient in a serving of food contributes to a daily diet. 2,000 calories a day is used for general nutrition advice.