20+ Easy Apple Appetizers Everyone Is Sure To Love 2023
In this post, I give you easy apple appetizers for every potluck, party, or picnic. Even if you set up a party in a hurry, you can whip up these recipes smoothly and successfully. Never worry about the flavor since these starters will excellently satisfy all your guests.
When apples are at their peak, it's the ideal time to feature a fruity note in your entree menu for an exciting dinner. Thanks to apples, these appetizers below give addictive flavors you won't mistake for anything else. How magical and wonderful apples are!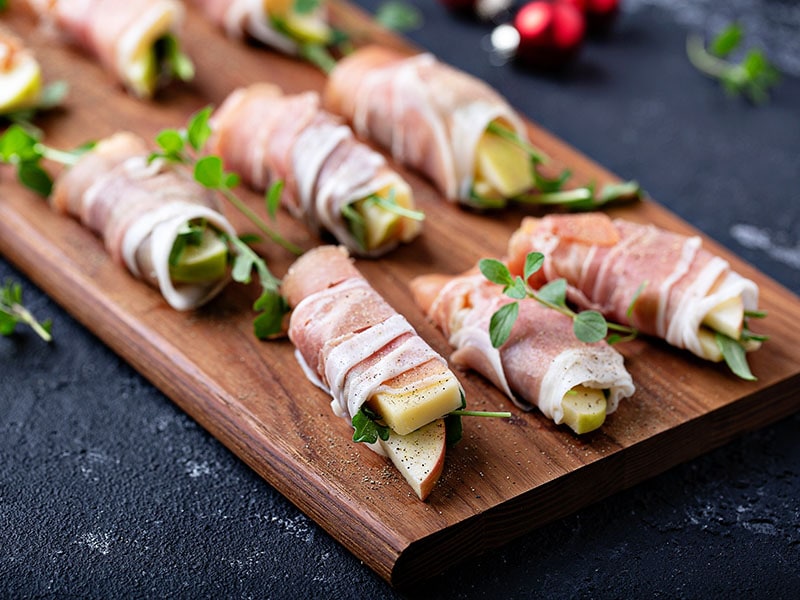 Excellent Ideas For Apple Appetizers
If an apple a day keeps the doctor away, these apple appetizers will have you wanting more and more. I bet you have never thought apples could work with numerous ingredients to create these irresistible starters. Let's jump right to the recipes!
Total time: 10 minutes
A festive treat full of flavors like these savory sliced apple appetizers will be a hit at every party. Juicy apple slices topped with celery, pomegranate seeds, and pecans are healthy, toothsome, and extremely quick to prepare.
Sliced apples tend to brown when exposed to oxygen, so here are some tricks for you. Immerse the fruit slices in a mixture of lemon and water for 5 minutes and place them in an airtight bag until you're ready to combine them with other ingredients.
Covering the slices evenly with the prepared cream cheese mixture can maintain their freshness longer. Moreover, Granny Smith apples are best for these bites due to their mild tartness and sweetness.
Total time: 10 minutes
Caramel apple cheese ball will be the star for its bold flavor and eye-catching appearance. Can you guess what this fun ball consists of? It's the cheesy cheddar, warm nutmeg, sweet caramel, and crunchy green apples.
To assemble the treat, stir the ingredients in a bowl, get your hands wet to avoid the mixture sticking to you, and roll to form the ball. You can coat the dish with some crushed walnuts and drizzle it with caramel sauce for a flavorful result.
Because this apple cheese ball is spreadable, you may whip up a handy appetizer with Triscuit for a better experience. Besides, you can snack on it with bread, tortilla chips, carrots, celery, etc.
This caramel apple cheese ball will make you want to eat more and more.
Total time: 1 hour 15 minutes
These puff pastry bites are a combination of mushrooms, Gruyere cheese, apples, and onions. Though the cooking time is quite long, the prepping work only takes no more than 10 minutes. The appetizers are suitable to serve during the holiday season, like Thanksgiving.
I know you'll be busy when the party starts, so making this starter ahead of time is a wise option. You can prepare the filling and store it in the fridge for up to 2 days. Remember to keep the filling and the puff pastry separate until ready to eat.
Note that frozen puff pastry needs to thaw in the fridge for around 4 hours.
Total time: 15 minutes
Toasted baguette topped with goat cheese and apple slices will hold your guests' attraction at the next get-togethers. It has a mildly tangy, sweet, toasty flavor and a charming look. Drizzle with agave and thyme leaves on top. The treats are too good to pass up.
Prepare the crostini by toasting the sliced baguette first. While waiting for the bread to cook, coat the apples with agave nectar and cinnamon. All that remains is to place the toppings on the cooked baguette.
Total time: 40 minutes
You'll get addicted to this lovely dish using Brie cheese since it's heavenly rich, gooey, and delectable. Also, the mix of apples and bacon makes the dish tangy, salty, and smoky. The treat becomes more delectable if you pair it with crackers or crusty bread.
Use a whole wheel of ripe Brie because it is more aromatic than the overripe one. The cheese ideally melts when being baked at 325-375°F for 5 to 10 minutes. You don't need to take off the rind because it's edible and helps to hold the baked Brie together.
To test the doneness of the Brie, gently touch its center to check if the cheese is soft. Or you can trim off the rind on top and observe the surface. Serve the treat while it's still warm because it may lose the gooey texture after 10 minutes.
Total time: 30 minutes
Who doesn't love these cute, creamy, tangy-sweet, and crunchy bites? Phyllo shells stuffed with the syrupy homemade apple cranberry sauce and cheese are incredibly luscious. Moreover, these instant pot starter treats are easy for you to make ahead a few days.
Making the sauce is effortless. Add some apples, cranberries, apple cider, orange juice, and syrup to an instant pot and pressure cook for 5 minutes. Honeycrisp apples are ideal for making sauce. Remember to peel and core the fruits before combining them with others.
Keep any leftovers in a tight-lid container. They can last for 3 days. If you want to reheat, spare some minutes to warm the bites up in the oven at 350°F.
Total time: 35 minutes
There are countless ways to use your leftover apple, and here is a festive and irresistible appetizer for you to try. Thanksgiving will be more enjoyable if you feed your family and friends these apple and Brie tartlets.
The mini tarts include crunchy nuts, aromatic cinnamon, cheesy Brie, and apple cubes. Also, the puff pastry is buttery and has a crispy, golden brown exterior after baking.
For the best outcome, you can look for the sweetest types of apples grown in your local area. Not only are they fresh and low-cost, but these fruits are more nutritious since they are fully ripe.
Total time: 5 minutes
Toffee apple dip is great to dish up at game-day parties, potlucks, etc. Dipping fruity apple slices into a gooey, sweet, and thick sauce is tempting. The ingredient list contains cream cheese, vanilla, Heath Bits, and milk.
There is no wrong with serving this dish as a delectable after-meal apple treat or anytime you want. It's better to consume the treat within a day. You can refrigerate it for 2-4 days. But if you store the dip for too long, it'll end up soggy and affect the texture.
Total time: 10 minutes
This ultimate apple dessert recipe with caramel only takes several minutes and has no more than four components to make. Everything you will do is melt the Brie topped with chopped walnuts, drizzle the cheese with caramel sauce, and prepare some fresh apple slices to dip in.
Though the baked Brie is simple, it's loaded with a rich, cheesy, sweet, nutty flavor. I'm sure you will eat this again and again but never get bored. Caramel apple-baked Brie can be a savory appetizer to start a party or a hearty dessert to conclude a meal.
Caramel apple-baked Brie is gooey, comforting, and incredible.
Total time: 15 minutes
Let's create a wonderful summer entree idea for your next party with this honey-whipped goat cheese and apple slices. You can serve this at any occasion, from weddings and graduations to picnics. Cheese and apples are the winning combos for most appetizers.
For a perfect whipped cheese dip, place the goat cheese at room temperature first. Then, in a bowl, whisk goat cheese, cream cheese, and heavy cream with a hand mixer until fluffy. Drizzle honey and add fresh thyme on top. Your dip is perfectly done!
You can use edible apples in different colors like red, yellow, and green for a vibrant and eye-catching look.
Total time: 50 minutes
This outstanding dish will make the party more joyful. Cheesy spinach rolls with apple coleslaw are a kick of flavor in the mouth. The treats have a golden brown crust filled with cheesy spinach and topped with creamy apple slaw.
For the filling, cook the spinach until wilted, add the cheese, and stir to combine everything. To prepare the toppings, mix the coleslaw salad mix, apples, mayo, and salt together.
Even if you're not a skilled cook, you can whip up this recipe without trouble. From start to finish, the appetizers are ready for serving in less than an hour.
Total time: 50 minutes
Are you looking for a fall apple appetizer? These mini apple turnovers are suitable for you. When you first bite into these mini treats, you will feel the crispy texture of the baked pastry combined with the nutty, cheesy, and honeyed flavor of the filling.
Apart from Granny Smith, you can choose Jonagold, Gravenstein, or Pippin apples to make this appetizer. It's not compulsory, but to reduce the moisture of the fruit, you can cook chopped apples for 5 minutes in the microwave, wait until they cool, and drain excess liquid.
To assemble the turnovers, cut the puff pastry sheet into 3×3-inch squares, place the filling in the center, and fold to shape a triangular form. You can use a fork and press the pastry edges. Before baking, be sure to let the filled turnovers refrigerate for 5 minutes.
Total time: 15 minutes
Every potluck party can never lack skewers. But have you ever tried this version of caramel apples? Not only are these skewers full-flavored, but also they are healthy, vegan, gluten-free, and Paleo.
The secret here is the almond butter drizzle, which makes the food rich in antioxidants, vitamin E, and healthy fats and has a caramel-like flavor. Almond butter, syrup, and vanilla create this delicious drizzle.
Gala, Cortland, Empire, and Cameo are some apple varieties that don't turn brown quickly when exposed to oxygen, so they are the best ingredients for this succulent skewer appetizer. There is no need to peel the fruits. Simply washing and cutting into 1/2-inch cubes is enough.
Total time: 20 minutes
Hot buttered apple rum dip will go beyond your expectations for its delightful cocktail flavor. This 21+ cocktail-themed dip consists of dark rum, warm spices, butter, cream cheese, and apples. This treat is too good to be true!
You only need to make the glaze and drizzle it over the block of cream cheese. For the glaze, cook the apple with butter over medium-low heat, stir, and add the other ingredients until combined. This cooking time may take 15 minutes.
This dip will be a huge hit during chilly nights or at a holiday gathering. If you would like to make this non-alcohol, replace the rum with apple cider or apple juice.
Total time: 35 minutes
Meaty bacon coated in cinnamon and brown sugar and wrapping around apple chunks is hard to resist. This last-minute treat will save you energy for the party. That's because the recipe calls for less than 5 ingredients, including apples, bacon, brown sugar, and cinnamon.
Place the brown sugar and cinnamon mixture on the bacon strips. Then add apples and start to roll the bacon. Put the seam down on a baking sheet, top each wrap with the remaining brown sugar mixture, and bake for 25–35 minutes.
Some apple varieties may get mushy when you bake them. That's why Granny Smith apples are an ideal choice. Don't forget to cut the fruits into equal 1-inch chunks to keep the treat prettier.
These bacon-wrapped apples are a sweet and salty appetizer you should try.
Total time: 20 minutes
This version of pineapple salsa can cool you down on hot summer days. For a brief explanation of the food name, pico de gallo is one of the most renowned Mexican starters; it's also a part of the salsa family. The dish usually includes tomatoes, onions, lime juice, and herbs.
Unlike the traditional dish, this version of salsa contains neither onions nor tomatoes. Instead, it's tastier and more refreshing, thanks to apples and pineapples. You can also serve this starter as a side dish when paired alongside chicken or steaks.
Total time: 10 minutes
As the name suggests, these treats look like a salad on a skewer. They are an excellent appetizer to make for your kids, even if they aren't usually a fan of salad. Made with dried cranberries, apple slices, tender chicken, cheddar, and butter lettuce, the mini skewers are fresh and delightful.
Any leftover grilled or roasted chicken is acceptable for the treat. Besides butter lettuce, you can substitute it with any of the crispy types like Bibb or Romaine. Eat the salad treats with your favorite dressing.
Soaking apples in lemon water can prevent the fruits from browning. Nevertheless, if you find this makes their taste become tart, let's try using pineapple juice instead.
Total time: 15 minutes (not including the chilling time)
Apple mango salsa won't disappoint your taste buds with a refreshing, acidic, spicy, and mildly sweet flavor. Fruits, onions, peppers, and cilantro tossed in lime juice and honey produce a colorful, flavorful, and family-friendly treat for pleasing a crowd.
Crisp and firm apples will enhance the texture of the dish. Besides tortilla chips and tacos, you can consume this food with fish or chicken. Also, let the salsa chill for at least 30 minutes for an intensive flavor. Apple salsa can be yummy after 3 days if you store it in the fridge.
Total time: 10 minutes
I'm not lying to you, but you only need 3 ingredients for this fast apple starter dish. Although they are simply rotisserie chicken, Brie, and apples, these bites are high in protein, low in carbohydrates, and produce a sweet and savory flavor. This recipe is worth a try.
Begin by shredding the chicken and cutting the cheese into bite-sized pieces. Each apple slice should be around ½ inch thick. Assemble the bites, put them on a foil-lined baking sheet, and broil for 1 or 2 minutes. Now, you can sprinkle them with pepper to taste.
Total time: 50 minutes
After trying these crispy, pillowy, and additive puffs, they'll soon become your family's favorite apple starter. The cheese puffs are excellent to serve at fall parties when the weather is mildly cool. Pair with a drink of cider, how sweetly charming!
Preparing the crispy dish may be time-consuming, but it won't be difficult. For the filling, saute the diced apple, butter, and some spices until fragrant. Add the agave nectar and hard cider to the mixture and cook till tender.
Make the puffs as instructed, and remove the top to stuff the filling and crisped prosciutto inside. Eat warm!
Total time: 10 minutes
Waldorf salad is addictive with its blend of fruits, veggies, nuts, and mayonnaise dressing. From adults to children, I'm sure no one can refuse to try it. The sweetness of apples and grapes balances the tangy lemon juice and the creamy mayo.
Whisk mayonnaise and sugar to build the dressing. Remove the core and cut the apples into small cubes. Then, slice grapes in half and dice the celery stalk. In a bowl, toss the dressing with all the prepared ingredients and chill until serving time.
Waldorf salad is creamy, yummy, healthy, and loaded with flavors.
Total time: 30 minutes
Apple slices make a fine addition to a classic Italian antipasto idea, featuring prosciutto, cheese, and arugula. Prosciutto is a dry-cured ham from Italy that you can buy at most supermarkets or grocery stores.
This is how you can prepare the appetizer. Cut the ham into 1-inch strips. Next, place some arugula leaves on top and assemble the bites by wrapping the prosciutto around apples and cheese.
There is a surprising fact about apples. Research shows that apple skin contains a high amount of vitamin C and fiber. So if you don't feel uncomfortable chewing unpeeled apple slices, you can leave the skin on.
Total time: 15 minutes
This thin sliced turkey-wrapped apple appetizer is the true food for picky eaters like kids. Who would think that savory and tender turkey combines so nicely with sweet and crunchy apples? The result is a seductive keto-friendly appetizer that is excellent for entertaining guests of all ages.
You can give your visitors a variety of options by altering a few ingredients. Substitute deli turkey with honey ham or smoked turkey to add extra flavors. If you don't have cheddar on hand, Gouda or Brie cheese can be a good choice.
These Apple Appetizers Are Best For All Family Gatherings
Do you agree with me that apples are a magical fruit? They are always delicious, even when you eat them fresh or combine the fruits with other ingredients. I hope this post does help you get more appetizer ideas made with apples for your upcoming parties.
I'd like to send a big thank you to all of my readers for always supporting me. If you successfully apply the recipe I provided, don't hesitate to let me know in the comment section. Remember to share this article with your family and friends. See you soon!