Zucchini desserts are versatile, healthy, and taste so delicious that no one can forget them after just one bite. Especially for those who are craving sweet treats but are afraid of gaining weight, zucchini desserts are a perfect dish for such demand.
Zucchini, as you may know, has a high nutritional profile with various vitamins, minerals, and other essential nutrients. Let's level up your desserts with the recipes below and experience zucchini like never before!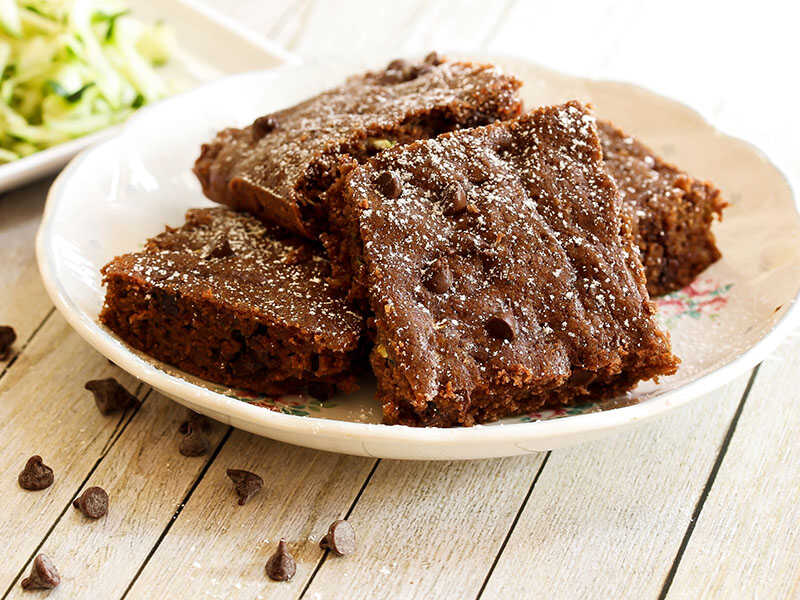 21 Recipes To Make Your Zucchini Desserts Irresistible
Zucchini comes with many beneficial health effects due to its loaded nutrition and vitamins. You can turn this health-giving vegetable into many tasty desserts to finish your meal with a bang. Check the list below for more details!
Total time: 1 hour
Have you ever tried a spice cupcake loaded with shredded zucchini and topped with frosted cream cheese? If not, I would like to introduce these lovely and delicious creamy zucchini cupcakes.
The recipe is simple. Scoop the batter that is already well whisked with shredded zucchini into a muffin tin. Then, bake the mixture in the oven for 20 minutes.
For the cream cheese frosting, use a spatula to mix cream cheese, sugar, vanilla extract, and butter until soft and smooth. Put the mixture in a piping bag and start garnishing on top of the miniature cupcakes.
Zucchini cupcakes are perfect for a picnic trip.
Total time: 50 minutes
Zucchini crumb cake is a fabulous cake for breakfast together with some fancy tea or coffee. The cake is soft, tender, and aromatic with crunchy and buttery crumb topping.
After making the batter with zucchini and other ingredients, spread the batter on the prepared pan. For the crumb topping, add melted butter with walnuts, baking powder, and cinnamon, then stir them until you see large crumbs.
Sprinkle the topping on the cake's batter and bake for 35 minutes. Let it cool for a while before cutting. When you finish decorating your perfect zucchini crumb bake, remember to enjoy it with family and friends. You can also freeze it and serve it for the next breakfast or brunch.
Total time: 50 minutes
Everyone loves a tasty dessert that doubles up as a great tea-time snack, and this recipe fits the bill perfectly. Zucchini, almond, and polenta are the three main ingredients that make up the excellency of this cake. Luckily, you can easily buy them at any grocery store.
If you're craving some chocolate flavor, try mixing some cocoa powder and chocolate chips. This gluten-free cake will transform into a delectable chocolate dessert in no time! The cake is tasty enough to enjoy plain, but you can also dress it with lemon syrup or cream cheese icing.
Total time: 33 minutes
If your kids dislike zucchini, how about making muffins with secretly packed zucchini for them? This is one of the most delicious straightforward zucchini desserts. As tempting as any top-notch chocolate dessert out there, it will soon be your little ones' favorite treat!
The process is simple. Whisk all dry ingredients in a bowl together, then slowly add them to the mixed wet ingredients, zucchini, and lemon zest until combined thoroughly. Distribute the batter evenly in muffin liners.
After that, sprinkle chocolate chips on top of each distributed batter and bake for 20 minutes at 350. Let them cool and garnish them with chocolate chips for an appetizing decoration. Everyone in your family will surely love this drool-worthy treat.
Chocolate zucchini muffins are perfectly delicious with no zucchini taste detected.
Total time: 1 hour 10 minutes
I'm sure you've already known this, but courgette is another name for zucchini. Courgette cake with lemon drizzle is truly a lovely and nutritious dessert.
Many people love to use citrus fruits on the cake as a unique combination to balance the flavor. The special thing about this recipe is the lemon drizzle mixture. Enhance your courgette-filled cake loaf with the zingy glaze made of lemon juice and caster sugar.
With pretty green flecks from the veggie and the sweet-tart flavor of lemon juice, this dessert will lift your mood to cloud nine. Why not try this delicate dessert now?
Total time: 1 hour 30 minutes
Let's refresh your lovely weekend with this no-apple zucchini pie. Cooked apples and zucchini seem to have a similar texture and taste, so many cooks utilize zucchini as a replacement for apple in pie recipes.
In a large bowl, toss cooked and chopped zucchini with other ingredients. Cover the floured pastry with the zucchini mixture and the crust in a pan and bake for an hour.
This zucchini pie recipe will turn out so crispy, tasty, and scrummy for you and your family to enjoy on lovely sunny days.
Serve this dessert to your family and ask them if they realize zucchini in it.
Total time: 25 minutes
Blueberry and zucchini squash represent summer, so you may know when is the best time to have these blueberry zucchini donuts. Moreover, compared to regular donuts, this recipe is much healthier and has a more addictive taste.
Just look at the ingredient list of this wholesome blueberry dessert, and you will see why: whole wheat flour, shredded zucchini, almond milk, etc. Add some lemon zest and juice for extra flair. Importantly, decorate these lovely rings with white chocolate drizzle to make them tastier.
Now, furnish your plate with a pretty donut and put it alongside a cup of coffee. What a wonderful way to indulge in a guilt-free dessert.
Total time: 1 hour 20 minutes
If you are on a "cheat day" and wish to taste some healthy sweet treats, try this healthy zucchini bread recipe. Zucchini is packed with lots of vitamins, fibers, and minerals, so you don't need to worry about consuming this treat.
Healthy zucchini bread is moist, soft, and slightly sweet. To create this nutrition-packed dessert, you will need yummy ingredients such as whole wheat flour, zucchini, coconut oil, walnuts, and maple syrup.
It's a "cheat day" anyway, so a little honey, maple syrup, and chocolate chips won't hurt! Plus, the bread will taste a lot less delicious without them.
This gluten-free recipe will surprise you for being simple but pretty good.
Total time: 30 minutes
Let's transform your zucchini into sweet and delicious blondies with an incredibly tender and moist texture. The penuche fudge frosting, which is rich and fudge-like, is the cherry on top that makes these sweet treats irresistible.
Some people prefer to peel their zucchinis, but not for this recipe. Leaving the skin intact will add more color and nutrition to your dessert. And trust me, you will want these blondies to be as health-giving as possible since you won't be able to stop eating them!
Total time: 41 minutes
Normally when people think of zucchini, they'll probably picture a somewhat bland and watery vegetable. However, when combined with banana and cream cheese frosting, this basic green ingredient can level up your "dessert game" drastically.
The naturally sweet flavor of banana blends well with zucchini's light taste to make a simple yet divine combination. Vanilla extract and ground cinnamon further enhance the tastiness of this healthy dessert.
While the cake is delicious on its own, the whipped cream cheese frosting takes it from an A to an A-plus. Not only does the sugary frosting compliment the flavor and texture of your zucchini banana cake, but it also adds to the visual appeal.
Total time: 1 hour
You might have already known this, but one of the biggest struggles of parenthood is making your kids eat veggies! Well, worry not because these yummy pineapple-filled treats will solve all the little ones' vegetable-related problems.
In addition to zucchini, these cookies also include oat (another healthy ingredient), pecans, and chocolate chips. Of course, you can customize the recipe to your liking. For example, if chocolate isn't your cup of tea, try swapping it out for peanut butter chips or cinnamon chips.
Total time: 50 minutes
Don't be discouraged by the unseemingly unconventional combination of pineapple and zucchini. Since the recipe calls for canned pineapple, you won't feel many tart notes. Remember to reserve the juice after draining the pineapple, as you'll need it to make the glaze.
As for the zucchinis, they are there to boost the cake's moisture and elevate other flavors. This low-cost squash provides fiber, thus making your dessert more nutritious. Additionally, having zucchini in your baked goods also means you won't have to add as much fat.
So what are you waiting for? Take out your bundt cake pan and give this recipe a try!
Total time: 40 minutes
Carrot and zucchini is yet another mouth-watering pairing that you have to try. Besides, this moist cake is full of spices and is an ideal dessert for a crowd. Plus, the cream cheese frosting on top will ensure that you'll keep returning to this recipe again and again.
As mentioned above, the zucchinis solely serve as a moisture provider rather than a flavor enhancer in baked goods. In other words, most people won't detect them, especially when your cake is this flavorful.
If you home-grow your zucchini, you can grate and freeze them at peak seasons for later uses. To improve the cake's taste and texture, consider tossing in some raisins, chopped walnuts, or pecans.
Total time: 1 hour 10 minutes
Zucchini and lemon are undeniably a classic combination, but this time, let's try pairing your summer squash with another citrus fruit – orange. This recipe practically utilizes every edible part of an orange: the rind for making the bread and the juice for whisking up the glazing.
With the addition of crunchy walnuts and plenty of spices, your cake will be all the more flavorsome. If you want to use the bread slices to make a French toast, simply leave out the orange glazing, dip them in an egg-milk mixture, and fry them until golden brown.
Remember to refrigerate the leftovers to keep the glaze from melting. Your bread will last for 2 to 3 days at room temperature if kept in an air-tight container.
Total time: 1 hour
Let's take a brief break from the "healthy dessert" category and indulge yourself with these sugary and rich caramel zucchini bars. Don't get me wrong, this recipe is not inherently unhealthy, but if you compared it with the above desserts, it might be the most decadent.
The star of these zucchini bars is definitely the caramel frosting. Although it requires only simple ingredients, such as sugar, butter, milk, and salt, its dense consistency and pleasantly sweet flavor will charm you immediately.
One small note, remember to spread the frosting quickly after making it as it will set in a very short time.
Total time: 1 hour 15 minutes
Oh, strawberries. Who doesn't love these yummy and lovely red fruits? For all the strawberry fans reading this post, I've got you covered with this delectable sweet bread that combines the classic summer squash and the all-time favorite berry!
Cooking up the bread is as easy as it gets. Simply mix all the ingredients as instructed and let the oven do its work. Remember that you'll want to use frozen, dried strawberries powder to make the frosting to reduce the excess liquid.
Total time: 26 minutes
Truth be told, not everyone has the luxury of spending more than an hour baking dessert. Well, the good news is, you don't have to, as these puffy, soft, and delicious whoopie pie cookies only take less than 30 minutes to make.
Cream cheese frosting is a magical component that can take your sweet course to a new level. In this recipe, two pieces of zucchini-based cookies sandwich the frosting beautifully to create an aesthetically pleasing and appetizing dessert.
Total time: 1 hour 10 minutes
By definition, a crisp is a dessert dish consisting of baked fruit with a crunchy layer of sugar, butter, and flour on top. However, you can also replace the fruit with zucchini for a fun and surprising twist.
The key here is to cook the zucchini pieces in sugar to infuse them with a sweet flavor that resembles apples. This process usually takes about 15 to 20 minutes. After that, sprinkle the crumble mixture on top of your "zapples" and put them in the oven.
Pair the dish with a scoop of ice cream to enjoy it to the fullest.
You'll fall in love with this keto-friendly zucchini crisp!
Total time: 45 minutes
Here's another healthy cake recipe to enjoy after the main meal. Banana zucchini pudding cake is one of the moistest and most nutrition-packed desserts you'll ever taste. It contains vegetables, fruits, and Greek yogurt, all of which are famous for their incredible health benefits.
The recipe uses brown butter glaze (and only sparingly) instead of the typical cream cheese frosting to ensure that your dessert is on the healthier side. Doing this also means you can store the cake at room temperature.
Total time: 35 minutes
While many recipes in this list are vegetarian-friendly, there hasn't been one that's truly vegan. Well, here it is – a delicious vegan brownies recipe that only calls for 7 ingredients and is also gluten-free.
Make sure you replace regular butter with peanut butter, preferably the natural drippy type. And did I mention that this enjoyable vegan dessert recipe is entirely flourless? Also, don't squeeze the water out of your zucchini.
Flax seeds are the most suitable alternative for eggs, but if you aren't vegan and just want to enjoy a simple and healthful dessert, feel free to use real eggs.
Total time: 35 minutes
"Aren't scones breakfast?" – you might think. Well, the truth is, enjoying this classic American treat after a fulfilling meal is just as satisfying as having them first thing in the morning. I mean, if you have a delicious recipe such as this one, you might as well eat them for brunch as well!
This scone has an extremely crunchy outer layer, while the inside is soft, moist, and fluffy. The masterful use of zucchini, spices, and chocolate chips ensures each and every bite will be packed with flavors.
There's not much to note about this recipe, as the cooking process is fairly straightforward. Just remember to use very cold butter to make the batter so that the scones turn out flaky.
Enjoy Your Healthy Sweet Course With Zucchini
Little do you know the nutrition content of zucchini can help balance calories and fat intake contained in those sweet ingredients above? Particularly, if you crave something sweet to consume during summer, zucchini is a perfect option for you.
Let's give these scrumptious recipes a shot. Who knows, you can win people's attention for skillfully making such delicious zucchini desserts.
Thank you for reading, and I hope you can successfully make these tasty zucchini desserts above. Is this post useful to you? Leave a comment in the section below! Love to see you more in the future.
Nutrition Facts
12 servings per container
---
Amount Per ServingCalories272
% Daily Value *
Total Fat 13.8g

22

%
Cholesterol 51mg

17

%
Sodium 130mg

6

%
Potassium 92mg

3

%
Total Carbohydrate 35.6g

12

%

Dietary Fiber 0.3g

2

%
Sugars 31.8g

Protein 2.4g

5

%
---
* The % Daily Value tells you how much a nutrient in a serving of food contributes to a daily diet. 2,000 calories a day is used for general nutrition advice.