Do you need zucchini appetizers because you are having a party and the zucchini crops in your garden are ready for harvesting? Or because your family is tired of eating raw zucchini every day? Take it easy! This post will provide you with all the recipes you need.
This article will give you a variety of cooking methods, from regular baking recipes to those that only require a skillet and even without any heating equipment. Besides, it also has many healthy recipes for you to cook, including gluten-free, oil-free, and vegetarian.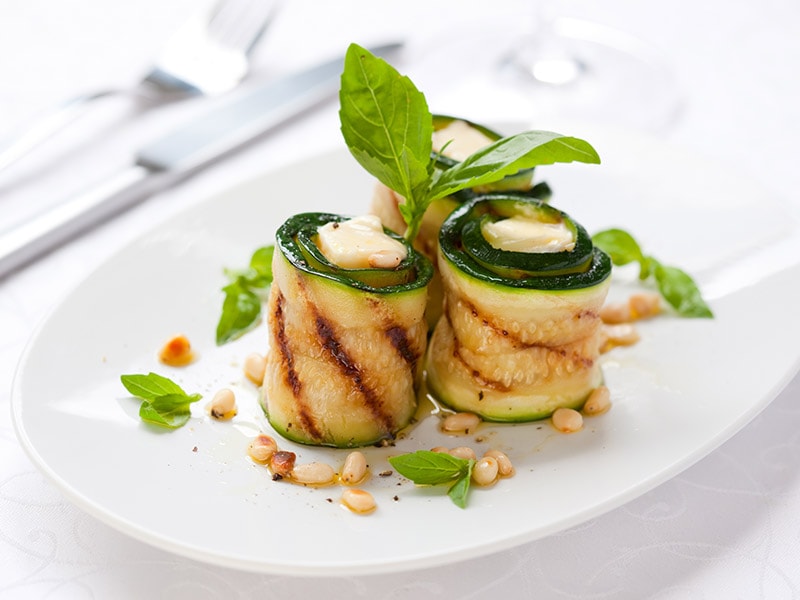 19 Best Zucchini Starters For Your Upcoming Party
You go to the garden and see delicious ripe zucchini everywhere. How can you keep it all? Very easy! You can make these zucchini recipes and treat family and friends, or store these cooked delicacies in the freezer for up to months.
There will not be any food waste here. Keep scrolling down to figure it out!
Total Time: 35 minutes
Zucchini puffs are perfect for every gathering. You can pair them with a dipping sauce like tomato sauce or ranch dressing to make them yummier. Or you can serve them alongside a fancy grilled steak as a side dish. They work well in both roles.
Thanks to zucchini, these cuties are moist and sweet. Together with the baking mix, they create light and airy zucchini muffins. These puffs are also simple to handle. You only need to combine things and bake. Within minutes, you will have a batch of yummy muffins to enjoy.
Notably, preparing grated zucchini is easier than ever with plank or box graters. But because zucchini has a high moisture content, you need one extra step to avoid soggy puffs. Just squeeze grated zucchini in a clean towel to drain out the excess water.
Total Time: 30 minutes
Zucchini garlic bites are a brilliant finger food served with marinara dipping sauce to make an Italian-style appetizer. Inside, these bites contain numerous zucchini slices flavored with onion-like chopped chives, buttery grated garlic, and nutty parmesan cheese.
For that reason, they are an explosion of flavor in every bite you take – the garlicky, sweet, and cheesy tastes in one crispy ball.
Also, you can make gluten-free bites by swapping out the regular breadcrumbs. Almond meal, almond flour, or any gluten-free breadcrumbs could be a choice.
If there are any leftovers, store them in the refrigerator. They will keep up to 5 days in the airtight container. When ready, place them into the oven and bake until warm.
Check out this easy and delicious zucchini garlic bites with dipping sauce recipe!
Total Time: 35 minutes
Nothing is better than sliders to start the party, especially the vegetarian version for everyone. Zucchini Caprese sliders are what I talk about – the ones with cheese, tomatoes, and delightful dressing filled in grilled zucchini slices.
To make this decadent, start with cutting zucchini into slices and grilling them with oil for grill marks. Then slice mozzarella and tomatoes, and make the dressing from pesto, mayonnaise, and vinegar. Once done, it is time to assemble all the ingredients.
Top dressing, cheese, tomato slice, and basil leaves on one zucchini slice. Meanwhile, spread condiment on another slice. Top them on top of one another and use a toothpick to set the slider. The last step is to arrange them on a plate with balsamic glaze and more basil.
The final result will have a moist and creamy texture in a companion of cheesy, sweet, tangy, and herby tastes. Together they make an incredibly delicious and impressive appetizer in any get-together.
Total Time: 20 minutes
Zucchini stacks with goat cheese are a toothsome and fun appetizer to make. Prepare ingredients and make a tower of zucchini, goat cheese topped with bacon is all it needs – simple but inviting when you taste one.
These stacks have a balance of natural sweet zucchini and creamy goat cheese. Then with a perfect finishing touch of salty bacon, earthy peas, mint, and pine nuts toppings, the delicacy will explode with bursts of flavors in your mouth.
For a quick appetizer, you can prepare zucchini a day before serving. Store it in the airtight container in the fridge and assemble it with other ingredients when needed.
Total Time: 5 minutes
If you are a greens lover, these raw zucchini sandwiches should be your new favorite. The food consists of chickpea hummus, tomatoes, peas, and some fresh basil leaves seasoned with salt and pepper sandwiched between two raw zucchini slices.
There is no cooking or any oven required. All you have to do is cut your zucchini into circles and sandwich them together with the ingredients. Then serve immediately or keep them chill in the fridge until served.
They sound simple, but these sandwiches are insanely nutritious and delicious. They have a fresh flavor from natural ingredients: the tanginess of tomatoes, sweetness of zucchini and peas, richness of hummus, and mint hint of basil.
Total Time: 20 minutes
Mini zucchini pizza bites will bring back your childhood memories with an authentic flavor of classic pizza: the tomato taste of the marinara sauce, creaminess of the cheese, and brightness of parsley.
Also, these flavorful pizza sides are healthy since you replace the crust with fresh zucchini. Summer squash is a rich source of vitamins and minerals, helping improve digestion and prevent heart diseases.
Even more, the making process is easy, and the clean-up is a breeze. You only need to place zucchini on the baking sheet, spread sauce, add cheese and beef slices, and bake. Thus, zucchini pizza bites should be your entree choice whenever you feed a crowd.
Here is how to make mini zucchini pizza bites for keto diets!
Total Time: 35 minutes
With gruyere cheese and herbs, this zucchini tart is a great appetizer or a fantastic side to share at a picnic for its unimaginable deliciousness. The sweet yet slightly salty gruyere harmonized with bright and herby pesto sauce delivers a unique flavor to the dish.
The food preparation is quick and easy, thanks to the package crescent roll dough. Press dough evenly into the tart pan and spread on the pesto sauce to form a crust. Then make the filling by sauteing all the remaining ingredients.
Once finished, pour the filling onto the prepared crust, sprinkle with grated cheese, and bake until golden. After that, place your tart on a wire rack to cool. Finally, remove the sides of the pan and slice your baked pastry into individual slices to serve.
Total Time: 20 minutes
Fried zucchini is a classic appetizer. With eggs, milk, and a bit of customization in the flour, you can turn zucchini into a charming gluten-free side to serve with a hot sauce. Whisk the egg and milk until well blended. Then dip your zucchini strips into the milk mixture and flour before frying.
When done, your strips are crispy on the outside, moist on the inside, and full of natural sweetness. If you love thicker crumbly crust, feel free to double dip the zucchini in the flour and egg. I am sure the crunchy sound will satisfy your appetite.
But to get that perfect sound, your oil must be hot enough. A small tip for testing the hot oil is to dip a wooden chopstick into the heated oil. If the oil bubbles steadily, then it is ready for frying.
Total Time: 45 minutes
Fuss-free and festive are two words to describe this crowd-pleaser cake. These zucchini squares are cheesy, grassy, and have loads of cake flavors, thanks to the presence of Bisquick.
Not fussy, this dish is suitable for amateur chefs like me. All you need to do is whisk all ingredients, stir in sliced zucchini, pour into the pan, and smooth the top. After that, let your oven do its work.
Once golden brown, take it out of the oven and cut it into smaller squares. Then place them on the appetizer tray and serve.
Total Time: 20 minutes
With its moist and sweet nature, what is better than turning zucchini into a delicious salad. This zucchini carpaccio uses zucchini slices marinated with lemon juice and topped with arugula and parmesan.
To marinate correctly, each layer of zucchini should be equivalent to each layer of olive oil and lemon juice. Keep layering until you run out of zucchini, then let marinate for at least 10 minutes. Once well absorbed, serve these slices with fresh arugula and grated parmesan.
Your zucchini salad will have a balanced flavor of sweetness and sourness with a cheesy and peppery hint. Notably, good-quality parmesan and olive oil are the prerequisites for the best flavor.
Let's make this simple zucchini carpaccio recipe for your family gathering!
Total Time: 15 minutes
Vegan and oil-free, this zucchini spread is the healthiest dip in town. It is perfectly silky, creamy, and flavorsome but only needs six handy ingredients and a little effort to make.
First, peel and cut zucchini into pieces and cook. Then drain them well for a few minutes. After that, dump all ingredients in the blender and process until creamy smooth. Garnish with some shredded cashews on top and plate out your dip.
For a proper serving, pair your dip on bread and crackers. Or serve it next to some fresh vegetables.
Total Time: 34 minutes
Grilled zucchini roll-ups are an ideal appetizer to serve to your vegetarian family members at any party. They feature grilled zucchini strips stuffed with parsley, spiced cream cheese, and red bell peppers. After rolling up, these simple ingredients turn into a fancy entree to plate out.
Although this dish is simply spread and rolled, the art lies in how you cut the zucchini. While cutting the zucchini too thin will make it too soft after grilling and not hold its form, cutting too thick will make it difficult to roll.
Therefore, I highly recommend the kitchen mandolin to you. Not only is this tool simple to use, but it also produces beautifully thin and long slices of zucchini. Also, the even zucchini strips help you control the cooking temperature and time more easily.
Total Time: 30 minutes
The combination of zucchini and tomato is classic that you cannot go wrong with, especially with the additional rich layer of cheese in the middle. The mozzarella ball is the highlight of this dish.
When served on a plate, you can catch the gorgeous appearance of the food with yellow, red, and white colors. The colorful towers make people unable to take their eyes off your sophisticated appetizer, but it does not end there.
The mozzarella starter delicacy will also surprise your guests with the extra peppery taste of basil leaves and tart aftertaste from balsamic vinegar. Together they boost the flavor of your whole dish to the next stage.
Total Time: 18 minutes
Unlike other chips, these parmesan zucchini chips are not crunchy. But I am sure you will be addicted to them after the first bite. They have all the flavors you would expect in chips: salty, sweet, garlicky, and extra cheesy.
A big plus of these chips is the simplicity of cooking. After cutting the zucchini into small pieces, mix them with oil and seasonings. Then place seasoned zucchini slices on a baking tray and scoop parmesan onto each zucchini round. And bake them until golden brown to finish.
Let's discover how to make the best crispy parmesan zucchini chips at home!
Total Time: 25 minutes
Loaded zucchini nachos will bring Southern flavors to your kitchen. The sweet and fresh zucchini seasoned with salt and earthy cumin make a warm and lovely appetizer.
Plus, the delight is the low-carb version. So if you are on a weight loss diet, this hearty zucchini appetizer is for you.
To prepare these loaded nachos, stir zucchini with cumin, oil, and salt in a large bowl. Then spread seasoned zucchini on a baking sheet and roast until just tender. After that, sprinkle some cheese on top of the zucchini and return to the oven for melted cheese.
Once completed, add any of your favorite toppings and enjoy. These garnishes could be beans, jalapeno peppers, diced tomatoes, or sour cream. Whichever you choose, it will enhance the taste of nachos and boost the taste.
Total Time: 46 minutes
Inspired by the Super Bowl, these zucchini fritters are football-like in shape. Plus the perfect bite-size, you can treat them as a light snack or appetizer to start any game day.
You can flexibly make this delicacy by frying it in the pan or baking it in the oven. No matter what method you choose, your food will taste the same with a mildly sweet and earthy flavor. Then serve with a tangy cream, and your zucchini bites are tasty and inviting.
The fun thing comes from decoration. Just fill your disposable pastry bag or zip-top bag with sour cream or plain Greek yogurt, then pipe some stripes to make a football appearance for your zucchini fritters. And feel free to let your kids join in. That will be a lot of fun!
If you do not have the time to make these fritters on the same day of the party, you can prepare them in advance. The refrigerator can keep them good for a few days. When desired, bake them in the oven until heated, then serve.
Total Time: 10 minutes
Grilled zucchini finger sandwiches are the perfect tea time sandwich for everyone, even the kids. You make these little sandwiches with grilled zucchini, feta cream, and ham.
Rest assured, the use of zucchini will not affect the deliciousness of your sandwich. On the other hand, it even tastes better with the natural sweetness and freshness.
While the grilled zucchini enhances its taste with oil and salt, feta combined with others provides a melt-in-your-mouth cream mix. Thus, you will feel each taste blend together when taking a bite.
This appetizer recipe has enough servings for 3 to 4 adults. So if you want to feed more guests, you can double or triple it depending on your need.
Total Time: 25 minutes
This zucchini crostini is an easy-to-make summer appetizer. It is beautiful on the outside and full of summery flavors that no one can resist. No matter which party you serve them at, they will quickly disappear in the blink of an eye.
To cook this hearty appetizer, grill zucchini first and set it aside. Then make a marinade from olive oil, vinegar, and mint, brush on zucchini slices, and steep for 30-40 minutes. Meanwhile, grill your bread slices and drizzle some olive oil when finished.
After that, spread stracciatella cheese on bread, top with marinated zucchini, and your appetizer is ready to go. It will taste herby, sweet, and sour. And when biting into the bread, the soft cheese will blend with the moist zucchini to create a pleasant eating experience.
Total Time: 40 minutes
This easy freezer zucchini meatball recipe is ideal for providing your family with healthy food. Instead of store-bought frozen meatballs, you now have these blessed ones made from beef and zucchini – both yummy and healthful.
Making these balls is also quite simple. The stage that takes the most effort is draining liquid out of grated zucchini. But in return, it gives you the best blend between the ingredients, so do this step carefully. After that, you only need to combine the ingredients and create the meatballs.
Depending on your purposes, you can freeze them raw or cooked. Whichever, you should store them with a label and date for safety. They will be best for up to 6-8 months.
When you need a quick appetizer, reheat cooked meatballs (or bake raw ones). Then serve them alongside tomato sauce.
Why not make some turkey zucchini meatballs for freezer meal prep? Let's do it!
Not A Bland, But A Yummy Appetizer Of Zucchini
Now you know zucchini does not go pale in dishes. Instead, it makes for mouth-watering appetizers like the recipes you read above.
Just pick a few dishes and work on them. And needless to say, I know your family will be grateful for those tasty appetizers. So what dish will you make to treat your family first? Please leave a review after doing it. I cannot wait to hear your results and how your family feels!
Also, like and share this interesting article on social networks if you feel someone will need it. Your support will make our cooking community thrive. Thank you and stay happy!