In recent years, best wok recipes have become popular. The depth and curvature of the wok are the secrets to any dish's deliciousness. Under high heat, it cooks every ingredient thoroughly and creates well-blended flavors.
My post is more than just names and a few lines of praise for the food. Instead, detailed food descriptions, instructions, and some cooking tricks are what you read in my post. So do not hesitate to read this article right away!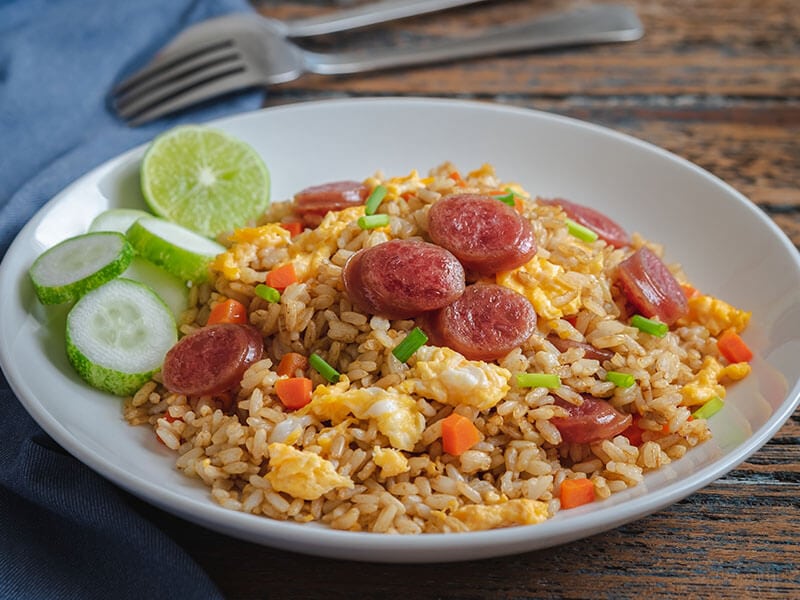 Several Delicious Wok Dishes You Can Make At Home
Have you already bought a wok but have no ideas about its recipes? No biggie! My post will tell you everything you need, from recipes to tips and tricks. Also, these delicacies are super fast to make but still retain the tastiness.
Total Time: 23 minutes (including 15 minutes of marinating time)
Welcome to the first dish on the list! This classic Chinese beef stir fry is promisingly super delicious and straightforward. You only need to marinate beef in sauce and stir all ingredients together in the wok. The heat will do its best job of bringing out the most flavorful food.
The key to all flavors is the sauce. Chinese cooking wine adds a complex and sweet taste, complementing the savory and umami wonders of soy and oyster sauces.
A decent cut of beef is necessary for quick stir fry. Flank, t-bone, sirloin, and scotch filet are some top recommendations. They all go well with the chopped veggies that you add to the wok near the end of the cooking.
Also, remember to cut the meat across the grain to make it more tender. So grab a sharp knife and heat the wok, and an iconic Chinese dish will soon be available in your kitchen!
Check out how to make the perfect Chinese beef stir fry every time!
Total Time: 25 minutes
Szechuan is a Chinese province famous for its variety of hot foods. One of such iconic recipes is this Szechuan chicken stir fry. Its intense red color and hot taste will cause you to salivate right at first glance, so have some tissues nearby.
Red chili peppers and Szechuan peppercorns give your tongue their distinctive spiciness. Meanwhile, the savoriness of the soy sauce and vinegar will cut through beautifully citrusy heat to provide a harmonious balance of flavors.
Serve this delicacy alongside a bowl of aromatic rice or bright salad to turn the spicy and sweet crispy chicken into a more pleasant meal to fill your stomach.
Total Time: 25 minutes (including 15 minutes of marinating time)
Unlike the spicy dish above, this chicken and asparagus stir fry is more suitable to serve everyone, kids and adults alike. The umami-packed meat and earthy-tasting greens come together in a heated wok to make this effortless yet hearty meal.
Aside from those ingredients, oyster and soy sauces, as well as garlic, are essential in building complex flavors. While the garlic adds a strong aroma to asparagus, the sauces are responsible for the savoriness of the dish.
Moreover, you can use this toothsome sauce mixture and water (or broth) to velvet the chicken. That way, your cooked meat will absorb enough moisture and achieve the best level of tenderness.
Total Time: 30 minutes
Travel a bit to Korea and experience the signature Korean food of spicy stir-fried beef. Instead of being overheated, the Korean spiciness is lighter than a Chinese one. It leaves enough hot flavor to stimulate your taste without numbing your tongue, hence a pleasant eating experience.
Like other stir-fries, the beauty of this delicacy is its sauce. The key ingredient – Gochujang (Korean chile paste), is overflowing with flavors: salty, savory, and spicy. The nutty sweetness of brown sugar and sesame oil will complete the overall taste.
Furthermore, the high heat helps bring out the caramelized goodness of beef, which adds an extra smoky flavor. Plus the delicious sauce, your whole dish is nothing but divine and inviting.
Total Time: 1 hour (including 30 minutes of marinating time)
Honey and ginger accompany sriracha sauce to glaze marinated pork loin in this food. While honey adds a natural sweetness to the dish, the two latter spices give it a kick of heat. If you want a less peppery dish, mayonnaise may help turn spiciness down.
What makes the delicacy so appealing is its thick and sticky sauce, so spend time perfecting it to coat your pork evenly on every edge. Nevertheless, you can remove your wok from heat earlier for a saucy consistency.
Serve your delight alongside rice and a plate of greens to recreate a complete meal in Asian style.
Let's double fry your pork loin to make this sticky honey ginger pork more crumbly!
Total Time: 25 minutes
Simple and naturally delicious are two words used to describe this shrimp and vegetable stir fry. You only need some pantry items and a heated wok to prepare it.
Combine agave nectar, soy sauce, and sesame oil to lend a pleasingly savory and sweet flavor to every spoonful of shrimp and veggies. Plus an oyster sauce, your dish will have a glossy appearance and an oceanic taste.
Serve the delicacy over rice or noodles for a nice dinner. Brown jasmine rice and egg noodles are perfect choices. Alternatively, you can swap for low-carb options, such as cauliflower rice or zoodles.
You can prepare the sauce and other ingredients ahead to save time. Store the shrimp and vegetables covered in the refrigerator. Whisk your sauce carefully when it is time to cook, and your delicacy will be ready in minutes.
Total Time: 25 minutes
The pineapple and pork never go wrong together in this stir-fried dish. Like Hawaiian pizza, the combination creates a sweet and savory tropical food. Besides, red bell peppers also provide a slightly grassy flavor.
This sensation is further improved by the tartness of rice vinegar and pineapples. But the symphony of flavors doesn't stop here. There is fresh ginger, garlic, honey, and soy sauce in the sauce to offer a fantastic mouth feel filled with spicy and garlicky hints.
Once the preparation is perfect, toss everything in a wok to quickly form this stir fry delight. Believe it or not, the divine fragrance will invite your family into the kitchen without you having to call them.
Total Time: 30 minutes
When you already have this straightforward, quickly-braised red snapper dish to prepare at home, there will be no need to stand in line at a Chinese restaurant. Cook fish in ginger- and garlic-flavored oil along with the usual stir fry sauce.
While the heat cooks your fish to a fabulous golden brown, some ginger and garlic provide aromatics to purify the fishy taste. Simmering red snapper in the mixture brings out a harmony of umami and savory flavors.
To get the best result, frequently spoon the liquid over the fish. By doing this, your fish can absorb sauce deeply into the flesh, ensuring every bite is full of flavors.
Total Time: 10 minutes
If you wander the streets of Malaysia at night and smell an inviting aroma from the wok, you have probably come across Char Kway Teow, one of the most famous foods in Malaysia.
Lard, prawn, and sausage are what you find in these fried flat rice noodles. The garlic adds some aromatics to the dish, whereas salt and pepper come to taste. Crack an egg, and let it blend well with savory sauce to thicken the consistency.
The final dish should look gorgeous and taste amazing. In addition, you can change the amount of caramel sauce in the food to suit your preferred shade.
Here is a simple Char Kway Teow recipe with tips to make a perfect plate of Malaysian fried rice flat noodles!
Total Time: 20 minutes
Perhaps this is the most trouble-free dish on the whole list. You only need to prepare the pea leaves, stir fry them with garlic, give them some seasonings, and serve.
The pea tips themselves are mouthwatering enough. You get the smooth, soft feel of spinach from them, but with extreme sweetness and refreshing. The finishing touch of salt gives your food a restaurant character.
As pea leaves quickly cook and turn a stunning green when exposed to heat, do not cover the lid for too long to keep the color from turning yellow. Otherwise, your greens can become unattractive on the serving plate.
Total Time: 1 hour 5 minutes (including 10 minutes of cooling time)
Spring rolls are a must-try delicacy when you visit China. They are a delicious mash-up of vegetables and minced pork. The melt-in-the-mouth meat, crunchy veggies, and crispy fried shell all come together in one bite.
Bamboo shoots and oyster sauce are two ingredients that enhance the Chinese flavor. Oyster sauce has a distinctively somewhat sweet and fishy flavor, while bamboo shots have a crunchy texture and an earthy taste. Add in cabbage and carrots for the ultimate filling.
The rolling step is when the fun happens. Put the filling on the wrapper and roll it up as instructed. Even though it could be challenging at first, you'll quickly pick up the technique, so invite the whole family to enjoy making this traditional food. That's going to be so much fun!
Total Time: 15 minutes
Sawadi-ka! Here is Thai cuisine with a crazily delicious yet easy dish: Thai chili basil chicken. You get a rush of flavors when you eat it, including heat, sweetness, savoriness, and a hint of garlicky.
The secret to this delicacy is Thai basil leaves. This herb delivers aniseed undertones in addition to the same aromatic flavor as ordinary basil. However, if you cannot get it anywhere, regular basil is just fine.
Aside from that, another unique spice to give your cuisine a rush of heat is bird eyes chili. Remember not to inhale when stir-frying it, or its strong pepperiness can make you cough and cry.
Serve your spicy chicken over your preferred rice. Alternately, prepare a straightforward side dish of tomatoes and cucumbers to serve together, which Thai people often do.
Total Time: 12 minutes
These Shanghai oil noodles are an example of when less is more. You can quickly prepare gourmet Chinese cuisine with just three ingredients and a wok. Noodles, spring onion, and soy sauce are all it needs.
And don't be put off by the strong smell of spring onions. Once it touches the heated wok, the smell will turn into a lovely fragrance covering the delicacy.
Of course, how can such a dish lack soy sauce? Both light and dark soy sauce are in my recipe. While the former is for seasoning, the latter comes to add color and sweetness.
You can savor this simple staple any time of day. Fry an egg and place it on top for a quick breakfast, or add veggies and pork mince for a filling lunch or dinner.
This Shanghai spring onion oil noodle is not complicated, yet it is delicious enough to wow your family!
Total Time: 22 minutes
Any Chinese cuisine lover should try Lap Cheong (Chinese sausage). Besides chewiness, this type of sausage has tons of flavors, from sweetness to savoriness. So every spoonful of this fried rice is full of its deliciousness.
Soy sauce is indispensable to give scrambled eggs and sautéed aromatics a taste boost. If you enjoy more salt, go for the light soy sauce; if you prefer sweetness, go for the dark one. With some scallions on top, nothing can rival the goodness of this rice dish.
Leftover rice is ideal for the best delicacy since it has a dryer texture. But if there isn't any, you may still substitute for freshly cooked rice. Just be careful to cook it with less water and let every grain of rice touch the hot wok for a firmer outcome.
Total Time: 25 minutes
Sichuan always surprises me with its delectable foods, and this Mapo tofu simmered in a spicy bean sauce is my latest favorite. The carefully seasoned silky bean curd and minced pork come together in your mouth to bring out spicy zing from the peppercorn and chili mix.
The pickled ginger cuts through the spiciness with a refreshing sourness, whereas dark soy sauce gives some sweetness. For extra umami flavor, swap water for chicken and pork stock, and you will love how deep in taste the delicacy is.
Although the Sichuan dish is super spicy, you can adjust it to your tolerance. And remember to always handle the bean curd gently when stirring things, or they will break and cause a mess.
Total Time: 30 minutes
Pad Thai (Fried Thai noodles) is delectable to smell and eat, but sometimes its oily nature scares me. Fortunately, this simple vegan version enters my life and provides me with the healthiest Pad Thai ever.
Soaked dates accompany soy sauce, Worcestershire, and lime juice to produce a vegan sauce. The combination of these ingredients, together with sriracha, creates the ideal balance of flavors for Pad Thai, including sour, salty, sweet, and spicy.
A tip to have healthy yet delicious tofu is to bake it. The tofu will be nicely golden when added to the wok later while still keeping its texture.
When you've finished the food, sprinkle in some cilantro to give your dish a bright and zesty taste. Moreover, you would appreciate an extra pipe of sriracha if you enjoy the heat.
Total Time: 25 minutes
Yakisoba is a famous Japanese noodle fried dish made of sliced meat, noodles, and vegetables. People adore it for its rapid handling time as well as for its nutrient content. In my vegan recipe, tofu replaces pork as the main source of protein.
The glory of this delicate dish is the sweet and rich sauce. Once you bring the oil to simmer and toss in all ingredients, the sauce will do its job to flavor things up. On the other hand, cornstarch helps to thicken the sauce, giving the entire meal a glossy covering.
Finish the delicacy with some sesame seeds and pickled ginger for a Japanese touch. Each mouthful will have sour and nutty undertones from these ingredients.
Let's discover this easy Japanese restaurant-style vegan yakisoba!
Total Time: 30 minutes
Since eggplants are brimful of vitamins, they do a great job on blood circulation, enhancing your overall health. More importantly, it is a super tasty pairing with garlic and dried shrimp in this recipe, which you will fall in love with from the very first bite.
The deep-fried eggplant loses its harsh earthy flavor and develops a sweeter taste under the intense heat. The minced garlic and dried shrimp work together to add aromatics. With the addition of dark soy sauce, these eggplant strips get a fantastic appearance and flavor.
Don't forget to add the chopped scallions and red chili as a garnish. Your decadent dish will be able to rival any dish from a Chinese restaurant.
Total Time: 20 minutes
Like KFC coleslaw, this stir-fried cabbage is the ideal side dish for complementing meatballs or anything you have in mind. For convenience, you can sandwich this delicacy between bread or serve it with rice and noodles. Whichever way you choose, its tasty goodness is undeniable.
The majority of the work is shredding veggies. The rest is a breeze. High heat and a small amount of oil produce perfectly cooked but crisp vegetables. The sauce adds sweet and salty undertones, while the garlic and green chili contribute an aromatic flavor.
My go-to method is to include some leftover chicken or eggs. By doing that, your stir-fried cabbage will be filling enough to treat as dinner on the side of noodles or rice.
Total Time: 15 minutes
"Better than takeout" is how you can describe this recipe: noodles fused with a homemade savory sauce. It showcases a smooth and shining appearance decorated with numerous sliced red bell peppers.
Aside from sweet and savory flavors, Shaoxing rice wine (Chinese cooking wine) also offers complex tastes (vinegary, spicy, and caramel-like), bringing out the restaurant standard of the delicacy. But if you can't find it anywhere, Mirin or dry sherry is a good alternative.
A trick of this delight is to make excellent use of the sauce, especially in seasoning the meat. Thanks to the sauce, your protein is extra tasty, hence a more enticing dish.
Total Time: 25 minutes
Although it cooks quickly, the spicy lemongrass chicken takes some patience. You must fry the ingredients in the proper order to combine each flavor without overcooking or overpowering any of them.
To recreate this delicacy, season the chicken with salt and pepper to taste before frying it and setting it aside. Lemongrass, onion, and garlic give off a herbal scent when heated, while your taste buds will be stimulated by the savoriness of the oyster and Vietnamese stir-fry sauce.
Put the fried chicken back into the wok after enhancing the flavor with chili and scallions. Once it has simmered, turn off the heat and serve your dish immediately over a bed of white rice for the best combo.
Simplify the seasoning list, and you will still have delicious spicy lemongrass chicken with this recipe!
Total Time: 55 minutes
This sticky oyster sauce chicken will cap off my list with mouthwatering perfection. The gingery and garlicky-flavored chicken swimming in a savory and sweet oyster sauce is my image of what a visually satisfying and good-tasting meal should be.
Since the brown, sticky sauce conceals the meat, checking the doneness of the chicken is the most challenging aspect of this dish. However, a meat thermometer, thankfully, comes in handy. When you stick it into the thickest part, the device should display 165 degrees Fahrenheit on the screen.
Otherwise, you have to cook a little longer. A more traditional tip is to use your fork instead. Do the same and watch out for the chicken juice. If it comes out clean, thicken the sauce and serve alongside rice and veggies.
Grab A Wok And Whip Up Your Dinner In No Time
Neither an ordinary pan nor a skillet, a wok is a distinct type of cooking pot. It allows you to cook food at the right temperature and bring about the best texture and flavor of any dish. So heat the wok and make a dish right away for everyone in the family to enjoy.
Don't forget to share your knowledge in the comment section to encourage newbies! Give my post a like and share if you find some fascinating ideas. Your support means a lot to my writing journey. Thank you, and I wish you a pleasant experience!