It's definitely a must to look for the best winter side dishes as the wintertime rolls in. While hefty stews, beef stroganoff, cheesy chickens, or whatever hearty and heavy mains are fabulous per se, they still need something that can complement and balance them out.
Fortunately, there's always a long list of sides that can make a wintery, festive meal feel complete. They are simple to make with easy-to-find ingredients, and many make good use of seasonal veggies to lend more vibes to the dish.
With more time spent indoors than in any other season, I believe you'll have a lot of exciting experiences with many sides on this list. So, check them out!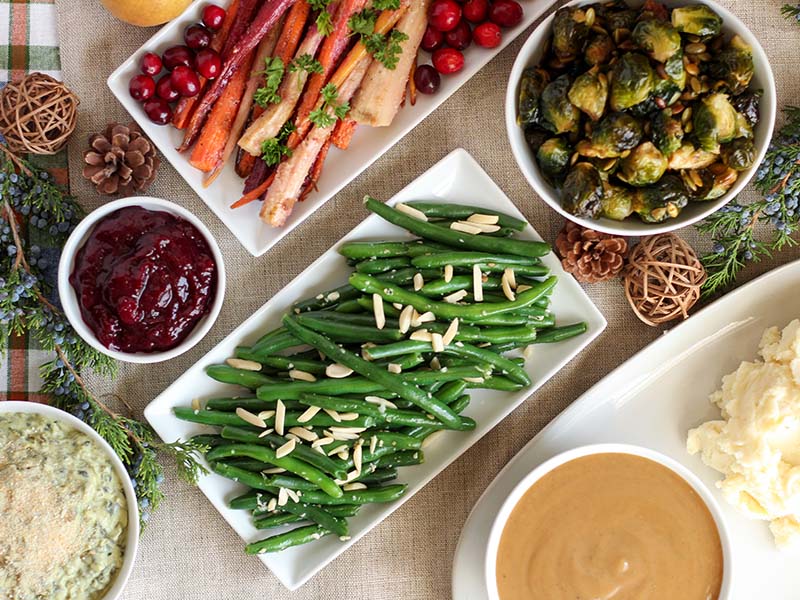 24 Best Winter Side Dishes To Make This Winter
These delicious and beautiful side dish recipes will complete any meal this winter, whether it's a casual weeknight dinner or a holiday feast. I bet you'll want to make them all winter long.
Total time: 1 hour and 20 minutes.
Butternut squash is abundant from fall to winter. Because this veggie is highly versatile and carries seasonal sweetness and savoriness, it usually makes an appearance at the winter dinner table.
For this holiday-worthy side, roast the butternut squash with maple butter that slips into thin slices in the oven. Top it off with sages and Prosciutto breadcrumbs to add savoriness and crunch.
The maple syrup is the key to nailing this festive side dish. It should be sweet and savory to accentuate the naturally sweet squash. In addition, that splash of maple you add into the mix will caramelize as it bakes, giving the veggie a glossy, beautiful coat at the end.
Thinly sliced Hasselback butternut squash might look intimidating, yet you can get it right with this detailed guide.
Total time: 40 minutes.
True to its name, Winter Happiness Salad, this combination of veggies and grain will brighten up your cold wintery days.
Plus, I would say that this side dish is amongst the healthiest options on this list. It's packed with nutrients from the superfood kale and plenty of vital proteins from quinoa.
There are also small chunks of apples for a crisp bite, dry currants for extra sweetness and textures, and chickpeas for a hint of nutty flavor.
Here's the cooking tip. Raw kale is quite nasty to enjoy for many people. Therefore, it's important to get rid of any tough veins and massage the veggie with salt and olive oil to create gentler flavors and softer textures to savor.
Total time: 40 minutes.
Coated in a sweet and sticky glaze of honey and balsamic vinegar, these roasted carrots are a joy to eat on winter nights.
The veggie is interestingly soft but crunchy when roasted and is sweetened further by honey. The contrast of this sweetness with the tangy balsamic will surely delight everyone's taste buds.
This healthy and savory side takes only 10 minutes to prep and another 30 minutes to bake, making it ideal for a busy weeknight meal.
Yet, with the glossy, eye-pleasing glaze and some chopped fresh thyme on top, it looks fancy enough to deserve a spot in your holiday meal. Make sure to space your carrots on the baking sheet to allow for maximum caramelization.
These balsamic roasted carrots are so easy to make that the demonstration is not even 1-minute long.
Total time: 25 minutes.
Brussels sprouts appear in countless vegetable side dish recipes. They are omnipresent in sheet-pan dinners, breakfast tables, and Thanksgiving or Christmas menus (and for a good reason).
These roasted brussels sprouts are far from boring. Packed with savory, salty and sweet flavors, golden raisins for a chewy texture, and pistachios for added crunch, it's more than what you're asking for as a perfect party side dish.
They are also gluten-free and vegan, making them a great choice for more people on your guest list. However, if you want to add some protein, feel free to throw in bacon or any mix-ins to your heart's content.
Total time: 13 minutes.
If you're so caught up in your main dishes for the holiday dinner, a side that can be prepped using the microwave will ease some burden.
This classic vegetable casserole only takes 3 minutes of hands-on time and another 10 minutes in the microwave. Plus, the cooking couldn't be simpler. Toss the well-grained green beans, soup, milk, and fried onions into the casserole dish, and then add salt and pepper to taste.
Give the whole mixture a good stir to combine them before sending them to the microwave. And voila, you'll get a classic, well-loved side to round up your holiday spread.
I always load my casserole with tons of French fried onions for the added flavor and crunchy texture. You can use the whole can if you're like me or adjust it to your liking. However, be mindful of the cooking time as you don't want to overcook these onions.
Learn how to make microwave green bean casserole with this guide (plus 4 other ways without using the oven)!
Total time: 45 minutes.
Butternut squash casserole is amazing all year round, but they are truly in the spotlight in the winter months.
This casserole will warm you right up and fill your bellies at the same time. Butternut squash, corn, kale, quinoa, and plenty of Gruyere cheese all come together for a comforting and cozy side dish.
However, make sure you peel the squash thoroughly. While the yellow flesh is naturally sweet, soft, and creamy when cooked, the tough and thick skin is not a pleasure to eat.
Serve this casserole with roasted meat or poultry. Alternatively, it can qualify as a vegetarian main on its own with a green salad on the side.
Total time: 1 hour.
Potatoes cannot have all the attention this season as their very close cousins – sweet potatoes are equally amazing (if not more) at the winter dinner table.
This recipe is a flavorful twist on the classic honey-roasted sweet potatoes. Fresh out of the oven, these sweet potatoes are tender with a caramelized coat and then sit graciously on top of the thick and creamy Labneh.
If the unfamiliar name "Labneh" might somewhat make you want to skip this side, rest assured that it's easier to whip up.
This homemade cheese is essentially strained Greek yogurt with some lemon and salt mixed in. The hardest part is waiting for it to strain in the fridge for a few hours until you get soft and smooth cheese to complement your sweet potato cubes.
Total time: 45 minutes.
This butter squash quinoa salad is a mixture of fresh ingredients tossed in a sweet and tangy vinaigrette.
The recipe uses butternut squash, red onion, baby spinach, and quinoa as a base for the salad. The two first ingredients are roasted before teaming up with other elements in the bowl. The red onion, in particular, helps balance out this side dish's sweetness.
For even more flavors and textures, garnish this winter salad with pomegranate arils, dried cranberries, and walnuts.
What you'll definitely love about this side is that it gets better with time if properly stored. Toss the leftovers in the fridge, and you can serve them for lunch the next day.
Learn how to pull together roasted butternut squash quinoa salad with this detailed demonstration.
Total time: 1 hour and 5 minutes.
Everyone loves mashed potatoes, but you'll love this make-head version even more as it will save you from the last-minute holiday hustle. This lovely side dish with potato is incredibly rich and creamy, thanks to the addition of sour cream and cream cheese.
You can prepare it several days before your holiday feast and reheat it in the microwave or oven right before serving. The prepping is also foolproof: simply blend potatoes, cream cheese, sour cheese, and other ingredients well before baking the mixture for 50 minutes.
Total time: 55 minutes.
This is one of the best ways when you want to sneak lots of veggies into your dinner. Pair this side with roasted meat such as chicken or turkey to round out the meal.
The combination of beet, sweet potato, bell pepper, broccoli, and mushrooms is roasted until tender. Then, it is tossed in balsamic vinegar and honey for a tangy and sweet taste.
You'll need to give this flavored medley another brief round of baking until the honey forms a caramelized coating on the veggies.
These roasted veggies are tasty, healthy, and low-calorie side dishes that you can customize your favorite seasonal veggies. Broccoli, green beans, or zucchini, for example, are also nice substitutes here.
Total time: 3 hours.
Scalloped potatoes are a nice way to turn everyone's favorite spuds into something extravagant that fits the holiday theme.
The combination of two types of cheese, Cheddar and Gruyere, gives the renowned potato side a cheesy depth. Add a pinch of cayenne and pepper for a savory kick and some fresh thyme on top for a pop of color.
Although these scalloped potatoes take quite a while for you to put together, they are great to make in advance. Proceed to the last step of the recipe and save the step of adding Cheddar cheese for later.
You can keep these potatoes for up to 4 days in the fridge in this way. When you want to then enjoy them, return the potatoes to room temperature and continue with the remaining preparation steps.
Total time: 40 minutes.
Tangy cranberries are traditional winter food. They are so versatile that you can do much more beyond regular cranberry sauce. This recipe will show you exactly why!
Spruce up your regular rice pilaf by throwing in roasted pistachios and dried cranberries. Salty pistachios and sweet red berries create a nice contrast of flavors for the rice.
This delicious rice side treat comes together in only 40 minutes, so it's perfect when you want extra hearty grains on your holiday dinner table. This recipe provides an ample amount to serve 4-6 diners, but if you're feeding a crowd, feel free to make a double or even triple batch.
Total time: 1 hour.
Spinach gratin is a simple winter side dish that lets you use your wilting spinach. While its name is gratin, you can think of it as a vegetable casserole.
This side dish is loaded with spinach, milk, nutmeg, Parmesan cheese, and seasonings, topped with even more cheese, then baked until bubbly and golden.
The captivating creaminess and richness of this gratin will somewhat make the spinach's flavors and texture more pleasant to enjoy. Thus, this side dish can easily convert anyone into a big fan of these leafy, slightly bitter greens.
The only secret to nailing this decadent, cheesy side dish is to squeeze the spinach as dry as possible. You don't want plenty of moisture to go into the gratin and ruin the texture. Serve this gratin at your next holiday dinner party alongside glazed ham or a big roast.
This creamy and decadent spinach gratin will surely be a hit in your holiday feast.
Total time: 50 minutes.
This cauliflower au gratin is just as delicious and decadent as everyone's favorite potatoes au gratin.
I wouldn't say it's healthier than their potato-based counterpart (you'll still throw in plenty of milk, cheese, and breadcrumbs). Yet, swapping out the familiar starchy potatoes for some veggies can enliven your dinner table.
In this recipe, toss cooked cauliflower florets in a cheesy sauce made of Parmesan cheese, Gruyere cheese, cayenne, spices, and seasonings. Then, top off with buttery and cheesy breadcrumbs and bake the au gratin until bubbly and golden brown perfection.
On the note side, cauliflower has a bad rap for being watery. So to avoid turning your au gratin into a soggy mess, it's essential to drain these florets well after microwaving them.
Total time: 15 minutes.
This cheesy, garlicky roasted broccoli is a nice option whenever you're looking for a flavorful, crispy side dish to add to your dinner's menu.
Not only is this side quick and easy to put together (it only takes 15 minutes), but it can go with virtually any main dish. In this recipe, bite-sized pieces of broccoli are roasted with olive oil, garlic, salt, and pepper and then tossed in lemon juice and Parmesan cheese.
Not a fan of Parmesan cheese? This dish is super adaptable, so feel free to swap in your favorite cheese.
This garlic Parmesan roasted broccoli will be your new favorite way to enjoy this veggie.
Total time: 30 minutes.
The cauliflower florets are roasted until they're tender inside and crispy on the outside for an interesting textural contrast. Then, perk them up with a savory lemon tahini dressing.
All it takes to whip up the dressing are tahini, garlic, lemon juice, and salt. It has a distinctive creaminess and nuttiness of tahini with a bright, refreshing note from the lemon juice. Don't forget to dress up these roasted white florets with fresh cilantro for a touch of color.
This lemon tahini dressing can last up to a week if kept in an airtight container in the fridge. It's a good idea to have leftovers, as the dressing is so good that it will encourage you to eat more salad than ever.
Total time: 40 minutes.
Delicata squash is a winter veggie that has yet to get the spotlight it deserves. It's not tricky to slice up like butternut squash or peel like the groovy acorn. Plus, this winter vegetable has a thin edible skin, so there's no need to peel it before cooking.
This recipe does justice for seasonal Delicata squash by pairing it with cinnamon and cranberries. Roasting this winter squash results in a nutty and slightly sweet flavor, making it resembles a mix of sweet potato and butternut squash.
The addition of cinnamon, cranberries, and lemon garlic sauce complement the roasted squash's flavor and texture. On top of that, the yellow flower-shaped slices look so festive and fun that they can spruce up your winter dinner table.
Total time: 1 hour.
Your Christmas dinner meal is all about balance, after all. Thus, it's never a bad idea to include more veggies in the prepping menu. This salad is layers of flavors and textures that contrast and complement each other at the same time, which I always want in a salad.
The earthy and sweet beets, tangy citrus, creamy avocados, and slightly spicy arugula together make a pretty salad that just tastes as good as it looks. Toss this salad well with the from-scratch flavorful dressing to bind all these elements together.
With this light and refreshing salad, you and your guests can find an equilibrium between those heartier or heavier sides and mains.
This beet and citrus salad is a light and refreshing way to say hello to the chilly winter.
Total time: 25 minutes.
If you're bored of the classics such as mashed potatoes and sweet potato casserole, switch things up this time by serving parsnip mash.
This underrated veggie is so tasty that you should incorporate it into many main and side dishes. When combined with potatoes into a mash like this recipe, this root vegetable can really shine on the dinner table and take the whole dish to a new level.
As usual, you'll get the creaminess of the potatoes. Yet, this time, there's also the distinctive sweetness of parsnips and a spicy kick from the horseradish.
When choosing parsnips, be sure to go with a small and slim shape, which will be much more tender for the mashing later.
Total time: 4 hours.
This is the stuffing that everyone looks for on the holiday table: colorful, flavorful, moist, and soul-satisfying. In this recipe, flavor the mushroom with rosemary, butter, scallions, sage, and pepper for a burst of flavor.
Then, cook the mixture with homemade cornbread in chicken broth until they reach brown perfection. The types of mushrooms you can use here are quite limitless. This recipe uses oyster mushroom, yet feel free to substitute it with your fav fungi.
The only secret with this recipe is to bake the cornbread beforehand (1 or 2 days, ideally). This allows time for the bread to dry out so it can soak up the flavors easier.
Total time: 1 hour.
Once you put this stuffed acorn squash on your holiday dinner table and get compliments, you'll want to make it all year round!
Don't be intimidated by the long cooking time, as it requires only 15 minutes of hands-on time at most for the filling and the stuffing task. The rest is for the squash to roast until it is fork-tender.
The savory filling of vegan sausage, quinoa, and fresh spinach is cooked in a vegetable broth with thyme, rosemary, and other seasonings. Top the side dish off with Mozzarella cheese and let it melt nicely in the oven for a few minutes.
This stuffed acorn squash is not exclusively reserved for Thanksgiving; you'll want to make it all winter long.
Total time: 1 hour and 20 minutes.
When the oven and stove top work overtime for your winter holiday feast, why not prepare a savory side using your instant pot?
Collard greens are normally paired with bacon. Yet, this recipe is a fun twist that swaps in smoked turkey wings (or smoked neck bones) and flavors the veggie with red pepper flakes.
The slow cooker will cook the meat until it is tender enough to fall off the bone and fully soaks in the flavor of collard greens.
The ingredient list for such a savory side dish is pretty short. Only 4 ingredients go into the instant pot all at once. In other words, you can toss them in the cooker and let it handle the rest.
This Southern staple is best for almost any occasion, from casual weekend dinners to Thanksgiving or Christmas dinners. So, give it a try!
Total time: 10 minutes.
A light and refreshing side dish is always a welcome addition to a holiday table with abundant heavy and hearty mains. Best of all, this salad only takes 10 minutes, so it's not a problem to whip it up at the last minute to balance things out.
The bowl is brimming with sweet and juicy pears (a true gift of fall and winter seasons that doesn't get enough attention), mixed greens, and fennel. This means you can enjoy various flavors and textures with each spoonful.
The toppings of cranberries, walnuts, pecans, pecorino, and hazelnuts only make this side dish more exciting to eat. So many textures and flavors in a bowl of greens!
Total time: 15 minutes.
This savory side dish gets ready in only 15 minutes. Yet, the flavor and texture are so addicting in every bite. Sautee the quartered mushroom in a mixture of butter, Italian seasoning, soy sauce, garlic, and seasonings until it achieves a rich golden brown.
Don't be mistaken by the word "mixture", as you will need to add the ingredients step by step with the right timing. This allows the fungi to soak in the flavors perfectly, and the caramelization process can be just perfect.
Besides mushrooms, another vital ingredient to add is soy sauce. It promotes the mushroom's caramelizing and gives it that rich brown hue that you won't otherwise achieve without it.
If you're a mushroom lover, you shouldn't miss out on this sauteed garlic mushroom.
Add These Fabulous Side Dishes To Your Winter Rotation!
Whether you're looking for side dishes to fill your belly up or something that'll make the dinner table more diverse, healthier, or refreshing, this collection will get your back.
Side dishes are just as important as mains on big occasions, like the Christmas feast. Thus, it might help if you keep some or all of these recipes in your repertoire.
Like and share this post if you find it useful. I would like to hear about your own version of these winter sides, so don't hesitate to leave your comment below!