Winter dinner ideas are always your critical concern after a long working day. Finding quick and easy recipes is not enough. They have to be delicious and fit your family's appetite as well. Don't worry. It is my job to help you with that.
When a craving hits you on a cold winter night, you can do nothing else but run to the kitchen and start thinking out what dishes to make. Whatever kind of dishes you are thinking of, the best recipes are right here. Let's explore them.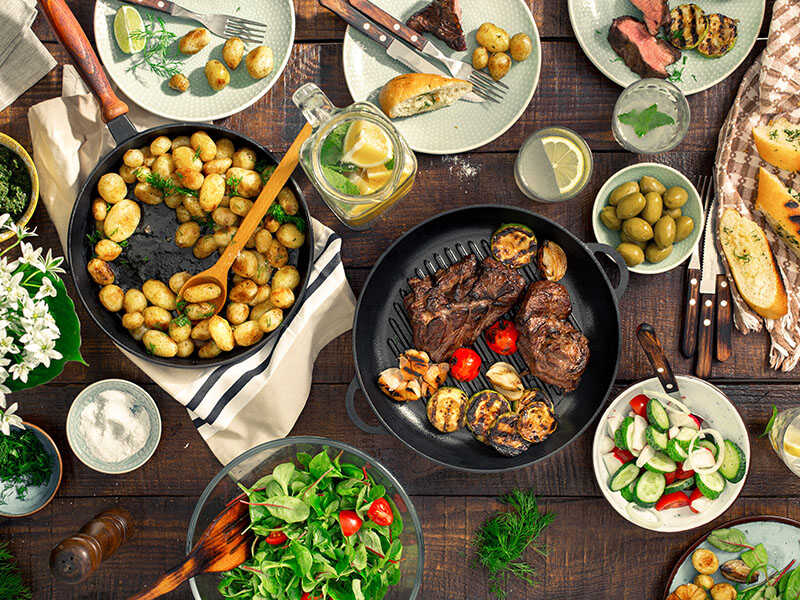 31 Winter Dinner Dishes To Warm You Up
There is nothing more satisfying than having a warm and comforting party on a cold winter night. Be ready to explore the best recipes to please everyone in your family.
I want to start off with this beautiful and comforting creamy soup recipe. This is the must-try soup for your cozy winter night.
Ginger adds more heat to warm you up. The sweetness of carrots and the tanginess of apple cider vinegar are balanced to make the soup more flavorful. And, of course, onion and garlic create the depth for the flavor. Make sure you serve it hot. That's when it tastes best.
Beef stew is already a classic dish for winter. I bet you know it very well. The tender beef will melt in your mouth, leaving a heavenly feeling. Carrots offer some sweetness. Red wine vinegar, broth, tomato paste, and all-purpose flour create a thick, sweet, and tangy sauce.
You need more time to stew the beef, so it is tender enough to be perfect. But good food takes time. You can also cook it ahead of time and reheat it when dinner comes. Serve beef stew with mashed potato, salad, and starchy sources such as French baguette and rice.
The right amount of heat will better warm your stomach. I have a dish that provides that for you. That is creamy white chicken chili. This spicy, velvety, and rich chili will be a shining star on your dinner table.
It is not entirely spicy, its flavor is boosted with a sweet undertone from the tiny yellow corn and beans. Some acidity is added by sour cream. Place a bowl of white chicken chili next to cornbread, nachos, and quesadilla.
Risotto is a traditional dish in Italy made from rice. Butternut squash risotto is sweet, starchy, cheesy, and garlicky. This colorful dish is perfect for a cozy meal.
Butternut squash is the key ingredient of this risotto. It offers a subtle sweetness and creamy texture, making this recipe more special. The richness is balanced out by the tanginess of white wine. Don't hesitate to cook butternut squash risotto tonight.
Everybody loves hot chocolate. It is so sweet and delicate. And, it is obvious that a cup of hot chocolate must be present in your cozy evening meal.
Creamy, fantastically sweet, and rich hot chocolate is made by simply whipping chocolate with cornstarch, milk, and sugar. In case you are a fan of sweet treats instead of alcohol, hot chocolate will do best in adding some warmth to your mouth and stomach.
Watch this video to know more:
A smoked dish is always ideal for serving on a cold night. There is hardly anything better than that. Smoked gouda mac and cheese is such a dish.
The creaminess and richness of melted cheese combined with the chewiness and tenderness of noodles create a burst of flavors. The great thing is that you can cook it right on your stovetop and serve it immediately. Pair it with meatballs, BBQ ribs, and salads.
Tortillas filled with salty ground beef, aromatic herbs, and tangy, juicy tomato sauce are all you need for a comforting cozy night. This savory and quick-to-make ground beef dish will surely not disappoint you.
The toppings are what make tacos so popular. You can add cheese to make it richer or top some lemon wedges to make them sourer. These tacos can be served with grilled veggies, soup, or potato fries.
If you are a vegetarian, you have been waiting for too long. But not anymore. Here, I will introduce you to a delicious and comforting vegan dish for your evening dinner.
Tofu coconut curry is an Asian dish. It has a complex flavor that is hard to explain thoroughly. I can tell you that it is very delicious. Creamy melting tofu, tangy tomato paste, savory curry powder, and sweet coconut milk provide plenty of flavors.
Who doesn't love these adorable classic Italian meatballs? Literally no one. And they are absolutely ideal for serving at a winter dinner party. The tender meatballs are smothered by tomato sauce, parmesan cheese, and herbs, making them saucy, tangy, savory, and herby.
These meatballs are most often served with pasta. Their richness is best paired with the chewiness and mild flavor of pasta.
Never miss this amazing Italian meatball recipe:
Creamy on the top, meaty and saucy at the bottom, Shepherd's pie will take the center stage in your meal. It is a traditional casserole dish native to the UK. Although it is named "shepherd" because its meat source is originally lamb, Americans like to cook it with beef.
Nothing can go wrong with mashed potatoes, and so is beef. Its starchy and velvety flavors perfectly compliment tomato paste. Red wine boosts the flavor to the next level. You won't find any better combination.
This healthy lentil soup is everything you could ask for a cozy dinner on a chilling night. It is packed with nutritious veggies and herbs. They are simmered in the thick sauce formed by vegetable broth and tomato juice.
Lentil soup is rich with a balanced amount of sweetness and spiciness. Lemon adds a tangy undertone. The best side dish could be bread, rice, grilled and steamed vegetables. This popular soup is pretty much necessary for warming up your stomach.
This dish will please everyone at the table. The delicate beef is smothered in the thick and savory sauce made with all-purpose flour and beef broth. Worcestershire sauce and sour cream add a tangy and umami undertone.
Beef stroganoff is best topped on noodles, quinoa, rice, and polenta and served with roasted veggies and salads.
This is another chili to enjoy on a cold night. Beef chili is a classic dish. It pairs well with cornbread, creating a must-have combo for a winter party. So nobody is able to ignore it.
Ground beef is cooked until tender. It is covered by a rich and thick sauce. Chili powder and other spices create a spicy taste. Beans add some sweet and starchy notes. And, of course, beef broth adds more depth to the flavors. Finally, tomato paste brings inherent richness.
You can hardly find a better instruction on how to make beef chili. You should see the video below:
This creamy and elegant dish is going to be a hit at your cozy dinner party. Put everything in the instant pot for just 20 minutes. And you will have a delicious and comforting risotto. So easy and wonderful!
The signature texture of this Italian dish is created by cooking rice, butter, and cheese until they form a creamy wonder. And its light taste is not less amazing. I crave a bowl when typing. Another great thing about it is that you can add various toppings to make it more flavorful.
I don't need to introduce much about this dish. It is an extremely popular dish to enjoy on a cold day. The roasted chicken has a crispy and juicy brown skin. The flesh is permeated with lemon and rosemary, making it tender, aromatic, and awesomely tasty.
Its presence on the dinner table will steal the spotlight from other dishes. That's why it always takes the center position. Some well-matched side dishes are roasted potatoes, oregano pesto, and green salads.
If you are falling in love with bacon, you shouldn't miss spaghetti carbonara. Serving evening meals with your favorite food is incredibly satisfying.
What I love most about it is how easy it is to make. This dish is filled with savory and crispy bacon, grated cheese, aromatic herbs, and chewy spaghetti stands. With a burst of flavors and textures, it will play an important role in the fulfilling meal.
Roasted potatoes are a versatile dish that can be served at any party and in any season. It will be a satisfying side dish on a winter day.
The crispiness on the outside and creaminess on the inside are one of the reasons why it is loved. In addition, it is salty, garlicky, and herby, which will make you crazy about it. After all, roasted potatoes are a classic dish already.
This recipe is all you need to make the perfect roasted potatoes. Let's have a look at the following video!
This internationally popular Mexican dish is also a clever choice for your evening menu. The rich, hearty and cheesy casserole can never go wrong for this cold time.
It has four layers, which promise to be heavenly, delicious, and flavorful. They are corn tortillas, umami enchilada sauce, ground beef, and cheese. These flavors work well together, making every bite wholesome and delightful.
Pot roast is a classic dish to whip up with chuck steak on cold days. The beef chuck is cooked with carrots, onion, and veggies until they reach the mouth-tendering state. Everything simmers in a thick and savory sauce formed by red wine and beef stock. It is so rich and comforting.
To have a fulfilling meal, serve pot roast alongside roasted vegetables and bread. It will be a crowd-pleaser.
Baked ziti is an Italian-American dish that you must think of when choosing your dinner menu. This cheese and multi-layer dish will warm you up with a distinctively tasty flavor created by Italian sausage, three different kinds of cheese, a rich and tangy sauce, and chewy ziti pasta.
This delicious dish tastes best when it is still warm. So make sure that you serve it by then. Also, put some roasted vegetables, salads, and bread on the table.
Pumpkins are for Halloween, so they are for the whole cold season, too. Sweet, spicy, rich, and hearty, this pumpkin chili will bring you a warm and cozy night.
Pumpkin chili is normally made with turkey. The meat is cooked with veggies, seasonings, and chili powder. As a result, the chili is savory, spicy, and aromatic. It also has a sweet hint from pumpkins. So perfect for the cold season.
Needless to say, pot pie is so amazing. And it is even tastier when enjoyed on a chilling night. The soft and buttery dough covers the chicken, creamy sauce, and veggies. Every bite is so flavorful and comforting.
To balance out the richness of pot pie, eat it with salads or roasted vegetables. The whole meal will be incredibly delicious.
Eggnog is a traditional dessert to serve in the chilling time, especially on Christmas. Milk, eggs, sugar, and spices are whipped together to provide a creamy, rich, and sweet flavor. It can be served both hot and chilled. But for a cozy night, I recommend that you serve it hot.
If you are not fond of raw eggs, use pasteurized eggs instead. You can add an alcoholic undertone to the cup, it will warm you up even more. Whiskey, rum, brandy, or bourbon is the best choice.
The easiest eggnog recipe is right here.
Treat yourself and your family with this delicate beef enchilada casserole recipe. It is filled with vibrant flavors. It has soft tortillas as the coat and is filled with cheese, umami enchilada sauce, and beef.
If you think that this recipe is complicated and requires many cooking skills, I would say that it is totally not that hard. Everyone can do it.
This chicken cacciatore recipe will warm up you and your family during this cold season. It is so rich, hearty, and comforting, which can please even the pickiest eaters.
Wine and tomato are the magical ingredients of this dish. It provides tanginess and depth to the flavor. Of course, the tanginess is well-balanced with seasonings. Some red peppers are used to add some heat, which is perfect for cold weather.
This gorgeous pan-seared rib-eye steak will be a hit in any gathering in this cold season. And luckily, you can make it with just rib eye steak and some seasonings. The juicy and tender steak is waiting for you.
The key to the juicy and saucy rib-eye steak is pan-searing. This secret method will create the most delicious steak. Save this recipe now!
This Greek chicken and rice skillet is so flavorful and beautiful. It will be the main star in any dinner party in this cold season.
The savory chicken thighs are combined with starchy rice to create a killing combo for the night. This dish is also lemony, slightly cheesy, and garlicky. Are these flavors enough to warm you up?
I love this charming Asian dish. It brings you more warmth than anything else. The chewy noodles simmer in the savory, rich, and earthy curry soup. A hot bowl of Thai red curry noodle soup will wipe away the cold.
This soup will make everyone addicted to it from the first try. It is particularly ideal for serving it in family weeknight meals.
You know what it feels like to have a warm bowl of soup on a cold day. So relaxing and comforting! This French onion soup will give you such feelings. The hot, rich, and savory sauce is topped with a slice of baguette. There is nothing more suitable for winter than that.
Onions are the star of this soup. They bring a mild sweetness which is combined with the cheesiness of parmesan and tanginess of red wine. Chicken broth and beef both loosen the sauce and add more richness to the flavor. This traditional French soup is unbeatable.
Let's learn to make this classic French onion soup at once.
When you plan for a dinner party in this chilling season, don't forget to add sheet pan honey mustard salmon with vegetables to your menu and set it as the main course. With this hearty and comforting dish, you can please everyone on the table.
The sheet pan is filled with tender roasted salmon and fresh veggies. Honey, mustard, and lemon add a tangy, sweet, and pungent flavor to the salmon and veggies. Excellent!
This Mexican dish will brighten up your evening meal. You can forget about ordering it at restaurants since you now have an easy and delicious recipe for homemade sheet pan quesadillas.
Maeat, cheese, peppers, and other seasonings form a rich and flavorful filling. The tortillas are wrapped around it then baked until they are crunchy. This dish will certainly be the most wanted dish on the table.
From Now On, You Will Always Be Warm And Cozy In Winter
I have provided you with 31 well-tested winter meal ideas with various types of dishes ranging from soup, stew, to desserts.
They are quick and easy to do with a handful of ingredients but are genuinely crowd-pleasers. They will please the olds and kids as well, just everything you need. Whatever recipes you pick for your winter party, I would be glad if you could picture them and share them with me in the comments section.
Nutrition Facts
6 servings per container
---
Amount Per ServingCalories744
% Daily Value *
Total Fat 47.4g

73

%
Cholesterol 156mg

52

%
Sodium 795mg

34

%
Potassium 878mg

26

%
Total Carbohydrate 20.3g

7

%

Dietary Fiber 2g

8

%
Sugars 4g

Protein 43.4g

87

%
---
* The % Daily Value tells you how much a nutrient in a serving of food contributes to a daily diet. 2,000 calories a day is used for general nutrition advice.