There are dozens of whipped cream desserts waiting for you to learn and try. Not only is it in the role of garnish, but whipped cream is also a key ingredient in these recipes. And I believe that my post is the perfect place for you to learn about these delicious desserts.
Besides names, my article also contains ingredients, instructions, and food descriptions. All this information will help you easily imagine your workloads and how the desserts fit on your dining tables. Plus, some useful tips and tricks are also what you will gain from my sharing.
So do you find my invitation attractive? If yes, follow me to discover the yummiest whipped cream sweet course!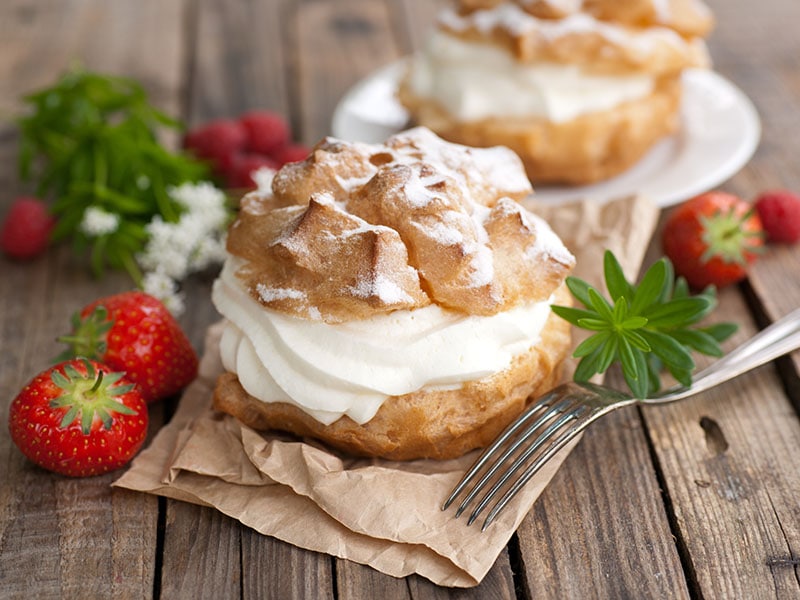 Let's Explore The Best Whipped Cream Desserts!
Do you only know whipped cream as a garnish in desserts but never hear how it would be in another role? You're missing out! But not anymore since you are here with me. So keep reading and learn more!
Total Time: 2 hours 30 minutes (including 2 hours of soaking time)
Trifle is a popular comforting dessert to have on any summer day. But this peach sangria trifle recipe is out-of-this-world with the addition of wine. The sweetness and fruity aroma are two things that take your dessert to another level.
Not stopping from that, the delicate layer arrangement is also an art. While the pound cake cubes are in the middle to keep the form, peach slices and raspberries are around the glass and on top with loads of whipped cream for the best visual.
Since sangria is a highlight of this decadent and creamy dessert, you must spend time soaking peaches in sweet white wine. The longer the soaking time is, the more wine peaches absorb. Check the peach flavor after the first hour of soaking, and stop when the taste suits your preferences.
How to make peach sangria trifle from scratch? Here is the guide!
Total Time: 30 minutes
Easy and delicious are two words to describe this dessert. It combines homemade whipped cream, cream cheese, and fresh peaches in a buttery cracker crust.
To make peaches and cream desserts, you must go through three main steps: making the crust, the filling, and assembling. First, blend the crust ingredients until well mixed, reserve ½ cup, and bake the rest of the crust mix. When done, let it cool at room temperature.
Meanwhile, make whipped cream and beat cream cheese in two separate bowls. Then fold them together until just well combined. After that, fold in the chopped peaches and assemble the mixture onto the baked cracker crust.
Finally, top with reserved cracker crust mix and refrigerate before serving. Once chilled, the dessert brings you a perfect slice with a crispy crust, creamy yet tangy filling, and buttery top of a cracker. Together they create a refreshing dessert to serve in summer.
Total Time: 20 minutes
Old-fashioned chocolate cream pie is a silky smooth and luscious dessert to serve on formal occasions. The decadent contains pure, rich cocoa powder, milk, butter, and whipped cream. All ingredients combine to create a creamy, buttery flavor with a slightly bitter afternote.
The trouble-free making process is a notable advantage of this dessert recipe. It does not require any oven time. Only a few minutes on the stovetop, and your dessert is ready to chill and serve. But for the best form, you should refrigerate it for at least 6 hours with plastic wrap.
Besides, remember to do the tempering technique while putting the egg yolks in the filling saucepan. Just whisk half of the hot sauce into egg yolks before returning it to the pan. That will prevent the heat from cooking the eggs and creating cooked egg bits in your pie filling.
Total Time: 2 minutes
Hot chocolate combined with cookies and cream is the best invention ever! It is warm and flavorful, which I often crave after dinner whenever the cold days come. Even better, this delight is easier and quicker to make, thanks to the store-bought hot cocoa product availability.
Just whisk your cocoa product with the sweetened condensed milk. Then top your dessert with whipped cream and chocolate cookies to finish. Your final result should be ultra creamy and rich in cocoa flavor. That gives you more joy after every sip.
Check out how to make Starbucks hot chocolate at home!
Total Time: 10 minutes
Chocolate mousse is a delicious dessert to serve on a date or individually shared at parties. It is light, airy, and super easy to prepare. With only 10 minutes of whipping, you will serve yourself a fancy dessert, just like in a French restaurant.
Since chocolate is the key to this delicacy, be sure it is of good quality. Plus, it is better to choose a semi-sweet one to adjust the sweetness easily. So once done, your dessert should taste sweet or savory according to your preference.
If you want to make some ahead, keep them in the refrigerator. The chocolate mousse should hold good for up to seven days.
Total Time: 30 minutes
Nothing signals spring and summertime like this delicate strawberry dessert recipe. The flaky biscuits and ruby red fruits topped with fresh whipped cream make this shortcake irresistible. The ingredients combine perfectly, which impresses your family with sweetness and savoriness.
If you lack time, feel free to prepare this delight two days ahead. But stop at the assembling step, and store biscuits, strawberries, and whipped cream separately. Once needed, layer strawberries and whipped cream on biscuits and serve. Super quick and simple!
Total Time: 1 hour 35 minutes (including 1 hour of chilling time)
A banana pudding poke cake is a soft and fluffy dessert topped with bananas, creamy whipped cream, sweet banana pudding, and Nilla wafers. The delight has earned its name from poking holes in the cake, which makes up the fruity banana flavor of each bite.
If you do not want a brown banana layer to destroy the beauty of your cake, lemon or orange juice should be a great help. Just coat your banana slices with those ingredients, and the citric acid in them will prevent the oxidation of your fruit.
Besides, your poke cake is also beautifully frozen. So you can cook it in advance and freeze it until ready to serve. However, only your cake can be kept in the freezer without any toppings or bananas since these ingredients may lose their texture and flavor during freezing.
Total time: 30 minutes
Norwegian krumkake is a delicate and fun-to-do dessert to treat after a big meal, especially on Christmas days. It is sweet and crispy with a cardamom-scented flavor. Instead of a round and thick cookie-like form, it has a cone shape, which makes this delicacy more unique.
Although these waffle cookies look fancy, they are relatively simple. Even if it is your first attempt, you can easily walk through the steps to get that delicious dessert. Just stir all the ingredients until you get a smooth batter. Then place a spoonful into the cast iron pan and bake.
Once done, use a fork to lift it off and wrap it around a cone to form. Finally, pipe the prepared whipped cream into these baked cones and serve immediately. Or, if you desire, top with some berries to enhance their appearance on a plate.
Notably, you may need help at the wrapping step since your waffles harden within 30 seconds. So, invite friends to help and share the moment. I am sure that will be a lot of fun.
Total Time: 2 hours 15 minutes
Once you eat a cream puff, you will love it right away. The light and crispy shell filled with creamy goodness inside are all you find in this dessert. And with an ideal size, cream puffs are a heavenly finger food to surprise everyone at parties, adults and kids alike.
On the whole, the creamy filling is a highlight of the cake, which is a combination of pastry cream and whipped cream. While the pastry cream is rich in flavor with the presence of eggs and milk, the whipped cream contributes to the perfectly creamy texture of the filling.
For the best taste, you should serve them soon after filling with powdered sugar sprinkled on top. These puffs will be warm, sweet, and creamy on each bite.
Let's learn how to make cream puffs at home like a pro!
Total Time: 30 minutes
Raspberry rhubarb fool is a delightful dessert to satisfy a big crowd. Not only is it simple to prepare, but the dessert is also easy to present in gorgeous dessert glasses or mini dessert cups.
The ruby-red raspberries and rhubarb layered with clouds of whipped cream make up the beautiful visual presentation of this dessert. When scooping through all layers, you will find a balanced flavor of sweetness and tartness, which is delicate enough to treat guests after heavy meals.
A secret ingredient to getting the perfectly cloudy whipped cream is Greek yogurt. With a small addition of firm Greek yogurt, your whipped cream will be stiff and stable in form without any taste alteration.
Total Time: 20 minutes
There's no need to buy pudding packs from the grocery store since you have this tasty chocolate pudding recipe to make at home. This dessert is decadent and requires only minutes of whisking to complete.
Just stir everything constantly in the medium saucepan until it thickens. Then press wax paper on top and let the mixture cool. After that, serve the chocolate pudding with a top of unsweetened whipped cream for a tastier flavor.
The final plate will be an expensive glass of silky and bittersweet brownish pudding. Besides, if you plan to have more dessert on the dining table, you can use this luxurious texture for a cake filling or trifles. It should be a flawless filling for any dessert.
Total Time: 8 hours 25 minutes (including 8 hours of freezing time)
Compared to gelato, semifreddo is a more modern Italian dessert. Not only in the early 20th century was it well-known as an easier way to make ice cream.
To create this decadent, you start with making lemon curd. Then fold it thoroughly yet slowly in whipped cream to keep as much air as possible. Finally, pour lemon cream into a pan, sprinkle some nuts, cover with plastic wrap and freeze. When done, slice and serve immediately.
Since semifreddo has more air content, your finished dessert should be light in texture and somewhat warmer than other regular ice creams. Plus a citrusy flavor from lemon curd, this ice cream is one of the most refreshing desserts you should try this summer.
Total Time: 4 hours 10 minutes (including 4 hours of refrigerating time)
If you are lazy but want something to satisfy your sweet tooth, you should choose tiramisu as your new favorite. It is a super easy and no-cook dessert recipe with two main layers: rich coffee ladyfinger cookies and lightly sweetened cream.
There are only three simple steps to handle this food. First, dunk the ladyfingers into the coffee mixture and line them in the pan. Then make the whipped cream mixture and spread it on the dipped ladyfingers. After that, repeat the process to make the second tiramisu layer.
Once finished, this luscious ladyfinger dessert should have some cocoa powder on top before being cooled in the refrigerator until set. You will greatly appreciate its fluffy and creamy texture and deep coffee flavor, with bitter notes balancing out the overall fatty taste nicely.
Quick and easy 10-minute eggless tiramisu recipe for two!
Total Time: 4 hours (including 1 hour of cooling time)
Eggnog cheesecake is a perfect combination of eggnog (an egg milk punch) and cheesecake. It is creamy, thick, and full of eggnog, which puts forward a sweet and custardy flavor. This is a must-try recipe with egg yolks you can save for holidays.
Although the total time is lengthy, the most time-consuming part is baking and cooling. So you can rest assured it requires only a little effort. Just make the crust and the filling. Then pour the filling into the crust and bake. Once cool, top with prepared whipped cream and serve.
For the best presentation, use a frosting tip to decorate eggnog whipped cream on top. Though the recipe uses a rosette shape, you can enjoy piping out any of your favorite ones. Also, sprinkle some pearl sprinkles and nutmeg to jazz your dessert up.
Total Time: 55 minutes
Pick some ripe apples and spend time on this over-the-top dessert. Your pumpkin shortcakes feature fluffy pumpkin biscuits stuffed with gooey and warm cinnamon apples and topped with a dollop of whipped maple cream. Together they present an elegant yet flavorful dish for the family.
Excitingly, these creative pumpkin treats don't consist of a single loaf. Instead, their ingredients are kept separate and layered on each other. Therefore, you can easily adjust the recipe depending on your preference.
For my version, I like to put more sugared apples in my dish since they are the best part of a cake – just sweet and saucy things. If you are not a sweet lover, an extra airy maple whipped cream on the subtle and cozy biscuits sounds more reasonable to you.
Total Time: 30 minutes
Lemon pie is typically a lemon mousse in a crispy crust. But more special, it is a creamier and lighter version of the regular lemon pie, thanks to the whipped cream ingredient.
Besides, the gingersnap used in the recipe also adds a pleasantly spicy aroma, while you can easily detect the citrusy flavors that any excellent lemon curd dessert must have. The combination results in an insanely delectable dessert that blows your mind.
However, you must be careful during handling whipped cream and lemon curd to get the best texture. In particular, you should not over-beat the cream, or it will become watery. Meanwhile, overheating lemon curd will produce a lumpy texture. So you better keep your eye on it.
Total Time: 20 minutes
Blackberry flummery is a sweet dessert pudding crossing between custard and jello. Though, its sweetness is just slight enough to satisfy your taste buds. After that, the tart afternote of blackberry and lemon juice will keep and linger on your tongue.
Besides, this no-bake delight also helps save time and effort in making a hearty blackberry treat at family gatherings. All you need to do is stir berries with cornstarch, sugar, and salt. Once thickened, squeeze lemon juice, pour into containers, and refrigerate them for at least 3 hours.
With the machine doing most of the job, you will have time to chat with your family members. When they want to enjoy the flummery, serve it in dishes and top with whipped cream plus some reserved berries. These two ingredients will promisingly level up your dessert plate.
Total Time: 1 hour 15 minutes
Pavlova is a widely-known dessert in Australia and New Zealand made from meringue, whipped cream, and fresh fruit. Not only is pavlova beautiful outside, but it is also diverse in textures and flavors.
At the bottom of the cake, a crispy meringue base has a sugary and sweet taste. Next is creamy raspberry whipped cream with sensations of acidity and floral undertones. And the last layer is any of your favorite fresh berries. All related offers an outstanding sweet course to impress friends.
Note, however, that meringue making may be new to some of you. So there are several things to notice. First, add sugar in small amounts to egg whites, and remember to beat thoroughly after each addition.
Also, you should spend time beating the mixture so the sugar granules dissolve and stabilize your meringue foam. Besides, do not overwork your batter when folding cocoa powder. These notes will prevent a failing meringue base and help you make the best one in town.
Let's discover the tastiest raspberry chocolate pavlova recipe!
Total Time: 30 minutes
Butterscotch budino is an intriguing Italian dessert with a pudding-like texture. It showcases layer by layer from bottom to top: a thick salted caramel, creamy butterscotch pudding, and a dollop of fresh whipped cream.
Plus, the addition of buttery crumbs and flaky sea salt sprinkled on top creates a quirky texture and more flavors. While the prominent taste is sweet and rich, the finishing salt steadies the sharp sweetness perfectly.
In addition, there are tricks to successfully making butterscotch budino. These include straining the budino through a mesh strainer after cooking. That helps eliminate lumpiness from egg bits or corn starch and leaves only a silky and smooth texture.
Furthermore, keep your eye on the sugar caramelization steps to prevent burning. Your attention will ensure the caramel sauce and the budino have a deliciously sweet flavor instead of bitterness.
Total Time: 6 hours 5 minutes (including 3 hours of freezing time)
Ice cream sandwich cake is an enticing and divine after for summertime. This crowd-pleaser dessert tastes sweet, creamy, and slightly bitter with a vanilla note, which makes it pleasant to eat. So you better prepare enough ingredients to treat your craving diners.
Even better, there is no need to bake dough – a premade ice cream sandwich is here to cut down on cooking time. Just stick these sandwiches into cake form with whipped cream. Then cover it with more cream, sprinkle on top crushed Oreos, and done.
Not only that, the real fun comes with the changing flavors. You can pick other flavored ice cream sandwiches to vary your dessert. Or, use some different toppings to spice things up. They can be sauce, candy, or cookies – you name it, and the list is endless.
Understandably, this interesting ice cream choice for an after-meal sweet course tastes best when served cold, so keep it in the freezer until ready to serve. The cake can stay up to about one month.
Total Time: 11 minutes
The pumpkin spice latte cake is a yummy microwavable dessert that requires only a little effort to make. Simply mix all the ingredients, fill the mixture into a mug, and microwave for one minute. Once done, let it cool and top with whipped cream and caramel sauce before serving.
Although you may find pumpkin pretty bland, it is a different story when combined with nutmeg and cinnamon. The sweet, woody flavor and a spicy note of cinnamon accompanied by a warm and nutty nutmeg will turn your batter into a warm treat full of autumn tastes.
Total Time: 1 hour 35 minutes
As the name implies, angel food cupcakes are the softest and most delicate dessert. These sweet treats are tender cupcakes topped with whipped cream frosting and fresh berries, which are ideal for serving in spring and summer.
One thing to keep in mind when making this decadent is never let your fluffy egg whites deflate, or your cupcake will not end up with the best texture. You can prevent deflation by sifting dry ingredients and whipping egg whites.
To sift the dry ingredients, sift a little at a time so as not to bring down the fluffy egg whites. Besides, whipping egg whites should be without any presence of egg yolks and in an entirely grease-free bowl. That will help your egg whites rise properly.
Let's bake jaw-dropper angel food cupcakes to feed your crowd!
Whipped Cream Is An Indispensable Ingredient In Desserts
Great effort! You have completed the list in just minutes and learned many new recipes. Not only do you gain some American desserts, but you also discover about foreign ones. For now, you will make full use of whipped cream. So plan to serve some after your upcoming meals.
And remember to like and leave your comments to share with me the results. I would love to read your feedback. Besides, remember to share this post and tag some friends. It will be fun to have them cooking these delicacies together with you. Thank you, and eat heartily!