Are you looking for what to serve with tacos? Yes, I know how delicious this Mexican dish is, but you totally can upgrade it with side dishes.
Tacos are a versatile dish with diverse fillings, such as seasoned ground beef, chicken, and many other veggies. Everything is bursting with flavors and satisfies your taste buds.
But, let's imagine how perfect it would be if you combine a taco with a side dish. Here are the best tacos side dishes you cannot miss. Soft wheat and hard corn tacos can go well with these dishes.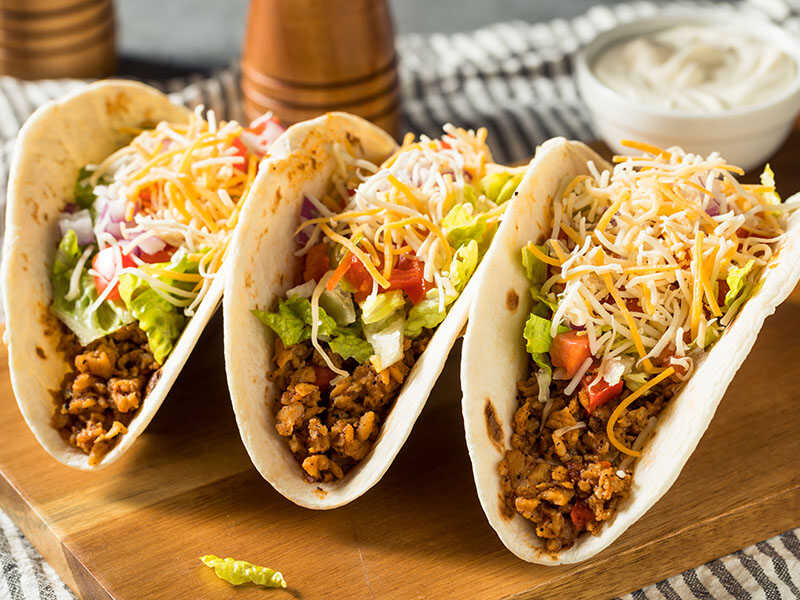 These 15 Side Dishes Will Make Your Taco Taste Much Better
Tacos are an astonishing Mexican dish that never fails to satisfy one's palate. Thus, it is no doubt that a taco night is worth looking forward to. However, do not keep your Tuesday (or any other day) ordinary with just tacos.
You can turn it into an impressive meal with side dishes or drinks. If you are looking for tacos' side ideas, I suggest you keep scrolling down to learn about the 15 best options. Most of them require less effort and time to prepare but bring the best outcome.
Total time: 10 minutes
The first order for tacos is Salsa. It is a classic but fantastic Mexican side dish to level up your tacos. The flavorful tomato-based Mexican sauce, lime juice, onion, and seasoning mix will enhance the tacos' flavor.
There are several reasons why this Salsa is a perfect choice. First, it is vegan and gluten-free, so it is a healthy option to go. Moreover, it is an easy-to-make dish since the food processor will take care of the hardest part. You only need to put everything in it.
It only takes you about 10 minutes to get things ready. You also can adjust the recipe to suit your appetite, like increasing or reducing the spice level.
Making this homemade Salsa is as easy as pie.
Total time: 25 minutes
Jicama is indigenous to Mexico and The Middle of America. Though it belongs to the bean family, its root is the only edible part. Some say jicama root is a sweeter and juicier version of potato.
So why don't you give this crunchy and starchy root a try? It can pair well with mango, green cabbage, and other ingredients to create a perfect slaw for your tacos.
You need to prepare the jicama mixture first and make the mango dressing in a blender. You can add the dressing to the jicama mixture when ready to serve.
Total time: 10 minutes
Why not combine tacos with a Mexican side dish? Another good idea to pair with your tacos is Guacamole. This avocado-based dish is usually used as a dip or salad ingredient.
The most crucial thing in the Guacamole recipe is choosing the best avocado. It should have a favorably soft texture but not too mushy. The citrus flavor is also a key to the success of this dish, so do not forget to add lime or lemon juice.
Another plus for Guacamole is that it only takes you 10 minutes to get your dish ready. So do not hesitate to add it to your tacos' sides list.
Here are the 3 best ways to make Guacamole. The taste test will make your mouth water.
Total time: 15 minutes
As you may know, beans are another staple food in Mexico. So why not use it to make delicious sides for your Mexican tacos? These Mexican black beans are packed with flavors.
Although this recipe requires quite many ingredients, they are totally worth it. Canned black beans, bacon grease, white onion, and more create a perfect taste for this side dish. And it won't let you down when combined with tacos.
Another plus of this recipe is that it is easy and quick to make. Around 20 minutes, and you have colorful and delicious Mexican black beans.
Total time: 70 minutes
Corn pudding, or pudding corn or spoonbread, is the next side dish I want to introduce to you. This dish is a perfect choice if you want something sweet, creamy, and savory. The taste of corn pudding can go well with meat dishes, and tacos are not an exception.
This dish's key ingredients are corn, egg, butter, and milk. You also need some dry ingredients such as cornstarch, sugar, salt, and more to ensure the corn pudding has the right flavor and custard-like texture.
Do not forget to check the oven temperature and baking time to make the best pudding for you. Though I recommend serving it as soon as it comes out of the oven, you can make it in advance and reheat it later.
Ease your cooking with these clear instructions to make corn pudding.
Total time: 10 minutes
The next dish you can consider serving with tacos is the Mexican Salsa Verde. It usually appears as an effortless Mexican beginner course to serve with crunchy tortillas, but you can also make a combo with tacos.
However, select fresh tomatillos and serrano peppers for the best outcome. Before putting them into the food processor, you need to roast these two ingredients. Charred tomatillos and serrano peppers create the main flavor of the dish.
You can serve it instantly or keep it in the refrigerator for up to 5 days. Make sure you put it in a well-sealed bag when refrigerating. The combination of this Salsa Verde and tacos is not a joke! You are going to love it.
Total time: 40 minutes
Mexican coleslaw is what you need for an excellent side dish for shrimp tacos. It gives an extra kick to the flavor of tacos. Whether your tacos are ground beef, chicken, or fish-based, Mexican coleslaw can be a good match.
First, a coleslaw needs shredded cabbage. For this Mexican coleslaw, lime juice is also a key ingredient. With other ingredients, this side dish adds crunch and fresh flavors to your delicious tacos.
What's more? You can easily add on more ingredients if you like. Corns, black beans, and red onions are all good. You only need to spend 10 minutes preparing. The mixture will need the other 30 minutes in the fridge to absorb the seasonings well.
Toss the prepared ingredients thoroughly, and you have a great Mexican coleslaw to accompany tacos.
Total time: 35 minutes
Are you looking for something healthy to serve with tacos? Mexican roasted sweet potatoes are a perfect choice. Sweet potatoes are packed with fiber, vitamins, and antioxidants. They are the key ingredients in this vegetarian, gluten-free dish.
I know roasted sweet potatoes are tasty, but with this recipe, you will love their upgraded version with spices and honey. You can also garnish the potatoes with cilantro, red onion, and lime to boost their flavors.
Every piece of sweet and spicy roasted sweet potato will satisfy your appetite. Your tacos night will be a big success with the sweet and spicy Mexican sweet potatoes.
Total time: 25 minutes
Elote, or Mexican street corn, is one of the most popular dishes in Mexico and the USA. This is an incredible corn side dish to pair with tacos. Just put the corn on the grill and wait for the amazing fragrance.
When the corn gets a bit charred, you can make your grilled corn taste much better with mayonnaise, chili powder, cilantro, and cotija cheese. Add as generously as possible if you want the salty cheese and the creamy mayo.
Besides the grill, you can give the corn a layer of olive oil and use the air fryer to make it. Though the newly-made corn looks super delicious and appealing, you need to let it cool down for a while before having a bite.
Here is how to grill and season the fresh corn to make Mexican street corn.
Total time: 15 minutes
Peppers are integral to Mexican cuisine and present in most Mexican dishes. So is there any chance they cannot be a good side dish for a Mexican taco? I guess no.
To make this colorful and healthy pepper salad, you need sweet mini peppers, cherry tomatoes, and cucumber. Those add a crunchy texture and revitalizing taste to your meal.
The salad dressing contains basic ingredients: olive oil, lemon juice, dill, salt, and pepper. Pour the dressing on the vegetables when you need your salad ready.
Total time: 10 minutes
Pico De Gallo, also called Salsa Fresca, is a common type of Salsa, that usually features as a simple tomato-dependent appetizer with a chunky consistency. You only need 8 ingredients (2 of them are salt and pepper) and 10 minutes to make a delicious Pico De Gallo.
Ripe tomatoes and fresh lime juice are two key ingredients to make Pico De Gallo. If you love spicy food, you can alter the heat using jalapenos with seeds or serrano peppers.
Since cooking Pico De Gallo takes a short period, you don't need to make it too early before serving. However, it still needs to rest for a while to absorb the seasonings.
Apart from the authentic Pico De Gallo, you should not miss three more tasty versions with Pico De Gallo.
Total time: 55 minutes
What about dipping your tacos into an unforgettable instant pot treat of refried beans for a sweet and creamy profile? This dish can be the taco side you are looking for. If you think the beans are fried twice, they are not. Though the name is a bit confusing, it means "fried well" in Spanish.
If you have not thought about making refried beans at home, you'd better change your mind because it is more delicious and healthier than the canned version. For less than an hour, you can turn the pinto beans with other ingredients into the best taco side.
Total time: 25 minutes
When it comes to the best dishes to go with tacos, the nutty goodness of Spanish rice is a must-try option. Its diverse flavors also come from tomato sauce and chicken broth, whose savoriness makes this dish suitable to accompany refreshing taco salads.
In addition, you will also need to prepare quite many other ingredients, such as onions and garlic, to make the rice taste just right. You can also add black beans or chicken fajitas as accompaniments for Spanish rice.
For this dish, you need to pay attention to the heat and cooking time to get the right texture and absorb the seasonings. Spanish rice is a perfect side for your tacos night, so you'd better give it a try.
Cooking Spanish rice is not that hard. The outcome looks mouthwatering.
Total time: 30 minutes
The next dish you must check is cauliflower rice. It is a light side often featured with burritos, tacos, and other Mexican fares. It is an amazing substitute for grains if you want something low-carb.
You can grate or use the food processor to make the cauliflower rice yourself or use the store-bought type to save time. Do not forget to squeeze the water out of the cauliflower before cooking.
Stir fry the cauliflower rice with seasonings until it turns golden. You will love its fragrance. You can keep it in the fridge for up to 4 days and reheat it before serving.
Total time: 5 minutes
How can a taco night be complete without beverages? I know you are probably looking for a suitable drink with tacos. So gin and tonic is my suggestion.
It is a great option to pair with tacos since the lime juice in this cocktail can make Mexican dishes, especially tacos, taste much better. Moreover, this beverage is very easy to make. You only need 3 ingredients and a bar spoon to make.
Furthermore, if you want your cocktail to be more flavorful, fruits are a perfect accompaniment. They can make it taste more refreshing. You should give the cucumber gin and tonic version a try.
Making gin and tonic is so simple, but you need some small hacks to make it taste better.
Are You Ready To Upgrade Your Tacos?
Now, you have got your answers to what to serve with tacos. There are many delicious and easy-to-make choices that you should try. It is best to try different recipes and never let the tacos become boring.
So, I hope your tacos night is much more lively now. If you know any more wonderful recipes for tacos sides, please leave a comment about them. And should you think this blog is useful, your sharings will be valuable. Thank you and buen provecho!