What to serve with steak? Are you planning to have a steak dinner but still can't decide which side dish to go with? This recipe list compiles a wide range of side dish ideas that can go well with beef steaks, pork steaks, tuna steaks, or whatever.
This side dish list is extremely easy to prepare. With all the familiar ingredients like potatoes, zucchini, or cucumbers, you can whip up all of them with just the blink of an eye. Trust me; no one can deny the deliciousness of these best sides, even the pickiest eaters.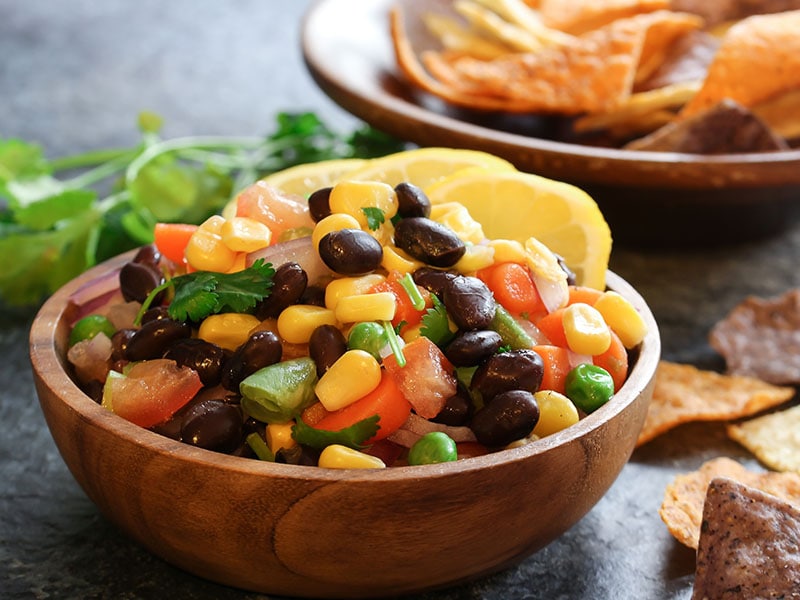 Must-Try Side Dishes That Go Great With Any Steak
Sides are an essential part of most main dishes, especially steaks. Choosing good side dishes can greatly enhance the taste of your meals. I promise these side dishes for the steaks below will never disappoint your expectations. Let's check them out now!
Total time: 1 hour 5 minutes
Potatoes are always one of the best ingredients for side dishes. The mini gratin dauphinois potato stacks bring out the creaminess of fresh parmesan and have a delightful crispy outer texture.
What is gratin dauphinois? This is a French-style dish that includes sliced potatoes baked in cheese or cream. There are many different variants for gratin dauphinois. In American English, people usually call it potato au gratin.
Wonderfully, you can make these mini stacks easily with just a muffin tin. Before placing the potato mixture in the tin, make sure to grease every hole with cooking spray or olive oil.
Cheese mini gratin dauphinois potato stacks are all you need for a perfect side dish.
Total time: 40 minutes
Looking for a flavorful potato side? Let's try Southern smothered potatoes! This side is flavor-packed with starchy potatoes, palatable onions, and a garlicky aroma. The smothered potatoes have a slightly crispy exterior and a delicious look.
Here are a few notes for an incredibly perfect side. You need to cut potatoes into thin slices to make this dish. These slices should be equal to cook evenly. Because these thinly sliced potatoes are quite soft, remember to do it gently when you toss or flip them.
This recipe is versatile, so feel free to add more ingredients you like. You can add onion powder, cayenne pepper, herbs, or top with sour cream, cheese, sauce, etc.
Total time: 45 minutes
This recipe is for those who want to recreate a Mexican-inspired pairing that possesses an intriguing savory profile. What you need to do for the easy roasted Mexican potatoes is make the Mexican seasoning, toss the chopped potatoes, and bake.
What are the results? Those crispy roasted potatoes offer an ideally creamy and tangy flavor of the Mexican sauce. Moreover, you can turn this yummy side dish into a healthy and flavor-filled meal for breakfast.
Total time: 55 minutes
This superstar potato side dish will become your favorite in no time. Crispy Hasselback potatoes have an engaging and special appearance that makes you want to sink your teeth into them immediately.
Hasselback refers to baked potatoes that are cut into fan-like slices with various added toppings. They are crispy, dairy-free, and gluten-free. For this recipe, the ingredients are simply Yukon Gold potatoes, garlic, olive oil, parsley, and salt.
To create a fan-like look for the potatoes, you can follow these instructions. After washing the potatoes and patting them dry with a paper towel, cut the potatoes into slices. Each slice should be ⅛ inch in thickness and not cut all the way down to the bottom.
Total time: 5 minutes
Serving steaks alongside a well-crafted Korean menu item consisting of zucchini can pleasantly satisfy your empty stomach. What makes this zucchini side outstanding? It is Korean-style seasoning.
A simple and toothsome zucchini side is ready within several minutes. Some of the seasoning ingredients for this recipe include Korean red pepper flakes, gochugaru (optional), maple syrup, and saewoojeot.
If there are some ingredients unavailable, feel free to substitute them with similar ones. For example, you can use fresh jalapeno as a replacement for gochugaru and soy sauce for saewoojeot. It won't greatly affect the taste.
Korean zucchini is quick to whip up and so delicious when served with steak.
Total time: 15 minutes
No one can resist this colorful and tasty salad. Chopped Greek chickpea salad is a mix of vegetables and beans tossed in a tangy Greek dressing. For those who love veggie side dishes, this salad is the right one for them.
The irresistible Greek dressing is very easy to prepare. In a large bowl, whisk lemon juice, dijon, vinegar, oregano, and olive oil together until it becomes creamy. Add salt and pepper to taste. Now, the dressing is ready to toss with the chickpea salad.
There are some salty ingredients in the salad, so adding a very small amount of salt is enough. If you'd like the salad to have a naturally sweet taste, you can mix honey with the dressing. Also, freely decide how much vinegar and oil to add to meet your personal taste.
Total time: 10 minutes
If it's hard for you to decide on a perfect side dish for your steak, just simply choose spinach apple salad. Honestly, this salad is an old but gold side dish for all main courses. Don't underrate this simple salad, or you'll regret it.
Fresh baby spinach, nutty walnuts, and crispy sliced apples and pears tossed in the balsamic dressing create a bold flavor for this salad. Besides steaks, you can serve this salad alongside other main courses like pasta, pizza, stuffed peppers, etc.
Total time: 35 minutes
Fiesta corn and avocado salad are what you need for a fun, crunchy, and colorful salad. This eye-catching side consists of fresh and simple ingredients. The salad is both tasty and rich in nutrients. Personally, I don't expect anything less from a refreshing side dish for steak.
To remove the corn kernels from the cob without messing things up, you can use a small bowl. Place it upside down in a larger bowl. Set the corn stand on the small bowl and carefully slice down the sides of the cobs. You should choose a sharp knife to make it easier.
Total time: 15 minutes
Black bean salsa is totally vibrant and attractive. The recipe is a combination of nutty black beans and flavorful corn salsa. Besides being a side salad for steak, this black bean salsa can serve as a dip appetizer on game days, potlucks, or parties.
The ingredients for the salad are available at all supermarkets. In addition to black beans and corn, ripe tomatoes, cilantro, and both red and green onions are part of this salad. If you find the taste of red onions unenjoyable, use white onions as a substitute.
Black bean salsa is colorful and filled with flavors.
Total time: 30 minutes
No one can resist giving this beloved Thai opening specialty a try due to its satisfying flavor. These yummy, crispy corn fritters are rich in coconut milk, fragrant with fresh cilantro, and warm with ginger.
What you need to do is simply combine all the ingredients to make the batter, flatten the mixture to form the fritter shape, and fry them in hot oil. It's best to serve the side immediately.
To increase the flavor, just top them with sour cream or dip them in your favorite sauce. You can also prepare and keep the batter refrigerated until you're about to cook.
Total time: 10 minutes
A bowl filled with refreshing cucumbers and creamy Greek yogurt is a perfect salad to serve with steaks. Not only does it look appealing, but the wholesome heavenly flavor of this salad can also completely satisfy your taste buds.
Incredibly, there are only four simple steps you need to take. They're slicing cucumbers, making the dressing, combining them, and serving. It's advisable to use English cucumbers because they contain no seeds and have thin, edible skin.
Nevertheless, you can use field cucumbers, but remember to remove the skin as well as scoop out the seeds first. To make the dressing more intense in flavor, make it ahead of time and keep it refrigerated for at least 1 hour.
Total time: 25 minutes
Serving steaks with a summer-related pasta staple such as cucumber pasta salad is never a bad idea. You'll fall in love with a side filled with crunchy cucumbers, sweet tomatoes, and tender pasta. The highlight of this side salad is the creamy lemon-dill dressing.
Preparing the dressing is so easy. Just mix a few ingredients: mayo, fresh dill, and lemon juice together, and add salt and pepper to taste. All the remaining steps are cooking the pasta, cutting the veggies, and combining.
You can use bowtie pasta, English cucumbers, and grape tomatoes for this recipe. However, feel free to choose any of the other types if you want. For any leftovers, you can store them in an airtight container and place them in the refrigerator for around 3 to 4 days.
Total time: 45 minutes
This BBQ ranch pasta salad will become your family-favorite side dish because of its delicious and bold flavor. Loaded with mild bowtie pasta, meaty grilled chicken, and veggies, it's the ideal side to serve alongside steaks.
This salad recipe includes a large number of different veggies, which creates a colorful and tasty look for the salad. Don't worry; making BBQ ranch pasta salad isn't challenging at all. Besides, it's also easy to store or make ahead of time.
While waiting for the noodles to cook, you can make the pasta salad with other ingredients to cut down the cooking time.
Total time: 55 minutes
Fresh broccoli, creamy cheese, and fluffy rice make for a brilliant veggie casserole delight that no one can resist. Broccoli cheese rice casserole is the most suited side for any steak party, family gathering, or just a simple dinner.
The recipe may take a little time to prepare, but it's never complicated. There are some ultimate tips for achieving the best outcome. For example, you shouldn't blanch the broccoli for too long since it still needs to be cooked later. 2-3 minutes are enough.
Instead of using instant rice, regular long-grain rice will keep your casserole from getting mushy or having a bad consistency. After taking the casserole out of the oven, remember to let it sit for 5–10 minutes before serving.
Broccoli cheese rice casserole is so tasty and cheesy.
Total time: 28 minutes
Filled with the sweetness of the corn and the creaminess of the cheese, this corn delicacy is an addictive side dish for both adults and children. Besides having a mild texture, the corn with cream cheese is extremely simple to prepare.
Surprisingly, even if you store this corn cream cheese in the fridge for 4 days, it is still delicious. So, feel free to prepare it ahead of time. One small thing you need to remember: the sauce cannot be kept in the freezer. The dairy element in it will separate after freezing.
Total time: 25 minutes
Spicy Southern hot corn is a creamy and crunchy side dish that is filled with tons of flavors. The heat of this hot corn is quite mild, but you can freely adjust the amount of heat. If you'd like it to become super hot, just add some green salsa and more jalapeno peppers.
Do you want to make spicy Southern hot corn ahead of time? You can follow the instructions and prepare this side one day ahead. Whenever you're ready to serve, wrap it in foil, bake it, and serve it warm. Covering the dish before baking can keep it from browning.
Total time: 25 minutes
Try this veggie-filled side with your steak if you're a fan of asparagus. Coated in crispy breadcrumbs and a bubbly cheese sauce, asparagus casserole is a yummy side dish for all occasions. Also, it only takes a few minutes to prepare.
The cooking time may be slightly varied depending on the thickness of the asparagus. If you use thin asparagus, it should take 10 minutes to cook in the oven. For a thicker one, the cooking time may be a little longer, like 15 minutes.
Total time: 50 minutes
Healthy zucchini and squash casserole are flavorful with a crispy crust and a refreshing taste of summer veggies. The main characters of this side dish are zucchini and yellow squash, which bring out the vibrant color of the dish.
You can always use all zucchini or all yellow squash based on your desire. To let these veggies crisp and not turn your casserole watery or soggy, sprinkle a little salt on the sliced zucchini and squash, wait for 10 minutes, and pat them dry with a paper towel.
Total time: 23 minutes
Baked parmesan zucchini fries are an effortless but heavenly-tasting side course. In addition, this side can easily turn into a guilt-free snack because it's low carb and keto-friendly. Incredibly, while this recipe doesn't contain any bread crumbs, it's still crispy.
To create an ideally golden brown exterior, coat zucchini with olive oil and a mixture of parmesan cheese, smoked paprika, garlic powder, and dried herbs. Now, bake for 15 minutes and keep broiling for 2-3 minutes.
Total time: 1 hour
Numerous roasted root veggies in a bowl can be more flavor-packed than you expect. This roasted root vegetable medley is full of naturally sweet and caramelized flavors. It's obviously a perfect veggie side to serve with meaty steaks.
Let's check the root vegetables included in this recipe! They are carrots, beets, sweet potatoes, parsnips, and onions. The dish is versatile, but if you want more diversity, just go ahead. Otherwise, you can remove any root veggies that you feel uncomfortable eating.
This nutrient-packed side includes a variety of vital minerals, numerous antioxidants, and lots of fiber. How tasty and healthy it is!
Roasted root vegetables are both delicious and healthy.
Total time: 30 minutes
Roasted honey-glazed carrots are a kick of flavor when served with all types of steaks. These yummy carrots are covered in a sweet honey glaze and roasted until tender. Garnishing thyme and orange zest produce an irresistibly fragrant side.
You know that nothing could be easier than making this. All you should do is prepare and toss the carrots in oil, thyme, and honey, bake for 20 minutes, garnish, and serve. The thickness of the cut carrots should be the same, so they can cook evenly.
Total time: 40 minutes
How about serving steak with… steak? These roasted cauliflower steaks are perfectly golden brown, slightly crunchy, and juicy. Their garlicky, salty, and slightly spicy flavors will satisfy your palate. The veggie steaks can turn your steak dinner as fancy as in a lavish feast.
Next time you buy cauliflower at the grocery store, look for one that has brightly-colored leaves and tightly packed florets. A high-quality cauliflower head brings out the heavy feeling in your hand. Skip those that have too many spots on the florets.
Total time: 20 minutes
Roasted garlic mashed cauliflower is a garlicky and extra mild side dish that pairs great with steaks or any main course. This creamy cauliflower puree tastes as delicious as smashed potatoes. Let your kids try this creamy dish; I'm sure they won't know it's cauliflower.
There are some tips for a successful dish. Roasting garlic is a must to get rid of the pungent taste. Avoid the mashed cauliflower from becoming watery by draining all the liquid excess. Plus, nut milk can keep the dish healthy and help the food get a better consistency.
If you can not consume it in one go, store the leftovers in an airtight container and place them in your fridge. The taste won't change after 3-5 days. They can even last for 4-6 months in the freezer. Whenever you want to serve, reheat on the stovetop or in a microwave.
Total time: 30 minutes
These brussels sprouts have a cheesy and crispy crust but are tender on the inside. This 30-minute side only takes several simple steps to be done. You can whip up this recipe by coating the brussels sprouts with all the ingredients and baking them for 20–25 minutes.
The dish is not merely easy and quick; it's also convenient for you to store and reheat. When storing, make sure they're all cool to prevent them from getting soggy. To preheat, you can put them in the oven, air fryer, or microwave. What a delicious and convenient side dish!
Total time: 20 minutes
Air fryer roasted pineapple—another simple and appetizing side dish. The roasted pineapple produces a juicy and pleasant flavor inside, while the outside is caramelized, sweet, and slightly crispy. Don't worry: it won't taste tart or acidic at all.
Both canned and fresh pineapple are acceptable for this side dish. You can cut it into ring-like slices that are ¼ inch thick. If not, just cut it into cubes or chunks. To improve the appearance and the taste, sprinkle honey or brown sugar on top of each slice.
Total time: 30 minutes
Due to their crunchy texture and savory flavor, parmesan roasted green beans can become the top of your side dish list. Toss green beans with some ingredients, spread them on a baking sheet, and roast them.
Though it's easy to prepare, here are some rules for an ideal side dish. First, don't use frozen beans because they can become soggy. Second, try not to overcrowd the green beans to get a better texture. Finally, remember to flip the beans when roasting.
Let's set a plate of parmesan roasted green beans aside with roast beef tenderloin, garlic butter sirloin steak, or any steak dishes you love.
Total time: 20 minutes
Garlic knots can become a big hit on your dinner table, especially when served with steaks. These family-friendly side dishes barely take less than 30 minutes to prepare, yet they are flavorful with the combination of butter, cheese, and garlic.
Rolling buttermilk biscuits are so easy and fun. You can ask your children to lend you a hand to tie the biscuits into lovable knots. Once done, brush the butter mixture outside each knot and bake. The finished texture will be very fluffy with a cheesy and garlicky coating.
Garlic knots are all you need for a family-friendly side course.
Complete Your Steak Dinner With Your Favorite Side Dish
You can serve these side dishes not only with steaks but with any main course. Making a side dish only takes some minutes, but it can enhance the flavor of your meal hundreds of times. Those recipes above are also suitable for crowd gatherings and even single servings.
Have you found which ones are your favorites? Let me know what you think about these recipes in the comments. I always love to know your results, too. Last but not least, I'd be so thankful if you could share this list with more kitchen lovers out there.