What to serve with sloppy joes is a wonderful question in the kitchen. As this is a very simple and easy-to-make type of sandwich, you can mix it with many other dishes to have a perfect combination for your meal.
Sloppy joes are sandwiches made with ground beef, ketchup or tomato sauces, onions, and other seasonings. It is an abundant source of protein and calories, providing sufficient energy for your daily activities.
Sloppy joes are delicious, but you can have better appetites when you mix them with other harmonized food to enhance the taste of your meal. Here are several easy and delicious recipes you can try with sloppy joes.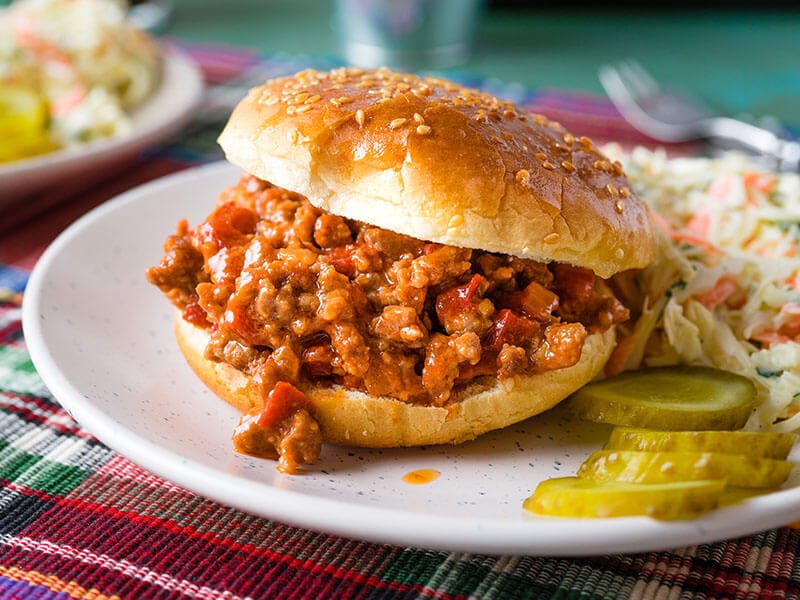 18 Best Recipes To Serve With Sloppy Joes
The following recipes are the most common and easy dishes to prepare with sloppy joes. You can have a look, try them and choose the best one for yourself.
Total time: 10 minutes.
This recipe is the most practical and convenient way to bring traditional Italian cuisine into your house as it takes you a very short time to make Italian pasta salad.
Sloppy joes are delicious, but they have no vegetables in the dish. In this case, Italian pasta salad is a perfect partner for it as it includes cherry tomatoes, black olives, and fresh basils.
With this tasty salad recipe, there is no need to worry that your dish is unhealthy and you do not consume enough fresh veggies.
A perfectly simple way for you to make Italian pasta salad.
Total time: 40 minutes.
Sweet potato fries are well-known for their good taste and versatility when combined with other dishes. Making this recipe for enjoying with sloppy joes will not make you disappointed.
Although the total time for sweet potato fries is longer than Italian pasta salad, you need only to toss sweet potatoes with seasonings and then bake them in the oven.
This is an easy dish you can serve with sloppy joes to enhance the savor of the whole meal.
Total time: 30 minutes.
The tangy and creamy flavor of potato salad is one of the best choices for BBQs, picnics, and potlucks. It is also a perfect recipe to serve with sloppy joes as a side dish.
The potato and mayonnaise make this salad creamy, while seasonings of garlic, mustard, pickles, pepper, etc., turn the dish into a party of flavors. When enjoyed with sloppy joes, it leaves an aromatic flavor that enhances the taste of the whole dish.
Total time: 2 hours and 35 minutes.
Another recipe that's perfect to go with many other dishes is macaroni salad. With very simple and budget-friendly ingredients: elbow macaroni, onion, eggs, and celery, this is a convenient choice for you to serve with sloppy joes.
The total time to do this seems quite long, but the actual time is only about 30 minutes as you need to refrigerate the salad for at least 2 hours.
Making Macaroni salad will be a piece of cake after this!
Total time: 30 minutes.
Garlic mashed cauliflower is an element that adds fiber and carbohydrates to the dish with sloppy joes. The total cooking time is only about 30 minutes, and all the ingredients are easy to find.
Garlic has a pungent and spicy flavor. Combined with chicken broth, butter, and olive oil, it creates a warm flavor that best suits your meal in cold winter.
In combination with sloppy joes, this dish offers the joy of a creamy and rich taste that makes your whole dish more attractive and appetizing.
Total time: 30 minutes.
Brussels sprouts are a type of cabbage with a small size of 4 centimeters in diameter. They are highly recommended food thanks to their nutritional values and health benefits. More importantly, the veggie has an excellent taste and is very versatile.
Better yet, with slight modification, you may even serve the delicacy as a spot-on accompaniment to fried chicken to make full use of the versatility of the recipe. Roasting brussels sprouts is a good way to turn them into a dish full of color and tastiness.
Total time: 45 minutes.
Baked beans are often made with white small navy beans, together with herbs and spices. Depending on your appetite, you can also add some bacon slices to this classic soul food dish.
Navy beans are also a rich source of minerals for human consumption. With these health benefits and an appealing aroma, this dish is a great choice for you to mix with sloppy joes to create a flavorful and nutritious meal.
You won't believe how easy it is to cook up these baked beans!
Total time: 20 minutes.
Coleslaw makes for a harmonized pick to complement sandwiches and of course, sloppy joes in this case. It consists of 4 main ingredients: red cabbage, green cabbage, carrots, and onion. Other seasonings include mayonnaise, mustard, sugar, lemon juice, and sugar.
This dish is super easy and can be done well at home with only 2 separate steps. The first one is cutting the veggies and mixing them. The second one is whisking the ingredients for the dressing. You can store it in the fridge for 3-5 days.
Altogether, the main ingredients and the seasonings create a refreshing dish full of flavor. It is a must-try with your sloppy joes!
Total time: 30 minutes.
When combined with sloppy joes, roasted green beans bring an appealing tang and rich fiber content to your meal. Its seasoning supplies the dish with plenty of flavors in addition to the original savor of sloppy joes.
You can simply make roasted green beans at home with cheap and easy-to-find ingredients. But the deliciousness and health benefits it brings you and your whole meal are exceptional.
Total time: 20 minutes.
The first impression when you see a plate is important. It decides whether you want to try the dish or not. Therefore, a dish must be visually pleasing and tasty to become perfect.
Easy fruit salad does a great job of creating an attractive impression that appeals to everyone. Combining with sloppy joes, they build a great meal with both visual aspects and gastronomic enjoyment.
The main ingredients of this dish are also simple and convenient to find: blueberry, strawberry, grape, and peach pie filling.
Total time: 25 minutes.
Glazed carrots have a sleek outer layer with an appealing orange color. It has a lightly sweet flavor with an odorous smell that will make you mouth-watering.
Carrots are a rich source of antioxidants, fiber, biotin, vitamin K1, and potassium. It benefits humans both inside and outside the body. They help strengthen bones, stimulate the immune system, and control diabetes.
Carrots are not only nutritious but also easy to cook. This dish only takes 25 minutes to complete, with easy and cheap ingredients.
A short guide on making the most delicious glazed carrots.
Total time: 1 hour.
There's no need to mention any more about the popularity of French fries. It is widely enjoyed all over the world thanks to its delectable savor and convenience in cooking.
If you worry about the fat of this renowned yet undemanding French treat, you can bake them instead. In this case, Russet potato and Yukon gold potato are the best choices as their characteristics are more suitable for this type of cooking than other kinds of potatoes.
Imagine how delicious your sloppy joes will be with a bowl of crispy, golden French fries!
Total time: 30 minutes.
Baked Parmesan Zucchini attracts people with its tender and addictive taste. An interesting fact about this dish is that it does not require deep frying or sauteing.
With only 30 minutes of preparing and cooking, this dish is suitable for busy people but still contains a sufficient amount of vitamin A, C, E, K, B6, manganese, potassium, and magnesium.
Baked Parmesan Zucchini is a perfect dish to elevate your sloppy joes with its delicious tang and impressive nutrition values.
Total time: 30 minutes.
Asparagus is highly appreciated thanks to its delicate flavor and the great benefits that it brings to human health. Bacon-wrapped asparagus is a great dish that has a special and impressive appealing taste.
It is clever to mix sloppy joes with this asparagus-inspired treat for a perfect meal. Together they benefit human health by a plentiful supply of calories, vitamins, carbohydrates, calcium, and iron.
One tiny notice for you is that this dish will have the best flavor, color, and texture if you bake it in the oven. Let's try!
How to make baked bacon-wrapped asparagus with ease.
Total time: 29 minutes.
Green salad is always known to have a stunning appearance on the outside and a tasty and fresh flavor. It is a must-have part of your meal table, together with sloppy joes.
With different types of vegetables, this dish offers a great source of fiber. To those aware of weight gain, it is a good friend as it helps you feel full and consume less calorie-dense food.
An appealing dressing, a refreshing taste, and a useful way to help you keep fit, this is a perfect dish to mix with sloppy joes on your meal!
Total time: 6 minutes.
If you are busy, steamed broccoli is the top 1 choice for you to pair with sloppy joes for a super quick meal.
Consuming little time as it is, steamed broccoli is high in nutritional ingredients. It provides you with many nutrients such as protein, calories, vitamins A and C, and minerals.
One more helpful piece of information for you is that broccoli is the most potent anti-cancer type of vegetable. Also, it contains a great source of vitamin C. An interesting fact is that a cup of broccoli has more vitamin C than an orange!
Total time: 40 minutes.
Dill pickles are super easy to make at home and will stay edible for a long time. After you make it, you can store it in the fridge, and it can last for 1 year with the best quality.
Dill pickles are abundant sources of minerals, especially sodium. Sodium is an efficient ingredient that helps improve teeth and mouth health, improve skin and keep it moisturized and develop the brain.
It is wonderful that you combine your yummy sloppy joes with dill pickles – a side dish that is health beneficial and astonishingly easy to make!
Total time: 40 minutes.
Another dish made mainly from potatoes is tater tots. You can make it at home simply with potato, salt, flour, onion, pepper, and oil. One small notice for you is that hot oil is dangerous to children, so you have to be careful when cooking.
The main stages of making tater tots are parboiling potatoes, grating them, and mixing them with the seasonings. After that, shape and fry them.
After frying, the tater tots will be incredibly crunchy on the outside while the interior is smooth with melt-in-your-mouth tenderness.
An easy guide to make tater tots at home.
Make Your Quick And Easy Meal With Sloppy Joe
If you love and wonder what to serve with sloppy joes for a great meal, this article is truly a helpful source. After this post, you will have numerous clues to prepare different dishes to serve with this sandwich.
With an average cooking time of about only 35 minutes, the listed dishes above are suitable and best harmonized with the flavor of sloppy joes. Try each of them to find out which one you like the most!
Do you like this post? If yes, you can share it with your beloved people so that they can have these easy, delicious, and convenient recipes for their daily consumption. I hope you have a great meal!