If you are wondering what to serve with scallops, then you've come to the right place. There are a lot of options that go from well to great as a side for scallops. Off the top of your heads, how many can you think of?
To know about at least 20+ answers to this question, don't hesitate to scroll down and read this article. Some of the names on the list may come as a surprise to you.
In this list, you'll find some recipes that include beans, greens, pasta, etc. These are generally good to counter the scallops' inherent richness. Furthermore, they also add an extra flavor to the seafood you serve alongside.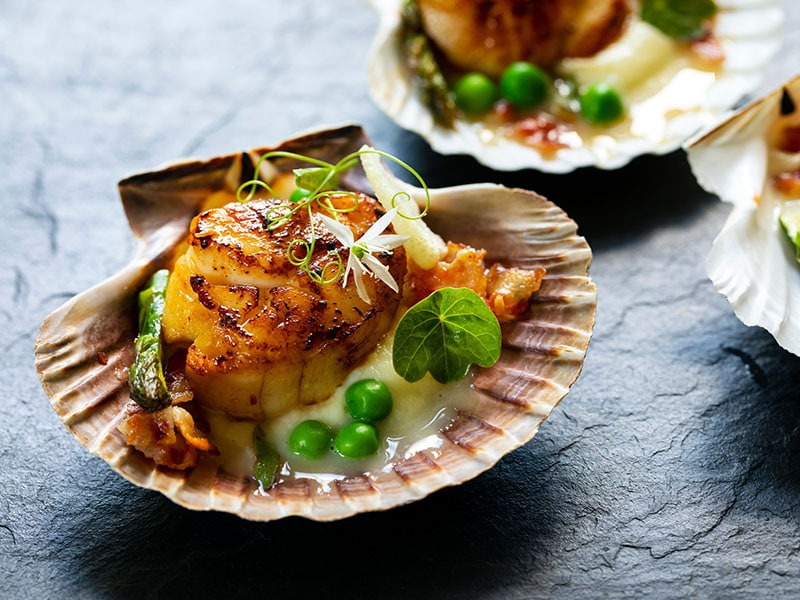 Amazing Foods To Serve With Scallops That Not Many People Know About
Either going to a restaurant or making them at home, it's better to pair the scallops with some dishes than eating them alone. Thus, I present to you a list of amazing foods to serve with this sacred seafood.
Total time: 15 minutes
Seared scallops and pineapple mango salsa is a light and island-style combo that won't take much of your time to make. This tropical fruit salsa with a kick of Jalapeno will offer you sweet-spicy goodness that elevates your experience as a whole.
First, let's take a quick look at the main ingredients: pineapples, mangos, and Jalapenos. Surprisingly, this trio makes for a harmonious dish with the right amount of flavor without packing too much heat.
Most of the meal prep procedure requires a lot of chopping. You cut the fruits and peppers into smaller pieces. Then throw it all into a bowl along with onion, lime juice, and cilantro. Stir them all while adding salt and pepper for taste. That's all you have to do. Easy and simple, right?
You can recreate a nice and hot pineapple mango salsa by following this easy guide here.
Total time: 25 minutes
Fruit or vegetable coulis is a nice addition to the flavor of the already briny, slightly sweet scallops. Coulis is very similar to purée; the difference is that coulis consists of pureed and strained (raw or cooked) fruit and vegetables.
The smooth texture and the creaminess of the carrot sauce will surely get to anyone if they eat them alongside scallops (it's good on its own, too). This sure is a terrific way to showcase the carrot to those who dislike veggies in general.
The creamy roasted carrot coulis is versatile. You can serve it in many ways, like as a dip or a side dish to the seared scallops. All it takes is 25 minutes to make this healthy recipe, so there's no reason not to try it.
Total time: 35 minutes
Fettuccine Alfredo is simple yet elegant enough to be a showstopper. Better yet, the pasta is an amazingly tasty Italian starter to begin your night with a bang. When topped with scallops, the result is a heavenly and luxurious taste that's hard to find in a homemade meal.
The Italian-inspired Fettuccine Alfredo is a pasta with creamy Parmesan cheese and minced garlic as well as pepper. It's the classic and go-to version of many households. Plus, making this is very quick and easy.
The creamy Fettuccine Alfredo calls for Fettuccine pasta (the long, skinny ones). Nonetheless, feel free to use Linguine or Penne variants.
If you want to adjust the thickening of the sauce, add more Parmesan cheese. Otherwise, add heavy cream or use less pasta water to thin the sauce. The way to incorporate scallops into this dish is to top the sauteed seafood off the Fettuccine Alfredo.
Explore the tried and true recipe of cooking a creamy and good chicken Fettuccine Alfredo here.
Total time: 5 minutes
Gather all of the listed ingredients and a food processor, then you will have a Chimichurri sauce in your hands after just 5 minutes. This is an interesting condiment you don't want to miss.
Chimichurri is an Argentina- and Uruguay – originated sauce that comprises mostly herbs and is a nice addition to seafood, grilled meats, and many other dishes.
Scallops are also so versatile that you can serve and cook them in many ways (in pasta, alongside a salad, with rice, etc.) So it's no wonder that these can go together as one plate on your table.
As scallops have a light flavor, adding in Chimichurri sauce brings a nice kick of spiciness and savor. Besides seafood, you can also try this sauce with beef, chicken, pork, fish, and even vegetables.
Total time: 25 minutes
If you happen to have your hands on some Sunchokes and don't know what to make of them, then try this recipe. Sunchokes are native to North America, and people cultivate this plant for its edible root or tuber.
Sunchokes have many names, like sunroot, topinambur, and most famous of all, Jerusalem artichokes. Despite the name, they have nothing to do with Jerusalem. Behind it is a fascinating story.
In the past, Italian migrants in the US refer to it as girasole (sunflower). Over time, people believe that this word was somehow corrupted into Jerusalem.
On their own, the sunchokes have a mild flavor with a hint of sweetness. The brown smashed sunchokes are sweet and a little crispy with flavor from thyme and richness from butter.
You can eat them raw. But to eat sunchokes as a side dish with scallops, you should boil, smash, and pan-roast them. What's more, butter and thyme enrich the flavor of sunchokes and scallops even further.
Total time: 10 minutes
Here's a delicious pasta recipe to enjoy alongside scallops. It's one of the easiest recipes in the world! Just throw everything into one pot and start cooking. After just 10 minutes, you'll have a tasty Angel Hair pasta serving to eat with your seared scallops.
Angel hair, also known as Capellini ("little hairs" in Italian), is a variety of pasta that is very thin, hence the name. It is much finer than your regular pasta and thus ideal for use with simple sauces, vegetables, and light seafood such as scallops.
Parmesan garlic Angel Hair pasta is a simple dish but can go a long way. The very long thin strands and light nature make it cook well with garlic and butter. Typically, it takes 2-6 minutes to cook Angel Hair pasta (some brands like Barilla take longer, 8 minutes).
Learn the one-pot cooking method to make a Parmesan garlic Angel Hair pasta here.
Total time: 12 minutes
Did you know that this springtime veggie also goes well with scallops or any kind of seafood? You would often find recipes where people sautée the seafood and serve it with asparagus.
The scallops have a light flavor, while the asparagus is bold in taste, so eating them together is a great way to add depth to their subtle flavors. About the benefits of eating asparagus, the veggie provides you with a good amount of fiber, folic acid, vitamin C, and antioxidants.
Remember to snap the woody ends of this green veggie: you don't want a tough and inedible part of a plant. Another thing to note is you should avoid overcooking the asparagus, or it will turn all soggy and limp.
Total time: 5 minutes
Here's a lemon herb sauce that is intended for serving with scallops! It's gluten-free, simple, and fast to make. Save this recipe or jot it down in your notepad. When the time to eat scallops comes, you already have a suitable sauce to make in a snap!
This sauce recipe is perfect for introducing zest to each bite of scallops. Seared scallops are pretty amazing on their own, but it's nothing compared to the ones that come with lemon and herb sauce.
The tangy, garlicky flavor is what takes your seafood to the next level. The ingredients list is short: salted butter, garlic, lemon juice, and herbs (in this case, it's a mixture of tarragon, thyme, parsley, etc.) I see no reason why you don't want to make it to pair with scallops.
Total time: 20 minutes
Stir-fry broccoli (sometimes with mushrooms) and seared scallops are the food that you would find at Chinese family gatherings and on Chinese New Year.
To the Chinese people, the dish symbolizes prosperity and new beginnings. This sautéed food formula is a simple change in the way of eating scallops, yet it adds so much to the flavor and texture.
The way to whip up this recipe is also pretty simple. Mix together the soy sauce, vinegar, and sugar. Then fry the garlic, ginger, and red pepper flakes for about 30 seconds on medium heat.
For the next step, stir-fry the broccoli, mushrooms, and water in the same skillet. Lastly, add the soy sauce mixture and cook for another minute. Then it's all good to go.
Tips: If you want your broccoli to be brighter and greener, then add a little bit of sodium bicarbonate to the water when you blanch the broccoli. Remember to rinse the broccoli with water afterward to remove the sodium bicarbonate from the veggie.
See one of the best stir-fry broccoli and mushroom cooking tutorials here.
Total time: 25 minutes
Almost everything goes well with corn, and that includes seafood, of course. It's an all-time classic, so you don't want to miss out on trying oven-roasted Parmesan corn on the cob with scallops.
But it's not your average corn on the cob; this recipe is an Italian-inspired version that is more buttery, garlicky, and cheesy than usual. The ingredients also require kosher salt, black pepper, and fresh basil leaves for serving and seasoning.
Once you have a taste of scallops on the bed of creamy corn with softened butter and grated Parmesan cheese, this seafood may never be the same without this accompanying dish. Next time you may actively seek this duo out!
You can pull off individual corn kernels and either eat them directly or cook them with scallops on the same skillet. Alternatively, you can try to make a corn salad to enjoy it alongside this seafood.
Total time: 58 minutes (Including 45 minutes of hands-off time)
Pan-seared steak is no stranger to meat lovers and culinary lovers alike. Any steak recipe is amazing on its own. But it can become more awesome if you pair it with scallops. This combo is the high-class version of surf n' turf (a dish of meat and seafood).
You can use any cut of beef in this steak; just pick the one that's your favorite and high quality. Having said that, the recommended steaks in this recipe are porterhouse, ribeye, or New York strip. It also calls for very large thick steaks (approximately 1.5-2 pounds).
There are two things you need to be aware of regarding the meat: consumer grades for beef and the "doneness" of the steak. These two elements will impact the meal's flavor and quality.
This recipe calls for porterhouse (T-bone) as it is not as difficult to work with as ribeye. It is also cost-effective like New York steak. You can say that this cut is the best of both worlds. Meanwhile, tenderloin is the most premium choice but very expensive.
Making a yummy and premium pan-seared butter steak is no hard work with this easy-to-follow guide.
Total time: 10 minutes
Serving your grilled scallops over a bed of scrumptious autumn salad staples, including spinach, cheese, and nuts is an enjoyable way to taste the best of seafood and greens.
This recipe has it all: the tart crunch from chopped apples, the tang from Dijon mustard, some salty flavor from feta, and the richness from toasted walnuts. Another key factor is the pleasant and woody addition of apple cider vinegar.
When it all comes together, this dish is truly a gem. Once you finish mixing up the salad, simply arrange the salad and grilled scallops on a plate and enjoy.
Total time: 5 minutes
If you want something more akin to a daily meal, then you can't go wrong with egg-fried rice. Suitable for any occasion, special or not, and quick to prepare, this incredibly easy rice side order is an amazing companion for scallops that require minimal effort.
You first prepare the cooked rice (ideally the day before and let it cool overnight beforehand). From here, there are two ways to go about it: either top the scallops onto the finished rice or toss the scallops together with the rice in the frying step.
You can serve the egg-fried rice with scallops. If you fancy something more, you can add in beef, broccoli, creamy shrimp, etc. You can make a meal out of this duo and stay full for a long time when eating them.
Total time: 35 minutes
Similar to asparagus, Brussels sprouts sometimes get mishandled as people tend to overcook them, resulting in a bitter and slimy experience. But this recipe cooks the veggie to a crunchy texture and naturally sweet taste, making for a terrific dish to serve with scallops.
As I've said, the Brussels sprouts themselves are pretty flavorful. If you opt for extra taste, then the oven-roasted golden brown mushrooms in this recipe won't disappoint you.
Besides the sprouts and mushrooms, all you need are olive oil, garlic powder, salt, and black pepper. Just toss all the ingredients together and bake the whole thing at 400℉. Once the dish emerges out of the oven, you can enjoy it alongside seared scallops.
Total time: 45 minutes
Seared scallops and pureed cauliflower are a simple yet elegant pairing. The seafood on the bed of dreamy and creamy white cauliflower puree is almost too graceful to look at. Not to mention the flavor: one spoon of this, and you may want to eat this combo every day.
The cauliflower puree recipe calls for unsalted butter, thinly sliced yellow onion, and garlic. The instructions may seem to be pretty long at first, but just follow each step, and you will get yourself a nice final product in less than 1 hour.
Furthermore, you can adjust the consistency of the puree to your liking. To do so, cook down further for a thicker result, or add in liquid like water to thin down the puree. Plus, the choice of heavy cream or chicken stock can make the dish more sweet or savory respectively.
Anyone can whip up a nice and creamy cauliflower puree with this thorough guide.
Total time: 5 minutes
Soy glazed sugar snap peas are a snappy yet sophisticated side dish to scallops. The snap peas, also known as sugar snap peas, are a cross between snow peas and garden peas and were introduced in the 1970s.
They are sweet with a crunchy texture and can be eaten raw or cooked. You can pair raw snap peas with scallops, but the flavor has more depth when you serve the seafood with cooked ones.
In this recipe, you need the peas and no more than 4 ingredients: butter, soy sauce, lemon juice, and ground black pepper to taste.
With 1 minute of stir-frying and a few more minutes of cooking and stirring with the above items, you get soy-glazed sugar snap peas that are tender yet crisp, perfect for accompanying scallops.
Total time: 50 minutes
The Jalapeno wrapped in the enticing and heavenly bacon is hard to resist. Now imagine you top it off with the sweet and buttery scallops. Does it make your mouth water yet? So the idea of pairing this recipe with this beloved seafood sounds good, right?
But first, let's take a closer look at the Keto Jalapeno poppers themselves. You can enjoy them as a keto-friendly starter before the main course. But the dish, when paired with scallops, is so great that it can become the main attraction itself.
The assembling process is fairly simple with only 3 ingredients involved. You can either make it with an oven or an air fryer. I highly recommend you use the latter as it's more convenient. All it takes is about 20 minutes at 370 degrees with this cooking appliance.
The end results are crispy and tender on the outside yet creamy in the middle. It's the salty and sweet taste of bacon combined with spicy Jalapeno that hits it off. For extra crispness (especially the bacon top), you can broil the final product for a few more minutes.
Total time: 30 minutes
This recipe is perfect for those who want a healthier option. Tuscan bean soup provides plenty of vegetable protein, while the scallops are also rich in animal proteins, so it's a win-win combining them both.
The ingredients may be long at first glance, but the cooking steps are simple and won't take you more than 30 minutes to go through all of them. It mostly involves cooking and stirring the items until the soup achieves a thick, mouth-watering consistency.
The best words to describe this soup are savory, hearty, and filling. Tuscan beans fill you up without making you feel bloated or full, thus creating a comforting and warming experience. Besides the scallops, you may want to serve this soup with a toasted whole wheat baguette.
Don't hesitate and try to make Tuscan bean soup on your own now.
Total time: 35 minutes
Polenta is a staple food of Northern Italian, Swiss and Balkan cuisines. Its two main ingredients are chicken stock and cornmeal. But you can add in more items of your choice for an enhanced taste. For instance, you can toss in onions, garlic, butter, etc.
Creamy Polenta is effortless to whip up. It makes for perfect comfort food that also plays well with scallops. Plus, this dish is also healthy and a rich source of fiber and protein.
This is truly one of the most tender recipes in the world. Having said that, should you find the whole thing too creamy to your liking, add in more water or broth to loosen it up. What's cool is that you can make this recipe one day ahead.
As for substitutions, it's possible to replace unsalted butter with olive oil when you cook the onions. Similarly, when cooking the polenta, you can substitute the chicken stock for vegetable stock (or even just water).
Total time: 30 minutes
This recipe calls for not only your basic cooking skills but also your watchful eyes because you need to routinely flip and turn the veggie skewers and make sure that they don't overcook.
Still, it's no hard work at all. You need to be patient before biting into these delicious servings. Don't forget to marinate the veggies before doing the turning process. Just chop the veggies and whisk them together in the marinade in a bowl.
Always allow the marinated vegetables to rest for at least 20 minutes so that they soak up all the marinades, thus enhancing the flavor even more. Ideally, you want to soak for 1 hour. Here's one tip for avoiding over-burning the products: cook them over medium-high heat.
You can eat the vegetable Kebabs as an accompaniment to scallops. Alternatively, it's possible to marinate and grill the veggies and the seafood together for extra flavor.
Total time: 20 minutes
You can whip up a fine-tasting clam specialty to accompany scallops. What's a better way to get the rich amount of protein you are asking for? People often cook these two in pasta.
Despite some differences, they both are famous shellfish dishes. Furthermore, the inside part of their shells is edible. Flavor-wise, they are very similar with a sweet and buttery taste. You can also feel the hint of nutty flavor.
For this recipe, you should use littleneck clams. This is because they are the smallest and sweetest variety, thus more suitable for steaming. Another thing to remember is always to soak your clamps in cold water for at least 20 minutes to clean out the sand or grit.
Total time: 36 minutes
Mashed potatoes are the side dishes that bring the heartiness that scallops lack. The creamy and rich taste of this starchy vegetable is a welcoming addition to the lightness of scallops. This briny and springy seafood becomes better just by eating it with mashed potatoes.
If you are in a hurry or want to have a serving of mashed potatoes ready as soon as possible, then this instant pot recipe is the one you want to take a look at. Just place the prepared potatoes into the pot, set it to cook on high-pressure manual mode, and wait for 11 minutes.
This recipe tells you to add sour cream, cream cheese, and butter. But there are many more ingredients you can add. Other recipes may include garlic, half and half, bacon, or almond milk. Just use anything to take your fancy.
You don't want to miss this easy recipe for the best mashed potatoes.
Total time: 10 minutes
If you prefer fruits over vegetables, then I have just the recipe for you. Watermelon with feta and mint skewers are among the best kebabs to eat with scallops. It's perfect for a summer party.
This recipe works best with grilled scallops. Plus, it's more convenient that you use the same cooking method for both of them. What's special about this recipe is that it uses aged balsamic vinegar (not balsamic glaze) for better flavor.
One thing to note is that watermelon and scallops do not cook at the same rate. So it's best not to grill them on the same skewers. You should serve grilled scallops and this dish with rice and a green salad.
Total time: 20 minutes
What is Swiss Chard? It is a green leafy vegetable with edible stems and leaves. Interestingly, despite the name, it originates from Sicily, Italy, not Switzerland. People believe that this veggie got its name because a Swiss botanist determined the plant's scientific name in the 19th century.
This is a simple sautéed Swiss Chard recipe with onions, garlic, and balsamic vinegar. It's a healthy low-calorie side dish to pair with scallops. The greens and garlic provide a refreshing counterpoint to the seafood's richness.
There are many ways to liven this dish. For example, you can add some toasted almonds or pine nuts to the finished products. Alternatively, it's sensible to put in fresh herbs like oregano, thyme, mints, etc.
Tips: Any hearty spring greens or even broccoli rabe can be a good substitution for Swiss chard. You can also add fresh thyme or tarragon cheese for extra flavor.
Total time: 30 minutes
Scallops provide the protein and the carbs, so it's no secret that you should pair them with some veggies to balance the diet. Israeli couscous salad fits the bill.
It is a kind of toasted pasta that you can combine with a variety of veggies to incorporate more greens into the not-so-healthy scallop dishes.
The texture and taste of this Israeli Couscous salad are similar to pasta but have a pearly, slippery surface. This is thanks to the lemon dressing in the recipe.
Here's a quick guide on how to prepare scallops to eat with this dish. Put them into a skillet coated with cooking spray, then sprinkle salt and pepper. Finally, sear the scallops on each side until you cook them thoroughly. Just top them onto Israeli couscous salad, and you are good to go.
Explore how you can make Israeli Couscous salad to enjoy in the summer.
Your Choices Of What To Accompany Scallops Can Take It To The Next Level
There are so many dishes that pair well with scallops than you think, right? I hope that this article has helped you learn so much more about these meals and their compatibility with this well-known and beloved seafood.
The scallops are light in flavor by themselves, so when you can easily pair them with other foods and help bring out the subtle flavor that may be hidden within those meals. On the other hand, avoid serving scallops with something too bold, or else you risk underwhelming them.
Please share this article so that more people are aware of this topic and can talk with you about it. Plus, what other foods do you believe pair well with scallops? Leave a comment and tell everyone about them!