What to serve with prime rib? This is a common topic, and many people are still looking for the results of this question. Are you also wondering about this? Then, read this article for various practical and simple suggestions.
If you are a prime rib lover, you cannot miss these mouthwatering side dishes to make prime rib more appealing. Let's show your cooking talent off by making these excellent accompaniments to surprise your diners.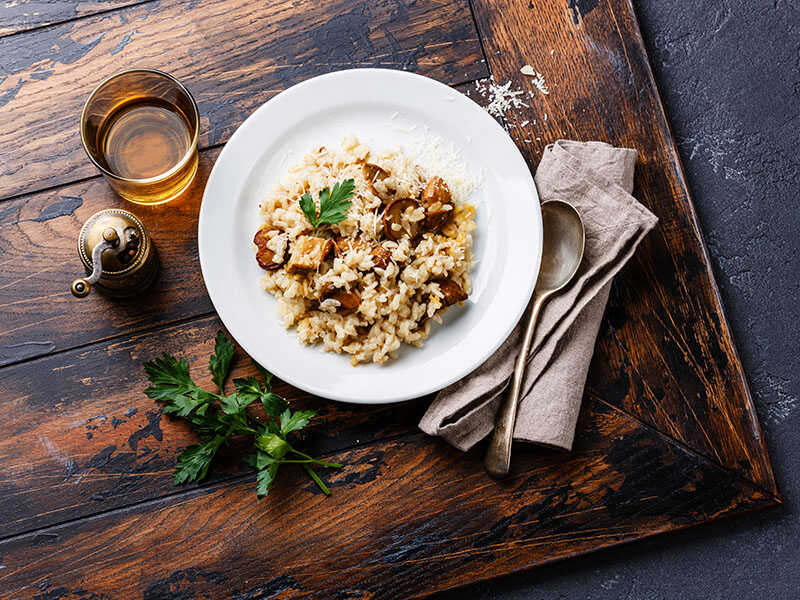 Enjoy Your Prime Rib With These Appetizing Side Dishes
If you have prime rib on hand, do not hesitate to prepare delicious side dishes to consume together. Let's pick your desired option on this list and try it right now!
Total time: About 1 hour 15 minutes
It's time to get in the kitchen and turn acorn squash, pecans, and maple syrup into a great accompaniment to prime rib. You will be immersed in this mouthwatering dish's mild sweetness and savory taste.
Acorn squash and pecans are rich sources of fiber, vitamins, and antioxidants, so this food is beneficial to your health. For serving, you should mix it with brown sugar butter, cinnamon, or olive oil to enhance its value.
Furthermore, it is also an ideal accompaniment to pasta, roasted chicken, or roasted pork tenderloin. Let's bring new experiences to diners by substituting walnuts for pecans and honey for maple syrup.
Do you know how to make roasted acorn squash? It's time to learn!
Total time: About 1 hour 30 minutes
Why don't you try making green bean casserole to go with prime rib for Thanksgiving? This fantastic recipe is made entirely from scratch and doesn't involve any canned food. So, you should make it on holidays, when you have lots of free time.
The soul of this delicacy lies in the silky and creamy mushroom soup. The wild mushroom flavor and rich taste of spices will steal your soul as soon as you try this dish. When making this dish, make sure to keep the natural green hue of the beans.
I do not recommend cutting green beans into small pieces. Blanching the beans in boiling water for a few minutes and putting them in the ice bath will keep them green and crisp. For serving, top the dish with fried onions to make it better.
Total time: Around 40 minutes
This yummy dish with cauliflower and cheese is easier than you thought. This recipe has a signature creamy and savory flavor, and its cheesy texture can capture your heart from the first bite. Hence, let's make this mouth-watering keto side dish for your dinner tonight.
This low-carb recipe includes a variety of cheeses such as mozzarella, cream, Parmesan, and cheddar cheese. In addition, the flavor becomes richer and more seductive with the addition of whipping cream, onion powder, and spices.
When making this food, you must ensure the cauliflower is soft but still retains a slight crunch. To achieve this texture, you should boil or steam fresh veggies for about 5 minutes before proceeding to the next steps.
Find out the directions to make yummy cauliflower mac and cheese.
Total time: About 3 hours 25 minutes
Nothing is better than consuming prime rib with fluffy, tender, and warm dinner rolls. It attracts diners with its beautiful golden brown surface. You can dive into the mildly crunchy top of the roll.
Whole milk, flour, butter, and yeast are the key ingredients of this side dish. If you do not want to get tired with cleaning the cast iron skillet afterward, applying a layer of nonstick spray is best. This food tastes even better when eaten warm.
Total time: About 15 minutes
Broccolini always occupies a special place in my heart when it comes to vegetarian dishes. And crispy oven-roasted broccolini is my best-loved version. I love the mild salty taste and crispiness of broccolini in this recipe.
It is impossible not to mention the umami touch of soy sauce and the rich taste of olive oil in the dish's success. This versatile side dish pairs perfectly with chicken, steak, or other your favorite main courses.
Note, adding salt to broccolini too soon will reduce the crispiness of the dish, so it's more effective to mix this food with the salt after removing the broccolini from the oven. You can bring an Asian breeze into the dish by sprinkling toasted sesame seeds.
Let's get in the kitchen to prepare roasted broccolini with these steps.
Total time: About 25 minutes
Mushrooms are a widespread ingredient in many delicious dishes, and the garlic butter mushrooms and onions recipe is one of them. Its signature caramel flavor will awaken your taste buds instantly.
Not only that, the attractive fragrance of garlic, wine and eye-catching brown color will make you unable to resist this food. Restaurants often serve it with rib, pork chop, steak, chicken breast, and a nice glass of wine.
You can consume this well-loved dish after a few basic operations. After sauteing the mushrooms, you will flavor them with onions, garlic, wine, and spices.
Total time: About 50 minutes
Your menu of side dishes for prime rib will be more diverse with roasted rosemary garlic potatoes. These pieces of baked red potatoes with a crunchy exterior and tender interior will captivate you in no time.
I often consume this delicious dish with pork chops, steak, or grilled chicken at Thanksgiving and Christmas gatherings. In addition to red potatoes, you can try this recipe with golden or russet potatoes.
Total time: About 30 minutes
Caesar salad is a mixture of crispy croutons, meaty bacon, and grated Parmesan. In addition, fresh lettuce is an irreplaceable ingredient in this fresh recipe. The delicate and creamy taste will be balanced with the rich prime rib.
The secret of this salad is the alluring dressing. It is made with various ingredients such as dijon mustard, Worcestershire sauce, hot sauce, and spices. It makes your salad's flavor brighter and more appealing.
Listen to these tutorials to have fresh and perfect Caesar salad.
Total time: About 35 minutes
I guarantee this side dish will attract children and adults in your family. You can hardly keep your mouth from watering when you see these golden roasted butternut squash cubes. Also, the crispy and soft texture will make you love them more.
You must prepare olive oil, salt, and pepper to drizzle and sprinkle on the squash to enhance the taste. Nutritionwise, this veggie contains a lot of fiber, vitamins, and minerals that are good for bone health and weight loss.
For an appetizing dish, you should choose deeper orange or beige butternut squash. One trick to peel the squash faster is to cook it in the microwave for about 2 minutes. Also, make sure to slice the squash into even cubes.
Total time: About 30 minutes
Bring slight sweetness to your meal with mashed sweet potatoes. Its creamy and smooth consistency is an advantage that makes it popular. Also, many people choose it because of its simplicity.
The appearance of maple syrup, cinnamon, and butter will accentuate the dish's flavor. Besides the appealing texture and taste, the distinctive deep yellow color is another dominant factor that creates the intense appeal of the dish.
In case you do not want to lose the smoothness of the dish, you have to peel the potato skin. Furthermore, steaming and boiling are the 2 most effective cooking methods to keep the nutrients for potatoes.
Check out the proper ways to make excellent mashed sweet potatoes.
Total time: About 30 minutes
Grilled corn on the cob is a great companion to prime rib. This is an easy treat because you only need to wrap the corn in foil and grill it over charcoal. This efficient method helps to retain moisture for the corn.
Before enjoying this delicious treat, you'll add pepper, Parmesan cheese, or salt to flavor the corn. Plus, the soft golden corn will have a smokey hint after the grilling process.
This fantastic side dish works great with not only prime rib but also chicken kabobs, Italian burgers, or firecracker Asian salmon.
Total time: About 1 hour 15 minutes
Scalloped potatoes are full of cheesy flavor, although I do not use dairy products or cheese in this recipe. This irresistible flavor results from a combination of russet potatoes, almond flour, coconut milk, and yeast.
This gluten-free, paleo, and vegan-friendly accompaniment recipe is a must-try to keep your body healthy. Moreover, this versatile accompaniment is a perfect choice to diversify the menu of holiday parties like Thanksgiving, Christmas, or Easter.
Yukon Gold or russet potatoes are 2 names you should prioritize when making this dish. If you do not want to eat watery food, stay away from low-fat coconut milk. Also, you can use almond or oat milk when you run out of coconut milk.
You will have different variations with a few minor changes. Adding sage, paprika, or parsley is one way to diversify the flavor. If you are not vegan, do not forget to add ham or bacon to enhance the taste.
Total time: Around 1 hour 15 minutes
Mashed potatoes are a familiar side dish using potatoes at holiday parties. It scores with diners for its rich flavor and cheesy, creamy, and smooth consistency. If you want food full of cheese, it'll satisfy your desire with 3 different types of cheese.
You also feel some gentle crunchy bits on top of the dish when you eat this dish. In addition, the eye-catching golden color will captivate you instantly. Another advantage is that you can make it beforehand for 24 hours before the party begins.
It is possible to use Fontina, goat, or Gruyere cheese to bring a new twist to the dish. Before serving it, I usually use fresh chives or parsley to garnish the food. Furthermore, you can store leftovers in the freezer or fridge for later uses.
Follow these directions step by step if you want to taste delicious mashed potatoes.
Total time: Around 1 hour
If you are a potato lover, you cannot ignore these incredible steak fries. It's a simple side dish as you just need to prepare potatoes, spices, and a few common appliances like a sheet pan, plastic bag, and an oven. You'll get golden brown and aromatic fries after about 1 hour.
You'll be addicted to these potato slices' crisp outside and soft inside. In addition, a little spicy paprika and chili powder will tickle your taste buds immediately. Plus, it is better to consume them with your best-loved sauce.
For yummy fries, high-quality potatoes play an important role. You should buy firm and crispy potatoes for better consistency and flavor. Avoid choosing potatoes with blemishes and cuts.
Total time: Around 35 minutes
The prime rib tastes even better when served with balsamic maple roasted brussels sprouts with bacon. Its taste is pretty diverse with savory, sweet, and salty tastes. This wonderful flavor is suitable for Thanksgiving or Halloween parties.
Roasting is an intelligent way to improve bitterness from brussels sprouts. In addition, you can find the caramel flavor thanks to the presence of pepper, salt, and olive oil. Not only that, the crunchiness of this veggie will make you fall in love with this treat.
To save time, you should buy trimmed and pre-washed brussels sprouts. This food tastes best with pure syrup, so skip the thought of using pancake syrup. There is no problem if you omit the bacon from this recipe.
Total time: About from 45 to 50 minutes
Maple glazed roasted carrots will help elevate your prime rib with sweet, savory, and caramel flavor. Furthermore, roasted carrots have caramelized texture at the edges that help increase this food's aesthetic.
Nutritionwise, it is a healthy side dish that is gluten-free, paleo, and vegan. Also, you can make this delicacy more interesting by garnishing it with fresh or dried herbs.
To get the best texture, I recommend diagonally slicing carrots into three or four pieces. You can use olive oil instead of butter or ghee, but it will be less effective. It is better to vary the flavor by adding cinnamon, paprika, or chili powder to the recipe.
Total time: About 35 minutes
Yorkshire pudding is a traditional accompaniment of British cuisine. Usually, you'll combine eggs, flour, and milk to make this delicious dish. After pouring the batter into tins and baking for about 15 minutes, this delicacy is ready.
You can serve this incredible dish in many different ways. It can work well with onion gravy, meat dishes, or sausages. In particular, it is an essential part of Sunday roast (British traditional Sunday meal).
Aesthetically, it grabs diners' attention thanks to its distinctive brown shade. This food tastes slightly sweet and has a soft and crunchy texture. In fact, you can attend the National Yorkshire Pudding Day on the first Sunday of February in the UK and on 13 October in the US.
It is not complicated to make Yorkshire pudding with these instructions.
Total time: Around 5 minutes
Are you searching for a delectable side dish to mix with prime rib at a Christmas party? The Greek yogurt creamed spinach is the best suggestion for busy people since it only takes about 5 minutes to finish this food.
It looks so refreshing with spinach and yogurt's white and green colors. You can use frozen or fresh spinach, depending on your preference. Nevertheless, fresh baby spinach is better since it gives a mild flavor and saves cooking time.
You can add a bit of citrus touch by putting a few drops of lemon juice on top of the food. This way, you'll find a slightly sour flavor when consuming this food. In addition to prime rib, you can enjoy it with sandwiches, rice, pasta, or pizza.
Total time: About 55 minutes
There are many elements that will make you love this mushroom risotto recipe in no time. It will win your heart with the creamy, thick, and cheesy texture and rich flavor of butter, mushrooms, and Parmesan cheese. Also, its components are cheap and easy to find.
You can feel free to create dairy-free, vegan, and vegetarian versions with a few variations. In particular, this wonderful dish is an ideal choice to go with meat and fish dishes.
You should remember these tips for the most delicious side dish with rice. First, don't wash the rice before cooking. You should add the broth to the rice slowly and stir continuously. Also, add mushrooms to the risotto at the end to avoid overcooking.
Make The Sides To Serve With Prime Rib
You can expand this great list by adding your other suggestions via comments. Furthermore, it is a fantastic action when you introduce this article to people around you to help them know about these helpful recipes.
These recipes not only elevate your party quality but also leave a good impression in the hearts of your guests. I hope you get a chance to show off your culinary talents with these fantastic recipes. Thanks for your time!