What to serve with potato soup is a very popular question! I used to be clueless about any meal that would go well next to this creamy soup. However, after some time looking, I have gathered the top sides so you can quickly eat with the soup for a complete meal.
You will learn specific recipes that require minimal work and supplies. To help you get the best meals in town, there are also some more tips and methods available. Nothing can prevent you from cooking delectable cuisine now! Find out more by reading on!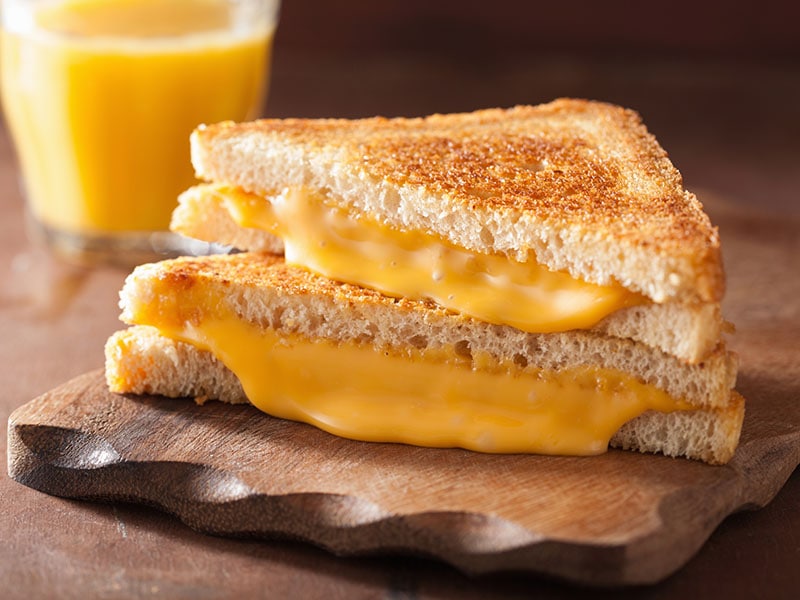 16 Toothsome Side Dishes To Pair With Potato Soup
There is no more boredom of eating potato soup alone when you have this list of great side dishes. They provide the best dining experience with minimal time and effort. Scroll down for more details!
Total Time: 18 minutes
Nothing is more enjoyable than garlic bread to eat alongside potato soups or delicious potato casseroles, for that matter. Imagine how the tasty and crunchy pastry piece would complement the rich warmth of the soup before slowly melting in your mouth. The contrast is stunning!
To make this elegant delicacy, you only need two elements: bread slices and garlic cream. While the base is toast from bread cut, the spread is the star of this treat.
The butter and Parmesan contribute to the creaminess. On the other hand, the garlic and parsley enhance the flavors in your piece of bread, ensuring every bite is bursting with garlicky and herby flavors.
Its extended storing period is what makes you adore this side more. Your toast can last up to 2-3 months in the freezer if you store it securely in a wrap or freezer bag. Just make sure your container does not contain any air.
Check out how to make garlic bread easily at home!
Total Time: 4 hours 10 minutes (including 15 minutes of resting time and 5 minutes of setting time)
After digesting the carbs from the potato soup, you should enjoy a protein-rich dish for a filling supper. That's why I offer this delicious and easy-to-prepare Crock-pot ham. All you do is make the sauce and let the Crock-pot work. It couldn't be simpler!
The simmering sauce is the star of the show. Together, mustard and pineapple juice, maple syrup, and brown sugar create a harmonious combination of sweetness and tartness. Cloves, nutmeg, and cinnamon provide aromatic flavor to the sauce.
Best of all, the cooked ham provides salty juice to the sauce, helping to balance out all the flavors. Add some pepper for some spiciness, and your ham is the tastiest.
To save time, you can make this delicacy in advance. Then, a few hours before the serving, you heat it in a warm setting with water or seasoned stock to bring back moisture and deliciousness.
Total Time: 2 hours 55 minutes (including 2 hours of rising time)
These handmade dinner rolls are a banger treat to serve with pork tenderloin or a creamy creation like a warm bowl of potato soup. On the other hand, these delicacies are soft and fluffy rather than crispy, making them perfect for young children and old people to enjoy.
Although the prep time seems to be long, the rising stage takes up most of it. Simply combining all the ingredients and baking the dough is all it needs.
The bread flour and activated yeast will help these golden pillows rise and acquire a chewy texture. Olive oil and sugar cane, meanwhile, add moisture and sweetness. Finally, a dash of salt comes to complete your flavor.
If you cannot consume all the rolls at once, feel free to store them in the freezer. They ought to last for up to 2 months in the airtight container.
Total Time: 15 minutes (including 10 minutes of sitting time)
Strawberry spinach salad is refreshing in appearance and divine in taste. Therefore, you should use this salad bowl to add brightness to your starchy potato soup. In no time, every diner will adore your filling supper.
The strawberries and spinach provide a harmony of sweetness and sourness. The feta cheese enhances each bite with a rich flavor. In addition to pleasing balsamic salad dressing, the crunchy and buttery toasted pecans also level up your side dish to the next stage.
Red onions can offer an extra flavor if desired. Your tangy salad will be more inviting, thanks to their heat. However, they have a strong flavor that can mask other flavors, so you should soak them in ice water to avoid this.
Total Time: 45 minutes (including 20 minutes of resting time)
Here is another pastry to accompany your potato soup and fill you up. These homemade, soft, buttery pretzels are delicious, golden, and affordable. Once you get to this recipe, store-bought pretzels are no longer an option.
All you need to make the dough is flour, yeast, butter, and salt. In addition, a boiling bath of baking soda and water is the highlight of the preparation process.
After bringing the baking soda bath to a boil, quickly dip your fresh pretzels in it before baking. In this manner, your dough instantly puffs up, resulting in a fluffy interior and a crispy exterior. To add flavor, you can also sprinkle salt before and after baking.
Let's discover how to make soft pretzels properly at home!
Total Time: 15 minutes
Swap strawberry and spinach for apple and arugula, and you will have another flavorful salad to serve next to potato soup.
Honestly, I love this rather than the previous one. The crisp and sourness of green apples are indeed my favorite. Along with a distinctive spicy kick of fresh arugula, no one can resist this delight.
Also, you may find this dressing easier to make since no fancy ingredients are required. Pick a lemon in the garden and mix in olive oil, a little salt, and pepper to finish. Your final salad bowl should be fresh and zesty.
To minimize waste, you should mix the salad and dressing just enough. The rest can be stored separately to ensure crispness and freshness. Your side dish will keep in the refrigerator for 2-3 days.
Total Time: 35 minutes
This fancy-looking Brussels sprout dish is quite straightforward to make and great to serve alongside potato soup. Better yet, the recipe can be a delicious accompaniment to chicken parmesan to diversify your meal option. So give your family a hearty serving of this delicacy.
Roasting these small greens in olive oil and bacon recreates a delectable crispness. Thanks to the balsamic vinegar and honey, your side dish will be pleasantly tart and sweet in every mouthfeel.
Since balsamic is the prominent flavor in the entire recipe, you ought to pick vinegar of the highest grade. Its quality taste will come into play more clearly when you enjoy the Brussels sprouts with fancy sweet potato desserts. The combination of sweetness and tartness is simply magical!
Total Time: 40 minutes (including 5 minutes of cooling time)
How about adding more potato snacks to the dinner table? Your potato soup and these mashed potato puffs will go together beautifully. This combination will give you more textures and flavors than when each is consumed alone.
Mashed potato puffs rise and become fluffier due to the aid of eggs. Under the heat, their outside gets crispy, but their interior stays creamy. In addition to the chives, the cheddar cheese and bacon bits add to the cheesy, fatty, and garlicky sensation.
My puffs also contain red pepper flakes or jalapenos. These additional ingredients will stimulate your taste buds with their spiciness. But don't worry – the sour cream on top will instantly cool the heat on your tongue.
Total Time: 38 minutes
Potatoes pair best beside the richness of milk, but not everyone likes the greasy feeling in their mouth. These buttermilk biscuits are there to help. You can make this side dish quickly with just a few ingredients from your cupboard.
Thanks to baking soda, your biscuits will be quite fluffy. Meanwhile, the folding and rolling motions produce a layered texture.
Flavorwise, cane sugar and buttermilk give the whole dish a distinctive tanginess and a touch of sweetness. As always, salt is indispensable. Together, they lend your biscuits a well-balanced flavor that is neither overly sweet nor tangy.
If you intend to serve potato soup, prepare these mouthwatering pastries beforehand. They will remain delectable in an airtight container in the fridge or kitchen cupboard for up to three days.
Total Time: 8 minutes
This sautéed kale is very basic, but it is undeniably excellent next to any comforting soup. It has robust, earthy kale, tangy olive oil, and spicy garlic. A mouthful of steaming soup and a chopstick of sauteed greens will blow your mind with their pack of all-natural flavors.
Tuscan kale will provide the best flavor for this dish. Compared to the others, this vegetable has a more pleasant sweetness. With it, sautéd kale can be a healthy side for baked potatoes, tater tots, French fries, and more. But curly kale is another popular option if it is not easily accessible.
Sauteed kale is the most effortless side that takes you minutes to finish!
Total Time: 25 minutes
To all my vegetarian readers, this one's for you. This Italian chopped salad contains many crunchies of vegetables. Once tossed in garlicky vinaigrette and topped with cheese, your side dish is zesty and flavorful to place next to any cozy soup.
The beauty of this amazing veggie side lies in cherry tomatoes and canned chickpeas. Cherry tomatoes bring sweetness to the salad plate, whereas chickpeas turn it into a nutrient-dense dish full of fiber and proteins.
In case you want to make ahead, you should refrigerate the leafy greens, vegetable mixture, and dressing separately. Doing so will keep the salad fresh for up to 5 days. Toss them together and season salt and pepper to taste before serving.
Total Time: 1 hour
Next is Moroccan beet salad, a vegan and gluten-free side dish. Though it contains only some simple ingredients, this delicacy will hold your attention because of its colorful appearance and delicious taste.
Beet and Moroccan orange come into this earthy and floral salad. The vinegar adds a delightful sourness. On the other hand, fresh mint gives your food a subtly sweet and cooling sensation. Combining these ingredients provides a bright mouthfeel perfect for your heavy soup.
However, the beautiful color of beetroot may leave an ugly stain if it clings to your clothing. So, an apron is a must during cooking. In case of any beetroot stains, you can get rid of them by using hot water and citric acid.
Total Time: 2 hours (including 1 hour of draining time)
Breaded eggplant cutlets are a terrific choice if you enjoy a crunchy crust but are sick of chicken. They deliver to you a juicy interior and a crispy crust. Additionally, these vegetarian patties can be a wonderful dish to accompany potato salads and significantly increase your fiber intake.
You should not skip the salting process for the eggplant because it aids in removing the moisture and frying these cutlets more effectively.
A quick tip for creating ideally crisp cutlets is to use a panko crumb to test the heat of the oil. Your oil is ready to fry when the crumb sizzles without sinking or burning. Keep in mind that if you overcrowd the eggplant slices in the pan, they will not get as crisp as you desire.
Let's turn these Italian breaded eggplant cutlets vegetarian by omitting the Parmesan!
Total Time: 20 minutes
Caesar salad is always my go-to side dish due to its fresh and accessible qualities. Moreover, this recipe does not call for anchovy paste, which can be difficult to acquire in supermarkets. So you can be confident that this delicacy is easily accessible.
You only need to cut some romaine lettuce, bake croutons, make the dressing, and combine to create the side dish. The avocado mayonnaise, Dijon mustard, and Worcestershire sauce will give your salad the delightful tanginess it needs.
Besides, using capers in place of anchovies gives the dish a bold salty flavor to balance out the other ingredients, and the crunchy croutons soaked in olive oil provide fresh herbs and a fruity flavor.
Remember to pat dry your romaine to avoid wetting the salad bowl. A salad spinner should be ideal assistance. Another suggestion is to add the dressing last – right before serving, to avoid having your romaine become soggy from the liquid.
Total Time: 20 minutes
Potato soup and cheese may seem an unlikely combo. But this grilled cheese sandwich will convince you otherwise. To make an excellent side for your potato soup, heat a skillet or nonstick pan and follow my method. All it needs is white bread, butter, and cheese.
Melted butter gives your bread a crunchy, gorgeous golden color, while sharp cheese adds a rich, creamy filling. Thanks to these two ingredients, each bite you take is buttery and cheesy at once.
Since too much butter can make bread greasy, you should brush just enough melted butter on the bread. You might also use mayonnaise or olive oil if you don't have butter at home.
These alternatives result in the same exterior but slightly distinct tastes. Olive oil produces a fruity sandwich, whereas mayonnaise makes it mildly tangier.
Total Time: 25 minutes
The last dish is a unique staple from South India, Thengai Sadam (coconut rice). This recipe can help you turn leftover rice into a finger-licking delicacy, especially when coupled with potato soup. On the same theme, you can pair it with a tasty dish of old mashed potatoes to minimize food waste.
Precooked rice, spices, and fresh coconut should all be cooked together in a skillet before you add salt to taste. Your finished dish should taste enticing and quite fragrant.
Never use mushy rice since your fried rice could turn out soggy. Also, you can add lemon juice to it if you like a bit more zest. This additional ingredient is something I always use to brighten my side.
You can have a timely side to potato soup by doing this coconut rice!
Fancy Up Your Dinner With Warm Potato Soup And Yummy Sides
Is your stomach calling for a cozy meal of potato soup and delicious side dishes? Imagine how divine a scoop of creamy soup served alongside a flavorful delicacy will feel in your mouth. Pick any recipe in this article to satisfy your cravings!
Let me know how things work out by leaving a comment. It would be great to know if your family likes the meal. Plus, give my post a thumbs up and share it to benefit the community. Thank you, and I will see you in the following article!
Nutrition Facts
8 servings per container
---
Amount Per ServingCalories300
% Daily Value *
Total Fat 15.6g

24

%
Cholesterol 3mg

1

%
Sodium 401mg

17

%
Potassium 81mg

3

%
Total Carbohydrate 32.4g

11

%

Dietary Fiber 1.4g

6

%
Sugars 1.5g

Protein 7.9g

16

%
---
* The % Daily Value tells you how much a nutrient in a serving of food contributes to a daily diet. 2,000 calories a day is used for general nutrition advice.