What to serve with Pierogies? They are tasty on their own: the dumpling dough and the savory fillings made of cheese, potatoes, Sauerkraut, meat, etc. Yet, these humble dumplings deserve wonderful accompanying dishes that can take their flavors to a new height.
The good news is that this European delicacy not only pairs well with European dishes but also with other common sides that you may be familiar with. Scroll down for the detailed recommendations right below!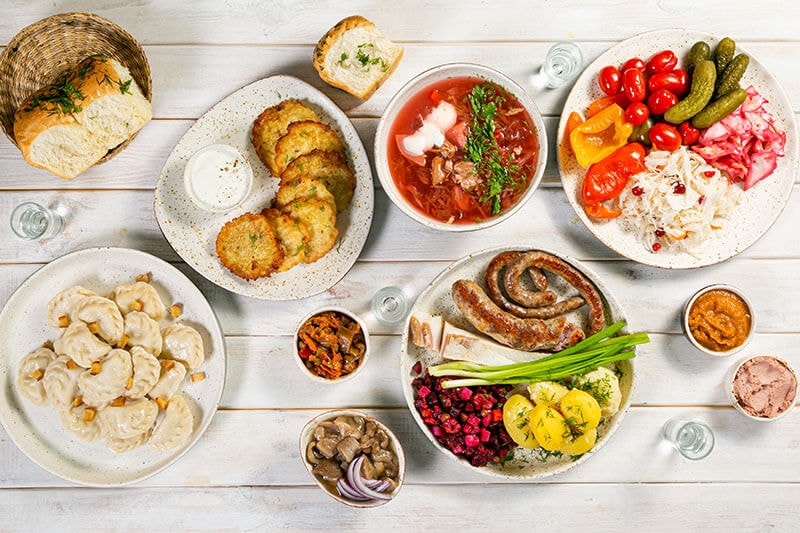 What To Serve With Pierogies – 13 Tasty Dishes To Complete Your Dinner
Pierogies have European roots, so they go perfectly well with toothsome Kielbasa entrees or Borsct-related creations. Yet, their side dishes exceed the geographical border, with options such as Southern bacon-fried cabbage, cranberry relish, or roasted veggies.
Total time: 5 minutes + 1 hour of refrigerating time
Creamy cucumber salad is so versatile that it can pair with many dishes. It also works pretty well to complement pierogies.
Toss crisp cucumber slices and tangy red onions in a creamy dressing made of mayo, sour cream, and fresh dill. Then, let the freshly dressed salad sit in the fridge for an hour to allow the flavors to combine well.
This salad is great to make ahead, but you'll need to make sure to store the veggie and dressing separately.
Once the salad is dressed, it can last up to 3 days in the fridge. While the flavors become more intense, the cucumbers will start to lose their crispness and become limper. So, it's best to enjoy this salad when it's still crispy.
Total time: 45 minutes
When paired with the savory dumplings, this sheet pan side dish is sure to keep your whole family satisfied. The best part is that this side gets ready within 45 minutes, and the oven will do most of the heavy lifting for you.
Roasting brussels sprouts helps the veggie have a crisp and golden texture on the outside and tender on the inside. The crispy bacon on top gives it a salty bite, whereas the acidity from the vinegar helps balance everything out.
Total time: 15 minutes
Cranberry relish, also known as cranberry sauce or jam, is a popular condiment for turkey, stuffing, mashed potatoes, etc., on Thanksgiving or any other special occasion. So, if you serve savory pierogies in a holiday feast, this versatile condiment will get your back.
This cranberry relish comes together in a snap. It has the tang of fresh cranberries, the tart-sweet balance of orange juice and zest, and the extra sweetness from the sugar. Apple and pecans also join the gang to perfectly enhance the flavor and texture.
The medley of flavors here matches pretty well with these savory dumplings. You can also use the relish as an exciting accompaniment for pizzas. The tip is to make this relish a few hours beforehand (1-2 days, ideally) so that the flavors can reach their fullest potential.
This homemade 3-ingredient cranberry relish will make you never want to return to the store-bought version again.
Total time: 45 minutes
Veggie-dense salad is the best option for a refreshing side to pair with pierogies. Chock full of flavors and textures, this Mediterranean-inspired salad is one of the perfect choices.
Besides roasted pumpkin and beetroot, the mixture has lentils, red onions, and pumpkin seeds for extra textures. The citrus dressing adds a nice zing to the roasted pumpkin, whereas crumbled feta cheese adds a pop of salty creaminess to the whole dish.
Whether served warm or cold, roasted beetroot and pumpkin salad are exceedingly tasty. It can last around 2-3 days when refrigerated. Therefore, if you have some leftovers, transform them into a full-fledged main dish by topping some chicken or eggs for your next-day meal.
Total time: 1 hour
A simple roasted mix of root veggies is all it takes to elevate pierogies to the next level! Plus, this versatile vegan side can go with a wide array of main courses such as roast chicken, salmon, beef, etc. It is also ideal for accompanying other dishes in a holiday feast.
In this recipe, root veggies such as squash, carrots, or potatoes are cut into bite-size chunks and then tossed in the balsamic-maple glaze. The sauce is particularly delicious, which helps bring out the natural sweetness of the veggies.
Virtually any root veggies can go into this medley. You can go with your favorites, such as Brussels sprouts, celery root, butternut squash, and beyond. Let your creativity run wild, and you can turn this recipe into a great side dish for seafood, burritos, steak, or something else entirely different.
If you want to add beetroot, however, you should go for the golden variety. Using red beets will turn everything into a pink color.
Total time: 1 hour
This comforting soup is a traditional dish in Russia and Eastern Europe with small pastries, such as piroshki or pirogi. It's quite a hearty soup thanks to the beef meat base and starchy potatoes.
In this recipe, you'll use beef stew meat as the base. Then, add chunky veggies, including carrots, potatoes, and beets, into the pot and cook until they soften. Finish with some fresh dill on top and an optional dollop of sour cream.
The ruby color of this soup will beautify your dinner table. You'll also appreciate the convenience that your instant pot offers when whipping up this iconic soup.
Your trusty instant pot will make cooking the Borscht beet soup easier!
Total time: 20 minutes
Combine sauteed mushrooms and pierogies to make a tasty and filling weeknight dinner in no time. With this healthy veggie-centered side dish, the earthy, meaty button mushrooms provide a textural contrast to the dumpling dough.
To saute mushrooms, first, cook them with olive oil and butter for 3 minutes. Then add garlic and stir well for 30 seconds, followed by a splash of Worcestershire sauce, water, and pepper, and cook until the liquid evaporates.
You should proceed in small batches of mushrooms for the best results. This helps them develop a golden brown and cook nicely and evenly. Otherwise, you'll end up with soggy, unappetizing mushrooms if you overcrowd the pan.
Total time: 55 minutes
This simple yet wholesome side dish is a perfect match for savory pierogies. In terms of flavor, cabbage doesn't rank high among all the veggies. However, when incorporated into this classic Southern recipe, this veggie is the spotlight alongside the savory bacon slices.
Here, small chunks of cabbage are cooked in the bacon fat along with aromatics to enhance the flavor. They are then topped with chopped bacon, which provides a distinctive smokey and salty flavor and adds more texture.
Cabbage and pierogies, unexpectedly, create a harmonious combination of flavors. The veggie can also be the filling of these dumplings in place of traditional potatoes. So, when it serves as a side dish, rest assured that the combined flavors will turn out amazing every time.
This easy and delicious Southern bacon-fried cabbage is a wonderful accompaniment to your pierogies.
Total time: 45 minutes
As pierogies are already rich, a simple accompanying dish that won't overpower the flavors of these dumplings is also a nice option. These roasted cherry tomatoes are a good example! Prepare this colorful, kid-friendly side recipe, and your little ones will soon fall in love with it!
This side dish contains halved cherry tomatoes coated in fresh herbs, garlic, and olive oil and then roasted in the oven to perfection. Roasting is one of the best ways to enhance the sweetness and flavors of tomatoes.
These tomatoes are juicy and slightly charred on the outside when roasted, making them a wonderful side for your dumplings.
Total time: 15 minutes
Packed with nutrients, flavors, and textures, this quinoa cabbage salad is all you're looking for in a healthy side for pierogies.
Quinoa doesn't have much flavor by itself. Yet, the grain has a unique texture that can easily absorb the flavors of almost all the dressings. Thus, it makes a perfect base for this cabbage salad. Better still, quinoa also gives a boost of fiber, vital proteins, and nutrients.
Adding carrots, black beans, and roasted sunflower seeds helps diversify the salad's texture. Finally, honey-balsamic dressing binds everything together. Its tang and sweetness help bring out the flavors of the veggies as a perfect side to serve with savory Polish dumplings.
Total time: 1 hour
Pierogies stuffed with creamy mashed potatoes with caramelized onions on top make for a wonderful dish for your game day party. This simple topping helps the dish strike a fine balance of sweet and savory flavors.
In this recipe, onions are flavored with only butter and salt and caramelized until tender and deep brown. You can keep them in the fridge for up to 4 days and up to 3 months when you freeze them.
Follow this detailed guide to make the best caramelized onions to serve with your pierogies.
Total time: 1 hour and 15 minutes
If you're looking for something comforting and cozy to serve alongside your dumplings, this soup is the way to go! Luxurious, creamy, and smooth, this cauliflower soup perfectly goes with pierogies to create a hearty dinner. They will hit the right spot on chilly, snowy nights.
While the soup takes a bit of time to whip up, it only requires 15 minutes for prepping. Besides cauliflower florets, there are beans, cashews, and nutmegs to boost the flavors. The lemon juice adds a note of brightness to this rich and creamy soup.
Total time: 45 minutes
Kielbasa is known as a staple in Polish cuisine. In the Polish language, it doesn't refer to a specific type of sausages but is a general term for all fully-cooked, U-shaped Polish sausages.
Pierogies are also one of the mainstays of the Polish diet. So, it's understandable why pierogies and Kielbasa flavors can pair well with each other.
There are no hard and fast rules when it comes to serving Kielbasa with pierogies. For example, This recipe comes with veggies such as broccoli, potatoes, and sweet potatoes for a more well-rounded meal.
Elevate The Humble Pierogies With These Side Dishes!
While pierogies are amazing on their own, they only have starch and protein. Serving them with other side dishes not only adds more nutrients to your dinner but also takes these dumplings to the next level.
You can never go with popular accompaniments such as Polish sausages, cranberry relish, roasted veggies, or comforting beetroot soup. Serve any of these dishes with your next batch of pierogies, and see yourself how they can complement the dumplings.
Leave a comment to tell me your opinions about these ideas. Hit the share button so people who still wonder what to pair with pierogies like you can find a way to these recipes. Thanks for reading!
Nutrition Facts
6 servings per container
---
Amount Per ServingCalories93
% Daily Value *
Total Fat 6.5g

10

%
Cholesterol 10mg

4

%
Sodium 260mg

11

%
Potassium 70mg

2

%
Total Carbohydrate 8.2g

3

%

Dietary Fiber 0.9g

4

%
Sugars 3g

Protein 1g

2

%
---
* The % Daily Value tells you how much a nutrient in a serving of food contributes to a daily diet. 2,000 calories a day is used for general nutrition advice.