I will show you what to serve with pasta salad the next time you decide to host a summer get-together. You will find all sorts of recipes that you can try to fit any occasion ranging from light side dishes to main entrees.
Though pasta salad is a great and healthy meal, I still think adding a few additional elements will greatly improve the overall effect. So, dig into this article to find what you're looking for.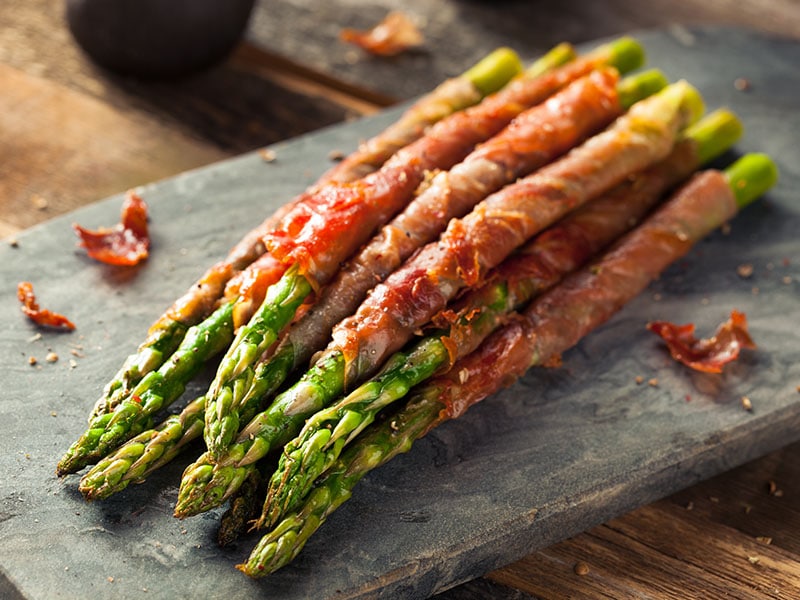 These Recipes Will Make Your Pasta Salad Much Better
These recipes deserve a place on the dinner table next to the pasta salads because they are compatible with one another. If your pasta salad has a creamy taste, you might want to go for something bright and tangy, and vice versa. Happy eating!
Total time: 30 minutes.
There is no debate that garlic bread is one of the most straightforward and delicious side dishes to have with any meal. It is crispy and buttery with enough cheese to keep you happy for days. Try making this recipe the next time you want to have something good with pasta salad.
The best thing about this garlic bread is that it takes almost no time, and everyone loves it. You will need a tough loaf of bread for this recipe to work. A good country-style sourdough loaf will bring flavor and texture to the table.
While you can assemble all the necessary ingredients to make this garlic and cheese crack bread ahead of time, I find that it tastes best fresh from the oven. While baking, you will want to wrap the loaf in foil to ensure the butter and cheese have good meltage.
Uncover the bread and let the oven heat work its magic for another 5-10 minutes or until the crust is golden brown and crispy to the touch.
This cheese and garlic crack bread is so easy and delicious that you'll keep wanting more.
Total time: 20 minutes.
Smashing the burger meat patties makes this recipe one of the best burgers you will ever enjoy. For this recipe, you will want a 2:3 ratio of ground brisket and ground chuck. This combination will provide the best fat-to-lean meat ratio, improving flavors and texture.
Usually, you wouldn't want to handle the meat patties too much. Excessive handling could overwork the protein in the meat, making the patties dry and rubbery. For this recipe especially, you want to limit your influence on the meat as much as possible.
Keep in mind that you want the patties only to be loosely intact. The minimal contact with the meat will ensure the patties have a ragged edge that will crisp up very nicely when you grill the burger. Make this burger to win the hearts of all your party guests.
Total time: 30 minutes.
I love this Vietnamese street food because it tastes like a childhood summer. The creamy sweetness of the corn contrasts beautifully with the acidity. This recipe is cost-effective and will go well with any pasta salad.
Fresh corn off the cob will taste the best, providing the natural sweetness to the dish. But if you don't have much time, frozen corn from your local grocery store will work as well.
You will also need some small dried shrimp. This addition of seafood provides the essential umami flavor and savory goodness to your dish. Sautee everything together in a shallow pan with a knob of butter and garnish with spring onions.
Total time: 3 hours.
Fall-off-the-bone ribs and pasta salad is one of my favorite combinations to enjoy around the barbeque season. When the weather is hot, or people celebrate the holidays, you will find this American classic on most dinner tables.
The flavorful dry rub is the trick to making these juicy ribs fall cleanly off the bone. You can make this rub from scratch with your signature spice mix. A store BBQ rub will work just as well if you are not the most confident chef in the kitchen.
The second key to making beautiful ribs is a sticky BBQ sauce that smothers and tenderizes the meat. Again, you can make this sauce yourself, or store-bought is fine. You will start the cooking process in your oven and finish these ribs in a smoking oven for the best flavor development.
If the meat is as tender as they are in this fall-off-the-bone ribs recipe, you're in for a good time.
Total time: 43 minutes (with 2 hours soaking in the buttermilk).
I am going to let you in on a little secret. I have an undying love for all fried chickens. Buttermilk makes all the difference in the world. If you are unfamiliar, buttermilk is a slightly sour liquid left behind after churning a batch of cultured butter.
The acidity in the buttermilk will soften and moisten the lean chicken meat, not to mention giving it more flavor. As the sour buttermilk breaks down the connective tissues of the chicken, it allows more flavors to saturate the meat. It truly is a wonderful ingredient.
Here are several tips to save you from potential kitchen nightmares. You do not want to fry cold chicken straight from the fridge. Give your meat some time to get to room temperature, so the chicken cooks more evenly.
The second piece of insider's knowledge is to fry the chicken first and then finish cooking the chicken in the oven. Since the outside of the chicken tends to finish cooking much quicker than the inside, it may burn before the chicken is fully cooked.
Total time: 15 minutes.
Pasta salad may taste a bit heavy, so you want something light and hearty to balance it. Let me introduce my favorite turkey pesto sandwich that everyone is obsessed with.
You will want to whip your best batch of homemade basil pesto with any recipe. Remember that the best pesto will culminate in all the essential elements: fresh basil, pine nuts, good quality olive oil, and a healthy grating of parmesan cheese.
Assemble all the layers of the sandwich along with the fontina cheese. Fontina is very similar to Mozzarella cheese, except Fontina cheese is made of cow's milk. Toast the sandwich on both sides in a bit of olive oil until the cheese melts and the toast turns golden.
Total time: 30 minutes.
Carrots are probably one of my favorite vegetables because they are versatile and can hold their shape well. This recipe will show you how to turn julienned carrots (carrots cut to the shape and size that resembles matchsticks) into flavorful fitters.
You only need some whole wheat flour, eggs, and seasoning spices to make a simple but delicious fritter batter. The beauty of this fritter recipe is that you can bake it in the oven, eliminating the need for a pot of boiling oil.
Between the chewy pasta and the creamy, savory dressing of the pasta salad, you will benefit from having a plate of crispy and healthy carrot fritters at standby just in case. These carrot cakes are packed with dietary fiber and vitamin A for good eyes and gut health.
These carrot fritters come together quickly in the oven.
Total time: 30 minutes.
Out of all of the options on this list, you will enjoy this one the most. The term "charcuterie" means "pork-butcher shop". The name describes an assortment of cured meat displayed decoratively on a wooden board. It is endlessly customizable to every taste and every party.
Nowadays, you will find almost as many versions of this food board as the number of people who prepare them. However, you will notice a few common denominators: cured meats, cheeses, crackers, and sometimes, fresh or preserved fruits.
The trick to making a well-balanced charcuterie board is to have an even distribution of texture and flavors. Don't forget to add garnishing herbs. A few rosemary and thyme sprigs will make the board smell good and easier on the eyes.
Total time: 1 hour and 40 minutes.
This recipe offers a newer and fresher take on the timeless roasted potato dish. This classic side dish is popular not just around the holiday seasons but also at almost every American dinner table. This simple but filling dish offers so much familiarity and comfort.
I've always found cooking more exciting whenever science is involved. When boiling the potatoes before baking them, you should add a bit of baking soda to the water to lower the pH level.
The alkaline water breaks down the exterior layer of the potatoes, creating a fluffy starch slurry. These craggy, fluffy pieces of potato starch will crisp up in the hot oven very nicely and form a crunchy exterior skin for the potatoes.
The parboiling (partially cooking the potatoes in boiling water) also helps preserve the potatoes' fluffy interior as it bakes. Season these potato bits with herbs, lemons, and seasoning of your choice to make them delicious.
Total time: 20 – 30 minutes of baking (8-24 hours of proofing time in the fridge).
Focaccia is a type of quick bread that has become increasingly popular in the past few years as more and more home bakers find great joy in baking them. This bread is favorable for its chewy insides and crispy, flavorful crust.
The secret to making the perfect focaccia bread is allowing the dough to develop enough gluten to be chewy. Two traditional ways that bakers have naturally developed gluten is by kneading the dough or refrigerating it for a long time.
Because the dough needs a long time to develop its texture and flavor complexity, you will want to plan ahead of time. Though the rest time is long, you only need a few minutes to get the dough together. That is the technique that you will employ for this no-knead focaccia bread.
One of the flavorings for this bread is olive oil, so don't hold back on splurging when it comes to good quality olive oil. The generous coat of oil around the dough will be instrumental in making the crispy exterior of the bread.
This no-knead focaccia bread won't take you any longer.
Total time: 1 hour and 5 minutes.
These chicken parmesan stuffed bell peppers are straightforward. The best thing is you can use up your leftover chicken for this dish. You can make this recipe as a dinner or supporting dish when you decide to whip up your favorite pasta salad recipe.
The reason why you should use bell peppers is that they are not spicy but rather sweet. They are big enough that each stuffed pepper can be an individual portion. You can make the filling ahead of time and store it in the fridge until you are ready to make the stuffed peppers.
You need to remove the seeds and the pith of the bell peppers before you stuff them with the chicken filling. After you have stuffed the peppers, add a generous amount of cheese. Bake the peppers in a water bath so everything can cook evenly.
Total time: 30 minutes
A little-known fun fact about asparagus is that the amino acids and minerals in these twiggy sprouts can help alleviate the hangover effects of alcohol. So it would be ideal to have this finger food as a side dish to pasta salad if you plan on drinking.
For other bacon applications, I suggest you use a thicker cut because there would be more texture and flavor. But this garlic bacon-wrapped asparagus recipe calls for thinly-sliced bacon to ensure the bacon crisps up after cooking.
You will also need to prepare the asparagus by removing the tough woody end by either snapping them off by hand or cutting them off with a knife. Brush the asparagus with garlic butter, wrap a bundle of three stems in the bacon, and bake.
Total time: 50 minutes.
Greeks are famous for integrating the acidity of lemons into their cuisine. These marinated shrimp skewers take on the lemon and dill sauce beautifully to create one of the most delicious shrimp entrees you've ever tasted.
Combine olive oil, lemon zest, and various spices of your choice to make this shrimp marinade. You must marinate the shrimp before cooking for at least 30 minutes up to 5 hours. Make sure you evenly coat every shrimp.
You will want to use Greek yogurt as a base for the lemon and dill dipping sauce. Greek yogurt has a silkier texture because it goes through a straining process. Add herbs, spices, and lemon juice to taste and enjoy the flavorful shrimps.
Total time: 6 hours and 45 minutes.
Another popular dish for a cookout is pulled pork. This dish makes the best thing out of the cheapest cut of pork you can find.
The affecting variables to getting a tender and juicy pulled pork are the cooking time and temperature. You want to cook the pork as low and slow as possible, causing the meat tissues to break apart but not dry out.
The ideal cooking time for this specific recipe is 1 hour per pound of pork. Cook the pork until the internal temperature reaches 195℉. You can generously rub the pork down with spices and aromatics, so every inch of meat gets an even seasoning.
This video has all the secrets to making the best oven-roasted pulled pork.
Who Says You Can't Pair Other Dishes With Your Pasta Salad?
I have always loved pasta salad in the summertime but also felt I could take it a bit further. These recipes have been on everyone's to-do list regarding what to serve with pasta salads.
If I piqued your interest with all the options on this list, show your support by giving this article a thumb-up. Leave a comment telling me about your favorite dishes to serve with pasta salads and share it with everyone you know. Hopefully, I'll see you again soon!