Are you still wondering what to serve with mac and cheese? Worry no more because this post is here to provide you with various recipes for main dishes and side dishes that go well with mac and cheese.
No one can resist the creaminess and cheesiness of mac and cheese. If you want to raise the bar for your homemade mac and cheese, you cannot miss these mouth-watering sides that go extremely well with this iconic dish.
From plant-based to meat-based dishes, everything can go marvelously with mac and cheese. The potential for mac and cheese dishes is endless. Let's jump right into the list of mac and cheese dishes.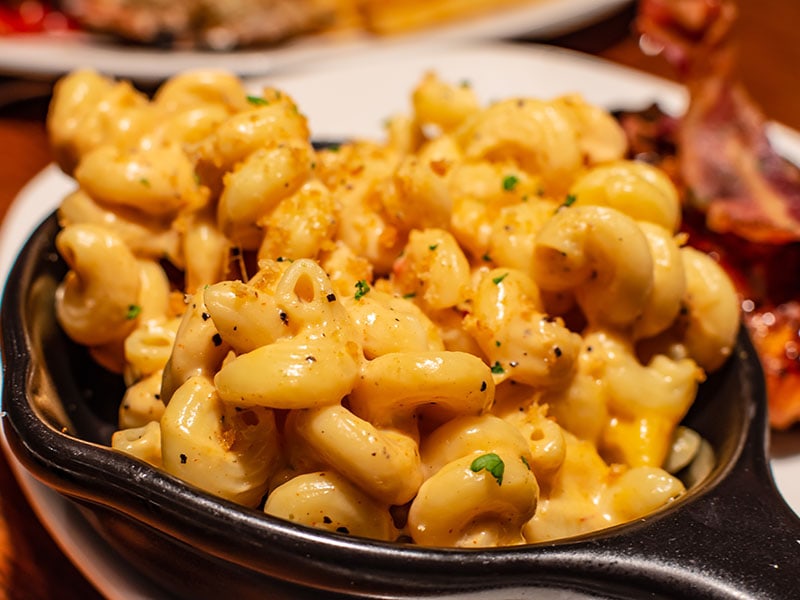 Top 15 Dishes That Go Magnificently With Mac And Cheese
The following list is the top tasty recipes that can go with this comfort food favorite. Try one of them and turn your mac and cheese into a full meal.
Total time: 3 hours 30 minutes
You can never go wrong with this combo. These BBQ ribs are low and slow-cooked to the point the meat is so tender that it could fall off the bone easily. BBQ ribs along with mac and cheese are easy to capture the heart of your guests.
If you want to make good oven BBQ baked ribs, pay attention to the quality of your ribs because only excellent pork can result in juicy and savory baked ribs. Always remove the membranes to increase the flavor and tenderness of the ribs.
The ribs must first go through the rinsing and drying process. Once it is finished, apply a dry rub evenly on both sides. Then, cover the ribs in foil, and they are ready to be baked. A little BBQ sauce at the end of baking time wraps everything up nicely.
Discover how to bring out the best flavor of oven BBQ baked ribs with this guide.
Total time: 12 minutes
The classic house salad is a bustling vegetable side that many people would choose to serve with mac and cheese. It is fresh, crispy, full of flavor, and doesn't take much time to prepare. But the most important thing is that salad is extremely healthy.
Making classic house salad is a lot easier than you think. With simple ingredients like lettuce, tomatoes, cucumber, and onion, you can begin making the perfect healthy side dish for mac and cheese.
Preparing this dish is such an easy process. You only need to put every type of vegetable into a bowl and start to toss. There are many optional ingredients you can add to your salad, ranging from cheese to bacon.
Total time: 15 minutes
Coleslaw originated from the Dutch term 'koolsla' meaning cabbage salad. This salad is full of flavor and easy to make. This traditional recipe is a perfect side for many dishes, including pasta and casseroles.
The ingredients for this dish include mayonnaise, sour cream, white vinegar, and shredded cabbage. The creaminess from mayonnaise and sour cream combined with the freshness and crunchiness of cabbage create a refreshing and delightful side dish.
Just like other types of salads, first, you have to prepare the cabbage and onion. Then, add all the dressing and mix them up a bit. Store them in the refrigerator for extra freshness and to keep them from softening.
Total time: 1 hour 5 minutes
As a part of noteworthy American cuisine, baked buffalo wings are just perfect to go with baked pasta or play as a brilliant chicken opening course to every party. They are crispy on the outside, juicy and tender on the inside with some easy-to-make sauce for dipping.
To achieve that crispy texture, restaurants tend to deep fry them. But with this recipe, using baking powder is the key to crispiness. Buffalo sauce is the soul of this dish; the combination of hot chili sauce, Worcestershire sauce, and butter is just enough for these wings.
The baking process should not be too long as it will dry out the wings. Mix the buffalo sauce and the wings evenly to make sure those wings are coated with spicy, savory flavor. You can cool down the hot heat with Greek yogurt-based ranch dipping sauce.
Total time: 30 minutes
Cornbread is a part of the cuisine of southern America. Of Native American origin, this is a cake based on cornmeal, with a crispy, golden crust and fluffy center. They can be served as a side dish or as a dessert. This delicacy can go very well with mac and cheese.
The ingredients for this dish are very basic; most of them are baking components that can be found everywhere. The ideal way to make this dish is in an iron-cast skillet or cake pan because they retain heat while baking and give you the golden crispy crust.
Always remember to add salt to your mixture because it helps increase the complexity of the flavor. After finishing baking, let the cornbread rest for a few minutes. Otherwise, it will be very soft and hot.
Here is a very simple and savory cornbread recipe that doesn't take much of your time.
Total time: 1 hour 30 minutes
Since the Great Depression, porcupine meatballs have been every American family favorite. These meatballs are made of ground beef and rice cooked in tomato sauce. The dish got its name by the way it looks with the rice grains poking out of the meatballs like a porcupine.
Since these meatballs are tender and rich in flavor, they are soaked in very thick tomato sauce. The rich beef, along with the sweet and sour tomato sauce, will greatly diversitify the flavor of this cheesy pasta.
The ingredients for this specialty are so simple: ground beef, cooked rice, tomato sauce, or the stuff you have on hand. You must make sure that the texture of the meatballs is soft and wet, though they must be firm enough to hold the shape.
Total time: 1 hour 15 minutes
In this next entry, I want to introduce you to this BBQ meatloaf delicacy that goes extremely well with mac and cheese. This juicy, tender, aromatic meatloaf with sweet and smoky BBQ sauce as a main dish will complete your meal with mac and cheese.
For BBQ meatloaf, you must pay attention to the breadcrumb mixture that consists of eggs, breadcrumbs, onions, spices, and ground beef. The best ground beef for this recipe should be 80/20 beef containing just the right amount of fat. Your meatloaf will be so dry without it.
Instead of using a mixing machine, use your hand to mix all the ingredients. Then form it into a loaf, add BBQ sauce, and put it in the oven. A little extra BBQ sauce glaze at the end of cooking will richen the intense flavor.
Total time: 10 minutes
Sriracha Shrimp is one of the summer's all-time favorite starters but you may use it as a side. Everyone is obsessed with flavorful shrimp that are grilled to perfection. When summer knocks on the door, these flavorful, fresh shrimp are the ideal side dish to go with mac and cheese.
Before starting to marinate your shrimps, always pat them dry so that all the seasonings can be absorbed better. Make sure the shrimps are coated on both sides with the mixture of paprika, cayenne, garlic, salt, and pepper.
The sriracha alone is already super flavorful and spicy. Add a little amount of it at a time so that you can easily adjust the flavor. Remember to toss the shrimps evenly to get that sriracha sauce spread all over the shrimps' surface.
Total time: 12 minutes
This tomato, cucumber, and avocado salad is crunchy, fresh, and easy to make. It is an easy, healthy, and flavorful salad that can be served with a variety of dishes. Go for this dish if you are looking for something quick and fresh to pair with your mac and cheese.
For this simple summer salad, all you need are cherry tomatoes, a cucumber, and an avocado. You can add whatever dressings you want. For me, the juiciness of tomatoes, the crunchiness of cucumber, and the creaminess of avocado are more than enough.
Pay attention to the presentation of this salad. You should chop your vegetables into even shapes. The mixing process is very important: toss all the vegetables until they have absorbed all the dressing and become unimaginably flavorful.
Total time: 6 hours 10 minutes
For this recipe, slow cooker sausages with peppers and onions are the ideal combination of sausages, peppers, and onions in beer. This dish's origin is in Italy and was brought to America by immigrants and is just a perfect match for your pasta and cheese dish.
What makes this undemanding slow cooker treat tastes so good lies in the ingredient combination. Even though the sausage alone is great, I must say it is the sweetness of melted peppers and onions as well as the slight beer aroma that makes you come back for more.
The key to this mouth-watering braise is some whole grain mustard and your favorite beer. With a few steps of preparation, the next time you open your slow cooker, everything has been cooked to perfection.
Total time: 18 minutes
Cajun lobster tail is the perfect seafood main dish for you to have with creamy mac and cheese. This dish is one of the juiciest, savoriest lobster tails you'll ever eat. It is coated in a hot cajun sprinkle and butter garlic seasoning.
To get the most flavor out of the lobster, you must choose the fresh lobster tail. Don't overseason it, as a small amount of seasoning will do the trick. Lobster already has a meaty sweetness tinged with some brininess of the deep blue sea.
Grilling time is also an essential factor when making this dish. To retain the sweetness and firmness of the lobster, bake it for a few minutes and add some butter and garlic. After that, put it back in for a minute so that it can absorb all the buttery goodness from the sauce.
The lobster tail is just so delicious and easy to prepare with this tutorial.
Total time: 50 minutes
If you prefer a trouble-free bacon starter that is suited for mac and cheese, why don't you try bacon-wrapped little smokies? Little smokies wrapped in bacon with brown sugar glaze are super yummy and are so easy to make.
For this recipe, there are only 4 ingredients: little smokies, bacon, cayenne pepper, and brown sugar. Little smokies are wrapped in bacon to create a salty, crispy coating that you should top with a sweet brown sugar glaze and some spicy cayenne pepper.
The cooking process is very simple; wrap your little smokies with bacon and add a mixture of cayenne pepper and brown sugar. The final step is to bake them until the bacon layers turn crispy.
Total time: 23 minutes
Let me introduce to you another healthy yet savory vegetarian-based dish. Roasted broccoli is nutty, crunchy, and yummy if roasted in the right way. This meal pairs well with any cheesy pasta specialty since the broccoli adds much taste and nutrition to it.
To prepare roasted broccoli, you need to get your broccoli florets cut and washed. Just like other types of food, make sure that your broccoli is dry so that it doesn't get mushy once cooked. Apart from that, you will need a special ingredient which is a bit of lemon juice.
During the roasting process, you may want to add minced garlic to the baking sheet as it provides so much aroma and flavor to the dish. Don't add the garlic too early, though, because you don't want it to burn.
Roasted broccoli is the most basic veggie dish that you can serve with mac and cheese.
Total time: 3 hours 30 minutes
Baked beans have their origin in Native American cuisine and are a cornerstone of modern American foods. This recipe includes three different kinds of canned beans. It is deliciously sweet and a perfect match for a mac and cheese dish.
What makes this dish special is the sweetness of the beans, the salty savor from the bacon, and even extra flavor from the BBQ sauce. You can turn this dish into a vegetarian dish by skipping the bacon.
For the sweetness, besides the beans themself, you can add some sugar to the dish. There are various types of sugar to use, from dark brown sugar to coconut sugar. Each sugar gives a different flavor to the beans, so you must choose your sweetener.
Total time: 8 hours 5 minutes
Born in Carolina, the pulled pork recipe soon became the staple dish for the Southern American regions. Just like other types of BBQ dishes, it fits with mac and cheese like a piece of the puzzle. A very tender and delicious piece, that is.
The secret to this phenomenal dish is the marinating process. The seasoning for this dish is simple with regular salt, pepper, and other types of aromatic power. You must massage the meat evenly so that every side of the meat is covered in seasoning.
Let your meat sit for several hours so that it can absorb all the flavor from the rub. Add chicken broth to the slow cooker to increase the moisture and savor of the meat.
With this recipe, you will be able to cook pulled pork for your whole family.
Savory Main And Side Dishes That Take Mac And Cheese To A New Level
With such an iconic dish that is so favored as mac and cheese, deciding what dishes to go with is challenging. Countless choices can go with cheesy, gooey, creamy mac and cheese. So what is your favorite mac and cheese partner?
Choosing the dishes to serve with mac and cheese is a bit stressful and time-consuming because there are so many options to choose from. However, with the list of 15 dishes above, I hope that you can easily choose and cook dishes without spending too much time.
If this post is informative and useful for you, please hit the like button. You can share it on your social media so that your friends and family have more choices for what to serve with mac and cheese. Thank you, and wish you all the best!