Lasagna and light bodied wine and side dishes like salads, breads, and soups, are hands down the perfect match.
Whether you are at an Italian restaurant ordering a fine Lasagna plate or at your local supermarket buying a simple version of the pasta, you can find Lasagna popularly eaten around the world and many even prefer to cook it at home.
And now that you are asking yourself "which wine and side dish is good with Lasagna?", you have made it to the right article since I'm about to answer your question.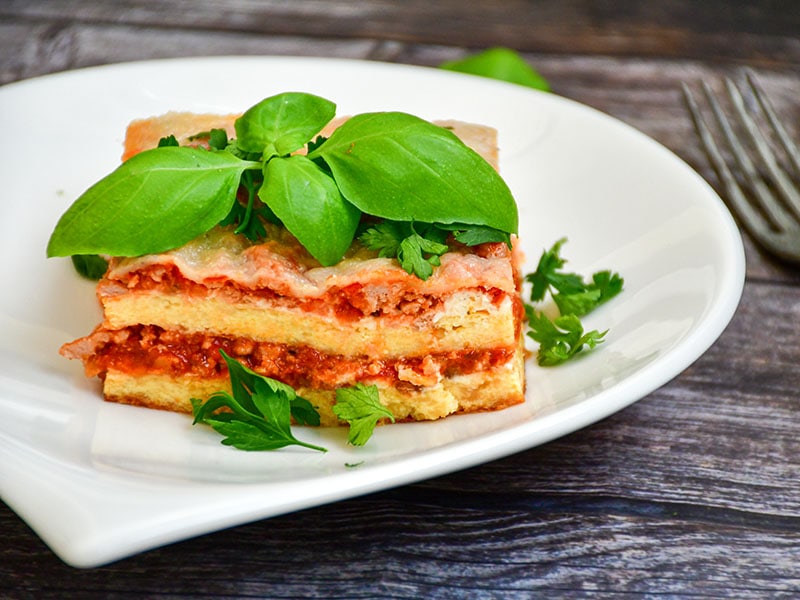 20 Amazing Items To Serve With Lasagna
Below is a list of wines and side dishes that pair amazingly well with Lasagna. Try them out to level up your next Lasagna meal.
1. Red Wine
Cabernet sauvignon brands
Tuscan red brands
Zinfandel brands
2. White Wine
Chardonnay brands
Soave brands
3. Minestrone
4. Ribollita
5. Bruschetta
6. Bread and Balsamic Vinegar Olive Oil Dip
7. Garlic Bread
8. Italian Chopped Salad
9. Caprese Salad
10. Italian Stuffed Artichokes
11. Balsamic Roasted Brussel Sprouts
12. Roasted Tomatoes
13. Sauteed Mushrooms
14. Wedge Salad
15. Caesar Salad
16. Gelato
17. Fruit Salad
18. Panna Cotta
Best Wines To Pair With Lasagna
Either you are dining out or enjoying your meal at home, it always feels wonderful to have a good glass of wine that pairs well with what you are eating. Here are a few wine ideas that will surely meet your expectation for a great Lasagna meal.
If Lasagna Has Meat Inside
If the Lasagna has meat inside, the best option you should go for is red wine.
1. Red Wine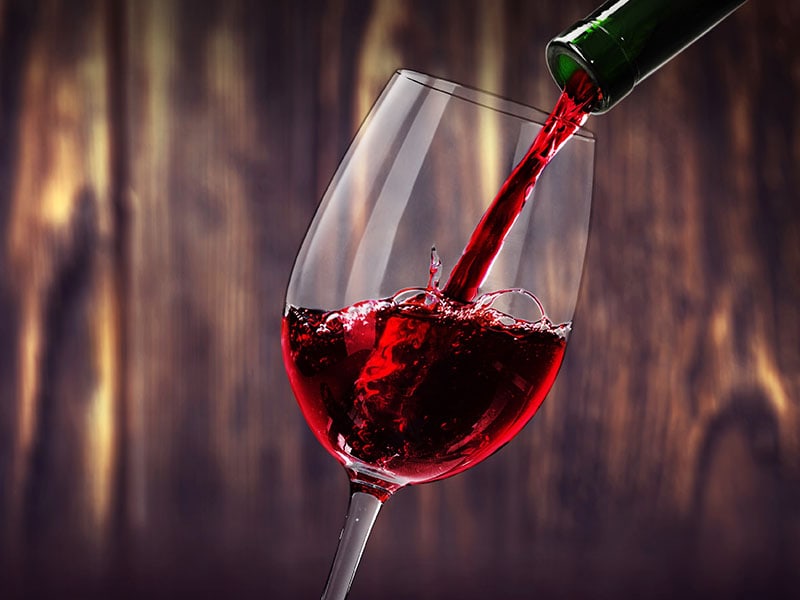 Meat Lasagna is already packed with umami flavor, and so a glass of light and juicy red wine is the best option for it. Here are a few options of light and juicy red wine you should try out:
Cabernet sauvignon brands
Tuscan red brands
Zinfandel brands
If It's a Vegetarian Or Seafood Lasagna
Vegetarian Lasagna can go both with red or white wine depending on the vegetables. Seafood Lasagna on the other hand fits perfectly with white wine.
2. White Wine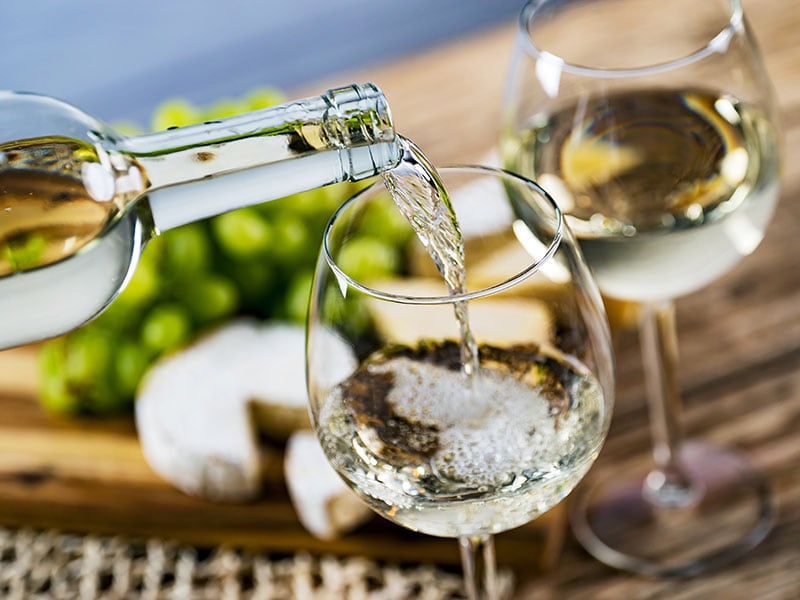 While there are many kinds of white wine, they are not cheap. Below I will introduce you 2 types of white wine that would be safe for both vegetarian and seafood Lasagna:
Chardonnay brands
Soave brands
Heartwarming Soups That Go Well With Lasagna
Nothing is better than starting your meal with a good bowl of soup. Not only does it warm your body up but eating soup before the main course is also good for your digestion. In addition to that, Italian soups are healthy since there are a lot of vegetables added into them.
Let's explore a few options below!
3. Minestrone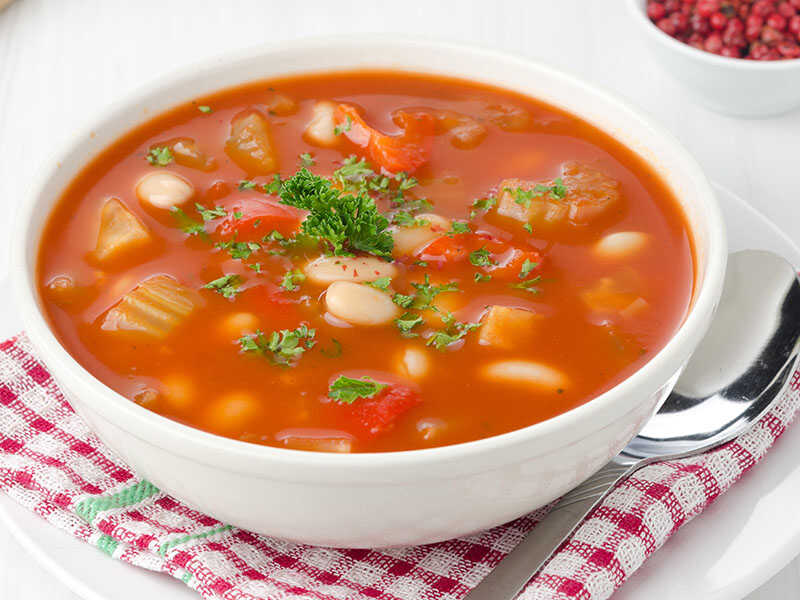 The origin of the Minestrone goes way back to when Rome conquered Italy. It was a convenient soup for lower-class households to use leftover vegetables. Nowadays, Minestrone is an indispensable soup in Italian cuisine.
This soup contains vegetables such as celery, carrots, onions, tomatoes, and more veggies cut into small pieces then cooked with beans, either canned or home cooked ones, in savory tomato broth.
As for the taste, the vegetables blend so well with the tomato broth. A warm and delicious starter with a super simple recipe, good to enjoy with sliced bread !
You can see this video to know more:
4. Ribollita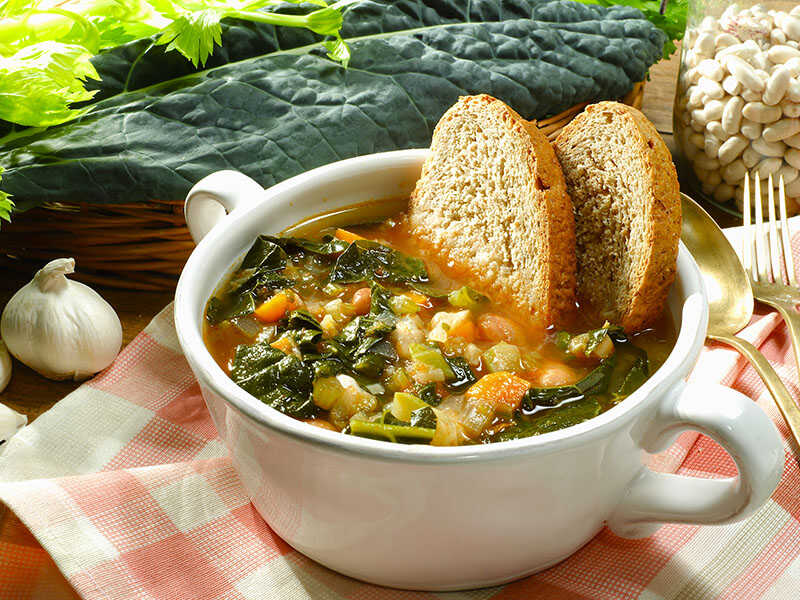 A comfort food that used to be popular among the lower classes, Ribollita was made from vegetable and meat crumbs that peasants collected from the upper classes leftover meal, and stewed them with white beans. The soup is cooked in large servings so the soup can be eaten for days. With every time of it being reboiled, the soup would get thicker and tastier.
This soup is nowadays cooked with kale, carrots, tomatoes, and many more vegetables cut in small pieces and beans in flavory broth. It can either be vegan or not depending on if you want to add Parmesan cheese or Pancetta to it.
Also good with a slice of bread, Ribollita can be a good starter for your Lasagna meal.
You can see this video to know more:
Tasty Breads That Go Well With Lasagna
Fun facts: Despite various kinds of bread in Italy, Italians don't eat bread with pasta! Non-Italians may think garlic bread and pasta are a thing, but that is only for other countries.
But…as long as the breads are delicious and light, there is no harm to them right? I've included below breads that are either good as starters or with your Lasagna dish:
5. Bruschetta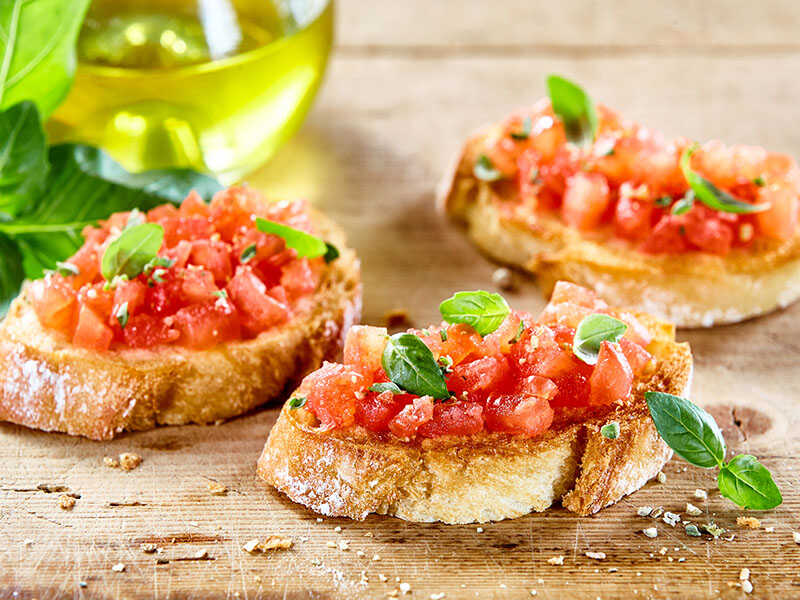 Bruschetta is a traditional starter in Italian meals. Traditionally, the bread is toasted first and then topped with fresh tomatoes, olive oil, garlic, and basil.
The ingredients vary depending on the region. If you are hosting a party, add your favorite ingredients to the toasted sliced baguettes.
Making Bruschetta is delightfully easy just as delightfully good they taste.
You can see this video to know more:
6. Bread & Balsamic Vinegar Olive Oil Dip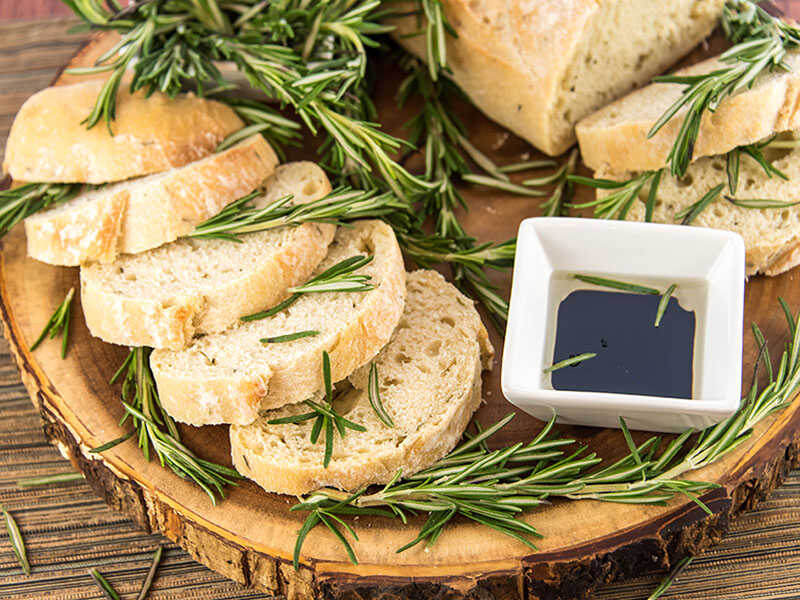 Even though this combination is not an authentic Italian starter, it is actually very popular in restaurants that serve western foods. As long as you only eat a small slice or two, it won't make you feel too full, and it can actually be useful as a conversation starter with others, too before concentrating on eating your main dish, Lasagna.
As for the types of bread, it really depends on preference, especially if you like whole wheat or white bread. Here are a few recommendations:
Baguette
Focaccia or Rosemary Focaccia
Sourdough
You can see this video to know more:
7. Garlic Bread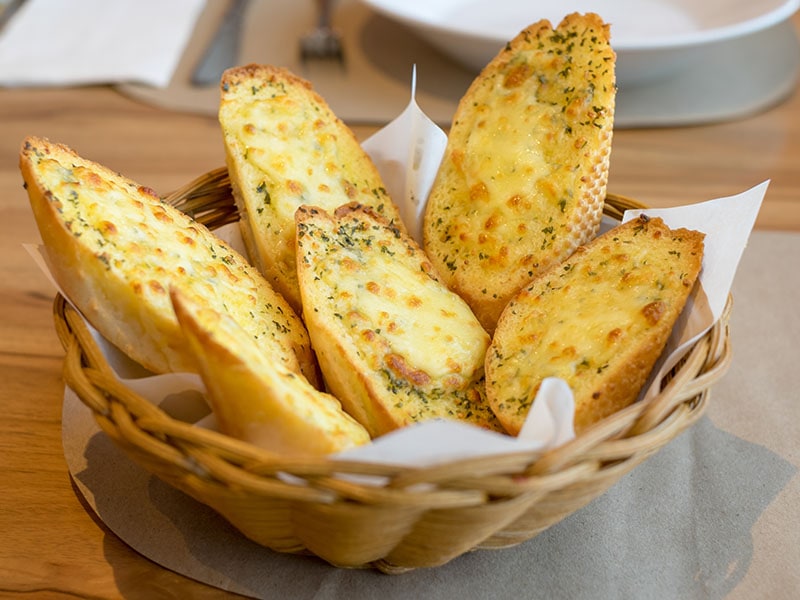 Garlic breads are just simply amazing. With one bite you get the taste of roasted garlic and the melted butter mixed with the gentle aroma of parsley.
These sliced garlic breads can be served as a starter or with Lasagna itself since dipping the breads with tomato sauce is pretty tasty!
You can see this video to know more:
Authentic Italian Salads That Go Well With Lasagna
First and foremost, salads are always the healthiest side dish option! Eating a lot of vegetables feels good and actually are good for your body.
There are many more benefits to adding salads as the side dish or your Lasagna, too. It's always good to have a change of taste, especially something refreshing like vegetables, while eating your Lasagna. That will keep you away from getting bored of Lasagna's taste. Another reason is that if you are hosting a dinner gathering or party, salads are the easiest side dishes to make!
Let's explore Salads and Veggie side dishes that are a match made in heaven with Lasagna!
8. Italian Chopped Salad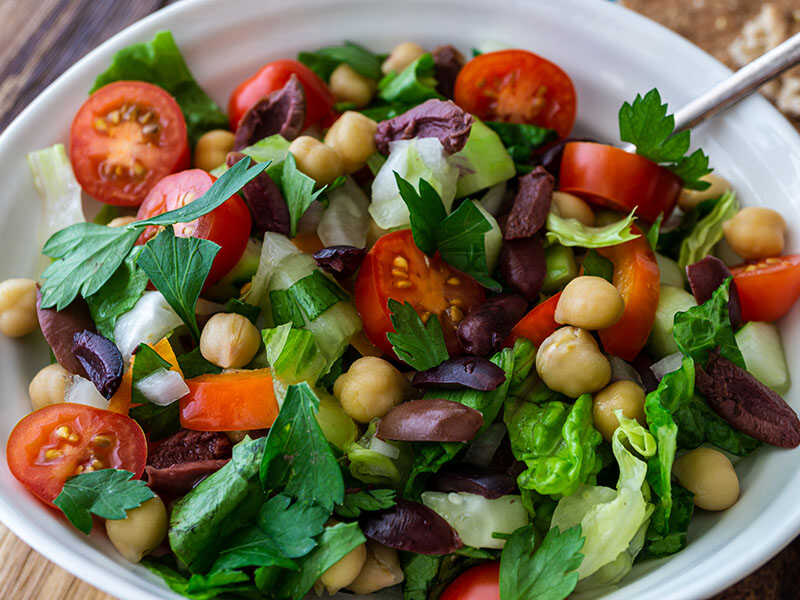 One of the factors that make Italian food so tasty is that many ingredients are chopped in soups and salads, and that goes the same for this Italian Chopped Salad. By adding a variety of chopped vegetables and other ingredients in a plate of salad, we can enjoy the different tastes all at once.
This salad comes with vegetables such as tomatoes, lettuce, onions, and many more with chickpeas and cheese that is either Mozzarella or Parmesan. All the ingredients can be tossed with added vinegar dressing.
Italian Chopped Salad is the right dish for those who are looking for a hearty dish of mixed vegetables!
You can see this video to know more:
9. Caprese Salad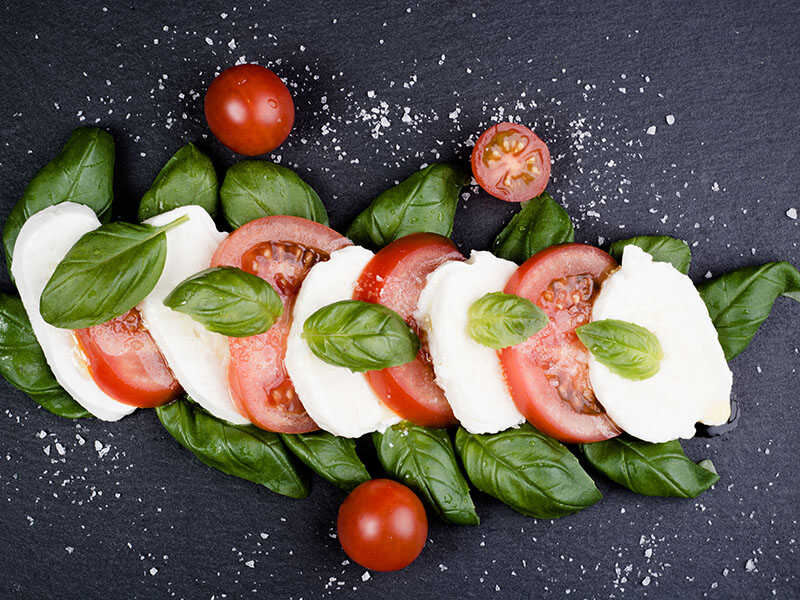 Caprese Salad, a salad that is popularly eaten in Italy, is actually named after the island of Capri in Italy. The main ingredients are sliced mozzarella, tomatoes, olives, and basil leaves. For the dressing, it will be a mix of balsamic vinegar and olive oil.
Mozzarella gives it a creamy taste but overall a very light salad dish.
You can see this video to know more:
10. Italian Stuffed Artichokes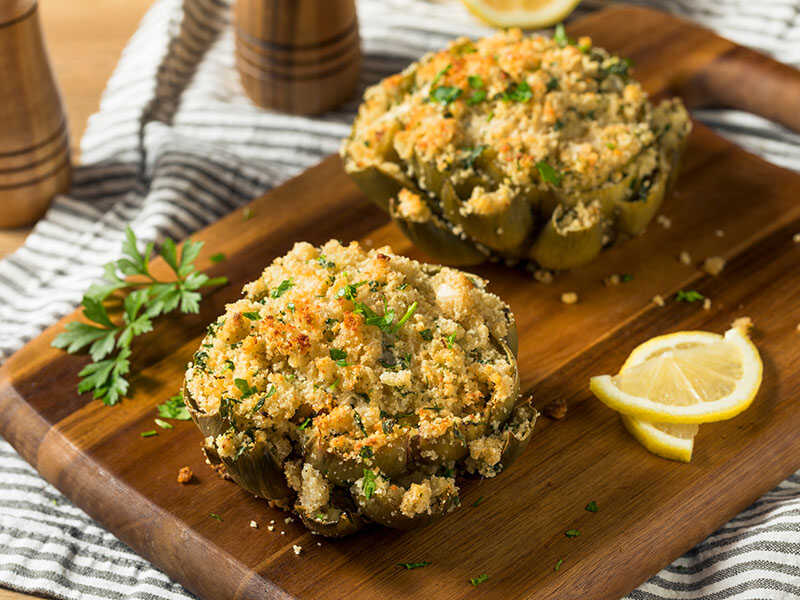 Artichokes are very nutritious. Rich in minerals and vitamins such as vitamins C and vitamin K, not only do they help with maintaining a good blood pressure but also improve one's liver health and many more benefits.
Italian Stuffed Artichokes is a dish containing those nutritious artichokes stuffed with ingredients like cheese, garlic, parsley then topped with lemon juice before being broiled. The completed dish will taste something sweet and soft from the cooked artichokes with the cheesy garlic feeling and mild scent of parsley.
You can see this video to know more:
Other Healthy Side Dishes That Go Well With Lasagna
I've introduced a few authentic Italian vegetable side dishes above, however, there are more vegetable dishes that are generally eaten around the world that would actually complement Lasagna, too.
And, here we go!
11. Balsamic Roasted Brussel Sprouts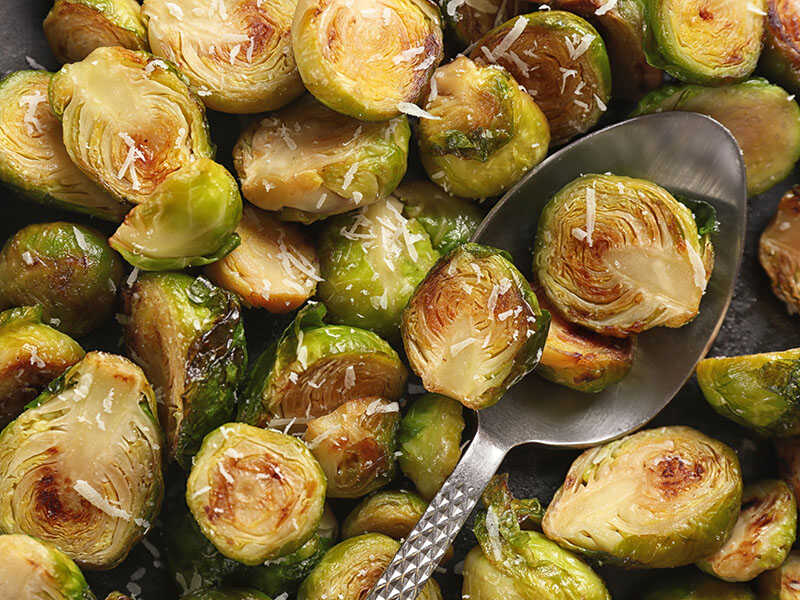 Roasted brussel sprouts are an appetizer dish that you can see in so many restaurants. From local pubs and restaurants to fine dinings, brussel sprouts are always the healthy choice for munchies. The most impressive part of them is that they are high in antioxidants which bring many health benefits for you.
If you are looking for something to bite on before the main course but with low-carb, roasted brussel sprouts might just be the right option for you!
You can see this video to know more:
12. Roasted Tomatoes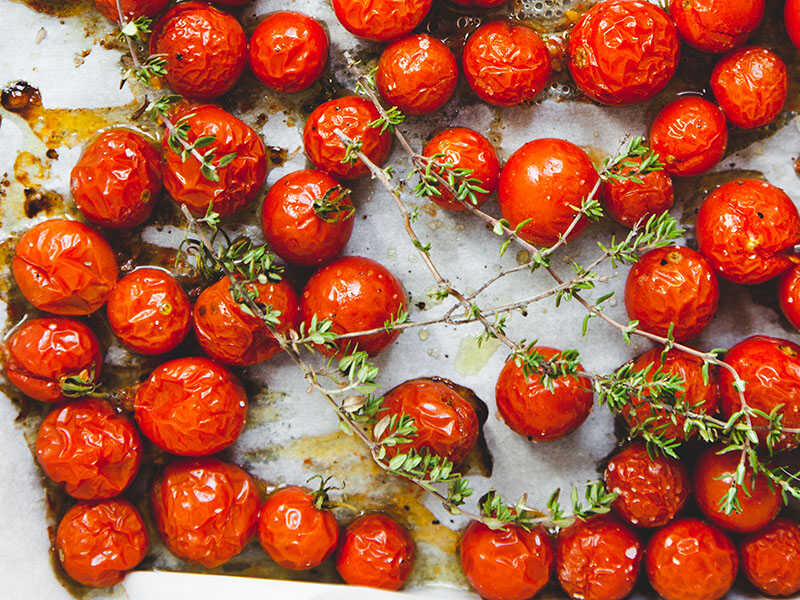 Roasted tomatoes are very delightful and have an even better flavor when being roasted with thymes. They do not only fit well with the tomato sauce from Lasagna, but this dish itself is very healthy, too. You can use either slices of regular tomatoes or cherry tomatoes.
You can see this video to know more:
13. Sauteed Mushrooms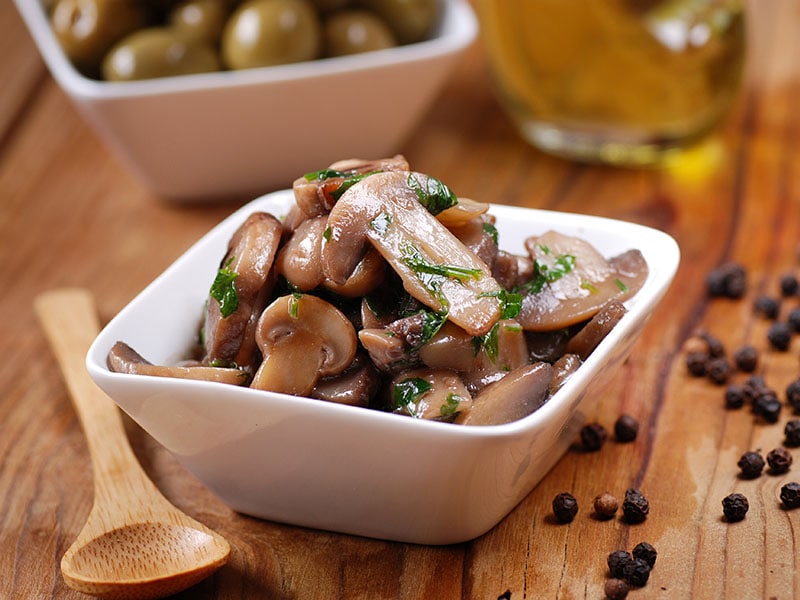 Here is another all-time favorite side dish: sauteed mushrooms. You can find this light and tasty dish at many restaurants, but it's also simple enough to make at home. Besides being a popular side dish for steaks, these mushrooms fit perfectly with lasagna.
The secret of a good sauteed mushroom dish is how you caramelize the mushrooms, and if you are over legal drinking age, adding white wine or a few other kinds of alcohol can boost the flavor.
You can see this video to know more:
14. Wedge Salad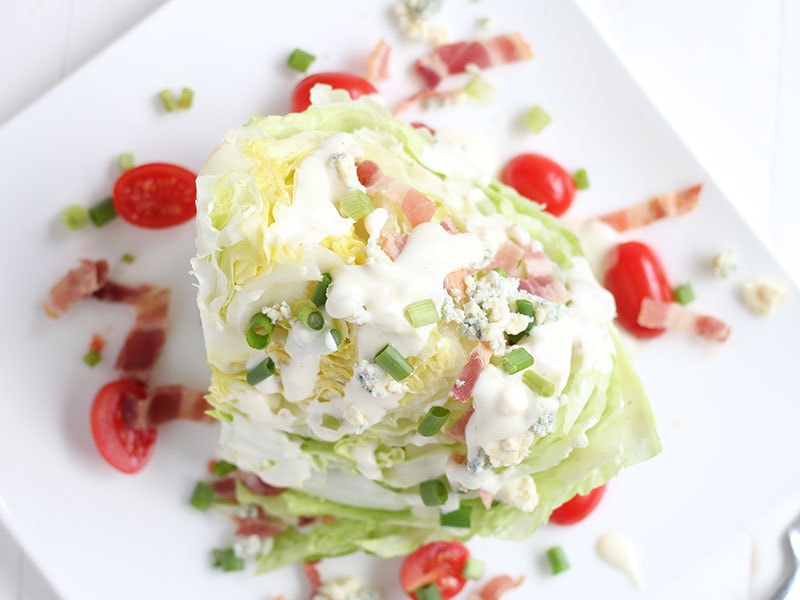 Did you know that the history of lettuce goes way back in ancient Egypt? It is believed that lettuce was first cultivated in Egypt then spreaded around the world. For your next dinner, maybe you can impress your family or friends with this fact!
Wedge salad uses lettuce wedges as the main ingredient, with other chopped ingredients like cherry tomatoes and bacon then dress them with blue cheese dressing. If blue cheese is not a thing for you, you can substitute with other dressings of our choice, too.
Very light and refreshing, can be enjoyed as a starter or with your Lasagna!
You can see this video to know more:
15. Caesar Salad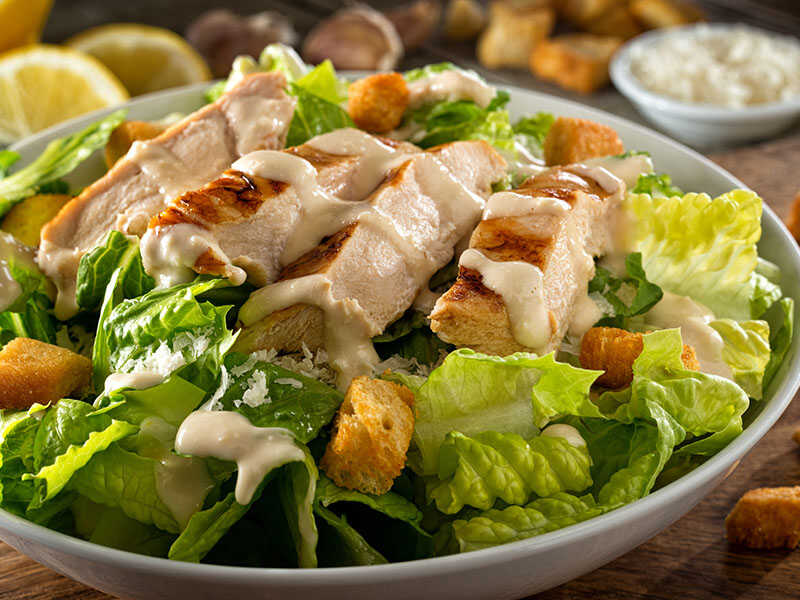 Oh this classic salad is so versatile that it can be a side dish for almost any meal, simple yet creamy and rich in flavor.
Did I say versatile? Because this salad really is. You can eat the salads with or without meat such as chicken or bacon, and depending on the dressing you prefer it can change the whole taste of the salad. And hey, if you've decided to make the garlic breads above, you can use them for this, too!
You can see this video to know more:
Lastly, Delightsome Desserts To End Your Lasagna Meal
After enjoying your delicious Lasagna, it's always good to have a small dessert dish just to end the meal with an even happier feeling. Below are the desserts that would complete your Lasagna meal amazingly well.
16. Gelato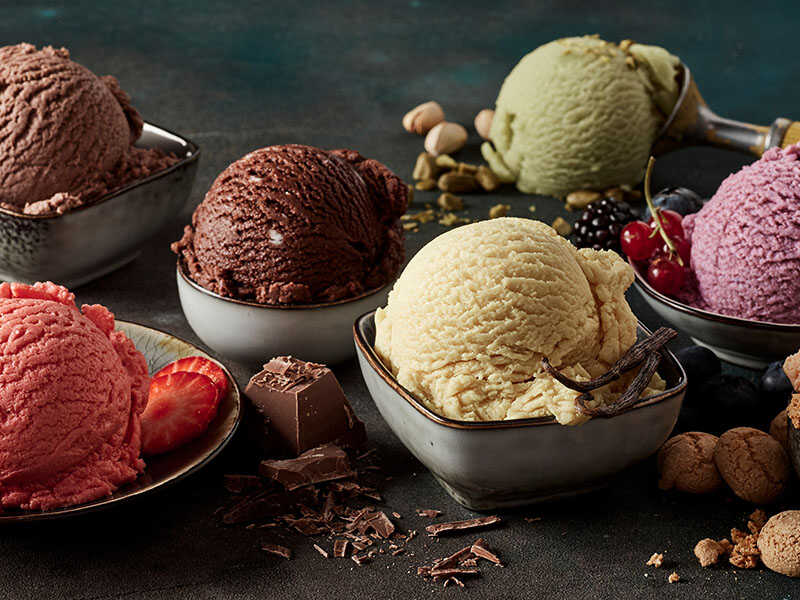 Yes, here comes the classic dessert from Italy! No matter how full you are, it is always nice to have a scoop of cool and tasty gelato. There are many flavors, and you're free to pick whatever you are craving.
You can see this video to know more:
17. Fruit Salad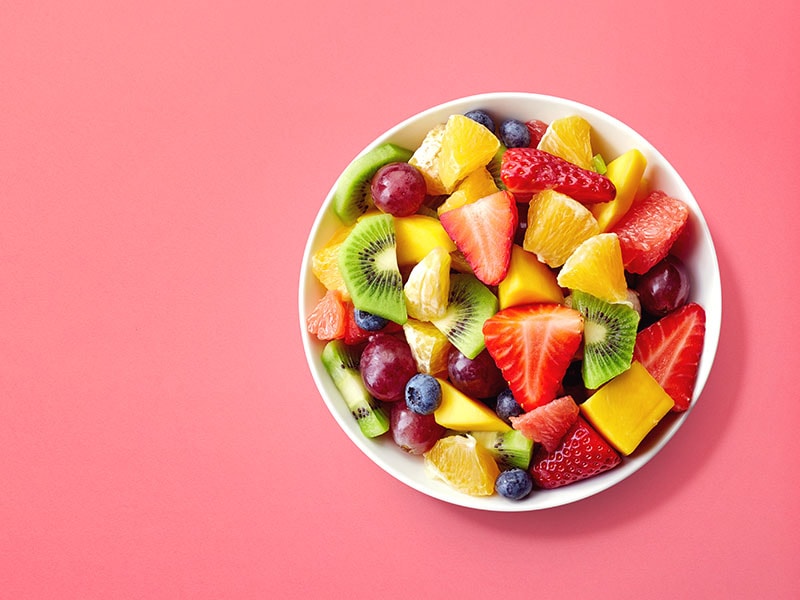 Another nice way to end the night is to have a bowl full of fresh fruits to turn the savory taste of Lasagna in your mouth into something more refreshing. Not only that, but fruits are healthy, too!
You can see this video to know more:
18. Panna Cotta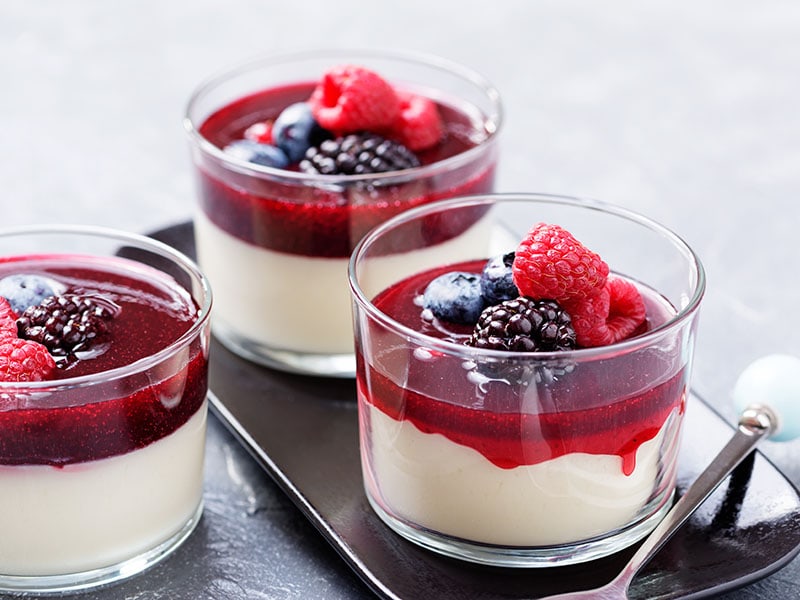 This cute-looking delight is often found in hotels or as a dessert in fine diners, but you can also make it at home, too. Originating in Italy, it is now very popular in many countries.
It is creamy, soft and light, and will surely put a smile on your face!
You can see this video to know more:
Can A Home Lasagna Meal Feel Luxurious?
Totally YES! Eating lasagna in an authentic Italian restaurant is indeed a nice experience but we don't always have the time or affordability for every Lasagna cravings.
However, with the right wine to pair with, delicious side dishes, and desserts, you can turn your home Lasagna experience into an amazing one and feel nothing less than a fine dining restaurant.
If you tried the items above, let me know about your experiences. If you have any more good side dishes you want to share, feel free to do so anytime in the comments below!
Nutrition Facts
6 servings per container
---
Amount Per ServingCalories113
% Daily Value *
Total Fat 7.4g

12

%
Sodium 319mg

14

%
Potassium 444mg

13

%
Total Carbohydrate 11.4g

4

%

Dietary Fiber 4.3g

18

%
Sugars 3.4g

Protein 3.9g

8

%
---
* The % Daily Value tells you how much a nutrient in a serving of food contributes to a daily diet. 2,000 calories a day is used for general nutrition advice.