What to serve with fish? If you stumble on this old-aged question, it's time to up your game in your next fish dinner. Whether you're skewing your fish on the grill, tossing them in the oven, or pan-searing them, you definitely need perfect sides for an all-rounded meal.
Running out of ideas for fish side dishes? Don't let this hold you from bringing healthy, delicious fish to the table. Take your pick, and your entree will come alive more than ever with these 23 sides for fish!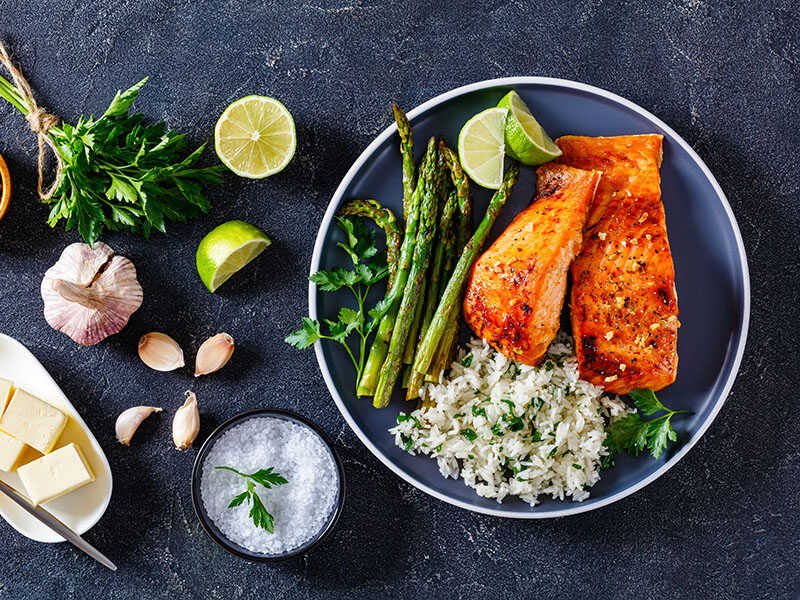 What To Serve With Fish? – 23 Tasty Side Dishes To Try
Meaty and fatty fish often calls for a touch of acidity to complete, whereas light and mild-tasting species are perfect pairings with fresh and hearty veggies.
Everything in between, however, can go with any of these popular (and no-fail) recipes for a balanced and well-rounded meal!
Total time: 1 hour and 15 minutes
When you want something comforting and fulfilling, this flavorful and hearty side will answer the call.
This easy rice pilaf is bursting with flavors. The pilaf is sauteed in butter and then baked with aromatic stock to soak in all the delicious flavor. This helps enhance the nutty flavors of the grain that will keep you coming back for more.
This flavorful dish is best when served with a roasted filet of cod or tilapia. If you want a vegetarian version, simply substitute chicken broth for veggie broth!
Total time: 1 hour and 3 minutes (including 30 minutes of soaking time)
French fries and fried fish make for a great match all the time! The classic recipe will work just fine as a fish side dish. Yet, these cheesy and garlicky fries are even better.
Bake these fries until golden and crisp, then toss them thoroughly in a mixture of finely grated Parmesan, parsley, and garlic to boost the flavor. But before these things happen, ensure you soak the strips in the ice bath for half an hour to achieve the desirable crispiness later.
These fries are not only tastier and more fun to eat than store-bought chips but also contain lower fat than the deep-fried version.
Jazz the classic fries up by adding Parmesan cheese, chopped garlic, and parsley with this recipe!
Total time: 20 minutes
Lemon and Parmesan, as always, make veggies better when teaming up. And broccoli is no exception! These oven-roasted broccoli florets are cooked until they have golden edges. They are full of flavors of olive oil, garlic, and pepper coming out of the oven.
Plus, add the Parmesan cheese coating for a better texture and some lemon zest at the last minute to add brightness to the flavor.
You'll need to dry the broccoli completely to ensure they have the desirable browning and crispness when baked. Lie the flat sides of the veggies down. This part will touch the pan and be exposed to more heat so that it can develop a delicious caramelized coating at the end.
Total time: 5 minutes
This dill cucumber salad has signs of a refreshing summertime dish written all over it, yet I'm pretty sure you can turn to this side all year round. It only calls for simple ingredients that you already have around and takes only 5 minutes to get ready (and way less time to devour!).
Add the sliced cukes into the sour cream mix (plenty of it). Stir until the white paste coaxes the slices nicely, and you're good to go.
Cucumbers are quite mild and slightly sweet in flavor. Therefore, the mix of dill, sauce cream, and vinegar balances it out and adds a more appealing tang to the whole dish.
You'd better prepare this salad right before serving. Refrigerated cucumbers do last a few days, but they will disgorge water and become soggy over time.
Whip up these creamy and flavorful cucumbers when the crowd wants a fresh and delicious summertime side.
Total time: 55 minutes
Cheesy and creamy, this casserole will merrily pair with fish filets or meat salmon steaks for a complete meal.
This casserole includes colorful and sweet corn bound by crunchy crackers and eggs to create a delicious and soul-satisfying treat. For more crunch, you may want to add some crackers on top before serving.
This fish side dish is tastiest if you use fresh-off-the-cob corn. However, when the fresh one is not an option, canned kernels, as in this recipe, will work just fine.
Total time: 30 minutes
This zero-effort vegan side item calls for fresh green bean, which delivers a firm texture and bright flavor. So, it's ideal for making it when fresh green beans are in season.
Toss the green beans in the mixture of oil and garlic to coat, then layer them on the baking sheet and cook until they are crisp-tender with some brown spots.
This side is a cinch to make but still tasty and satisfying, making it a perfect choice when you're short on time. You can even roast your green beans alongside your fish to save time and make the most out of the oven's space.
Total time: 25 minutes
When I have perfectly grilled fish for dinner and am also in the mood for a Mexican-inspired dish, cilantro avocado rice is what I frequently turn to.
This rice is extra flavorful, thanks to the addition of mashed avocado, chopped cilantro, and slight acidity of lemon juice and zest. It tastes much like guacamole, yet, with plenty of grain in it, this side dish keeps everyone full for longer.
Plus, cilantro avocado rice is highly customizable. You can put a spin on the recipe by adding corn or tomatoes to simmer with the rice. Alternatively, throw in some diced mangoes as a topping, which can perfectly complement the buttery and creamy rice.
Creamy, hearty, and full of Mexican flavors, this side for fish is sure to impress!
Total time: 25 minutes
These earthy mushrooms are at their best when baked in the Parmesan-and-thyme sauce. The lemon juice and zest also add a burst of brightness to the side.
These mushrooms are masterfully roasted to bring out the tender, meaty and juicy texture that can go awesomely with fish, meat, and a bunch of other main dishes.
Best of all, you can put together this fish side within 25 minutes: combine everything on the baking sheet, give them a gentle toss, and send them to the oven until the mushrooms are tender and brown.
Total time: 55 minutes
Kale does not always get the popularity and status it deserves. However, this recipe will prove that this veggie is both easy to make and tasty to savor. Sauteeing quinoa in olive oil, garlic, and onions give it a slightly crispy texture and roasted flavor.
Cook this whole grain this way and add some Paremansen and breadcrumbs to elevate basic sauteed kale into something way more savory and addicting. This healthy side is perfect for serving with pan-seared or steamed fish.
Total time: 4 hours and 10 minutes
Packed with zesty flavors of lemon, garlic, paprika, and Greek seasoning, these potatoes pair perfectly with any grilled meat and fish. This recipe uses the Yukon Gold cultivar, as it's starchy and easy to soak up all the delicious sauce.
The starchy potatoes are tossed in a quick-stir Greek-inspired sauce and then slow-cooked until tender. Throw in some parsley and lemon zest on top to give the side a bright note and a pop of color.
Once you get a taste of these lemony potatoes, you will want to serve them not only with fish but with every main dish on the table.
Total time: 10 minutes
Delicious fish won't stay long on the table when sitting next to fresh tartar. This spectacular French staple is perfect when you cook a variety of fish and want a one-size-fits-all side to serve with them.
Slightly sweet and tangy, it goes great with all kinds of fish, but fried fish is a must-try with this sauce. The combination of half mayo and half sour cream in this recipe provides a creamy texture for the sauce, while the dill pickles add a tart and vinegary flavor.
This creamy condiment is best served chilled, so consider refrigerating your freshly-made sauce for several hours before using it. It can also last for a long time in the fridge. Thus, you can always make a big batch to use later with many leftover foods.
Learn how to make creamy and delicious tartar sauce to serve with a host of fish mains in your next dinner!
Total time: 30 minutes
Caesar salad is a staple in many restaurants' menus for a good reason. This classic can complement a host of dishes, from braised meat, pasta, soup, and various fish dishes.
You probably know what it is: a mix of chopped romaine lettuce and crunchy croutons tossed in creamy Caesar dressing. In my book, the soul of this salad is not the croutons or the veggie but the dressing.
The anchovy paste, in particular, is key to achieving the savory depth of the dish. Feel free to omit it for dietary reasons if you must. Yet, the dressing without anchovy is too flat that even the Parmesan cheese cannot compensate.
Total time: 1 hour and 15 minutes
This veggie stew is a straightforward French side treat for serving with savory options. It combines colorful slices of eggplants, zucchini, yellow squashes, tomatoes, and onions served over tomato sauce.
The traditional approach to Ratatouille involves sauteeing each veggie separately before baking. Yet, with this streamlined recipe, you only need to season the uniformly sliced veggies before putting them into the oven.
As simple as that! Even better, if you're in a hurry, you can throw in steamed fish to create a savory and fulfilling one-dish meal.
The downside is that Ratatouille takes quite a white to put together, especially when you're serving something that cooks as fast as fish. On the bright side, if properly stored, this delicious accompaniment for fish can last up to a week in the fridge and 3 months in the freezer.
Are you looking for a dish to impress your guests? Serve this delightful Ratatouille!
Total time: 30 minutes
This is a healthier take on the sweet potato souffle and gets ready within 30 minutes.
Packed with healthy ingredients and topped with a flavorful and nutty drizzle of brown butter, this side is sure to be a family's favorite, especially on those winter days. Garnish with sage leaves and black pepper to boost the flavor.
Sweet potatoes are naturally sweeter than potatoes (and thus, their name), so you don't need as much sugar as you would with whipped potatoes. Instead, add some brown butter to gracefully balance the sweetness and buttermilk to give a savory tang to the dish.
Total time: 55 minutes
This way of cooking Brussels sprouts will entirely change your veggie life for good. Like mashed potatoes, to mash Brussels sprouts, boil them first after removing the hard ends! Then, the veggie is roasted in the oven.
Let them hang out there for around 30 minutes so the heat can bring out all the deliciously nutty flavors. Well-baked sprouts should be soft and tender on the inside, with crispy and scrumptious edges on the outside.
This recipe is best when you use fresh Brussels, but frozen ones would be fine in the off-season. Choose sprouts roughly of the same size, so they will cook evenly without burning.
This new way of cooking Brussels sprouts will bring out a fish side that wows the crowd!
Total time: 5 minutes
This sauce is so lip-smacking and versatile that it can pair nicely with a fish dish as well as complement grilled or roasted veggies. This means that it will be gone quicker than you might think from the dinner table.
The recipe calls for yogurt as a base, mayonnaise for extra richness and creaminess, and onions and garlic to add more depth to the flavor.
Fresh dill, the star of the show, gives the sauce a burst of tangy flavor and fresh fragrance that goes well with salmon and any nice cut of fish.
Dill sauce is not only a great choice whenever you want to use up leftover dills in your fridge but also elegant and classy enough to deserve a spot in a fancier-than-usual fish dinner.
If you happen to make plenty of the sauce, place it in an airtight container and keep it in the fridge for up to 4 days.
Total time: 20 minutes
This kale slaw is chock-full of colorful veggies that provide plenty of nutrients. It also has layers of texture and flavors, from the crunchy sliced almonds, red cabbages, the chewy dried cranberries to the softened, hearty kale.
The dressing not only adds brightness to the slaw but also keeps it from feeling overwhelmingly heavy. Plus, kale slaw is super make-ahead-friendly.
You can even prepare a few days before you're ready to serve! When properly stored, it can last 3-4 days in the fridge. For freshly-dressed kale slaw, it's recommended to chill a bit in the fridge for at least 1 hour for the best flavor and texture.
Total time: 35 minutes
Put a twist to your summertime potato salads by grilling the sprouts. Grilled dill potato salad is unfussy and quick to make when you're already preparing grilled fish.
First, lightly coat the potatoes in the vinaigrette made of black garlic, pepper, vinegar, and oil. Then, send them to the grill until they're coated with nice charring before tossing them in plenty of vinaigrette to soak in the flavors.
Finish off with chives, shallots, and dill to add herby flavor and aroma to the salad, and you'll have a flavorful, exciting side to serve alongside your grilled fish or meat.
The best thing is that this salad is awesome, whether you serve it warm or at room temperature. It's all the more delicious when going with a dollop of dill sauce.
Total time: 40 minutes
Keep this side in your back pocket whenever you want something more fancy than usual!
This perfectly roasted cauliflower served with tahini sauce makes for a savory side. Roasting these florets in olive oil and garlic gives them sweet and nutty flavors that go well with mild fish.
Be careful when roasting cauliflower florets, though. You want them to be nice and crispy on the outside yet tender on the inside.
So, here are some useful tips: Don't skimp on the oil, place the flat cut side down, and last but not least, don't let the florets hang out too long in the oven, or they'll get mushy.
Roasted cauliflower and tahini sauce are full of flavors that can nicely accompany fish dishes!
Total time: 40 minutes
If you've already fired up the grill for your fish, it won't hurt to throw in some veggies for a healthier meal.
Cut bell peppers, zucchini, eggplants, and any of your favorite veggies into bite-sized chunks before skewing them. And instead of mixing them on the skewers, skew each veggie separately so they can evenly cook together without burning.
These veggie skewers are bursting with flavors thanks to the easy homemade marinade. Yet, the smokiness infused in every bite is really what makes this side a big hit in any outdoor grilling meal.
Total time: 50 minutes
You won't have to wonder how to cook kale after tasting this cheesy goodness. This side dish comes with plenty of flavors and is comforting at heart. Grated Parmesan lends the dish a rich, salty, and nutty flavor.
The nice creaminess of this veggie gratin will match well with your baked or fried fish. There's also extra flavor from the onions and nutmeg and a subtle touch of heat from ground peppers.
The good-for-you kale still has some chewy texture in it, and its bitterness is nicely compensated by the creamy sauce. Surely, it will soon become one of the most requested side dishes in your family!
Here's a healthy take on gratin using hearty kale that you should try!
Total time: 15 minutes
Refreshing and crunchy coleslaw is perfect for summer BBQ and comes together within minutes. Serve it alongside any fried fish, and you'll have a complete dinner.
This coleslaw includes thinly sliced cabbage, grated onions, and carrots gently coated with a bright and tangy dressing. Plus, a sprinkle of celery seeds on top adds a hint of earthiness and bitterness.
The best thing about coleslaw is that you can prepare it hours in advance. Chilling the slaw for some time is recommended for the cabbage to develop a savory crunch before taking it out to round out your meal.
Thanks to the mayonnaise-free dressing, this coleslaw is a healthier version than its creamy counterpart. So you can indulge with less concern if you're on a diet.
Total time: 30 minutes
These fritters are low in calories, incredibly easy to make, and are a nice way to sneak in some veggies. Add creamy cheese to bind the zucchini together and create irresistibly crispy edges when baked. Some breadcrumbs on top also add variety to the texture of these fritters.
Crispy on the outside and soft on the inside, these fritters surely delight your taste buds with every bite. Combine these summertime bites with zesty dill sauce and baked tilapia, and you'll have a complete meal on the table.
These zucchini fritters will be a perfect pairing for your tilapia or many other baked fish.
Save These Recipes For Your Next Fish Dinner!
These savory sides are the perfect standby for fish's light and mild flavor. Save them in your repertoire so you can use them to complement your mains in the next meal!
No matter what fish you're serving, I guarantee you'll find one or more sides on this rotation that fit your menu. You can go with the classics as they will match your fish dish without fail, or try something new and fancier but no less scrumptious and compatible with fish!
Try these sides, and let me know how much you and other diners in your family enjoy them by leaving a comment. And click the button to share this post with anyone who still struggles to find gourmet fish sides.