You don't have to tear your hair out wondering what to serve with fajitas anymore. Just read this collection of joyous side dishes for the amazing Mexican-style meal, and you are golden!
Fajitas are already a tasty meal on their own. But why don't you serve a few exciting Mexican side dishes alongside this crowd-favorite food? In fact, you can easily elevate the whole meal to the next level. You may have to do more cooking, but it's all worth it in the end.
Alright! Let's dig in and explore the best pairing ideas for this wonderful Mexican-style dish. I'm sure there will be something for everyone. You can find several options in this article, and you won't get bored with the selection I provide, at least for a long while.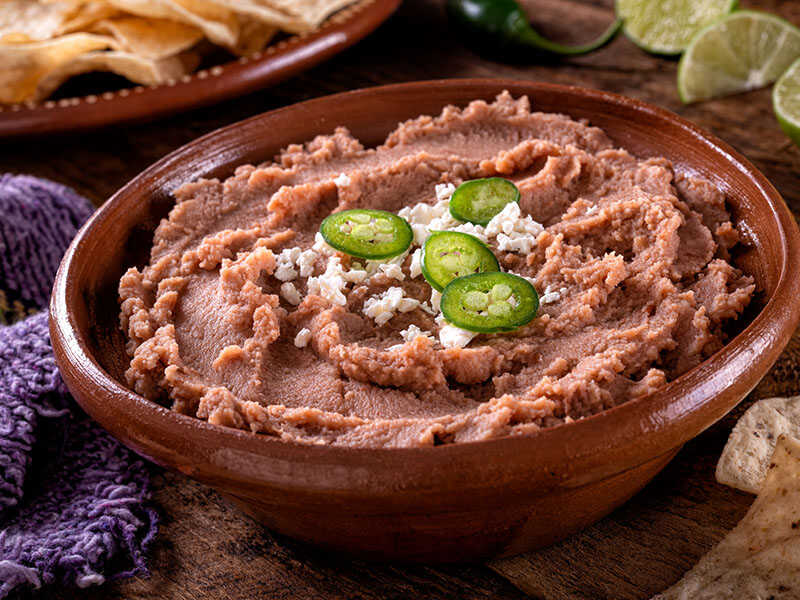 The Most Amazing And Extraordinary Side Dishes To Pair With Fajitas
Most of the recipes covered here are Mexican-inspired ones. Some of the ingredients they use are available in fajitas, too. Therefore, you can save time cooking and shopping and spend more time enjoying the result of your hard work. It's a win-win solution.
Total time: 40 minutes (Excluding the pickling time)
If you want a moderately spicy kick to your meal, pickled Jalapeno peppers are the ideal candidate. These slices are so versatile you can put them on virtually anything, not just fajitas. The best time to get these peppers is when they are in season, from summer to fall.
You can tell whether a Jalapeno will be mild or spicy by many signs. For starters, smaller and redder ones tend to be spicier than those that are bigger and greener. Another indication is the stretch marks, a younger and milder Jalapeno will be smoother.
Once you finish the preparation, store the jarred jalapeno slices somewhere cool and dark. Check them after 24 hours to see if they have sealed properly. For best results, don't open them before hitting the one-month mark.
Pickling Jalapeno slices is easy as pie with this detailed guide.
Total time: 6 minutes
Unlike the usual salsa, which is red, Salsa Verde is a green variant with tomatillos, cilantro, sugar, and jalapenos.
For an even more awesome experience, serve this dip with fajitas or tortilla chips. Alternatively, you can directly incorporate Salsa Verde into fajitas and turn them into one dish. Do you own a slow cooker? Many mesmerizing Mexican Crock-pot recipes will taste better with this condiment!
With the help of a blender, you can make this flavorful tomatillo delicacy without spending much time and effort. Remember to drain the canned tomatillos. To adjust the flavor, put in Jalapenos or sugar for spiciness or sweetness, respectively.
Total time: 20 minutes
Slaw, along with salad, is always a good choice for a side dish. It plays exceptionally well with fajitas, especially when the slaw is Mexican-styled. Plus, you can get many benefits from eating this dish, like getting a healthy amount of vitamins from the red cabbage.
You can be fairly full without feeling heavy with fiber from the cabbage, carrots, and scallions trio. If you don't want to do the chopping, let the food processor and its slicing attachment handle everything then.
Besides the refreshing Mexican slaw, the recipe also features a tangy honey-lime vinaigrette dressing. Thanks to it, you don't have to bother with the mayo like many other salads. You don't have to use the store-bought dressing, either.
Total time: 25 minutes
If you want to experience sweet, spicy, and tangy all at once, check out Elotes. It's Mexican-based grilled corn on the cob coated in mayo and sprinkled with cotija cheese, cilantro, limes, and spices.
The recipe can be vegan-friendly with a few simple adjustments. Specifically, you should replace the mayo with a vegan variant as well as leave out the cheese. Nonetheless, the dish is still mouth-watering.
This recipe can also fit into an intriguing Mexican-themed breakfast. One simple yet crucial step is brushing the mayo and cream lightly with a pastry brush instead of smearing them into the corn. This method helps the corn infuse more flavors.
Total time: 1 hour 5 minutes
Papas con chorizo is a warm and comforting dish using chorizo (sausage), yellow potatoes, and onions. The recipe is straightforward: toss and combine all the ingredients into one sheet pan and bake them. The result is an incredible earthy flavor that will keep you eating.
Make sure not to purchase Mexican chorizo by mistake. This type is ground sausage, not hard sausage like the Portuguese or Spanish variant. Small chorizo links are the most suitable, but you can use half-pound logs if you can't get your hands on the link ones.
Let's start making the easy Papas Con Chorizo in your kitchen now.
Total time: 35 minutes
You don't want to miss the roasted cauliflower with tahini and mint. The white veggie is caramelized and roasted to a sweet and spicy degree. You then serve it with a creamy tahini sauce and garnish the dish with fresh mint leaves and sea salt. Now that's a combination to try!
What's more, the recipe is vegan, gluten-free, and dairy-free. So the dish can be a hit with many folks, not only for its delectable taste but also for its beneficial properties. The whole thing is a simple yet elevating take on the classic cauliflower dish.
Total time: 15 minutes
What you dip the fajitas into can make or break the whole dining experience. Refried bean dip is not a simple addition, but it's something that elevates the flavors of fajitas or any main dishes. Alternatively, you can let it steal the spotlight to become an unbearably delicious Mexican appetizer.
The cooking steps are straightforward: saute and whisk the items in a skillet over medium-high heat. And that's 90% done. All that is left to do is simmer the ingredient mixture until it reaches the desired consistency. Finally, garnish the dish with toppings of your choice.
What's more, you can turn this dip vegan by using a vegetarian refried beans variant and veggie broth. As for the gluten-free option, be sure to use a gluten-free taco seasoning.
Total time: 21 minutes
Here's an easy and oven-bake zucchini you can make all year round to enjoy alongside fajitas. The golden, crispy summer squash is delicious with sprinkles of seasonings, salt, and pepper. Follow the instructions, and you won't get a soggy and miserable experience.
For the best results, you should use smaller size zucchini and don't salt them before roasting. Furthermore, spread the veggies out evenly so they won't steam instead of brown. On another note, remember to flip and bake each side of zucchini for about 8 minutes each.
The recipe calls for simple seasoning: olive oil, salt, and zucchini. But you can be creative and try different seasoning combinations like cayenne pepper, grated parmesan cheese, fresh herbs, etc. The sky's the limit here!
Total time: 30 minutes
Crispy Southern corn fritters are a recipe you can whip up with either fresh, frozen, or canned corn. There's a slight difference in how you prepare them for the dish. Nonetheless, the final product will still be sweet and savory "pancakes" of corn, milk, cheese, and spices goodness.
The making is plain and simple. You can get these finger-licking fritters ready within 30 minutes. First, prep the corn as instructed, then whisk and stir all items into a batter. Afterward, cook the mixture in oil until you get browned, crispy, and fluffed fritters.
The products keep well in an airtight container in the fridge for up to 3-4 days. The storing could be extended to 4-6 months when you keep them in a container with a piece of wax or parchment paper in between in a freezer.
Total time: About 2 hours 5 minutes (the total time also varies depending on the cooking method)
Refried beans and black beans are easy to mistake for one another on a Mexican menu. Be careful or you may unintentionally order frijoles refritos (well-fried bean dish) instead of the frijoles negros (black bean dish).
Mexican restaurants offer refried beans and black beans interchangeably across various side dishes. To summarize, refried beans refer to the preparation method, while black beans are a type of bean.
The humble Frijoles Negros brings a nice creamy and rich depth to the fajitas. Beware or you may find yourself eating more of the black beans than the main dish. They are just that good. Frijoles Negros is also ideal to enjoy alongside white or yellow rice.
The cooking time seems to be long. But don't fret because most of it is hands-off. You need to soak the beans for about 1 hour. Then you cover and cook them for about 2 hours on a stovetop. Alternatively, it's possible to put them in a slow-cooker for 8 hours.
You can recreate the Frijoles Negros without spending much time and effort.
Total time: 10 minutes
Pico De Gallo, also known as Salsa Fresca, is a popular Mexican-inspired food that can play as a complementary addition to burritos, tacos, or quesadillas. The dish is at its best when you eat it fresh, within 4 hours after serving.
What sets this dish apart from other salsa is how it uses raw fresh ingredients instead of cooked ones. Furthermore, Pico De Gallo features chunks of dry items and is not as watery as most salsas.
To whip up the refreshing and light meal, all you need to do is mix and chop the required ingredients. The last step is sprinkling it with some salt and lime juice. It couldn't be easier! You can serve the dish as a side or a dip for fajitas.
Total time: 40 minutes
This recipe is an excellent way to add creaminess and more flavors to the mix of fajitas. You can pair the dish with rice for a substantial meal. Plus, the meal involves broccoli, a nice green you want to put in every dish.
You can make the crunchy broccoli cheese casserole from scratch effortlessly. You just need some basic cooking skills like baking and being able to combine ingredients into a batter.
Just pop the whole thing into the oven at 350℉ for about 30 minutes and let it rest for another 5-10 minutes.
With how simple it is, this dish can make your life easier, especially when you are pressed for time for a side dish to serve with fajitas. It's a dump-and-bake casserole anyone can make within less than an hour.
Explore how to cook broccoli cheese casserole the easy way.
Total time: 24 minutes
Speaking of rice, you may think of the iconic Mexican dessert, Arroz con Leche. However, I'm talking about Spanish rice (Mexican rice), an easy take on the rice dish. It's so versatile that you can serve it with fajitas, tacos, burritos, and many small plates.
No one can describe this awesome side dish from Spain as "plain". Instead, flavorful, spicy, and fancy are more fitting. Plus, you don't need any complicated ingredients, all you need may have already been sitting in your pantry or cupboard.
Here're some tips: It's possible to replace half the tomatoes with salsa for extra flavors. Don't overcook the rice or the whole dish overall, or else you may end up with a soggy and little liquid experience.
Total time: 1 hour 15 minutes
Here is your next favorite fusion recipe. I know that's a bold claim, but gungo peas are just so good you can't help but love them. Plus, they are good for your digestive health and are known to be good for treating jaundice, bronchitis, and lung disease.
What are refried beans? It refers to how you boil and cook the beans until they turn into a paste. Then you fry them in a pan with other ingredients; just once, not twice. In Spanish, refried beans are called Frijoles Refritos, which means "well-fried beans".
People often make this Mexican and Tex-Mex staple food with pinto, black, or red beans. But for a true Jamaican style, the recipe calls for gungo peas. Look for them at Caribbean/Asian/Latino grocery stores.
You can whip up the Jamaican refried gungo peas with a stove pot or an instant pot. Either way, you can taste the nutty, minty flavor of gungo peas with pimento, coconut cream, and spices dancing together in one dish.
Total time: 3 hours 15 minutes (Including 1 hour of soaking time)
Potatoes are my favorite food, and they go with almost anything. These herby and crispy roasted potatoes can easily give other fajitas side candidates a run for their money. They are bite-sized, buttery, and perfect for serving alongside or on top of fajitas.
For a crisper exterior, feel free to cook the potatoes at a higher temperature: roasting at 400℉ and above will takes at least 35 minutes. If you opt for a lower heat setting (350-375℉), the waiting time will be between 55-75 minutes.
For a more flavorful experience, don't hesitate to cook the potatoes with carrots. Similar to preparing and roasting the potatoes, you chop the veggies and season them. Then pop it into the oven alongside the potatoes.
Total time: 10 minutes
I give you another dip that is a breeze to make to truly enjoy fajitas the Mexican way. The perfect creamy mashed avocados-veggies-herbs mix can be ready with a snap. You can make the restaurant-quality Guacamole sauce at home in your kitchen.
The key here is choosing the best avocado for the job. Make sure they are neither unripe nor overripe by picking up only the dark green to nearly black ones. Another indicator is the skin with a bumpy texture and firm to the touch.
Guacamole works as it's a nice blend of creamy avocado, crunchy jalapeno, umami Roma tomatoes, and other ingredients. You will never get bored pairing the dip with various dishes, regardless if they are Mexican-based delicacies or others.
Explore how amazing and straightforward the making of Guacamole is.
What To Serve With Fajitas: The Total Game-Changer Recipes
You just learn about the gathering of the most amazing and succulent fajitas side dishes. Let's be friends and engage in the comment segment below to discuss and share what to serve with fajitas. Do you have any recipes that I have not covered? Feel free to tell me.
Please share the article so that more food lovers can experience the extraordinary fajitas pairings instead of eating the dish on its own. You don't want to miss the best recipes, and neither are others. Sharing is caring, after all!
The next time you step foot into a Mexican restaurant, you know what to order alongside the striped meat recipe. Or better yet, impress everyone around you by cooking these dishes at home.