Read more if you want to find out what to serve with chili to enhance the comfort on chilly nights. The spices and flavors inside a chili dish are incredible. But you can make them better with some simple and tasty side dishes.
There's a standard option most people would think of: cornbread. In reality, there are more, and these treats are just as good as cornbread when paired with chili. Scroll down to explore the best alternatives; some may surprise you along the way.
Overall, the list below includes my favorite side dishes to serve with chili. There is a variety of colors, aromas, and flavors for you to experience. So make sure that you will not skip any recipe here, then try making some of them, and they may become your favorites, too.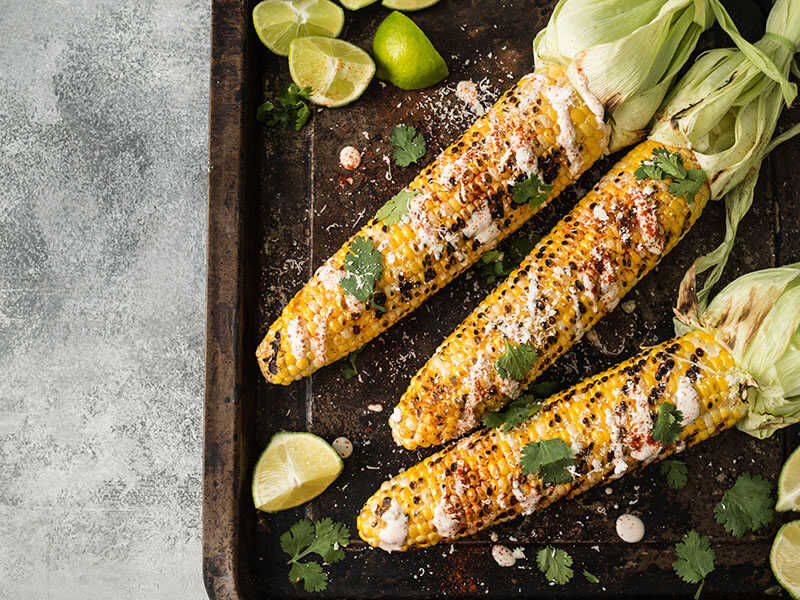 Mind-Blowing Ideas For Best Options To Serve Alongside Chili
Chili is fulfilling on its own, especially on holidays or gathering events. But if you want something more, or just want to turn the dish into a full and hearty meal, keep scrolling down and find out what are the best pairing options and ideas.
Total time: 30 minutes
Here you are, the top choice for a chili side dish, but this time it's an eggless version. Cornbread and chili are the classic and defining sweet and tangy duo. The dish is a moist and tender treat that leaves you wanting more after the first bite.
The yogurt is used as a substitute for eggs to maintain the moist and fluffy nature of cornbread. You should use regular plain yogurt instead of Greek ones because the final products won't be thick enough and too dry. Sour cream is also a good substitution.
The making is simple. It involves mixing the wet and dry ingredients into an oven-safe skillet or baking pan and baking the dish to perfection. To serve, top with honey, butter, or jam. You can also make the recipe gluten-free and dairy-free by swapping out some items.
Total time: 1 hour
Besides cornbread, onion rings are arguably the best second option. These famous American side dishes are best served with dipping sauce. In this case, there's a modified sauce included so you don't have to go the boring route of dipping the dish into ketchup.
The sauce is the highlight here. You don't have to go the boring route of ketchup. Instead, you should use a blend of mayo, sour cream, paprika, etc., for a more flavorful experience. You can adjust the sauce's sharpness by adding more or less horseradish.
The good thing is you can make these crispy and golden brown onion rings ahead. It's possible to fry them and let them cool, then flash freeze and store the rings in a sealable bag in a freezer for up to 2 months. Simply reheat the products in an oven when you want to eat them.
Explore how you can whip up onion rings effortlessly with this detailed cooking guide.
Total time: 2 hours 25 minutes (Including 2 hours of baking and resting time)
What's better than breadsticks to pair with a simple chili? The answer is homemade Italian-style breadsticks! I mean, the taste may be different, but anything homemade is better than store-bought goods, don't you agree?
The making time may be on the longer side (about more than two hours), but it's all worth it in the end. Plus, there's nothing quite like enjoying the crispy baked and delicious breadsticks you make from scratch with your own hands.
Since this is a copycat recipe, it's to be expected that you can get similar quality. The secret to how they taste so good is the butter, garlic seasoning, and salt you use to brush over the freshly-baked breadsticks. It's simple yet addictive. Who can guess?
Total time: 40 minutes
Irish potato nachos make for an ideal dish to go with the chili. The crunchy chips combined with creamy cheese balance out the spicy kick of the red stew. Don't worry if you can't eat up your meal: the Irish snack complements leftover chili-centered dishes just as well as new ones.
What's special about these nachos is it uses potato chips instead of corn chips. Therefore, they have less fat and carbohydrates than your average nachos. You can use either homemade or store-bought potatoes. Just beware that the latter is richer in calories and sodium.
The topping is delectable: cheeses, bacon bits, sautéed cabbage, etc. They all come together and create a savory, wonderful, and cheesy flavor. Feel free to add additional toppings like diced tomato or sour cream.
Total time: 30 minutes
It's never a bad idea to incorporate more greens and veggies into your diet, especially alongside chili. The refreshing and flavorful nature of coleslaw plays well with the hot and meaty chili. Plus, it's nice to serve a colorful dish with the dark red stew.
What's more, the crunchiness of the cabbage-carrot mix is a perfect contrast to the tender and soft meat. The creamy dressing adds more taste to the dish the coleslaw accompanies. There are no reasons not to pair chili with coleslaw.
The making process is straightforward: toss and combine all the ingredients in a bowl until well-mixed then drizzle the prepared dressing. If you want to save time, purchase premade mayonnaise and pre-shredded cabbage and carrots.
Total time: 15 minutes
Tortillas are everyone's favorite Mexican-inspired food. Quesadilla is tortillas filled with creamy molten cheese and veggie goodness. As you can guess, this recipe will be a hit with everyone when they dip it into the delicious chili.
Quesadilla is best served hot and crispy right after it emerges from the skillet. You can freeze the dish to prepare ahead: assemble Quesadilla and freeze it before cooking. To reheat, you can pan-fry or bake the dish in the oven.
The recipe is a blend of gooey cheese, spicy jalapeno, and fresh avocados. These ingredients make the Quesadillas extremely suitable to go with Crock-pot recipes revolving around savory ground beef, chili included. The blend of so many different flavors is just mind-blowing.
Total time: 1 hour 30 minutes
If you are bored with the conventional method of cooking potatoes like mashing, frying, or boiling, check out the loaded potato skins recipe. It calls for widely-available ingredients, so there are chances that you already have anything you need in your pantry.
The key ingredients include potatoes (the star of the show), Mozzarella cheese, bacon, and sour cream. You also need olive oil to cook basil and salt to taste. With these easy items, anyone can make perfect and cheesy bacon potato skins.
The best part about this dish is you can be creative with it. For instance, try changing the cheese with Cheddar, Swiss, or Colby Jack variants to spice things up. Swapping the bacon for peppered bacon or ham is also a good idea.
Learn how to make loaded potato skins and share them with your beloved ones now.
Total time: 30 minutes
In case you are seeking a fried dish to eat alongside your favorite chili, I got you covered. Air frying food is healthier than deep-frying variants, so rest assured you can get the best of fried pickles without worrying about the oil that can harm you.
When done correctly, you get extra crispy and crunchy air-fried pickles coated in panko bread crumbs. They taste amazing on their own, and even better when you eat them with a spicy kick from the chili.
Total time: 40 minutes
Chili is a high-protein dish, so it makes sense to serve it with a starchy side dish like rice. Besides, while you have prepared some great Mexican Crock-pot recipes, you can conveniently use the device to cook some rice, too.
The fluffy long-grain rice infused with tomato-based broth and paste, which also gives the dish its reddish hue, can capture the hearts of many. This is one of the best dishes to experience authentic Mexican taste. Should you want a stronger flavor? If yes, add more tomato paste.
Total time: 5 minutes
Here is another appetizing and straightforward Mexican-style side dish for chili. True to its name, Guacamole (avocado sauce) is made of avocados and other items like lime, onion, cilantro, and spices.
This dish has 2 parts: the Guacamole sauce and pita chips, both are simple and easy to make. To make the former, combine the avocado flesh (pit removed) with the required ingredients. As for the latter, cut the pita bread into triangles and bake them for about 10 minutes.
If you want the dish to be gluten-free, opt for gluten-free pita bread/chips. A knife, a bowl, and a fork are all the kitchen tools you need. Given its avocado-based nature, the Guacamole is a nutty and creamy dish with crunchy baked pita chips.
Whipping up a serving of Guacamole with pita chips is so easy.
Total time: 25 minutes
Besides Guacamole, white Queso is another good dipping option. It's a creamy white cheese dip consisting of Salsa Verde (green sauce), shredded Monterey Jack, Mozzarella cheese, butter, heavy cream, and cream cheese.
The recipe is cheesier and stretchier than your everyday Queso dip with all of the ingredients above. Plus, when Salsa Verde enters the picture, the dish will get a bit of zesty flavor. All in all, the results are a wonderful meal you don't want to miss.
The best way to serve white Queso dip alongside chili is warm with tortilla chips. If you want to keep the meal warm, I recommend using a slow cooker, so it doesn't boil or get cool.
Total time: 25 minutes
This is the recipe for when you want to spice up the already sharp and hot chili. Jalapeno popper potato salad has an amazing flavor with chunks of jalapeno and red potato. In case your equally savory Crock-pot-made beefy dishes need a side dish, the salad can save the day as well.
The dish is a bed of white cream cheese and mayo mixed with red and green from the bacon, veggies, and peppers. A spoon of this salad will surprise you with the salty bacon, spicy jalapeno, creamy Mexican blend cheese, and how they come together.
Total time: 15 minutes
The charred and crunchy sauteed broccoli is perfect for accompanying the tangy and zest chili. You can never get enough greens to pair with any food, and that's a fact. Broccoli is a rich source of fiber, iron, vitamin A, and C.
The recipe calls for black pepper, garlic powder, and lemon juice to taste. If you want something more, feel free to put in more ingredients like grated parmesan cheese, minced garlic, chili oil, orange zest, fresh thyme, etc.
Total time: 35 minutes
Why serve just one vegetable with chili when you can serve them all? Veggie skewers are an excellent choice for getting the many flavors of different fruits in bite-sized amounts. What's a better way to enjoy these healthy and refreshing summer treats?
The skewers are not only chock-full of savory flavors but also make for a colorful display on your plates. You are free to add or omit any fruits or veggies as you like. Whatever you do, the lemonade dressing adds depth to the combination of your choice.
The dish is suitable for grilling or roasting. The only hard work here is observing closely so that the veggies won't be overcooked. Nonetheless, the cooking and making shouldn't be longer than 35 minutes.
Total time: About 30 minutes
Mac and cheese is a favorite classic, so I don't think there's much to say about this dish. You can never go wrong with the mac and cheese and chili combo, the creamy dish enhances that tangy stew.
As for this recipe, you can make a nice and simple serving of mac and cheese without spending too much time and effort. The dish is a one-pot meal, which means it's quick to fix with few tools and steps required. The gist of it is boiling and stirring all the items in one skillet until melted.
Within 30 minutes or less, the familiar mac and cheese you love will be on your plates. Besides serving this creamy meal as a side dish, you can incorporate the chili directly into mac and cheese, resulting in a cross between the two.
Fill your belly with happiness by cooking the creamy and tasty one-pot mac and cheese.
Total time: 8 minutes
If you are a fan of corn, you should check out this grilled version. The sweet corn provides a good contrast to the chili, which is known for its heat. Plus, there's an accompanying sweet and smoky BBQ sauce to elevate the meal further.
To get the tender and charred corn ready on your table, all it takes is as little as 10 minutes and 2 ingredients: corn (with husks removed) and the sauce.
When grilling, brush the sauce over the corn when it is nearly done. Afterward, brush another layer so the dish could be savior and tangier.
Total time: 30 minutes
Biscuits are a side dish to chew on alongside soup, stew, or chili. This recipe is especially suitable for serving with chili thanks to the savory flavor and rosemary fragrance. With one bite, you will find joy in eating the crispy outside and fluffy inside of the dish.
Being a drop biscuit recipe, you can scoop the dough out onto the baking sheet and bake in a no-fuss fashion. Having said that, feel free to roll them out if you prefer the biscuits to be in a more uniform shape.
The milk and vinegar mixture is what holds the recipe together, but if you run out of them, buttermilk makes for a good substitution. It still can ensure your drop biscuits will be thick, dry, and as fluffy as ever.
Total time: 21 minutes
This may sound strange, but this fruit pairs nicely with chili. It provides a nice tart, smoky, sweet, and juicy flavor to the spicy chili. You can even incorporate pineapple into the red stew and turn them into one dish.
You can eat fresh pineapple alongside chili, but grilling the yellow fruit just takes it to the next level. The caramelized and charred pineapple becomes even juicier and imbued with smoky flavor, which you couldn't find in its fresh form.
The magic for all of that is the marinade made of avocado oil, lime juice, chili powder, and salt. You can adjust the heat by controlling the amount of added chili powder. If you don't mind some extra spiciness, serve the grilled pineapple with pickled jalapenos.
Total time: 22 minutes
Here's a versatile side dish for every meal: chili, lunch box, snack, etc. Within 30 minutes, you can whip up about 32 sweet-savory corn dog mini muffins for everyone to enjoy. You may have to bake multiple batches as the finger-licking small bread can disappear very fast.
Corn dogs may take a lot of work to make, but corn dog mini muffins are not. Indeed, the whole thing is fun, simple, and hassle-free from beginning to end. You don't have to deal with the splashing oil as there's no deep-frying involved.
Total time: 1 hour 30 minutes
Sweet potatoes are another great option to serve with chili. They are easy to cook, budget-friendly, and widely available. The following recipe is a caramelized take on this root veggie. The texture is perfectly clean-cut, which helps the sweet potatoes cook thoroughly.
What's special about the dish is it requires no oven preheating step. This may sound odd, but cooking in a cold oven is good for changing the starch to sugar process. Thus, you will get a softer and more honeyed result.
Knowing when to flip the sweet potatoes over is important. Watch closely and find visual cues. Pay attention to the transformation of the surface from bright orange to golden brown. Make sure everything is not overcooked and burnt.
Expand your cooking arsenal now with the easy and flavorful oven-roasted sweet potatoes.
Chili Side Dishes: The Best Options You Don't Want To Miss
That's all I have to say about what to serve with chili. Do you think the listed recipes are interesting and tasty enough? Wait no more and comment on what dish you intend to serve alongside chili the next time you cook this succulent stew.
Eating chili on its own is plenty flavorful, but you can add so much depth to the whole dish just by serving it with many toothsome recipes. Remember to share this link so more people can learn and enjoy the hot and sharp Texas-style stew.
Alright, I won't keep you here for long. Now it's time to roll your sleeves, venture to the kitchen, and get to work! And you can get all of these delicious and mouth-watering delights ready in no time at all.