You have no idea what to serve with burgers but potato fries, which everyone in your family is sick and tired of? Do not give up! Because you can get through that situation with my informative article.
Plus, there is something you will gain after reading this post. You will obtain a list of 26 side dishes to pair with your burgers. Not just a list, but this post will provide more interesting information such as flavors, recipes, and some pro tips for you to master the sides.
So, are you ready to level up your burger party? Keep scrolling from top to bottom to gain the best!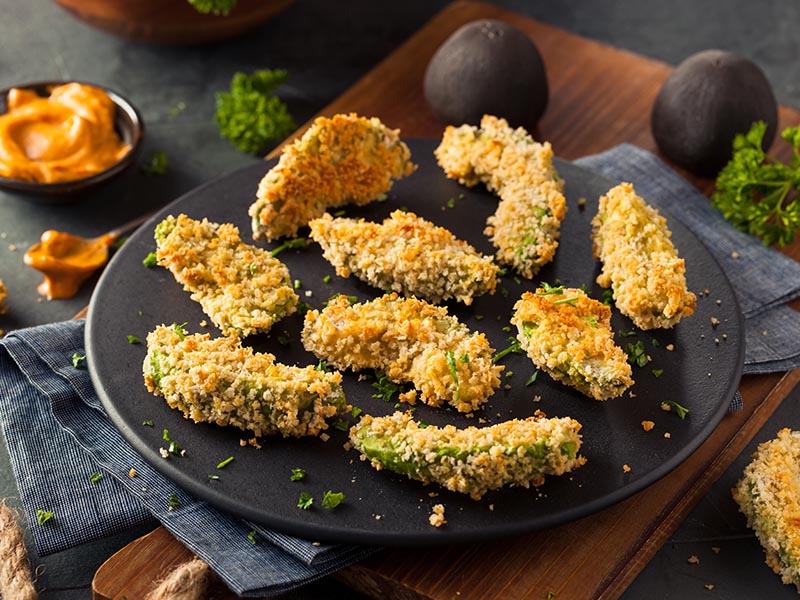 Explore Numerous Side Dishes To Pair With Your Burgers
You do not need to be confused about what to serve with burgers since numerous sides are waiting for you to explore. They range from crunchy fries to delicious salad bowls. All will be your diners' pleasers. So, keep reading to learn more!
Total Time: 1 hour 5 minutes
If you are tired of eating French fries with hamburgers, you should try sweet potato fries. These fries will be an excellent alternative. Not only are they naturally sweeter, but sweet potato fries are also healthier to eat than regular fried foods with their high vitamin and fiber value.
When enjoying this fried delicacy, you will experience a crisp outer layer yet fluffy and creamy in the interior. Besides, the outer layers of seasoning also make the coat more flavorful with the addition of salty, sweet, and spicy flavors.
In addition, there are some notices to master the sweet potato fries. First, you must fry these potato cuts to get the perfect crispiness. Also, potatoes should be of equal sizes so that when frying, they will be crispy and well cooked.
What is the secret to the best fried sweet potatoes? Check it out!
Total Time: 20 minutes
Black bean salad is an insanely easy summer side dish staple, thanks to the existence of canned low-sodium black beans. The canned product preserves the original taste of black beans and their nutrition. So you can safely use this product to save time.
Now back to the food making! The black bean salad is done within five minutes once the ingredients are well prepared. All you need to do is stir them with the dressing in a large bowl until well mixed, and then you can serve it immediately.
The finished food will taste tangy, sour, and a little spicy. But if you want more flavors, you can add some variations to your salad bowl. In particular, you can add cumin for some earthy flavor or flavored vinegar for some sourness. It is all your choice!
Total Time: 10 minutes
Greek cucumber salad is a refreshing and healthy side food for summer with loads of juicy tomatoes and cucumbers. Besides, this dish is also trouble-free. With only a knife, cutting board, and a bowl, you can complete this delicacy in no time.
When you serve Greek cucumber salad with a hamburger, the fresh and sour flavor of the salad will reduce the greasiness of the hamburger and stimulate your taste buds simultaneously. Besides, the fiber in the salad will also help you digest the fast food you just enjoyed.
While it is an easy dish to follow, the heart of the salad is in the dressing. So, you should remember to put some effort into it and tweak it according to your preference. Simply taste it and add some more seasonings until you get it right. Just take it easy!
Total Time: 37 minutes (Resting time: 10 minutes)
Here come another hearty fries! Zucchini fries are a light and delicious dish to serve with your burgers. The best ones will bring you a crispy outside yet moist and tender inside. Besides, you will find these fries flavorful but still retain the unique taste of zucchini, sweet and earthy.
If you desire a healthier version of zucchini fries, you can cook them in the air fryer. There will be less oil, and you do not have to lick your greasy finger. Also, the air fryer can cook your zucchini fries so fast that they will not dry out by the serving time.
However, you should not rely on the air fryer entirely. Instead, you should support it with two simple actions: Leave enough room when placing the fries in the air fryer basket for the hot air to circulate evenly, and remember to slip your fries to another side at half cooking time.
Let's follow this step-to-step guide on making gluten-free, low-carb, and keto zucchini fries.
Total Time: 10 minutes
Cilantro lime slaw is a fresh and zesty side dish for burgers. Moreover, the food requires simple ingredients and only ten minutes to make. For that reason, it has become everyone's favorite side plate.
To make the side, just grab a pack of coleslaw mix at a local market and dump things in a blender to make the sauce. Then mix all the ingredients well, and your creamy and tangy cilantro lime slaw is ready for serving within just ten minutes or less.
If you like to get creative with other flavors, you can start with the sweetness by adding honey. Or, you can put in your favorite nuts to add extra crunch.
However, your slaw will only last longer for up to one day in the refrigerator. So, to prevent waste, you should prepare just enough for the family's meals. Also, remember to label the storage date to avoid eating spoiled food.
Total Time: 15 minutes
Not only are fried onion straws suitable for your hamburger side, but they are also light and tasty snacks to enjoy. In particular, perfect thinly-sliced onions, coated with a seasoned golden batter outside, will give you a crispy bite with a tangy and buttery flavor.
If you do not want the flavor of your side dish to be too harsh, you should pick the yellow onion or Vidalia as a substitute instead of the white onion, which is the bitterest out of the three.
Besides, you should slice your onion a quarter-inch thick to ensure quick and even cooking. In addition, remember to let the oil hot enough before adding onions if you do not want them to be too oily. After that, you should watch out since onions get done very quickly.
Total Time: 25 minutes
Red potato wedges are an unbelievably quick and convenient air fryer side dish to hamburgers. You only need three widely available ingredients and an air fryer to finish the plate. In less than 30 minutes, you will have wonderful food to pair well with your kids' burgers.
So why does it have to be red potatoes? Indeed, there are two things to consider: one is the nutritional value of red potatoes, especially with the skin on, and the second reason is its unique texture, less starch, and creamier, which is perfect for making wedges.
Besides the advantages of red potatoes, this delicacy is also customizable. Specifically, you can choose any seasoning you like to coat the potatoes, as in this recipe, all-purpose seasoning is an option.
Moreover, you can adjust the thickness of the potato you cut. While a thick cut will ensure tenderness, a thin one will give you a crunchy sound.
Total Time: 40 minutes
Baked mushrooms in Parmesan cream sauce is the perfect combination of mushrooms, butter, milk, Parmesan cheese, and Panko. Usually, people use it as a side dish for their favorite main course or as an appetizer to kick-start the party.
But the common reason is the authentic taste it reveals when put in the mouth. This baked food is rich and creamy with a tanginess of mushrooms, which is especially pleasant when served warm.
For that reason, you may want to serve this beautiful dish with hamburgers at a special dinner. In particular, Christmas Eve will be an ideal occasion to have it at a dining table, when you, your spouse, and especially your kids gather together and enjoy the playtime.
Total Time: 30 minutes
Grilled vegetable orzo salad is a usual and delightful side dish everyone will love. As its name suggests, this salad bowl contains two main ingredients, grilled vegetables and orzo pasta, which are easy to find in any market.
In particular, the vegetables can vary depending on your desire or availability. Besides, the grill methods also turn into two ways for you to choose: large pieces on the grill and smaller ones in a grill basket. It is all your choice!
Also, if you want more tropical or natural sweetness, you can add cubes of mango or peaches to your orzo salad bowl. And if you desire to treat it like a main meal, you can add grilled chicken, meat, or tofu.
Let's whip up a homemade grilled vegetable orzo salad with this easy recipe!
Total Time: 55 minutes
From their characteristic texture, garlic herb melting potatoes have earned their name. In particular, they have a super crispy exterior but a madly fluffy and light interior, making you feel like they melt in your mouth when you eat them.
But the oven temperature must be super hot (500°F) to achieve that perfect melting point. Therefore, you should have a heavy sheet pan to avoid making loud bangs in the oven and scaring your neighbors.
If you have secured the tools, making this side dish will be simple. The oven will be the one to help you with almost everything. Just toss sliced potatoes in the pre-prepared butter mixture and place them in the oven for 30 minutes, flipping another side in the middle of time.
Then put the broth and smashed garlic in the sheet pan for 10 – 15 minutes. When most of the stock is absorbed and the top becomes crispy, garnish with fresh herbs (or dried ones) and serve.
Total Time: 14 minutes
If you love the smell of garlic, you should not miss sauteed mushrooms with a garlic butter dish. This outstandingly made mushroom starter or side dish will satisfy your family with a shimmering brownish color and tangy yet buttery flavor.
In addition, this side dish has many advantages for you to consider. First, it has a meaty, firm, and juicy texture because the mushrooms are sauteed twice. Also, it is friendly with low-carb and keto diets with a simple swap of butter for plant-based butter or coconut oil.
Moreover, you can also make this delicacy a day in advance and simply reheat it by using a pan or microwave, which is both convenient and delicious.
Total Time: 20 minutes
Do you want to find something crunchy yet light enough to go with hamburgers since they are boringly tender? If you need that, tortilla chips are a good fit since "crack" is what you will hear when grabbing one.
This recipe will make tortilla chips from scratch within just 20 minutes. In particular, you will only need three ingredients, including tortillas, salt, and oil, with some easy actions like brushing and baking, and then you will have a pile of tortilla chips.
If there are leftover chips, you can store them in a large-sized ziplock bag. They will last for up to three to four days at room temperature. To re-crisp your chips, you can put them in an oven at 375 degrees F for a few minutes until they are brittle again.
Figure out how to make baked corn tortilla chips with only three ingredients!
Total Time: 25 minutes
Asparagus pasta salad is a top-notch dish to side with your hamburgers. Its tanginess and creaminess with lemony flavor will eliminate the greasy taste and level up your burgers, especially when served cold.
In addition, the color of this salad will also stimulate your appetite through visual cues. The red tomato, the green asparagus, and the purple onion in companion with the white dressing will blend into a colorful and eye-catching side dish on the table.
In particular, the most time-consuming step lies in the process of cooking the pasta, which accounts for 15 minutes out of the total cooking time. For the rest, you just need to stir everything well, and then you will get the result of a yummy salad bowl.
Total Time: 20 minutes
Strawberry spinach salad is a delightful blend of fruit and vegetables that bring freshness to a dry burger's meal. Especially this salad is welcome to everyone, vegetarian or not, thanks to its changeable vegan ingredients.
In particular, the main ingredients, such as strawberries, spinach, baby cucumbers, or balsamic vinegar, are vegan-friendly, but not Dijon mustard since its filtering process contains animal by-products like albumin (egg whites) or gelatin (animal protein).
Nevertheless, rest assured that you can replace it with many substitutes, such as lecithin powder. Thus, this dish can be 100% vegan if desired.
In addition, to serve the best salad dish, you should better dress your salad just before serving so that your spinach will be fresh instead of wilted. Or, you can serve your dressing on the side and allow everyone to use the amount of dressing that they like.
Total Time: 30 minutes
If you have ever eaten at a BBQ Korean restaurant, you will know that Koreans love small vegetable sides like kimchi and cucumber because they are healthy for digestion. Therefore, this flavorsome Korean creation is worth trying, especially for heavy food like hamburgers.
You will make this salad with a quick pickled cucumber and sweet-yet-spicy dressing. When biting, you will find the seasoned cucumber crispy and tangy, plus a spicy note lingering on your tongue long after, stimulating your taste buds for the main course.
To store leftovers, you should put them in an airtight container in the fridge. They will last for up to three days. However, the longer you keep them, the more liquid they release, not to mention that their flavors will get more pungent. Therefore, you might want to deal with them soon.
Total Time: 22 minutes
If you are following the keto diet, avocado fries will be the best alternative to your regular fries, which taste strange yet delicious when paired with hamburgers. They are crispy and flavorful on the outside while creamy on the inside.
Avocado fries are easy to make, just slice avocado and coat it with almond flour, pork panko, and seasonings, but to make this delicious, you need to choose perfectly ripe avocado. Indeed, there are some helpful tips to get the perfect one.
Specifically, you should look for signs on the appearance of the fruit. While the perfect avocado should have a skin color between green and black, its texture should be firm but not rock hard. You can have a gentle squeeze to check for that.
Let's discover the simple five-ingredient avocado fries recipe!
Total Time: 22 minutes
Green bean fries are another perfect choice to alternate the boresome potatoes. They are an easy yet mouthwatering side dish to bring to a dining table along with your hamburgers. In a short time, you will have crunchy veggie fries that take your mind off potato ones forever.
To make green bean fries, simply dip the green beans in the flour, eggs twice, and then seasoned bread crumbs. Until the beans run out, you will bake them for 10 minutes and prepare the ranch sauce to serve. Super easy, right?
If you want to change the dipping sauce, feel free to change it to your liking. A few suggestions for you are a mixture of sriracha and mayonnaise or roasted garlic and mayonnaise. The fatness of the mayonnaise in those dip sauces will increase the appeal of your side dish.
Total Time: 15 minutes
If you want a juicy pairing with your dry burgers, watermelon salad is for you. Alternatively, you may add this recipe to your favorite watermelon entree list to whip up at any time. Just stir the ingredients into a bowl, chill your salad, and then serve.
Besides, watermelon salad is highly customizable. You can add any herb you have in the backyard to the recipe. If you are a parsley lover, grab some for your salad. Or, you derive some unique and fabulous taste from fresh dill or basil.
Total Time: 15 minutes
Carrot fries are a handy and healthy additional plate to pair with your hamburgers. Indeed, compared with white potatoes, they are less sugar, carbs, and fewer calories. Therefore, you may love to have these fries in your weight loss diet.
Although carrot fries have a simple look, they will surprise you with their flavor. In particular, they will taste naturally sweet along with a salty and tangy flavor of seasonings, which is super addictive to eat. And I am sure your kids will love them as well.
In addition, some helpful tips may help you deal better with this side. First, choose nice bright orange carrots without brown spots. Also, try to cut carrots into quarter-thick slices or thinner for crispier fries. If you desire to cut down on calories, use olive oil spray instead.
Total Time: 55 minutes
Loaded smashed potatoes are a hybrid version of french fries and fritters, inheriting the crispy outer and tender inside. In particular, "loaded" in their name means their loads of numerous toppings, including cheese, sour cream, bacon, and green onions.
For that reason, they are tasteful with cheesy and savory flavor, which fits pairing next to your burgers. If you want an additional food herby and lighter, you can always simple the topping with fresh herbs. No matter what you top on them, smashed potatoes are always quick to vanish.
Do you know how to handle loaded smashed potatoes? Here is the answer!
Total Time: 25 minutes
Cheesy corn fritters are a note-worthy recipe utilizing canned corn to try. Besides, they also consist of jalapeno, cilantro, and onions with a lot of cheese and seasonings. All cooked together with a small amount of oil create a crispy golden outside yet soft and tender inside.
When you bite into a piece of corn fritters, the cheese will melt in your mouth in accompaniment to numerous juicy corn bits. These two combined create a creamy but not greasy experience. If you seriously feel the flavor, there is also a tangy and spicy afternote.
A plus for this recipe is its storage time, up to two to three months in a freezer. When you want to savor the fritters, thaw them the night before in the refrigerator or on the counter for one hour and heat them in the pan for hot serving.
Total Time: 5 minutes
If you are looking for a vegetarian side dish, you are in the right place. Sauteed swiss chard with peas contains greens, butter, and lemon sauce, which will ensure you have a light and delightsome break between the main dishes.
In particular, sauteed Swiss chard will bring you full of flavor with tanginess, grassiness, and sweetness. Also, the green vegetables in the side dish will promisingly provide loads of vitamins, helping strengthen your immunity and health.
However, one drawback of this plate is its short shelf life, only one day if stored in the fridge. Therefore, it is best when served immediately.
Total Time: 20 minutes
Frito taco salad is a delightful dish to bring Mexican cuisine onto your dining table. In particular, the salad involves Frito chips (of course), iceberg lettuce, ground beef, and vegetables topped with creamy French dressing.
That's why your dish will be full of zestiness and freshness, which will level up your hamburgers when served together. You can also savor the combo with some easy taco salad side dishes for a fuller meal as well.
In addition, you can freely substitute any ingredient in the recipe. For instance, you can use romaine and any greens instead of iceberg lettuce. Or, you can substitute ground beef for ground chicken. In the end, you are the cook, so it is all your choice.
Let's surprise your kids with Frito taco salad and Catalina dressing!
Total Time: 25 minutes
Deviled egg salad is a salad form of the deviled egg, which derived the name from the spicy taste and heat some people likened to the fire from hell. Specifically, this salad delicacy has eggs, red bell pepper, celery, and green onions with other various seasonings.
After blended well, all the ingredients will contribute to the flavorful deviled egg salad. It will taste creamy and tangy with a hint of spiciness, stimulating your taste buds and making your hamburger tastier when paired.
Plus, you should serve this side dish chilled for the best taste. If there is any leftover, you can keep your salad bowl for up to three to five days in the fridge. Thus, you can feel free to make it ahead.
Total Time: 30 minutes
Zucchini fritters are budget-friendly and gluten-free dishes for vegetarians, especially when you have leftover zucchini. All thanks to the handy ingredients they require, namely zucchini, red lentils, sweet corn, and buckwheat flour.
Besides, the making process is also simple. Simply mix the pre-prepared ingredients into a large bowl and form them into fritter shapes. Then fry or bake these patties until golden on both sides, and your dish is ready for serving.
In this delectable buckwheat recipe, there are two crucial tips to notice, one is to salt the zucchini, and the other is to use the flour. While the first one will help drain out the liquid and contribute to the crispy texture, using the flour will help bind the food into your desired shape.
Total Time: 15 minutes
Kale apple slaw is a colorful dish combining kale, apples, red cabbage, carrots, and sunflower seeds. In addition to maple Dijon vinaigrette, your salad will be full of the four key flavors: sweet, sour, spicy, and tangy.
There are some pro tips you must know to master the salad bowl. First, you should massage the kale to give it a perfectly tender texture, which is easier to infuse the dressing.
Also, you should slice everything as thin as possible to help them soak well in the acidic dressing. Finally, to eliminate the bitterness of onion, soak your red onion in the vinaigrette. This tip will also help prevent your onion from overwhelming the taste of the whole dish.
Now You Know What To Serve With Your Burgers
Now you have got a bunch of side dish recipes to serve with hamburgers. Just choose one to handle; you will astonish your family with your cooking skill and knowledge. So, which food is your favorite? Leave a comment to show your interest!
Also, my site works because of your support. Thus, if you find this article has met your needs, please give me a like for motivation, and do not hesitate to share this post with people who need this. I am very grateful for your engagement. Thank you, and see you later!