No more wondering what to serve with brisket tonight. All these recipes don't require a long time to cook and consist of basic ingredients. So you can prepare them anytime you want, even for a casual dinner, weeknight party, or BBQ picnic.
I'm here to provide you with a detailed list of side dishes for brisket. From roasted veggies to cornbread, all of them are hearty and comforting. Besides, let's make life easier with some cooking tricks below that you shouldn't miss. Cooking has never been this simple before!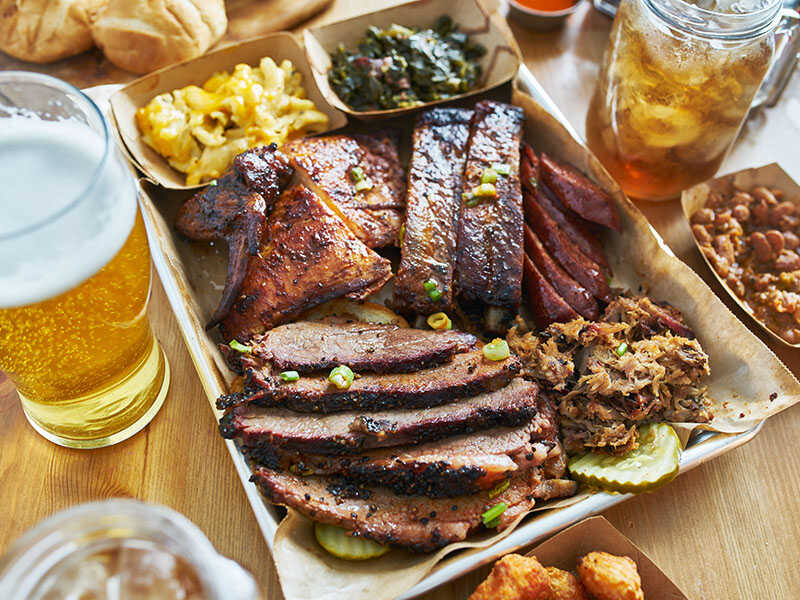 Simple But Tasty Side Dishes For Juicy Brisket
These top-rated side dishes below strike a balance with the meaty and savory flavor of slow-cooked, baked, or braised brisket. Whether you serve them with specialties made from leftover brisket or fresh ones, they are sure to impress you. Check them out now!
Total time: 15 minutes
This recipe allows you to make a hearty dish from zucchini and corn in the simplest and fastest way. Zucchini sauteed with onion, garlic, and Italian seasoning brings a nice smell and a natural sweetness. Sprinkle some parmesan cheese on top. So yummy!
Does the zucchini become mushy? Not at all. The key here is to cook it for 5 to 7 minutes. Your greens will get tender but not soggy. Moreover, a pinch of salt can help the sides taste good, but adding too much will make your zucchini watery.
Your sauteed side dish is still delicious after 3 days of refrigerating. However, if you freeze it, the zucchini will turn to mush. The food can go with any meaty course like beef, pork, or chicken.
Total time: 35 minutes
Roasted vegetables are one of the most fitting sides for beef courses. This recipe will steal the show since it's a combination of caramel-like, tender, and well-seasoned root veggies such as squash, fennel, and potatoes.
The recipe is flexible, so you can alternate with any seasonal root veggie that you have on hand. Besides, thyme and rosemary will give your dish an aromatic fragrance. Before combining the herbs with others, remove the leaves off the stems.
It's best to serve the dish warm out of the oven. You can keep any leftovers in the fridge for 5 days. However, the veggies will lose their firmness if you store them for too long.
Oven-roasted root vegetables are an effortless-to-make side dish for every occasion.
Total time: 50 minutes
Soft sweet potatoes and crunchy pecans make the dish a hit. Furthermore, the side can pair perfectly with the savory flavor of brisket due to the subtle sweetness of sugar and sweet potatoes. Pecan roasted sweet potatoes are best at Thanksgiving, Christmas, etc.
The roasted side is coated in a shiny glaze thanks to brown sugar and butter. However, they also make the ingredients stick to your baking sheet. To remove those sticky residues, wash the sheet pan when it's still warm.
Total time: 20 minutes
Are you looking for a side to eat with roast brisket this dinner? I highly recommend this pea and pancetta recipe. Pancetta is a type of Italian salt-cured bacon made from pork belly. You can commonly find it in many grocery stores or supermarkets.
Always choose high-quality and fatty pancetta for the best flavor. You can add more oil when frying if the meat doesn't have enough fat. This tip can help make your bacon crispier.
Both frozen and fresh peas are accepted. If you use fresh peas, remember to add some water when cooking. But don't do so with frozen ones since they contain excess moisture. Make sure to check the doneness of the veggies by tasting them.
Total time: 14 minutes
Many people don't like okra since it tastes bland and grassy. But this recipe will change your attitude. Roasting okra helps sweeten it and cut down on the bitterness. Moreover, by seasoning the greens with salt, pepper, and garlic powder, the okra has a bold flavor and an aromatic scent.
After coating the okra with oil and spices, you can bake it in a 425°F preheated oven for 12 minutes. If you use sliced okra, roasting for 8–9 minutes is enough.
This side dish is ideal for a wide range of scrumptious sous vide recipes, including sous vide brisket. Enjoy the combo, and you can absorb an ample amount of proteins as well as soluble fiber.
Total time: 45 minutes
Side dishes made from potatoes can never go wrong with beef brisket. These melting potatoes are crispy and golden brown but tender and filled with a buttery and citrus flavor. Not to mention, this potato side is family-friendly and easy to whip up.
Yukon Gold or other yellow-fleshed potatoes are recommended to use in this recipe. After peeling, slice the potatoes into 1-inch thick pieces. Remember that each slice should be the same size. If not, your potatoes can't be cooked evenly.
You can top some crumbled feta on the food when it just pops out of the oven for a cheesy version.
Total time: 40 minutes
Standing out from other popular casserole potato recipes, scalloped potatoes are loaded with butter, cheddar, and bacon. They are a perfect side dish for every family gathering, dinner, or BBQ picnic. It's also easy to store any leftovers in the fridge for a couple of days.
Assembling loaded scalloped potatoes can take a little effort, but it won't be challenging. Start by boiling the potatoes and preparing a cheese sauce with butter, chicken broth, milk, and spices. Then layer everything in a baking dish and bake until fork-tender.
Here are some small notes you need to know for a successful result. Make sure to add the potatoes to the water first before boiling the water. Wrap the baking dish with foil and bake for 25–30 minutes. You should only uncover it in the last 5 minutes.
Loaded scalloped potatoes are an unbeatable side to serve with brisket.
Total time: 15 minutes
Sauteed broccoli is a fast, healthy, and toothsome side dish for a busy weeknight dinner. More importantly, the moist and crisp-tender broccoli is perfectly suitable for pairing with your chewy and meaty meal.
This is how you can cook the broccoli to a slightly charred, crispy, and tender state without boiling it first. In a hot pan, cook the broccoli for 1-2 minutes, then cover the lid to let the greens soften for 6 minutes. You should stir the greens often to keep them from burning.
Why should you eat more broccoli? That's because it is rich in vitamin A, C, iron, potassium, folate, etc. Broccoli stalks are also high in prebiotics. The veggies are available all year round so that you can make this wonderful sauteed side dish anytime.
Total time: 30 minutes
Your brisket dinner will become more flavorful when eaten with broccoli cheese casserole. Even if your kids are veggie-picky eaters, I bet they will consider giving it a try. Creamy, gooey, and delightsome are words to describe the side dish.
The casserole includes fresh broccoli and a homemade rich sauce made with cheese, sour cream, garlic powder, salt, and pepper. Additionally, you can prepare the side ahead of time and reheat it when you're ready to serve.
For storing, you should wait until the dish is totally cool, cover it in foil, and freeze it. Before reheating, defrost the frozen food overnight in the fridge, then bake at 350°F for 20 minutes.
Total time: 10 minutes
Creamy macaroni salad is the ideal food to pair with smoked beef brisket, one of the most addictive smoker recipes in existence. The al dente macaroni, tomatoes, and celery coated in the cheesy dressing are irresistibly yummy. Plus, the side dish can stay for 3 days if properly refrigerated.
As for assembling the salad, after cooking the macaroni, don't forget to rinse and drain it well. Next, whisk mayo, sour cream, mustard, and vinegar until combined to make the dressing. Now add the mixture to the other ingredients, stir, and enjoy.
Total time: 10 minutes
No one can resist this nicely charred miso corn on the cob. Its crunchiness and sweetness never fail when served alongside any protein meal. You can save energy with this recipe since you don't have to cut the kernels off the corn.
The corn dish has a salty, sweet, and earthy flavor due to being spread in miso butter, which includes white miso, tamari, lemon juice, and syrup. The miso mixture will be firmer and more buttery when you let it sit some time in the fridge.
To prepare the corn, remove the husk and the silk of the corn, quickly boil for 3-5 minutes, brush it with miso butter, and serve warm. If you want the corn to be beautifully charred, follow the steps above and continue to broil it in the oven for 3-5 minutes.
Total time: 10 minutes
A bowl of crunchy, tangy, and fresh cilantro coleslaw is a perfect accompaniment for sandwiches made with pastrami. People usually prepare this kind of meat from beef brisket, whose rich and savory flavor goes so well with the refreshing coleslaw.
Lime juice, olive oil, and agave are what you need for the dressing. If you want your food creamier, combine the dressing with one or two tablespoons of mayonnaise. To prepare the slaw, cut green and purple cabbage into thin slices. Carrots should also be peeled and julienned.
Cilantro coleslaw is a light, fresh, crispy, and healthy side dish.
Total time: 15 minutes
Baked tomatoes with cheese are a crowd-pleasing side dish for every occasion. Everyone will love to try these fresh tomato slices topped with a layer of parmesan and mozzarella. They're undeniably delicious.
Look at this lovely side dish. No one can expect it's prepared just by lining sliced tomatoes on a sheet pan, layering them with some cheese and fresh basil, then baking for 10 minutes. Stop hesitating! This is the simplest but greatest side dish of all time.
You can serve these cheesy tomatoes with every main course, including brisket, or eat them as yummy appetizers or snacks at potlucks, get-togethers, etc.
Total time: 13 minutes
Need something to pair with your corned beef brisket or other great corned beef recipes, for that matter? If you don't have time for complicated sides, sauteed asparagus is a wise choice.
Compared to roasted or baked asparagus, sauteing can cut down the cooking time while the veggies are still tender and toothsome.
Preparing classic sauteed asparagus doesn't take much energy. The only thing you need to buy is asparagus. All of the others are available in your kitchen. Plus, you can add more flavors to the side with anything you have on hand, like cheese, butter, or herbs.
Total time: 30 minutes
You'll want to make this recipe again and again since it thoroughly stands out. The cauliflower is pleasantly sweet, spicy, garlicky, and baked until soft and golden brown. This food is gluten-free and perfectly suitable for all protein entrees, from beef to chicken.
Avocado oil, hot sauce, lime juice, and garlic powder are some of the components of the bang bang sauce. Before baking the cauliflower, you should place parchment paper on your baking sheet. Toss the florets evenly with the sauce and add some cheese for a better taste.
Total time: 40 minutes
Enjoying brisket with jalapeno cheddar cornbread is a brilliant idea for a hearty dinner. Everyone will love the side since it is gooey, spongy, and buttery.
The ingredient list for this recipe includes yellow cornmeal, flour, baking soda, jalapenos, cheese, etc. The secret to creating the fluffiness for cornbread is vinegar, milk, and yogurt. Combine all of them and let the mixture sit in your fridge. It'll help your bread rise better.
Even at room temperature, the cornbread is still yummy after 4 days. You can reheat it for a few seconds in the microwave, then drizzle it with some raw honey before dishing it up on the table.
Jalapeno cheddar cornbread has a golden brown exterior and is loaded with cheesy flavor inside.
Your Meaty Meal Is Incomplete Without These Side Dishes
Brisket alone is good. But it'll be much tastier when served with these hearty sides, especially when they are painless to prepare. Now it's your turn to pick some recipes you like the most, whip them up in a few minutes, and serve them alongside the brisket.
Remember to share the results with me by leaving a comment. I'm always happy when I know your thoughts. By sharing this article with more people, you have greatly supported me. Last but not least, I wish you success with these recipes. Bon appetit!
Nutrition Facts
4 servings per container
---
Amount Per ServingCalories107
% Daily Value *
Total Fat 7g

11

%
Sodium 299mg

13

%
Potassium 344mg

10

%
Total Carbohydrate 8.8g

3

%

Dietary Fiber 3.7g

15

%
Sugars 1.8g

Protein 2.3g

5

%
---
* The % Daily Value tells you how much a nutrient in a serving of food contributes to a daily diet. 2,000 calories a day is used for general nutrition advice.