Is "what to serve with baked potatoes" the question you're seeking the answer to? And do you want to know more than just two or three dishes? No problem! This title will give you the best recipes to serve your family and guests.
Not only names, but the post will also provide you with tons of informative notes, from taste and texture to ingredients list and instructions. And not stopping at that, it will also let you know several tips and tricks to make the best versions of dishes.
So are those the answers you need? If yes, keep reading for more!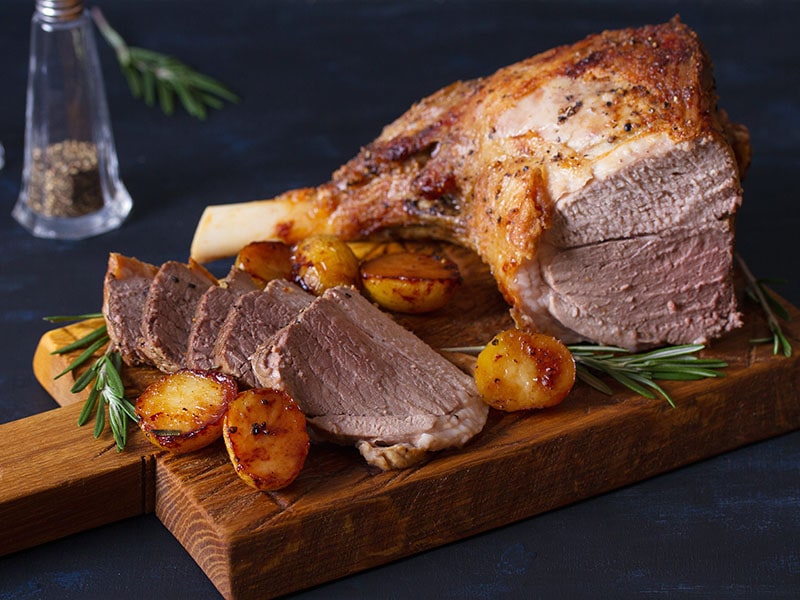 19 Hearty Side Dishes To Perfectly Pair With Your Baked Potatoes
Do you need some impressive and insanely delicious dishes to pair with baked potatoes in the next get-togethers? The following hearty sides will fit the bill nicely. They can go with leftover baked potato ideas as well. Scroll down and pick your favorites!
Total Time: 30 minutes
Your family will be satisfied with this garlic butter steak accompanied by baked potatoes. The hearty steak has a beautiful dark crust outside with an excellent medium-rare inside that is reddish-pink, soft, and juicy when sliced.
Infused with garlic compound butter, the fatty steak is on another level. It has an additional buttery taste and is full of flavor, then paired with a subtly sweet mild taste of baked potatoes. Together the two dishes create a great texture and burst of flavor in your mouth.
To make this hearty dish most conveniently, you can make the garlic compound butter in advance and store it in the refrigerator for later. It will keep up to one week since stored.
Check out how to make a trouble-free pan-seared steak with garlic butter!
Total Time: 8 hours 25 minutes (including 8 hours of refrigerating time)
Not only is duck wonderfully delicious, but it is also economical compared to other steaks. So if your family is not a fan of firm steak, give this pan-seared duck breast a chance. When done correctly, it will have a juicy and succulent texture and impressive golden crispy skin.
Scoring the skin is a must-have step to render the natural fat of duck. You can score your duck breast with a sharp knife or use a sausage pricker to create a lot of tiny holes on the surface. But remember to only process the skin and fat, not the meat.
After scoring, you should place the duck breast in the refrigerator uncovered for up to 8-12 hours. This technique is the key to your crispy dish since the cold air will help dry the skin. Also, let your pan-seared duck rest before serving for the juice redistribution and the tender meat.
Total Time: 2 hours (including 30 minutes of chilling time)
Beef Wellington is a celebratory meal served on almost any special occasion, but perfect for holidays like Christmas and Easter. The earthy duxelles (sauteed mushroom mixture) and a juicy tenderloin wrapped with a crispy buttery crust combine for an unforgettable main dish.
Notably, you can prepare most of this elegant main course one day before serving. Doing this will save much time for you to greet guests. Just follow the recipe to make beef and duxelles, then wrap them up in a plastic wrap with prosciutto and store for up to 24 hours.
And all you need to do the next day is to take out the puff pastry, wrap the prepared roll, and bake the beef wellington. But you should never add the puff pastry to the preparation step since it can get soggy if wrapped with others and stored under wet conditions.
Total Time: 30 minutes
If you are tired of eating meat with potatoes, try grilled portobello mushrooms. They have a meaty texture – firm and chewy, but with a unique earthy flavor. The well-marinated mushrooms are also a flavorful dish to go with potato salads, soups, casseroles, and more.
To handle the delight, you only need to do two simple actions: marinating and grilling. Simply marinate the mushrooms and let them sit for 10-20 minutes. Once absorbed, start to sear them in a fully heated pan. Instead of moving mushrooms, just gently press down for the perfect grill.
Unfortunately, the grilled Portobello mushrooms can be soggy sometimes. Therefore, you should do some extra steps to prevent unwanted dullness. First, use towels to pat them dry before proceeding. Also, remember not to overcrowd the pan, or it will become a steam meal.
Let's do this easy grilled Portobello mushrooms for your vegan friends!
Total Time: 29 minutes
Honey sriracha pork chops are the easy yet delightful main course to bring the Asian flavor to your home. Start with only six ingredients and one pan on the stove, and end in the oven; you will have the most tender and juicy chops to enjoy for dinner.
The honey and soy sauce added with sriracha and sesame oil coat the pork chops, adding deep flavors without altering the chop taste. While the honey and soy sauce provide umami sweetness, sriracha and a little sesame oil elevate the spicy and deep flavor.
Since the roasting time depends on the thickness of your chops, you should invest in an instant-read thermometer for the correct doneness. Just poke it into the thickest part of the meat. If it displays 145 degrees F, your pork chops should be ready.
Total Time: 1 hour 40 minutes
"Huli Huli" in Hawaiian means "turn," which originates from the traditional cooking method of this delicacy. People turn the marinated chicken on a skewer over a fire or barbecue. But rest assured that you will not need a fancy grilling device since you can make it with your oven.
Just cook a Hawaiian BBQ sauce in a small saucepan until thickened. Then toss half of it onto the chicken and massage so the meat absorbs the sauce evenly. After marinating it, bake the chicken in the oven for 15 minutes, then turn, brush sauce, and bake twice more until done.
The final result will have a balanced flavor between sweet, sour, and heat with crunchy skin and juicy meat. All combined will spice up your baked potatoes with a twist.
Total Time: 2 hours 5 minutes
If you need an impressive dish to serve the family, a roasted leg of lamb and some baked potatoes should be a hit. This fancy and gorgeous can go with any potato-based dish, from baked potatoes to lavish potato casseroles, for a big family meal.
All you need is olive oil, garlic, Dijon (French mustard), herbs, salt, and pepper. Combine them well and spread that mixture evenly onto the lamb. After that, bake until the desired doneness. Then let it rest for 15 minutes before serving.
Notice that the top side of the lamb has to be scored shallowly to absorb the garlic mixture. When done correctly, you will find the succulent leg of lamb flavorful with hints of garlic, rosemary, and thyme. It tastes so good when having baked potatoes on the side.
Total Time: 23 minutes
Shake and bake chicken is the simplest version that requires only minutes to prepare and cook. And you only need three handy ingredients to make. Thus, it is suitable to be treated as lunch for a work day or food for your next camping trip.
Just give these boneless skinless chicken breasts a coat of mayonnaise (or water) and seasonings mix. Then fry them in the air fryer for 15-18 minutes, depending on their thickness. Once finished, let the chicken rest for a few minutes and serve with baked potatoes and sauce.
Some dipping sauces that may satisfy you are buffalo wing sauce (tangy and spicy), cayenne ranch sauce (cool, creamy, and a little spicy), or Asian-style sauce (explosively salty and slightly sweet). They are the most beloved dip to place next to Shake and Bake chicken.
Let's feed your kids their favorite Shake and Bake chicken breast with just an air fryer!
Total Time: 8 hours 10 minutes
This slow-cooker version of the Mississippi pot roast is famous for its fork-tender texture and incredible taste. All you need to do is to sear the roast on the skillet, dump it into the slow cooker with other ingredients, and cook for at least 6 to 7 hours.
The presence of beef stock, butter, ranch seasoning, and pepperoncini in the slow cooker gives the roast a rich combination of tastes. While the stock, butter, and ranch seasoning add tangy flavors, the pepperoncini pepper presents a blend of sweet and hot.
For the best shreddable dish, a boneless chuck eye roast is the ideal choice. It is a marbled cut (lean meat with streaks of fat), which makes up the tenderness and moisture of the roast. If you cannot find it, a bottom-round roast is also an option, with a little leaner quality.
Total Time: 25 minutes
Grilled London broil is a thick cut of marinated beef after being grilled over high heat, which is a super classic meal to feed the whole family. That is because of its elegant look and budget-friendly quality.
Just take all the ingredients: top round steak, vegetable oil, honey, and other handy stuff and combine them into this hearty dish by marinating, grilling, and slicing. If you do it right, you will have a beautiful reddish pinky and tender meat at the end.
All you need to get a juicy grilled London broil is a well-long soak in the marinade made from fat, acid, and seasonings. While the acid helps tenderize the meat and balance its heavier flavor with freshness, the fat will help transfer flavors and moisture during cooking.
Meanwhile, the seasonings are what let your creativity fly. You can add anything depending on your preference to fulfill your taste buds. For instance, honey, minced garlic, and onion powder are simple ingredients you can use in this recipe.
Total Time: 25 minutes
This baked salmon dish is flavorful and aromatic. People bake it in an easy-to-make spicy, sweet, and smoky honey sriracha that spices up the naturally rich salmon taste. I am sure you will feel blown away by how delicious this food turned out.
Along with caramelized edges and a glossy look, you will find the delicacy sweet, spicy, and tangy on the outside. Meanwhile, it tastes citrusy and buttery in companion with the tender inside. Just pop a forkful of salmon and baked potatoes, and you will feel all the savory flavors.
Although the dish is preferred to serve right after baking, you can also store it in the refrigerator. It will retain the taste for up to 2 days.
How about a keto-friendly honey sriracha salmon for the meal? Check it out!
Total Time: 25 minutes
Chicken Piccata is an elegant dish of Italian cuisine. The soft and tender chicken dredged in flour, seared, and fused with a lemony sauce are all needed to make up this mouth-watering food. Once finished, the delicacy will call for baked potatoes or pasta to perfect your dinner.
Specifically, your dish tastes tart from lemon juice and capers but with a creamy flavor of heavy cream, which makes it more pleasant to the crowd. Plus, some bright and herbaceous tastes of fresh parsley garnish have emphasized the overall flavor to the next level.
For the quickest and best result, slice chicken breasts in half lengthwise and gently flatten them into desired uniform thickness with a rolling pin. That will help your meat be seasoned and cooked evenly. But remember not to pound them too hard, or you can tear these chickens apart.
Total Time: 30 minutes
Filet mignon is a tender cut of beef with a nice texture that explains its expensive price and well-spread reputation. You can enjoy it with baked potatoes for a satisfying cold meal, though savoring this melt-in-your-mouth delicacy with a bowl of warm and tasty potato soup is also satisfying.
To make this hearty food, you first prepare the butter mixture and keep it in the refrigerator. Then let the steaks reach room temperature and season them with salt and pepper on both sides. After that, cook the steaks in the skillet for 4 minutes to get a nice brown.
Once they have a beautiful sear, transfer them to the oven and cook for 7-8 minutes. When done, serve with butter mixture and garnish with fresh parsley.
But for the best result, you should invest in a meat thermometer. Ideally, it will display the exact temperature so that you can manage the desired doneness professionally.
Total Time: 30 minutes
This sheet pan steak fajita is a convenient version of regular fajitas, which is fit for quick cook and easy clean-up on busy days. Simply toss everything (except tortillas) on a baking sheet and bake, then place flour tortillas in the oven for the last five minutes to complete the meal.
The finished dish will be super delicious and colorful, with taco seasoning as a highlight. It spices up bell peppers, onion, and sliced steaks into the tasty filling to wrap in warm tortillas. The dish has a savory and spicy flavor that accompanies baked potatoes perfectly.
For more flavors, you can top your tortillas with additional toppings, such as sour cream, sliced avocado, shredded cheese, or chopped cilantro. These additions will elevate your meal with a more creamy and flavorful taste.
Total Time: 1 hour 45 minutes
Brown sugar pineapple glazed ham is an ideal dish for Christmas and Easter that will level up your holiday meal with a fancy treat. The delicacy is purposely convenient with pre-sliced hams, which makes it easy to carve and serve.
This delight is many things at once: tender and somewhat pinky meat on the inside, firm and brownish on the outside, full of amazing brown sugar, cola, and pineapple ham glaze. That all burst into your mouth with meaty, sweet, and tangy flavors.
Like other meats, brown sugar pineapple glazed ham cooking time varies on the ham size and your oven. But a general rule of thumb is to allow for about 10-15 minutes to cook per pound of meat.
Also, check the internal temperature every 10 minutes when glazing. Doing this will ensure your food gets to a safe condition for eating (140°F) while repeatedly glazing it with a sugary pineapple glaze to retain the meat moisture.
Total Time: 12 hours 35 minutes (including 12 hours of brine time)
Grilled BBQ chicken is tricky to master since you can dry out the chicken meat or burn the BBQ sauce. Luckily, there are no more fears since this recipe will give you the tricks to prevent them from happening.
One thing to keep in mind when cooking this delicacy is to give it a quick brine before grilling. This technique will help your chicken meat stay juicy and tender with loads of moisture, so there is no dried meat here.
In this recipe, any chicken part can be fit to make the food, whether thigh or breast, boneless or bone-in chicken. Though, if possible, bone-in chicken thighs are highly suggested. They are the most flavorful and juiciest part, especially with the bone presence.
Follow these tips, and once finished grilling, your BBQ meal will be flavorful, juicy, and smoky, which is a perfect companion to baked potatoes.
Total Time: 15 minutes
This KFC coleslaw copycat recipe is a perfect option for your lazy days. Its creaminess and tangy flavor will work well on subtly sweet baked potatoes. Even if you decide to turn them into a creative mashed potato dish made from leftovers, the flavor combination is still as mesmerizing as ever.
Best of all, you can control the ingredients while making this homemade coleslaw. You can add more vegetables if you like or make it less fat by cutting down on the dairy ingredients. All the customizations will ensure you have the best coleslaw that meets your taste.
Here is the best and quick KFC coleslaw copycat recipe!
Total Time: 3 hours
Korean braised short ribs are a traditional dish of Korean cuisine to serve on special occasions like New Year. Thus, you can be certain that it has a delicious taste and elegant look.
Although this Dutch oven delicacy takes hours to cook, your ribs will be in the oven most of the time. So rest assured that it is effortless to make. Just make the sauce, and saute the short ribs. Then combine these two in the Dutch oven with beef broth and spices for liquid absorption.
After that, cover the oven and bake for 2.5 hours with a half cup of beef broth every 1 hour. Until the ribs are fall-apart tender, take them out and serve.
The final plate will have a pretty brownish and glossy appearance coated with sweet, spicy, and sticky sauce that makes your mouth water and immediately grab one to enjoy.
Total Time: 20 minutes
Tilapia is a white fish with thin filets that is effortless to cook. Thus, making this food is hands-off since there is no need to flip the fish. All things needed to do is season the fish, place it onto the baking dish, drizzle butter mixture, and bake until fork-tender. That's it!
What an easy dish, right? But not because of ease that it is not tasty. Instead, it is super divine and pleasant food to eat. The tender and flaky texture of tilapia touches your mouth with a sweet yet buttery and zesty flavor of drizzling. All taste so good when paired with baked potatoes.
Do You Find The Right Side For Your Baked Potatoes?
You have read many delicious recipes here, and now it is time to make them in your kitchen. Just grab all ingredients and potatoes, then cook both dishes in parallel. After minutes, you will have a hearty meal for the whole family.
So are you satisfied with the list? Please leave a review in the comment box! I would love to hear your thoughts. Also, feel free to give me a share and like as a small gift if you find my post helpful. Thank you, and happy cooking!
Nutrition Facts
8 servings per container
---
Amount Per ServingCalories518
% Daily Value *
Total Fat 43.1g

67

%
Cholesterol 128mg

43

%
Sodium 175mg

8

%
Potassium 19mg

1

%
Total Carbohydrate 1.2g

1

%

Dietary Fiber 0.2g

1

%
Sugars 0.5g

Protein 30.7g

62

%
---
* The % Daily Value tells you how much a nutrient in a serving of food contributes to a daily diet. 2,000 calories a day is used for general nutrition advice.