Are you ever wondering, "What does tea taste like"? To explain in most layman's terms, the general flavor of teas is like that of a flower field, where each element supports each other to create an irresistible set of fragrances that helps soothe your mind and soul.
Of course, nothing in life is ever that simple once you get to the topic's core. Tea is more than just herbal and fragrant since it has multiple varieties. Each unique variant gives a different experience to the drinkers.
If you're still new to tea, you have come to the right place. In today's article, I will explain the different types of tea and how to identify foul tea and boil them. Buckle up, sit tight, and the ride will begin shortly.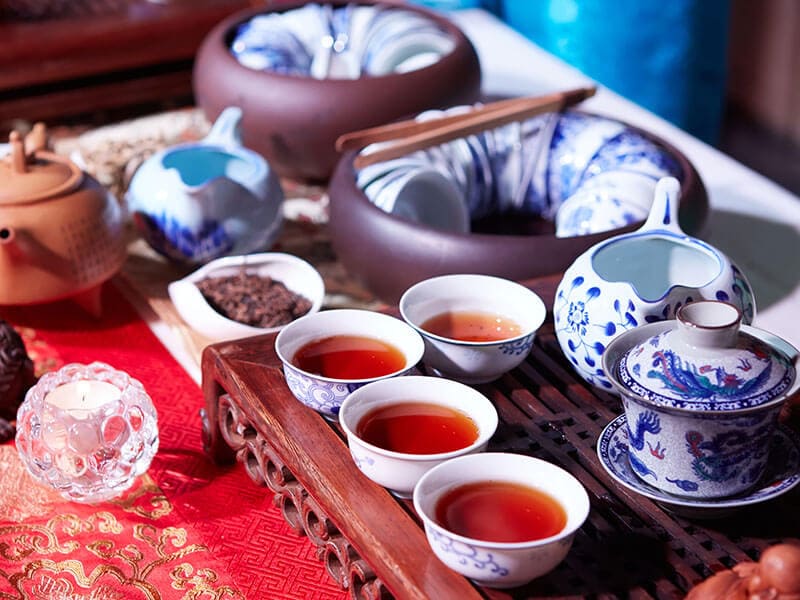 The Significant History Of Tea
According to historical evidence, the tea plant first appeared in the region between southwestern China, Tibet, and northern Burma (Myanmar).
Tea is an essential drink in China, whose people were the first to utilize the plant as a beverage. Chinese started drinking tea as early as the 2nd millennium when the ancient Shang dynasty existed.
In Chinese mythology, it was Shennong, a supernatural emperor and important folk religion deity, who introduced tea to the people. When a few tea leaves landed on his cup of boiled water, instead of throwing the leaves away, he was surprised by the delightful taste. (1)
Anyway, China doesn't have a monopoly on the enjoyment of tea. For example, many lists of the greatest Korean drinks always have different varieties of tea, while tea ceremonies in Japan and Vietnam are an important part of their respective countries.
The tea-drinking culture has persisted in many East Asian countries, going through essential eras like the Han dynasty (3rd century B.C – 3rd century A.D) and the Meiji restorations (1868). Nowadays, you can find more trendy tea variations like boba tea and milk tea.
Getting To Know Your Types Of Tea And Their Flavor
For those unfamiliar with tea, this section will introduce you to the beautiful selection of teas. Each variant is unique in appearance, taste, and origin, so you can choose whichever suits your preference.
| Names | Regions of origin | Appearance | Flavors |
| --- | --- | --- | --- |
| White Tea | East And South Asia | The leaves are straight with a silvery look. | It is mellow and floral, with a cucumber-like smell. |
| Black Tea | East and Southeast Asia | The leaves are dry with a dark reddish hue. | It is smokey and earthy, with a slight hint of fruitiness. |
| Green Tea | East Asia | The leaves have a vibrant green hue. | It is bittersweet, buttery, and floral. |
| Oolong Tea | East Asia | The leaves are rolled-up and jade green in color. | It is fragrant, fruity, and quite full-bodied. |
| Herbal Tea | South, East, and Southeast Asia | The tea consists of herbs, flowers, and berries. | It's primarily floral, earthy, and somewhat grassy. |
| Fermented Tea | East Asia | It comes in a compact form like a ball. | The taste is quite mushroom-like. |
1. White Tea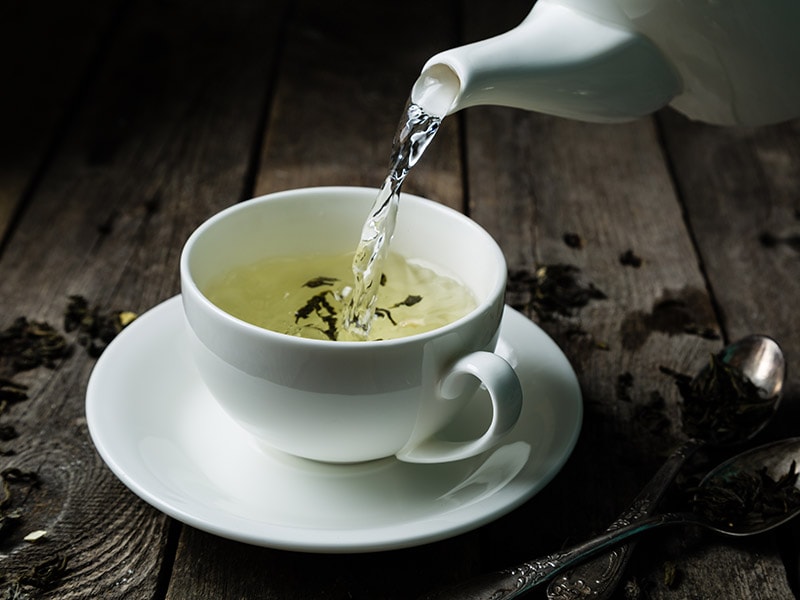 Like many variants you will see below, the origin of white tea starts in Asia, particularly China. "Bai Cha" usually refers to the tea that gives a clear, almost colorless hue in its liquid. White tea's general flavor is floral, fruit, and buttery, one of the mildest tea types.
In the raw form, the white tea leaves have a silvery look to them. Unlike most tea leaves that curl up after drying out, the leaves stay straight. Farmers will usually wait for the leaves to wither before cultivating them for the drying process.
Most of the white teas you see on the market today come from China, with the two most giant versions being Bai Mudan and Baihao Yinzheng (silver needle tea). With Bai Mudan tea, the main production center is in the southeastern side of China, around Fujian province.
When you manage to brew the tea with the proper water temperature, from 158°F to 176°F, the true nature of Baimudan will gradually reveal itself. The drink has a golden hue, accompanied by a mild fruity, sweet flavor but stronger than silver needle tea.
Like Baimudan, silver needle tea's production concentrates in Fuding city, a part of Fujian province. This type also goes through withering before it gets dried out. Silver needle tea is quite expensive due to its exquisite and delicate taste.
This presentation will show you the types and flavors of white tea.
2. Green Tea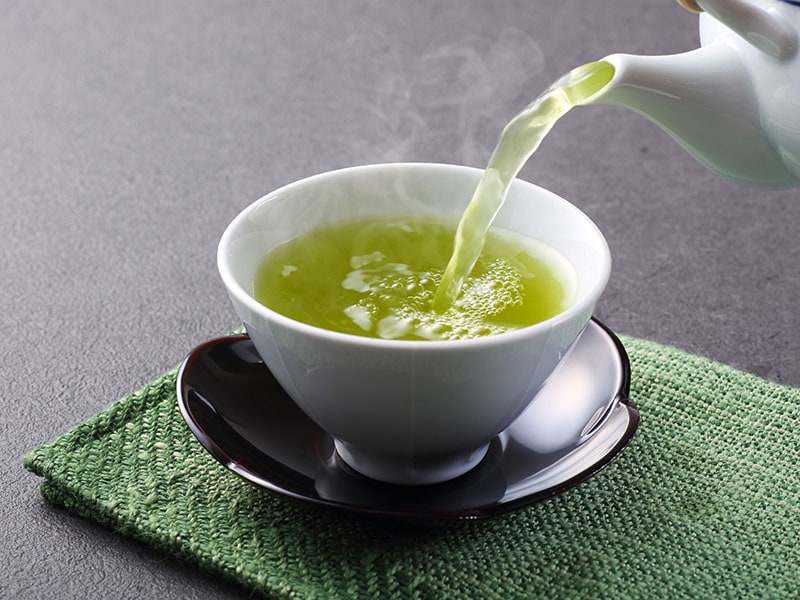 Undoubtedly, green tea is one of the most iconic beverages in the world and probably one of the healthiest as well. This tea originated from a plant called "Camellia sinensis" from the southwestern part of China. Unsurprisingly, it is one of the most well-liked Chinese beverages.
Due to being the center of production, China is one of the biggest green tea providers in the entire world. Appearance-wise, dried green tea has a green hue; that's where its name came from. The processing of green tea differs widely based on the country and the brand you drink.
When you try green tea, you will first notice the slightly toasty fragrance since green tea usually goes through a pan-frying step to get rid of the moisture. There is a hidden grassiness alongside the herbaceous taste of green tea.
Regarding China, there are notable examples like Longjing, Biluochun, and Taiping Houkui. Longjin comes from Zhejiang province and has a high amino acid level. On the other hand, Biluochun is from Jiangsu province, and it has a rich aroma.
Aside from China, Japan has high-quality tea variants. But Japanese green tea leaves often go through the steaming process instead of pan-frying. This difference leads to a sweeter and more herbaceous flavor.
Regarding Japanese tea varieties, the two most popular types are Sencha and Matcha. The former consists mainly of tea leaves, so the taste is very light. Matcha, however, comes in a powdered form, so the consistency is thicker.
3. Black Tea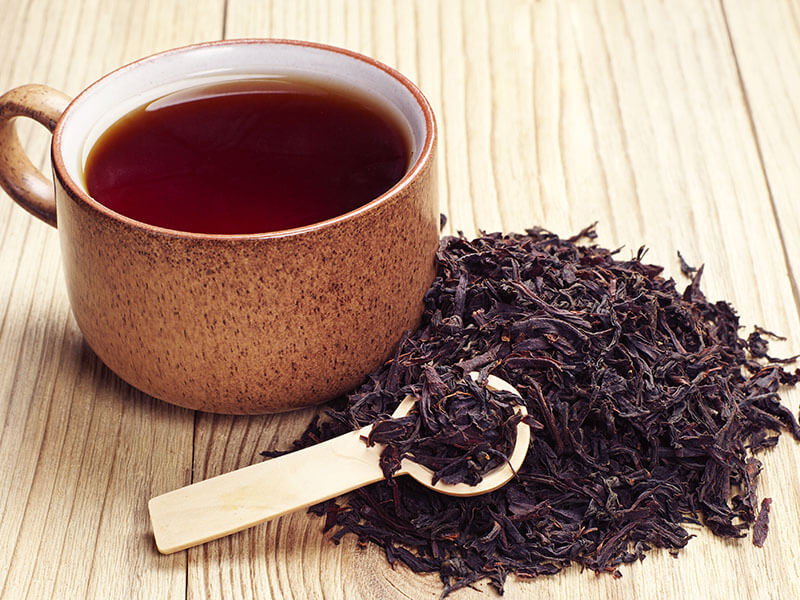 Although most people nowadays call this type of tea "black tea," the most common name in China for the beverage is Hong Cha or red tea. Despite the darker hue of the drink, the color is redder than you think.
Like green tea, black tea is one of the most popular types of tea around the world. Black tea is very similar to green tea because they come from the same type of plant (Camellia sinensis). Generally speaking, black tea can taste rather intense with a rich aroma.
However, due to the oxidation process, black tea leaves start to turn darker. The method also changes the nature of the tea. While green tea will lose most of its flavors after a year, black tea remains flavorful after several years.
Apart from China with its vibrant black tea market, there are other Asian countries with their own black tea cultures. For example, India is well-known for its Assam and Darjeeling, while Sri Lanka has Ceylon.
For Darjeeling, the tea has a very delicate yet musky fragrance. On the other hand, Assam tea offers a more robust and malty taste. Lapsang Souchong is a black tea variant with a smoky undertone, so it doesn't go well with milk.
From sun-dried to air-dried, black tea offers more varieties than you can imagine.
4. Oolong Tea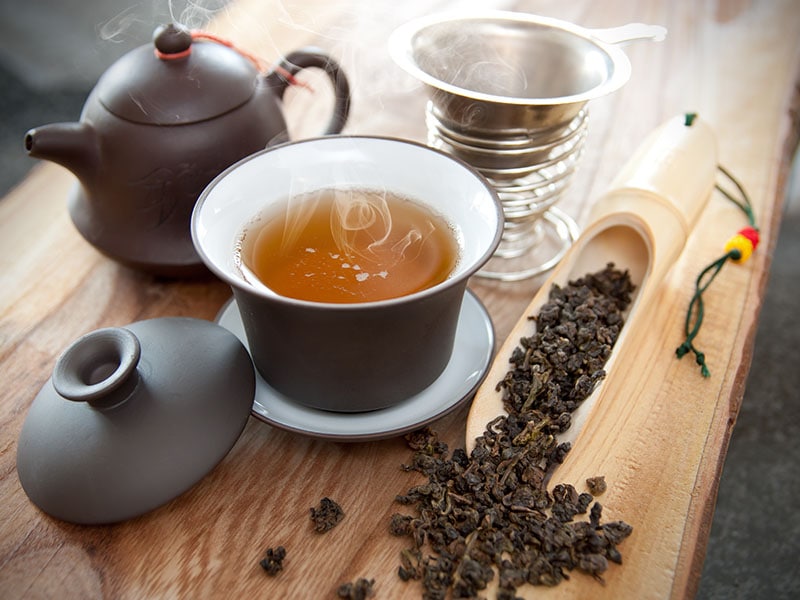 Oolong tea, or Wulong Cha (dark dragon tea) in Chinese, is a popular beverage in southern China and Southeast Asia, where most Chinese immigrants reside.
While the origin of this full-flavored Chinese tea is still somewhat unclear to this day, most people know that the production center of the tea is in Fujian province. The two areas in Fujian perfect for Oolong cultivation are Wuyi mountain and Anxi county. (2)
The best way to differentiate good Oolong tea from bad one is from the taste. High-quality oolong tea tends to be quite fragrant, refreshing, and detoxifying. The more you drink, the more you feel that great floral essence.
With the help of oxidation, which turns tea black, the flavors will change depending on the hue. The lighter Oolong kinds can have a grassy note similar to green tea. For the darker varieties of this famous Chinese tea, you can feel a mix of toastiness and smokiness.
But a good cup of tea should go through a proper brewing process. For Oolong, you don't have to use a big pot; just a small one will do. The brewing temperature should be around 185 to 203°F to let the taste fully immerse in the liquid.
The taste of Oolong tea is just fantastic, just like how this introduction shows you.
5. Herbal Tea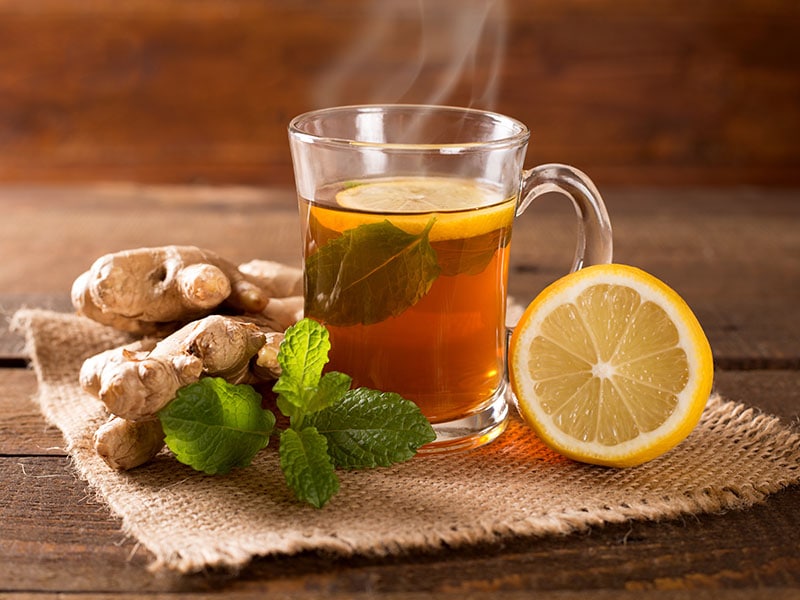 Unlike the previous entries, herbal tea does not come from a single type of plant. Instead, as the name implies, herbal tea is a collection of drinks from herbs, flowers, and aromatics. You can create herbal tea by infusing the components in hot water and letting the flavors steep.
The flavors of herbal tea depend on the herbs and aromatics you use. For example, ginger tea has a note of spiciness, while chamomile is very floral and delicate. Dandelion and valerian can be quite earthy to your taste buds.
Most people drink herbal tea due to its supposed health benefits. The drink can warm your stomach to feel better when you feel nauseous. Another helpful thing is that the beverage might also boost your immune system.
One of the world's most prominent herbal drinks is Ginseng, a type of root found in both China and Korea. Ginseng tea is robust and quite sharp if you're a beginner drinker. However, the root possesses antioxidants to prevent inflammation in your body.
Another popular herbal drink is ginger tea, which has a very acquired taste for beginners. The ginger will cause a slight stinging in your throat, but the warming effect makes your mind feel better. Plus, the tea can help your blood pressure remain stable.
6. Fermented Tea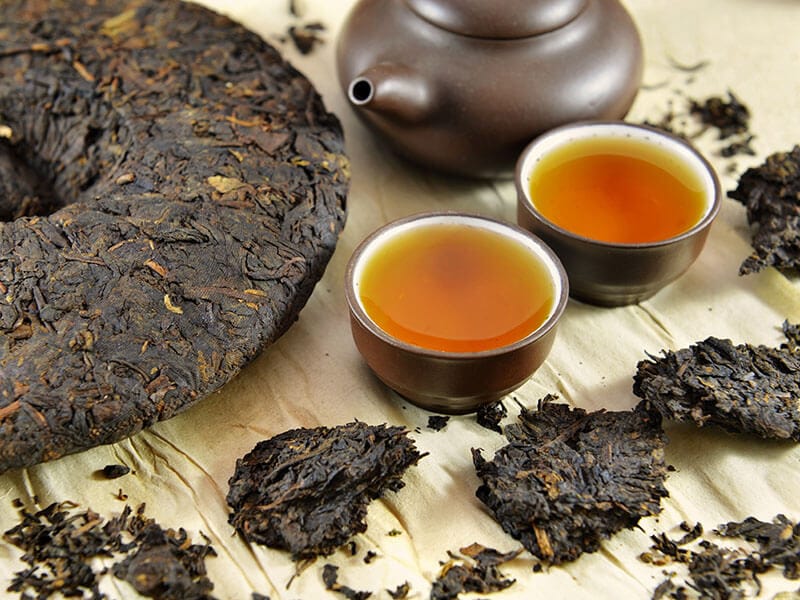 Sometimes, it only takes a little fermentation to enhance the taste to a new level. The theory has proven successful in food and drinks, mainly tea.
The fermentation occurs thanks to the inclusion of bacteria, mold, and yeast. Thanks to these components, the drink can feel a slight acidity. The tanginess also helps to reduce any bitterness from the tea leaves.
While fermented tea might sound strange to many, it is not too different from regular tea. Let me use a popular variant of fermented tea from China called Pu Erh as an example. Pu Erh still consists mainly of dried tea leaves.
However, what differentiates Pu Erh from other tea types is the fermentation process using molds, bacteria, and yeast. After everything is done, the tea makers press the tea into its preferred shapes. Sometimes, Pu Erh can come out of a square, a brick, or a bowl.
Aside from Pu Erh, Kombucha is a fermented drink that might have originated in China. The drink has a base of either black or green tea, and the fermentation comes from bacteria and yeast.
Knowing how to brew and drink Pu Erh is important since it has a unique taste.
How To Spot Fresh Tea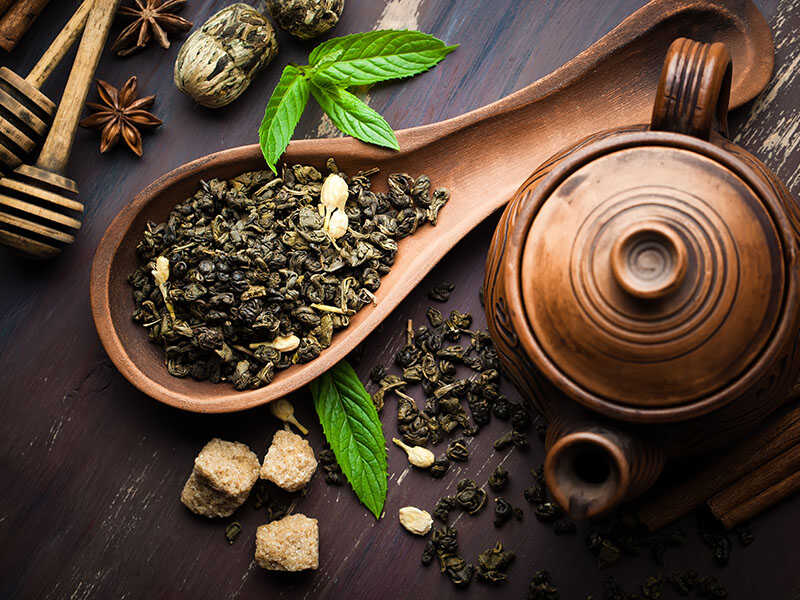 After selecting what sort of tea you want, the only thing to do is get them. Nowadays, you can buy tea online, but the quality of the tea leaves might be random, so I highly advise you to buy your tea directly at a store.
If you plan on doing that, you should know how to look for the freshest tea. In this section, I want to show you how to look for the best tea leaves correctly.
Appearance Of The Tea Leaves
The first thing you must know is how to differentiate the quality of the tea leaves. If you see crumbled leaves, the quality might not be as good as the leaves that remain intact. Another thing to notice is the appearance of stalk and wood fragments, which reduces the tea flavor.
The crumbliness can reduce the complexity of the tea, so you can't have a more full-bodied drink. The color is also essential since the more dull color leaves can bring the experience down.
Aroma Of The Tea Leaves
Another aspect you must understand is the smell of tea since it's one of the easiest ways to notice good quality from all the bad ones. Tea leaves have an airy, floral, and fruity smell. The smell of good tea will likely last longer than lousy tea.
When you buy tea, just pick up a bunch and smell it. If you can only sense a slight trace of tea fragrance, the tea is not high quality.
Texture Of The Tea Leaves
Touching is also an excellent way to let you know the quality of the leaves. The leaves should feel smooth against your skin if they have a suitable production process. The leaves also wouldn't break off that easily.
In contrast, when you pick up the leaves, those that instantly crumble in your hand will not result in a good cup of tea. The easy-to-break nature means the tea might be too old.
Taste Of The Tea Leaves
And finally, taste is the second most crucial factor you should consider. If the tea tastes just like how the packaging describes it, then congratulations, your tea is of high quality. In general, tea has to be robust, impactful, and flavorful.
For example, your green tea has to be grassy and herbaceous. On the other hand, your black tea should exude a signature smokiness.
But if you accidentally buy old or low-quality tea, the taste usually lacks the explosive flavor due to being watered down. Some bad tea can increase the bitterness of the drink.
If you're new to tea, this guide can teach you how to choose tea.
How To Store Tea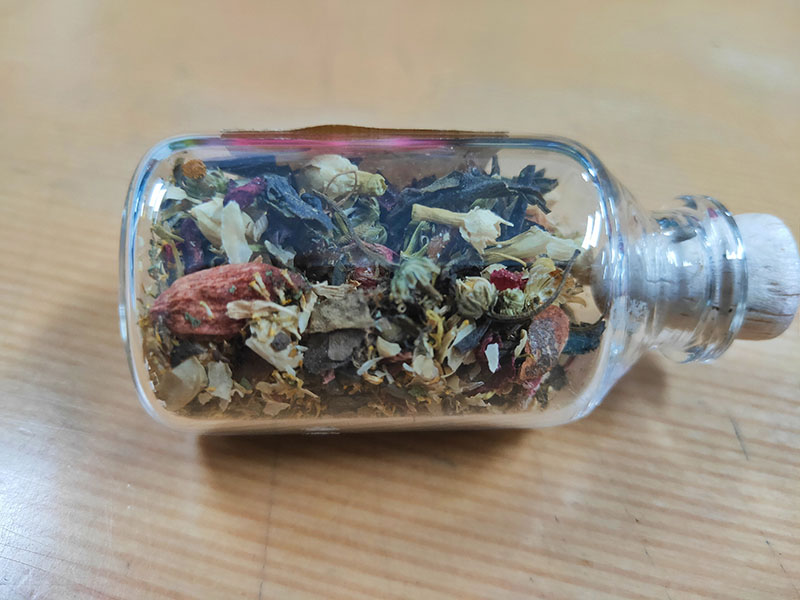 Knowing the many versions of tea today is only a tiny part of the journey; you should also learn how to store tea leaves correctly. With a suitable method, your tea can stay as tasty as possible. Here are the six rules you must always follow.
1. Do Not Let Tea Come In Contact With Oxygen
As I said above, leaving tea in the open will cause the color to darken due to oxidation. That's why you often see tea bags sealed in airtight packaging to prevent the degradation of the flavors.
The best way is to get a vacuum sealer to keep the tea from oxygen. But you can only do that with more robust leaves since the delicate leaves will turn mushy due to the pressure from a vacuum seal.
The best way to fix this problem is to add nitrogen alongside the fragile leaves in a bag. The nitrogen will prevent oxygen from entering and create a cushion for the soft leaves.
However, if you don't have the device, the best way is to put the leaves in a jar alongside a packet of oxygen-absorbing materials (iron and salt).
2. Do Not Expose Tea To Heat
Apart from oxygen, you should keep tea away from heat. Heat is another factor that will speed up oxidation and ruin the taste.
You must ensure that your tea storage space is not too near a window or stove. The heat from the sun or fire will affect the taste. You can also separate the tea into separate bags, squeeze the air out, and put the bags inside a freezer.
If you keep your tea leaves in a freezer, ensure that you don't wait until the tea reaches room temperature before using it. The sudden increase in temperature will create condensation and decrease the overall flavor of the tea.
If you don't want to store the leaves in a freezer, ensure the storage space stays at room temperature or cooler. The optimal range is around 68 to 77°F.
3. Do Not Place Tea In Damp Rooms
While putting tea near a heat source is terrible, placing the leaves in a damp environment is also a no-go. Tea can easily absorb moisture from the air, so if your storage space is wet, it will lower the taste quality.
The best way to keep your tea dry and tasty is to keep it in an airtight container. You can also add a moisture-absorbing packet to improve the effectiveness of the container.
4. Do Not Keep Tea In Bright Condition
Brightness is a factor you should consider when you want to store tea. The UV rays from the light will cause changes to tea leaves, causing the drink to have an unpleasant metallic taste.
Due to this, I highly advise you not to buy from tea stores that place leaves in transparent glass jars because the tea will not taste great. Once you buy the tea from a more reliable shop, make sure to keep the tea in a non-glass container or a dark place.
5. Do Not Store Tea In Places With Strong Scents
The tea flavor is affected by the smell of the surrounding environment due to the porous nature of the leaves. This factor is helpful when you want to make a variety of scented teas. However, the process proves destructive if you keep tea in places with strong odors.
One of the worst ways to ruin your tea is when the smell gets mixed with other spices, which will likely ruin the tea's flavor and aroma.
You should also carefully choose the material for your tea containers since new rubber and plastic might leave a very unpleasant elastic-like smell on the drink.
6. Keep Tea Leaves In Bulk
If you like to drink a lot of tea, I have another helpful tip for you to try. You can try stuffing your container to the brim with tea leaves in a box or a jar.
Although it might sound silly, there is logic to this tip, as the entire container will prevent air from leaking in. The lack of atmosphere also prevents foul smells from the surrounding environment from coming in. However, you must keep your tea in a suitable condition to make this tip work.
Without knowing how to store tea, your tea leaves will taste quite terrible.
How To Brew Tea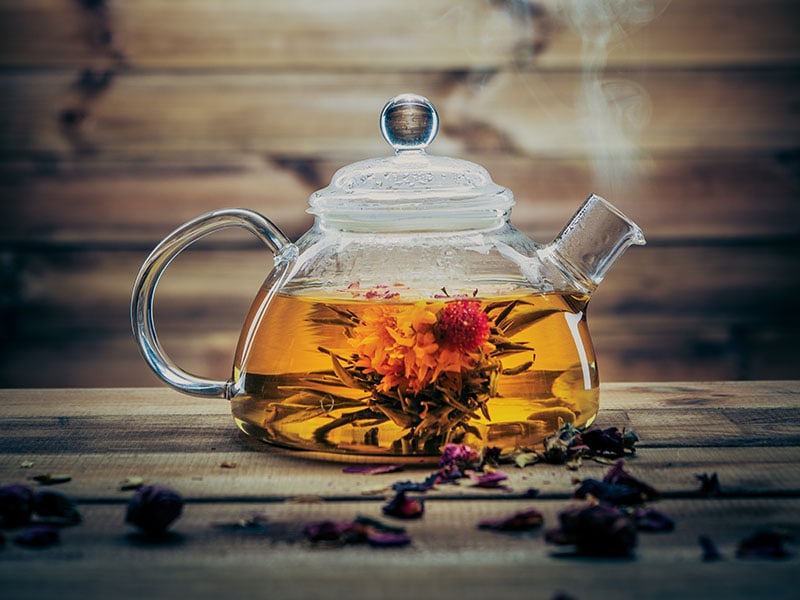 Since you have learned about the various types of tea and how to keep them fresh, I think it's time for you to know how to brew your tea. This section will show you different brewing times and temperatures for other teas.
| Name | Brewing time | Water temperatures |
| --- | --- | --- |
| White tea | 1 minute | 158 - 185°F |
| Green tea | 2 minutes | 158 - 185°F |
| Black tea | 4 minutes | 200°F |
| Oolong tea | 3 minutes | 158 - 185°F |
| Herbal tea | 5-7 minutes | 212°F |
| Fermented tea | 2 - 4 minutes | 212°F |
First, the process should be pretty straightforward if you use a teabag. You just have to boil the water to a suitable temperature for your tea. I've prepared a table above to let you know which temperature is ideal for a specific type of tea.
After you get your boiling water, place the tea bag in a pot and pour the water inside. Each tea bag is worth one tablespoon of tea leaves, so adjust the water level based on your preference. You can wait for the drink to cool down before drinking.
For those who prefer to use tea leaves to brew, you can always put the leaves in a tea strainer and pour water on top. This method is similar to tea bags, so you only have to wait until the tea flavors start seeping into the water.
Let's find out the authentic way to brew tea in China.
Diversifying With These Tea-Based Recipes
Of course, drinking pure tea is always good whenever you want to have a relaxing time for yourself. However, modern recipes have come up with ways to make tea into a trendy beverage, so younger people get to have their share too.
Total time: 25 minutes
In this entry, I want to introduce you to a famous delicacy from the southern side of China called Hong Kong milk tea. This beverage is popular with all ages, from younger people to the older generation. Milk tea is perfect as a hot or cold drink.
The base of this Hong Kong-styled specialty is black tea; you can use either Ceylon or Earl Gray. As for the sweetener, condensed milk is always suitable. If the creaminess is not to your liking, you can add a cup of evaporated milk.
The best thing about this version of milk tea is that it has a very great texture. The smell of tea alone is enough to relax your mind, but the combination of condensed and evaporated milk gives the drink a fantastic experience.
Hong Kong Milk Tea is one of the most famous street foods in the city.
Total time: 9 minutes
This drink will capture the eyes of onlookers thanks to its vibrant appearance. This drink can combine the robust fragrance of tea with the tartness and sweetness of a raspberry-based concoction.
To start the process, you must prepare the right ingredients, including raspberries, sugar, and half a cup of cream. The first thing to do is to crush the raspberries alongside the sugar until you get a syrupy liquid. The next step is adding black tea and pouring hot water into the glass.
Wait until the tea is finished steeping before you add the cream. If you want to drink it cold, just put in a few ice cubes. And voila, get yourself a nice and cool glass of iced tea latte. The drink is sweet, dense, and refreshing for a hot summer.
Total time: 10 minutes
Peach ginger iced tea is another good option for those wanting to feel the fruity goodness inside of their bodies. Instead of more impactful black tea, this recipe calls for the use of green tea, which is slightly bitter.
To begin the process, brew your favorite green tea brand. The longer you brew, the stronger the tea will taste. While waiting for the tea, you can prepare the other components by blending the peach slices with honey and ginger.
Once your tea is made, let it cool down before pouring the drink into the blended concoction. Blend a bit more to infuse everything together. Finally, pour the beverage into a pitcher with some ice. I can assure you that you won't ever regret making the drink.
A glass of peach ginger iced tea will wash away the summer heat.
Total time: 8 minutes
After black and green tea, Oolong tea can also be a great addition to your tea collection. In this entry, I want to show you how to make a delightful glass of coconut Oolong iced tea that can take over your taste buds in seconds.
The drink requires you to get some ingredients like Oolong tea leaves, coconut extract, and almond milk (dairy milk is also a suitable replacement). The first step is always to brew the tea in boiling water.
Mix the other ingredients like milk and coconut extract while waiting for the tea. You can add vanilla extract to give this delicacy a sweet fragrance if you want to. Mix the tea with the milk to get the final product. The drink will have a rich, syrupy, and floral taste.
Different Accompaniments You Can Have With Tea
While tea is suitable as a standalone drink, you can continually improve the drinking experience by preparing snacks. If you have no idea what to make, here are a few notable suggestions so you can get started on your tea party.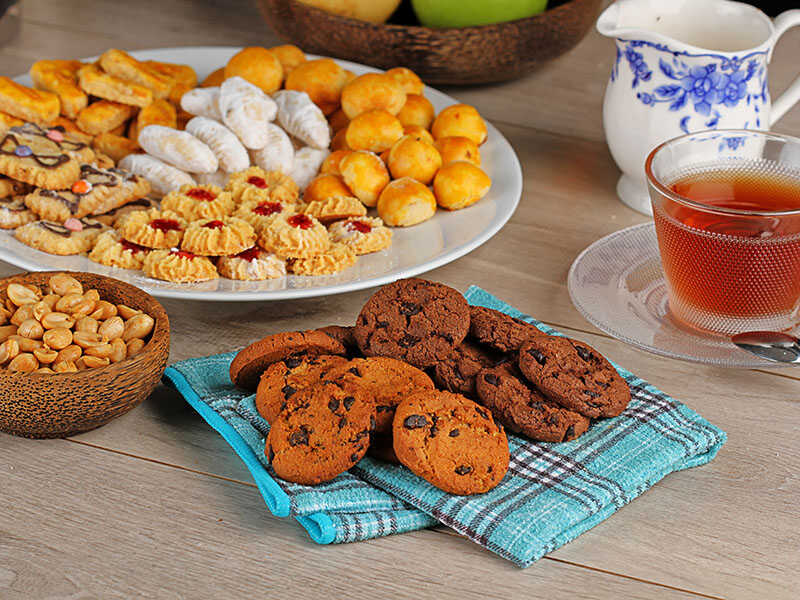 Without a doubt, whenever people think of a snack they can have with tea, their minds will go straight to cookies. The sweet and crunchy goodness pairs so well with the more subtle and fruity fragrance of tea.
And when it comes to the best cookies to have with tea, there are several options, including biscuits, wafers, and chocolate cookies. Biscuits tend to be relatively mild in flavor, but they are sweet enough to complement your tea perfectly.
As for chocolate cookies, the bittersweet and rich taste of chocolate can enhance your drink, mainly if you use black tea leaves. For the last option, wafers are airy and light, so your tea won't get overpowered easily.
2. Pastries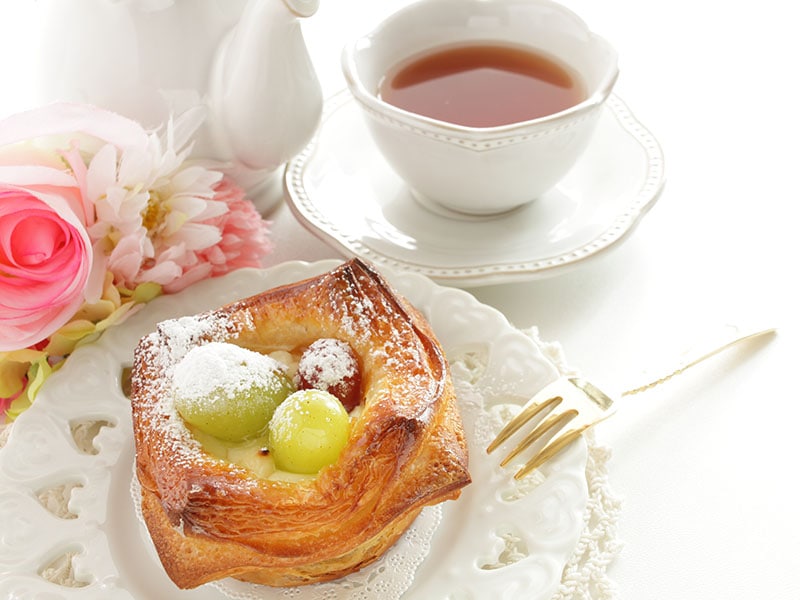 In case cookies are not sophisticated enough for a tea party, you can pick the pastries option since they're also popular. The selection for pastries is much more extensive, and you can choose whichever flavors of pastries you want.
You can easily pair your favorite tea with those pastries, from tarts to pies and even interesting pasties. For example, you can have a simple chocolate-filled croissant with green tea or a portion of peach tart to go with black tea. Perfect puff pastry desserts are an equally great choice.
Not just sweet pastries but savory pastries are suitable for you with tea, such as turnovers with meat filling or a bagel with a few slices of ham stuffed inside. The only thing that will limit your selection is your imagination.
3. Sandwiches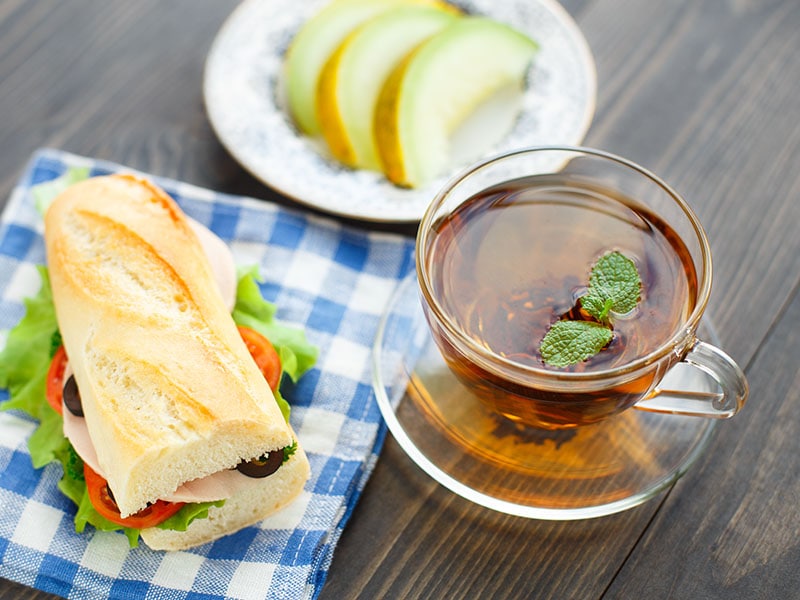 For those who do not like pastries and cookies but still want to enjoy a good afternoon tea, sandwiches might be your best option in this case.
Many popular sandwich recipes to go with tea don't require much effort since you can put anything between two slices of white bread. And just like pastries, you can make sandwiches into either sweet or savory treats depending on the occasion.
For instance, if you're planning an English-styled tea party, the best light snacks to go with it are cucumber sandwiches, smoked salmon with cucumber sandwiches, and tuna with cucumber sandwiches.
You can still make PB&J sandwiches (peanut, butter, and jelly) or simple fruit sandwiches for the sweeter variety of teatime sandwiches.
FAQs
In this section, I want to answer a few questions that readers might have after reading through the information above.
You'll Love The Taste Of Different Tea Types
Tea is not only a fantastic beverage, but in my opinion, the drink is similar to a magical elixir. While tea is simple to brew, the result contains far more nutrients to help improve your bodily functions.
Like many tea lovers worldwide, I want to spread the wonders of tea for everyone to see. And I hope you and other readers will realize the advantages of drinking tea daily.
If you like what you read, show some appreciation by liking and sharing this article with your friends and family. Also, comment below to let me know which tea is your favorite; I'm looking forward to seeing it. Thanks for stopping by, and see you again!
References
wikipedia.org.2022. History of tea.
wikipedia.org.2022. Oolong.
healthline.com.2020. 10 Evidence-Based Benefits of Green Tea.
healthline.com.2019. How Much Caffeine Does Tea Have Compared with Coffee?.
healthline.com.2019. Does Tea Dehydrate You?.