You like enjoying the best watermelon desserts, don't you? Then, you came to the right place! In this post, I will share many ways to turn this juicy fruit into tasty sweet dishes that surprise your family members and guests.
Watermelon is a thirst-quenching fruit that everyone loves, especially in the summertime when the temperature gets highest. It's also a highly versatile fruit to appear in many types of desserts. For example, you can make delicious cakes, cookies, ice creams, and more.
Because watermelon is an easy-to-find staple all year round, you can make these recipes anytime. So let's explore my recipe list today!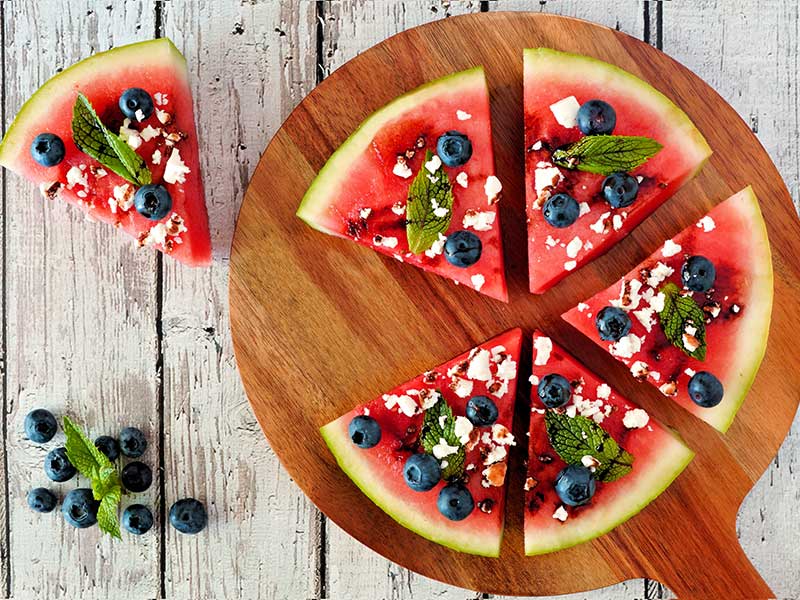 Make Sure You Don't Miss Any Fantastic Watermelon Desserts Below!
As promised, here are the 27 best watermelon desserts you can easily make at home. Keep scrolling thoroughly to see how great this vine-like fruit is!
Total time: 3 hours 23 minutes (with 3 hours of chilling time)
Watermelon pudding is a dessert originating from Palermo, the capital city of Sicily, Italy. Making it is a great way to utilize watermelon during its peak season and enjoy an energizing dessert.
The dish includes a juicy coral watermelon pudding, a satisfying dollop of whipped cream, and pistachios (belong to the cashew family). It has a silky texture and a slight sweetness, making it perfect for finishing your meal.
You can easily make watermelon pudding with a few ingredients and less than 25 minutes of preparation and cooking. After the cooling time, it is a real treat for you and your beloved ones. This pudding can be covered and kept in your refrigerator for up to two days.
Total time: 5 hours 50 minutes (with 5 hours 30 minutes of chilling time)
The next tasty dessert I want to share is watermelon dream squares. It's easy to make in just 20 minutes and let it chill for several hours. These squares have a buttery crust and mesmerizing watermelon cream.
To make the crust, mix graham cracker crumbs with sugar and butter. Meanwhile, the cream layer consists of watermelon juice, lemon juice, milk, and a homemade gelatin mixture.
After the chilling time, cut the cake into squares. Whipped cream and a mint leaf on top add some flavors and color the squares.
Total time: 1 hour 10 minutes
This bread is so wonderful with the use of fresh watermelon and raisins scattered inside the bread. It has a nice texture and irresistible flavors. Also, you just need common ingredients to make the bread, like flour, butter, sugar, and eggs.
The recipe needs a food processor or blender to turn a fresh watermelon into a smooth puree. If you want a more intense watermelon flavor, feel free to use extra puree, but remember to boil it to get a more concentrated liquid.
You can store slices of bread wrapped in plastic wrap in your freeze. Then, before serving, thaw them at room temperature overnight. If you forget to do so, give it a quick thawing in your microwave.
Total time: 10 minutes
Instead of eating fresh wedges, you can transform juicy watermelon into mouth-watering salsa. It's a colorful summer fruit salsa that you can keep in your refrigerator overnight and enjoy once more.
The salsa combines diced watermelon, red onion, and herbs. It gets the heat from the jalapeno and an earthy flavor from cilantro. Besides, when you enjoy the dish, you can feel a lingering cool effect from mint leaves.
Tortilla chips are a great accompaniment to a bowl of watermelon salsa. You can also serve it as a side dish to skirt steak or grilled flank.
Make fresh watermelon salsa in just 10 minutes with this tutorial!
Total time: 20 minutes
Don't miss these homemade sour watermelon fruit chews if you have kids at home. They will surely become kids' favorite gummies. It's super easy to make these fruit chews all year round with watermelon juice and other simple ingredients.
A blender will help you extract the juice in no time. Then, you will warm a mixture of watermelon juice, honey, and lemon juice in a sauce spot. Next, whisk in gelatin and citric acid and pour the mixture into molds. Finally, freeze them for 10 minutes.
You can keep the chews at room temperature for up to two days, but remember to put them in an airtight container. You can also extend their shelf life by storing them in the refrigerator.
Total time: 4 hours 10 minutes (with 4 hours of freezing time)
These strawberry sweet treats come together with just three ingredients, making them nice vegan, paleo, and gluten-free desserts. They are also a great way to use up your watermelon at home, especially those that don't have good quality for a nice presentation.
The base of these popsicles is watermelon. You can include strawberries to add sweetness and colors. Finally, lime zest and juice give a tart flavor to the popsicles, and remember to use the green zest that's not bitter like the white pith.
You can remove popsicles from the mold and keep them in your freezer for up to a month. Alternately, keep them in the mold and enjoy them within a week.
Making strawberry watermelon couldn't be easier with super simple ingredients and steps.
Total time: 3 hour (with 2 hours of refrigerating time)
A lemon and watermelon pie is delicious, just like how beautiful it looks. The pie involves a graham cracker pie crust filled with a lemon cream layer and a watermelon gelée. Rosettes of whip cream even make it more enjoyable.
The crust mainly contains flour, eggs, and seasonings, while the lemon curd is made from lemon juice, eggs, and butter. After assembling the pie, keep it in the refrigerator for 1-2 hours. Before serving, garnish with whip cream rosettes and mint.
To ensure the right amount of flour is used, you should fill the measuring cup by scooping with spoons. Don't directly use your measuring cup to scoop the flour because the amount will be beyond needed.
Total time: 4 hours 10 minutes (with 4 hours of freezing time)
Making watermelon limeade slush is a great way to cool down the summer heat with. It's cold and loaded with watermelon flavor. The red color makes it an eye-catching dessert for your kids to quench.
The ingredients couldn't be simpler. You only need watermelon cubes, lime juice, and granulated sugar. The combination of frozen and refrigerated will facilitate the blending, resulting in smooth slush.
Leftover watermelon limeade slush can stay well in the refrigerator. Although thawed slush also tastes great, you can blend it with ice or frozen watermelon to make it slushy again.
Total time: 3 hours 20 minutes (with 3 hours of chilling/freezing time)
This sorbet is a frozen dessert made from pureed watermelon and sugar. You will also use fresh lime juice in the recipe. Watermelon sorbet is a super easy dessert with only three ingredients and only takes 20 minutes to prepare.
The sorbet has a satisfying watermelon flavor, so it is a savior during hot summer days. It's also vegan and free of dairy and gluten, making it a true crowd-pleaser.
After you freeze the sorbet, place it at room temperature for a few minutes if it's hard and difficult to scoop. It's a great idea to put a scoop of sorbet on top of a prosecco or champagne to make it an interesting cocktail.
Watermelon sorbet is a thirst-quenching dessert that you can not miss!
Total time: 15 minutes
Watermelon "pizza" with feta and balsamic is a much lower-calorie fruit version of regular pizza. Besides, you can easily make it with only five ingredients. This pizza is the perfect delicacy to accompany your grilled dishes.
Thanks to the generous amount of electrolytes, watermelon hydrates the body effectively. Besides, olives are a good source of vitamin E and other antioxidants, which may prevent many health risks, such as diabetes, stroke, etc.
To have a nice shape similar to a pizza, you can cut the watermelon in the middle and set the flat surface on the chopping board. Then, slice it into slices and cut them into triangle-like pieces.
Total time: 40 minutes
The cake utilizes watermelon to make the layers. Besides, other fruits such as blueberries, peaches, apples, and strawberries make the cake hearty and colorful. It is a great dessert for birthdays or any gathering occasion.
You can use some skewers to stabilize the layers, but remember to take them out before serving. If you can set up the cake without the skewers, feel free to omit it from the recipe.
The cake is very versatile in terms of the topping of fruits. You can use any of your favorite fruits. Also, it's great to create many nice shapes using the shaped cutter.
Total time: 5 minutes
During the summer months, it's great to have some creamy watermelon coconut milkshake. It is undeniably a perfect dessert to beat the heat. Besides, this milkshake is one of the best sweet treats without gluten and dairy.
The main ingredients include watermelon chunks, coconut milk, maple syrup, and vanilla extract. The milkshake becomes creamy thanks to the coconut milk and sweetness from watermelon and maple syrup.
The recipe calls for frozen watermelon, so freeze it beforehand. It can be chopped into cubes and placed on parchment on a baking sheet. Then, place it in your freezer until you're ready to make the milkshake.
Total time: 10 minutes
A fresh bowl of watermelon fruit salad with lime mint dressing will make your family meal or BBQ party successful. In just a single dish, you can enjoy the freshness of berries and watermelon with the dressing's tartness .
Watermelon is the dish's star, so choosing one with the best quality is essential. Go for heavy ones because they are juicier than light ones. You also may want to choose ones with a yellow splotch on them.
The salad is best served in an instant when it's ready. That's because it will become soggy with the moisture leaked from the watermelon chunks, affecting its texture.
Watermelon fruit salad with lime mint dressing comes together in just some minutes!
Total time: 10 minutes
Sea salt dark chocolate watermelon slices are crazily tasty, with crisp slices of watermelon, dark chocolate, and salty flakes. Besides, it comes together with only three ingredients in just 10 minutes.
The simplest way to make this recipe is to slice the watermelon, dip the slices into chocolate and sprinkle them with sea salt flakes. The second way involves freezing the slices before dipping them. Also, you can add all the remaining watermelon into a bowl to enjoy.
The watermelon slices are so eye-catching to appear at any party or cookout BBQ. It's such a great cold dessert to enjoy on hot days.
Total time: 30 minutes
You can make funny caterpillar fruit kebabs with watermelon, cantaloupe, and candy eyes. Besides, the zesty yogurt dip takes these fruity skewers to the next level.
This recipe is great for family bonding. Your kid will enjoy making round balls with a watermelon baller. Besides, they will be excited about the caterpillar. After making it, you can serve it at your family party or picnic.
To make the yogurt dip, stir dairy-free yogurt with lime zest, lime juice, and honey. Feel free to add some more sweetener if you use unsweetened yogurt.
Total time: 4 hours 45 minutes (with 4 hours of setting time)
No one could resist these tasty watermelon and rosewater trifles. So many wonderful layers of fresh ingredients come together in trifle desserts.
You will assemble it with layers of strawberry rosewater jelly, almond dacquoise cake, watermelon cubes, cream, and chopped toppings. The plenty of ingredients make it so hearty, flavorful, and enjoyable.
If there are no trifle bowls at your home, use large wine glasses instead. For storage, you can keep these trifles in your refrigerator for several days.
Total time: 15 minutes
Making a watermelon ball bowl is a fun way to enjoy fresh watermelon. Small watermelon balls are set into a fruit bowl and topped with tiny kiwi chunks. The balls are juicy and refreshing, promising to be your family's next favorite.
To make it, you chop a small and a large slice off the two ends of the watermelon. Then you can use a melon baller to scoop small balls, which will be put in again later.
The leftover balls are easy to store. First, you will lay them on parchment paper on a baking sheet and freeze them for some hours. Then, transfer the frozen balls into a resealable bag and keep freezing them until serving.
Fresh watermelon ball bowl is so enjoyable and fun to make!
Total time: 35 minutes
These watermelon muffins are a great snack or dessert with a natural sweetness from watermelon and cane sugar. The watermelon also gives its color and freshness to these muffins. With a nice appearance, it attracts any of your kids or even adults.
The recipe is simple with pantry staples such as flour, baking powder, baking soda, and chocolate chips. If you want a nutty flavor, you include nuts coated with flour in the batter. Pecans, almonds, and cashew nuts are great options.
The whole milk adds richness, flavor, and texture. However, you can make vegan muffins by using dairy-free milk such as almond milk or even omit it and use water instead.
Total time: 1 hour 5 minutes (with 1 hour of freezing time)
Originating in Italy, this granita is a simple shaved ice dessert made from watermelon, honey, and lime juice. Before serving, garnish with fresh mint leaves to add color and a cool sensation.
Lime juice adds a tangy and tart flavor to the granita, while honey gives its natural sweetness. In this recipe, you will need a blender and process to turn the mixture into a satisfying granita.
Regarding its texture, this top-notch honeyed dessert is similar to shaved ice, smoother than the Italian version yet less creamy. For serving, scoop granita into bowls or glasses and enjoy with a spoon.
Total time: 1 hour 18 minutes (with 1 hour of freezing time)
Gelato is a frozen Italian dessert with its name meaning "ice cream". This watermelon gelato is free of dairy, sugar, and fat, making it a refreshing vegan treat. Also, you can easily make it with only two ingredients.
Banana is what makes the dish creamier. You can use a food processor or high-speed blender to turn watermelon and banana into a smooth puree. The watermelon contains a lot of water, so you don't need to add water to the puree.
Raw cashew butter or coconut cream would make your gelato even creamier. Besides, you should only add sweetener if you have a sweet tooth because the watermelon and ripe banana has already given enough sweetness.
Total time: 2 hours 10 minutes (with 2 hours of refrigerating time)
Watermelon pie is a creamy combination of fresh watermelon chunks, imitation whipped cream, and watermelon-flavored gelatin. Every refreshing bite helps you to beat the summer heat.
First, dissolve the watermelon gelatin into the water and add Cool Whip into it. Next, combine with diced watermelon and top the mixture on a graham cracker crust. Finally, let the pie chill in your refrigerator for 2 hours or more.
If you don't have Cool Whip at home, simply switch to fresh whipped cream. The finished pie freezes well, and you can enjoy either frozen or thawed watermelon pie.
Total time: 5 minutes
This watermelon smoothie is so refreshing that it will satisfy anyone from the first try. Also, the smoothie uses only four easy ingredients, including watermelon, honey, mint, and water. With a blender, you can make it in no time.
Remember to thaw the frozen watermelon for 30 seconds in the microwave. Doing so prevents your blender from being damaged by the hard watermelon chunks. However, don't thaw completely to retain the slushy texture after blending
Watermelon and water are blended until smooth. Then, fold in honey and a few mint leaves and continue blending. You can also add some herbs like basil to your taste.
Refresh your day with this fantastic watermelon smoothie!
Total time: 2 hours 10 minutes (with 2 hours of chilling time)
Watermelon chia parfait contains layers of fresh watermelon, fluffy chia seeds, and creamy whipped dairy-free topping. Each scoop of the parfait is satisfying and packed with many health benefits.
Chia seeds are a good source of fiber, which can lower high blood pressure and partly prevent heart disease. Besides, quercetin, an antioxidant found in chia seeds, also helps to lower the risk of heart disease.
To assemble the parfait, combine watermelon juice, chia seeds, watermelon flesh, lime juice, sugar, and whipped dairy-free topping. Then, let it chill for at least two hours in your refrigerator.
Total time: 20 minutes
If you are looking for Valentine's desserts, look no further than this watermelon mousse. It's fruity, delicious, and has a beautiful presentation.
Watermelon is succulent, so you don't need to add extra water while processing it. Instead, you will cut it into small chunks to make it easier to process. You can use either gelatin or agar agar as a setting agent.
You can adjust the amount of sugar used depending on your watermelon's sweetness. Also, add a little ginger paste if you want a small hint of spicy taste. Before serving, top the mousse with Grated Dark Chocolate.
Total time: 15 minutes
Making watermelon donuts is another creative way you can do with this wonderful fruit. Compared to normal donuts, a fruit version is much easier to make and will surprise any of your guests with its beautiful look.
This recipe consists of a watermelon donut covered with a creamy dairy-free whipped cream. The whipped cream is a mixture of vanilla extract and chilled coconut cream, making it a healthy addition to fresh watermelon.
If there is leftover coconut cream, you can store it in your refrigerator for a week. Don't forget to top your donuts with colorful sprinkles.
Total time: 8 hours 30 minutes
If you want a creative and healthy way to enjoy watermelon, these watermelon fruit leathers are for you. Besides, they are easy to make with just two ingredients. Although 6-8 hours of baking may be challenging for impatient cooks, the results are worth it.
You should use microwavable plastic wrap to avoid its melting. Besides, don't leave any ripples on the plastic wrap because they can create lines on the watermelon fruit leathers as they cook.
These watermelon fruit leathers stay good in an airtight container at room temperature for up to five days. You can also extend their shelf life to a week by storing them in the refrigerator.
Watermelon fruit leathers may be a bit time-consuming, but they are worth your time and effort!
Total time: 4 hours 15 minutes (with 3 hours of additional time)
The last way to utilize your watermelon is to make a Sicilian watermelon tart. The shortcrust pastry is crunchy and flavored with lemon peel. Meanwhile, the melon jelly is sweet with a soft texture.
The melon jelly is also called Gelo di Melone, a Sicilian dessert. Traditionally, people combine it with pistachios, jasmine flowers, and chocolate nibs and serve it alone. The melon jelly becomes a great filling for the watermelon tart in this recipe.
After preparing the shortcrust pastry and the melon jelly, you will assemble them into a tart. Next, you will lay the melon jelly on the dough and then cover it with shortcrust strips. After 35-45 minutes of baking, let it cool down and top with powdered sugar and pistachios.
Are You Ready To Make Fantastic Watermelon Desserts?
These recipes show how you can convert succulent watermelon into delicious and healthy desserts. Most of them have a signature watermelon color, making them appealing and irresistible. Have you decided what dessert you are about to make?
Share my post with your cooking companions and make these recipes as soon as possible; the results will surprise you. Also, if you have any questions, don't hesitate to leave a comment below, I'll be happy to address all of them. See you next time!