In this article, you can find the best watermelon appetizers to impress your guests. These staters are eye-catching, mouth-watering, and easy to whip up. From now on, you'll never have to worry about what to do with a watermelon because all you need is here.
The incredible deliciousness of these watermelon appetizers will blow your mind. Surely, you may find some combinations strange, but their final results will astonish you. Let's turn your favorite fruit into something more stunning to serve at every weeknight party!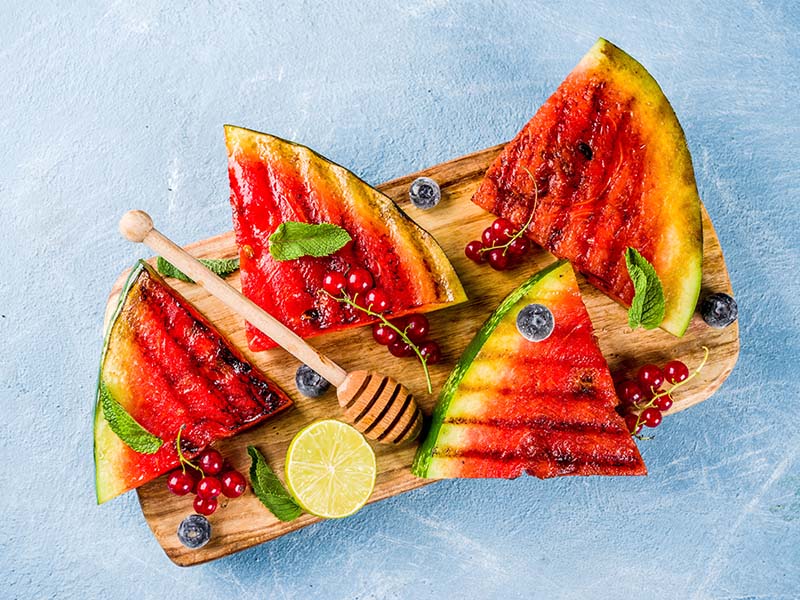 Super Tasty Watermelon Starters For Every Party
Why eat watermelon in old-fashioned ways when there are cooler ways to serve it? Surprisingly, watermelon can mix with a wide range of ingredients and become a stunning appetizer. No more waiting. Let's discover the recipe right now!
Total time: 10 minutes
Watermelon Caprese bites are an exciting twist from the authentic Italian entree recipe with the sweetness of watermelon and the saltiness of the cheese. If you like Caprese salad, which includes tomatoes, mozzarella, basil, and balsamic, you'll love these watermelon Caprese bites.
Though these watermelon bites are not completely the same as the salad, they're still perfect when served as lovely appetizers.
This treat also includes some similar ingredients, such as cheese, basil, and balsamic vinegar, just like the Caprese salad. But their taste is juicier and more acidic, thanks to watermelon and blueberries.
To enhance the look of bites, you can try to cut the watermelon into star shapes.
Watermelon Caprese bites are an amazing appetizer loaded with flavors.
Total time: 20 minutes
There are countless ways to produce creative watermelon bites. This starter is a super hit, thanks to the rich, salty, and cheesy taste of grilled halloumi. Watermelon basil halloumi bites offer a meaty, herbful, and juicy mouthfeel.
Why is halloumi cheese a good fit for this recipe? Halloumi is a semi-hard cheese with a squeaky texture, just like mozzarella. However, this cheese is best for grilling due to the high melting point.
Here is how you can grill the cheese. Cut the halloumi into 1-inch cubes, brush them with oil, and grill on a preheated grill pan for 5 minutes per side. You can do the same with a grill, but make sure to grill the whole piece of cheese. Just cut it into 1-inch slices after cooking.
Total time: 1 hour (including 30 minutes of marinating time)
The intense flavor of the marinade combined with the sweet watermelon and salty cheese can be one of the best watermelon bites you have ever tried. The heat and spicy marinade is a mix of vinegar, sugar, cayenne pepper, and salt to taste.
Because the marinade is bold, you should marinate the watermelon for about 20–30 minutes. If you let the fruit sit for too long, it will be awfully sour and spicy. When preparing the watermelon, remove the grind and cut them into ½-inch triangles.
Here are some tips to pick the sweetest and juiciest watermelon. Let's observe the watermelon and choose ones that have firm and uniform shapes. You can lift the watermelon up. If you can feel the heavy weight for its size, the fruit is sweet and ripe.
Total time: 15 minutes
Pleasing a crowd with something creamy, tangy, and sweet like these cucumber watermelon bites is never a bad idea. The fun snack is loaded with the tasty flavors of ripe watermelon, sweet blueberries, and crunchy cucumber, combined with honey and kosher salt.
Everyone can whip up this recipe in no time. However, keep in mind these notes for an ideal outcome. Choose English cucumbers for this treat because they have a sweeter taste, thinner skins, and fewer seeds. Don't add too much honey, or it'll come out too sweet.
You can make the cucumber watermelon bites ahead of time and keep them refrigerated for up to 2 hours. Only top them with parsley, salt, and honey when you're about to eat. If you don't have blue cheese on hand, use feta, Gorgonzola, or goat cheese as substitutes.
Total time: 6 hours 30 minutes (including 6 hours of marinating time)
Instead of serving cocktails, these margarita watermelon bites will surely amaze your guests. Wait! Is margarita included in this? Yes, this is an alcoholic appetizer. Marinated in cocktails and topped with cheese and pepper, these tasty bites are sweet, tangy, spicy, and boozy.
Mix tequila, orange liquor, and syrup to make the margarita. For the best result, marinate the watermelon with the margarita and let it chill for 2 to 6 hours. This step may take some time, but it's worthwhile.
Freely cut the watermelon into your desired shape, but the fruit pieces should be 1 to 1 ½-inch thick. Besides cotija cheese, feta and ricotta also work well in this case.
For any leftover margarita, blend the liquid with some ice and cubed watermelon to create an awesome drink.
Total time: 30 minutes (not including the marinating time)
Your visitors will fall for this watermelon and citrus shrimp ceviche. Ceviche is popular as a South American seafood dish. Its ingredient list usually includes raw fish, citrus juice, and some other spices.
I can say that this elegant dish is an upgraded version of the original one and is packed with tons of flavors. Instead of raw fish, shrimp is used in this recipe. Be at ease because the acid in fresh citrus juice can make it edible without cooking.
To deal with shrimp ceviche, you can follow this guide. Peel the shrimp and remove the black vein. Then cut it into ½-inch pieces. In a bowl, mix the orange juice and lime juice with the shrimp cubes. Cover the bowl in plastic wrap and let it chill for 1-2 hours.
Drain the juice well, combine the shrimp with the other ingredients, and continue to refrigerate for 30 minutes.
Total time: 21 minutes
Grilled watermelon wedges topped with corn, red pepper, and Tabasco green sauce will become your go-to starter for the next BBQ party to spark a refreshing summer vibe. The appetizer is loaded with tangy, spicy, and sweet flavors.
Unlike fresh watermelon, grilling the watermelon helps the fruit concentrate the sweetness and create a smokey flavor. To prepare the watermelon, you can cut it into 1 ½ inch slices and cook them on a hot grill for 2-3 minutes on each side.
If the green Tabasco sauce isn't available, you can mix lime juice and diced jalapeno to replace the sauce. It's even better to use grilled corn for this recipe. You can slightly grill the corn first, cut the kernels off the cob, and mix them with the toppings.
You can freely change the topping ingredients for this grilled watermelon appetizer.
Total time: 15 minutes
The next weekend party is coming, and you're wondering what to serve. Try watermelon prosciutto skewers. The flavor combines meaty prosciutto, sweet watermelon, cheesy mozzarella, and fresh basil. These colorful skewers are totally gluten-free.
This savory and sweet appetizer is easy to assemble. First, fold and thread prosciutto slices, followed by watermelon balls, cheese, and folded basil, and repeat. To create lovely watermelon balls, a melon baller can help, or you can cut them into 1-inch cubes.
Once you are done with the skewers, drizzle them with some balsamic vinegar and salt. If you prefer the dairy-free skewers, remove the mozzarella cheese from the ingredient list.
Total time: 15 minutes
Your kids will get addicted to this watermelon feta and balsamic pizza. With only five familiar ingredients, your watermelon dish will become a hit on game day. Apart from being an appetizer, you can serve this as a side or top it with some fruit to make it a dessert.
What are the toppings for the yummy pizza hors d'oeuvre? They are feta cheese, Kalamata olive slices, balsamic glaze, and fresh mint leaves. For a beautiful look, follow this guide to cut the watermelon. Carefully slice it into 1-inch rounds and cut them into triangle slices.
Total time: 15 minutes (not including the marinating time)
Watermelon bruschetta? That's true. But this one is more special than the bruschetta you know. Regular bruschetta usually includes grilled bread topped with meat, veggies, and cheese. However, this bruschetta version substitutes watermelon for the grilled bread.
Additionally, the total veggie toppings make this starter low in carbs and filled with salty, sweet, zesty, and juicy flavors. Besides veggies, you can add meaty and cheesy ingredients like prosciutto, smoked salmon, ricotta, or goat cheese for the toppings.
To make a low-carb bruschetta bold in flavor, toss vegetables with maple vinaigrette and chill for at least 1 hour. It's best to use a cookie cutter to create a perfect round watermelon. The size may be varied based on your preference.
Total time: 15 minutes
Watermelon wedges with raspberry and mint are the best for a refreshing summer appetizer. Sweet raspberry, cool mint leaves, and tangy balsamic glaze are all flavors included in these fruity watermelon wedges.
Amazingly, they can be an elegant starter for your party or even become a yummy option to serve along with coconut shrimp. I believe your family will become a huge fan of this salad after the first try. What's more, these pleasing wedges don't take time and effort to prepare.
It's not required, but you can follow this to have a flawless watermelon dish. Chilling watermelon slices more than 2 hours before serving will help your starter be cooler and more refreshing. Don't add the toppings until ready to eat.
Total time: 10 minutes
Aside from being an appetizer, these watermelon slices can be a great summer-themed recipe to make at home. Sashimi is well-known in the world as a Japanese dish consisting of raw slices of fish or meat. But today, this version of sashimi is totally made from fruits and veggies.
Don't underestimate this recipe. Besides the same hue appearance as tuna and salmon, this appetizer is no less intensive in flavor than the original sashimi. Serve this to your guests, and they will beg you for the recipe.
The key to creating this flavorful appetizer is the sesame-tamari glaze, made from sesame oil, tamari, and wasabi. Assemble the sashimi by brushing watermelon slices with the glaze, then placing avocado, red onion, ginger, and sesame seeds on top.
Total time: 15 minutes
Try this yellow watermelon treat for your next game-day party if you prefer something new and tasty. This appetizer is a flavor combination of smoky grilled watermelon, floral cantaloupe, and slightly spicy jalapeno.
If you wonder about the yellow color, it is because of lacking antioxidant lycopene, the chemical that creates the red color in some fruits, including red grapefruit, tomatoes, red watermelon, etc.
This delightsome salsa can be an appetizer or a side dish. As a starter, prepare some chips alongside to serve with. As a side dish, you can make the treat at BBQ parties or plate it up with meat, chicken, or fish.
Total time: 25 minutes
This magnificent Mexican-inspired entree won't upset your expectations with the crunchy texture of root vegetables, the fresh taste of herbs, and the acidity of lime juice. The dish's star is jicama with a starchy, slightly sweet, and nutty taste, just like potatoes and pears.
Besides, red onion, cilantro, and jalapeno are also parts of the fruity salad. Remember, the fresher the ingredients, the tastier the salsa is. For watermelon, jicama, and red onions, you should cut them into equal cubes to give them a better look and make them easier to eat.
Watermelon jicama salsa can be served with nachos or chips. Also, you can dish it up with tacos as a side dish. It can go with grilled meat, too. A full spoon of colorful salsa topped with your steaks would be a clever idea.
Total time: 15 minutes
Spicy watermelon salsa is really simple and quick to make. Also, its pleasantly spicy taste will astonish you. The salsa is a mix of watermelon, pepper flakes, honey, lime juice, and many different vegetables. Don't worry, all the flavors are perfectly balanced together.
Serving a bowl of colorful and spicy watermelon salsa alongside crispy tortilla chips, this is an ideal way to cool off the summer and hydrate as well. All you will do to make the salsa is combine the fruit and veggies, add honey, salt, pepper, and lime juice, then stir and enjoy.
Spicy watermelon salsa will become a hit on your dinner table.
Cool Off The Summer With Watermelon Appetizers
Eating watermelon is a good way to hydrate your body. Moreover, there are endless ways to create fun and delightsome dishes with watermelon. If you want to impress your guests at the next party, let's save this amazing recipe list for later use.
Which appetizers do you find the most interesting? I'm always excited to read your thoughts. If you have more tricks for watermelon appetizers, comment to let others know. Remember to spread these recipes to your family, friends, and even colleagues by sharing this post.