If you need a no-effort dish, try the best Vitamix soup recipes post. There's nothing more comforting than a hot bowl of soup without leaving a mess to clean up. All you have to do is toss the ingredients you want into the Vitamix and press the button.
Vitamix is a reliable brand that allows users complete control over the blending speed. Scroll down to learn the fantastic soup recipes that shine thanks to this feature. All of them are great choices for a hearty, nutritious, and super simple meal.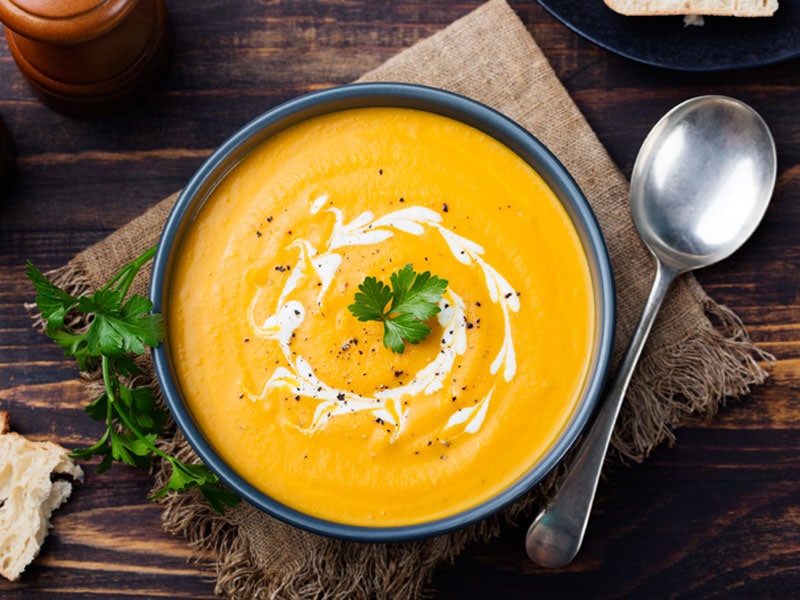 Learning How To Make These Vitamix Soups Is A Must
If you already have a Vitamix blender at home, check out the various tasty recipes in this article to instantly make a hot batch of soup for your family.
Total Time: 15 minutes
No one will believe that you can make this scrumptious tomato soup in just 15 minutes. It is so delicious that everyone will think a great deal of effort goes into making it.
Besides a light, velvety texture, the recipe has a delicate flavor that you can heartily enjoy. This sweet and sour soup will be more refreshing if you use whole tomatoes.
Toss the shallots, herbs, and garlic with a bit of tomato paste to balance the richness of the heavy cream. This smooth soup is perfect to pair with crispy grilled cheese sandwiches.
Making a creamy tomato soup with a Vitamix blender is easy.
Total Time: 9 minutes
This mixture of veggies and broth derives its rich flavor from the chipotle puree. It has a slightly creamy, spicy, and smoky taste. Chipotle puree does well in both enhancing the flavor and giving an eye-catching red color to this dish.
Tortilla soup is already spicy, but if you like, a little adobo sauce or Tabasco goes well with this recipe. Don't forget to add black beans and corn for more nutrients. Garnish it with whatever you like: sour cream, tortilla chips, or cheese.
Total Time: 30 minutes
If you are craving a creamy, cozy bowl of soup, the coconut curry butternut squash soup can warm your body on cold days. Alternatively, the soup is also a favorite complementary choice for short ribs to make your dinner time more wholesome than ever.
Sweet and nutty butternut squash is the main ingredient in the dish. Its mild flavor contrasts nicely with the burst of flavor from curry seasoning.
This dish is also distinguished by the creamy taste of coconut milk. It is a great ingredient for both cooking and garnishing. Its milky white color will make the golden soup more visually appealing.
Total Time: 10 minutes
You can make your beloved creamy broccoli soup easily with the help of a Vitamix blender. Within 10 minutes, your hungry stomach will be satisfied with this fresh, healthy, and filling soup.
In its raw form, broccoli has a mildly bitter taste and is extremely crunchy. On the other hand, the sweetness and soft texture of the cooked variety is quite pleasant to savor.
Don't forget freshly grated cheddar cheese. It brings the full nutty, buttery, and sharp flavor to this smooth and strikingly green soup. If you're a big eater, double the recipe or serve it with sandwiches or salads.
This guide will show you the best way to prepare Vitamix broccoli and cheese soup.
Total Time: 40 minutes
In spring, when asparagus is at its best, this silky soup will be an elegant addition to your meal. Asparagus has an earthy, subtly sweet flavor with somewhat bitter undertones.
Many people describe it as tasting almost like beans when cooked. When blended, it will give your soup a nice makeover.
In addition to asparagus, Yukon Gold potatoes also add texture and taste to this recipe. It is luscious and buttery, even with a little seasoning, giving this soup a yellow-white color.
The final touch for the potato asparagus soup is the onion-y chive cream. While this vegetarian delight is delicious enough on its own, you should enjoy it with easy dishes that usually prepared for potato soups. A few pieces of crusty garlic bread or savory ham will make a great difference.
Total Time: 30 minutes
Vegan broccoli cheese soup is a recipe that is both humble and dazzling. This healthy dish is packed with fiber and protein. Interestingly, it has an incredibly cheesy texture despite not containing any dairy products.
Unlike the green color of the broccoli cheddar soup recipe above, this dish has a creamy yellow color from a combination of chickpeas, carrots, and cashews. This soup has a sharp and distinctive tang of yellow mustard.
This healthy soup makes a great accompaniment for baked potatoes, crisp croutons, and many other starchy delights. With it, a homemade nutritious and mouth-watering vegan meal is more feasible than ever!
Total Time: 30 minutes
This red pepper and garlic soup is for everyone since it is free from dairy, nuts, and gluten. All you have to do is roast the bell peppers and then dump everything in the Vitamix blender.
Enhancing the sweetness of red bell pepper are many other flavors: pungent garlic, tangy onions, and spicy jalapenos. The veggie broth aids in thinning the blended mix into the soup before the finishing touch of salt keeps things balanced.
For a healthier version, baby spinach is my recommended ingredient to add to the soup before you plate it.
Total Time: 40 minutes
Inspired by the golden latte, this cauliflower soup has the same beautiful yellow cream. The highlight is the classic combination of a little garlicky flavor and delightful herby notes.
Of course, the cauliflower itself may be too fibrous, so it must be mixed with something liquid to lighten the texture. Coconut milk or chicken broth is the best option. You can always use both if desired. Otherwise, heavy cream can be used in place of the former.
To transform a creamy soup into a fancy meal, toppings are a must. My recipe suggests using almond slices for a nutty flavor, though crisp and fruity pomegranate arils are just as good.
Total Time: 52 minutes
This nutritious recipe with canned pumpkin is ideal when you have too little time. This soup tastes incredible and is extremely easy to make for a lazy fall evening.
You have to buy pumpkin puree, not pumpkin pie filling, whose seasoning overwhelms the overall flavor. Pumpkins have a sweet taste similar to that of sweet potatoes as well as a naturally nutty taste. This flavor is what will make the soup irresistible.
However, the veggies only really shine in this dish until there are spices. Pumpkin pie spice stands out with its pungent, sweet aroma and warm, peppery nuances.
In terms of storage, if you want to freeze pumpkin soup, remove the heavy cream from the recipe and add it only when reheating.
You can make this rich and creamy Vitamix pumpkin soup to complete your fall dinner table.
Total Time: 1 hour
This truffled broccoli soup will bring French cuisine to your home dining table in a moment. You will taste the sweetness of every scoop of onions and carrots.
Aside from that, the touch of white wine creates an elegant aroma for the creamy base soup. For an additional crunchy texture, serving some truffled croutons on top is a brilliant extra. Yet, the secret lies in the mushroomy-tasting truffle oil.
Remember to remove the rind of the cheese, as it won't melt. In fact, you should grate the cheese into fine pieces for the best presentation.
Total Time: 10 minutes
Although it doesn't look appealing, this is a recipe worth trying. You don't need anything but a Vitamix blender to make this vegan black bean soup for a nutrient-dense plant-based meal.
With a creamy and super mild taste, black beans absorb all the flavors of the spices and other ingredients, making them a perfect choice for this soup. Drizzle a little Himalayan pink salt to create a savory taste, though you can replace it with regular sea salt, as they taste similar.
Also, a dash of fresh lemon juice brightens up this soup. You can pair this with various starchy dishes, such as cornbread.
Let's take a look at this detailed instruction to gain great tips for making a Vitamix black bean soup.
Total Time: 10 minutes
If you are on a low-carb diet, this cold cucumber and avocado blender soup should be the best choice, which has only 5.4 grams of carbs. Most importantly, it takes you only 10 minutes from beginning to end.
You should choose the highest-quality cucumbers and avocados for this recipe. I also recommend adding broth or water to gain a lighter texture. Otherwise, coconut milk is perfect for an extra tropical flavor.
And do not forget to add some spices to your soup for more aroma and heat. The cilantro has a pleasant citrus flavor, while the jalapeno offers a kick to your taste buds.
Warm Up Your Belly With Vitamix Soups
If you need a quick and easy recipe with ingredients on hand, don't overlook Vitamix soups. You can enjoy them on cold days or all year round. These soup recipes will blow your mind with their delicious taste and vibrant appearance.
Just a few ingredients and a Vitamix blender are enough to satisfy your cravings. So what are you waiting for without sharing this article with your friends?
I'm sure they desperately need this recipe collection for the perfect dinner. Also, I will be happy to read any suggestions you may have about other scrumptious soups made with a Vitamix.