It might be quite challenging to look for the best venison recipes since venison or deer meat isn't easy to work with. However, if you know the right tips and tricks to handle this type of meat, you will have delicious meals to share with your loved ones.
There are different cuts of venison meat you can cook with, and each offers a different texture and flavor. Below are some of the tastiest dishes from various venison cuts like sirloin, ribs, flanks, etc. So try them all and see which one is your favorite.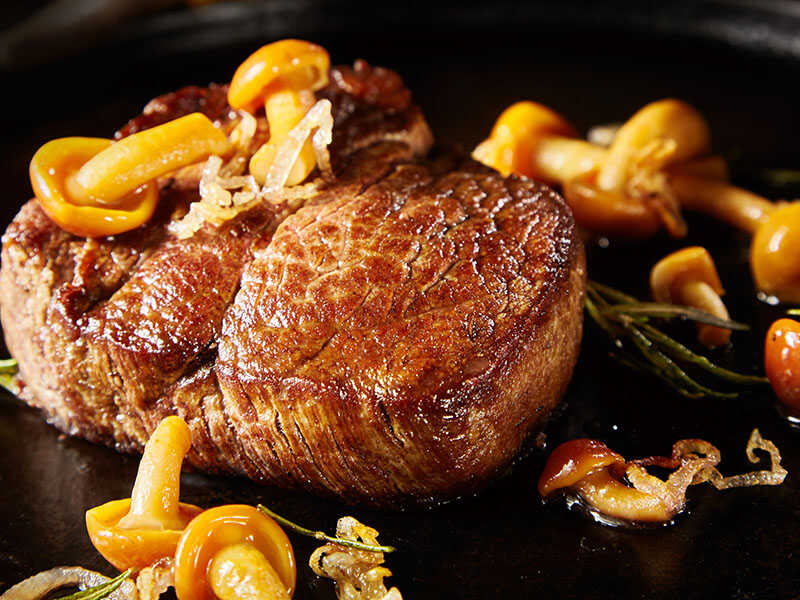 Upgrade Your Recipe List With These Delectable Dishes From Venison
Deer meat can be a handful for some to cook with. But after these tasty recipes ranging from snacks to main dishes, I bet you will change your mind about venison and the flavors it can offer.
Total time: 2 hours 40 minutes
First on the list is this hearty venison stew in a French style. This recipe for braised venison promises a tender cut of meat that is fragrant and moist. Along with the meat are the soft vegetables sitting in the stew.
So why should you braise your venison? Braising is a slow cooking technique that allows the meat to release all the flavors and juice while it becomes tender and soft. By braising, the stew can preserve all the meat's essence and ensure the best taste.
To have the best venison, you should start by searing your cut of meat for a crusty outer layer. This technique will help the meat preserve the juice so it won't get dry and chewy throughout the cooking process.
This dish goes best with a bed of mashed or baked potatoes. These are, in my opinion, the best side dishes for such a rich stew. The potatoes' simple taste will elevate the venison flavors excellently.
Total time: 2 hours 30 minutes
Everyone is already familiar with the famous dish called Beef Wellington. This time, let's switch things up a bit and make Wellington with some venison meat.
Some may think that venison and beef have few differences when it comes to taste. However, venison is usually leaner since deer are wild animals. Thus, using venison to make this recipe will create a unique alternative.
In this recipe, you will be using the tenderloin cut. This cut of meat will keep the dish juicy and flavorful. Moreover, thanks to the Duxelle (mushroom paste with butter and herbs), the Wellington loaf will be extra fragrant as the butter and mushroom will flood all over your palate.
Venison Wellington won't be challenging to make any more if you try this tutorial.
Total time: 40 minutes
Steak and mushroom sauce is a classic dinner meal for a fancy night. However, it can sometimes be boring to cook with just beef. This recipe will show you how compatible venison steak is with mushroom cream sauce.
I don't think I'm exaggerating when I say the creamy mushroom sauce is the national sauce for steak. This recipe will give you the creamiest and cheesiest mushroom sauce to pair with the venison steak.
With the simple yet flavorful seared venison steak, the mushroom sauce, which includes parmesan cheese, will shower the meat with a rich and silky texture. In addition, this recipe ensures the juiciest venison steak with the simplest cooking techniques.
Total time: 1 hour 15 minutes
Venison meatloaf is an elevated version of your traditional comfort food. This variation of meatloaf will offer a different aspect of taste since you are using ground venison instead of ground beef. To enjoy the dish to the fullest, I suggest pairing it with excellent accompaniment for meatloaf.
Since deer meat has a unique taste and a strong flavor, this meatloaf recipe calls for some acidic ingredients like Balsamic vinegar and Worcestershire sauce. These two ingredients will help balance out the richness coming from the wild meat.
I also prefer adding some types of herbs to the venison meatloaf. Herbs like sage or rosemary will add an earthy flavor to the meatloaf, making it more rustic-tasting.
Total time: 1 hour 45 minutes
Tagine or Tajine is a stew that uses a North African cooking technique. This technique is named after the pot that people cook the dish in, Tagine. In this venison Tagine recipe, you will add some butternut squash and parsnip to the stew.
To describe Tagine, I would say it's a dry stew with very little stock or gravy. In addition, the main ingredient of this dish is venison, which is flavorful. Thus, you can imagine how rich and tasty this stew is.
The significant feature of this stew is the addition of butternut squash and parsnip. Adding butternut squash gives the dish a hint of buttery and nutty taste. And parsnip, a great root vegetable, will add a licorice-like flavor to the stew, increasing the dish's depth.
Total time: 50 minutes
Venison meatballs are perfect if you plan on making spaghetti and meatballs. What's ideal about this recipe is you can make these meatballs in large quantities and store them in the freezer for quick meals.
For most meatballs and meatloaf recipes, it is important to mix a moderate ratio of lean meat to fat. This rule especially applies to venison as it's a leaner type of meat. Having an appropriate ratio will ensure that your venison meatballs will come out juicy, tender, and ready to enjoy.
Using marinara sauce for your venison meatballs is another great tip. The dish becomes more versatile with this sauce type, and you can pair it with pasta or a sandwich. On the other hand, you can opt for a creamy gravy if you want to make Swedish meatballs instead.
Total time: 50 minutes
Originally, patty melt is a sandwich that includes a beef patty, melted Swiss cheese, and caramelized onions. This version of patty melt is quite different since it calls for ground venison instead.
The venison patty melt is a luscious sandwich recipe that will easily lure you with its deliciousness. It's a quick sandwich to make yet packs with flavors.
For this recipe, you should use American cheese instead of Swiss cheese. This type of cheese will fit better with the venison since it's saltier and creamier than Swiss cheese. It's also advised to use toasted rye bread to bring out the best texture of the sandwich.
The last tip for the best venison patty melt is to caramelize your onions until it turns golden brown. That's when the onions release all the natural sugar and juice that will seep through the sandwich as you're eating.
This recipe is for you if you still don't know how to make a delicious venison patty melt sandwich.
Total time: 1 hour 10 minutes
Chili or chili con carne is a Mexican meat dish with ingredients such as chili pepper, beans, tomatoes, and spices. This version of chili, which uses venison, is perfect for the cold weather since it's a hearty and healthy dish.
As I have mentioned above, venison is a lean type of meat, which makes it a healthy protein for cooking. When cooking chili with deer meat, you don't have to be concerned about the amount of cholesterol you consume.
This venison chili dish is the perfect menu item for a winter night as it's slightly spicy and comforting. It's also something you can keep going back for another round. A big pot of chili is also convenient to store for days when you don't have time to make dinner.
Total time: 1 hour
Here's another sandwich recipe for you who prefer quick meals. Sloppy Joe is a type of sandwich with the original ingredients like ground beef, onions, and ketchup. And yes, you've guessed it. This recipe is going to replace ground beef with some venison.
Sloppy Joe alone is already a tasty sandwich to eat. But imagine replacing beef with venison and adding cheese. How amazing would that be? The melty cheese that intertwines with a juicy venison patty is exactly what a sandwich needs.
This sandwich is also great to make as it requires little time and effort. It's also a kind of sandwich you can make in big batches and share with your friends. In my opinion, venison cheesy Sloppy Joe is a go-to choice whenever you're stuck on what to make for lunch.
Total time: 30 minutes
I have already talked about the classic steak and creamy mushroom sauce. Let me introduce you to a whole new aspect of steak and sauce that is venison steak and blackberry sauce. I promise you will have a different outlook on this dish.
Using berries to make sauces for savory dishes is quite a common food concept in Sweden, Norway, and other Northern European countries. This creation is a perfect addition to types of meat rich in flavor, like venison.
By utilizing the acidic flavor of the blackberry, you can cut through the meaty taste of the venison steak with the sauce's elegance. It's also nicer to have a hint of tartness in a filling dish like venison steak, as it makes the whole dish a little lighter.
Total time: 1 hour 30 minutes
Venison meat pie, or venison pot pie, is a variation of the ever-popular chicken pot pie. It brings a different depth to the pie when you use venison. While the chicken keeps the pie light, the venison adds richness to the pie, making it a comforting dish with a pleasant taste.
Looking at the ingredients, I can tell you that you can only get the best tastes from this venison meat pie. While the cheese acts as a binding agent for the meat and vegetables, the sauteed mushroom will add an earthy and buttery taste note to the pie.
This pie tastes best when it's fresh out of the oven. So be sure to gather around and prepare your taste buds for this delectable pie once it's done baking.
Making a venison pot pie has never been so easy with this instruction.
Total time: 1 hour 15 minutes
It would be a crime not to make some pasta with venison. To start, I'm going to show you how to make baked stuffed pasta with venison.
Lasagna is a familiar casserole dish with pasta for almost everyone, but it can be a new idea to use venison in baked pasta. It's also fun to substitute pasta shells for the conventional pasta sheets to make lasagna with this recipe.
A tray of lasagna can sometimes be too much to finish. But when making it with pasta shells, the storing will be easier since you will be eating individual shells of venison lasagna out of the tray.
Like the regular lasagna, this recipe will give you cheesy goodness stuffed in beautiful shells. The sauce that this recipe uses is a combination of marinara and alfredo. This combination will offer a tangy taste along with a creamy and smooth texture.
Total time: 15 minutes
How about impressing your family at the next BBQ party with this recipe of flavorful venison burgers? This dish is a must-have in the summertime when you decide to pull out the grill and whip up a feast for your loved ones.
I don't think it's necessary to elaborate on how tasty these venison burgers are. By now, you can already imagine how the nicely done venison patties will go so great with the crusty buns and fresh vegetables. It's even nicer if you add a slice or two of cheese for extra texture.
Venison burgers work great as a lunch and dinner. No matter the time of day, these burgers will always be ideal for enjoying as the weather gradually gets warmer outside. In just 15 minutes, you will have to yourself a beautiful serving of venison burgers that's moist and tender to the last bite.
Watch this video to know more:
Total time: 6 hours 15 minutes
My family has a tradition of having tacos every Friday night. And I always try to come up with different ways to keep my tacos tasty and versatile. Ever since I came across this recipe that uses venison to make tacos, my taco nights at home have never been so exciting.
Since this recipe uses venison roast, a tough cut of meat, you should cook the venison until the meat falls apart. And since you have shredded venison, the best type of tortilla to opt for is the soft corn tortillas. This type of tortilla will absorb the flavor of the venison better than the crispy ones.
This recipe is perfect for when you want a light dinner. You can arrange all the ingredients on the dinner table so everyone can put together their tacos. This makes a great occasion for everyone to bond over a quality dinner time.
Total time: 45 minutes
Barley is one of the tastiest types of grain you can use to make soups and stews. This recipe is going to show you how to make barley soup with some delicious venison.
Barley is a type of short grain that's usually chewy. It adds so much texture to your venison soup. It also has nutritious values like protein and fiber. The soup also contains vegetables like carrots and potatoes. This might be the next perfect substitution for your chicken soup.
Since the ingredients are quite dense, your soup will turn out a little thicker than usual. In particular, the barley and the potatoes will do a great job thickening the soup, while the venison will enrich the flavor. Thus, you will have a bowl of soup that's healing for the soul in the end.
Total time: 35 minutes
Queso, or chili con queso, is a Tex-Mex cheesy dip that people usually eat with tortilla chips. This version of queso will be a little more fulfilling since it calls for some venison besides the cheese and the chili peppers.
Usually, queso dip is a dish with a smooth and creamy texture since it consists mainly of cheese. While eating, you may come across bits of peppers. This recipe will add more texture to the dip with the venison, so you will be fishing for bits of grounded venison when dipping it into the sauce.
This is a fantastic dish to make with the shredded venison tacos I've mentioned above. Together, these two dishes make a great duo that will steal everyone's heart. The next thing you know, your guests will be begging you for the recipe.
Total time: 2 hours 20 minutes
A long while ago, I learned that a special type of meat like venison works decently in curry dishes. That's why I'm sharing this recipe with you so that you can verify whether venison curry is worth the hype.
It's more common to see curry dishes that people make with chicken, fish, or vegetables. However, venison is a compatible type of meat for some curry recipes despite its unique flavor. This curry recipe works well for many reasons. Allow me to elaborate a little bit on that.
You usually have to make a curry paste before cooking the dish. For this curry paste, the recipe calls for some ginger, which is a perfect ingredient to tone down the powerful taste of venison. In addition, you also have yogurt, which acts as a tenderizing agent for the meat.
With the reasons above, I don't see why you shouldn't give this recipe a try. I guarantee that you're going to end up making pots after pots of this curry in your upcoming meals.
Total time: 55 minutes
Let's take a short trip to India and spice up the Kofta curry by using venison. This recipe is another dish I enjoy making whenever I'm hosting an intimate dinner with my friends. The taste and the flavor of this dish are what bring my loved ones and me a bit closer.
Authentic Kofta requires lamb or beef, but there's nothing wrong with using venison instead. As I said, venison is leaner, so it will create a different layer of taste for the curry in general. Despite not being too fatty, the venison kofta is still rich and luscious.
The curry base that this recipe uses is a mix of tomato and coconut sauce. This combination is a heaven-sent match as the tomatoes will keep the curry light while the coconut will add extra creaminess to the stew.
Another component that makes this dish so enjoyable is the spiced Naan bread. Since you're making the Naan from scratch, you will be able to adjust the taste to your liking. And these Naan bread is more flavorful thanks to spices like fennel, cumin, and coriander seeds.
Total time: 40 minutes
Despite the name, this dish doesn't involve any chicken. It's a dish of breaded venison steaks that you deep fry and eat with gravy. Doesn't that sound like a mouth-watering combo to you?
Chicken fried steak is a dish originating in the southern region of the United States. The term "chicken fried" refers to a cooking technique similar to how people would fry chicken.
There are many layers to this dish. On the outside, you have a beautiful layer of breading that's crispy, while the venison inside is juicy and tender. On top of that, you also have a generous topping of creamy gravy that will smoothen the texture of the fried steak.
This recipe is among the most preferred comfort food dishes people make in their households. And it doesn't require much effort. Sounds like a dream to me, don't you agree?
Fry up some tasty venison steaks with this easy instruction.
Total time: Around 20 minutes
Time for a healthier venison dish that features a bit more vegetables. When talking about quick and healthy dishes, you cannot forget stir-fry dishes. In this case, it's the venison stir-fry I'm touching on.
This recipe uses a handful of vegetables like carrots, peppers, and onions. The venison which goes to the stir-fry doesn't need fancy seasoning since you will season the stir-fried mixture later on.
However, to keep the venison moist and tender, you can marinate them with some lemon juice, soy sauce, and oil. Keep the meat in the marinade overnight to attain the best texture while stir-frying.
Total time: 1 hour 20 minutes
Among many cooking techniques, smoking has got to be one of the best ways to preserve the essential flavors of a venison cut. This beginner-friendly smoked recipe with venison and flavored butter will prove what I just said in the best way.
When the venison steak is tender, juicy, and full of the smoky taste note, I bet you wouldn't be able to resist yourself and want to go for a bite right away. But there is another component that completes the dish, which is the smoked butter.
This butter mix isn't your regular melted butter. It uses beautiful ingredients such as sage, garlic, and dried cherries. Now you may be familiar with the famous duo of garlic and butter. But this combination adds a whole new definition to infused butter.
The earthy flavor from the venison goes extremely well with the fruity flavor and smooth texture of the butter. What adds extra depth to the butter is the sage, which is herby and rustic. This altogether sounds like a luxurious dinner meal that you should try making immediately.
Total time: 17 minutes
What is an Asian bowl anyways? Why add venison to it? I'm guessing these questions are popping up in your head. And I'm here to answer them. An Asian bowl is a mixture of rice and many vegetables, and sometimes meat. For this recipe, you're going to add venison to your bowl.
To make an Asian bowl, stir-fry your vegetables and meat, and lay them on a bed of rice. Or you can mix the vegetables with some noodles. This recipe will give you a simple bowl of stir-fried venison with white rice.
The venison in this recipe will be coated in a layer of sweet and spicy sauce. This sauce goes very well with the white rice you're using. The white rice is plain, while the sauce is flavorful. This combination creates the perfect balance for the dish you would not want to miss.
This recipe is also a quick one to make, as it only takes less than 20 minutes. This Asian bowl with venison is especially ideal for lunch or dinner when you're short on time.
Total time: 11 hours
Grits are a signature dish coming from Southern cuisine. It is a type of thick porridge made from cornmeal. And it tastes so much better as you're adding the venison.
A shank cut of venison meat tends to be dry and tough compared to other cuts. Therefore, it is ideal for pairing with creamy and warm grits. Along with the cheesy grits is the slow-cooking technique. This method allows the meat to tenderize itself until it turns amazingly soft.
Although this recipe requires some extra time to make, the final result is going to be worthwhile. You will have tender bites of venison that are juicy, tender, and full of flavors. Make sure to go generous on the paprika when seasoning the meat if you prefer your food with extra heat.
Total time: 4 hours 10 minutes
I'm sure many of you have tried and grown to love Bulgogi, an iconic Korean dish consisting of grilled marinated beef. I'm going to convince you even more with this version of Bulgogi which calls for some venison, the main character in today's article.
This version of Bulgogi is a quick meat dish to prepare ahead of the meals in the week. The marinade mixture is also simple since you're only going to need some sesame oil, chili paste, and soy sauce to marinate the venison.
The tip to the best-tasting venison bulgogi is to leave the meat in the marinade in the fridge overnight. This timeframe will bring out the most flavor in the dish. However, you can leave it there for as little as 4 hours if you don't have much time on hand.
You will fall in love with the charred flavor of these venison bites. Another thing I want to share with you is that you should pair this Bulgogi dish with some white rice and some lettuce. This combination is how I enjoy this dish, and I've been doing it forever since it's so good.
Total time: 8 hours 20 minutes
This recipe allows you to make some delightful and tender venison. This time, the slow-cooked venison and sandwich will taste like summer!
This recipe calls for buns, the kind you would use for burgers. The shredded venison in this sandwich is so tender you will be amazed and hooked. While biting through the meat, you will notice the bright taste of pickles and the creamy Dijon mustard.
This sandwich, like burgers, is a perfect menu item for the summertime. It's one of the no-fail recipes of venison that I adore since all you have to do is leave the venison to slow-cook itself until tender.
Total time: 1 day 25 minutes
I like my meat stuffed. To put it better, I enjoy stuffed meat dishes, especially this stuffed venison that's cheesy and inviting. This dish uses a cut called venison backstrap, meat from the loin on the back of deer.
This recipe requires extra preparation time. Specifically, you want to prepare for this stuffed venison one day ahead. What do you have to prepare? You will need to marinate the venison backstrap in some Caesar dressing overnight for a tender texture and extra flavor.
The stuffing for the venison is also something worth mentioning. This mixture contains Parmesan cheese and spices like mustard, garlic, salt, and pepper. Another ingredient that goes on top of this mixture is a layer of spinach, an ingredient that is compatible with creamy sauces.
There's one more thing I want to share with you through my experience of cooking with spinach. The tip is to blanch the spinach before placing them in between the venison. This step helps to remove the oxalic acid in the spinach, which leaves a waxy feeling on your teeth after eating.
Total time: 8 hours 15 minutes
This last recipe is a snack you can munch on while watching a movie. Who would have thought you could make delicious jerky out of venison?
Start by marinating the venison for a couple of hours in a mixture of red wine, teriyaki, whisky, and a few spices. You then cook the meat in a dehydrator for a few more hours. And the final product is flavorful strips of venison that are tasty and addictive.
It's best if you could find a jerky gun for this recipe. This type of gun will help ensure the form of your turkey. Depending on your preference, you can opt for a jerky gun that shoots out flat or round strips of jerky.
Venison jerky is a great snack you can pair with some beer. So cool some cans ahead to enjoy these delectable strips of venison turkey.
Cooking With Venison Will Transform Your Perspective On Red Meat
I hope you have learned that there is so much more to red meat than just beef. A less common red meat like Venison can also work well in many dishes like the ones above. It's also a healthier choice since it contains less saturated fat than beef.
Once you are accustomed to cooking with venison, you'll find that mastering this type of meat is quite simple. All you need to do is to first find your way around working with it, then adjust your techniques as you go.
It has been a blast sharing these flavorful recipes with you. I hope they have helped you gain a better insight into the flavors of venison. Feel free to comment below to tell me what adjustments you would make to these recipes, and give the post a share if you find it informative!
Nutrition Facts
4 servings per container
---
Amount Per ServingCalories578
% Daily Value *
Total Fat 25.5g

40

%
Cholesterol 205mg

69

%
Sodium 1170mg

49

%
Potassium 1215mg

35

%
Total Carbohydrate 33.3g

12

%

Dietary Fiber 5g

20

%
Sugars 15.7g

Protein 51.2g

103

%
---
Calcium

90

%
Iron

7

%
Vitamin D

4

%
* The % Daily Value tells you how much a nutrient in a serving of food contributes to a daily diet. 2,000 calories a day is used for general nutrition advice.