These easy vegetarian sushi recipes are perfect for even beginners. Many people believe that sushi rolls require a lot of technique and must combine many ingredients, but that's not the case. Do not let their fancy looks fool you, as it's easy to recreate a sushi roll at home.
These vegetarian sushi recipes in this article give you the freedom to customize your own luscious rolls. At the same time, it offers many health benefits without introducing tuna, salmon, or shrimp to the mix.
Every vegetable you can imagine appears in the sushi dishes below. Why are you delaying your vegetarianism without referring to this article and making these dishes right away?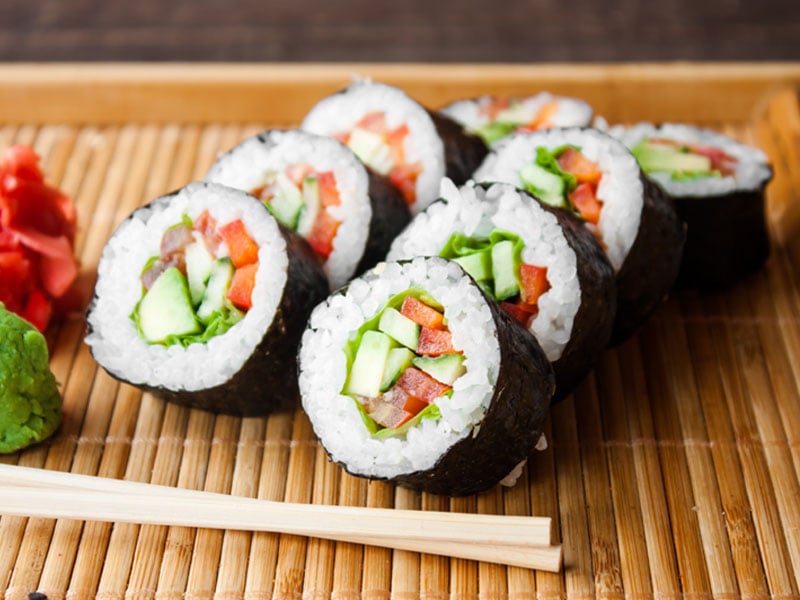 Enjoy The Japanese Cuisine In Each Vegetarian Sushi Roll
Cheer up if you are on a vegetarian diet and also a sushi lover because this article belongs to you. These vegetarian sushi recipes below are tasty and take little time to materialize in your lovely kitchen.
Total Time: 25 minutes
You can be creative with Japanese recipes for vegetarians so they may fit your taste buds. For that, these vegan sushi rolls are a prime example. The recipe is a healthy and gluten-free option to include in your menu.
This sushi dish is more special than others when it comes with homemade guacamole, flavored tofu, spinach, and carrots. The milky green guacamole provides a creamy avocado taste with a bit of sour-spicy flavor, making the dish more flavorful.
Vegan cream cheese, tahini, or hummus all go well with this recipe. One trick to upgrade the deliciousness is to spread a thick sauce in the middle of the sushi roll. Dip your knife in cold water before cutting the rolls to prevent the seaweed sheet and rice from sticking.
Total Time: 10 minutes
This recipe brings all the goodness of Greek salad into these tasty sushi rolls. It is a hit when, instead of nori and rice, you can utilize cucumber as the base to create interest for any diners.
Unlike the traditional way of stuffing cucumbers into sushi, you can now thinly slice them. Then, use cucumber slices to roll the tzatziki filling. To dry these slices, set them on a few layers and pat them with your towel.
To create Southeast European and the Middle Eastern tzatziki flavor, you should combine Greek yogurt, herbs, and lemon juice. Wrap the cucumber slices around tzatziki, and feta cheese is the perfect way to bring a bright flavor to your appetizer.
Total Time: 50 minutes
There are many types of sushi; however, people often think of raw fish when mentioning this well-loved Japanese dish. Alternatively, you may try the vegetarian sweet potato tempura sushi recipe. This dish is the perfect recipe for a busy day.
The sweet potato is the star of this recipe. In addition to its sweetness, each sweet potato piece has a crunchy outer texture similar to tempura. To make that, you just coat the slices with egg, flour, and breadcrumbs before baking.
Sushi always needs a little creaminess, and avocados can satisfy it. Instead of using creamy mayo, a spicy tahini dressing is another great option. It enhances the spiciness while providing an earthy profile and a hint of bitterness to the sweet potato sushi.
These sweet potato sushi rolls are filled with crunchy baked sweet potato and savory nori sheets.
Total Time: 1 hour 15 minutes
The vegan brown rice sushi dish looks fancy, but the cooking method is more straightforward. The dish is simple, packed with nutrition from the purest ingredients. Plus, brown rice also carries many health benefits in weight loss.
You can use rice vinegar and maple syrup to elevate the sushi rice flavor. This vinegar has a mildly sweet, tart, and pungent flavor. In addition, the recipe also includes Lebanese cucumber and beetroot.
These vegetables all have a naturally sweet and juicy taste that gives this dish a refreshing vibe. To elevate the flavors, you can increase the heat by enjoying this sushi with ginger or wasabi.
Total Time: 35 minutes
Instead of only using vegetables, fruit can also take your sushi to the next level. The combination of crispy asparagus, succulent strawberries, and tender feta is perfect for a hot summer snack.
The strawberry's sweet-tart taste brings a refreshing taste to this dish. You can also dip these rolls in soy sauce and wasabi like regular sushi.
Alternatively, the complex sweetness of balsamic vinegar is also suitable to replace soy sauce. You also substitute the feta creaminess with avocado or vegan cream cheese for a vegan diet.
Total Time: 2 hours
This recipe surprises you with the unique spiciness that will jumpstart your love for vegetables. This dish contains many flavors and a crunchy texture that you will never forget.
The sweetness and earthiness of carrots combine with ginger and vinegar to create a flavorful filling. Plus, the addition of braised fennel provides a sweet, licorice, and anise flavor. The fennel also has a touch of sweetness, coming from maple syrup.
Don't forget to add some star anise to the rice to make it more fragrant. I highly recommend dipping these rolls in Sriracha-cashew sauce.
The dip has a nutty, spicy, and tangy profile, with a hint of pungent garlic. Otherwise, you can make another version with hummus and sriracha to enhance the umami richness.
Total Time: 50 minutes
This recipe's name may sound simple in terms of flavor, but don't let that fool you. The veggie quinoa sushi is full of irresistible tastes. It may feel strange to replace the rice in sushi with quinoa completely, as it has an almost bland taste.
Remember to take advantage of this healthy alternative to the starchy part of sushi. Quinoa is mild and nutty, so it needs something to spice it up.
White miso paste's mellow and nutty sweetness can elevate the quinoa flavor. Also, you can add daikon – a Japanese radish, to this recipe to give it a peppery bite.
Instead of the black variety, you can also use white quinoa to make delicious vegetarian sushi.
Total Time: 25 minutes
The soft rice on the outside covering a tropical-flavored filling is what you can expect from this inside-out mango sushi. This vegan sushi recipe is packed with the intense sweetness of mango.
In addition, you should whip up a mildly spicy, creamy sriracha-mayo sauce to add more depth to the rolls. The crunchy panko is an excellent addition to the filling mixture for additional texture.
To retain the authentic flavors, you should mix the seasoned vinegar with the rice in a wooden or glass bowl. Doing so in an aluminum container can impart a slight metallic taste to the rice.
Total Time: 50 minutes
Let's bring the refreshing summer veggies to your family dinner table by incorporating them into a sushi recipe. With its crunchy and refreshing nature, this recipe is sure to become a lovely Japanese starting course or snack for busy days.
Pickled radish plays a vital role in enhancing this sushi's overall flavor. You can create homemade pickled radish from scratch by soaking pickles in a mixture of vinegar, salt, and sugar for about 6 hours or overnight in the refrigerator.
The homemade pickled radish gives you a pungent, tart, and peppery kick. However, it doesn't overwhelm the other flavors, as only a small amount is present in each roll. It is ideal for serving with spicy mayo dip. The rice wine vinegar gives it a boldly acidic taste.
Total Time: 1 hour
All sushi dishes are customizable, and this recipe uses quinoa instead of sushi rice. To sweeten the overall taste, you can use sorghum syrup or honey for a complex, woody, earthy flavor.
This quinoa rice wraps around the golden-brown tempura tofu, creating a soft-crunchy contrast in texture. Regular tempura is coated with eggs, flour, and panko, but you should add shaved coconut for a slightly aromatic scent.
Don't forget to serve this sushi with curry mayo to enjoy its creamy, mildly spicy, and herbaceous flavor palette. To customize and enhance the texture, cabbage, carrot, and green onion are good choices.
Total Time: 15 minutes
This sushi is not only appetizing but also happens to be vegan, thanks to its raw plant-based elements. You can experience numerous textures of various veggies under a thin layer of salted nori.
Cauliflower plays an important role in this unique creation as it has a rice-like texture. To do that, you can simply blend it into rice-sized pieces. Although blended cauliflower cannot give the same flavor as cooked rice, it can still deliver the same texture.
Moreover, the sweet-spicy-tangy dipping sauce brings the flavor spectrum to a whole new level. Ideally, you rest the sushi rolls for about 30 minutes in the fridge. The moisture from the ingredients will soften the nori sheet and create a better bond on the sushi.
You do not even need a rolling mat to make this cauliflower sushi.
Total Time: 28 minutes
If you love the distinctive Japanese cuisine, try this vegan miso eggplant sushi. The cooked eggplants provide a sweet flavor to the recipe and absorb all the flavors of other ingredients to form an irrefutable filling.
For the miso flavor, I suggest using vegan hoisin sauce for a salty and sweet base. In addition, you can introduce some soy sauce to the mixture for a touch of umami.
Thanks to the slightly savory taste of brown rice miso and liquid aminos, the eggplant blend receives more depth in the overall taste. You will agree that this eggplant sauce is a complete touch to the rice.
Total Time: 40 minutes
A nori roll stuffed with sautéed shiitake mushrooms deserves to be your next hearty meal. If you have never tried shiitake, its taste may surprise you.
This mushroom evokes umami with a smoky and earthy profile. It is rich and has a meaty texture that is satisfying in every bite. After sautéing, you can sense the garlicky flavor and the sesame fragrance infused into the mushroom.
The sesame shiitake sushi is intensely flavorful and releases flavorful juice within every bite. Yet, this recipe became a genuine hit with the spicy-sweet-sour taste of pickled ginger.
Total Time: 25 minutes
Dhokla sushi with bell pepper combines iconic Japanese sushi with an exciting Indian twist. This recipe utilizes the idli batter as the base to create a unique dhokla vibe with a bit of the signature sour taste.
The sushi's outer part is also outstanding, with the white and black sesame-coconut sprinkle. However, this recipe's flavor mainly comes from the vibrant red garlic chutney filling on the inside. In addition to the cheesy flavor, it includes a strong garlicky scent.
For the dipping sauce, adding a little dahi (curds) to the wasabi mayo for the dipping sauce can make it more sour and refreshing. Each dhokla roll can produce around 6 to 10 pieces for serving.
Total Time: 30 minutes
Inari sushi (or Inarizushi in Japan) is a traditional sushi that is less popular than others. It includes sticky vinegared rice stuffed inside deep-fried tofu pouches. Inari is a flavorful vegetarian snack or finger food that makes you forget about seafood.
You can buy seasoned tofu at any store or make your own by simmering it in a savory, sweet dashi-based broth. Guests coming to your house are bound to be surprised when they bite into these toothsome tofu pockets.
Inari sushi has a slightly tart and sweet rice filling. Remember to garnish this dish with some shiso leaves and ginger. These leaves offer citrusy and minty flavors, which refresh your taste buds.
Total Time: 30 minutes
If you are bored with typical vegetarian sushi consisting only of cucumber and avocado, give this spicy tomato tuna a go. This easy-to-make tomato spicy tuna sushi roll may blow your mind because it doesn't contain any real tuna, despite the name.
Roma tomatoes with a tangy and sweet profile are the ideal choice to mimic the texture of raw tuna. Your family may be in a difficult time to tell apart between the two ingredients.
The sriracha heat and the creamy avocado are indispensable. They help recreate the most authentic spicy tuna version. Instead of adding salt to the filling, you can use a combination of soy sauce and kelp powder for an extra umami depth.
Let's do this spicy tuna sushi at home, so you can still enjoy sushi as a vegetarian.
Total Time: 20 minutes
After trying these flavorful and colorful sushi rolls, you will never doubt the combination of sushi and fruits again. This fruit sushi is a must-share dessert from Japan that goes well with any savory dish.
Fresh fruits with a firm texture work best. Therefore, strawberry, kiwi, and tropical mango flavors are all ideal choices. Furthermore, you can also consider green apples and apricots.
Then, you want to combine rice with coconut milk for additional creaminess. Instead of salty nori leaves, find store-bought fruit rolls to wrap all the ingredients together.
However, you must note that they are not the same as seaweed. The moisture in the fruit quickly breaks down these wrappers, so you should serve them as soon as possible.
Total Time: 1 hour 20 minutes
This peanut tofu sushi is gluten-free, refined sugar-free, and Asian-inspired. There is no reason that you should not add it to your vegetarian menu. Tofu is the main highlight of this recipe to pair with creamy peanut butter.
It brings rich, salty, and sweet flavors to the filling. Besides this peanut glaze, the five Chinese spices enhance the overall profile when combined with a bright vinegar flavor. All of them may make you want to devour this sushi.
Cucumbers, toasted peanuts, and quick pickled radish add crunch and freshness to this incredible dish. You can replace the tofu with tempeh for more protein, or you can also use eggplant.
Total Time: 40 minutes
Crunchy carrot, cucumber, and purple cabbage with creamy avocado perfectly form a colorful mixture in this fantastic mushroom sushi roll. However, you can still dye the rice pink to take it up a notch.
You should turn to pitaya powder to achieve the lovely pink, making this dish a perfect dinner for romantic dates. You can combine any favorite fillings, but it is best to go for oyster mushrooms. They are chewy and juicy, giving you a hearty bite.
In addition, the super crispy purple cabbage boosts a mildly sweet and peppery flavor. If you want to bring more flare to the dish, don't stop with pink but make rainbow maki rolls with more colors.
Total Time: 30 minutes
There is nothing more colorful than these vegetable sushi rolls. A recipe packed with bright veggies with various flavors and textures. In some ways, it is similar to California sushi without crab meat.
You can use white, black, or brown rice, depending on your preference. However, the texture is slightly different, as white rice is not as thick and chewy as the other two. No matter how much you love vegetables, you should add only a few to the rolls.
Ideally, you should pick around 4–6 veggie sticks for each roll. To complete the dish, you can sprinkle each roll with sesame seeds for a fragrant crunch. It is perfect to go with your favorite sauce, such as soy sauce or sesame oil.
You do not need to be a sushi expert to make this basic vegetable sushi at home.
Total Time: 1 hour 5 minutes
Oshinko is the Japanese name for the quick-pickled variety of daikon radish. Thus, this bite-size sushi is loaded with a pickled radish filling. The sushi oshinko roll is perfect for newcomers to Japanese sushi.
Not only that, but it's also healthy and has a crispy and savory texture. The consistency is perfect to balance out the fluffy rice. Otherwise, pickled carrots or rolled egg tamagoyaki can be substituted to achieve a similar feeling.
Plus, you can quickly bake the nori sheets before rolling. It helps for easier cutting afterward and gives these rolls a toasted aroma. This recipe is tasty enough, but you can upgrade it with miso or clear Japanese soup.
Total Time: 10 minutes
These sushi rolls only take 10 minutes to prepare, yet they satisfy your sweet tooth. Bananas and chocolate are a perfect duo for any occasion. You can have a snack with a balanced sweet and bitter taste in just a few simple steps.
Simply take a banana, pour melted chocolate sauce over it, and sprinkle it with crunchy pistachio crumbles. This nut has a piney, earthy nuance with a somewhat sweet taste.
It probably makes people feel like a flavorful sushi roll with a dark brown color mimicking the seaweed. This recipe stands out for the natural sweetness of bananas without additional refined sugar.
The pistachio is also rich in unsaturated fat, antioxidants, vitamin B-6, and potassium. Therefore, you should incorporate this nutritious snack into your diet to improve your meals.
Homemade Vegetarian Sushi Recipes Can Make By Beginners
As a sushi fan, these vegetarian sushi recipes are worth serving on the table and enjoying with your family. A sushi recipe does not always need to include tuna, salmon, or shrimp. They can still be highly appetizing with the plant-based version.
Vegetarian sushi rolls have a variety of colors, flavors, and nutrients to satisfy all your needs. They are simple, contrasting with their sophisticated appearance. With tons of vegetables out there, you're free to get creative with the ingredients for your delicious sushi.
Share this article with more people, as both meat eaters and vegetarians will love the taste of these sushi creations. Please leave a comment so everyone can know your favorite vegetarian sushi recipe in this post.