These best vegetarian soup recipes are perfect for your lovers on chilly autumn nights. Nothing can be simpler than making soup to show love and warm up a lovely night.
Since you just need to put all your favorite ingredients in a pot, cook until tender, and season to taste. Vegetarian versions of soup recipes are even more straightforward when you combine a variety of vegetables.
They not only add flavor but also provide a variety of nutrients. Who could refuse a warm, healthy, delectable, and effortless meal? The range of soup recipes listed below is enough to get you through the cold days with a full and warm belly.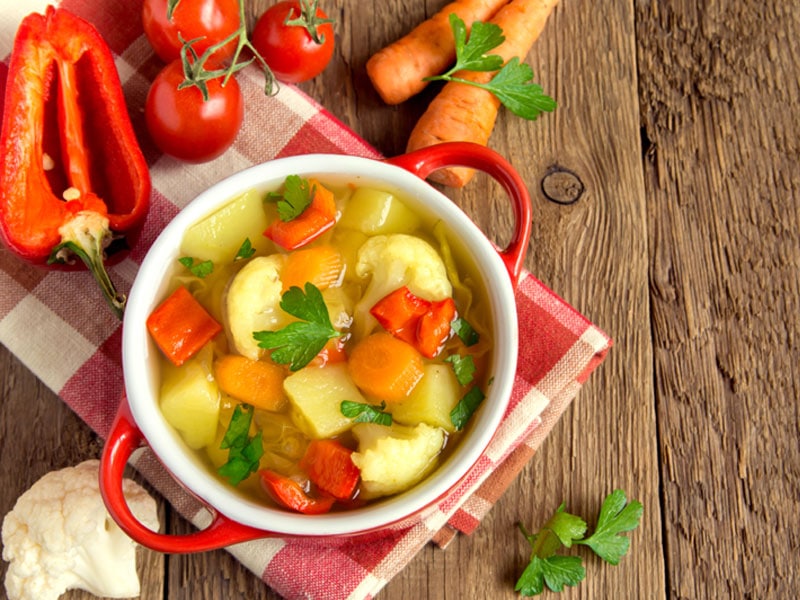 Vegetarian Soup – A Warm Treat For All
You do not have to use meat ingredients to enjoy a palatable dish. Varied, healthy, and full of flavor vegetables can completely satisfy all your taste needs. Keep reading to see more vegetarian soup recipes, and add them to your menu!
Total time: 35 minutes
Homemade creamy vegetable soup is a fantastic complementary pick for tuna steak or any upcoming savory dishes you have in mind. It has various components, ranging from vegetables such as carrots and celery to herbs with unique aromas, such as garlic and thyme.
After tossing the veggies with the butter and olive oil, thoroughly combine the flour with the vegetables. Full-cream milk is the most significant element in the meal, as it will provide the distinctive creaminess that enhances the soup's flavor and make it less monotonous.
Finally, use the corn flour to thicken the consistency and season to taste. You will have a delicious soup for a weekend family supper.
Total time: 45 minutes
The characteristic flavor of Thai cuisine is its unique taste. When enjoying Thai food, you can feel the spicy, salty, and sweet-sour balance. These are the elements you will find in this amazing soup.
To season this Thai vegetable soup, you need a mix of chili, bok choy, carrots, mushrooms, and tofu cooked in a coconut milk curry broth. However, its seasoning creates depth and authentic Thai flavor.
These include lemongrass paste, ginger, garlic, turmeric, and spicy curry powder. You can make this warm soup and store it in the refrigerator for up to 4 days.
This soup attracts everyone by its creamy yellow color from curry powder and coconut milk mixed with colorful vegetables.
This flavorful Thai vegetable soup is ready to be on your dinner table in less than 30 minutes.
Total time: 30 minutes
This Tuscan white bean soup recipe calls for cannellini beans, celery, kale, carrot, and some herbs (thyme and oregano). For your information, Cannellini is a tender white bean about the size of a kidney bean.
It has more meat than the Navy and Great Northern varieties and is rich and earthy in flavor. Best of all, when cooked, cannellini beans can hold their shape and texture well, perfect for this soup recipe.
If you love this Tuscan soup and want to store it in the freezer, you should let it cool first. Then, put it in a serving container and enjoy it within 2 months for the best experience.
When you need to enjoy the Tuscan white bean soup, just let it defrost overnight in the refrigerator and reheat it on low heat. The tip to making the dish more flavorful and naturally sweet is to add about 4 cups of vegetable broth.
Total time: 25 minutes
Pasta has endless variations, and this dish is no exception. This year-round vegetarian Fagioli pasta recipe is a two-in-one combo. You can enjoy flavorful soup and pasta simultaneously in one bowl.
White beans have a soft texture with a firm and mild flavor. Therefore, when cooked in soup, they don't get mushy and can absorb the tastes of other ingredients. In addition, baby spinach provides a tender texture and pleasant flavor.
This soup is perfect for cold days as it is warm and hearty enough to satiate hungry stomachs. In this dish, you can use seasonal vegetable ingredients like freshly harvested zucchini and tomatoes and add other varieties like carrots, baby spinach, and white beans.
Total time: 55 minutes
This next recipe makes a splash as it contains a variety of healthy vegetables. However, it does not take too much time and effort. It's also a favorite during the winter days for beating the nuisance cold.
Barley is an important grain widely used throughout the world. Not only is it packed with essential nutrients, but it's also delicious to enjoy. Barley's chewy and dense texture provides an interesting take on the soup. In addition, it has a characteristic nutty flavor.
If you need a meal for a busy day, then it is best to use pearl barley. This variety is popular, cooks quickly, and is less chewy than the whole grain variety.
After checking out this video, you will have a hearty dinner with vegetable barley soup.
Total time: 30 minutes
You'd be wrong if you thought this Orzo lemon chickpea soup recipe tasted like any other pea soup. This Greek-inspired recipe features chickpeas, fresh lemon juice, Orzo, and fresh greens like carrots, green beans, and spinach.
Orzo or risoni is a kind of tiny pasta. It comes in short-cut pasta, almost like a grain of rice. Usually, people make orzo with flour or whole grains. It has a neutral taste like any other pasta.
It is no coincidence that lemon is included in the name of this recipe. Lemon has a shape taste that you can easily perceive as sour, harsh, and bitter. It makes the dish much more refreshing.
Furthermore, Tahini has a nutty flavor, like toasted sesame. It is sprinkled on top of the dish, which goes well with the flavor of the lemon.
Total time: 40 minutes
Light cream cheese, sweet potato, and fresh rosemary combine perfectly to create a rich and silky soup. In this flavorful soup recipe, the shallots and garlic are sautéed first to bring a pleasant fragrance.
Next, place the broth, rosemary leaves, and sweet potatoes in a saucepan over low heat for 25 minutes. At this point, the time is enough for the potatoes to be tender. You should allow it to cool before pureeing this concoction.
Finally, whisk the soup in the pan and add the cream cheese simultaneously. When it's all mixed, serve your hot and creamy soup.
All that's left now is to serve the soup with a few great accompanying dishes for potato soups. The recipe delivers a rich and deep flavor evident in every spoonful. If you don't want to use dairy products, almond milk or cashew cream is also a good alternative to make this soup fully vegan.
Total time: 45 minutes
One of the best ways to add fiber to your daily diet is to enjoy this healthy and bright vegetable soup. Ideally, you may serve minestrone as a simple complimentary pasta recipe for an authentic Italian meal. This dish is suitable for both vegan and vegetarian diets.
A large bowl of cannellini and kidney beans, combined with carrots, pasta, and potatoes, is cheerful enough to fill anyone's stomach. Beans are a great source of plant-based protein that helps you feel full for longer.
This recipe is completely suitable for vegetarians who fear protein deficiency when a serving of soup contains up to 15 grams of this substance. In addition, it also adds 9 grams of fiber to help the digestive system work better.
Total time: 20 minutes
Creamy broccoli soup prepared in 20 minutes is what everyone needs after a tiring day. It is a comfort food with just over 300 calories and is full of nutrients.
Semi-skimmed milk and mature cheddar cheese are the two main ingredients that give this soup its creamy texture. I suggest using a stick blender to combine a mixture of garlic, onion, potato, and broccoli with milk. You may replace it with a jug blender if a blender is unavailable.
However, you need to ensure it is cool before transferring it into a can, as a hot soup can cause it to explode. Creamy broccoli soup served with warm crusty French bread is a heavenly treat! Instead, you can sprinkle some croutons on its surface for a lighter meal.
Total time: 1 hour
Quinoa has long been recognized as an excellent source of nutrients for the body, notably as a source of protein in vegetarian diets. Quinoa has a sweet, nutty flavor and a fluffy, sometimes chewy texture.
So, the appearance of quinoa in this recipe is wonderful for anyone's diet. About eight minutes after heating the veggies in olive oil, you should carefully mix the chopped thyme and tomatoes.
Then, add the quinoa and simmer until this concoction has reached the desired tenderness. At this time, you just have to season to taste, remove from heat, and finish by adding lemon juice and coriander.
You can refer to this detailed guide and make quinoa soup to add nutrients to food for the whole family.
Total time: 30 minutes
Lentils are a superfood loaded with protein and have the perfect flavor for many dishes. This vegan lentil tortilla soup features red lentils, black beans, roasted tomatoes, jalapenos, and many herbs.
You definitely think about it when the weather gets colder. You can use cashew cream instead of other types to enjoy a creamy yet light meal. This type has a flavor that is much more neutral than the others. It has nutty, buttery, and creamy vanilla-y flavors.
Make a big pot of lentil tortilla soup and use it gradually in your next meals. It can keep its quality for 3 days in the refrigerator and up to 2 months in the freezer.
This tortilla lentil soup deserves as the main dish and is served with tortilla strips, sour cream, cilantro, and avocado.
Total time: 55 minutes
This 3-step recipe can help you to keep the cold at bay. Instant pot wild rice soup is loaded with spinach, carrot, and mushrooms – all healthy vegetarian food. Moreover, this recipe is easy to make, time-saving, gluten-free, and vegan-friendly.
Vegetarians must be crazy about the texture of this dish. It has an earthy and creamy taste and a relatively thick consistency.
As mentioned, an easy recipe does not require many steps. Simply put the onions, mushrooms, and garlic in an instant pot with a bit of olive oil until turning brown and fragrant.
Then add all the remaining ingredients like rice, white wine, carrots, vegetable broth, celery, and spices. After about 24 minutes in the instant pot over high heat, you can add the sour cream before seasoning it with salt and pepper.
Total time: 35 minutes
This is a complex dish as it can burst in your mouth with tantalizing tastes and fragrant flavors. The mix of hot and sour is never outdated in a soup recipe.
The hot and sour soup is full of Asian flavors but only takes 30 minutes and one pot to complete. You may be surprised by the number of vegetables, such as matchstick carrots, zucchini, and brussels sprouts.
They match perfectly with the aromatic, pungent, spicy flavor of the white peppers and the tartness and slight bitterness of white vinegar. If you want a more wholesome dish, you can add tofu.
To add heat to this recipe, consider garnishing it with red pepper flakes. As soon as it starts to cook, the scent of this spicy soup makes your stomach rumble in no time.
Total time: 1 hour
The following recipe provides a cozy vegetarian dinner with your family and friends. This tomato lentil soup is rich in flavor with umami from Manzanilla olives, light cream, and a hint of heat from paprika.
Of all the lentils, the brown variety in this recipe provides the earthiest taste. In addition, it is also considered an all-in-one lentil because of its versatility in salads, burgers, and of course, soups.
Manzanilla is an olive kind that originates from Spain. It has a fairly thick flesh texture, a hint of smoke, bitterness, and a mild almond-like taste. The combination of brown lentils, manzanilla, and tomato base brings each layer of unique flavor that you should not miss.
Total time: 1 hour
There are many soups made with cabbage, but this bowl of spicy vegetarian cabbage soup is incredible. It is a versatile, rustic, and warm DIY recipe. You can also enhance the spiciness by adding red pepper flakes or diced jalapeño.
This soup is packed with nutritional and natural vegetables. To create this recipe, you can use a stovetop, pressure cooker, or slow cooker.
Set the stovetop on low heat and simmer the soup until everything is tender. For the other two methods, you just add all the ingredients, adjust the heat to the right level, and let the equipment do its job.
There are a lot of great tips in this cabbage soup recipe that can make prepping the ingredients easier.
Total time: 30 minutes
You will never look at cauliflower the same way after trying this soup. Roasted garlic cauliflower chowder creates a creamy and silky texture without adding extra dairy elements.
In this recipe, you should use roasted garlic hummus. It gives this soup the rich flavor of umami and enhances the garlicky taste. In addition, hummus can also make soup textures much smoother.
Plus, when blended, the creamy texture similar to mayonnaise hummus combined with potatoes, cauliflower, and nutritional yeast creates a thick and flossy consistency for this soup.
Total time: 25 minutes
Instant pot carrot ginger soup is a dinner that is not fussy in the steps but sophisticated in taste since it takes only 25 minutes to bring its seductive flavor to the dining table.
This recipe is perfect for cleaning up leftover foods in the fridge or pantry. If soup is a cozy dish, this recipe doubles the mentioned element. Ginger has a warm, spicy, sweet, and slightly acrid taste. It goes perfectly with soup recipes with its pungent aroma.
When mixed with ginger, carrots, coconut milk, and thyme leaves can warm up your whole body. After finishing this soup with some lime juice, the taste becomes sharper.
You can make it in an instant pot or on a stovetop. Both of which do not require too much effort. This soup attracts eaters by its smooth texture and the characteristic orange color of carrots that are slightly yellow due to the milky white color of coconut milk.
Total time: 15 minutes
Light and appealing, with a full umami taste, this vegetarian-friendly recipe from Japan will brighten your resting days. The things that make this miso soup terrific are healthy, ready in 15 minutes, and 5-ingredient required.
The best way to infuse the umami profile without resorting to meaty foods is to use miso paste, a traditional Japanese condiment. Its flavor is mainly sweet, savory, and earthy, similar to soy sauce but not as salty.
There are three main types of miso: red, white, and yellow. They all have different flavors, but you can use any of them according to your taste.
Instead of catching diners' eyes with vibrant colors like other soups, the broth of miso soup is quite clear, creating a light feeling.
The vegan miso soup is a cozy and healing soup for a long tiring day.
Total time: 32 minutes
Little bites of lasagna noodles, diced zucchini, and carrots are ideal. They are even better when floating in the savory and lively tomato flavor of marinara sauce, which is the gift this recipe sends to you. Vegetarian veggie-loaded lasagna soup is a three-recipe dish in one.
You can omit the cheese toppings to make it dairy-free and vegan-friendly. To make dinner more hearty, the key ingredient is lasagna noodles. This kind comes in a thin and smooth piece, so it is easier to absorb the soup's taste.
In addition, balsamic vinegar also enhances the novelty of this recipe. It is denser, has a sweet taste, and is not as pungent as regular varieties.
Its strong fruit and sour flavor make a comfortable feel for this lasagna soup. This delicious soup will be ready in about 10 minutes and ready to be a luscious vegetarian main course.
Total time: 30 minutes
This tomato basil soup recipe is a fine 30-minute meal for meat-free Mondays or any other busy meal. To add more taste to this recipe, lightly sweet Vidalia onions are indispensable for their brown color.
The natural sweetness of the caramelized onion, plus the carrots, helps balance the acidity of the tomatoes. Furthermore, you can use unsweetened almond or cashew milk to create a creaminess that is not too greasy.
Besides, the most important main ingredient is basil – which gives the dish the aroma. I agree that the dried kind is convenient, but if you want a flavorful and bright soup, it is better to use fresh basil.
Total time: 40 minutes
A mouthwatering bowlful of vegetarian stuffed pepper soup is just the thing for cold nights. This soup is filled with vegetables for a delicious and warm night around the dining table.
This recipe gives you just 181 calories and 1 gram of fat, and 8 grams of fiber, making it a healthy treat. There are wide varieties of chili peppers; depending on your tolerance, you can turn up the heat in this soup.
Vegetarian stuffed pepper soup calls for lots of bell peppers, and all four varieties of green, red, orange, and yellow are equally perfect. Alternatively, you can add jalapeño if you want a bit of heat.
Lentils are cooked until soft and creamy. If you want this soup to be thinner, add ketchup or broth. This dish allows you to vary more with toppings such as sour cream, fresh tomatoes, parsley or scallions, corn chips, and even cheddar cheese.
Total time: 6 hours and 5 minutes
Vegan split pea soup is your belly-pleasing warmer in the next winter time. Surely you have seen the mass appearance of split peas in different dishes. It is a star in soup recipes. You better enjoy it with crunchy toast or any kind of salad.
This bean is a favorite because it has a sweet taste. When cooked, the texture becomes creamier. No one can refuse a bowl of creamy and smooth soup.
However, when using a slow cooker, you have to wait for about 4 to 8 hours to enjoy this dish. So, another less time-consuming method is to sauté the vegetables on the stove and add the broth and peas. In about 40 minutes of simmering, everything will be tender.
If you don't have a slow cooker, you can make split pea soup with a crock pot.
Total time: 1 hour
This Vegan laksa soup recipe brings the flavors of marvelous Malaysian recipes to you. It makes you wish you had done it more. Laksa or Malaysian Laksa Lemak is a wonderfully rich soup blend of fiery, spicy, salty, sweet, and rich coconut milk.
It includes toppings such as vegetables and tofu over a large noodle dish. Just like the original, this soup recipe is quite elaborate in ingredients. However, everything that makes this soup is about vegetables.
The three things you need for this dish are Laksa curry paste, Laksa soup, and toppings. Laksa curry paste contains cashews, fresh lemongrass, garlic, and coriander seeds.
Regarding Laksa soup, you can use a combination of broth, condensed coconut milk, oil, jaggery, or sugar. This dish features noodles with crunchy tofu soaked in spicy vegetable broth.
If you don't have any available, it makes sense to replace it with spaghetti. Add optional vegetables like mushrooms, broccoli, snow peas, and capsicum to add richness to this traditional soup.
Total time: 55 minutes
This easy recipe for spicy black bean soup uses easy-to-find ingredients, but its flavor is fancier when it becomes an accompaniment recipe for Tamales to help you fully experience the dish. This recipe tastes fresh thanks to the celery, garlic, and carrots.
It creates a light Cuban culinary note when mixed with the sourness of sherry vinegar and cumin. One trick you can use to create the ideal spicy black bean soup texture is to blend a portion of the soup in a blender.
When it reaches the ideal creamy consistency, pour it back into the pot and stir well. The finished consistency is light, and there are still a few toothsome bean chunks.
Before enjoying, add cilantro, lemon juice, or vinegar before seasoning with salt and pepper to balance the flavor.
Total time: 20 minutes
You will not believe that this nutrient-dense soup is only made in just 20 minutes. When the fall comes, what you are looking for is none other than this Moroccan chickpea soup.
Moroccan cuisine is characterized by the use of many spices in food. Although there is a modification from dish to dish, vegetables and fruits play a key role in the composition of many dishes.
In addition, the Moroccan kitchen always has the presence of olive oil. Therefore, this soup is similar in style.
It is rich in flavor because of the sourness of tomatoes and lemons, the warmth of ginger, red pepper flakes, cumin, and the sweetness of onions, carrots, and broth. It creates a more ample dish suitable for main meals with the addition of chickpeas.
Total time: 40 minutes
The vegetarian taco soup recipe is the perfect answer for you if you are a fan of tacos. This dish is more than just soup; you can serve it with burritos, enchiladas, and nachos as a snack.
It should be on your next vegetarian dinner menu because this soup is sure to wow the crowd. To make the vegetarian taco soup look inviting and addictive to the guests, you can optionally garnish it with various toppings.
Among them, sour cream, lemon slices, red onion, avocado, jalapeno, and tortilla chips are the most worth considering.
You will be overwhelmed when seeing the look of this soup. It has a delicious red color with contrasting green lime wedges and highlights the milky white of sour cream in the middle.
Total time: 50 minutes
You can taste the signature flavor of Vietnamese dishes in this scrumptious recipe. This vegetarian Pho is loaded with the classic Pho flavor – the famed dish inscribed in the Oxford English Dictionary.
Instead of the usual beef or chicken, this recipe is suitable for vegetarians because it calls for Shiitake mushrooms. People are crazy about this Vietnamese noodle due to its richness from spices like cinnamon, whole peppercorn, star anise, and cloves.
To cook Pho, people usually simmer beef or chicken bones continuously for many hours. However, the broth of this vegetarian soup is full of sweetness and umami, thanks to onion, garlic, and ginger. Last but not least, the one determining factor is the garnishes.
If you enjoy this soup at a Vietnamese restaurant, there are sure to have small plates of lemon, chili, bean sprouts, sauce, and fresh herbs on the table.
You can learn more about Pho and Vietnamese vegetarian cuisine through this useful information.
Total time: 30 minutes
With this creamy vegan pumpkin soup recipe, I guarantee it is the first disappearing dish at fall parties. Dishes with a lively red-orange color like this one always stimulate people's hunger.
Pumpkin has a bright and sweeter taste than other vegetable varieties. Also, when cooked, it is tender and has a smooth texture. No one can deny that it is highly suitable for making soup.
If you do not have much time, you can use canned pumpkin to make this delicacy. It makes cooking quick and easy to turn into a creamy consistency.
Alternatively, to make this recipe dairy-free, you can use coconut milk. The creamy taste you get remains the same but is more coconutty and floral in fragrance.
Embracing Autumn With Scrumptious Vegetarian Soup Recipes
Vegetables are always the preferred choice to add to today's diet. They are easy to find, economical, delicate, and healthy.
There is nothing simpler than adding them to a soup recipe. Delicate vegetarian soups can be addictive, even for meat eaters.
In addition, from a rustic or sophisticated soup, they all bring a feeling of lightness, warmth, and nutrition. Make a delicious soup to treat your whole family with these vegetarian recipes below.
You can comment and share the article so everyone can contribute great recipes together.