Best vegetarian pasta recipes? Have you ever thought about transforming your usual meaty pasta into a vegetarian dish? If savory pasta is loved by the rich sauce mixed with beef or pork, vegetarian pasta attracts people with its special flavor.
However, to cook delicious and fragrant pasta with only vegetables, you need to keep an eye on the ingredients for the sauce served with the noodles.
These simple and easy vegetarian pasta recipes I suggest below will help you have mouth-watering meals daily. So now, discover them with me!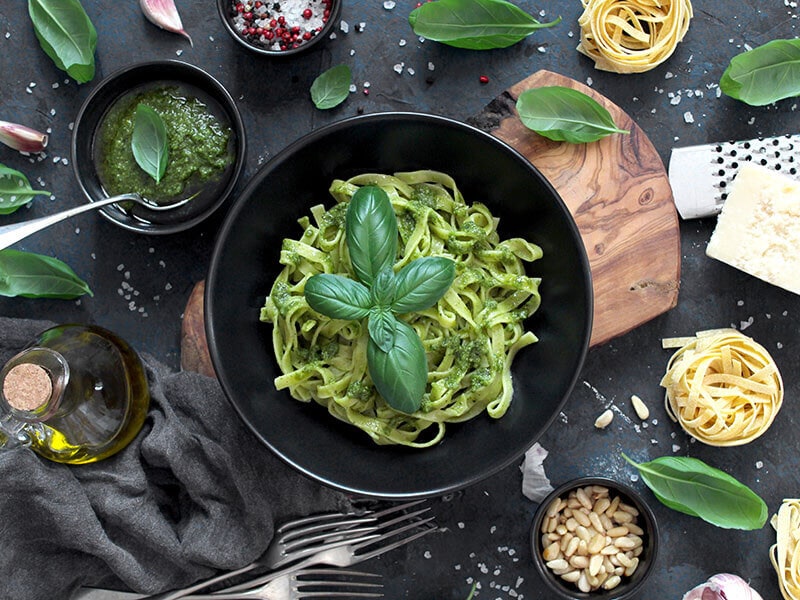 27 Vegetarian Pasta Dishes That Surpass Other Foods
Regarding vegetarian pasta, some of my friends often wonder about ready-made dry noodles. That seems to be the common concern of many vegetarians: noodles are made from eggs and unsuitable for vegetarian meals.
However, most dry pasta noodles sold in the stores don't contain eggs and dairy milk. So don't worry! Now, are you ready to find the perfect recipes for your vegetarian pasta dish? This is heaven for you!
Total time: 15 mins.
The first dish in this recipe list that I want to introduce to you is the creamy mushroom pasta. Even fastidious children are addicted to this pasta dish, so it's a pity if you don't know it!
The mixture of oyster mushrooms and shiitake mushrooms contributes to the rich sauce. However, depending on personal preference, you can completely replace them with chestnuts and portobello. Rest assured, the result is still pretty similar!
I recommend tagliatelle pasta as it pairs perfectly with many delicious creamy sauces. But if you don't like that richness, feel free to choose others!
It takes no more than 20 minutes to complete this greasy pasta. You can boil the noodles and cook the sauce simultaneously to save time. Finally, top this dish with basil leaves, a pinch of salt, and pepper when serving!
Total time: 20 mins.
Are you looking for a leisurely meal that doesn't make you spin around with many pots and pans? This amazing pasta delicacy requiring only one pot will help fulfill your wish!
As you know, the classic version of taco pasta often uses ground beef, cheddar cheese, and sour cream. But this recipe takes another road, rich in vegetables instead of meat.
The ingredients to make this pasta include salsa sauce, black beans, minced garlic, corn, pasta, and your favorite seasoning. Not difficult at all, you just have to cook them all in a single pot.
This taco version gives you an addictive and protein-rich meal that's not only super easy to follow but also gluten-free!
Make your own vegan taco pasta with this guide!
Total time: 30 mins.
This creamy broccoli pasta is perfect for a simple, tasty, healthy vegan meal! For the delicious sauce, use non-dairy milk instead of buttermilk. All the steps in this recipe are really easy to follow. They only require a few techniques, a few ingredients, and a pot!
You can even use the frozen broccoli in your kitchen! No need to defrost, just put the frozen broccoli directly into the pot and cook them for one or two minutes longer.
With this recipe, you'll enjoy the amazing health benefits of broccoli: improving heart health, boosting digestive function, and preventing certain cancers.
Still don't know how to make creamy broccoli pasta? Here is some help!
Total time: 13 mins.
This recipe is for you if you are a huge fan of lemons! I bet you will be intrigued by how the juice and the zest are used to the fullest in this recipe. It makes the dish taste like pure sunshine.
Or are you a spinach junkie? This recipe can satisfy you too! Feel free to add as many vegetables as you like, making the dish more eye-catching and refreshing.
All the ingredients for this recipe are really simple: pasta, lemon, spinach, ricotta, parmesan cheese, virgin olive oil, and some seasonings. You see, you don't even need 10 ingredients!
Trust me, this pasta and spinach won't let you down! You may even be addicted to its cool and rich taste.
Check out another easy way to make lemon ricotta pasta with different vegetables!
Total time: 10 mins.
Avocado lemon pesto is another greasy version of vegetarian spaghetti that I loved recently. It makes a perfect side dish using any pasta.
The dish's name already shows the main ingredients you need to prepare. Besides those, fresh basil, garlic powder, and your favorite condiments will also help make this pasta dish more appetizing!
Cooking the sauce is simple; start by putting all the ingredients in a blender and mixing on high speed until it becomes a smooth, creamy paste.
Next, when finishing cooking the noodles, put them on a plate and pour the sauce over (a few butter garnishes would be nice too). Your delicious vegan avocado pasta is ready!
Total time: 30 mins.
I bet this pasta with vegan walnut sauce will make some meat-eaters want to try it right away! This dish is also gluten-free because you'll use walnuts to richen the sauce, not the milk.
Yes, walnuts are the key to this scrumptious pasta dish. Bake them a little in advance to give them more flavor! Besides, you cannot ignore the precious health benefits of walnuts. These small nuts are extremely good for heart health.
So, this tomato cream pasta with walnuts will be delicious and packed with nutrients.
Total time: 30 mins.
This dish can satisfy you even when you are not a good cook or have a limited budget. With only 5 ingredients, you're ready to go!
The highlight of this recipe is cooked tomatoes and carrots. This combo makes the sauce creamy and turns your dish into a superfood rich in vitamin A. Hence, this tasty creamy carrot tomato pasta also helps improve your eyesight effectively.
With a serving like this recipe, you will earn 137 kcal, including 16g of carbohydrates, 3g of protein, and 7g of fat.
Total time: 20 mins.
If the rich, creamy pasta sometimes bores you, here's the new version! This broccoli and asparagus lemon garlic paste is the ideal combination of fresh vegetables, sour lemons, and a unique garlic aroma!
Although all the ingredients are very simple, the dish still provides a lot of nutrients to keep you full. Especially with the appearance of two miracle vegetables: asparagus and broccoli, you will also enjoy the amazing health benefits!
When summer comes, and your family craves fresh food, it'll be a perfect chance to cook this recipe!
Total time: 40 mins.
Vegan creamy cajun noodles with deep-fried tofu are mouth-watering, right? If you love tofu, do not hesitate to prepare this dish!
Don't worry that your pasta will taste bland! Season tofu with some soy sauce, paprika, and herbs beforehand to improve its flavor with umami and spiciness. Then, add chili pepper, onions, and garlic to the cajun sauce to make it fragrant.
Before you start sautéing the tofu, remember to cut it into bite-sized pieces (not too small) and coat them well with flour to ensure your tofu pieces are crispy but still juicy!
Total time: 30 mins.
Turn tofu from bland to delicious with these hoisin tofu noodles! Like the recipe above, you must mix until the tofu is covered in starch before frying it.
Golden fried tofu with the yellow color of broccoli, the brown color of mushrooms, and the chestnut color of hoisin sauce will turn your pasta into a beautiful picture. Along with some bell peppers, this dish is full of yummy flavor combinations!
Making this vegetarian pasta into 3 servings will provide you with 513 kcal, including 30g of protein. That's a pretty great number for your daily protein needs!
Total time: 25 mins.
Have you ever tried cooking spaghetti with vodka? That's right! I found this secret recipe by accident, and I'm absolutely in love with its taste!
Actually, this pasta won't have a strong vodka flavor because all the alcohol has evaporated. It will only taste a little stronger than ketchup. Furthermore, cooking vodka with onions and garlic can create a chestnut color, making your pasta eye-catching!
Pay attention to when you add vodka to a hot pan, there will be a vapor of alcohol coming up. Stand a sufficient distance away, so it doesn't make you uncomfortable!
This is also a rich pasta sauce, but it does not require buttermilk but cashews. If you are addicted to the nutty flavor of cashews, this is exactly a must-try recipe for you!
Total time: 25 mins.
Cooking spaghetti sauce is a smart way to get the most out of the nutritious cauliflower in your fridge. This is a much healthier version of the classic Alfredo, which is full of butter and cheese.
I often joked with my mom that when she wants her kids to eat cauliflower, hide them in pasta sauce! This recipe will explain what I mean.
You only need to steam or boil the cauliflower until it's cooked (you can add as much as you want), then puree them with your spices until smooth. It looks like a regular cream sauce, but you get a healthy, low-fat sauce!
Total time: 30 mins.
This is by far one of the easiest vegan pasta recipes I know! With just a handful of ingredients, you can create a dish that looks exactly like the menus at 3-star restaurants!
Your choice of tomatoes will play an essential role in this sweet sauce. Fresh tomatoes from your garden are great, but these ripe ones from stores are no less tasty! I suggest you choose organic cherry tomatoes so you can safely add tomato skins to your pasta.
Also, this recipe uses brown rice spaghetti, but you can make this delectable dish with leftover spaghetti or your favorite pasta. Don't worry; they give the same results!
Total time: 15 mins.
If thinking about the daily menu gives you a headache, this is a great pasta suggestion for your appetizer – creamy avocado pasta! All you need for this avocado pasta is just 5 simple ingredients (including salt and pepper), a saucepan, and a blender.
You don't need to add milk or any other greasy cream. Using butter instead is a great suggestion to increase fiber and good fats and reduce bad cholesterol in your blood. This pasta sauce is an ideal combination of avocado with basil, lemon, and garlic.
Make sure you use ripe, slightly soft, and unbleached avocados for the best quality sauce. Let's add this delicious and exotic pasta with avocado sauce to the menu to make your family meal more diverse and healthy!
This instruction may make it easier for you to understand how to cook creamy avocado pasta!
Total time: 55 mins.
Mac and cheese have been a classic American dish since Colonial times. Today, this savory dish shows up all over the world with many attractive recipes. This vegan mac and cheese recipe has a wonderful taste that I'm sure you'll enjoy.
This sauce requires you to stew potatoes, carrots, and tomatoes with garlic, onions, and pepper for about 20 minutes over high heat. Meanwhile, boil the noodles and broccoli to save time.
Once the potatoes and carrots are tender, blend them until smooth. Then, pour the puree into the pan over medium heat and adjust the seasonings. Finally, add the cooked pasta and broccoli until the sauce boils and thickens. Your creamy mac and cheese are ready to eat!
Total time: 35 mins.
Now, I'm going to give you a colorful rainbow version of pasta: vegetable stir fry pasta!
The main ingredients in this dish are red cabbage, ​​crimini mushrooms, bell peppers, ​​carrots, young spinach, and snow peas. It may seem fancy, but they're all easy to buy in the supermarket!
With this vegetable stir fry pasta, you can still enjoy a bowl of sweet and savory fried noodles even if you're allergic to gluten. This dish is easy to make and allows you to keep it in the refrigerator for several days.
Total time: 25 mins.
This stir fry is simple, quick, easy, yet so delicious that it even makes you say "Wow". It's fried pasta with oyster mushrooms!
Sauce and mushrooms will decide up to 80% of the deliciousness of this dish, so pay close attention to them! To make the tasteful sauce, mix two different kinds of soy sauce with vegetarian mushroom stir fry sauce.
You can replace bok choy and button mushrooms with any vegetables on hand, as long as they can handle the high heat when stir frying. The firm pieces of bok choy and mushrooms combined with the savory sauce will make you unable to stop eating!
Total time: 45 mins.
You may have seen Jalapeño poppers in Tex-Mex restaurants. People often make them by stuffing Jalapeño peppers with cream cheese and deep-frying them. Not a healthy choice for vegetarians, I guess.
So, here is an evolved pasta casserole recipe based on it: Jalapeño popper pasta bake. It uses non-dairy cream cheese and cashew milk instead. You can even make your own cream cheese using tofu and cashews!
In addition, this version has pasta and fresh corn. These two not only provide more texture to the dish but also reduce the heat from Jalapeño peppers.
Total time: 1 hour 5 mins.
A bowl of sweet potato cream pasta? Why not? I will show you this pasta with creamy chipotle sweet potato, which will surprise you!
Of course, the unique flavor of this noodle dish lies in the sauce. However, although this pasta sauce is creamy, it's quite different from the other sauces. The trick is baking the potatoes instead of boiling them before blending them with other ingredients.
This 10-ingredient vegan pasta dish will bring you a new experience with a creamy, smoky soup made with roasted sweet potatoes, sunflower seeds, plant milk, and a little chipotle pepper!
Total time: 20 mins.
Have you ever wondered how to use up all the cucumbers in the refrigerator? Try this pasta dish for your summer party! It only requires several simple ingredients: sliced cucumbers, pasta, red onions, and spices.
If you often see mayo sauce with cucumbers, forget about it and use coconut milk instead! It helps this salad become greasy and appealing. However, only drizzle the sauce right before serving, or your salad will become a thick mess.
And not all coconut milk can work. You need canned full-fat ones to achieve the perfect thickness. Other products may be too thin and ruin your salad.
Total time: 1 hour 10 minutes.
Here is another version of baked pasta for you to innovate your menu. Believe me; this is an appropriate choice with penne pasta for you if your requirement is easy, delicious, and cheap!
Vegan baked pasta often comes with vegan cheese as a topping. However, if you have a limited budget, feel free to skip it. It doesn't change the overall flavor too much.
Another small note for you: Since this is baked pasta, leave your pasta slightly undercooked before baking. This way, it won't turn mushy afterward.
Total time: 15 mins.
Perhaps the question I get asked most often when being a vegetarian is, "Does a vegetarian diet have enough protein?". Well, guess what, there are tons of proteins from the vegetables.
For example, in this vegetarian-friendly starter, you'll have chickpea pasta, kidney beans, and edamame as the main protein source. One plate of this pasta will give you at least 20g of protein. Amazing, isn't it?
If you don't like chickpea pasta, replace it with lentil pasta, which is also rich in protein. Depending on your taste, you can add some toasted pumpkin seeds, raisins, or other chopped dried fruit to this vegan pasta salad. They will combine the flavors perfectly!
Total time: 25 mins.
Hawaiian macaroni salad is an indispensable choice for chicken salad sandwiches to elevate the dish's overall taste. Although the dish can't take you to Hawaii, it can bring the spirit of Hawaiian cooking right into your house.
To make your salads colorful, combine pasta with carrots, onions, celery, and green onions. Hawaiian macaroni salad comes with a creamy sauce made of vegan mayo, oat milk, garlic powder, and brown sugar.
It will taste better if you store it in the fridge for at least 2 hours before serving. Remember that you need to use food wrap to cover them carefully so that they don't get smelled by other foods.
Let's try another interesting version of this Hawaiian macaroni salad.
Total time: 45 mins.
Pasta tahini ranch salad is a super healthy vegan side dish, and you only need 3 steps to complete this amazing cold pasta dish.
Start by baking the tomatoes, broccoli, and marinated tempeh pieces in the oven. Next, boil the noodles. Finally, make the sauce by mixing the vegan yogurt with dill and a little water (the consistency depends on your taste).
If you are planning to go on a picnic and have not yet made up your takeout menu, prepare this delectable tempeh dish! Remember not to drizzle the dressing over the salad too soon before serving.
Total time: 25 mins.
This orzo pasta salad with Mexican street corn is unbelievably unique: crunchy, sweet, spicy, and a little salty. It's easy and quick to make and addictive for light parties, BBQs, and family meals.
You don't need to spend much effort on this recipe. Some simple ingredients like orzo, corn kernels, and different vegetables are more than enough. Not to mention, you're free to switch other veggies for various textures and flavors.
But the most important part of this salad is the Tajin seasoning (a combination of dried and ground chilis with lime juice). With this spice, you'll get a spicy, fresh, tangy flavor in every bite.
Here comes the fun pasta salad with Mexican street corn for your summer!
Total time: 20 mins.
Jennifer Aniston salad seems to be immensely popular recently, especially on TikTok. The reason is the rumors that Jennifer Aniston ate this salad for lunch every day for 10 years while filming "Friends".
However, this orzo pasta salad is not 100% similar to the original. If Jenn's version has bulgers, this one includes orzo instead for a different texture and flavor. Besides, you also find garlic and onion powder as a taste enhancer for the salad. It's still scrumptious, I guarantee!
And you don't have to follow exactly every single word in the original or this recipe. Feel free to create your own version and share it with your family.
Total time: 45 mins.
I will end my list of vegan pasta recipes with lemon orzo pasta. This is also my favorite cereal salad this summer. Honestly, this recipe has nothing fancy, but the flavor combinations are exquisite!
This dish fully uses the lemon, from the juice to the zest. Perhaps the magical combination of refreshing lemon with basil leaves and rich, sweet, sun-dried tomatoes impress you from the very first bite!
Furthermore, you will also enjoy the nutty flavor of pine nuts and chickpeas, the main protein sources in this dish! This salad is really great for your summer lunch or dinner. It's filling but light and not overwhelming at all!
Interesting Tips To Make Your Pasta Better Than Ever
It is true that all of the sauces above will make your pasta so appetizing. But actually, how you boil the noodles also greatly affects the quality of your pasta.
Remember to add a pinch of salt to your noodle broth! Not only will it make your pasta more flavorful, but it will also help the sauce soak into the pasta better after it's cooked.
When cooking the sauce, you can also use some of that pasta broth in place of the water! It's thrifty, isn't it?
Best Vegetarian Pasta Dishes Make Your Day!
In those days when you are fed up with meat meals, vegetarian dishes can refresh your culinary soul! What could be better than eating a bowl of vegan pasta?
That's why I have made this list full of delicious, time-saving, and easy-to-follow vegetarian pasta recipes for you and everyone else. I hope it will completely satisfy your diverse requirements.
And if you have any problem regarding these recipes, please state it in the comment section. And don't forget to share these amazing dishes with your relatives!
Nutrition Facts
4 servings per container
---
Amount Per ServingCalories334
% Daily Value *
Total Fat 12.9g

20

%
Cholesterol 55mg

19

%
Sodium 398mg

17

%
Potassium 416mg

12

%
Total Carbohydrate 44.9g

15

%

Dietary Fiber 3.9g

16

%
Sugars 0.5g

Protein 11.3g

23

%
---
* The % Daily Value tells you how much a nutrient in a serving of food contributes to a daily diet. 2,000 calories a day is used for general nutrition advice.