It is not difficult to have a wonderful vegetarian meal with various easy vegetarian crockpot recipes, particularly in this post. So, if you are still concerned about being clumsy in the kitchen, put your trust in your crockpot.
Obviously, a crockpot (aka a slow cooker brand) is must-have cookware that everyone should buy. You can make many delicious meals with any crockpot since it has many models and techniques.
It will take a certain time for a crockpot to cook your food, but the outcome will be totally beyond your expectation. Let's dig in this food article to choose your favorites.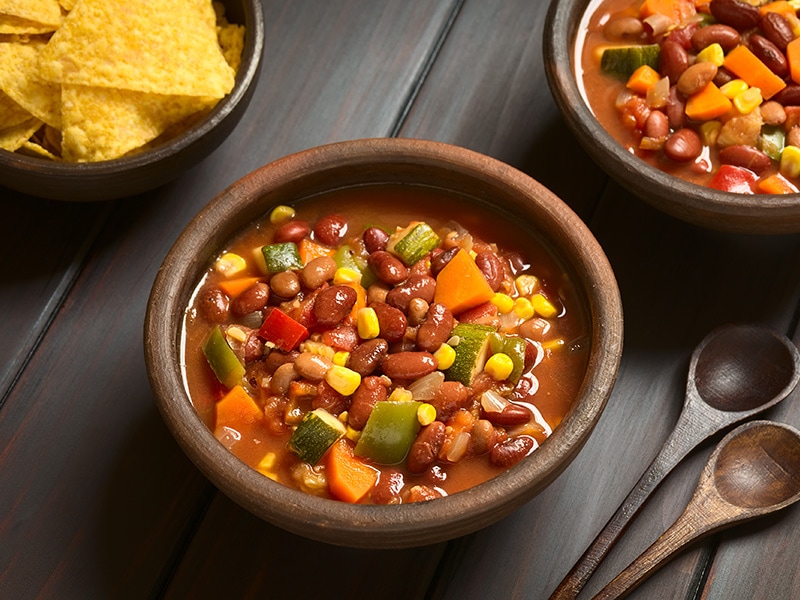 Easy Vegetarian Recipes That You Can Cook In A Crockpot
Well, there are a bunch of vegetarian recipes that you could make in a crockpot. But here are the 27 easiest ideas that take a minimal effort to cook with 2 key themes as Liquid-Based and Less and Non-Liquid Crockpot Recipes.
Liquid-Based Vegetarian Crockpot Recipes
For Soup
Crockpot Black Bean Soup
Slow Cooker Bean Vegetable Soup
White Bean French Onion Soup
Minestrone Soup
Slow Cooker Vegetarian Lentil Soup
Slow Cooker Tortilla Soup
Sweet Potato Soup
Slow Cooker Tortellini Spinach Soup
Crockpot Vegan Italian Wedding Soup
For Stew/Chili
Vegetable Stew
Peanut Stew
Slow Cooker Moroccan Chickpea Stew
Vegan Mushroom Barley Stew
Slow Cooker Butternut Squash Lentil Stew
Slow Cooker Vegan Irish Stew
Crockpot Vegetarian Chili
Slow Cooker Butter Squash Chili
Less And Non-Liquid Vegetarian Crockpot Recipes
With Oatmeal
Slow Cooker Apple Cinnamon Oatmeal
Crockpot Blueberry Oatmeal
Crockpot Apple Pie Oatmeal
Crockpot Peanut Butter Oatmeal
Without Oatmeal
Slow Cooker Garlic Mashed Potatoes
Slow Cooker Jackfruit Tacos
Crockpot Mac and Cheese
Slow Cooker Lentil Cauliflower Curry
Crockpot Vegetarian Gumbo
Crockpot Vegetable Lasagna
Easy Liquid-Based Vegetarian Crockpot Recipes To Warm Your Soul
Nothing can make a hearty and hot soup or stew better than a crockpot. That's why this extensive list should begin with 19 recipes for these liquid-based options. Keep rolling down to see what treats are your new go-to cooking ideas.
Soup – A Pleasant Dish For Easy Vegetarian Crockpot Recipes
What is the first thing that appears in your mind about soups cooked in a crockpot? Warm, hearty, and delicious, right? So whenever you are sick of soups full of meat, save a place in your heart for the following recipes and let them heal your weary soul.
The truth about this gluten-free black bean soup is they are so good to be true. After 6 hours of cooking in a crockpot, all ingredients are so tender that you do not even chew to swallow them.
For more flavors and colors, green avocado, onions, or red peppers are ideal for adding in. What a cozy idea for a chilly fall day!
For a comfortable meatless soup, let's start with a black bean soup that is cooked in a slow cooker. You can see this video to know more:
The main ingredients for this slow cooker bean vegetable soup are white beans, potatoes, carrots, and vegetable broth.
In fact, this simple vegetarian soup recipe is quite flexible, as you can add any veggie based on your preference. For a more fulfilling meal, serve your soup with some bread slices or biscuits.
What would you want for a cold day? If your answer is a cozy soup, this white bean French onion soup is your key. It cannot get easier to throw everything into a crockpot and let them simmer.
And by the time that you think it is ready to eat, just scoop them into a bowl and garnish with some shredded cheese before serving.
Let me tell you a secret to make an amazing minestrone soup. It is a combination of fresh tomatoes, tomato paste, and sun-dried tomato pesto. That's why your soup will have an appealing red hue, as well as varied colors of other vegetables.
I also use various kinds of beans to make this dish. It is best to serve warm with some cheese and toast on the top.
This lentil soup is a crockpot vegan dish ideal for a lazy day. In only a few minutes, you can quickly prepare the vegetables, place them in a crockpot, turn the heat on, and leave your food there.
Lentils are also famous for being a nutritious source of protein and fiber. Therefore, every time you want to treat yourself with these lentil soups, they are an amazingly healthy food, no matter what veggies you add on.
Soup always means tender food. But I will add some twist to your mouth with this crunchy tortilla in this slow cooker tortilla soup recipe.
Do not let the long list of ingredients fool you. They all work together to create the best vegan tortilla soup that you have ever had. However, as some of them cannot be put together at once, it will require extra steps.
This sweet potato soup recipe might ask you for a few additional preps, but everything is easy peasy. For the soup, toss all ingredients (except almond) to cook in a crockpot for slow cooking. In the meantime, you can bake almond and cumin until they turn golden brown.
And once your soup is done, use a blender to puree and mix them with coconut milk for the smoothest texture. You can imagine how thick and creamy they are at this point. Then serve with some almond on the top and fresh herbs for the most relaxing soup.
I guarantee there is no chance that you can fail this sweet potato soup in a crockpot. You can see this video to know more:
Even though the weather is not cold at the moment, you can still enjoy a comforting pasta dish suitable for a vegetarian diet. And this slow cooker tortellini spinach is good enough to bring some joy to your tired days.
Creamy, rich, and hearty vegetarian soup is full of veggies, cheese, and tortellini. What else can you demand?
Everyone loves Italian wedding soup, which is a well-known meatball soup. Even though this vegan dish is made in a crockpot, you will need to bake some vegan sausage meatballs beforehand, then combine them with the rest of the ingredients in a crockpot.
However, it is easy to deal with vegan sausage as all you have to do is just shape them into small balls and bake in the oven for 10 minutes until cooked. Topping with minced parsley or vegan cheese before serving is excellent, so do not skip this step.
Easy Vegetarian Stew/Chili Recipes To Cook In A Crockpot
Like soup, stew and chili are also liquid-based dishes; however, they are thicker than soup. So let's try these 8 stew/chili treats that come with veggies components to see the difference.
Here is another full-of-veggies stew that will blow you away. Potatoes, carrots, onion, mushroom, and tomatoes with a touch of aromatic herbs, this vegan stew tastes 100% better than your ordinary meaty soup for sure.
And in this recipe, I recommend you use red potatoes as they contain lower starch levels than other potatoes.
Vegan slow cooker peanut stew is one of the African-inspired cooking recipes that you should try once. The sweet-and-salty peanut butter flavor combined with chickpeas, potatoes, and tomatoes, will make a unique stew with surprising tastes.
They are so delicious that you might want to keep them longer. So if you have a freezer, store your stew in it, and they will be safe to consume for up to 3 months.
Let me take you to Morocco to explore what they have in a chickpea stew. First, like all of the mentioned stews, this dish is loaded with many veggies that are totally healthy and tasty.
Second, with some special spices like smoked paprika and cinnamon, it will perk up the flavor for your Moroccan chickpea stew. Feel free to top with yogurt or a handful of quinoa.
What could be better than a satisfying stew for a cool winter that is made of low-budget ingredients like this mushroom barley stew recipe?
Besides mushrooms and barley, some root vegetables like carrots and beets also add tones in colors and flavors into your stew. However, be careful with the number of beets as they might result in a bloody red stew if you use too much of it.
The similarity between butternut squash and lentils is that they both taste earthy. So if you ask for an extra-earthy stew, this vegan and gluten-free dish is your top choice.
Set a low temperature and cook your food for 6 hours after placing all ingredients in a crockpot. During the cooking time, you may check your stew and gently stir it.
Have you ever added beer to your stew? If not, let this recipe show you how. Slow cooker vegan Irish stew is also another easy dish to cook with lentil, easy-to-buy vegetables, tomato puree, beer, and spices in a vegetable stock.
This stew is a fat-free dish with high nutritional content. Therefore, if you are a weight watcher, why don't you save this recipe now?
This chili is loaded with tons of vegetables, beans, and herbs, so there is no excuse for not making them for a healthier diet. And do you know the best thing about it? A crockpot will be your life-saver in this recipe.
Suppose you cannot wait any longer to eat your chili; set your crockpot at a high temperature to cook faster. So instead of normal 8 hours of slow-cooking, now you can enjoy your food after 4 hours.
Butternut squash is famous for its nutty and earthy flavors. When it comes to a crockpot, they are extremely soft and can melt in your mouth.
You can add some whole-grain ingredients for a more healthy dish. And remember to adjust the amount of chili powder to prevent your chili from ending up too spicy.
Other Less And Non-Liquid Vegetarian Crockpot Recipes That Are Easy-Peasy To Make
The crockpot is ideal kitchenware to cook your food overnight and serve it as a perfect breakfast the next morning. Aside from soup and stew, a crockpot can also prepare a variety of lunch and dinner options that you should not miss.
Some Gluten-Free Oatmeal For Your Easy Vegetarian Crockpot Recipes
Not only do soup and stew give you a comforting feeling, but there are also varied pleasant cooking recipes that you could try with a crockpot. And simple ingredients with no-fuss preparation are still the essential qualities of these options. Let's take a look.
You should never underestimate how much nutrition this mini crockpot treat can bring to your body. With this apple cinnamon oatmeal, your health will gradually improve as this dish is a great powerhouse to start a day.
And with some apple slices, there is one more reason to stay away from the doctor. A touch of cinnamon also adds warmth to your breakfast bowl.
No-fuss overnight cooking with this crockpot apple cinnamon oatmeal recipe. You can see this video to know more:
Even if you are not an early bird, you also need a yummy crockpot breakfast to boost your mood and energy for a whole day. So let's give this crockpot blueberry oatmeal a shot.
All you have to do is just throw everything (except blueberries) in a crockpot and let them take care of the rest of the cooking part. Now you can wake up with a spectacular breakfast to enjoy along with a coffee cup.
Apparently, it would be best if you never skipped breakfast as they have many health advantages. This crockpot apple pie oatmeal is also a good idea to make them ahead and enjoy the next day.
And I bet your family will be so happy with this breakfast that includes water, apples, steel-cut oatmeal, vanilla extract, nutmeg, and a little warm ginger and cinnamon.
The last idea to cook with oatmeal is combining them with peanut butter to the thicker texture. Top your oatmeal bowl with fruit, like bananas or apples, chocolate chips, or syrup to add some extra flavors.
For the leftovers, store them in an airtight container in the fridge. When you want to enjoy it again, simply reheat them in the microwave. You can add some milk if you find your oatmeal is too thick after reheating.
More Easy Vegetarian Savory Recipes Without Oatmeal That Are Transformed In A Crockpot
No oatmeal? No big deal. Because there are many more chunky vegetarian dishes that you can create in a crockpot, it is also a fantastic opportunity to wow people by serving them during regular meals, parties, or potlucks.
If you are worried that vegetarian dishes might not fulfill your stomach, this high-carb slow cooker garlic mashed potatoes might be the answer to your worries.
They are so creamy and garlicky that you cannot resist after a spoon. Plus, you need a hand blender to mash your potatoes until smooth.
If you love potatoes as much as I do, this short but detailed instruction is everything you need for slow-cooking potatoes in a crockpot.
I know many of you are obsessed with meaty tacos, but it does not mean that you cannot fall in love with this vegetarian version of this taco. Though jackfruit is a tropical fruit, it still can be found in some Asian markets. And you will be amazed by its textures.
I use unripe jackfruit in this recipe because it has a mild taste, making them fit well with other ingredients. When you slice them, the shredded jackfruit now looks like a small piece of meat; that's why whenever I try this dish, I almost forget it is a plant-based dish.
All right! If you only have around 3 hours to cook something in your crockpot, this mac and cheese version is made for you.
With zero preparation, your lazy day (or weekend) is now filled with creamy cheese and macaroni. You can add more mustard and cayenne to avoid a tasteless mac and cheese.
Slow cooker lentil cauliflower curry is comfort food everyone would ask to chill with their family or friends. Packed with a flavorful mixture of tomato sauce, coconut milk, curry paste, and curry spices, this idea is full of deliciousness that is ready to go after 7 hours.
And I choose cauliflower to accompany this sauce mixture as this veggie can absorb all the best flavors, making an unforgettable taste.
This plant-based vegetarian gumbo is a low-calorie dish that you can process in a crockpot for around 6 hours.
Chopped onion, diced tomatoes, green pepper, rice, and some Cajun-style seasonings packed in one bowl are what you might look forward to after a long day of work.
Lasagna lovers must check this recipe now. No-cook veggies, no-boil noodles, just place them in a crockpot and see the magic happens.
Veggies, basil, cheeses, noodles, and pasta sauce will blend to create a satisfying vegetable lasagna. For your health, how can you not love this recipe?
Easy crockpot vegetable lasagna that you must try at least once in your life. You can see this video to know more:
How Did Your Vegetarian Crockpot Dishes Turn Out?
Mine is awesome. Why? Because these dishes are so easy to make in a crockpot that you can hardly fail. Do not believe me? Let the crockpot prove it to you.
The vegetarian diet is trendy today as everyone wants to have better health. And when it is cooked in a crockpot, you will never get bored eating a vegetarian meal.
So, if you are ready to make the switch to a healthy diet, and there is a crockpot in your kitchen, this list of incredible recipes deserves a try and like. And feel free to share your experience with these ideas; I always love to hear yours. Thank you for your reading and devour!