Vegetable side dishes are an essential part of your daily meal. It offers an abundant supply of nutrition and delicious taste together with the main dish.
Vegetables are a rich source of many important nutrients, including fiber, vitamins, folate, potassium, etc. It is a necessary type of food for you to maintain good health and a fit body.
With those obvious benefits of vegetable side dishes, they are guaranteed to enhance the quality of your meals. You will fall in love with these amazing plates and want to try as much as possible.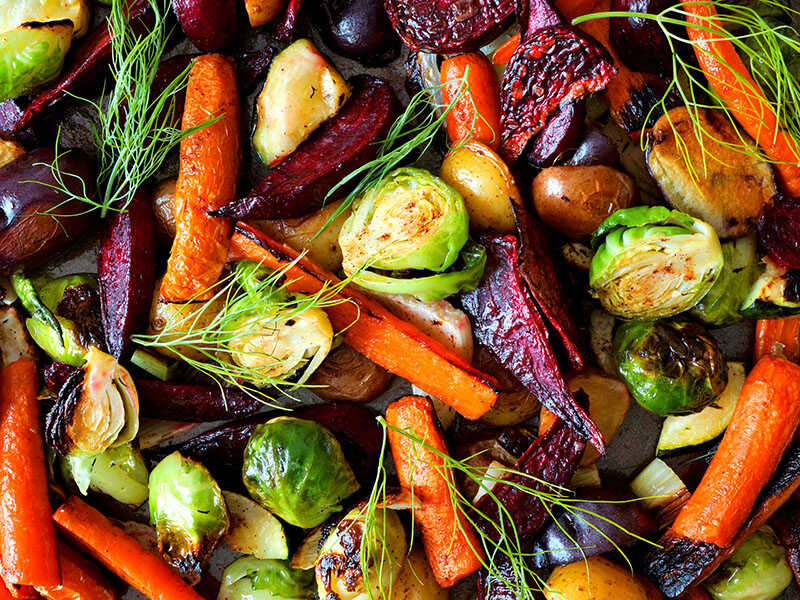 Stay Healthy And Beautiful With Top Best Vegetable Side Dishes
The listed vegetable side dishes are the best and easiest for you to prepare and consume. Let's take a look at and alter them for your daily menu.
Total time: 45 minutes
These easy honey-glazed carrots and parsnips require very basic ingredients: carrots, parsnips, avocado oil, sea salt, etc. It is good to serve at any time of the year.
To make this dish, prepare the carrots and parsnips well, then pour the avocado oil on them to coat them well. Then, season them with salt and pepper and bake for 40-50 minutes.
At the same time, make the honey glaze by microwaving the ingredients for the glaze and stirring to combine them. Finally, pour the glaze on the baked vegetables and stir until coated. Then your dish is ready to serve.
Total time: 50 minutes
This is a great side dish to serve on the table. It gives a tangy and nutty taste that appeals to both adults and children.
Brussel sprouts with balsamic reduction and walnuts have an alluring appearance with a deep-dark green color of roasted Brussel sprouts and a glossy outer layer of olive oil.
You can divide this dish cooking process into three main parts: baking walnuts, roasting Brussel sprouts, and making a balsamic reduction. Then, pour the balsamic reduction on the Brussel sprouts and sprinkle walnuts on them.
You will know how to make Brussel sprouts with balsamic reduction after watching this guide.
Total time: 1 hour 10 minute
Quinoa is a kind of edible seed that contains a great nutritional value. It is a rich source of protein, amino acids, lipids, and minerals. Thanks to these benefits, the South America-originated seed is considered "a superfood".
Among various dishes with quinoa, mushroom quinoa stuffed acorn squash is an excellent choice that brings diners absolute satisfaction. You will be impressed by its lively appearance and the sweet and awesome taste.
You should follow these steps to prepare the dish: first, prepare acorn squash and bake, then make the grain mixture and the broth. Next, cook the quinoa mixture in the broth and place them in the acorn squash.
Total time: 20 minutes
For busy days, let's make this simple and quick side dish for your dinners. It has a flavorful taste that can entice all your taste buds!
Sauteed zucchini does not require peeling. You only need to wash carefully and dry them before cooking. Other ingredients include minced garlic, extra-virgin olive oil, salt, pepper, etc.
Complete this super fast dish in 2 steps. First, add garlic and cook until aromatic, then add zucchini and oregano, and cook for 20 minutes. Next, season them with salt and pepper. Finally, top with parmesan and enjoy.
Total time: 1 hour
Rosemary is a special kind of evergreen in culinary terms. Its flavor has the notes of pine, pepper, mint, etc. The aromatic texture and unique taste of rosemary are a great element for rosemary garlic mini Hasselback potatoes.
This side dish has an appealing appearance with the Hasselback potatoes shining under the glossy layer of glaze. With a crispy texture, these potatoes serve a flavorsome savor with salt, pepper, rosemary, and garlic.
It's wonderful to enjoy this dish on Christmas, as it is a fantastic accompanying dish that goes with all types of meat. You can store them in an airtight container and keep them in the fridge for 3-4 days.
Total time: 15 minutes
Lemon garlic roasted asparagus is one of the best choices for your busy days, especially when you only have 15 minutes to prepare a side. It has a fresh and flavorful taste with a fragrant smell.
This side dish requires super simple ingredients: asparagus, olive oil, lemon juice and slices, and seasons. Wash the asparagus carefully and dry them before cooking.
You only need to snap the bottom of each asparagus stem, then drizzle them with olive oil and other seasonings. Finally, place lemon slices above the asparagus and roast for about 10-15 minutes.
This is how you can make lemon garlic roasted asparagus quickly and easily at home.
Total time: 7 minutes
Fried broccoli is an amazing dish that is healthy, super fast to prepare, and full of flavors. It has a charming appearance with a light-brown color outside. You can serve it together with salmon, shrimp, grain bowl, etc.
The ingredients for this dish are easy to find: broccoli, olive oil, salt, garlic powder, dry mustard powder, etc. The combination of these seasonings with broccoli makes the veggie incredible in taste.
You chop the broccoli into florets, at the same time mixing onion powder, mustard powder, and garlic powder together Then cook the broccoli in a skillet until brown. Add water and the spices before continuing stirring until they become tender.
Total time: 15 minutes
Green beans contain a great source of fiber and are very low in calories. Combining with other dishes, they give a filling satisfaction to your taste buds. Among the various dishes made with green beans, lemony green beans are a precious gem you shouldn't ignore.
This simple dish requires basic ingredients that can be found easily in the supermarket or grocery stores: green beans, olive oil, crushed red pepper, lemon juice, etc. You only need a frying pan to make this dish.
This entree serves a crispy-tender texture and a spiced taste with a fragrant smell. Although it is an easy and super quick dish, you will find it irresistible once you try it.
Total time: 9 minutes
Spinach gets acidic and robust when cooked. It is leafy and easy to chew. As a rich source of fiber and vitamins, this veggie can easily provide you with a great deal of good nutrition.
In less than 10 minutes, you can finish whipping up this side dish by washing the spinach, shaking to remove water, then heating oil and adding garlic to a skillet. Next, add spinach and toss until wilt.
One tip in cooking is separating stems and the leafy parts of spinach, as stems require more cooking. You can serve this side with meaty main courses with shrimp, beef, or turkey.
Total time: 35 minutes
Sauteed cabbage applies caramelized onions in cooking to enhance the flavors of the whole dish. Sauteing also softens the texture and saves the delicate taste of the vegetable.
Choosing cabbage is an important initial step in this dish. You should choose green cabbage as this type gets tender and sweet but still keeps its shape after cooking. This side dish works best with beef recipes.
When sauteing the cabbage in butter, garlic, and olive oil, remember to cook the whole lot at once. Stir-fry half of it first until wilted before adding the other half to the skillet. Finally, add vinegar and seasonings to taste.
Here is a guide to the easiest way to make sauteed cabbage that you can try.
Total time: 10 minutes
Salads, with alluring and colorful dressings as well as their sweet and savory tastes, are always a preferred plate on the table. Among the various versions of salad, simple celery salad is a great choice to complement the main courses.
The main parts of making celery salad are chopping the ingredients and mixing them with the dressing. You can customize it to your preference by changing or adding your favorite ingredients.
This salad has a refreshing taste. If you want something creamier but still healthy, you can add Greek yogurt to the dressing instead of mayonnaise. You should make this salad for the autumn or winter, when apples and walnuts are in season.
Total time: 44 minutes
In this side dish, the butternut squash is cut into small bites in the shape of cubes. Its golden yellow color, coupled with the cute shape, will tickle your taste buds. This makes it a perfect plate for your meals.
Roasted butternut squash offers you a delightful eating experience with its nutty, sweet, and buttery taste. It goes well with roasted beef, chicken, or turkey meatballs for both children and adults.
When you have already cut the butternut squash into cubes, then drizzle olive oil and sprinkle salt and pepper. Next, you toss to coat well and bake. Finally, let them cool down and enjoy!
Total time: 25 minutes
Although served as a side dish, balsamic soy roasted garlic mushrooms can change into a main dish on your table. With very simple steps to prepare, it still brings a nice and tender taste that you will become addicted to!
Making this dish is easy by tossing the mushrooms in oil, balsamic vinegar, soy sauce, garlic, and other spices. Next, roast the mushrooms for 20 minutes to get them ready to serve.
These roasted mushrooms are best paired with various sources of proteins like baked chicken legs, grilled salmon, chicken thighs, and so on. Let's try, and feel the tangy flavors with the first bites!
Total time: 35 minutes
Baked sweet potato with honey mustard is a fascinating combination of a side dish. While baked sweet potato has a nutty and starchy flavor, the honey mustard is warm and spiced. They are perfect for any occasion in the year.
Baked sweet potatoes are golden browned, crisp outside, and soft inside. Slice them lengthwise and season with spices, then cook for 25 minutes until tender.
You can either buy honey mustard at stores or make it at home. If you choose the latter option, mix dijon mustard with honey in a small bowl. Before serving, sprinkle some cilantro over the potato wedges and dip them in honey mustard.
Following this simple tutorial to make the perfect baked sweet potato with honey mustard at home.
Total time: 15 minutes
This magic side dish is a must-try for you. It takes mere minutes to complete and serves a mild and nutty flavor. Furthermore, artichoke and kale are fantastic in helping keep a healthy body, thanks to their rich protein source.
This dish can be served both hot and cold and can go well with any kind. It requires less than 20 minutes to make, which is a great option for you on busy days. The entree is also versatile: you can serve it with any kind of main course.
Total time: 30 minutes
This dish is a bursting party of flavors! You only need to follow the cooking instructions and prepare your own favorite veggies rather than stick to the official recipe list. It works for many types of vegetables.
Balsamic vinegar and garlic are the most important elements of this dish. It creates the unique and aromatic savor of the dish.
It is perfectly colorful and suitable for meaty dishes at any time of the year. The flavor would be perfectly suitable for your appetite, as you can choose all the ingredients based on your preference.
Total time: 20 minutes
When you get bored with the familiar cooking methods for vegetable side dishes, try this Asian-style coleslaw for new and different experiences. Asian coleslaw is a kind of salad that has a colorful appearance and a refreshing taste.
Two main parts of this coleslaw preparation are the makings of salad and the dressing. For the dressing, mix toasted sesame oil, rice vinegar, brown sugar, etc. Use a blender to blend them well.
For the salad, toast the noodles with a bit of dressing before mixing it with the rest of the ingredients. Then toss the salad with the dressing until coated. You can store them in the fridge for 1-2 days.
Total time: 15 minutes
Edamame is green soybeans that are harvested before they are fully ripe. They are low in calories and gluten-free, bringing many health benefits to the human body.
Blistered edamame is a wonderful veggie side dish to include in your diet. It can captivate you within only a few bites with the fragrant texture and an awesome sweet taste!
Necessary ingredients for this dish are edamame, sesame oil, minced garlic, and fresh ginger. Mix the ingredients for the sauce in a bowl, then cook edamame under high heat. Finally, toss the edamame with the sauce until coated, and serve.
Total time: 14 minutes
Okra is a versatile ingredient for your diet. It goes with other easy spices to create a simple but fabulous taste side dish.
Make this healthy plate by coating the okra with oil and seasonings. Then bake the seasoned veggie for 12 minutes. Wait for it to cool down and enjoy. With a fragrant aroma and a dark green texture, it will stimulate your appetite and satisfy it with a sweet savor.
Okra contains protein, fiber, and vitamins. It is effective in helping you manage diabetes and preventing kidney diseases. This side dish requires fresh okra, not frozen ones.
Total time: 18 minutes
Swiss chard is a green veggie with a relatively tender and mild taste. When cooking them, you may need to discard the stems if they are too tough.
This recipe calls for Swiss chard, sliced garlic, red pepper, etc. Making this dish is also very easy, as you can guess from its name. First, separate swiss chard and leaves, then saute garlic and red pepper and add the stalks to the skillet.
Next, add the leaves and continue cooking for 3-4 minutes. You have to cook the stalks first because they are tougher than leaves and require a little more time cooking to become tender.
Let this video walk you through the steps to make easy Swiss chard.
Total time: 20 minutes
Little gem lettuce with mixed seed sprinkle taste is a combination of nutty, mild crisp, and subtly sweet flavors. It is a fast dish, convenient to whip up and store.
If you don't like gem lettuce, you can alter it with other kinds of lettuce. Baby romaine lettuce or hearts of large romaine lettuce are some examples. This fresh, easy, and quick entree best suits mid-week meals.
In terms of storage, both the dressing and the mixed seed sprinkle can stay in the fridge, the dressing's shelf life is 1 week while the sprinkle can last 1 month.
Total time: 43 minutes
Corn pudding gives an eye-catching golden yellow texture accompanied by a fragrant smell. You won't be able to deny this kind of attraction!
Consisting of a baked mixture of flour, eggs, corn, etc, corn pudding has a naturally sweet, creamy flavor. It best works with BBQs, chicken wings, glazed hams, and the like, creating an impressive and delicious combination.
Making this pudding is also easy and quick. Mix the dry and wet ingredients separately, then whisk the dry mixture into the wet one. After that, bake it in the oven and wait. Your dish will be ready in 35 minutes!
Total time: 13 minutes
When it comes to broccolini, you may think that it is another way to call broccoli. In fact, these two kinds are not the same. Broccolini is known as a hybrid of broccoli but smaller and has a more delicate flavor than broccoli.
Oven-roasted broccolini is an excellent side dish that is time-saving and convenient to make. It is excellent in pairing with meats and roasts. You can store it in the fridge. If kept in an airtight container, it can last up to 4 days.
Total time: 1 hour
Let's come to Mexican street cuisine with corn salad. It is a nice option for you when you want to experience a new style of making a salad.
Mexican street corn salad has an excellent appearance with a combination of red, yellow, purple, and green colors. It gives a creamy, sweet, and hearty flavor. This kind of salad works well with BBQ sandwiches and many kinds of burgers.
This salad can be served warm, cold, or at room temperature. It can stay edible in the fridge for a few days.
This is how easy you can make Mexican street corn salad at home.
Total time: 1 hour
Cheesy squash casserole is a side dish packed with many flavors: the refreshing taste of many different kinds of vegetables and the buttery, crunchy taste of the toppings.
One tip in cooking this dessert is to choose medium squashes as they have smaller seeds. It is best to serve with pork tenderloin and roasted chicken. You can whip up the casserole in advance, but remember to keep it and the crunchy toppings separate.
Total time: 1 hour 5 minutes
Root vegetables are the underground part of plants that are edible. They consist of garlic, carrots, beets, and many more. All of them are rich in fiber and antioxidants, which benefits the human body.
Cheesy root vegetable gratin is a brilliant dish that has a tasty, subtly sweet, and earthy flavor. It is best to combine with baked chicken thigh, rib roast, lamb chops, and pork.
Don't forget to wear hand gloves when handling the beets to prevent their juice from staining your hands. In case you get the stains, mix baking soda with warm water and rub your hands carefully with it to remove them.
Total time: 10 minutes
Cucumber yogurt salad brings a creamy and crunchy taste. It is amazingly delicious and super easy to prepare.
Within 10 minutes, this salad is made simply by slicing the cucumbers, making the dressing, and combining them for serving. Apart from cucumbers, other ingredients are olive oil, Greek yogurt, garlic, and lemon.
It is also a versatile dish that you can alternate the ingredients to make your version. Using your favorite kind of cucumber, adding other vegetables, or using different herbs are possible changes to customize this salad.
This tutorial will guide you step by step to make a cucumber yogurt salad.
Make These Incredible Side Dish Recipes With Vegetable For Enjoyable And Healthy Meals
Vegetable side dishes are not only wonderful subsidiaries to go with the main courses of your meal but also a great source of nutrients for your body. Both children and adults will adore the flavors of these delightful plates.
Don't forget to share this post with your beloved people to let them have a wide variety of choices for their meals and maintain good health. I also desire to know about your experiences. How do you feel? Let me know with a comment here!