Finding easy vegetable casserole recipes that don't require a lot of time and effort isn't an easy task. Many people want to cook a delicious dish from vegetables with a casserole dish, but they do not know where to start.
Whether you are a vegetable lover or not, you can totally refer to this compilation. It has all the homemade casserole recipes that are absolutely easy, incredibly flavorful, and super hearty. With the help of your trusty oven, cooking them will be a breeze!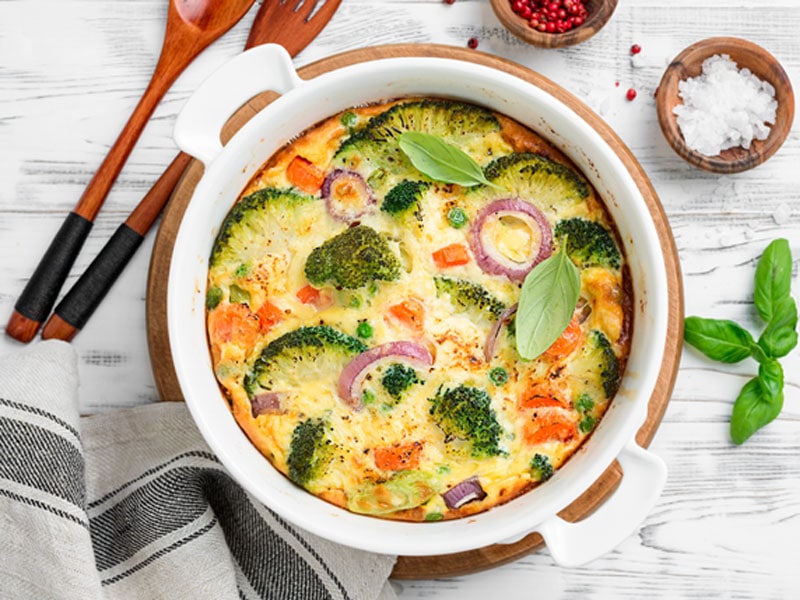 Vegetable Casserole – A Healthier Dish For All Ages
There is no better way to add fiber to your meals than cooking dishes from vegetables and adding them to the menu every day. So, I highly recommend you scroll down and follow the tasty vegetable casserole recipes below.
Total time: 40 minutes
Suppose that you are on a diet and are seeking a recipe that contains a significant amount of fiber without being bland and tasteless. In that case, the healthy mixed vegetable casserole will be a perfect pick for your menu.
This dish is not only colorful but full of flavors and nutrients from various kinds of vegetables. After preparing the primary veggies, including carrots, cauliflower, corn, spinach, and egg, pour the concoction into the casserole dish.
You should properly distribute the cheese on top. Put them in the oven for 15 to 20 minutes, and you will have a fantastic supper.
Total time: 40 minutes
Broccoli casserole will be a great pick to try baking during your hectic days. It takes just ten minutes to combine and sauté butter, mayonnaise, eggs, cheese, onion, and broccoli. You can serve the casserole with turkey on Thanksgiving or ham on Christmas Eve.
Then wait 30 minutes for the meal to be ready after placing the ingredients in the baking dish with cheese spreading over the top. This combination will provide comprehensive nourishment for a busy day, allowing you to work or relax while the oven does its thing.
In just over 1 minute, you can grasp all the steps to make broccoli casserole for a busy day.
Total time: 55 minutes
This vegetable egg casserole is to bring spring to your kitchen. For any occasion, it is appropriate to entertain all diners.
This recipe includes vegetables like carrots, asparagus, sugar snap peas, baby Bella mushrooms, broccoli, and cherry tomatoes. They go well together and are so perfect for a hearty meal. In addition, this casserole is enhanced by feta cheese.
The flavor of this cheese highlights all the veggie ingredients that the crowd is sure to applaud. You can make this casserole up to a day in advance, then put it in the fridge. The next day, let it rest at room temperature first before baking as usual.
In addition to the vegetables in the recipe, you can optionally use your favorite ingredients. However, don't forget to cook them before adding the egg mixture.
Total time: 50 minutes
If you are tired of finding the right recipe for large gatherings, the vegetarian egg casserole will put an end to that. It is even perfect for a healthy breakfast and brunch. You can feel the Mediterranean flavor in this dish from shallots, fresh herbs, and vegetables.
Adding to that impressive list of fresh ingredients are artichoke hearts, feta cheese, and a dash of olives. To save time, you can make this dish the night before in advance and store it in a sealed container in the refrigerator.
Total time: 20 minutes
This baked mixed vegetable casserole is expected to run out as soon as the party starts. Made with Greek yogurt, canned vegetables, and mushroom cream, it is perfect for serving with whole-wheat crackers.
Moreover, this dish is topped with shredded mozzarella cheese and fresh rosemary. Imagine how gorgeous and eye-catching this recipe is when the rich cheese melts on top after baking. You can make this simple and time-saving dish at home at any time.
Total time: 45 minutes
A classic dish loved by many Southerners is an old-fashioned cabbage side course served in a casserole. This recipe gives you the freshness of the cabbage improved by ordinary ingredients and condiments you can easily get your hands on.
It is a versatile, easy-to-find, and affordable vegetable casserole that satisfies everyone with its double creamy taste.
You won't be able to stop yourself from devouring the creamy mixture of condensed chicken soup and mayonnaise in cabbage. But to enhance the flavor even more, you should cover the dish with a layer of crispy crackers.
The old-fashioned cabbage casserole will remind you of the delicious and healthy meals from your childhood.
Total time: 1 hour 20 minutes
A comfort dish consisting of yellow squash, two types of cheese, and sour cream is the next recipe worth making this summer. You should prepare it with buttery crackers, but don't over-crush them. They help add a crunchy texture to casseroles.
Yellow squash appears in many different dishes, such as soups, stir-fries, or grilled. I guarantee this recipe meets all the requirements of a good casserole. In fact, it is made to marry with grilled ribs or fried chicken.
This casserole is heavenly and perfect when you are using yellow crookneck squash because it has a soft and succulent texture. If this kind is not available, you can still substitute it with zucchini with a similar taste and texture.
Total time: 30 minutes
Mushroom and black bean tortilla casserole with the signature salsa flavor awaits you with a bold Tex-Mex vibe. When the cheese melts with the salsa, it creates a plate of pale yellow mixed with red that is eye-catching and delightful.
This dish only takes thirty minutes, starting with sautéing mushrooms, garlic, cayenne, and black beans. Then place the corn tortillas, beans, mushroom mixture, and salsa in the baking dish layer by layer.
At this point, you just need to top with cheese and cover with foil to avoid burning the surface when baking for 10 minutes. That's all, and a finger-licking meal is ready to serve all hungry stomachs.
Total time: 1 hour
The best version of Southern sweet onion casserole has to use Vidalia onions. Both the taste and texture of this sugar-rich yet sulfur-low variety fit this recipe. Instead of having a pungent and acidic smell like other types, Vidalia is well-loved by its sweet flavor.
The sweetness from the onion is no joke, especially the Vidalia type. Married with evaporated milk, eggs, and a buttery cracker coating, Southern sweet onion casserole is sure to make you wish you knew this recipe sooner.
Total time: 50 minutes
This scalloped corn casserole is a typical example of making an easy side dish with vegetables. For the corn, you can use both fresh and frozen kinds to save time.
However, you need to defrost and drain all the liquid in the frozen corn so that it does not affect the consistency of this dish. Another highlight of this recipe is the use of crushed saltine crackers.
If you pay attention, you can clearly see that the saltiness enhances and brightens the sweetness. So it comes as no surprise that salty crackers make the overall dish much more special and sweeter.
With this scalloped corn casserole recipe, you can fill all your guest's hungry bellies at any holiday party without much effort.
Total time: 45 minutes
If you need a full dish that does not take up much of your time, I have a worthy recommendation for you. Chicken and vegetable casseroles are easy to cook and quite economical.
Simply toss all the ingredients like chicken, mixed vegetables, cream of mushrooms, sour cream, and cheese into the glass baking dish. Then adjust the temperature to 400° F and bake for about 40 minutes.
Another way for you to check whether your casserole is cooked is to look at the edge of the baking dish. If you can see the bubbles appearing and bursting, it means your toothsome meal is done.
Different from other recipes, this dish has the appearance of shredded chicken. It can help you solve the problem of leftover chicken. Moreover, the casserole will be heartier when each piece of shredded chicken is mixed with vegetables and melted cheese.
Total time: 40 minutes
Taco is the soul of Mexican cuisine. Usually, it means a crispy crust made of cornmeal or flour that covers the filling inside.
Its filling is quite diverse: beef, pork, fish, and, of course, a lot of vegetables. You can focus on the last ingredient to turn the dish into a vegetarian delight. Quinoa – a superfood full of protein and delicious is my suggestion to replace meat.
If you need to prepare this dish to serve immediately, you can use store-bought packets of quinoa. The seeds can also be cooked while you are preparing the other ingredients, thus saving time.
This recipe allows you to be flexible with the ingredients. You can use brown rice instead of quinoa and store-bought salsa in place of tomatoes. Moreover, black beans can be skipped in favor of pinto beans.
This casserole is very convenient because you can keep it in the fridge for up to 5 days, while 2 minutes are enough to heat it up in the microwave. However, make sure you don't preserve the leftovers with their toppings.
Total time: 1 hour 5 minutes
The next squash to appear on this list of casserole recipes is butternut squash, which will bring the flavors of fall to your kitchen. If you're a vegetarian, skip the sweet Italian sausage to substitute it with caramelized fennel and onions.
Gruyere is a type of Swiss hard cheese. It is rich, nutty, slightly fruity, and most notably salty. Therefore, you can skip the step of adding salt to this butternut squash casserole.
Both the taste and texture of Honeycrisp apples go well with this recipe as they are firm and have a balanced sweet and sour taste. However, you can replace it with other apple varieties with the sweetest taste, like Gala, Jonagold, and Golden Delicious.
To enhance the nutty goodness of butternut squash casserole, you should coat it with pecan and maple syrup like what this guide shows.
Total time: 40 minutes
If you find the traditional version of samosa too familiar, try this casserole for your next meal. People often eat it as vegetarian food with chili or mint chutney.
According to Indian tradition, samosa is a fried pastry with main ingredients such as potatoes, herbs, and spices. However, for a different take on this casserole recipe, I suggest using taro instead of potatoes.
While chewier and drier in texture, taro has a sweeter and stronger taste than a potato. Furthermore, as a departure from common casserole recipes that use cheese or cream of mushroom, coconut milk is perfect for enriching this dish.
Total time: 55 minutes
This vibrant red dish, beautiful enough to attract all the eyes of diners at every party, has a surprisingly insignificant number of ingredients. This recipe is suitable for busy people because you do not need to prepare the ingredients for too long.
After cutting the onion and tomato into bite-sized chunks, you just need to let the oven do its job. In 45 minutes, you will have a hearty breakfast, brunch, or supper.
Many people think vegetable-only dishes are bland, but this dish will definitely change their minds. The sweet taste of roasted tomatoes and onions can become an addictive food for anyone.
Total time: 40 minutes
This gluten-free veggie fajita quinoa casserole recipe is packed with cheese, fresh veggies, and protein turning it into a wholesome treat. You may be surprised at the nutritional value of quinoa.
Quinoa is a whole grain that is considered a superfood for all health-conscious people. It contains a lot of fiber, protein, and a variety of vitamins and minerals.
Consuming quinoa as the main starch helps you boost metabolism and optimize heart health. So, how can you refuse a casserole full of flavor and high in nutrients as this veggie fajita quinoa casserole recipe?
Total time: 1 hour 15 minutes
This roasted vegetable casserole is terrific because it boasts a combination of all fall-matched ingredients. You may be overwhelmed by the list of more than 10 plant-based ingredients, but all of them are easy to find at convenience stores or supermarkets.
Plus, this casserole recipe is completely vegan and gluten-free. Your dinner table can do very well with this warm side dish at Thanksgiving and Christmas.
To enjoy the best taste, it is best to use the vegetables as soon as you cut them. However, if you need to prepare in advance, you can put the chopped vegetables in a ziplock bag or airtight container. They keep their best quality for about 3 days in the refrigerator.
Total time: 1 hour 40 minutes
Three-pepper corn casserole is unique, bringing many layers of flavor to your meal. Chipotle chiles and pepper jack cheese open with a hint of heat in this casserole dish.
Next, to awaken your taste buds, green bell peppers add to the recipe a grassy and mildly bitter taste. Finish with the natural sweetness of corn that will make you go wild with this casserole.
Each bite is wonderfully creamy, loaded with fresh yellow onions and bell peppers. The overall effect is better when served with sour cream, salsa, and cilantro.
Total time: 1 hour
This vegetarian black bean enchilada casserole is suitable for both vegetarians and even carnivores. It is a charming dish in both taste and appearance.
When you cut the first piece, you will see all layers of brilliant ingredients coming from red and green bell peppers with sweet yellow corn kernels mixed in a rich sauce.
The combination of both red enchilada and Jalapeño sauce really brings out the taste of Mexican wonders in every bite. In addition, this mixture also creates an eye-catching red-orange color that makes the recipe many times more appealing.
Refer to this video to enrich all the yummy and healthy vegetables with the enchilada sauce.
Total time: 55 minutes
If you need a way to use up your leftover rice or flatbread, this dish is sure to help. Baked veggie curry casserole is a top star in the kitchen as it's so delicious that you have to constantly make it again and again.
If you have not had the opportunity to come to India, give your taste buds a chance to travel there by having a taste of the flavorful curry sauce. In this recipe, you can use either cashew milk or oat milk, but I prefer coconut milk.
It has a rich, sweet, and slightly salty taste with a note of the hidden floral fragrance. While this versatile casserole can go with many things, you should try the combination of it and naan – a bread indispensable in Indian meals.
Total time: 1 hour 5 minutes
Vegetarian tamale casserole is a scrumptious comfort meal. Inspired by a Mexican New Year's treat, this corn-filled casserole is a crowd-pleaser and a match made in heaven with an ice-cold beer. As such, this dish deserves a place in your fridge, where it can last for 2-3 days if well covered.
When serving vegetarian tamale casserole, add shredded lettuce, sour cream, lime juice, and chopped green onions for garnish to brighten it up.
If you want to get more protein from meat, you might consider ground beef and chicken or shredded pork. Both children and adults will find this delicacy beautiful and inviting.
Total time: 55 minutes
Vegan spinach and artichoke casserole is another dandy recipe. This mouthwatering dish is great for the main meal thanks to its nutritious and widely available ingredients.
Artichoke is part of many recipe types. Its flavor is a combination of herbaceous notes with sweet-bitter flavors. It also has a crunchy texture and closely resembles asparagus. When all the ingredients of this recipe come together, their flavors blend and balance each other.
Made with fresh ingredients, this spinach and artichoke casserole satisfies hungry stomachs with its thick filling. It will induce everyone at a holiday party or spring party to gobble it up in no time.
You can learn how to make spinach and artichoke casserole with this A to Z guide! Add some milk to make it more delectable!
Make Your Diet Optimal With More Plant-Based Casseroles
These casserole recipes with a combination of many vegetables give you the best health benefits that you may not know before. They are the best choices because of their simplicity, easy-to-find ingredients, and amazing flavors.
Whether you are a fan of greens or not, you will certainly fall in love with the list of easy vegetable casserole recipes above and keep coming back for more.
I think it is time to cook up a delicious dish from these recipes above and treat it to the whole family. Please leave a comment if you have anything to ask and share this article to help it reach more people.