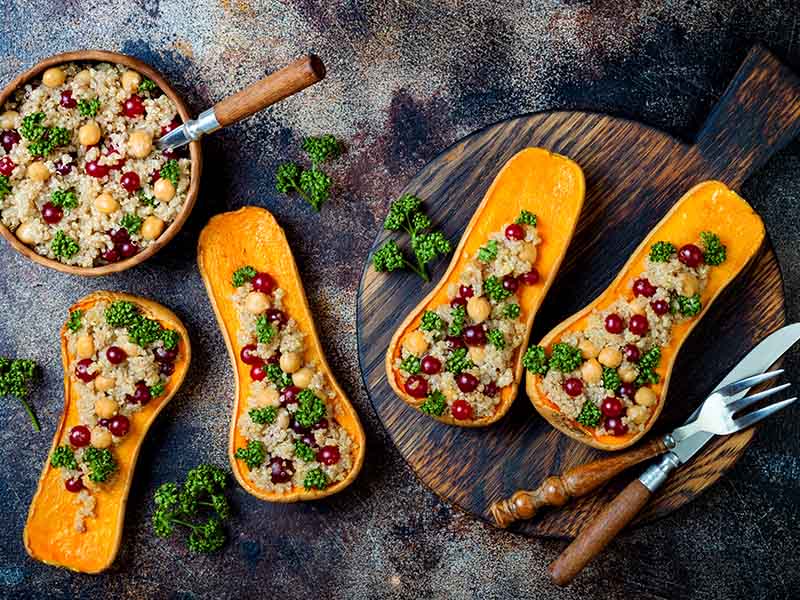 Easy vegan side dishes are excellent choices to accompany whatever specialties you have in store for your family. Let this article bring you some of the most straightforward recipes to recreate from your lovely kitchen.
Don't jump to the conclusion that vegan foods are bland because these meat-less delicacies have a wide range of flavors to trigger your taste buds. In addition, you don't have to invest much time into cooking but still gain delicious dishes to complement your course.
Pick Your Favorite Vegan Delicacy To Whip Up At Home
Veganism is becoming a growing trend for a healthy diet. So let's go with the flow with some brilliant ideas for making meat-less side dishes in your kitchen. The nice thing is that you have the option to customize these recipes to fit your liking.
Total time: 20 minutes.
Carrot is a healthy choice to begin this vegan compilation with a simple grilled recipe. If you're looking for a fragrant and vibrant dish, these grilled carrots with balsamic vinegar meet all the requirements.
After peeling beautiful orange carrots, people brush them with a thick glaze of balsamic vinegar, brown sugar, and lime juice. The blend should have a slightly viscous consistency with an addicting sweet and sour taste.
Bake in the oven until the carrots become tender and flavorful. Drizzle the carrot sticks with the remaining glaze, and you have a quick vegan side dish in no time.
Total time: 15 minutes.
Asparagus is undoubtedly one of the most common options in a meal course as a side dish. Therefore, I suggest slightly improving the conventional roasted asparagus recipe with the addition of lemon and garlic to bring out more fragrance.
For the asparagus, you want to trim about an inch off the stalks. Don't forget to drizzle the asparagus with olive oil to set the tone for the dish. Furthermore, you need a splash of lemon juice and garlic to elevate the overall taste.
Before baking the asparagus in the oven, place a couple of lemon slices over the vegetable so the fresh flavor can infuse into each stalk. Once baked, you get a brilliant bright green asparagus with a hint of tangy from the lemon and garlic fragrance.
Level up your asparagus with only a few elements to improve the taste.
Total time: 25 minutes.
Parsnip is a type of root vegetable closely related to carrots. The vegetable has a naturally sweet profile with a hint of spiciness. Combined with turnips, these two roots make an exotic yet delicious mixture similar to mashed potatoes.
To handle both turnip and parsnip, peel and chop them into small chunks before boiling to the desired tenderness. Once cooked, I suggest mashing the pieces until you achieve a smooth texture. Garnish with some chives or scallions, and you're ready to serve it with a savory dish.
Total time: 15 minutes.
The vibrant dark red color of this mesmerizing cranberry sweet treat always reminds me of the holiday occasions when loved ones surround me at the dinner table. Therefore, I want to bring that sensation to everyone with this excellent apple cranberry sauce delicacy.
Aside from the cranberry and apple, you must also incorporate maple syrup with water, cinnamon, and orange zest to create a thick sauce consistency. Simmer all the elements until you see the liquid beginning to thicken.
Cranberry provides a great tartness to any dish, making the sauce ideal for spreading over toast or sandwiches. In addition, the sauce is an iconic option to go with Thanksgiving main dishes.
Total time: 2 hours 54 minutes (including 2 hours of letting the dough rise).
Dinner rolls are a classic at the American dinner table because you can pair them with almost any savory or sweet specialty. However, traditional rolls usually have butter which may not fit into your vegan diet. So I want to help you create a vegan version of the famous dinner rolls.
Any good dinner roll starts with whipping up the dough mixture consisting of flour, vegan butter, almond milk, and yeast. Make sure you knead the dough thoroughly until it becomes smooth. Remember, the dough needs some time to rise in a warm and humid environment.
While at it, I recommend busting out your favorite butter concoction by mixing melted vegan butter with minced garlic and herb. Next, you should divide the dough into equal balls and set them on the baking tray with a light brush of the herb butter.
After around half an hour of baking in the oven, you should get golden brown dinner rolls. The rolls usually have a fluffy texture with an aroma of garlic and herbs.
Make these vegan dinner rolls to accompany savory vegetable dishes.
Total time: 30 minutes.
Brussel sprouts are like a mini version of cabbage, making them ideal for a roast recipe with a drizzle of Balsamic vinegar. These roasted Brussel sprouts can fit in with any main dish, and it takes only half an hour to prepare.
Typically, people utilize Balsamic vinegar to give the sprouts a rich taste with a blast of sweetness. In addition, you may include tamari for a hint of tanginess with fragrant garlic clove.
Don't forget to cut the Brussel sprouts in half so the condiments can penetrate deep into the vegetable. The sprouts will become crispy after roasting in the oven. Drizzle the remaining sauce to add more flavors to the roasted Brussel sprouts.
Total time: 20 minutes.
I know green beans are a boring choice for many people. Therefore, I want to introduce you to a simple Chinese-style fare to freshen up your love for green beans. Adding an Asian twist to green beans will help reignite your love for this vegetable.
After trimming the beans to a desirable length, you want to spread them on a baking sheet. Drizzle the green beans with oil to lock in the moisture while grilling. Besides simple seasoning of salt and pepper, I suggest adding pepper flakes and garlic.
Roast until the green beans become tender and possess a vibrant green color. I usually sprinkle the dish with roasted sesame seeds for an additional nutty taste. Roasted green beans have the best flavor when served warm alongside other vegan dishes of your choice.
Total time: 14 minutes.
If you love garlic butter like me, why not try it on mushrooms for a new twist to your side dish. Better yet, this recipe is perfect for a spectacular keto side because of the low-carb ingredients. Once you take a bite at these aromatic mushrooms, you will keep coming back for more.
The key point is choosing the right mushroom. In this case, I like working with white or brown mushrooms, which have a nice chewy texture when cooked. As for the butter mixture, you want to stir-fry the onion first to set the tone for the dish.
After sauteing the mushrooms with melted vegan butter, you can continue to throw in minced garlic and herbs. Simmer the mixture until you get a pleasant fragrance and beautifully golden brown mushrooms. Serve the garlic butter mushroom warm for the best experience.
Total time: 50 minutes.
Sweet potato is always a joy to cook; you only need to bake it to experience its fluffy and soft inner. Instead of firing up your oven, sweet potatoes are also great vegetarian treats to make with an air fryer. Plus, consuming warm sweet potatoes is perfect for cold nights.
Before tossing the potatoes directly into the air fryer, don't forget to clean them first and rub a decent amount of oil. The sweet potatoes should be ready when the skin is crispy and has a golden brown color.
While the air fryer is working on the sweet potatoes, you should invest in a simple filling of olive oil with chopped chives and salt. The aroma of herbs and olive oil perfectly combines with the sweet potatoes' hot and fluffy orange inner.
Total time: 20 minutes.
What do you get from combining pasta with cucumber? Let me answer that with a decadent salad from the two ingredients mentioned. Despite its rich taste, I can guarantee that the salad is entirely plant-based.
The salad's main ingredients include pasta, cucumber, and onion. In addition, you need to invest a bit of time in making a creamy dressing for the salad with coconut milk, white wine vinegar, and mustard. Thanks to the coconut milk, the sauce is sweet and has a slightly thick consistency.
Finally, toss cooked pasta with cucumber slices with the dressing to coat evenly. If you want a watery sauce, adding more vinegar or water should help loosen up the coconut milk.
Total time: 30 minutes.
The word rice in this dish may confuse many people as there's not a single grain of rice in the recipe. Instead, people use cauliflower to mimic rice's soft, fluffy texture. I'm sure everyone will be in for a surprise when you tell them about the secret of this fried rice specialty.
To make the rice, pulse the cauliflower into tiny pieces. Next, stir-fry a mixture of tomatoes, garlic, and bell pepper. Then, you want to introduce the cauliflower to the pan. Adding Jalapeno (Mexican green chili) helps include a slight kick of heat to the cauliflower rice.
Keep tossing the ingredients around until the cauliflower and vegetables become tender. Serve the fried rice warm to enjoy the various flavors of vegetables.
Try out Mexican cauliflower rice for an exotic experience.
Total time: 18 minutes.
Everyone loves a grilled zucchini recipe with a fantastic smoky aroma. The Daniel Fast-friendly dish is a show stopper at the dining table if you know which ingredients to combine with the zucchini. Surprisingly, zucchini is also a low-carb option for a keto-friendly diet.
Ideally, you want to cut the zucchini into strips to toss them in a concoction of olive oil, lemon juice, and seasonings. When grilling, you want to leave char marks on the zucchini strips to infuse the signature smoky aroma.
Each side of the zucchini should take 3 – 4 minutes to cook. Don't forget to season the zucchini after grilling and enjoy it with a splash of lemon juice.
Total time: 10 minutes.
At first glance, people may think this is just traditional noodles. However, it's far from what you think, as these noodle strains are made of butternut squash. With a thick creamy sauce, the dish is superb for an addicting vegan meal.
Commonly, you want to cut the butternut squash into thin strips to mimic the appearance of noodles. Proceed to cook the butternut squash noodles with lentils and mushrooms until they become soft.
As for the sauce, I prioritize a combination of almond milk and tapioca flour for a viscous sauce. You may include yeast flakes for an extra cheesy and nutty profile when the sauce becomes creamy. Drizzle the sauce over the noodles and serve.
Total time: 7 hours 5 minutes.
Baked beans always mesmerize everyone with their savory and thick gravy. Aside from being keto-friendly, baked beans are also a solid gluten-free side course to include in your meal. Even though there's no meat, I'm sure everyone in the family will fall for your baked beans.
Instead of being in the kitchen all day to make baked beans, I suggest using a crock pot to free yourself from the cooking process. Simply combine pinto beans with tomato sauce, apple cider vinegar, and liquid aminos (a condiment similar to soy sauce), then let the crock pot do its job.
Set the crock pot to high and wait for the pot to complete its cooking phase. Ideally, the beans should be tender while the sauce has thickened significantly. Serve the beans warm for a rich and savory experience.
Baked beans are the shortest way to impress anyone at the dinner table.
Total time: 35 minutes.
Common roasted garlic potato is a great side option, but you can also feature it as a meal to begin your day. These potato chunks are crispy and coated with incredible spices to make a savory vegan meal.
Simply toss the potato chunks around with olive oil, cayenne pepper, and garlic powder. Pop the potatoes into the oven to bake until you have a crispy surface with a slightly brown color. Ideally, the inners should be tender and warm.
Total time: 1 hour.
Wild rice is surprisingly good to feature in Pilaf, a rice dish with massive popularity as a simplified dish to beat the summer heat in many countries. Because of the herbal and nutty taste, people often pair wild rice with vegetables to improve the overall Pilaf flavor.
Unlike traditional white rice, this wild version takes a little longer to cook. Furthermore, I suggest sauteeing carrots and celery with olive oil to create the initial aroma before adding the wild rice. You want the rice to absorb the oil and become a bit toasty.
Next, pour in vegetable broth and allow the concoction to simmer to cook the wild rice. For serving, fluff up the rice and throw some chopped herbs over the dish for garnish. Sometimes, people even include pecan seeds or dried cranberries in the wild rice for a Thanksgiving meal.
Total time: 35 minutes.
If you are craving avocado, why not make fries out of the fruit to bring an exotic side dish to your dinner table. These avocado fries' crunchy and creamy texture will mesmerize anyone on the first bite.
After cutting the avocado into slices, you want to coat them with a layer of arrowroot starch and submerge the pieces in coconut milk afterward. Next, roll the avocado slices through shredded coconut before baking them in the oven until golden brown.
Commonly, people serve avocado fries with a mix of mayonnaise, herbs, and lemon juice. The creamy nature of mayonnaise is a fine complement to the crunchy and soft avocado fries. Make sure to choose vegan mayonnaise.
Avocado fries are essential to elevating your meal experience.
Total time: 26 minutes.
Are you looking to encourage your kids to have more green broccoli in their meals? If that's the case, you must try coating the roast broccoli with sweet chili sauce. It's an easy-to-make yet addicting specialty with only a few ingredients involved.
If you have an air fryer, you can use it to roast the broccoli. Simply marinate the broccoli with soy sauce and olive oil for around 10 minutes. Let the air fryer work its magic until the broccoli becomes tender.
Finally, before enjoying it, toss the slightly charred broccoli with sweet chili sauce for a mild spicy taste.
Total time: 30 minutes.
Summer is always ideal for whipping a refreshing salad to beat the summer heat. I know you're tired of hearing cabbage in a salad recipe, so I will only utilize avocado and corn in this unique delicacy.
Preferably, you should include pearl couscous in the mix for a slight chewy texture. Don't forget that you must cook the couscous before adding it to the avocado, corn, and cherry tomatoes concoction. The salad is not complete without a Balsamic vinegar splash for the flavor.
Although the recipe calls for mozzarella pearls, I suggest you pick the plant-based variety to keep this meal on the right track of being a vegan dish. In addition, you may serve this salad chilled to enjoy the vegetable freshness.
Total time: 11 minutes.
Mango often appears all year round, but not many people know what to do with the fruit besides eating them raw. Therefore, I want to give you another exquisite salad that combines mango and black beans.
To save time, I suggest grabbing canned black beans to pair with bell pepper, mango chunks, and herbs. I prefer mixing the elements with sour lime juice, chili powder, and olive oil for the sauce content.
Toss the ingredients with the dressing to complete preparing the salad. Commonly, you should get a sour and sweet taste of mango to go with creamy black beans for the salad flavor profile. Better yet, the salad tastes better when you refrigerate it.
Discover the secret to creating a mango and black bean salad.
Total time: 28 minutes.
Sauteed bell peppers and onions have everything you love in a stir-frying dish. The specialty easily pleases the crowd with its incredible caramelized flavor and excellent herbal taste. The best thing is that the dish goes well with almost any main course in store.
To make the specialty more appealing, I prefer using a wide range of bell peppers and onions to combine various vibrant colors. Furthermore, you can include an array of spices to help build up a solid caramelized taste.
After the peppers become tender, pour in red wine vinegar and garlic for a fragrant scent. The peppers and onions possess a shiny appearance that is eye-catching for anyone at the dinner table.
Total time: 15 minutes.
If you think cabbage is only suitable for salad, then maybe an idea from a recognizable Thai fare may change your mind about this vegetable. The dish takes little preparation but delivers the fullest cabbage sweetness with a smoky flavor.
After washing the cabbage properly, all you need is to chop the vegetable into bite-size pieces. Heat the oil and add finely chopped garlic to enjoy the pleasant sizzling sound with a fragrant aroma.
Proceed to add the cabbage into the hot garlic oil mixture until the vegetable wilts. Season the cabbage with soy sauce, and you have a warm plate of Thai-style stir-fried cabbage for serving.
Total time: 1 hour 10 minutes.
Cornbread is perfect for serving during the holiday season. However, you can also turn the bread into a part of your vegan course with this easy recipe. I promise you will barely notice the differences from the traditional milk-based cornbread.
Instead of using animal dairy products, I turn to almond milk to mix with plant-based butter and apple cider vinegar. Combine the liquid content with cornmeal and flour to achieve a smooth batter consistency.
Proceed to bake the bread until the surface becomes golden brown. Another way to tell whether the cornbread is cooked is to stick a toothpick into the bread. If the toothpick comes out clean, the bread is ready for serving.
You can create cornbread entirely from plant-based products.
Total time: 5 minutes.
Originating from East Asian cuisine, Edamame refers to the preparation of young soybean to serve as a dish. People often boil or steam the immature soybean before serving it with various condiments.
All you need is to stir-fry the soybean with garlic until the heat penetrates the beans. Ideally, these immature soybeans usually possess a vibrant green color.
Introduce soy sauce to the stir-fried soybean to build up the flavor. Kill the heat and sprinkle in some salt. I'm sure people will love this simple soybean's buttery and sweet profile.
Total time: 5 minutes.
You won't believe it if I tell you that it takes as little as 5 minutes to create a fabulous side dish. The main focus of the recipe lies in the nutritious kale, which provides a rich source of vitamin A to nurture your eyesight.
After cutting the kale into decently sized pieces, you want to heat the oil with some minced garlic. Be careful at this step as the garlic is prone to burning. Throw in the kale and stir it around. Cover and wait until the vegetable becomes bright green, then remove the lid and stir again.
Typically, the kale provides an earthy and strong smell to the dish. When combined with fragrant garlic, sauteed kale makes for an addicting simple side dish you can prepare in no time.
Total time: 2 hours 30 minutes (including 1 hour 45 minutes of proofing).
Garlic bread is a straightforward recipe with little effort to whip up at home. But I want to add a little twist to the recipe by adding an aromatic scent of herbs into the bread. In addition, the recipe is perfect for putting your dough-kneading skill to the test.
Although creating bread dough from scratch sounds hectic, it's surprisingly easy to combine flour, yeast, and almond milk into a smooth consistency. Don't forget to allow the dough to rise in a warm and humid environment.
While you wait for the dough to rise, whip up the filling of the bread by including garlic, parsley, and basil into a melted butter concoction. Incorporate the herbal filling with the dough for baking until golden brown and crispy.
Total time: 23 minutes.
Potato fritter always gets the crowd going with excitement, but to bring a surprise to a party, you should swap out the potato for zucchini to get a slightly grassy tasting fritter. People will constantly ask questions about how you came up with this fabulous fritter creation.
A small note to remember is that conventional fritters are not vegan-friendly. Therefore you must replace the eggs and milk in the traditional recipe with a plant-based product like almond milk. As for the zucchini, I suggest squeezing the vegetable with salt to extract excess moisture.
Doing so helps prevent having a soggy fritter after frying. Usually, the fritter batter should have a consistency similar to the pancake mixture. After frying the zucchini fritters to a golden brown, serve them with a combination of coconut yogurt and dill.
Vegan zucchini fritter is surprisingly simple, with only a few twists to the traditional recipe.
Total time: 30 minutes.
If you think eggplants are boring, you're not enjoying the vegetables correctly. Picture yourself having a nice camping trip; it's the perfect time to bring along some eggplants for roasting over an open fire.
I promise the caramelized smell of roasted eggplant will trigger every sense in your body. At home, you can simply cut the eggplants into cubes and wrap them in thin foil. Season with salt and add a drizzle of oil to prevent drying the eggplant.
Once cooked, the cubed eggplants have a soft texture and brown exterior. In terms of taste, the roasted eggplant delivers a sweet and mild profile with a subtle note of herbal bitterness.
Total time: 40 minutes.
To bring this vegan list to a close, I'd like to bring you a super light yet mouth-watering cauliflower specialty. Don't judge too quickly because this cauliflower is full of savory spices to keep everyone on the edge of their seats.
For an addicting umami flavor, I recommend creating a spice combination of avocado oil, umami spice, and coconut aminos. Rub the condiments thoroughly over the cut-up cauliflower. Bake in the oven until the cauliflower edges begin to caramelize.
The cauliflower should have a pleasant smokiness and an almost melt-in-your-mouth softness.
Which Vegan Side Dish Is Your Go-To Choice For The Night?
Whether you're planning a vegan theme meal or simply looking for an easy recipe, I'm confident this post will satisfy your needs. Furthermore, you have the choice to add protein to make any vegan dishes much better in flavor.
Tell everyone about this post so they may have new ideas to treat you with a light vegan meal next time. Better yet, you should drop your opinion in the comment section to tell everyone about your experience in making a vegan meal.