If you're in the mood for some easy vegan desserts that rock your palate, you've come to the right place. From effortless no-bake recipes to intricate delights and crowd-pleasing baked goods, I'm positive there are quite a few choices to meet your criteria.
These dishes are so good that your guests won't notice they're vegan alternatives. Whenever you're ready, let these scrumptious vegan desserts inspire you on your health journey!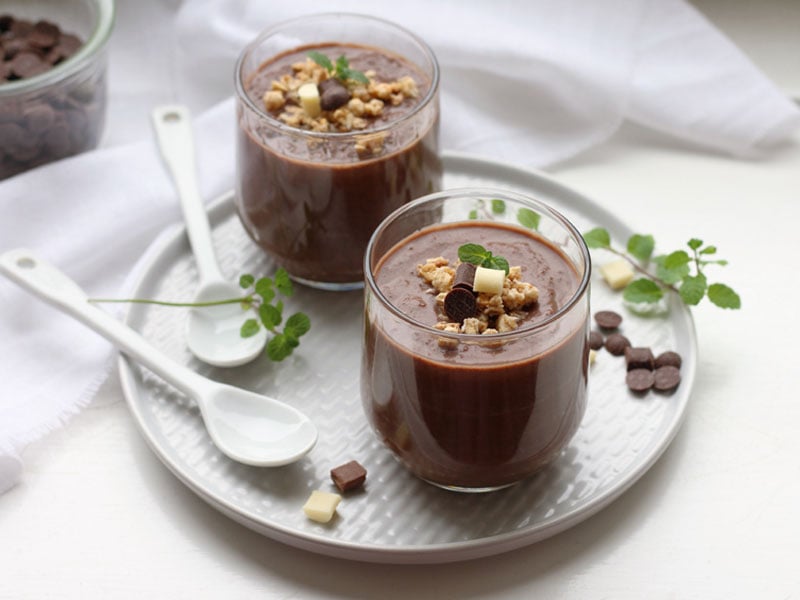 The Best Easy Vegan Desserts You Wish You Knew Earlier
It's no secret that vegan desserts make life a whole lot better. Whip these goodies up for a birthday party, holiday gathering, or whenever you want to cap off a feast on a delightfully sweet note.
Total time: 1 hour 10 minutes
Banana bread is a classic baking staple that always stays in style. This moist, tender, and richly flavored baked dish is perfect for your vegan diet without skimping on nostalgic traditional flavors.
Based on the basic formula, aquafaba and vegan buttermilk are used to turn the old-fashioned recipe into a vegan-friendly rendition. As a general rule, you'll know the loaf is done baking when the exterior has a dark-brown and almost caramelized appeal.
When bananas ripen, their natural sweetness and moisture intensify, making them the ideal choice for vegan banana bread. You can slather a warm slice with jelly or nut butter. Both are guaranteed success – tried and true!
Pull off the most delicious vegan banana bread with this easy tutorial!
Total time: 10 minutes (plus 2 – 3 hours of chilling time)
Is it too hot to turn up the oven? Don't sweat it! These no-bake vegan brownies are the tickets to a cold sensation on a sweltering summer day. These nutritious energy bars can be an excellent pick-me-up snack if you enjoy them in moderation.
But this is no ordinary dessert with brownie mixes. These delights take just ten minutes of hands-on work and some ingredients many bakers have in their pantries. However, remember that they require time to chill for about 2-3 hours, so it's best to plan ahead.
Layers of melted chocolate, coconut milk, and walnuts create a chewy, fudgy texture with crackly tops and crispy edges. This recipe is a great way to satisfy your sugar cravings without using actual sugar. Set out a big tray and watch it disappear fast at any party.
Total time: 30 minutes
Simply put, Torrijas is a Spanish-style French toast. As a traditional dessert from Spain passed down through many generations, this sweet was initially created with the same purpose as its cousin: an excellent way to make use of stale bread, usually a few days old.
The vegan take involves coating bread with chickpea flour and almond milk to replace egg batter. The warm and woody flavors of cinnamon, the honey-like sweetness of agave syrup, or the classic brown sugar add incredible depths to the final dish.
Nowadays, in Spanish culture, Torrijas remain a popular dessert during the Holy Week or Lent (a common time of fasting in many churches). Besides rounding out a meal, the treat also works as an afternoon snack or breakfast to start your day on a sweet note.
Total time: 40 minutes
Who doesn't love a delicious oatmeal creation, especially when it's vegan-friendly? Something about that slight crisp around the edges and the chewy, soft center makes it an absolute must-have treat. Besides, these cookies are a way to gain vital nutrients in a tasty form.
Like traditional cookies, these treats feature brown sugar for a sweet taste with the cozy flavors of cinnamon and raisins. Paired with a cup of golden milk or vegan matcha latte, these cookies will be a hit for your next afternoon snack hours.
Of course, you'll receive a fair share of compliments when you treat your friends and neighbors to these new favorite cookies.
Total time: 1 hour 20 minutes
Whether you'd like a slice of a candy bar or to make the holiday extra special, this homemade vegan Snickers bar recipe is guaranteed to impress your loved ones. With that rich and gooey flavor, your non-vegan friends will have difficulty distinguishing it from the real deal.
This vegan candy bar has a creamy nougat base, which is topped with a layer of salted caramel. Pitted Medjool dates, the dominant element in the caramel, offer an immediate sweetness and a very nutty finish.
The whole assembly is coated in plenty of melted chocolate before being chilled to harden. Typically, the best way to store these sweets is in the freezer, where they'll keep well for about a month, ready to satisfy your sugar cravings at any time.
Total time: 15 minutes (plus 3 hours of chilling time)
From the old ranches in rural Costa Rica to upscale restaurants in South America, flan is one of the most treasured desserts in all Spanish and Latin cuisines. The modern flan has become much more than the old version created by the Romans.
Since the old-fashioned delight is made of primarily non-vegan elements, a veganized rendition may seem like a puzzle. However, with this easy seven-ingredient recipe, you'll be indulging yourself in the finest plant-based flan in no time.
The silky, creamy, and smooth custard melts in your mouth within seconds. Thanks to its natural caramel-like flavor, coconut sugar is the key behind that delicious layer of caramel sauce on top. This vegan flan is the perfect after-dinner treat for your Cinco de Mayo feast.
Total time: 1 hour 25 minutes
Dazzle your tastebuds with the delectable fruity matchup of sweet strawberries and zesty lemons. The vibrant colors, thinly sliced strawberries, and strands of red currants on top all capture the essence of a fresh summer, making it the table's centerpiece.
To prepare this dessert, layers of tender lemony cakes are alternated with strawberries and red currants. The fruits bring out the best in each other, thus creating a nice balance of sweetness and tanginess. Pair the loaf with some tea or coffee for an indulgent afternoon.
Thanks to a touch of coconut yogurt, the loaf tastes so moist and fluffy that you won't stop after just one slice. Whether you need a festive, showstopping cake to impress your guests or plan to take your baking skills up a notch, this vegan dessert is your best bet.
Total time: 45 minutes
An all-time favorite in my cookie repertoire, these vegan shortbread cookies are simply the best you've ever tasted. Crumbly yet buttery and soft shortbreads are dressed in a beautiful, sweet icing sugar glaze.
What's more, these homemade goodies have a good shelf life. They last for a week in an airtight container and a whopping two months frozen. Therefore, don't hesitate to frequently bake up a double batch for sweet and healthy enjoyment.
This sweet recipe requires no dairy products or eggs yet tastes like the original version. A sprinkle of edible rose petals elevates the appeal, but you can keep it simple with a two-ingredient glaze frosting. These cookies are undoubtedly the highlight of your festive dinner.
This four-ingredient vegan shortbread cookie recipe is just the ticket to indulging your sweet tooth guilt-free!
Total time: 1 hour 10 minutes (including 30 minutes of rising time)
One of the most decadent baked goods, vegan cinnamon rolls are loved by anyone. While my recipe follows the traditional method, you can use modern kitchen gadgets to prepare it as an effortless Instant Pot dessert recipe.
In Sweden, the famous pastry is celebrated on October 4th each year. But let's be honest: cinnamon rolls should be enjoyed year-round. Who can refuse its combination of sweet dough with cinnamon and brown sugar fillings? The creamy maple frosting is the perfect final touch.
Texture-wise, these vegan cinnamon knots bake up with a subtle crisp against the pillowy, soft pastry. Cinnamon rolls on Christmas morning are an age-old tradition within many families. The heavenly scent of a warm, freshly baked batch will give you a sweet awakening.
Total time: 10 minutes
Requiring no baking, pecan pie energy bites are a true game changer for your sweet tooth kicks. The soft, moist dates are thrown in together with the distinctly sweet and buttery pecans. These goodies will cure your pecan pie cravings in an instant.
From start to finish, these vegan bites take just 10 minutes to pull together without any baking needed. Better yet, they freeze well for several months and keep in the fridge for about 2 weeks, so there's no reason not to quadruple the next batch.
Besides serving as a guilt-free dessert, these little no-bake treats also make great pick-me-up snacks anytime. What better way to truly get in the spirit of the holidays than a big jar of pecan pie energy bites ready in your fridge?
Total time: 50 minutes
Cobblers are undoubtedly your best bet to feature as an after-meal course with the appearance of peach to elevate your experience. Featuring a glorious sweetened peach base topped off by cakey goodness, the old-fashioned dessert resembles cobblestone streets, hence the name.
You'll know the cobbler is ready when the topping has a nice golden brown color and the filling is bubbling. The best way to savor this summertime treat is with a scoop of plant-based vanilla ice cream on the side or top while it's still hot.
Your dessert is best made with soft and ripe peaches. However, don't fret if the peaches aren't as fresh as you'd like them. If this is the case, switch out sugar for maple syrup to ensure the filling is syrupy and juicy upon baking.
Total time: 55 minutes (plus 1 hour of rising time)
Myth is that in the 18th century, sticky buns made their debut in the United States when German settlers brought their baking tradition to Pennsylvania. First known as "Schnecken" ("snails" in German), the coiled bun still stays true to the shape that it resembles.
For a veganized spin on the classic, this sticky bun recipe begins with a simple dough that rises in just an hour. The sweet dough is then rolled up with cinnamon, sugar, and vegan butter and baked in a sticky pecan-studded glaze.
Once the baking is finished, you can carefully invert the pan onto a plate. This step allows the gooey caramel-esque glaze to act as a topping, much of which seeps deeply into the freshly baked pastry.
This vegan sticky bun is best served warm as a dessert or a brunch treat with your favorite wash-it-down drink. Remember to have a stack of napkins on the side; you'll need it!
Total time: 30 minutes
Though sometimes referred to as "brownies without chocolates," blondies are a unique dessert with their personality and deliciousness. Whereas brownies' star is chocolate, blondies often aspire to reach a rich vanilla flavor instead.
Softer than cookies and less fudgy than brownies, the dessert retains its thick and chewy texture. And it's all thanks to a secret weapon: chickpeas. Buttery, moist, and studded with vegan chocolate chips, the sweet treats will melt across your tongue in seconds.
With this delicious recipe in your dessert repertoire, there's no better way to savor the holidays and special occasions. These vegan blondies also make a wonderful gift to your vegan and non-vegan chocolate lovers.
Total time: 1 hour 15 minutes
Move aside, pumpkin pies! Quintessential and comforting, this apple crisp captures the sweet essence of autumn in the perfect nostalgic dessert that'll take you straight back to your childhood. Also, did I mention that it's completely vegan-approved?
Like any classic version, this culinary delight features layers of sweet, tender cinnamon-infused apples beneath a golden brown pecan crumble topping. Made with simple ingredients, the dessert is a luscious combination of sweetness, juiciness, and crunch.
For the most sensational mouth feel, serve this perfect pumpkin dessert with a scoop of dairy-free ice cream. Omit pecans and flour to turn this recipe into a nut-free and gluten-free version if necessary. Forget dinner; you'll want to gobble it down while it's still baking in the oven!
Total time: 25 minutes (Including 3 hours of chilling time)
Talk about a match made in sweet heaven! Like any romantic relationship, fresh raspberries and dark chocolate contrast yet support each other, creating an enticing energy beloved by dessert enthusiasts. Plus, the recipe calls for six ingredients, and no baking is needed.
There's no need to fuss with the oven. As a healthy and no-bake version, this convenient raspberry dessert is still as elegant as ever. Thanks to layers of delicate textures and a hint of sweetness, it is highly suitable for those special nights.
Recreating the true essence of the French classic, this recipe consists of a crunchy Oreo cookie crust followed by a mesmerizing chocolate ganache filling. After being fully set in the fridge, the tart can be decorated with grated dark chocolate or some fresh berries.
Total time: 1 hour 20 minutes
Few flavors ooze tropical vibes like coconut. Whether it's the light-as-air cake or the sweet coconut goodness, you'll get a taste of an island getaway with just one bite. Just a glimpse of this majestic cake and guests will gather around, knowing something special's in store.
A sight for sore eyes at its height, this coconut cake boasts several layers of toasted coconut custard filling and vegan vanilla frosting. Besides giving the dessert a nice decoration, some coconut flakes add a sweet, slight crunch to each slice.
My favorite thing about this recipe yet? The leftover sits well in your fridge for up to four days, meaning you won't have to go overboard eating most of it. But since it's a stunner worthy of any special gathering, your guests will be delighted to go home with a slice or two.
From the eye-catching appearance to the delectable flavors, this vegan coconut cake is made to impress the crowd!
Total time: 1 hour 45 minutes
Before you head to the bakery downtown, know that these vegan pumpkin cream horns are much simpler to make from scratch than they look. A simple tea-time dessert, cream horns often consist of a flaky and light pastry horn filled with luscious and fluffy cream.
Some sweet food fans love these top-notch puff pastry treats in their simplest forms, while others don't mind a sprinkle of powdered sugar or melted chocolate. You could use a cannoli form or a quick DIY mold instead for those who don't have a cream horn mold on hand.
The delicate filling full of delicious spices will enlighten your taste buds as you bite through the crispy pastry cone. This classic pumpkin dessert is undoubtedly a good one to get your sweet fix this autumn without wrecking your healthy diet.
Total time: 1 hour
A warm loaf of lemon bread with extra healthy perks is perfect for indulging your sweet tooth. This summery delight is loaded with flavors in every bite, the ideal compromise between decadent and vegan-approved.
At its finest, this dessert is the perfect balance between sweetness and tartness, with an intense citrus flavor from the ultimate summer fruit. Fresh out of the oven, the loaf gets a nice pour of simple sugar syrup to elevate an already moist, buttery texture.
Finally, a little touch of lemon glaze will satiate your sweet tooth minus all the calories of icing. If that's not enough, a fresh mint leaf or two is the classic way to enhance the loaf of bread.
Total time: 2 hours 20 minutes (Including 4 hours of chilling and thawing time)
What's not to love about a plate of sweet, tangy, creamy dessert that melts in your mouth? Whether you're a novice or a veteran baker, pulling this recipe to perfection is not a puzzle. That is if you don't mind planning it, since the preparation takes almost seven hours.
This dairy-free dish uses one of my favorite culinary weapons: soaked cashews. Upon soaking in cold water overnight, the cashews add creaminess to the formula, especially when combined with cooling coconut milk texture and vanilla.
The end result is a luscious and creamy texture despite the lack of traditional dairy. While entirely optional, a layer of raspberry sauce on top lends a light freshness to offset the richness of the vegan cream cheese. Plus, the bold color contrast is truly a sight for sore eyes.
Watch the crowd go amazed as you announce this showstopping cheesecake is vegan-approved!
Total time: 17 minutes
Whether you need a quick energy boost or a ready-to-go afternoon snack, these vegan coconut clusters will come to the rescue. This appetizing homemade candy takes just four pantry staples, 17 minutes, and love for clean eating!
While the conventional version is often packed with excessive sugar and butter, this vegan recipe is slightly different. With the nutty and sweet-salty sensations that flood your taste buds, you can never tell that no oil, sugar, or butter is needed.
If you need more reasons to whip up this snack, everything is made organic, thus doubling down on the health benefits. That's right! Bake up a big batch this holiday season and surprise your loved ones with these healthy and irresistible clusters.
Total time: 10 minutes
Simple yet sophisticated, vegan mousse is a luscious chocolate treat that will last in the menu of many vegan food lovers. Requiring just two pantry ingredients, this veganized treat allows you to keep it simple while recreating the consistency of the dessert you know and love.
Full-fat coconut milk is the secret element that makes the mousse possibly the creamiest and airiest one you've had. Dark chocolate chips make for a lovely saltiness and richness. Feel free to swap for other semi-sweet vegan dark chocolates at your disposal.
A scattering of chocolate shavings is all it takes to turn this humble dish into a fancy dinner party dessert. Slice and layer some fresh strawberries onto the mousse to balance the richness.
Total time: 45 minutes (plus 3 hours of chilling and freezing time)
Good figs in season are sticky, sweet, and delicious. If you're searching for an elegant recipe for your date night, this vegan fig tart should be a win in your book. Plus, it's entirely vegan-friendly and gluten-free to suit your dietary needs.
This recipe has everything you want in a dessert: a buttery and flaky crust, a luscious coconut cashew cream filling, and juicy sliced figs. Visually speaking, the gorgeous alternating layers of figs and cream filling will make it the centerpiece of any after-meal.
But more than meets the eyes, it's all about the flavor combination that makes or breaks a dessert. Each bite carries a rich, sweet, and creamy taste in a textural contrast with a crunchy crust at the bottom.
This recipe also works nicely with fruits like peaches and plums, so you'll always be entertained even when the fig season is over. How about a perfect plum dessert or an attractive treat with peaches? The variations are endless!
Total time: 15 minutes
Nothing beats berry compote when it comes to a simple yet enticing dessert with no added sugar. Hailing from medieval Europe, this traditional recipe is prepared by briefly simmering fruits in liquids such as water, sugar, or wine to form a syrup.
Even if you're not European, a berry compote is something you might've had in your life and instantly fallen in love with. Just one pot, two ingredients, and 15 minutes are all that it requires. The compote tastes excellent or as a topping for waffles and French toast.
While the particular choice of berry will affect the flavor profile of your compote, a natural blend of sweet and tart elements tends to be prominent on the palate. You can liven up this versatile recipe with your favorite add-ins and sweeteners.
Get the best out of the berry season by whipping up some vegan berry compote right now!
Total time: 20 minutes (plus 6 hours of freezing)
It's no secret that coffee and dessert are a match made in heaven. Why not combine them? Prized as one of Italy's most delectable modern dishes, Affogato is widely served in gelato shops and cafes across the country.
Exquisite as it looks and tastes, this vegan Affogato rendition calls for just a few base ingredients. Hot espresso is poured over a generous scoop of dairy-free ice cream, drowning it in a glorious, rich, and bittersweet puddle of joy.
When it comes to Affogato toppings, there's so much room to experiment. Paired with a sprinkle of dark chocolate, caramel sauce brings a richer, smoother texture. Serve this after any meal to impress or with some Biscotti on the side for Italian fare.
Total time: 5 minutes
This outrageously easy dessert is the stuff of dreams. From picky children to vegans and paleo enthusiasts, the desirable sorbet-like texture and refreshing summer flavors are meant to satisfy. All of this comes from just one thing: pineapples.
To pull this tropical delight off, you'll have to grab some frozen pineapples and give them a whirl in the food processor. Then, keep blending until a fine, ice cream-like texture is achieved.
The tasty pineapple-based dessert is sweet, light, and refreshing enough to eat. But if you have a few mint leaves, don't be shy to add freshness to your already-palatable treat. A healthy alternative to ice cream, it's the perfect way to end a sweltering summer meal.
Total time: 30 minutes (plus 8 hours of freezing time)
This Valentine's Day classic is redressed in a vegan version to suit you and your partner's needs. These lovely treats made with dates are an instant hit. From the look of it, the magnificent three-layer structure will please your eyes before delighting your taste buds.
The silky and delicately sweet caramel sits nicely atop a crusty base made of shortbread and steel-cut oats. With the addition of non-dairy milk, the chocolate ganache layer has a nice consistency that makes it much more sliceable.
Timing is the backbone of this recipe. While the preparation can take over eight hours to pull off, the procedure for each layer is relatively easy. Get ready for a loving time with these irresistible goodies this Valentine's Day!
Total time: 50 minutes
Tiramisu is a ladyfinger-based treat treasured by everyone around the world. This vegan reinvention of the Italian gastronomical classic is created without dairy and gluten. Yet, it hardly misses out on the classic flavors that tiramisu connoisseurs know and love.
Let's start from the ground up. Hazelnuts, almonds, and coffee powder make up this cake's base, which is left to harden in the freezer before assembling. Because this recipe leaves out alcohol, it's perfect for children and adults alike to savor.
Skip lady fingers and all the work! Infuse the mousse layer with the richness of melted dark chocolate and cacao powder instead of espresso. It's topped off with a cream layer with the same rich and velvety consistency of mascarpone without adding any eggs.
This raw vegan Tiramisu cake is a dream for both vegan eaters and paleo enthusiasts!
Total time: About 39 minutes
With the help of some almond milk and dairy-free butter sticks, this is an all-time favorite dessert that everyone can now enjoy. The result is so fluffy, light, and delicious that the crowd will be amazed when you announce that this recipe is entirely vegan-approved.
My favorite part about these fluffy cupcakes is how fast everything bakes up. A whole batch can be ready for serving in under thirty minutes. There's plenty of time to treat yourself and all your loved ones to these tasty goodies.
The mixture of summer berries lends itself to a refreshing, sweet, and tangy blend that cuts through the richness of vanilla buttercream. Enhanced by a light dusting of powdered sugar, these cupcakes are like a food picture straight out of your cookbook.
Total time: 10 minutes (plus 45 minutes of churning time)
Close your eyes and let this vegan mango passion fruit sorbet take you to a tropical getaway as it melts across your tongue. Each spoonful is oozing with ice-cold, exuberant, and fruity flavors. With just four elements needed, this dessert is the perfect way to beat the heat.
Despite boasting distinctive flavor profiles, mangoes and passion fruits are a true match made in tropical heaven. With their signature sweetness and soft, creamy texture, Ripen mangoes go down beautifully with the pleasantly tangy and citrusy taste of passion fruits.
These passion fruit-infused treats don't just taste great; they're also packed with an abundance of valuable nutrients for your health. Therefore, you may want to start incorporating this recipe as a part of your healthy eating pattern.
Total time: 7 minutes (Including 1 hour of refrigerating time)
When the sultry weather gets you down, you only want to sink your spoon into the most indulgent chocolate pudding. If executed correctly, this vegan dish boasts a rich, creamy, and chocolatey flavor through and through.
To assemble this dessert, you'll need to layer a vegan chocolate pudding inside a graham cracker crust. While there's no baking required, the pudding should be refrigerated for at least an hour to set thoroughly.
Despite taking over an hour to finish, most of the work for this palatable pudding dessert is off-hand. And because the procedure is so simple, you can easily double or even triple the ingredients to feed a big crowd without hassle.
Skip the downtown bakery! Here's how you can put together a showstopping chocolate pudding that's also vegan-approved.
Total time: 35 minutes
Carrot cake ice cream is exactly what it's called: a mesmerizing ice cream treat that tastes even better than carrot cake! Although the dessert calls for quite a list of ingredients, none is too fancy to find in your kitchen cabinets.
When it comes to flavor, this ice-cold treat is packed with all the traditional flavor notes found in a classic carrot cake. All the warm spices and caramelized flavors are well-balanced, making it quite easily the most delicious ice cream you've ever sunk your teeth into.
Not only does it infuse a rich, nutty flavor, but adding soaked cashew nuts into the ice cream base also helps create a luxuriously creamy and soft texture. A serving or two of vegan carrot cake ice cream will soon be your favorite thing to cool off the summer heat.
Total time: 15 minutes (plus 2 hours 30 minutes of freezing and chilling time)
These vegan cookie dough bites are just the ticket whenever you're craving some tasty snacks but want to keep them light and vegan-friendly. What's more, these treats stay well in the freezer for a month, so you'll always have something to count on when the craving hits.
Rather than sugar, these goodies get their natural sweetness and caramel-like flavor from Medjool date syrup. As for the texture, almond flour is the secret behind that soft and chewy consistency.
Everything tastes better smothered in melted chocolate, including these cookie dough bites. The final elegant touches are a quick dip in melted dark chocolate and a sprinkling of flakey sea salt.
Whether to end a meal on a lovely sweet note or for a tasty boost of energy, these homemade vegan cookie dough bites hit the spot every time!
Total time: 21 minutes
The good news is you needn't be out by the campfire to enjoy these to-die-for S'mores bars. Everything you need for this nostalgic recipe is probably stashed in your cabinets. Enrich a simple graham cracker crust with a gooey layer of chocolate and halved marshmallows on top.
Due to the high sugar content, marshmallows burn rather quickly. It takes 45 seconds for them to turn brown, so keep an eye on your oven. Bring the campfire classic indoors for a delicious vegan treat your family will request regularly!
Indulge In All Your Favorite Desserts Completely Plant-Based!
The art of vegan baking has come a long way. And with many eye-catching and delectable recipes, it shouldn't be hard to satiate even the pickiest eaters. Save these dishes for whenever you crave some cakes, puddings, or everything else in between.
Most plant-based ingredients can be found in supermarkets for those who have just started transitioning into a diet free from animal products. Plus, many of these recipes are pretty easy to pull off, whether you're a novice or a veteran baker.
If you find these vegan-friendly recipes helpful, share them on your social media to spread the sweetness with others. Also, please don't be shy to tell me about your experiences trying them out!