As the title suggests, these easy vegan crockpot recipes will make your life much easier with their straightforward preparation. All you have to do is gather the ingredients and toss them into the slow cooker for a full and hearty meal.
Whether it is for the cold winter morning or burning hot summer days, these crockpot recipes will come in handy throughout the year. Slow cooking gives these dishes a tender and filling texture while helping bring out all the flavors.
You will never have enough of these tasty dishes, from soups and pot meals to casseroles and stews. Of course, all the recipes use natural and vegan ingredients, suitable for both vegetarians and people looking for a healthy diet.
So, no further ado. Let's discover these dishes' goodness.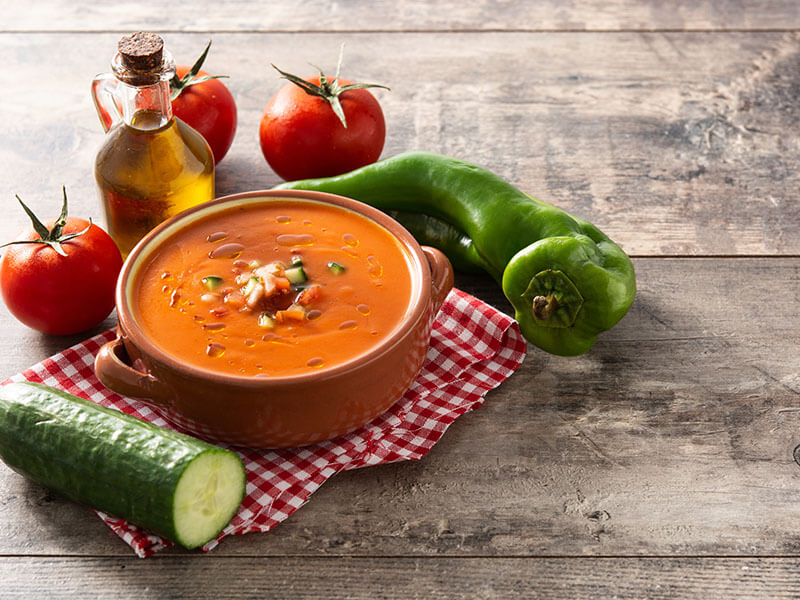 Aim For A Healthy And Nutritious Diet With Vegan-Friendly Crockpot Recipes
It's hard to point out what I love most about these worry-free vegan crockpot recipes. Their inherently delicious taste and tender texture are undeniable, but the real quality lies in their healthy and nutritious ingredients.
These recipes use all dairy-free, and plant-based ingredients like veggies, fruits, nuts, and bread combined cleverly to bring out a satisfying burst of flavor. They will lower your cholesterol and calorie content intake during the day, giving tremendous health benefits.
Total time: 2 hours and 40 minutes
Don't let the somewhat simple appearance of this slow cooker white bean stew fool you. This dish is more than delicious, with a rich veggie taste and powerful spiciness that will warm up your belly on cold winter days.
The stew features a rich flavor from powerful spices like zest, red pepper, and a little rosemary for the aromatic scent. The staple ingredients like carrot, yellow onion, and diced tomatoes bring a super tender and filling texture when stewed for many hours.
This recipe is incredibly cheap and simple, with a warm, thick, and comforting texture. With no meat or dairy products involved, it's a perfect breakfast for vegetarians and people with lactose-intolerance symptoms.
Learn to make the tastiest slow cooker white bean stew with this simple guide!
Total time: 4 hours and 20 minutes
How about tossing broccoli crown, quinoa, and a bunch of spices in the crockpot for a healthy and delicious breakfast? The ingredients will come together like magic, giving a filling blend of sweet and exotic flavors.
This slow cooker coconut quinoa curry looks beyond appetizing with its silky and colorful texture of sticky Quinoa mixed with creamy coconut milk. Both the veggies and Quinoa in this curry taste crispier and thicker than in the other stews.
The spicy addicts will love the curry since it's loaded with ginger and chili flakes. This Quinoa curry also uses Tamari sauce, giving a mildly sweet and umami undertone. You can use a zester to grate the fresh spices and help them combine better in the curry.
Total time: 4 hours and 20 minutes
This slow cooker minestrone soup is packed with veggies and spices for a comforting breakfast. The best thing about this recipe is that you can freely customize the ingredients to make the soup best suit your taste.
The soup is loaded with canned kidney beans and white beans, providing a rich source of healthy proteins and calories to fuel your day. The mix of healthy veggies like zucchini, onion, carrot, and celery gives it a dense and colorful texture.
Of course, the veggies come with a rich blend of spices to enhance their flavor. The classic salt and pepper duo combined with a little tomato paste brings this dish a vibrant reddish color and mouth-watering taste.
Total time: 3 hours and 05 minutes
This sweet treat made using a slow cooker is ridiculously simple with five simple ingredients, yet it turns out so tasty and filling. The soft and super gooey rice texture brings a unique rice-rich flavor with a mildly sweet undertone.
The tinned and carton coconut milk compliments the pudding with a subtly sweet flavor and airy texture. Add some granulated sugar with ground nutmeg garnishing, and the pudding tastes better than any store-bought dessert.
Don't leave the slow cooker over simmering the pudding, or it will become mushy. If you prefer a runnier consistency, add more coconut milk. I often set the slow cooker for 3 hours before leaving home for work and enjoy the delicious pudding when the night comes.
Making the slow cooker vegan rice pudding is no longer a challenge, thanks to this video!
Total time: 4 hours and 10 minutes
I love black beans for their soft, mild, and creamy texture, which is perfect for a hearty, slow-cooked soup. With this black bean soup recipe, you can prepare a protein-packed and nutritious meal without worrying about gaining weight or excessive cholesterol.
Put the ingredients in the slow cooker, stir well and stew for around 7 hours until they turn tender and soft. If you are short on time, set the slow cooker at high heat, and the soup is ready after 4 hours.
For the babies that cannot eat the vegetable chunks, you can turn this soup into puree using the blender. Feel free to get creative with the toppings to create your favorite flavor. A little sour cream, cheddar cheese, or green onions and pepper are great options.
Total time: 2 hours and 32 minutes
The classic mac and cheese can serve well as a delicious side dish for any special occasion. If you love this dish's sticky texture and cheesy flavor, then this slow cooker mac and cheese is a must-try.
It's critical to carefully monitor the time since you can easily overcook the mac and cheese in the slow cooker. Nearly 3 hours at medium heat would be perfect for a silky and super tender mac and cheese.
This recipe calls for the violet vegan cheese and plant-based milk to keep it completely vegan and healthy. The added nutritional yeast also brings a filling, savory and cheesy texture. It's a perfect substitute for salt and sweeteners in stew dishes.
Total time: 3 hours and 10 minutes
Who says you cannot use the slow cooker to make the chocolate pudding cake? I'm glad to bring you my favorite crockpot dessert with a chocolatey and tasty flavor combined with a super soft and gooey texture.
The cake batter is filled with granulated sugar, vanilla, milk, and even salt for a super filling and sweet taste. Mix cocoa powder with semi-sweet chocolate chips, and you'll get a hearty chocolatey undertone.
You can freely prepare a generous batch and refrigerate the left-over pudding cake for later use. When the craving for sweet treats kicks in, simply reheat the chocolate pudding cake in the slow cooker for around 2 hours.
This is the only instruction you need for making the slow cooker chocolate pudding cake!
Total time: 4 hours and 10 minutes
Thanks to this recipe, I discovered that chickpea is not only delicious in hummus but also a perfect ingredient for stew dishes. This chickpea stew cooked in the Moroccan style will satisfy you with its savory taste and protein-packed components.
The dish delivers a hearty blend of spices from potatoes, cilantro, garlic cloves, and Cayenne pepper. Meanwhile, the chickpea brings a creamy and nutty taste that combines well with any spices and vegetables.
Add some curry powder, and the stew gets a beautiful reddish texture with an extra spicy undertone. When the ingredients are tender and fully combined in the slow cooker, gently pour the stew onto the bowl and top it with chopped parsley to serve.
Total time: 6 hours and 10 minutes
A cozy and tasty dish like this slow cooker vegetable soup is all you need for a cold winter day. It is full of diversified and nutritious vegetables, giving a comforting texture and filling taste. The recipe is also gluten-free and low-fat, suitable for dieters.
I love slow-cooked soup since you can add whatever ingredients you like and still get a hearty and delicious taste. This recipe uses familiar veggies like green beans, corn, carrot, and potatoes, but you customize it with your favorite ingredients.
The foundational flavors of the soup come from the vegetable broth, so ensure that you use the tastiest kind. Don't forget to add a little lemon juice or sherry vinegar to the dish. Its subtle acidic undertone will make your soup more flavorful than ever.
Total time: 4 hours and 10 minutes
Don't skip this mouth-watering crockpot soup if you are looking for a comforting and nutritious dinner. This dish embodies all the finest qualities of white bean, from its protein-rich component and fluffy texture to its delicious nutty taste.
Though the soup is meatless, the rich protein source from white beans will make you feel energetic for the whole day. With the taco seasoning and green enchilada sauce, each spoonful of this soup is full of savory and yummy herbal flavor.
Add cornstarch slurry and a little cream cheese after cooking and simmer the soup for another 20 minutes. It will bring a mildly sweet and pleasant taste that excellently complements the white bean flavors. Top the soup with whatever toppings you like to serve!
Did you have a bad day at work? This slow cooker white bean Enchilada soup will cheer you up!
Total time: 8 hours and 15 minutes
The delightful yellow color and creamy texture make this corn chowder a perfect crockpot recipe to enjoy in summer. Full of veggies, spices, and vegan sour cream, it's a perfect appetizer to start your main meal.
Remove the corn from its cob so it can infuse better with the soup broth. You should use really fresh corn for a satisfying sweetness and beautiful yellowish color. The corn is combined with red onion, Green chilies, and Jalapeno powder for a hearty and flavorful soup.
Use the vegan sour cream or cashew cream to keep this recipe with a mini crockpot vegan and dairy-free. If you don't have time for shopping, the frozen corn and cashew cream is applicable, though they don't deliver as excellent taste.
Total time: 8 hours and 10 minutes
If you're looking for a fancy and delicious slow-cooked dish for the dining party, try out this slow-cooker chickpea Tikka Masala. The dish brings a luscious and creamy texture with Indian-inspired flavors from healthy veggies and spices.
The ingredients for this recipe are more than simple canned chickpeas, diced tomatoes, onion, coconut milk, and Garam masala. Add a little cilantro with salt and pepper for the seasonings, and the flavors will combine like magic.
Though the ingredients are mostly canned products, you can use fresh ones to make the dish healthier. This chickpea Tikka Masala delivers the yummiest flavor when served with naan bread, quinoa, or cauliflower rice.
Total time: 4 hours and 5 minutes
No slow-cook dish can compete with this slow-cooker vegan chili for an easy and convenient meal. With only 5 minutes to prepare, you'll get a super hearty pot consisting of beans, green chiles, tomatoes, and Vidalia onion.
This slow cooker vegan chili looks like curry with small chunks of veggies soaked in a dark and flavorful broth. The chili powder gives an oddly satisfying spiciness that well complements the veggie flavors in this pot.
This recipe calls for a mix of Black, Kidney, and Pinto beans, bringing the dish a delicious bready, nutty flavor. If you want a more exotic aroma and bitter undertone, consider adding one spoonful of cocoa powder or ground coffee.
Making this slow cooker vegan chili is as easy as pie. This video will show you why!
Total time: 8 hours and 10 minutes
This creamy soup is an indispensable canned corn recipe for corn lovers. The warm texture and sweet filling taste of canned corn bring this soup a heavenly taste. This soup is a healthy and simple dish you can enjoy all year round.
This recipe possesses a thick and creamy texture by adding Almond Breeze and cream. The broth is satisfyingly sweet with simmered potatoes and canned corn. Finish the soup with a little lime juice, and you'll have an unforgettable culinary experience.
Making this corn soup is nearly effortless since you just need to toss all the ingredients into the slow cooker and turn on the heat. If you don't want the chunky potatoes, remove them after simmering and mix them with Almond Breeze before adding them to the soup.
Total time: 1 hour
A delicious and creamy bowl of mushroom soup mixed with wild rice will warm up your stomach in the cold evenings. This dish is healthy and simple, and can be prepared ahead to enjoy whenever your stomach roars.
You know the mushroom soup is tasty when it delivers a velvet-like and heavenly texture. The ripe mushrooms cooked with coconut milk and celery give the soup an exotic umami flavor. The light and delightful undertone of lemon also makes the dish tastier.
Prioritize full-fat coconut milk because it delivers the most creamy texture and filling taste. Most kinds of mushrooms work with this recipe, such as button, baby Bella, or cremini mushrooms. Besides the Italian seasoning, you can add your own flavors to this soup.
Total time: 8 hours and 15 minutes
Forget the meaty tacos filled with pork and beef. This lentil quinoa filling will bring the crispy tacos to another level with its oil-free texture and yummy taste. It's a brilliant way to enjoy the Mexican tacos' flavor while avoiding gluten and cholesterol in the meat-based filling.
Fill the taco with this lentil-quinoa texture, and each bite will bring you a satisfying burst of shredded green and hearty spices. You can mix the tacos with your favorite toppings like tomatoes, salsa, and lettuce for an even more satisfying taste.
Quinoa is also a perfect substitute for grounded meat. It delivers a meaty and tender texture like ground turkey that combines so well with the other veggies. When packed with quinoa and lentil, the tacos are no less protein-rich and nutritious than the original version.
Your body deserves healthy and delicious food like this lentil-quinoa taco filling.
Total time: 3 hours and 50 minutes
Ratatouille began as a cheap and convenient soup eaten mainly by peasants and the lower classes. Over time, the dish had made its way to fancy restaurants' menus with its simple yet delicious flavors combined with a hearty look.
This traditional stew consists of vegetables like zucchini, tomatoes, eggplants, and pepper mixed with spices and herbs. It brings a delicious mix of flavors from veggies and spices that can easily fit into any fancy meal.
You have to use canned tomatoes since the puree gives too much liquid and can ruin the Rataloulle's texture. Dice the vegetables into large or small pieces for a chunky or smoother texture, depending on your preference.
Eggplant is super delicious, but its mild vegetable bitterness may not suit everyone's taste. Consider replacing eggplant with summer squash or zucchini if you don't like its flavor. Ratatouille is also a great make-ahead dish since its flavor improves over time.
What makes the slow cooker Ratatouille so tasty? This video will tell you the secrets.
Total time: 5 hours and 10 minutes
Nothing is more perfect for the fall season than this comforting copycat dish from Panera Bread. This creamy and beautiful squash soup uses the heartiest fall ingredients to bring a similar, if not more delicious, than the original version.
This soup features a yummy flavor balancing between sweet and savory taste from vegetable broth, coconut sugar, and pumpkin puree. The coconut milk and butternut squash also give it a smooth and creamy consistency.
Instead of the store-bought vegetable broth, you can use your homemade version for this dish. Just toss carrots, onions, herbs, and the classic salt and pepper duo for the flavorings into the slow cooker. It's more refreshing and healthy with no preservatives added.
Total time: 4 hours and 15 minutes
African peanut stew, or Mafee, is a staple African dish consisting of stewed chicken, root vegetables, and leaves. This vegan version doesn't include poultry meat, but it still delivers a hearty and delicious taste with sweet potatoes, tomatoes, and peanut butter.
The stew possesses a cozy and warm texture with the classic creamy orange color of sweet potatoes mixed with peanut butter. It also combines various spices and healthy leaves to bring out a delicious mix of flavors, from bitter and sweet, to spicy taste.
The hot and creamy peanut stew is poured over Basmati rice to serve. Place a little cilantro and peanuts in the middle, and the dish looks more classy than ever. If you don't have Basmati rice, brown or jasmine rice are great substitutes.
Total time: 3 hours and 10 minutes
While most other veggies just taste plain and flavorless, the pumpkin gives a mild and satisfying sweetness. That's why I always choose this delicious veggie as a staple ingredient in stews and soups. If you're a fan of pumpkin, this easy and comforting recipe is a must-try.
The slow cooker pumpkin soup looks so warm and cozy with an airy yellow texture from pumpkin and curry paste. The recipe calls for Thai yellow curry paste since it's not so spicy and suitable for kids. You can use green, massaman, or red paste for the flavorings.
Add coconut cream and vegetable stock for a more powerful veggie taste that combines perfectly with the fresh pumpkin chunks. The yellow pumpkin paste also builds up this lentil soup's savory undertone and fabulous aroma.
If you don't have much time for a healthy and delicious breakfast, this pumpkin lentil soup guide will help.
Total time: 3 hours and 30 minutes
Tikka Masala is a famous Indian curry consisting of chicken, cream, yogurt, and spices, but this vegan recipe certainly does not include chicken. This vegan tofu tikka masala features a soft and crispy texture combined with the delicious curry sauce.
The main ingredients for the curry sauce are Cauliflower florets, coconut milk, and gold potatoes. It brings a floral and unique flavor with a powerful sweetness and savory taste. The sauce also gives a beautiful deep red color from Garam masala, turmeric, and paprika.
Blend tomato sauce, fresh ginger, and coconut milk to make the sauce. This Tofu tikka masala brings an ecstatic culinary experience when served with plain rice or naan bread. Also, this dish's aromatic scent of shallots and ginger will catch your attention.
Total time: 8 hours and 10 minutes
It's not a coincidence that this slow cooker split pea soup always makes its way to the list of the most delicious crockpot recipes. The gooey texture and the subtly sweet, pleasant taste of green split peas and vegetable broth in this soup will brighten up your day.
The ingredients for this soup are fairly simple bay leaves, carrots, celery, parsley, and black pepper. The recipe also adds one large leek, which brings the soup a more sophisticated and filling texture.
This split pea soup is freezable and easy to store. You can set the slow cooker at high heat and simmer the split pea soup for 3 or 4 hours to save time. Remember to remove the bay leaf before enjoying it.
Total time: 3 hours and 15 minutes
I was so fortunate to have discovered this slow cooker mushroom barley stew. It was the game changer for the cold winter days when I was too lazy to cook. You just need to toss all the ingredients into the slow cooker, and the dish will be ready in 3 hours.
As the name suggests, mushrooms and barley are the staple components of this stew. This classic veggie duo brings a hearty and chewy texture to the dish. Since they are already flavorful, you just need vegetable broth and some spices for seasoning.
It's not a coincidence that I choose this slow cooker mushroom barley stew as my go-to dish on lazy days. You can prepare ahead and freeze the ingredients for later use. Remember to thaw them one day in the fridge before throwing them into the slow cooker.
Total time: 6 hours and 10 minutes
Though the recipe calls for simple and vegan ingredients, its flavor and texture are no less fancy than the luxurious dishes served in 5-star restaurants. Just save 10 minutes in the morning to prepare, and you'll get a hearty and comforting soup for the whole day.
Similar to the other convenient soups, this recipe consists of carrots, cabbages, green beans, garlic, and other flavorings. All the veggies are well cooked, giving a tender and filling texture combined with the savory taste of potatoes, sauce, salt, and pepper.
I love this recipe for the tremendous health benefits it brings. This soup involves a lot of cabbage, which is a super veggie that helps your body detox toxins and fat quickly. It's also a rich source of antioxidants and vitamins that boost your body's immune system.
Total time: 6 hours and 10 minutes
Portobello pot roast is among the healthiest slow-cooked dishes with super nutritious yet affordable ingredients. All it requires are Yukon gold potatoes, baby bella mushrooms, onions, vegetable stock, and tomato paste for the flavorings.
The tomato paste, fresh thyme, and white wine combination give the dish a filling, sweet and spicy flavor. Consider garnishing the pot roast with extra fresh parsley for a more refreshing taste.
For those that often skip meals on busy working days like me, this recipe is a true blessing. If you cannot find pearl onions, use the sliced white onion as a substitute. Ensure that you choose the vegan Worcestershire sauce for this recipe.
Total time: 7 hours and 5 minutes
Oatmeal fans will love this healthy and simple crockpot. It consists of whole oatmeal mixed with fresh berrier and milk for a refreshing and fruity texture. Add some extra flax seeds, and you get a super healthy slow cooker dish for your kids.
I love the way every strawberry and banana slice is assembled in this dish. The crockpot bowl featured tender and moist oatmeal mixed with whole strawberries and finished with beautiful banana slices on top.
The mild fruity flavor and the powerful sweetness from vanilla and brown sugar create a delicious taste that can easily fulfill your sweet tooth. You can garnish the oatmeal bowl with your favorite toppings and extra fruits for an even tastier flavor.
Making the Blueberry Crockpot Oatmeal is just child's play after watching this video!
Total time: 1 hour and 15 minutes
I was fortunate enough to try this infamous dish in an Irish pub when visiting this beautiful country years ago. The comforting flavor and exotic dark brown color of the tender veggies mixed with barley still linger in my mind.
The main ingredients for this Irish stew are celery, potatoes, root veggies, onion, and barley. It also features a rich and super delicious vegan Vegetable broth mixed with Caraway seeds and canned tomatoes.
This classy Irish stew is an ideal way to impress your friends and guests on special occasions with its heartwarming texture and delicious taste. Try playing Irish soundtracks in the background, and you'll have an unforgettable party.
Total time: 4 hours and 5 minutes
I didn't think making hot chocolate using the slow cooker was possible until I discovered this recipe. The super creamy texture and decadent taste of this crockpot hot chocolate are so satisfying that I cannot help but get addicted.
The fabulous aroma of warm chocolate aroma will spread around the house when you prepare this delicious treat. The decadent unsweetened coconut milk blended with melted chocolate chips gives a filling flavor that can satisfy both adults and kids.
It's hard to mess up with this recipe unless you do it on an attempt. Start with mixing almond milk and cocoa powder until they are fully combined. Then throw the cocoa mixture and the remaining ingredients into the cooker. Simmer for 4 hours and enjoy!
I have tried garnishing this hot chocolate crockpot with cinnamon and vegan whipped cream; the flavors work like magic. You can add whatever topping in the pantry to make the dish more delicious. Don't forget to stir it regularly when simmering to achieve a smooth texture.
Total time: 35 minutes
This crockpot pasta Fagioli tastes more delicious than any slow-cooked pasta dish you have ever tried. It possesses a cozy appearance of beans and a thick tomato base blended with cheesy pasta.
Pasta Fagioli has always been my favorite dish using hearty and nutty cannellini beans. Thus, this Italian treat has a tender and sticky texture. The pasta broth is filled with tomato sauce, red pepper flakes, and carrots for a beautiful orange color.
Of course, this vegan recipe doesn't involve meat, but you can add some bacon or pancetta for a more filling taste if desired. Since bean is the staple component in this dish, you have to use the highest-quality kind.
If you don't have cannellini beans, replace them with great northern or navy beans. Dried beans are also applicable, but remember to cook them before blending them in the soup. Don't hesitate to add more greens like spinach and veggies to make the dish healthier.
The crockpot pasta Fagioli is meant to be simple and convenient. This video will demonstrate that point.
Total time: 3 hours and 10 minutes
Gumbo is a popular New Orleans soup that originated in Louisiana. The dish resembles the city's cultural beauty with its unique, tasty, and spicy flavor. Plus, the recipe is vegan, healthy, and effortless to prepare, so I don't see any reason to avoid it.
Gumbo is famous for its countless variations with diversified tastes and textures. However, an authentic Gumbo cannot lack celery, bell pepper, and onion. This veggie trio combined with carrots and tomatoes in this recipe brings a sweet and comforting flavor.
The recipe calls for canned diced tomatoes and red kidney beans as a substitute for meat in the traditional Gumbo recipe. They bring a dense source of protein and nutrition while keeping the hearty and filling flavor of the dish.
Total time: 4 hours and 30 minutes
What to do when your stomach is roaring, and there are only some potatoes left in the pantry? Just follow this vegan mashed potatoes recipe and get a hearty and delicious crockpot dish for breakfast.
The advantage of this recipe lies in its flexibility since you can mix the potatoes with basically anything in the slow cooker. This recipe combines it with non-dairy milk, creamer, and vegan cream cheese for the extra creamy texture and filling taste.
You don't need many flavorings for the potato mash. Just some sea salt and pepper are enough to complement this dish without overshadowing the sweet, buttery, and creamy taste of mashed potatoes. Don't forget to stir the mash regularly in the slow cooker until it's ready.
Total time: 5 hours and 15 minutes
I wish I had discovered this crockpot lentil taco chili sooner because it's so tasty and simple to make. This dish's gorgeous appearance will make you hungry with tender tacos mixed with flavorful vegetable broth and garnished with refreshing veggies.
The soul of this soup lies in its rich seasoning, which is a mix of salt and comforting spices like paprika, chili powder, peppers, and salt. These flavorful spices give the stew a pleasant salty flavor and a hint of herby, spicy taste.
Both green and brown lentils are applicable to this recipe. Remember to grab some Jalapeno pepper and bell pepper when visiting the grocery store. They become the perfect garnishings for this dish when mixed with fresh avocado, cheese, and sour cream.
Don't make the crockpot lentil taco chili if you haven't watched this guide!
Total time: 3 hours and 5 minutes
The store-bought hamburgers are undeniably flavorful, but you will sometimes get bored with their meat-based filling. This slow cooker lentil sloppy joe is like a fresh wind for burger lovers with its healthy texture and delicious taste.
This recipe includes hearty veggies like quinoa, lentils, mushrooms, garlic, and onions with no dairy products involved. You just need 5 minutes to prepare the ingredients and let the slow cooker do its magic.
A mix of maple syrup with ketchup and tomato sauce would be perfect for the lentil filling with their pleasant sweet and salty flavor. The filling brings an extra spiciness to stimulate your appetite with hot sauce, chili powder, and mustard.
What Can You Demand More Of A Healthy, Delicious, And Affordable Meal?
These best vegan crockpot recipes can satisfy people of all ages and tastes with their hearty flavors and super tender texture. Thanks to these recipes, it has never been easier to feast on your loved one with healthy and nutritious food.
Plus, the dishes are almost effortless to prepare. You just need to assemble the ingredients and let the crockpot do its job while engaging in other tasks. The crock pot also improves the food's nutrients, making these dishes even more nutritious.
That's the reason why I always choose these recipes to treat my family and friends on the weekend. So, what do you feel after reading this post? Please comment and share with me your thoughts on these gorgeous dishes.
If you like them, don't forget to leave a like and share this post with your loved ones. Have a great day!
Nutrition Facts
6 servings per container
---
Amount Per ServingCalories138
% Daily Value *
Total Fat 1.6g

3

%
Cholesterol 6mg

2

%
Sodium 234mg

10

%
Potassium 671mg

20

%
Total Carbohydrate 23.7g

8

%

Dietary Fiber 7g

29

%
Sugars 4.9g

Protein 8.1g

17

%
---
* The % Daily Value tells you how much a nutrient in a serving of food contributes to a daily diet. 2,000 calories a day is used for general nutrition advice.