Speaking of the best vegan casserole recipes, there is a world of options. From classic enchiladas, and eggplant Parmesan casseroles, to baked ziti, you will struggle to pick your favorite.
These plant- and grain-based dishes below are cheesy, comforting, and starchy all the same time. The best part is that you can swap some simple ingredients, such as cashews or nutritional yeast, for the dairy and meat, without compromising the flavors.
Even those new to vegan food can put together these dishes without hassle. Another bonus: these flavor-packed, comforting bakes even win the hearts of the carnivores (even without any meat insight!)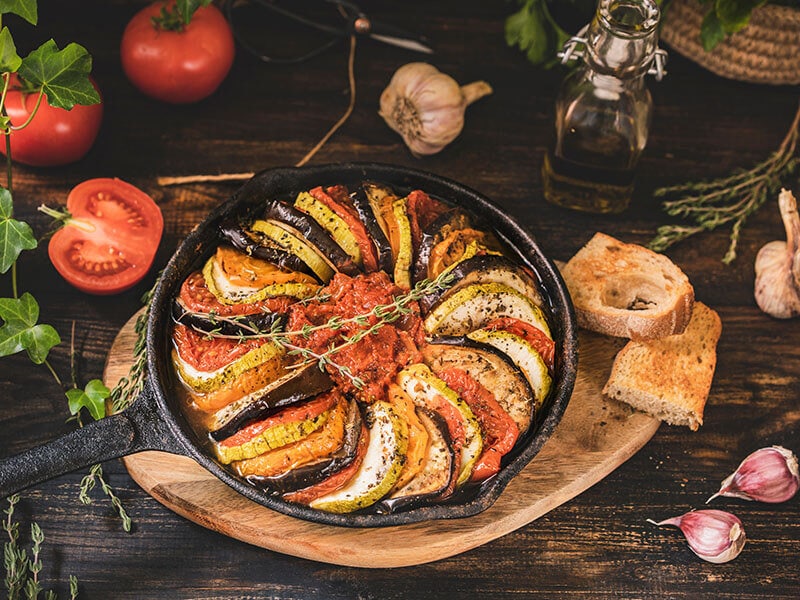 27 Best Vegan Casserole Recipes That Even Non-Vegans Will Love
Vegan casseroles are healthy, comforting, and by no means less flavorful than their meat-based counterparts.
By leaving out the meat and dairy and substituting in plant-based ingredients such as nutritional yeast, soy milk, and/or cashews, etc., you can easily pull together a vegan dish that leaves no leftovers!
Total time: 1 hour
This Shepherd's Pie is meat-free, protein-rich, and a breeze to make. It's filled with savory lentils, mushrooms, peas, and corn with a fluffy layer of mashed potatoes.
Yet, the spotlight belongs to the savory filling, not the potatoes. The combination of the filling mixture is awesome. The rosemary, thymes, Amari, and vegetable stock infuses tons of flavors into the filling.
The casserole holds tons of heat fresh out of the oven. So make sure to allow it to cool first before digging into the creamy goodness.
You should enjoy this hearty casserole as the main dish. Roasted brussels sprouts, dinner rolls, or a refreshing side salad are all great serving ideas.
Looking for the ultimate cozy food? This 1-hour Lentil Shepherd's Pie is what you'll need.
Total time: 40 minutes
This 100% plant-based casserole is not only for vegan folks but also for weight-watchers. The white beans are packed with fiber, which can keep your belly satisfied for longer and prevent overeating.
This delicious Daniel Fast dish is a labor of love! It does require you to shred the veggies and blend the spinach, beans, and onions before assembling the whole dish.
Yet, in the end, you can enjoy a hearty and savory meal. My advice is not to omit the flax seeds because they enhance the flavors of spinach and beans. Plus, plan ahead if you use dry beans, as it needs to be soaked overnight before cooking.
Total time: 2 hours
This incredible casserole starring potatoes and zucchini proves that Greek can turn humble spuds into a stunning dish! It's simple, satisfying, and hearty to the core.
Simply put, Brian is vegetables baked in the Greek way. This version features juicy zucchinis, fluffy potatoes, and tomatoes. Herbs and olive oil go a long way to give the mixture flavors. The latter is what makes this casserole taste like a Greek dish.
This casserole takes quite a while to bake in the oven. Yet, the long cooking time helps pump up the flavors and gives nice char and crust to the zucchini and potato slices. Hence, patience is key!
Total time: 1 hour
This breakfast casserole offers a little bit of everything in one bite. Think sausage patties, tempeh bacon, veggies, eggs, and, last but not least, crispy tater tots.
The base of this casserole consists of 2 types of bell peppers, onions, and garlic, flavored with cumin and smoked paprika. It takes some time to prepare the veggies and vegan meat before combining everything into the baking dish.
This casserole is a comforting dish ideal for breakfast or brunch. Sprinkle some chopped parsley for a pop of color and serve it with a hot sauce.
You can never go wrong with this classic vegan tater tot breakfast casserole.
Total time: 1 hour and 5 minutes
Simple, quick, and utterly delicious are the name of the game! Baking enchilada into a casserole dish means there's no rolling involved. You only have to layer everything together, pop it into the oven, and dinner is served.
This enchilada-style casserole is hearty thanks to layers of corn tortillas, a mix of veggies, and pinto beans.
All of the ingredients are smothered in a vegan enchilada sauce. You can make this casserole ahead because it's ideal for refrigerating and reheating in portions or the entire dish.
Total time: 1 hour and 5 minutes
This green bean casserole is the ultimate vegan side dish you'll need! Green beans and French fried onions are a classic combo tied by a creamy sauce. There's no meat and dairy involved.
If you want to avoid the last-minute hassle, you can prepare the cream sauce up to 2 days beforehand. Yet, the baked onion toppings should be made within the day, so you can enjoy all the lovely crunch and crispiness.
Total time: 1 hour and 5 minutes
Few things can beat the classic mac and cheese! For this vegan rendition, the nutritional yeast gives the sauce a cheese-like flavor, so don't leave it out. Meanwhile, the carrots are what give the sauce the yellow-orange hue associated with mac and cheese.
For the "breadcrumb" topping, combine almond flour, garlic powder, parsley, black pepper, and olive oil. Give the mixture a good stir before adding the cauliflowers.
Yukon potatoes are the best choice for this vegan mac and cheese, as they bulk up the dish's creaminess. However, if they're unavailable, red-skinned potatoes or Russet can be decent substitutions.
Total time: 45 minutes
Cheese and cauliflower are always a wonderful combination if you ask me! Since the cruciferous vegetable requires minimal prepping, you'll need to invest time whipping up the cheese sauce.
No worries, though! It only calls for some blending and cooking. This cheesy sauce gets its creamy texture from the cashews and the cheese-like taste from the nutritional yeast.
The butter breadcrumb topping, as always, gives the much-needed crunch to the dominantly creamy base of the dish.
Here's the cooking tip: the softer the cashews, the creamier and smoother the cheese will become. Therefore, softening them first is important by soaking cashew nuts in boiling water (off the heat) for at least 15 minutes.
This cheesy vegan cauliflower casserole is the perfect side dish for cauliflower lovers.
Total time: 1 hour
This casserole features all the elements of the classic eggplant Parmesan. Yet, because everything goes into one baking dish, you'll end up with less mess for post-dinner clean-up.
It couldn't be simpler to build this casserole. Start with adding the white sauce at the bottom and layer eggplant slices. This is followed by layers of tomato sauce, vegan Parmesan cheese, and zucchini slices. Season the two layers of veggies with salt and pepper to boost their flavors.
This bake is super cheesy and creamy, making it easily become a favorite among kiddos, too. However, they will appreciate it more if you top the dish with a layer of crispy breadcrumb topping, which nicely contrasts with the silky texture right beneath.
Total time: 1 hour and 10 minutes
This stuffing casserole still offers classic cornbread flavors without resorting to the turkey stock or chicken broth! The secret is the vegan vegetable bouillon, which adds flavors to the casserole.
The stuffing texture is quite customizable here, depending on how much broth you add to the cornbread. Go bit by bit while pouring the stock, as it's easier to fix the stuffing when it's dry than soggy.
Try this recipe at your next gathering, and I bet it'll be approved by vegans and non-vegans.
Total time: 30 minutes
Spruce up your Taco night with this vegan casserole! It's basically baking all the classic taco elements, like black beans, and jalapenos, into one dish. Enjoy your Mexican-inspired food in this way and leave less mess behind for cleaning!
There are plenty of ways to serve this Mexican-inspired dish. You can top it with fresh tomatoes, lettuce, and black olives. This comforting bake takes less than 30 minutes to cook, making it a great addition to your busy weeknight rotation.
Pack all the taco flavors into this version of vegan taco casserole.
Total time: 1 hour and 30 minutes
It's hard to figure out how many veggies are tucked into this bake at first glance. Mushrooms, celery stalks, onions, carrots, and many herbs come together for this comforting dish.
Wild rice and mushrooms are always my favorite duo. Not only do their flavors pair so well together, but they're hearty enough to keep your stomach filled and satisfied.
This recipe uses arrowroot powder to thicken the creamy base. The powder has the same effects as corn starch but provides more nutrition!
This casserole is also dairy-free, which is always a huge plus if you're serving a crowd of people with different dietary choices.
Total time: 50 minutes
Looking for a cozy way to celebrate summer vegetables? You're in for a treat. Combining squash, eggplant, zucchini, and tomatoes in one casserole dish and baking is one of the best ways to enjoy these veggies when in season.
You'll need to thinly slice the veggies, using a mandolin will be a great help! This vegan-baked Ratatouille tastes as amazing as it looks. It's big on flavors, super nutritious, and every bit comforting!
Don't let the somewhat sophisticated look fool you. This veggie-forward dish only asks for 10 minutes of hands-on time.
Begin with a bed of ready-made tomato sauce, and then add veggies (alternate between zucchini, tomatoes, eggplant, and squash for a more eye-catching pattern). Finally, throw in Herbs de Provence, thyme, salt, and pepper to boost the flavor and bake.
Total time: 1 hour
If you're looking for something hearty for your dinner, this casserole is the way to go! Nut-free vegan ranch and green onions are optional (but highly recommended) topping for this baked dish!
Tender cauliflower florets get tons of flavors from the vegetable broth, hot buffalo sauce, and spices as they bake.
The nutritional yeast mimics the cheese flavors, which pair fantastically with the cauliflower. Meanwhile, brown rice and chickpea add heartiness to the dish.
Total time: 55 minutes
This veggie-centric dish boosts flavor thanks to the Indian-style coconut curry sauce. When it comes to vegetables, this casserole is highly adaptable.
You can use green beans, butternut squash, cauliflowers, zucchini, or whatever vegetable you have kicking around. This dish isn't exactly hearty; you may want to swap in 1 cup of chickpeas for 1 cup of chopped veggies.
The sauce is made of tomato puree, green chili, onions, garlic, and a mix of Indian spices. Coconut milk is the default choice of Indian curry sauce, which adds lots of richness and creaminess.
Yet, oat or cashew milk is also a nice alternative. This flavorful curry casserole is perfect on a fluffy bed of white or cauliflower rice!
Total time: 1 hour and 10 minutes
To make this comforting vegan food, combine vegan Mozzarella cheese sauce, tomato sauce, Seitan sausage, and ziti pasta. There are 2 types of sauce for this vegan Ziti bake, which work together pretty well and impart tons of flavors to the pasta.
They are fuss-free to make, too. Tomato sauce uses canned tomatoes that are briefly blended in the blender and sausage and then infused with garlic and herbs.
Meanwhile, pulse everything in the blender to make the Mozzarella cheese sauce. The sauce thickens gorgeously as it bakes, thanks to the cashews and tapioca starch.
Finally, all that's missing is something savory and meaty, and that's where the Seitan sausage comes in. Feel free to swap in any non-seitan option if you like.
This vegan baked ziti with Ricotta cheese is rich, moist, creamy, and super easy to make.
Total time: 1 hour and 15 minutes
The word "strata" means layers, and this vegan version is layered with bread, cheese, "egg" mixture, mushrooms, and veggies. Flavorful and hearty, this one is surely your family's new go-to breakfast.
For the egg mixture, pulse the tofu, chickpea flour, oat milk, and turmeric until you get a smooth paste. It's completely egg-free and dairy-free, but you won't miss the egg.
For the creamy element, a block of creamy vegan cheese should suffice. Kale and bell peppers add extra flavors to the dish, and you can enjoy an earthy and meaty texture from the Cremini mushrooms.
For this strata, Sourdough and French bread are both great options. You'll need the bread to stabilize the egg mixture, so avoid soft bread.
Total time: 1 hour (excluding the bread soaking time)
The French baguette in this bake is let sit overnight to absorb all the delicious filling. Thus, this recipe is ideal for prepping the night before. Planning to make the dish within the day? Just make sure to soak the bread for at least 4 hours.
There are a lot of things to love about this French toast bake. The bread is infused with banana and cinnamon flavors, whereas sweetened nutmegs and pecans toppings add extra sweetness and crunch.
To make this breakfast a bit more fancy (and nutritious), top it with fresh berries. A drizzle or two of maple syrup will be a sweet and lovely addition. With only an hour in the kitchen, you can whip up a crowd-pleasing breakfast that is perfect for company.
Total time: 1 hour
This casserole is a nice alternative to your holiday if you're bored of potato casserole! The pumpkin cubes are baked until tender and infused with so many flavors from the creamy vegan sauce.
The shallots provide a hint of sharpness, whereas the fresh thyme and sage add extra autumn flair to the whole thing. Don't forget to add some stuffing topping for a vegan dish that the whole family will love.
This vegan pumpkin casserole is fool-proof to make. It's also make-ahead friendly, which is a lifesaver for those busy holidays. The unbaked casserole can last up to 2 days. When ready to serve, add the stuffing topping and bake.
Whip up this vegan pumpkin casserole with pasta when the fall rolls in.
Total time: 1 hour
All the traits everyone's looking for in a casserole are featured here: creamy, comforting, flavorful, and most importantly, simple to make. Unlike other dump-and-bake casseroles, this one uses the from-scratch vegan sauce for extra flavors and creaminess.
Rest assured, as you can whip it up in a flash. Simply combine cashews, garlic, onions, and Italian seasonings in the blender and pulse. Make sure you soak the raw cashews first to soften them.
Once the sauce is made, the rest resembles a dump-and-bake recipe. Throw in veggies, quinoa, and cheese in the dish. Next, add the sauce and pop the casserole into the oven. And voila, a healthy and comforting dinner is served.
Total time: 50 minutes
A lot is going on in this enchilada casserole: kale, corn, beans, tempeh, and more. This delightful recipe with tempeh is sure to take your tastebuds on a fantastic ride of flavors. Tempeh, basically fermented soybeans, is rich in protein, fiber, and other minerals.
It makes for an ideal meat substitute in this casserole. Meanwhile, kale, corn, and beans team up to make this casserole heartier. Add chili powder after spreading the sauce if you want a little spicy kick.
Total time: 35 minutes
This vegan broccoli rice casserole can be a side dish that the crowd will love. It gets ready in minutes, giving you more time and kitchen space for other dishes.
The cheese sauce is incredibly creamy that you won't believe it's entirely made from vegetables. It gets the texture from carrots and potatoes, while the creaminess comes from cashews.
Compared to the cashew-only vegan sauce, this sauce is lighter as it has the first two ingredients.
Most importantly, the nutritional yeast makes it taste as if it's made from real cheese. Pour the sauce over rice and sauteed broccoli to have a cheesy, rich, and healthy dish to savor.
This cheesy vegan broccoli and rice casserole with vegan chicken is your new go-to side dish.
Total time: 30 minutes
Don't be scared away by the ingredient list! This comfort food casserole requires only pantry ingredients and 30 minutes to make. Plus, it's full of fiber, protein, and nutrients, making it a healthier take on the classic tuna casserole.
This recipe swaps real tuna for the vegan version. The chickpeas lend this vegan tuna a wonderful texture. Meanwhile, tahini (a vegan paste made from sesame seeds) contributes to the creaminess and sesame flavors of the tuna mixture.
Using tahini in place of vegan mayo also makes this casserole oil-free. As usual, the breadcrumbs are a default choice for topping in a creamy casserole like this. Choose gluten-free breadcrumbs to make the dish even healthier.
Total time: 1 hour and 5 minutes
This popular dish goes without meat and dairy and is still astounding! Moussaka is a traditional Greek casserole made of layers of eggplants and potatoes baked in a rich tomato-and-meat sauce.
You can turn this casserole into a vegan dish by swapping the original sauce for a dairy-free, vegan bechamel sauce. Nailing the sauce means you'll nail this casserole.
Start with pulsing softened cashews, nutritional yeast, and water until creamy and smooth. Then, thicken up this mixture by stirring it with flour and vegan butter until you get a yogurt-like texture. As simple as that!
The lentils and this vegan bechamel sauce are just the perfect combinations. Green, brown, and black lentils are the choices for this casserole; meanwhile, the soft red variety won't hold up well when baked and will make this dish mushy.
This 100% plant-based moussaka with lentils is worthy of a spot in your meal rotation.
Total time: 1 hour and 5 minutes
This vegan scalloped corn casserole is a cozy and hearty side dish to add to any holiday meal. It has all the creamy, cheesy, and crispy off the country-style scalloped corn. Yet, it uses soy milk instead of dairy-based milk.
Saltine crackers lend a nice crunch to a wonderfully textured casserole that everyone will love. Before digging in, let your casserole cool and firm up a bit (for 15 minutes).
Total time: 2 hours and 10 minutes
This Southwest casserole is cheesy, meatless comfort food even the carnivores will fall for! Lentil and brown rice are both the centerpiece here, but you'll also enjoy the savory medley of veggies.
This casserole is not only filled with fiber and flavorful but takes minimal work! You'll only have to saute garlic and onions and leave the remaining raw ingredients for the oven to handle.
On a side note, this recipe uses sharp Cheddar or Colby Jack cheese. To make this casserole vegan, you'll need to swap in shredded vegan cheese.
Total time: 1 hour 15 minutes
All the flavors are offered in one casserole dish! This casserole is full of flavors and easy to create, making it another winning dinner for vegan folks.
Lentils and rice are baked with bell peppers in a savory tomato-based sauce until bubbly. The melty blanket of vegan cheese on top completes the dish and makes it as close to the classic stuffed peppers as possible.
Dry lentils take the place of ground beef in this vegan casserole. They add not only tons of fibers and nutrients but also add a similarly meaty texture.
Canned lentils are a quick substitution if you don't have dry versions on your hands. Better yet, you can choose a low-sodium variety and reduce the baking time.
Try These Comforting Vegan Casserole Dishes!
Whether embracing your vegan diet, wanting to eat less meat, or eating healthier, these vegan casserole recipes are a good place to start. They're seriously delicious, entirely plant and grain-based, and easy to cook.
Most of them are dump-and-go recipes, which means you'll rely heavily on your oven, not your cooking skill. As the casserole will need quite a while to cook up, make sure you plan ahead so dinner is always on time.
Please let me know if you've made any of these casserole recipes. These vegan casseroles are too good to keep for yourself, so remember to share all these healthy, veggie-packed bakes with your friends and family.