Ever wonder what Turkish foods taste like? What should you pair your inviting Turkish drinks with when you dine in a restaurant? Numerous dishes offer a depth of flavors in Turkey that you will love.
Turkish cuisine consists mainly of meats like lamb or beef, rice, spices, and herbs. These are just a few fresh ingredients they use to prepare various exotic and succulent delights. Below are some of the most mouth-watering dishes you should look for when traveling to Turkey.
Let's move to the first flavorful dish on the list!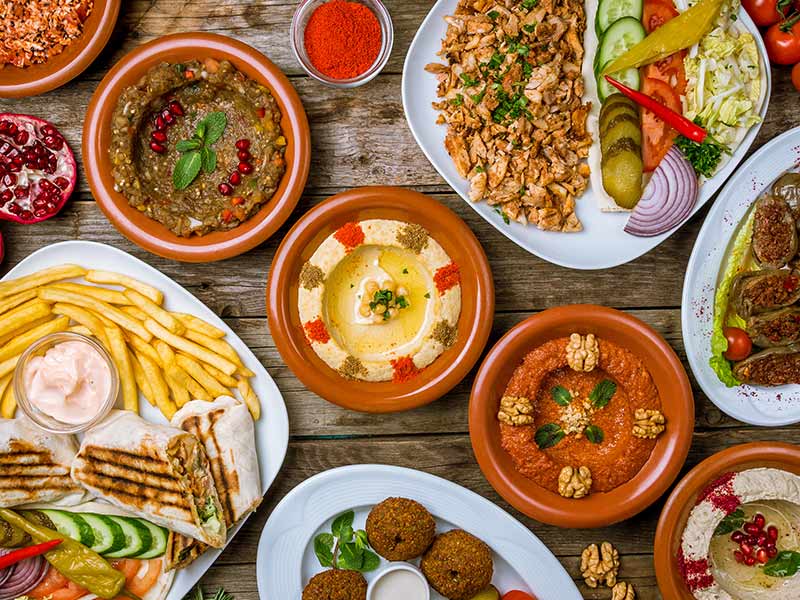 6 Turkish Street Foods To Fuel Your Walks Through The Roads Of Turkey
When traveling to Turkey and while exploring the beautiful cities, you will inevitably feel hungry at some point. Here are some of the best bites you can easily find on the streets of Turkish cities, which will not fill you up but will only fuel you to continue the adventure.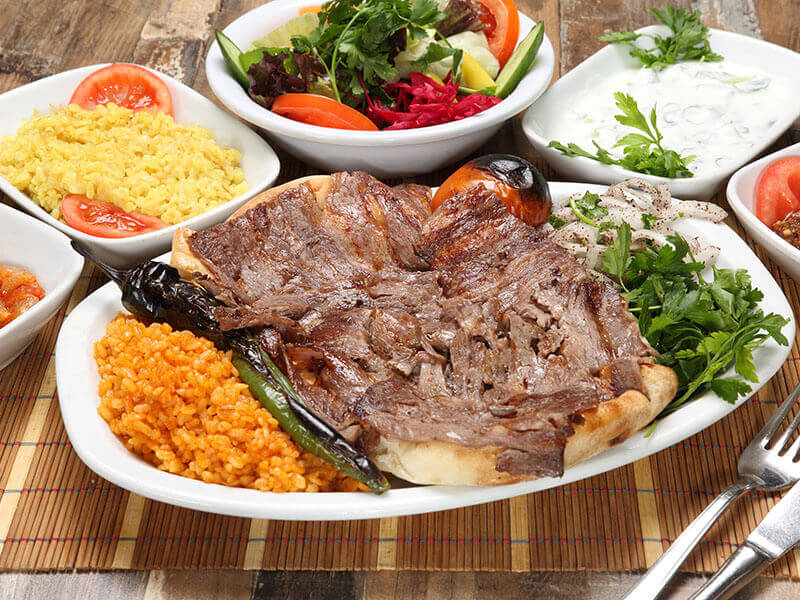 Döner Kebabs are a Turkish street food that has become famous worldwide. It's a dish of seasoned meat shaved down from a vertical rotisserie. This cooking style is said to date back to the Ottoman empire.
All around Turkey, Döner Kebabs, or Döner, goes by many different names such as Gyros in Greece, Kabab Torki in the Persian language, or Shawarma in the cuisine of Doha and Qatar and other Arabian countries. There are some minor differences between them, but they all share the same trait which is the meat seasoned with herbs and spices.
A typical serving of Döner Kebab consists of grilled meat, some fried potatoes, and some side salad. Since Döner Kebab is mainly a fast-food menu, almost every vendor sells it in a Pide, a traditional thick bread.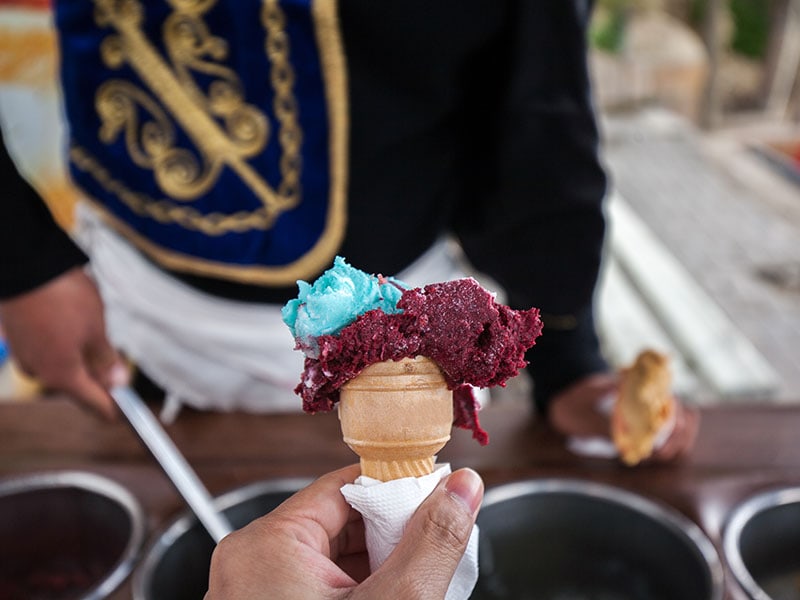 The Turkish people have invented a kind of ice cream that hardly melts even if it's been sitting on your hand for a long time. It's called Dondurma. Regarding the ingredients, people use cream, whipped cream, and sugar. When serving this ice cream, vendors typically top it with pistachio.
The other two special ingredients that make Dondurma unique are salep and mastic. Salep is ground bulbs of orchids or orchid flour, and mastic is a type of tree resin. These two ingredients are what make Turkish ice cream sticky and stretchy.
Dondurma also has another name, Maraş. People believe that Dondurma is a dish that originated in the city with the same name in Turkey. From then on, they started referring to this treat as Maraş ice cream.
Dondurma is truly Turkish cuisine's delight. The taste of the ice cream is elegant and light yet creamy and smooth in texture. Watching the vendors sell it is also something interesting. Vendors usually tease the customers by playing with the ice cream with their paddles.
This playful act from the vendor is part of what makes Dondurma so enjoyable, so make sure to try some when you come across a Dondurma vendor.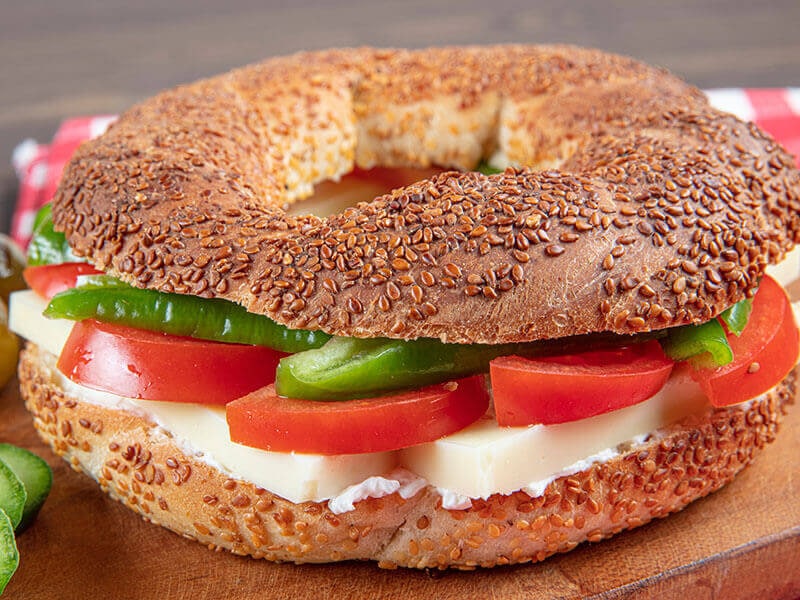 Simit is a type of Turkish bread that's quite similar to bagels. Simit is a common type of bread in Turkey since the Ottoman empire and in other Middle Eastern countries. The name Simit comes from Samīd in Arabic, which means "white bread."
Simit has been around in Turkey, specifically Istanbul ever since 1525. People usually eat this bread with fruit jelly jam, cheese, or plain. You will also see people pair their Simit with some coffee or tea in the morning.
If you want to take your Simit up a notch, you can try pairing it with cheese and tomato. I guarantee you won't be disappointed. The bread will be crispy as they are perfectly toasted, the cheese is creamy and the tomato is refreshing. Heavenly delicious!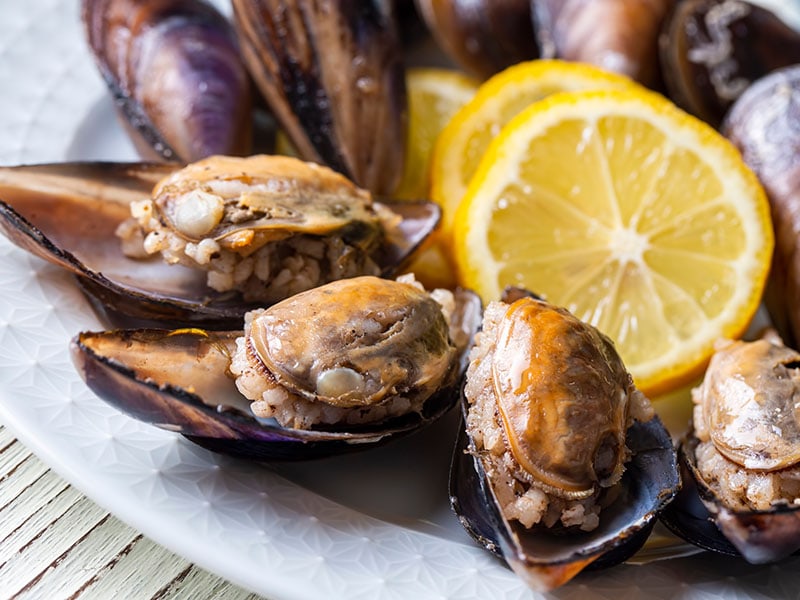 Midye Dolma is one of the menus you can easily find at any seafood restaurant or street vendor in Turkey. This stuffed mussels dish contains many herbs and spices like dill, cinnamon, and parsley. Inside the mussels are tomatoes and rice.
It can be a challenging task for some people to eat Midye Dolma. You have to be extra handy and careful when handling these mussels. First, remove the upper skin to reveal the stuffing and squeeze some lemon on top. Then you eat the whole thing in one bite.
This dish is a refreshing menu item for you to try when visiting the coastal areas of Turkey. The herby and earthy flavor of the seasoning in the mussels with the filling sensation of the rice and tomato will be an unforgettable experience.
This is how you recreate Midye Dolma at home.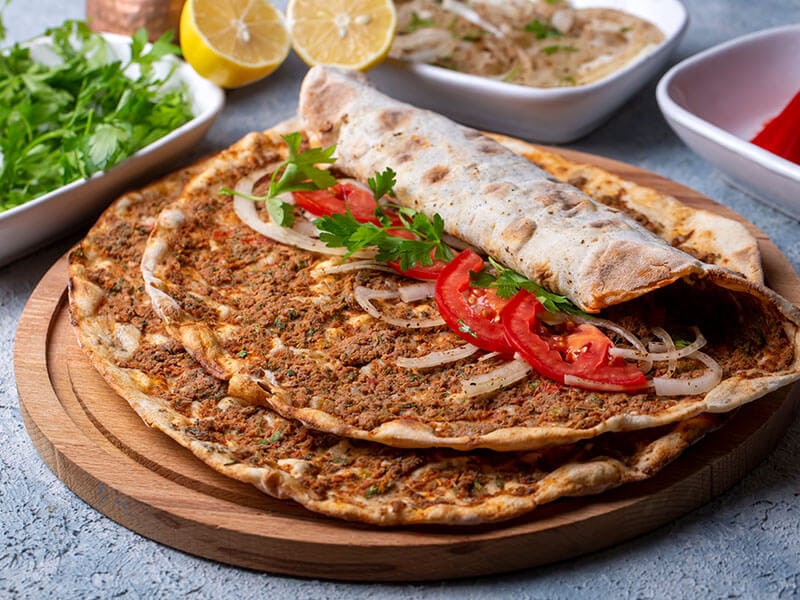 Lahmacun, pronounced lahma'joun, derives from the Arabic term Lahma Bi'ajeen, which means dough with meat. To paint a clearer picture, Lahmacun is a thin and crispy flatbread with a topping of ground beef.
It wasn't until the mid-20th century that Lahmacun became well known in Istanbul, Turkey. After the 1950s, this dish was a people's favorite in Arab countries and around the region of Southern Turkey. After that, Lahmacun started gaining its reputation in Turkey.
Lahmacun is the perfect menu for anyone who loves the earthy flavors of tomatoes and peppers. This menu is light yet tasty as it contains all food groups like vegetables, meat, and herbs. All of these ingredients altogether create a delightful Mediterranean flavor.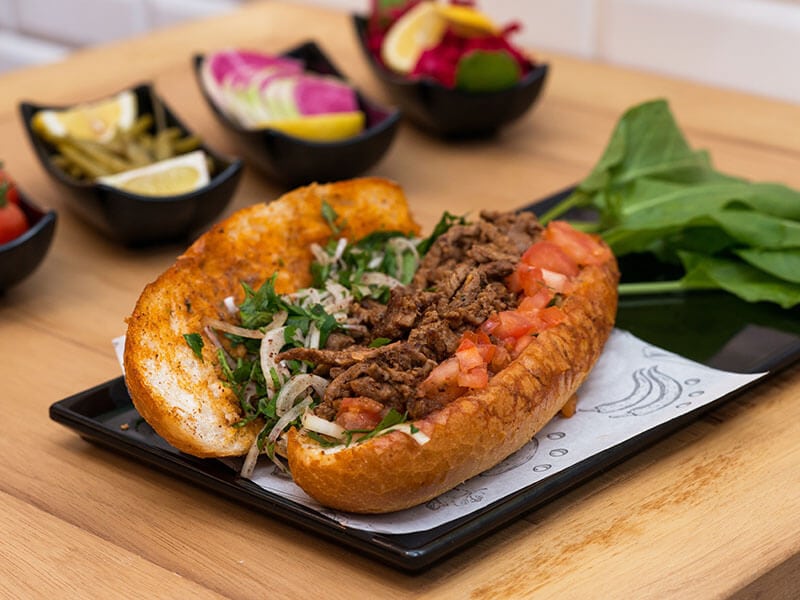 Tantuni, or lamb wraps, happens to be a dish perfect for those who love their food extra spicy. This lamb wrap dish is an invention coming from Mersin, a city in southern Turkey. It is now one of the city's most well-known menus.
Tantuni is a dish of sliced beef with a mix of raw onion, parsley, tomatoes, and sumac. Now, sumac is a beautiful spice from the sumac flower that the Turkish use. It usually gives the food a tangy and sour taste, giving the food a refreshing flavor.
Traditionally in Mersin city, there are two ways Turkish chefs serve Tantuni. The first way is with Dürüm, a lavash bread. This is where the chef will cook beef with tomatoes and wrap them up in the Dürüm bread with the onions sumac mix.
The second method is cooking the beef on its own and then serving it with the vegetables and spices on bread. There's no saying which one is better than the other. But if I were to choose, I would go with the first method.
11 Turkish Appetizers Or Side Dishes That Worth A Try
Aside from the small bites of Turkish street foods, the country also has a versatile selection of appetizers you can savor before getting into the main dish or meal. When I say that these dishes are diverse, I mean it. Read through this section then you will understand.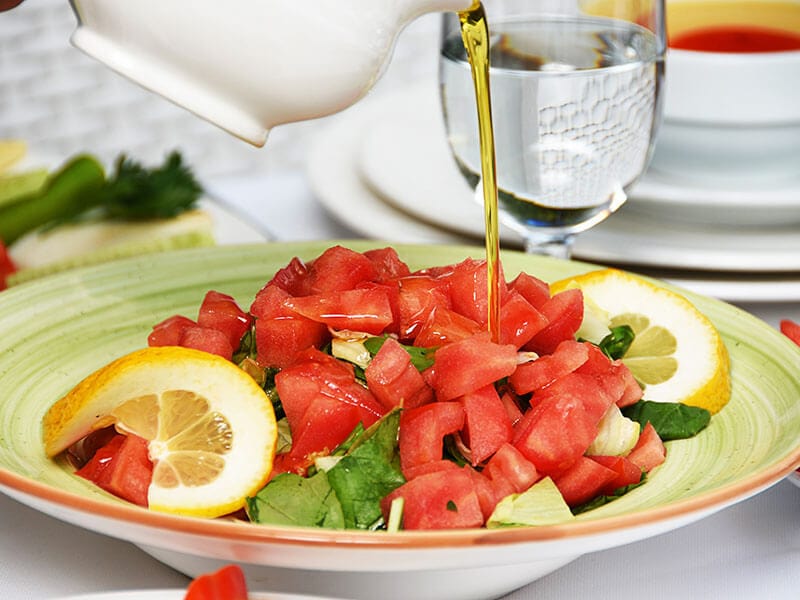 Çoban Salatası is a summer salad that's famous in Turkey. The name directly translates into Shepherd salad. There is no clear and solid evidence as to why people give the dish such a name.
However, a Turkish cookbook mentioned that shepherds had some tomatoes and onions in their sacks. They chopped up the onions and tomatoes to make a quick lunch. This backstory may be one of the reasons why the dish got its name.
Çoban Salatası is a refreshing salad with a few simple yet fresh ingredients like tomatoes, cucumbers, onions, and fresh herbs. The dressing for Çoban Salatası is simple as it's only olive oil with salt and pepper. But it's the simplicity that brings together such a great flavor for the salad.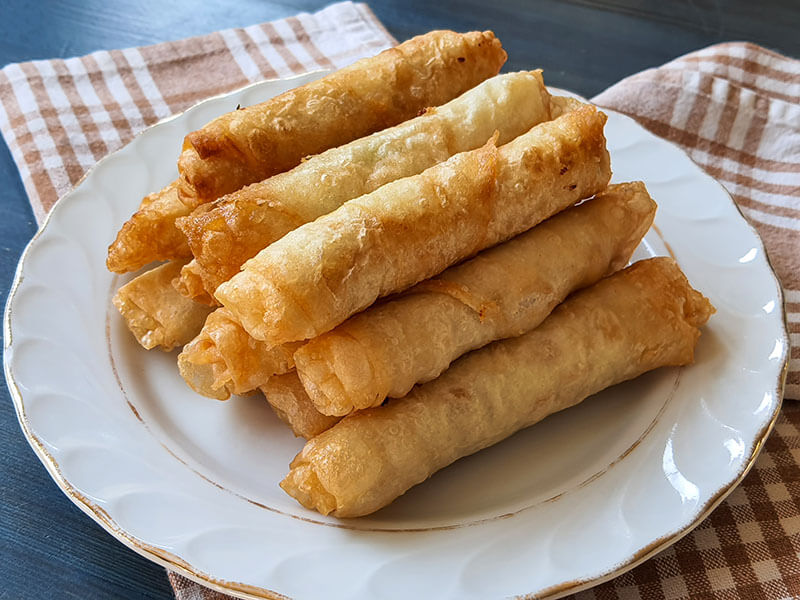 This famous Turkish fried pastry dish is little "cigars" with a filling of cheese and parsley. It's one of the most loved snack and appetizer menu items in Turkey.
Turkish people make traditional Sigara Böreği with sheets of Yufka dough, a dough common in other Boregi varieties. In those varieties, people also use Phyllo dough to make Boregi.
After the deep-frying process, Sigara Böreği went from small sticks of dough to beautiful crispy pastry treats, with a crunchy outer layer. Inside these "cigars" are a smooth and creamy layer of cheese that feels velvety against your palate.
Some people have said that Sigara Böreği is a dish that originated in Persian. However, other people argue that it came from Turkey. Nevertheless, Sigara Böreği is still a dish that's easy to eat and so enjoyable.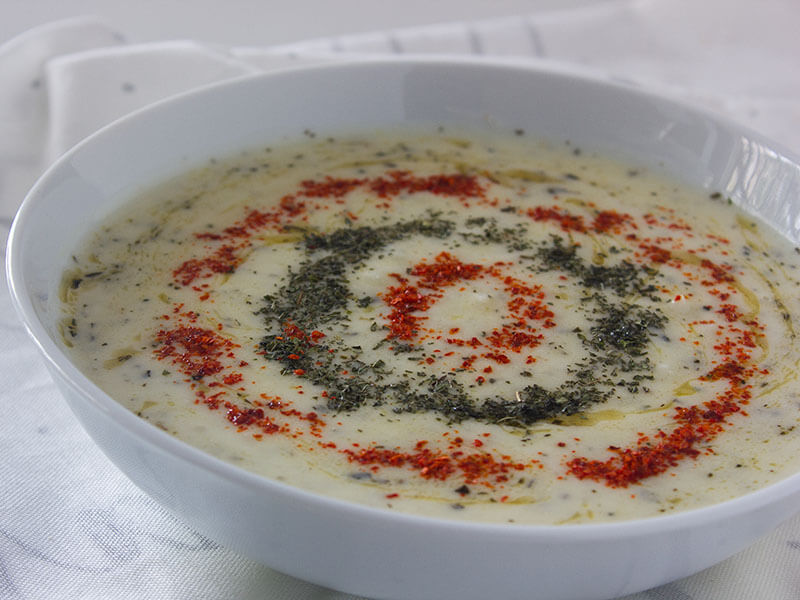 Yayla Çorbası is a classic Turkish dish for a chilly day when you're feeling a little sick. It's a perfect dish for Turkish people of all ages as it's nutritious and healthy. And this treat is a vegetarian dish that's welcoming for any kind of diet.
Yayla Çorbası or Highland soup is one of the most famous Turkish soup recipes. It's a mixture of yogurt with rice that people season with some mint and hot oil. Although this combination might sound strange to some, it is surprisingly a pleasant combination.
The tanginess of the yogurt and the mint brings a light texture to the soup in contrast to the rice. This soup is perfect not only for chilly days but also on hot summer days. Families in Turkey love feeding their children this soup as it will heal their immune systems.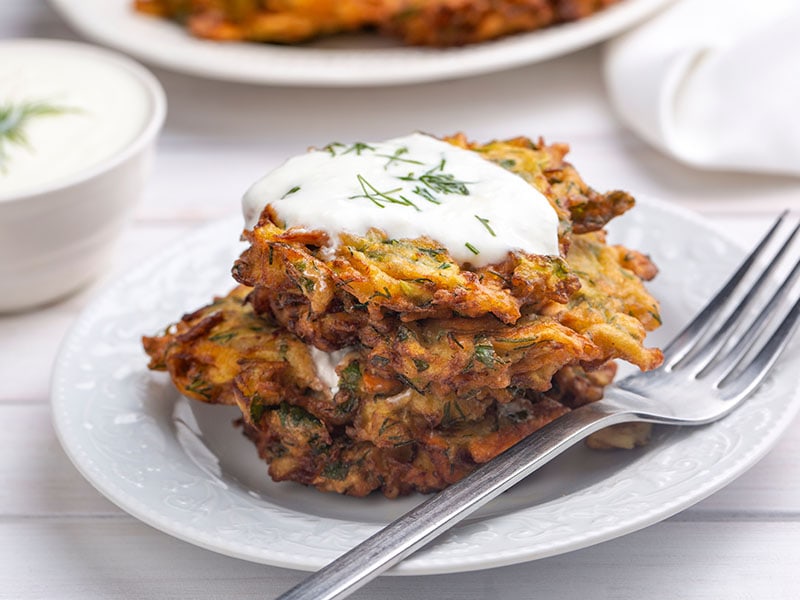 Mücver or zucchini fritters are a classic Turkish delicacy for appetizers or side dishes. It's a zucchini fritter or zucchini pancake that Turkish usually deep fry in oil.
Mücver was also a cooking technique back in the Ottoman empire. The original word for it, Mücmer, transformed into Mücver in modern Turkish.
Mücver typically consists of deep-fried fresh zucchini underneath a layer of batter. The batter is a simple mixture of eggs and flour, with some onions. Some herbs create a complex flavor for this dish, which are dill and parsley.
Sometimes, the Turkish people also add potatoes and cheese to the batter. This addition helps create a silky and fulfilling sensation for the fritters. In addition, these zucchini fritters taste best when they are fresh out of the pan and scorching hot.
Making Mücver at home has never been so easy.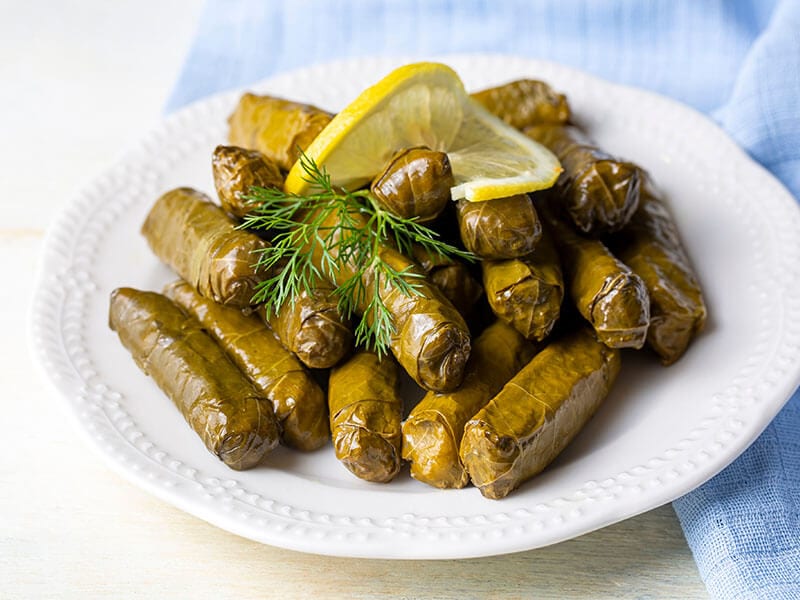 In Turkish, the term "Sarma" is the name for a stuffed dish. It can be from any kind of leaves, like cabbage, collard, grape, or orchard. The filling for the leaves is usually rice or meat, sometimes both. And the umbrella term "Dolma" is for any food that is stuffed.
In particular, Yaprak Sarma is a dish consisting of grape leaves with a filling of a variety of foods like rice, seafood, or offal, animal entrails. The locals sometimes cook these stuffed leaves with cherries and plums.
Yaprak Sarma Dolma is a versatile dish you can eat either hot or cold. Both ways are equally enjoyable. Moreover, this dish is more delightful thanks to the pickled leaves. Together with the rice and meat, this makes a healthy and nutritious menu item for you to try.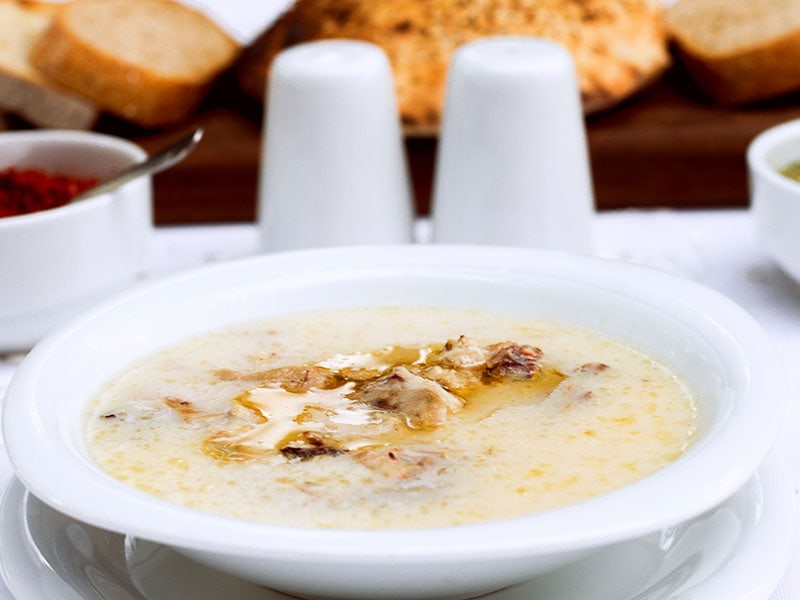 İşkembe Çorbası is a soup dish from tripe (beef stomach) that has been around for ages. Turkish nomads created this soup to utilize every part of the cow since they have nowhere to store it. İşkembe Çorbası was especially famous in the 1500s in the Ottoman empire.
Back in the 17th century, there were around 300 restaurants specializing in İşkembe Çorbası, according to a traveling journey called "Sahayatname." This number was much higher than that of other restaurants specializing in other dishes.
Although the soup's smell is not too pleasant, the taste of it is out of this world. When people slowly cook the tripe, it turns tender and slightly chewy. You can also taste a little bit of fragrance in the soup from the garlic and lemon, which balances out the fatty tripe pieces.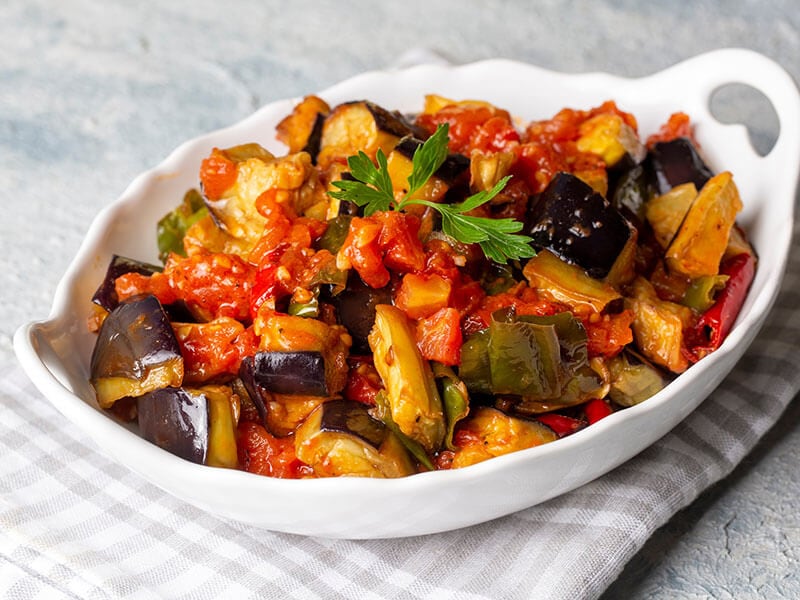 Shakshouka was an invention in the Ottoman Empire in North Africa in the mid16th century. This was due to the introduction of tomatoes to the area by Hernán Cortés during the period of the Columbian exchange.
To make Shakshuka, Turkish people saute vegetables like eggplants, zucchini, tomatoes, and bell peppers in olive oil. They also add garlic and herbs to enhance the flavors. There are also other spices that they use like cumin, paprika, and cayenne pepper.
Thanks to the exotic spices mentioned above, this dish has many layers of flavors and much depth to it. With peppers and spices with heat like paprika, this dish is something you wouldn't want to miss on a chilly day as it will warm you up.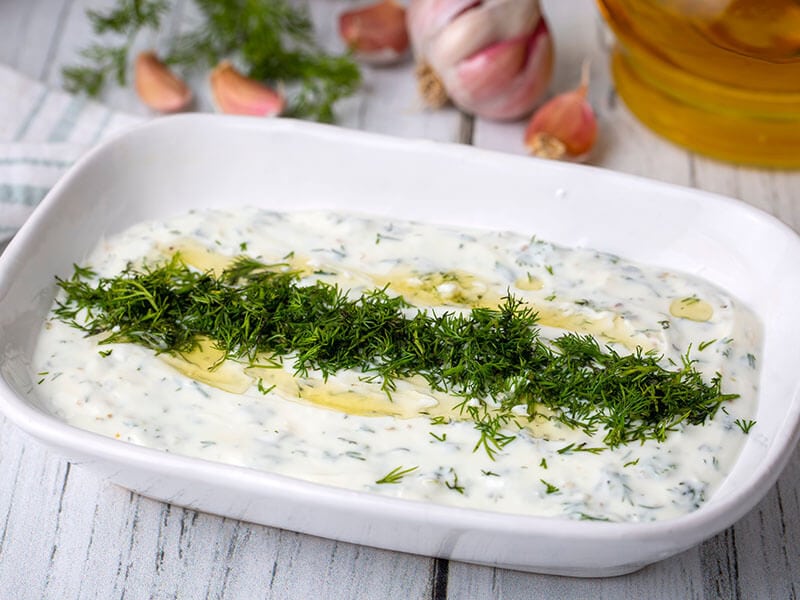 This dip works excellently as an appetizer or a side dish for almost every meal. Haydari is guaranteed to complement whatever you're having in the most elegant way thanks to the combination of dried herbs, yogurt, and garlic.
This dish starting with H is slightly acidic and salty and has a thick consistency. Those features make Haydari a perfect meze, a small dish that's part of a Turkish meal. These strong flavors help prepare your taste buds for a fulfilling and scrumptious meal.
Traditionally, Turkish people enjoy spreading Haydari on bread as the creamy texture of the sauce fits perfectly with the warmth and softness of the bread. It is also common to see people serve Haydari at important ceremonies and events like weddings.
Here's how to make Turkish people's all-time favorite appetizer – Haydari.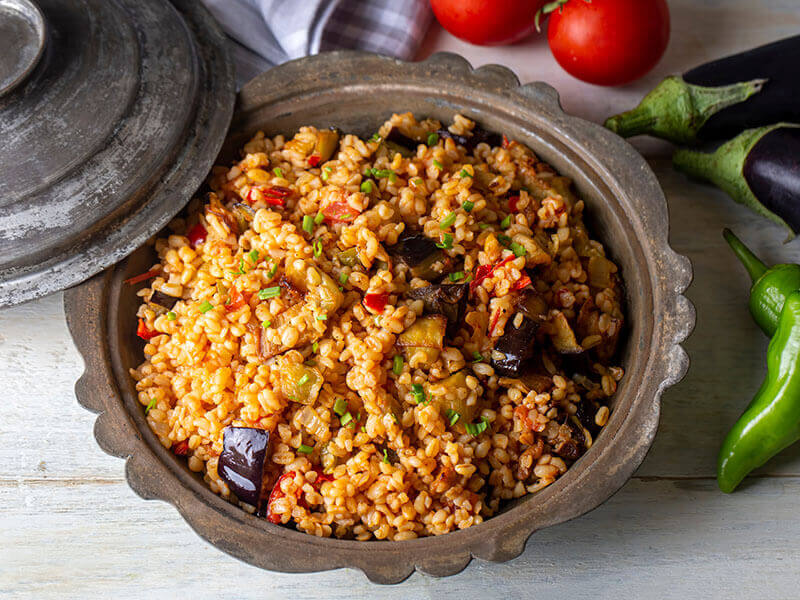 Pilav is a Turkish rice side dish that you often find in Turkish Ocakbaşı, a type of restaurant that serves meat from an open barbecue. In particular, you will see a dish called Bulgur Pilav, or Bulgur Pilavi.
I've talked about what Pilav is. But what about Bulgur? Bulgur or Burghul is whole grain high in fiber and protein. It's one of the staples in Middle Eastern and Mediterranean cuisine.
So when using Bulgur grains for this Pilav dish, you get a beautiful combination of fresh tomatoes and nutty grains. But wait, there's more to Bulgur Pilav. On top of the grains is a spoonful of tangy and creamy yogurt, making it extra flavorful and colorful.
This vegan side dish is one of the most popular side dishes for Kebabs and grilled meat. However, many Turkish households enjoy eating this on their own or as an appetizer.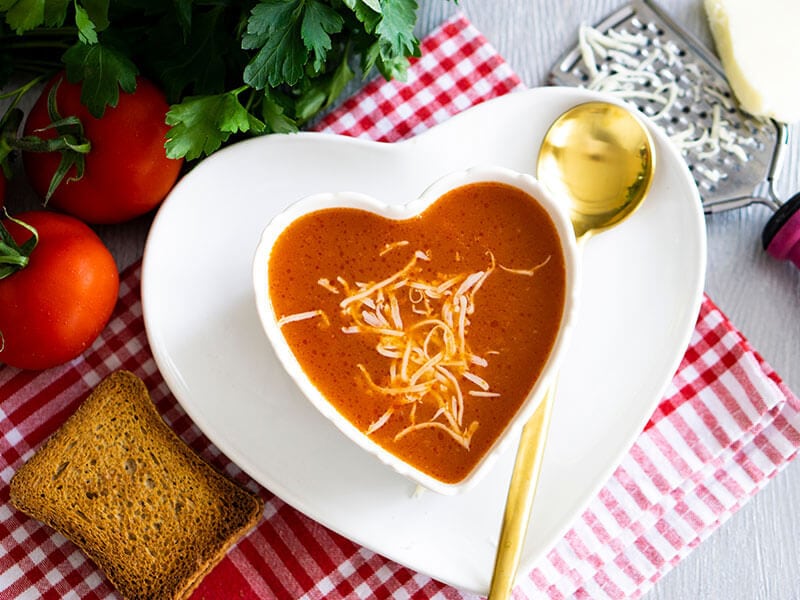 In Turkey, Domates Çorbası is probably the most famous lunch and dinner item in almost every household. For many people here in Turkey, Domates Çorbası is their go-to dish whenever someone asks about soup menus in this country.
With its origin in Spain, tomato soup has countless variations in many countries, including Turkey. This variation is a lightweight yet filling tomato with a refreshing flavor. Domates Çorbası also contains some flour, which creates a thick consistency to the dish.
The soup uses a simple seasoning like salt and pepper. However, with the spices and herbs like garlic and basil, the soup has more depth, making it something you want to keep sipping on.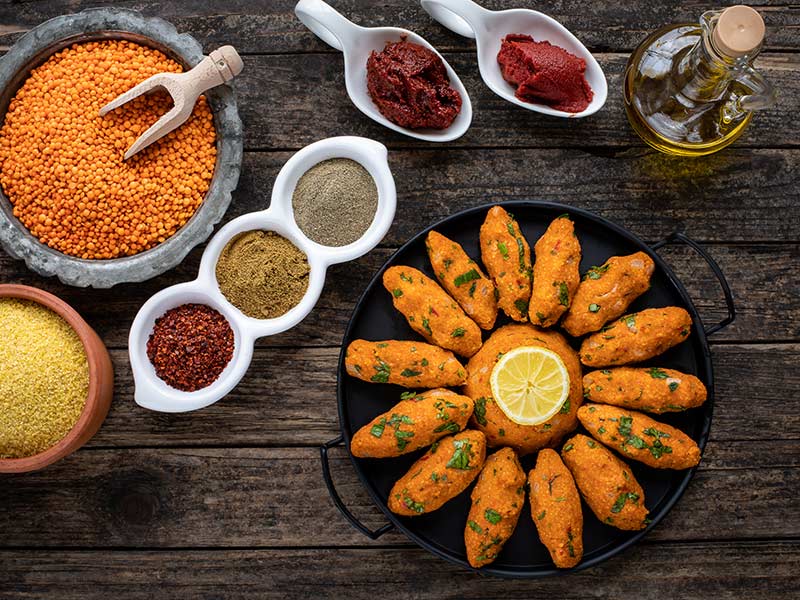 Mercimek Köftesi is a mixture of lentils and bulgur that's been deep-fried. A variety of spices is also included, such as tomato paste and cumin. When making Mercimek Köftesi, the Turkish usually pay much attention to the ratio of water to lentils as soft lentils are easier to work through.
You may have heard of "Köfte" which means meatballs in Turkish. The word "Köftesi" is the plural form of "Köfte" which explains the shape of this dish. And Mercimek, in Turkish, means red lentils, the main ingredient of this dish.
You might be wondering, Mercimek Köftesi is not a meatball dish. That is true. However, the word "Köfte" also refers to foods in the shape of vegetarian or vegan meatballs.
These lentil fingers are ideal as a snack or an appetizer as they are soft and inviting in flavor. The combination of lentils and bulgur creates a smooth feeling in your mouth when taking a bite. And the appearance of spices like pepper and cumin will amp up the flavor to another level.
8 Turkish Main Course To Amp Up Your Meal
You may often see Turkish cuisine being all about grilled meat and kebabs. But let me assure you, there is so much more than that. The Turkish people also have a beautiful variety of rice and seafood dishes, and even stews that will satisfy your hungry eye and stomach.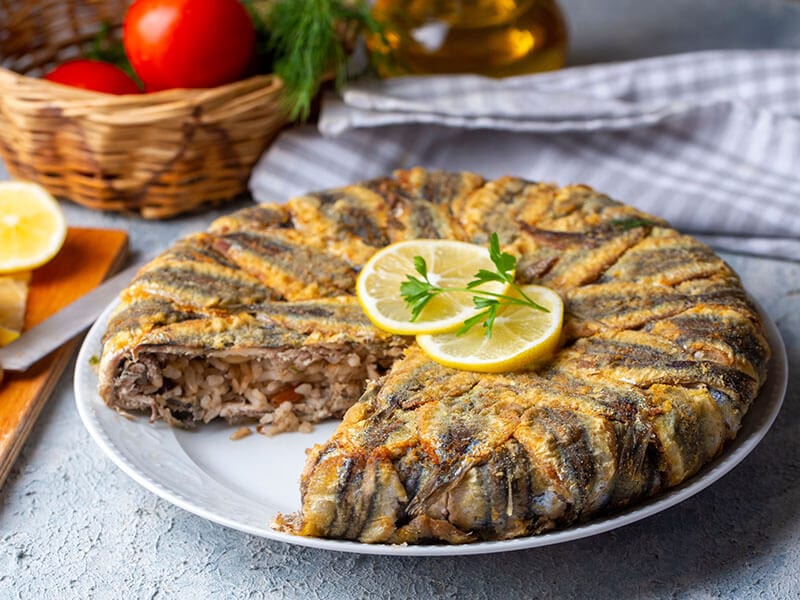 Hamsili Pilav is another Pilav dish with a beautiful twist. Hamsili Pilav is a baked pilaf that has an outer layer of anchovies covering the whole Pilav. This variety of Pilav contains long-grain rice, onions, raisins, and pine nuts.
Just when you think a mixture of sweet and savory ingredients is already perfect for Hamsili Pilav, the Turkish will surprise your palate with some mint and lemon juice. These two ingredients will add a bold factor to the dish, helping elevate the taste of anchovies.
To make this dish, the Turkish people must put in effort and skills. They first have to fill a pan with anchovies to cover the Pilav. Then, after placing the Pilav on top of the anchovies, they have to carefully fold the anchovies to hide the rice underneath.
After the assembly, Hamsili Pilav usually comes out upside down, where you can't see the bed of rice and pine nuts. To top everything off, Turkish people will serve Hamsili Pilav with some slices of lemon and some dill.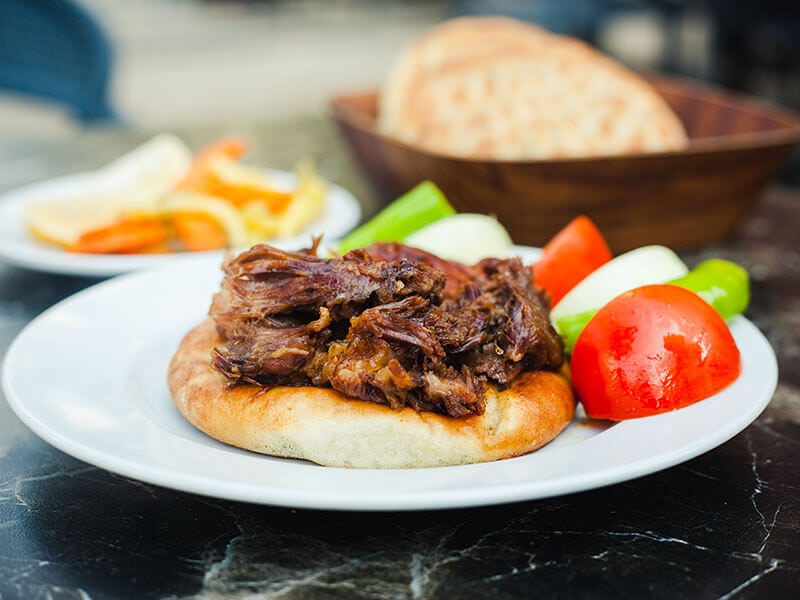 Kuzu Tandir is a lamb roast that the Turkish people prepare by cooking the lambs in an oven called Tandir. With this simple cooking method, the lamb can preserve the juice in its meat, making it tender and fragrant.
Together with the lamb, there are vegetables like onion, tomato, potato, and peppers. A serving of Kuzu Tandir usually goes with bread and raw onions. The raw onions will help bring a new flavor to the meat's tenderness with their powerful aroma and taste.
This cooking method of using the Tandir is quite significant in Turkey, especially in the Akşehir region. The lamb has to sit in the oven for a couple of hours, resulting in the melt-in-your-mouth texture.
You can try making Kuzu Tandir the easy way with this tutorial.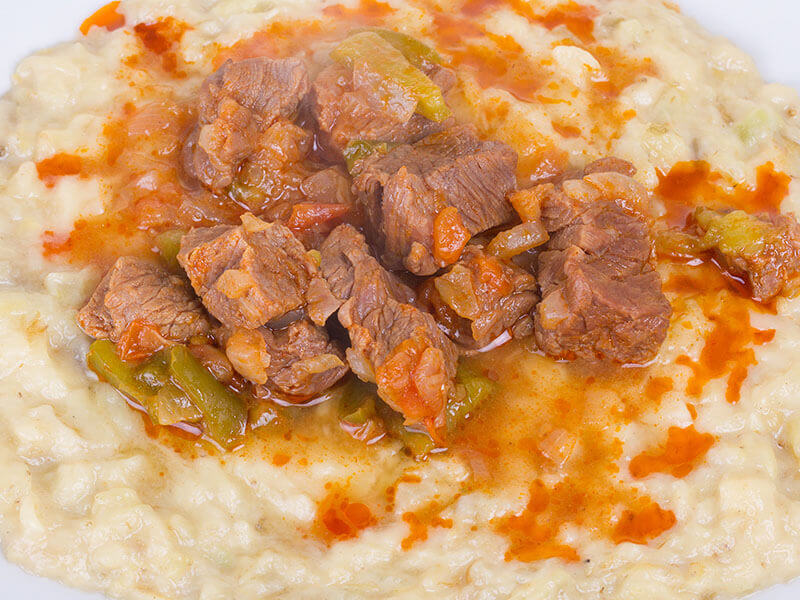 Hünkar Beğendi is a Turkish recipe with a history of hundreds of years. It's an eggplant and lamb dish that dates back to the Ottoman Empire.
The dish is a balance between the tender lamb and eggplant and the cheesy and rich stew. Thanks to the aubergine, the dish has an alluring smoky flavor, making it a perfect dish to enjoy on a chilly day.
Talking about the stew sauce, the Turkish have come up with a brilliant idea to add eggplant purée into Béchamel sauce, which is a creamy roux sauce. For those unfamiliar with roux, it's a mixture of equal parts of butter and flour. This ingredient is what gives the stew a silky texture.
By puréing, the eggplants will do a better job spreading their flavor and aroma to the stew. This may be why the dish is called "Sultan's favorite" or "Sultan's delight" as it sounds like such an appetizing dish to enjoy.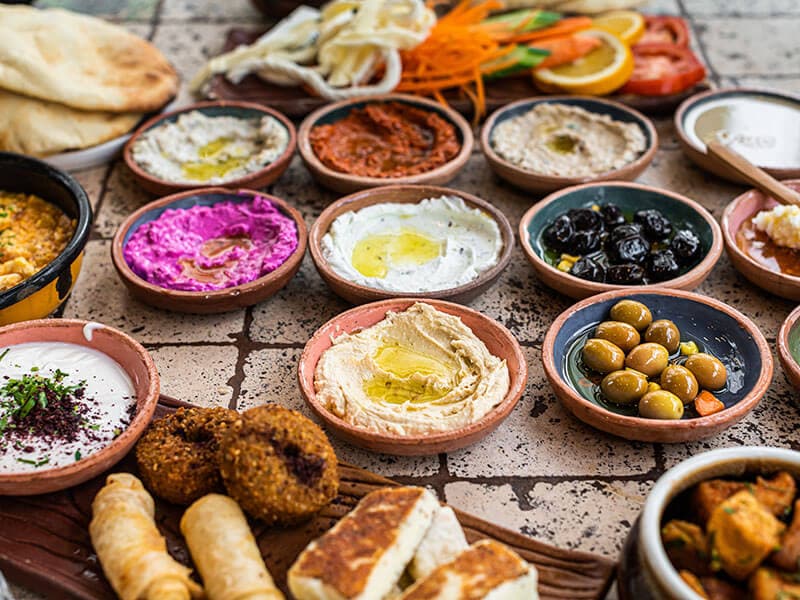 Turkish breakfast isn't just about cooking. It is a meal that every Turkish loves and looks forward to having. Usually, the meal consists of pastries, bread, cold cuts, jams, and other foods. Kahvalti has been a traditional meal for the people of Turkey since the Ottoman Empire.
The standard meal of Kahvalti usually comes on a table with a large amount of food. It's not a surprise to also see eggs cooked in many ways like scrambled or hard-boiled, cakes, and yogurt on the table of this breakfast meal.
Only a few people know this, but Kahvalti is a standard Sunday evening meal. It's a tradition here to sit around a table of Kahvalti and chat over their food. The word "Kahvalti" means before the coffee in Turkish, which explains the cups of coffee succeeding the meal.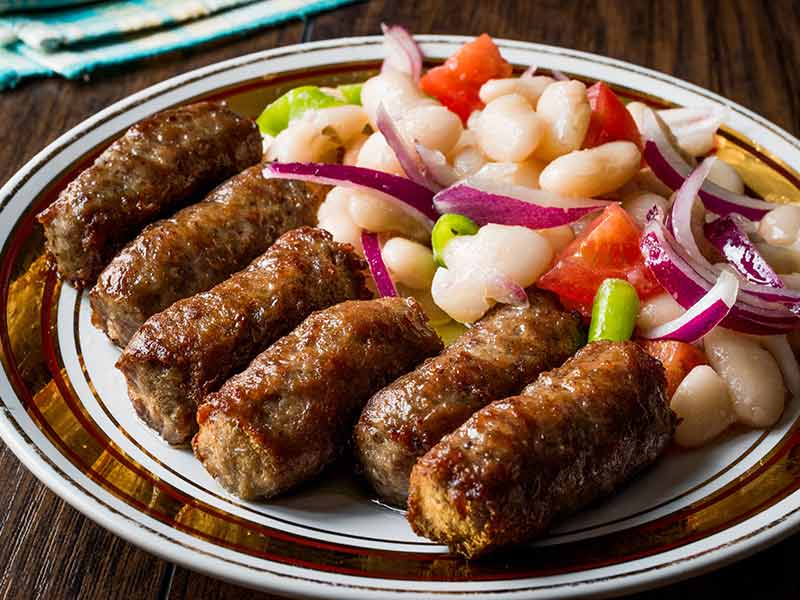 İnegöl Köfte was an invention by Mustafa Effendi, a Bulgarian who emigrated to Inegöl city in Turkey in 1892. This man had the idea of shaping meat into balls and selling them in his shop on the Ankara-Bursa road.
What's unique about Inegöl Köfte is that the meat is not marinated. People would only knead lamb and veal meat into balls and put them on a grill. The other simple other ingredients that are added to the meat are salt, onions, and baking soda to make the meatballs tender and flavorful.
Inegöl Köfte's great reputation remained unchanged despite all these times. To this very day, Mustafa Effendi's family-run shop is still in business and very famous. So make sure to try some at his shop when you have the chance to visit the city of Inegöl.
If you're not in the mood to travel to Turkey to taste the meatballs, try making them from home.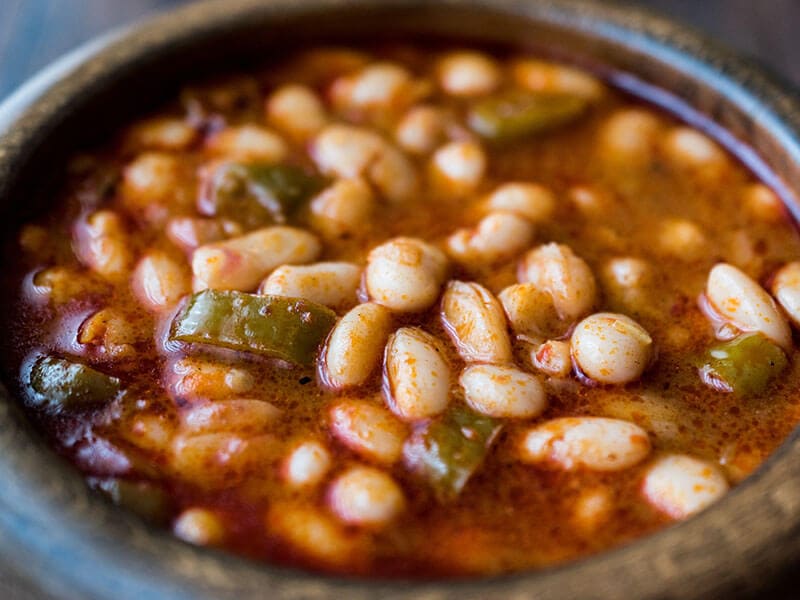 Kuru Fasulye is often considered a Turkish national dish. This is a dish of stewed white beans with some onions and tomato paste. In some other varieties, people also substitute tomato paste with tomato sauce.
Kuru Fasulye translates directly to dry beans in English. However, to make authentic Kuru Fasulye, Turkish people don't use any types of beans but specifically white beans. In the 19th century, Fasulye also had the name of Börülce, which means kidney bean.
This stew is such a healthy dish as it contains beans and vegetables and uses healthy oil to cook. It offers a wholesome taste as the beans will give off a smooth texture against your taste buds.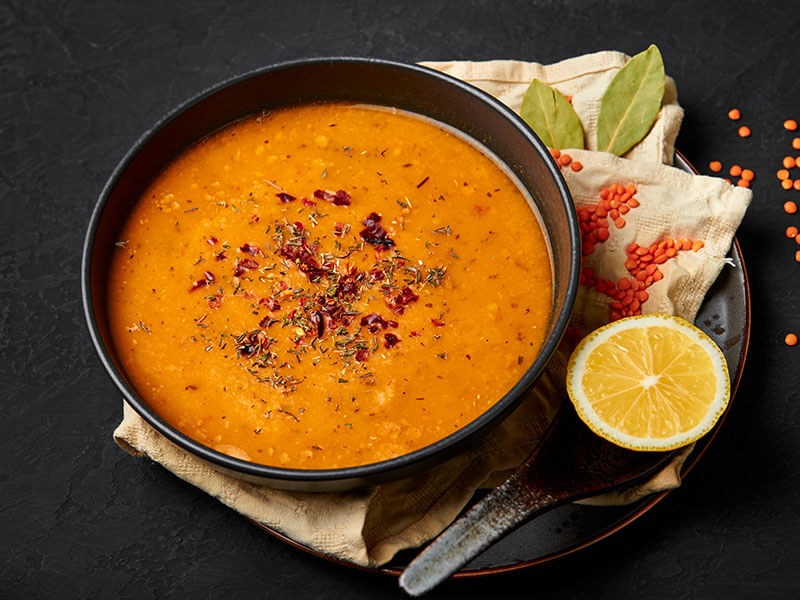 Ezogelin Çorbası is a traditional soup that's very popular in Turkey. It's a pleasant and filling type of soup with ingredients like lentils, bulgur, vegetables, and healing herbs.
The history behind this dish is rather sad. There was a woman who was once divorced, who had to suffer from judgment and gossip. Her father decided to remarry her, at which occasion she had to cook a dish from what she had to impress her mother-in-law.
The dish she made was the lentil soup which won her in-law's heart. Afterward, the soup was named Ezogelin Çorbası, or the soup of the Ezo bride.
In terms of the taste, this soup is a great cure to your seasonal flu, and a great accompaniment to a chilly day. With the use of mint, paprika, and red pepper, this soup will soothe your stomach with its subtle heat and wholesomeness.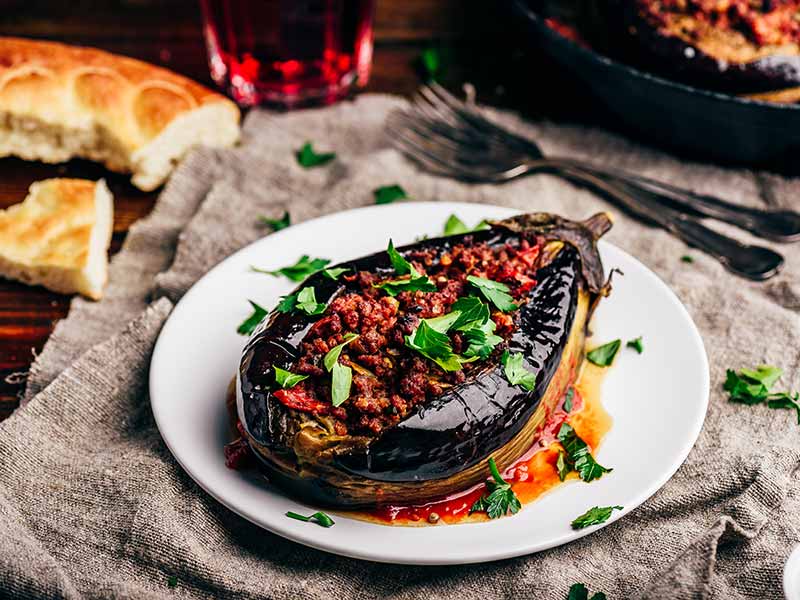 Karniyarik is a comfort dinner menu that everyone in Turkey loves. People especially love making this dish when they're having dinner together as a big group as the taste and flavor will please even the pickiest guest.
Karniyarik is a dish consisting of eggplants that Turkish people stuff with meat and spices. The name of this dish, Karniyarik, directly translates into "split bellies." The explanation for this name is because the eggplants full of meat resemble the description.
This dish is the tastiest in the summertime as this is the harvest season for eggplants in Turkey. When the eggplants are at their perfect ripeness, you will taste the smoky flavor and the tender texture when cooking and eating Karniyarik.
11 Turkish Desserts As A Sweet Ending Note For Your Meal
Desserts are a crucial aspect of any country's cuisine, and Turkey is no exception. There's one thing I need to make clear, which is that Turkish desserts aren't the ordinary desserts at a restaurant. They have some of the most unique and tasty dessert menus for you to try.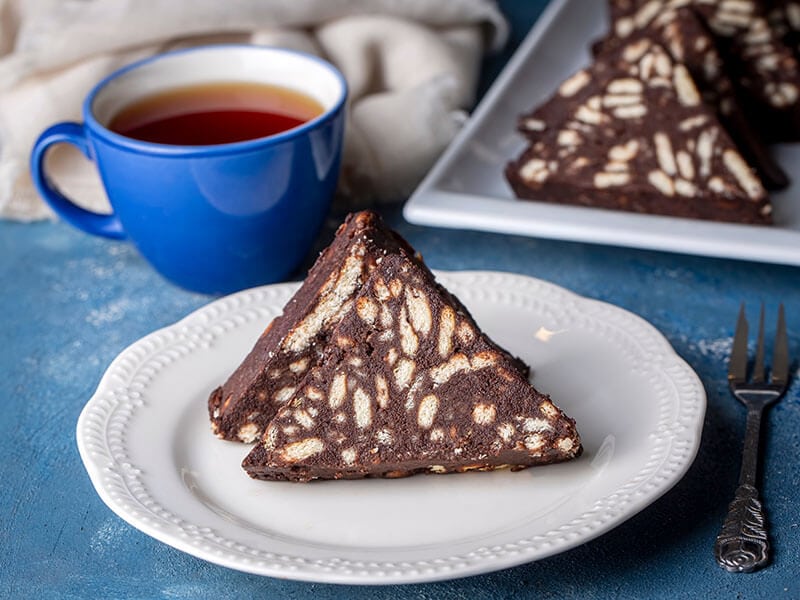 Mozaik Pasta or Mosaic chocolate cake is a dessert of Italy and Portugal origin. It's a type of cake made from cocoa, cracked biscuits, butter, and eggs. On some occasions, the recipe for this cake also includes port wine or rum.
Mozaik Pasta has another name in English, which is chocolate salami. However, this isn't a meat product. The reason it's got that name is because of how it is similar to salami in appearance. Mozaik Pasta is a long cylinder loaf, and people often cut the cake into slices when serving it.
There is no clear history or background about how Mozaik Pasta first reached Turkey, but it does not affect this sweet treat's reputation in the country. And the locals typically enjoy Mozaik Pasta after their meal.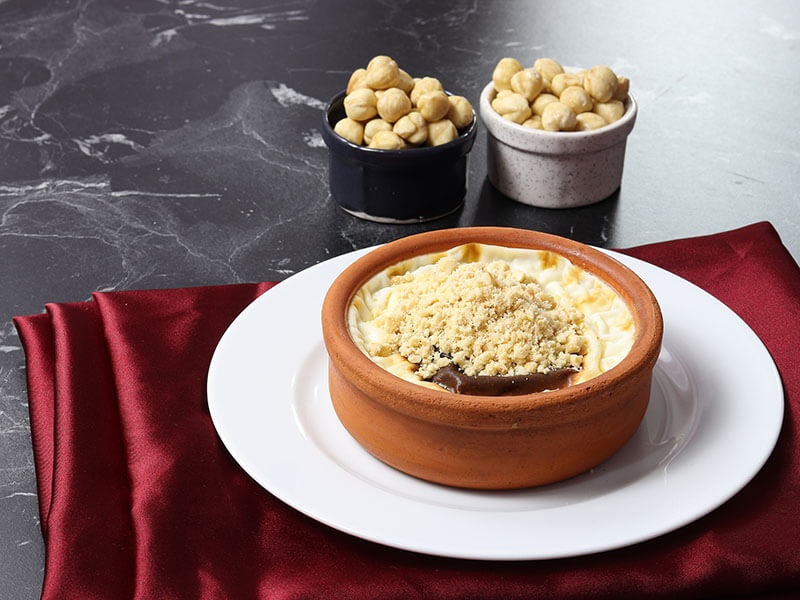 Turkey is a country famous for its many variations of dairy-based desserts, like this rice pudding named Sütlaç. Along with other sweet and savory pudding dishes, it plays a special part in defining the country's cuisine.
Besides Turkey, there are other countries in the world with their versions of Sütlaç like China, India, Denmark, and Norway. The Turkish version is a little special with a slightly burnt surface on the top, making it stand out from the other variations.
This is a healthy pudding that's suitable for both adults and kids as it's easy to eat and the taste is delicious. The texture of this pudding is smooth and creamy with a subtle taste of sweetness from rice, milk, and sugar.
Even the pickiest eater will not be able to resist this delightful dessert treat.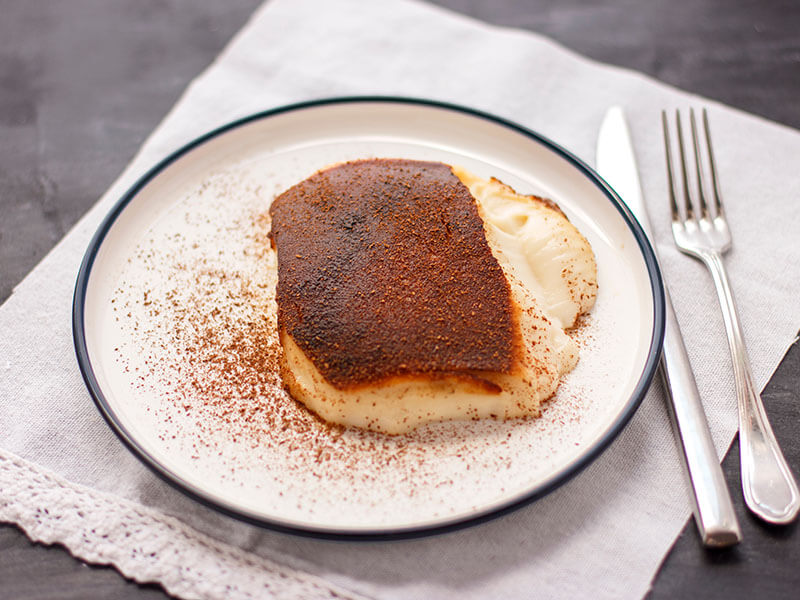 Kazandibi or Kazan Dibi is a Turkish caramelized milk pudding. It was in Istanbul in the 11th century and Kazandibi was a mistake that this baker made when he accidentally burned the pudding.
After tasting the pudding and enjoying the smoky flavor from the burnt crust and the creamy texture takes over his palate, he has decided to burn it on purpose the next time making it.
Kazandibi is a classic dessert in Turkey, especially during the Muslim Ramadan month, from May 5th to June 4th. But of course, you can also find it any other time when in Turkey.
Let's learn how to bake the Turkish delightful dessert of Kazandibi.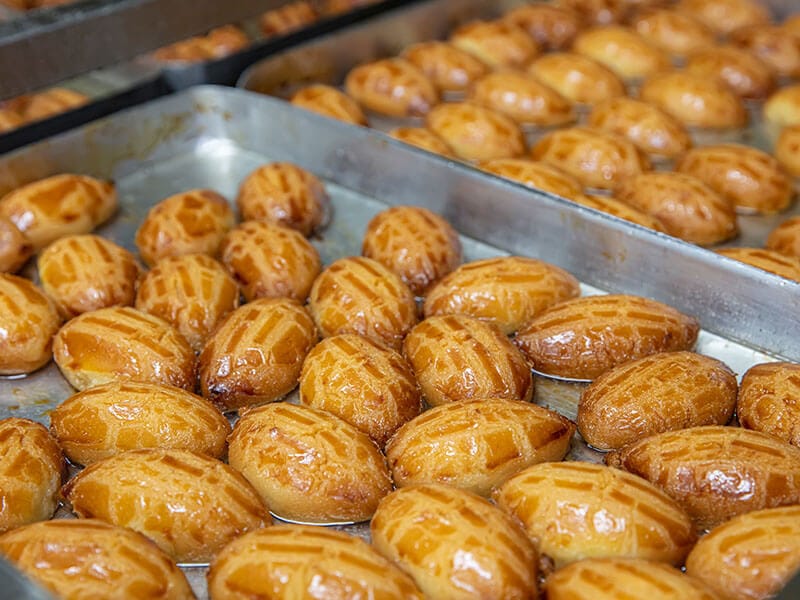 Şekerpare is another popular Turkish cuisine dessert item. The dough is a mixture of butter, semolina flour, and eggs, which people take and form into small balls. Then they would place these dough balls on the baking tray and flatten them and put on top a whole almond.
What's so special about these cookies is that right after the baking process, Turkish people would bathe the cookies in lemon syrup. This is the step that helps create the moist, soft, and tender texture for Şekerpare.
You will see that Şekerpare is a must-have item for almost every Turkish home. You can also find these sugar bits in Turkish bakeries and pastry shops. It's such a famous treat that nearly all Turkish restaurants feature it on their menus.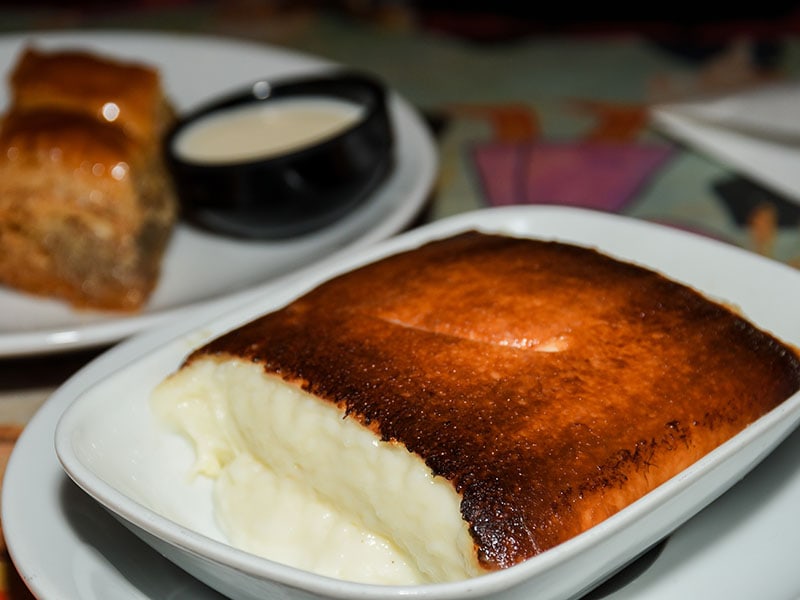 Tavuk Göğsü is a pudding made from milk and finely chopped chicken breast. Back in the Ottoman Empire, this dish was a delicacy offered to the Ottoman sultan at Topkapı Palace and has now become a famous menu item in Turkey.
The first version of this chicken breast pudding was documented in Apicius, a Roman recipe collection. From the Romans, it made its way to the Eastern Roman Empire of Byzantium, then from there to the Ottomans.
Traditionally, people use white chicken breast to make Tavuk Göğsü. They boil and break the chicken into fine shreds of meat or pound the chicken breast until smooth. The meat is then mixed with milk, sugar, and other thickeners until it results in a thick pudding.
Although it sounds scary to have chicken breast for dessert, I can assure you that there is very little trace of the meat's flavor. All that you can taste is the cinnamon flavor from the pudding with the smoothness and creaminess. In no time you'll grow addicted to the dish!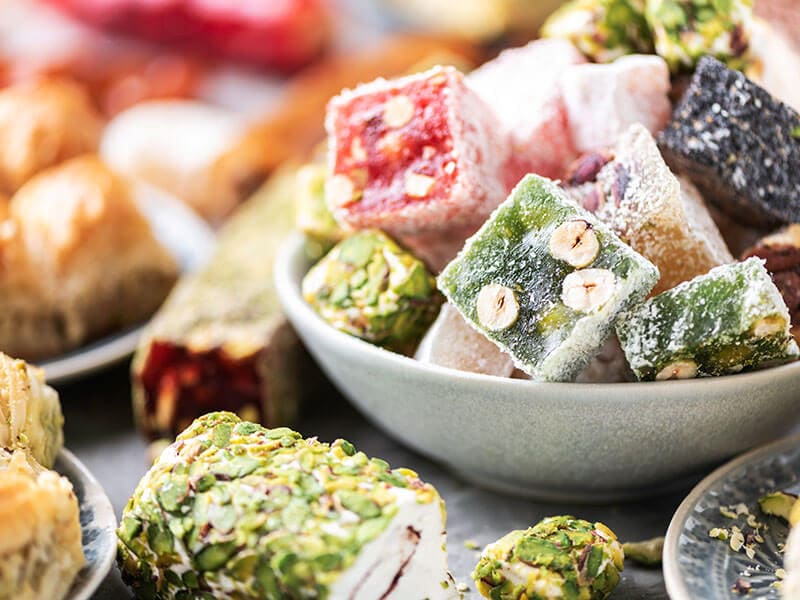 Lokum is a starchy type of confectionery you can't find anywhere else except in Turkey. It's a homemade special candy with a base of gel, starch, and sugar. The candy often comes in small cubes with a few sprinkles of powdered sugar, copra, or powdered cream of tartar.
Flavors of Lokum usually include cinnamon, mint, rose water, bergamot, and lemon. Some varieties are more premium in which people put in chopped dates, pistachios, hazelnuts, and walnuts. These flavors are a great accompaniment to Turkish people's coffee.
You'll be amazed right at the first bite into Lokum. The chewy and fragrant candy with a slight sweetness will linger on your palate in the best way. It's also a fun experience to have powdered sugar falling on the rim of your mouth while eating Lokum.
The origin of the Turkish delight is not exactly known, but the confection is known to have appeared and been produced in Turkey and Iran in the late 18th century.
Recreate the natural flavor of Turkey with this tutorial for Lokum.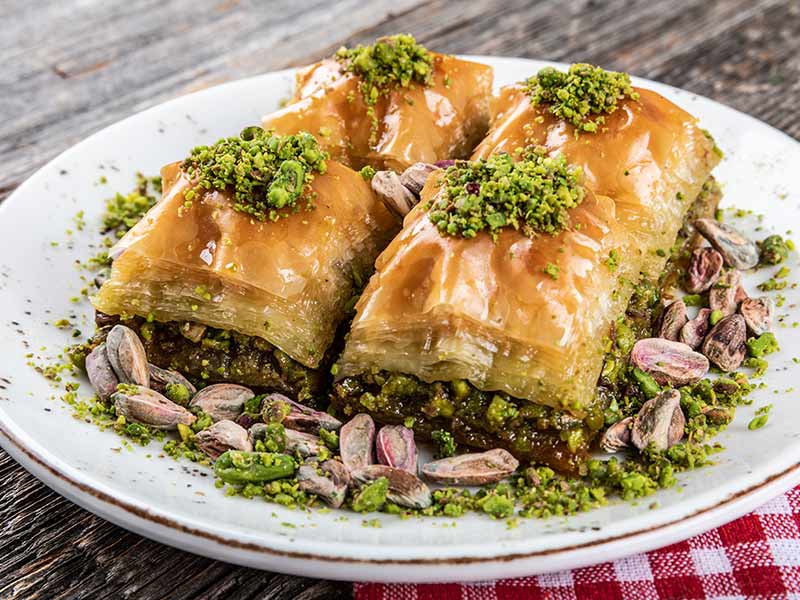 Baklava is a dessert made from filo pastry with a filling of chopped nuts and sweetened with syrup or honey. In Ottoman cuisine, it was one of the most popular sweet pastries.
Making Baklava is quite similar to making other filo-based pastries. People start by brushing thin pastry sheets with butter and filling them with nuts, sugar, and spices. In the end, they would brush some honey-based syrup on top of the pastry to soak in all the layers.
Today's Baklava is what people think may have been invented in Turkey's Ottoman Empire and then, later on, had a modification in Greece. Many Mediterranean countries possess their take on Baklava with a few twists on the recipe to make it unique.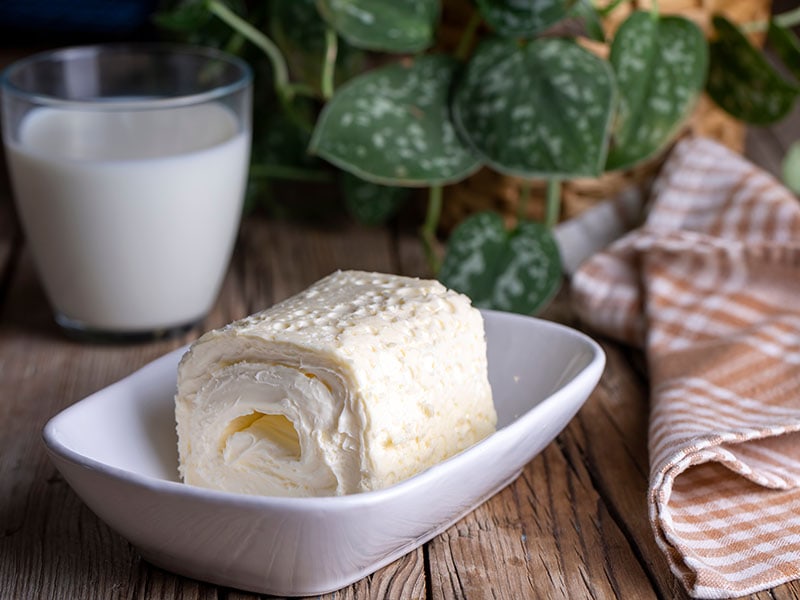 Kaymak is a Turkish clotted cream dish made from buffalo, cow, sheep, or goat milk. It's a famous dish in Turkey and some other countries like Iran, Iraq, and the region of Central Asia in general.
Kaymak is a cream traditionally made by boiling raw milk and simmering it over low heat for a couple of hours. After that, the cream is skimmed and chilled for a couple of hours, sometimes even days.
When finished, the cream is tangy due to the fermenting process. It's also very thick in texture, offering a creamy and smooth mouthfeel. Kaymak goes well with Baklava and other Turkish sweets. You can also fill your pancakes with some of this dessert clotted cream.
This instruction for Turkish clotted cream won't disappoint you.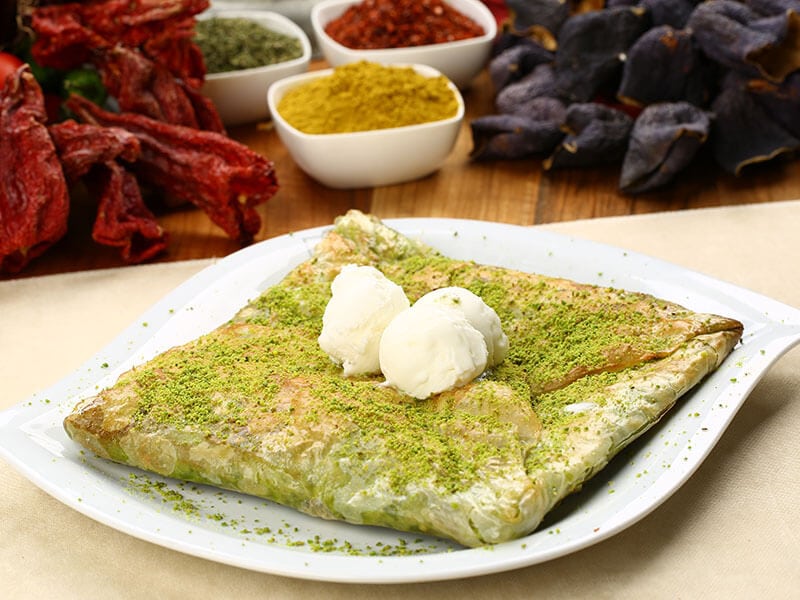 Some sources have claimed that Katma's history dates back to the 11th century. Having said that, the first record ever to mention Katmer was the one in the 14th century during the rule of the Ottoman Empire.
Essentially, Karma is a type of pastry with a filling of pistachio dust and Turkish clotted cream. It's a dish people can eat for any meal of the day though they usually consider it a dessert menu item.
When mentioning Katma, some people can think of the many variations of this type of pastry. Such variations are plain, sweet, savory, etc., but the standard version is still the pistachio crumbles and clotted cream filling.
Katma generally requires a generous amount of oil or butter to make. Thus, this pastry is richer compared to other dessert pastries in Turkey. The pistachio crumbles and clotted cream in the filling create a smooth texture with a hint of crunch, making the treatment very pleasant.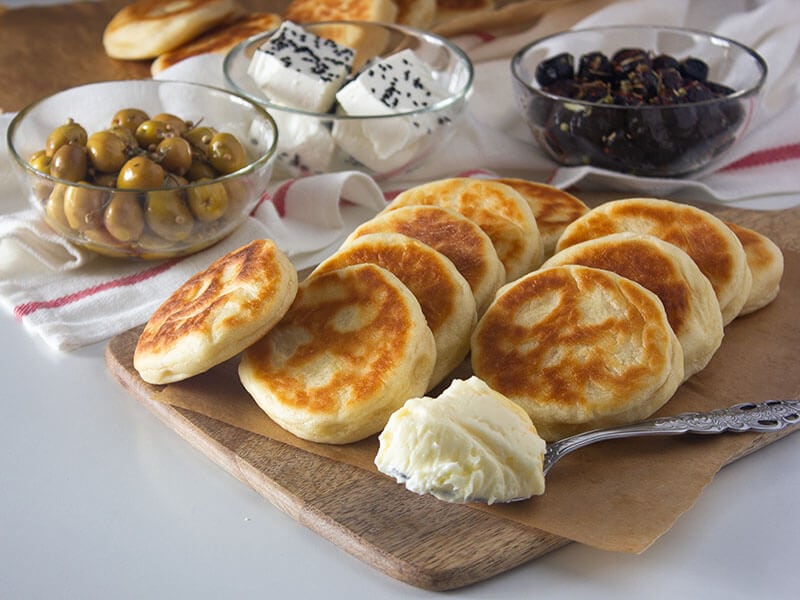 Bazlama is a variation of flatbread, similar to Naan. In Turkey, people cook Bazlama over an outdoor wood fire stove and sell them at the markets. The thing that made Bazlama stand out from the rest is the bread is made with Greek yogurt, which makes it soft and tender.
Although the ingredients for Bazlama are simple, you should not underestimate the taste and flavor it offers. The flatbread when taken fresh out of the oven is usually fluffy and fragrant. With the addition of Greek yogurt, the flatbread also tastes slightly tangy.
For a delicious snack or dessert, Turkish people usually cut the Bazlama into small pieces and drizzle some honey on top. You can also use Bazlama as a side dish for your Kebab and salad.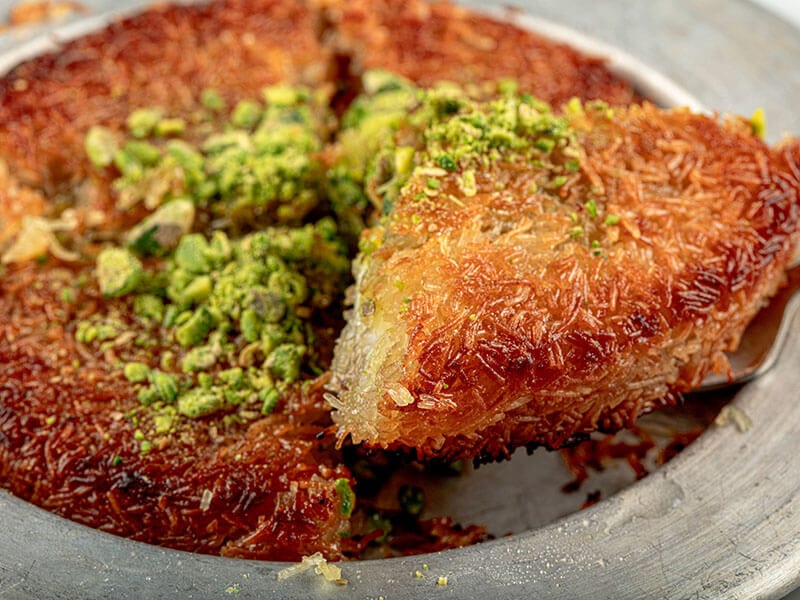 This dessert is from a spun pastry called Kataifi that's soaked in a syrup called attar, it usually has cheese or clotted cream on top with nuts. This dish originates from the Arab people living in Palestine in the 10th century AD and has become a Turkish people's favorite.
People will start by heating the Künefe pastry in butter, palm oil, or fermented butter. Then they would spread the pastry with cheese and cover it with more dough. In the last step, they top it with syrup and rose water or orange blossom water. Some even have red food coloring.
The best thing about Künefe is that people usually serve it hot. Imagine taking a bite of a hot and cheesy treat that will fill your taste buds with a sweet and fulfilling flavor. I would love some of that!
3 Turkish Drinks That Can Easily Go Well With Your Foods
You can turn thirsty after trying all these dishes in Turkey. Thus, it is only natural to look for some traditional drinks to either quench your thirst or elevate your meal and the dining experience in this country. So, here are some special ones for you.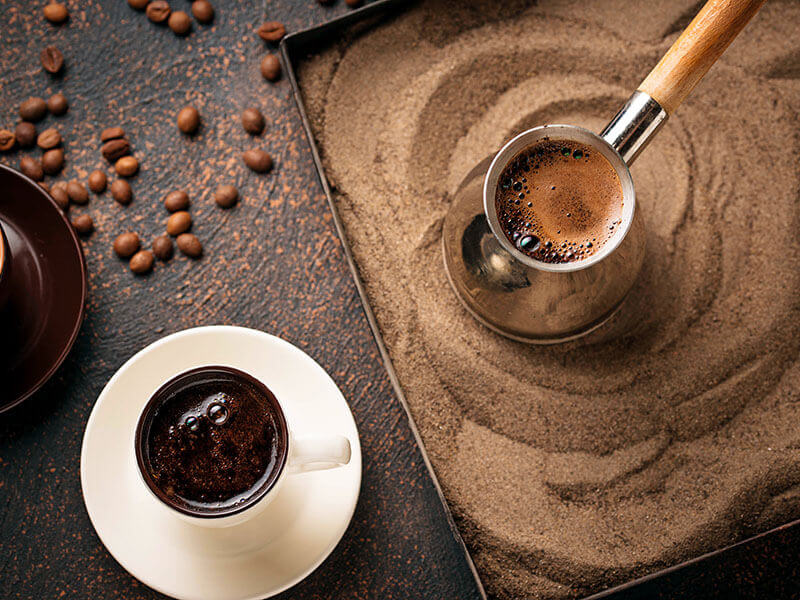 Turkish coffee is one of the drinks with a fascinating preparation. You will see that the step of heating the coffee itself is already a show worth watching.
When coming across the street vendors selling coffee in Turkey, you will often see a pan of hot sand. This sand is what heats the coffee. Before serving the drink, the vendor will run the pot through the hot sand until it boils. He will repeat this step a few times before pouring it into a cup.
The coffee here is quite different compared to your regular types of coffee. Since people infuse their coffee with spices like cardamom, the drink will have a herby taste underneath the kick of the coffee.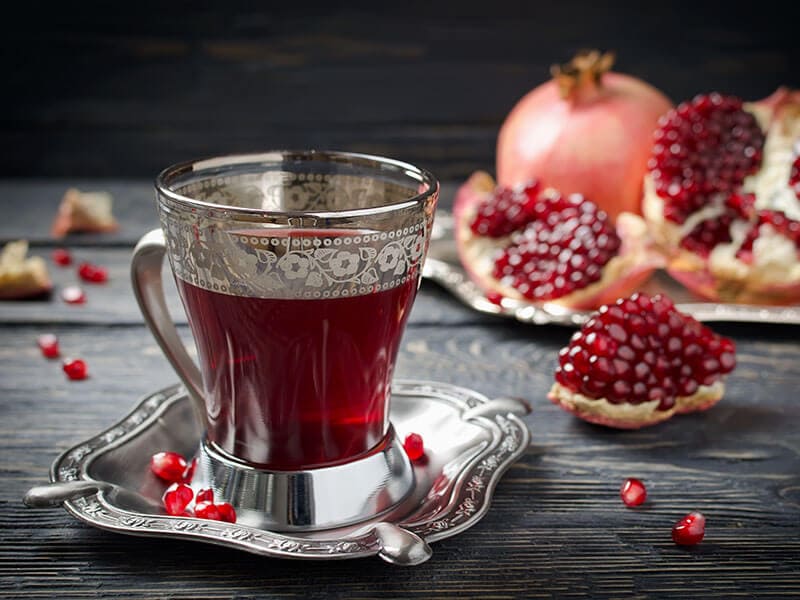 Pomegranate juice is a drink you will see very often on the streets in Turkey. At the juice stalls or street vendors in this country, it is common to see vendors continuously cut pomegranate fruits from one to another and put them in the juicer.
Pomegranate juice stands in Turkey tend to be quite crowded from time to time as people here enjoy this simple drink. However, there is one component in this juice not everyone knows. And that is orange juice.
You may think this beverage should just simply consist of pomegranates. The Turkish have come up with a way to enhance the flavors of their pomegranate juice by adding some orange juice. The tender sweet and sour combo from the orange juice will balance the juice overall.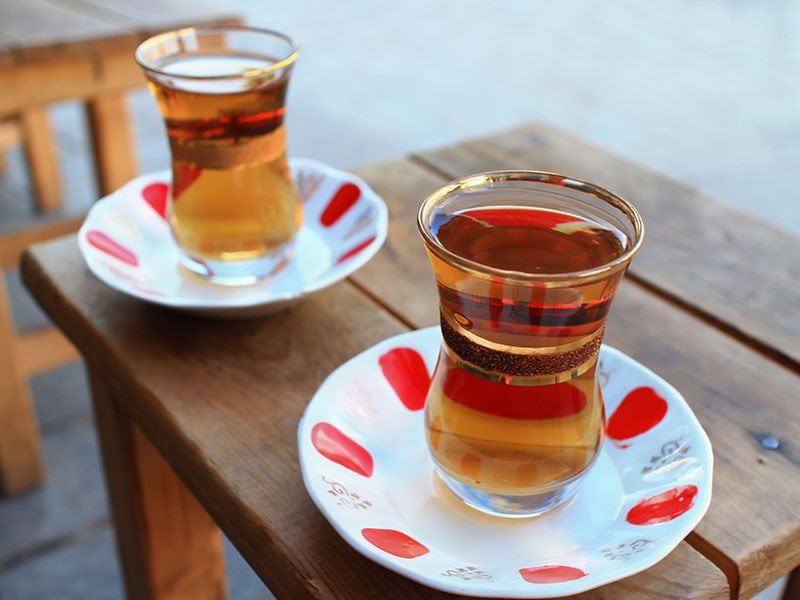 Everywhere you go in Turkey, whether in a shop or bazaar, people there will offer you a cup of apple tea as a complimentary drink. And the apple tea is too delicious to pass.
Elma Çayı is one of the famous Turkish tea variations. People here generally refer to drinks from fruits and herbal leaves as tea. However, Elma Çayı is a drink from dried apple pieces that they steep in water until the apple slices infuse the water with its flavor.
A cup of hot apple tea in Turkey will give you a once-in-a-lifetime and authentic experience.
Are You Ready To Travel To Turkey For These Amazing Dishes?
After the brief descriptions I've given you about some of the most exotic menus in Turkey, I bet you are feeling tempted to book a ticket and fly to the country right away to have a taste of them.
The first time I tried these foods, I was in awe of how crazily delicious they were. I couldn't understand how there were such breath-taking creations in Turkish cuisine that I had not known. I bet you will feel the same as I did when you taste these dishes in Turkey.
And what if you don't? Feel free to share your thoughts and stories about these foods in the comment section! Also, you can share this post with the friends joining you on the trip to Turkey so you can plan what to eat during the stay. That would mean a lot to me.
Thank you, and enjoy!